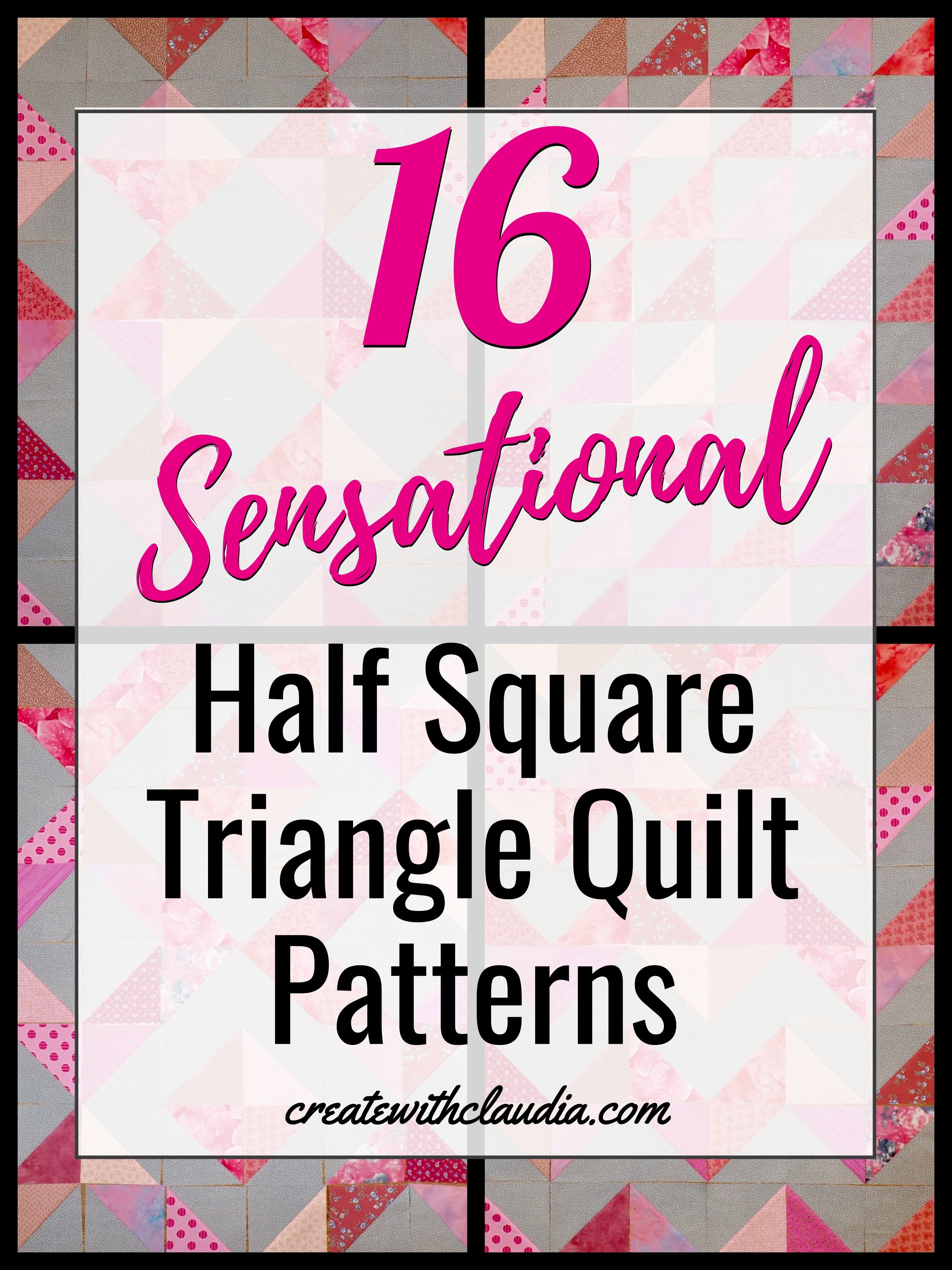 16 Half Square Triangle Quilt Patterns
Some quilters may not consider a half square triangle an actual quilt block. After all, it plays a major part in many block patterns. However, I definitely consider it one, and I think it is one that stands quite well on its' own. That's why I came up with this half square triangle tutorial.
When laid out in an effective way, this simple two-color creation can produce stunning quilts. Just take a look at these nine of the sixteen half square triangle block layouts highlighted in this article.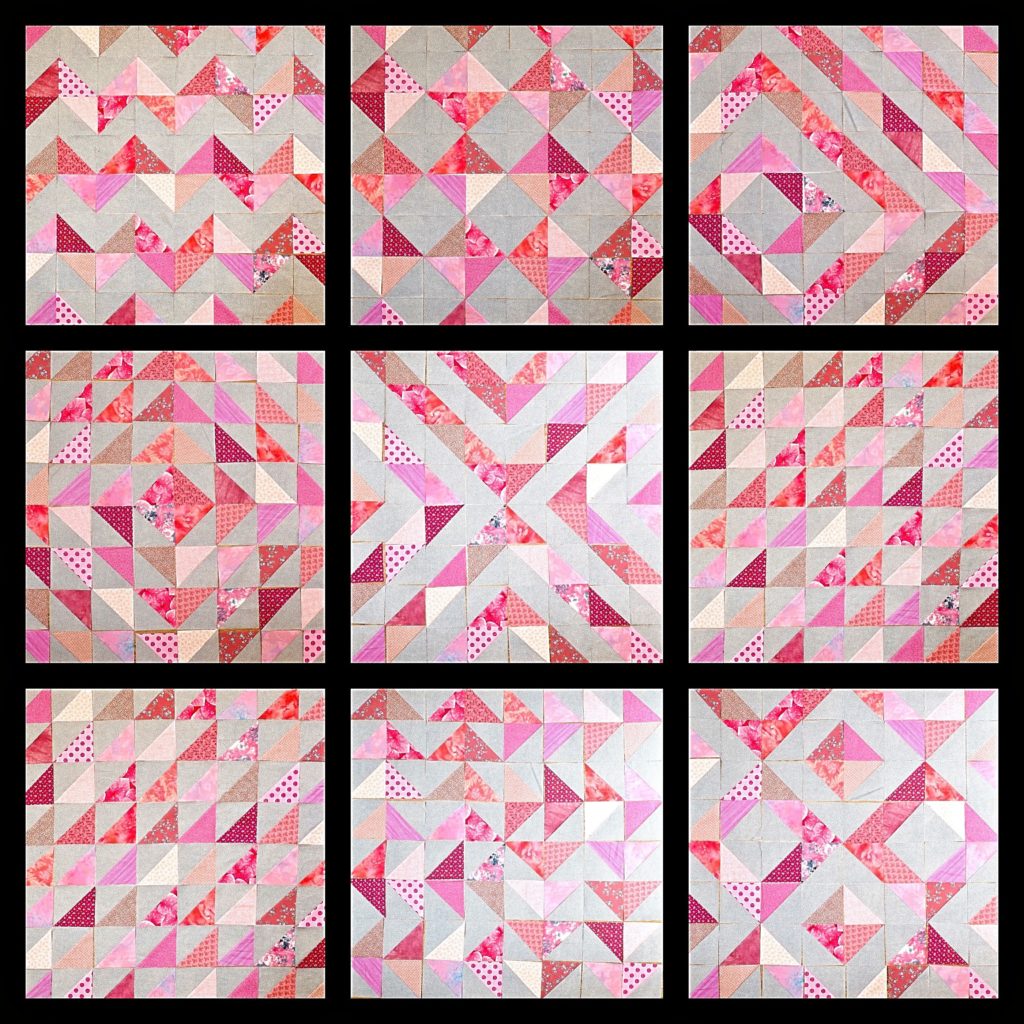 Half square triangles are simple to make, and a quilt top, like one of these, can easily be made in a day. Just think of all of the color combinations that can be used. And don't forget, you are not just limited to one of the layouts I've pictured here. The possibilities are endless.
Here are 27 Stunning Layouts
If you would like to try your hand at one of these half square triangle quilts, here are the instructions.
Quilt Top Specifications
The measurements provided in this tutorial make a finished quilt top that is 40 ½ inches square. It is made up of 64 half square triangles that are 5 ½ inches square.
How to Make a Half Square Triangle
Supplies Needed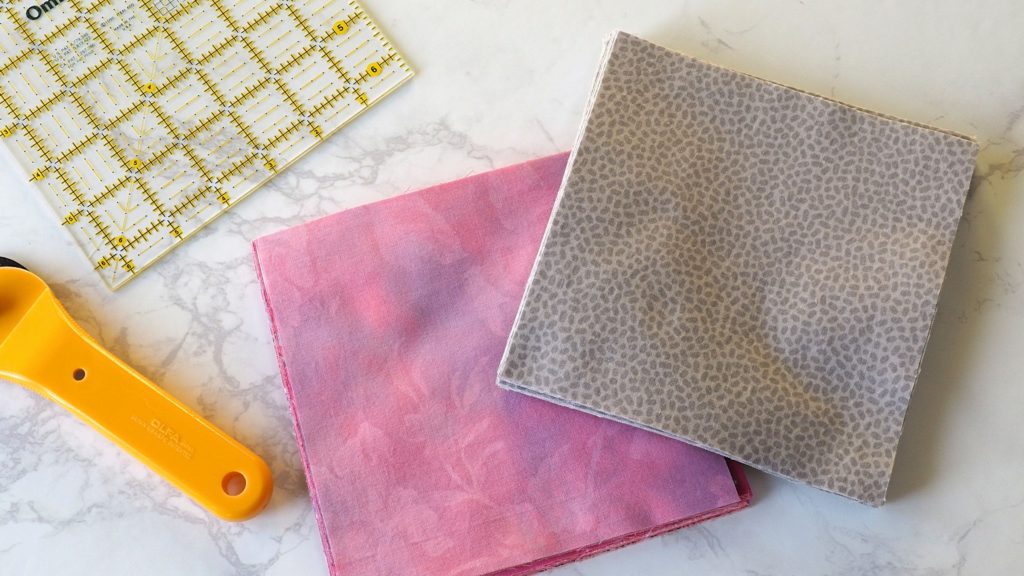 Fabric – 2 colors (or color families) – I used one grey fabric and various pink scraps
Rotary Cutter
Cutting Mat
Quilter's Ruler
As an Amazon Associate I earn from qualifying purchases.
Cutting
Cut 32 squares out of each color fabric (A & B) in the following sizes:
Color A (Grey in this example) – 6 ½ inches square – 32 total
Color B (Shades of pink in this example) – 6 ½ inches square – 32 total
Assembly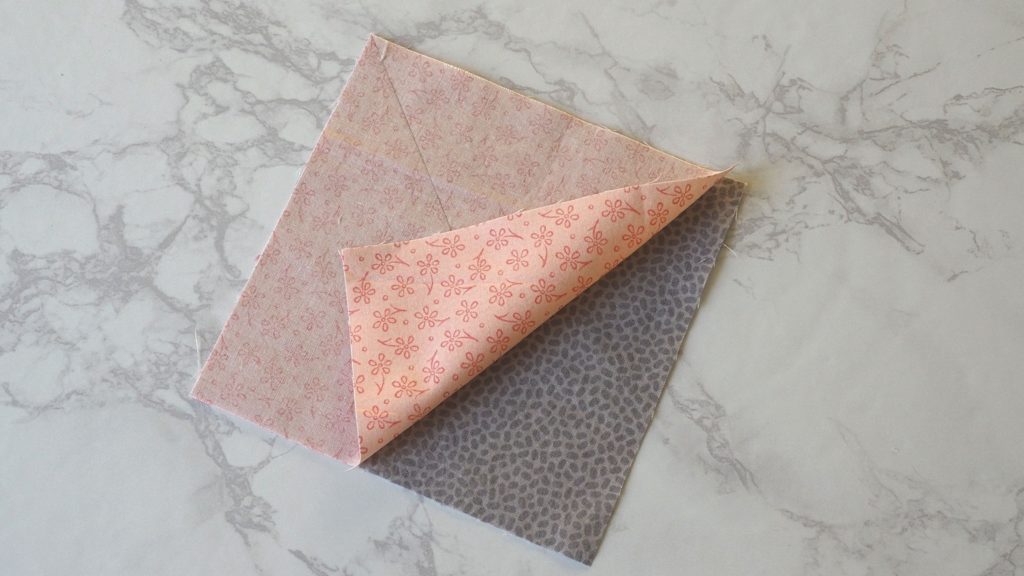 Place one square of color A on your work surface, right side facing up.
Next, place once square of color B on top of color A. Right sides should be facing.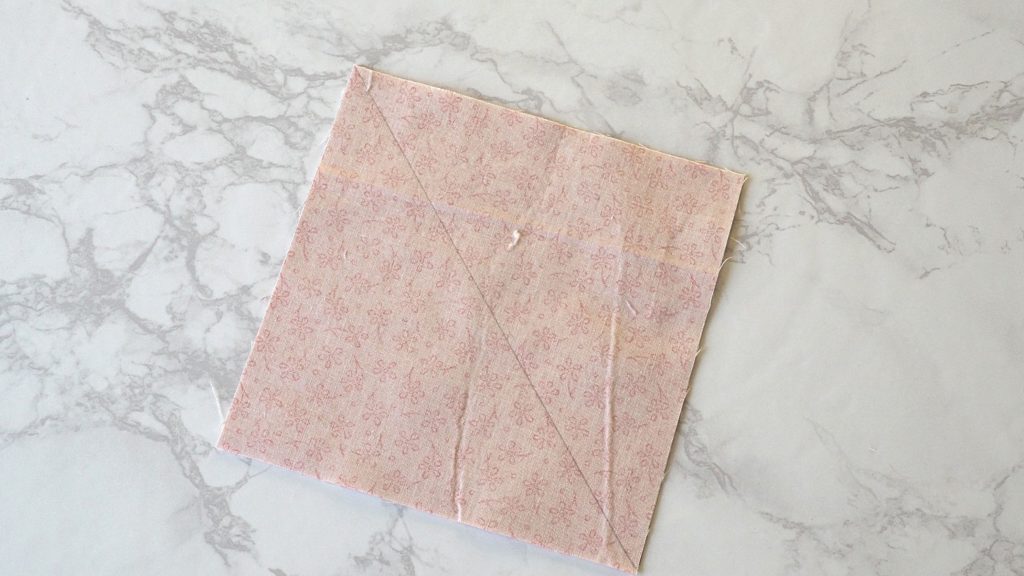 Using your ruler, draw a diagonal line from one corner to the other.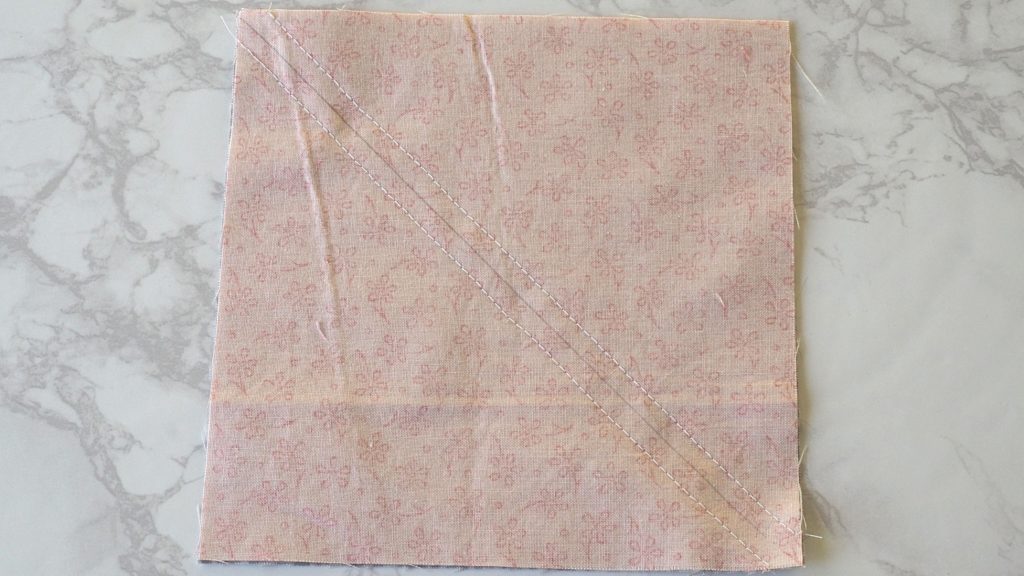 Using a ¼ inch seam allowance, sew down both sides of the line.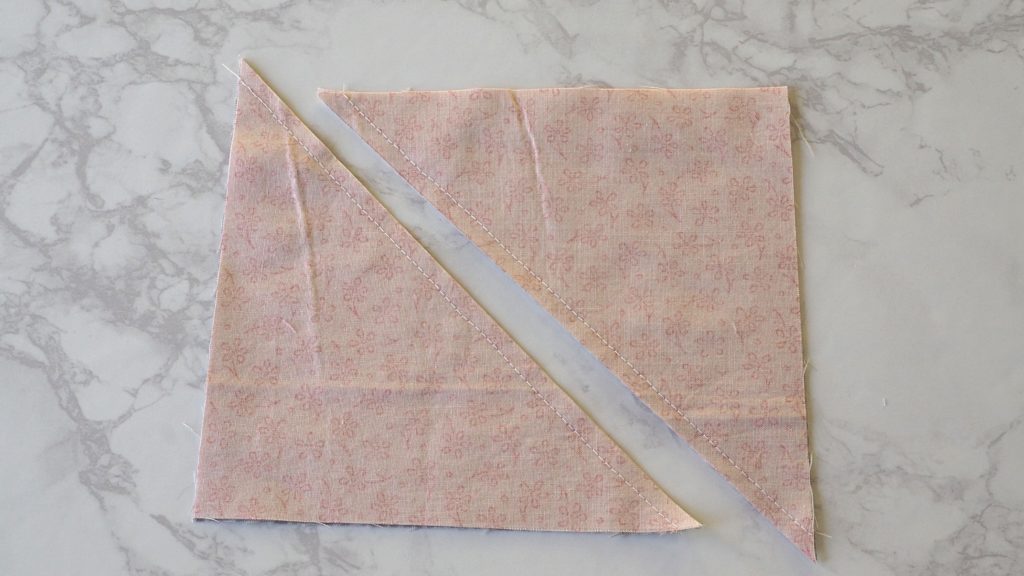 Once sewn, using your ruler and rotary cutter, cut the block in half, along the line you drew earlier.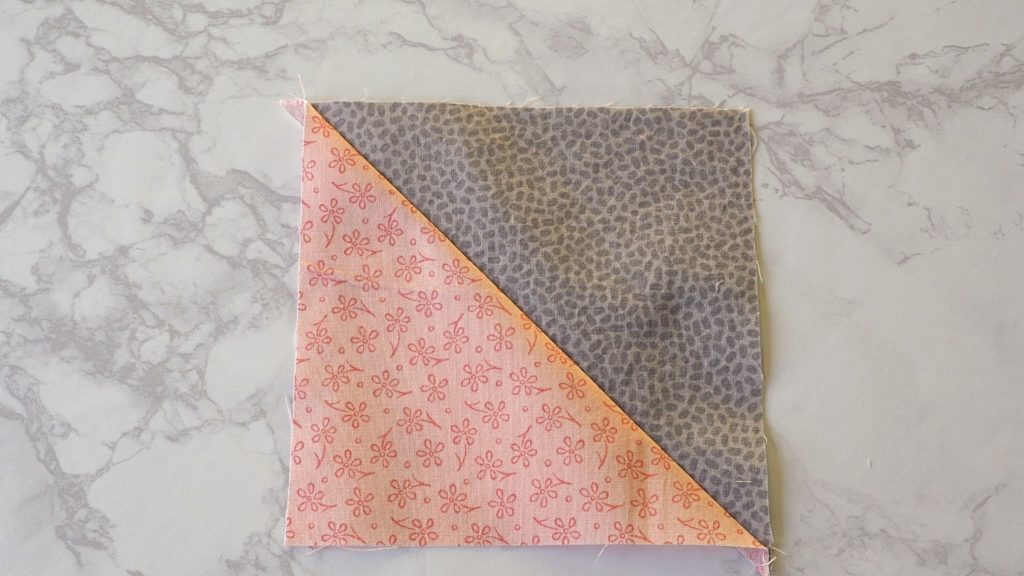 Press open, pressing to the darker fabric.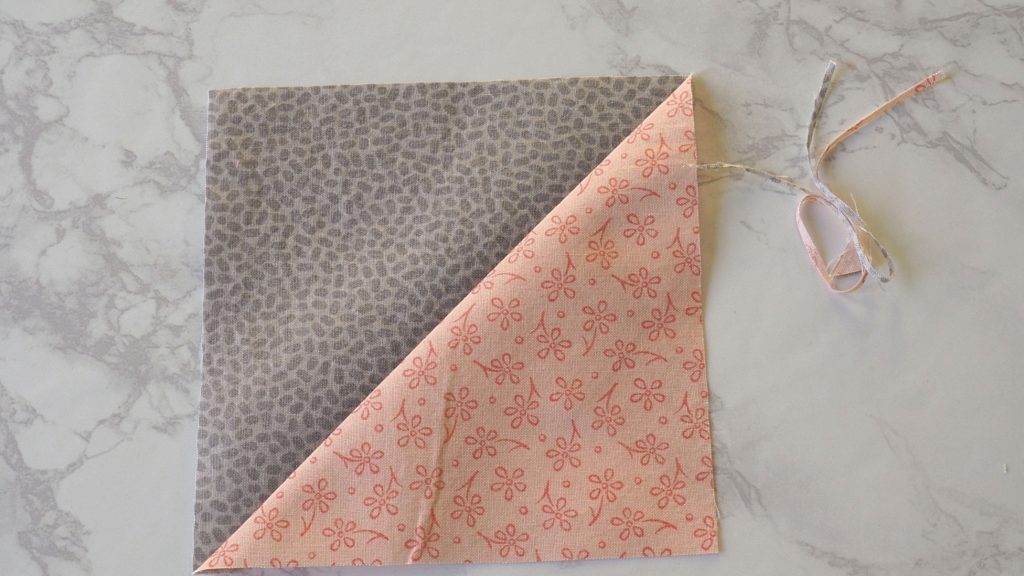 Finally, trim the blocks down to 5 ½ inches square.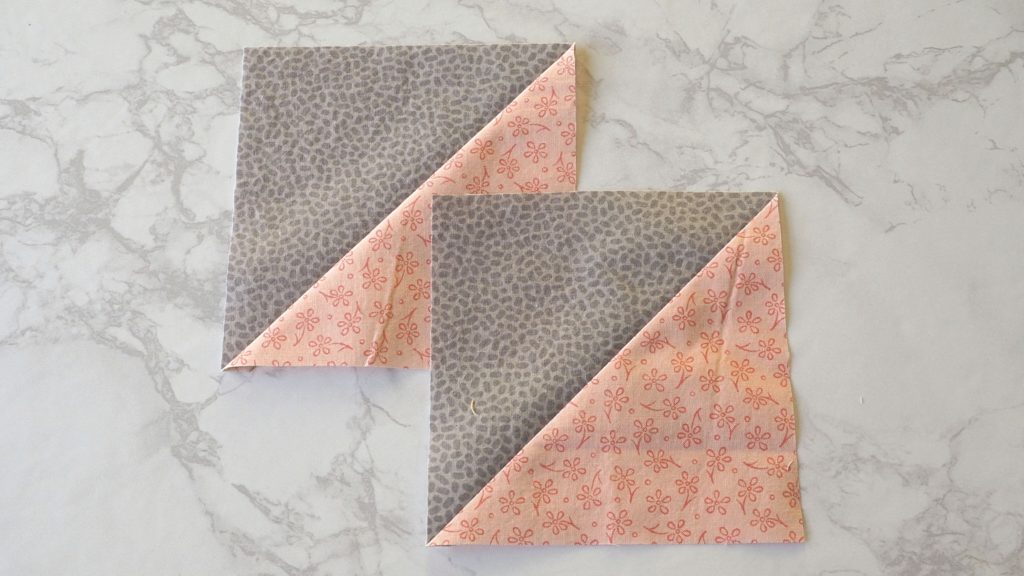 Now comes my favorite part of the whole process, choosing a design. Start laying out your blocks and try out different patterns. Once you have found the one you like, sew the blocks together.
16 Stunning Layouts
All of the patterns below are made up of 64 half square triangle blocks. Each one measures 5 1/2 inches square before sewing. Using a 1/4 inch seam allowance, the quilt top should measure 40 1/2 inches square.
Tip: It can be hard to remember which layout you like best, so snap a picture with your phone of the various ones you tried. Then look at them later and decide which one is your favorite.
Simple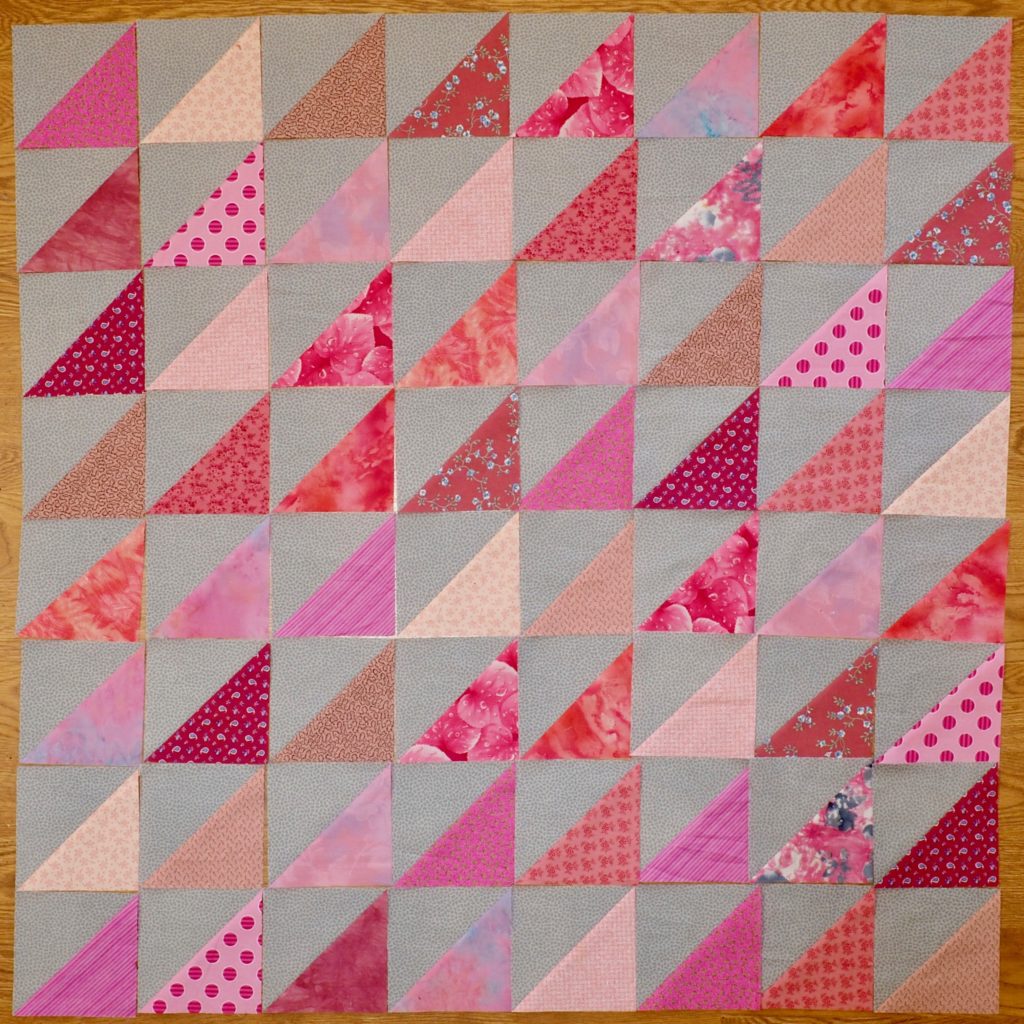 Placing all of the half square triangle blocks in the same direction is a simple, yet effective look. It is a good way to highlight the various scrap fabrics used.
Chevron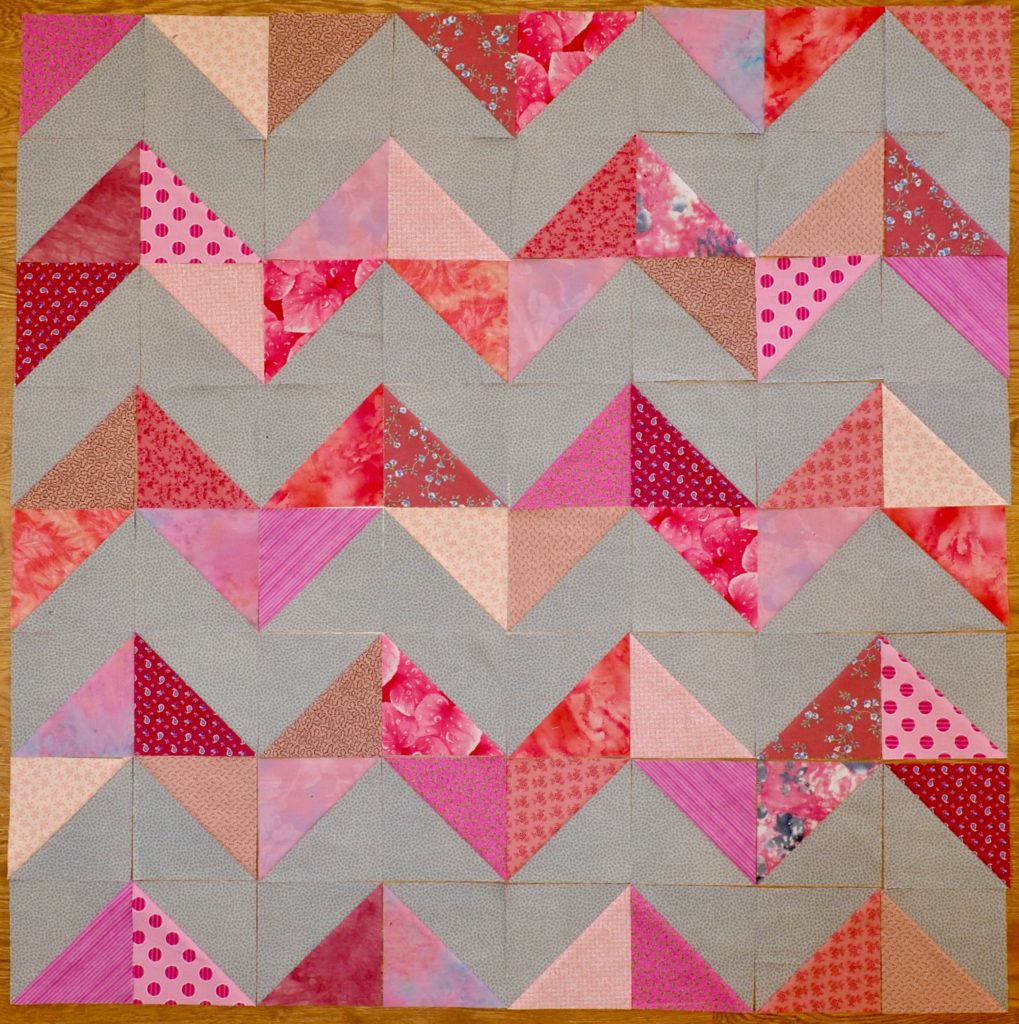 A chevron design is always a winner and quite striking. With these colors, the various pinks sparkle.
Diagonal Squares
When making my wall hanging I had a hard time deciding between this one and the chevron. This is another bold layout that makes the pinks pop.
Stripes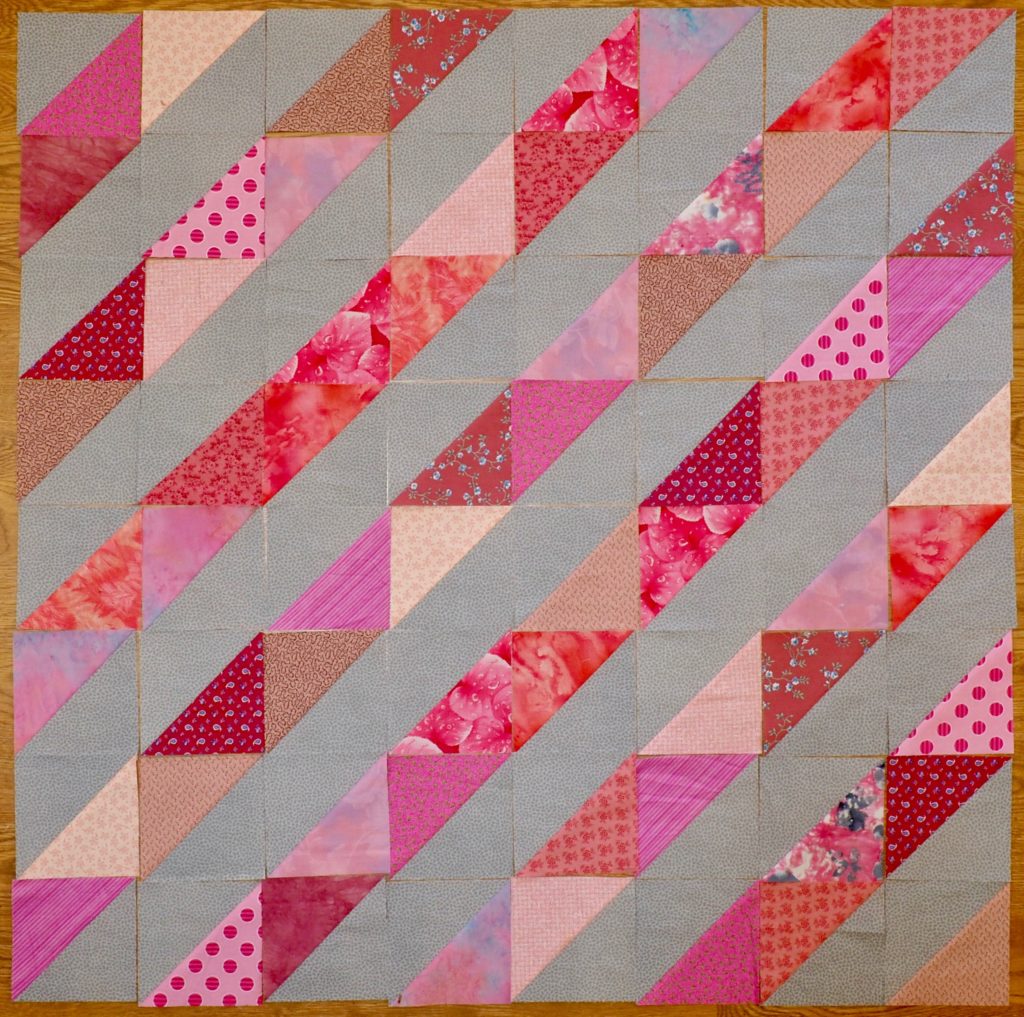 Stripes, always a popular layout, make a bold graphic design.
Virginia Star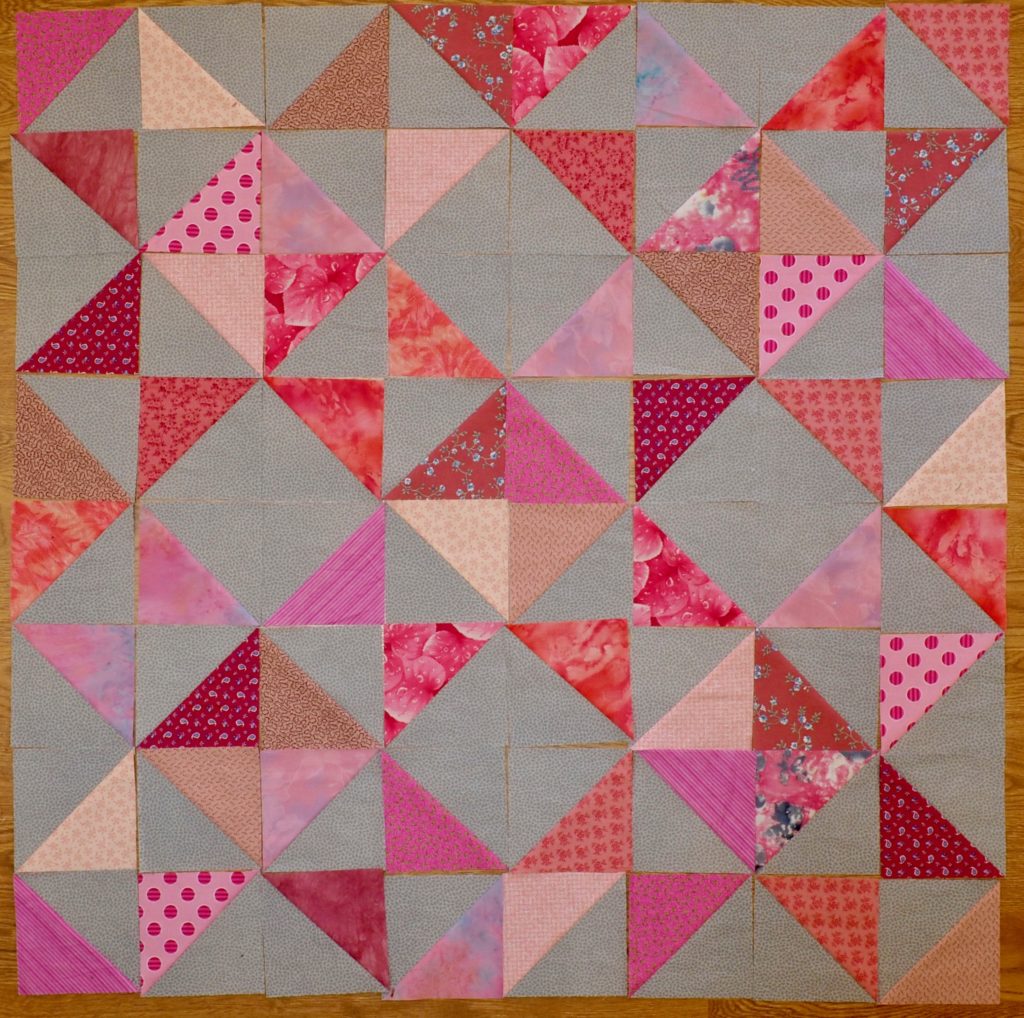 Use the half square triangle blocks to create the traditional Virginia Star quilt block. Using bold colors really makes the design show. Can you find the mistake? Good thing this wasn't the layout I decided to go with!
Pinwheel
Another favorite, laying out the blocks in a pinwheel pattern gives the design a lighter appearance.
Bull's Eye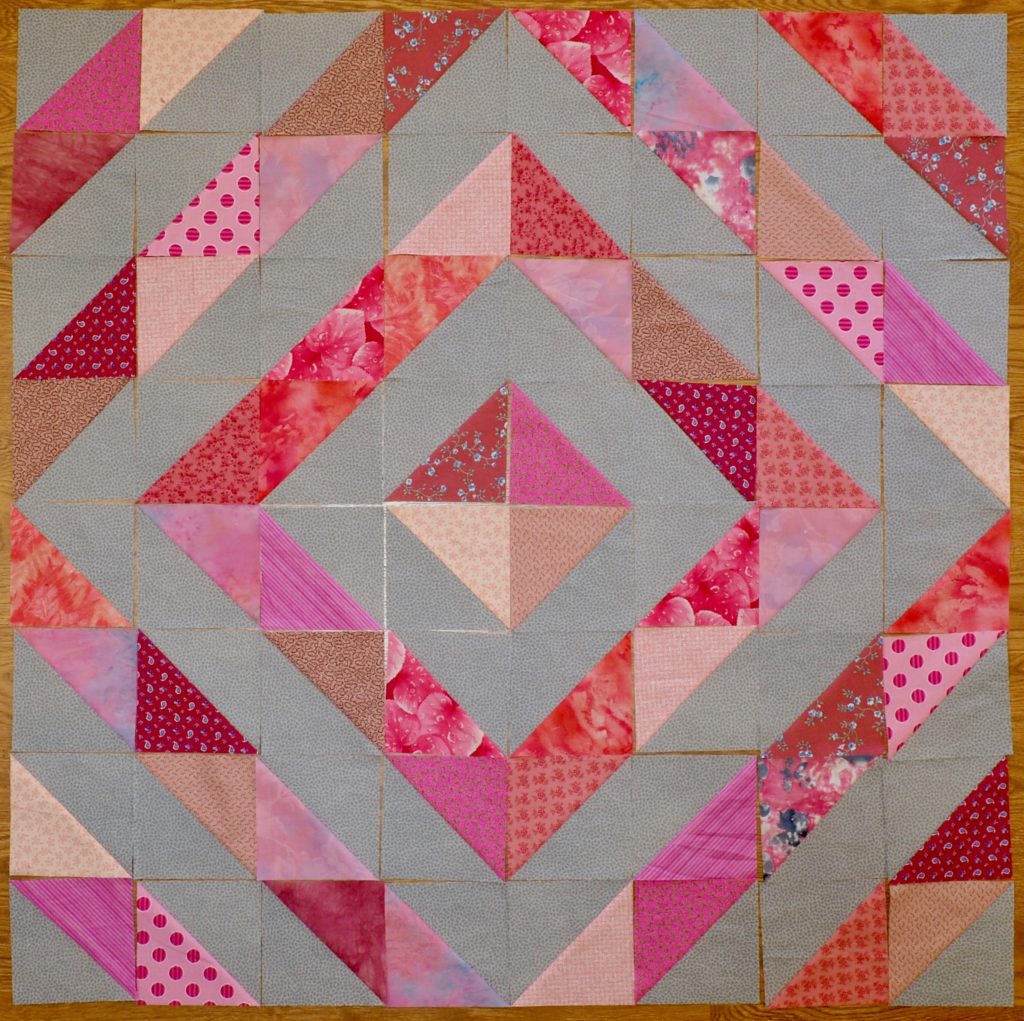 Bold and graphic, a bull's eye pattern is striking. I can imagine all kinds of design possibilities.
Fractured Chevron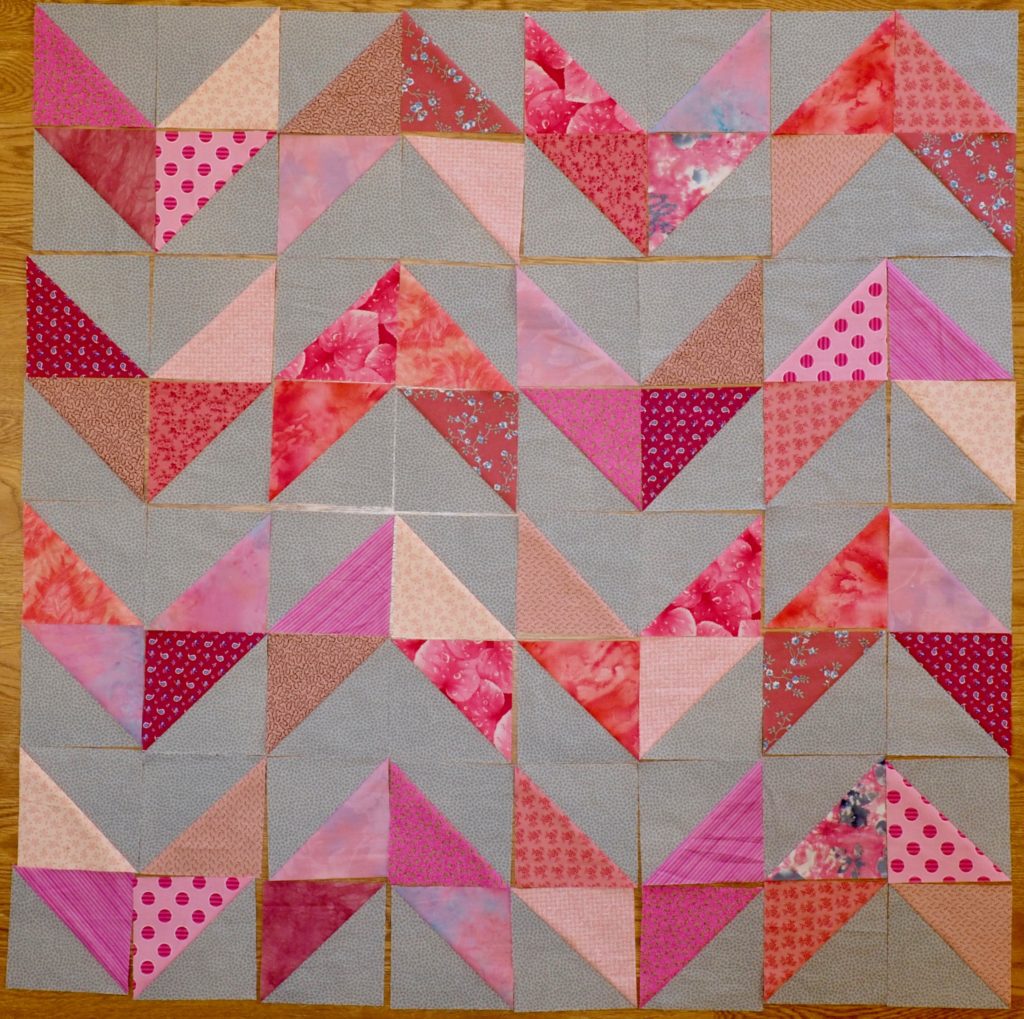 This block layout is a different take on the traditional chevron pattern, and would look really good with each pink arrow section being different color.
Spider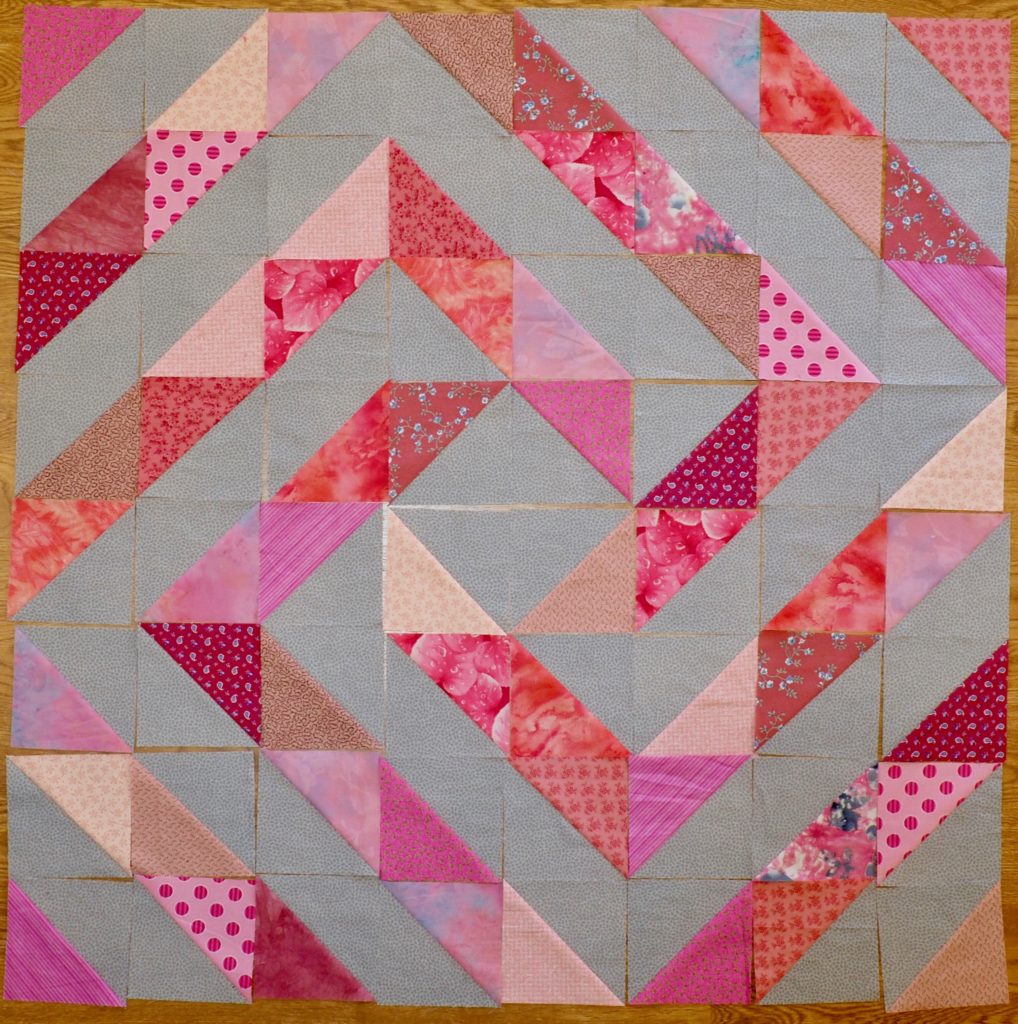 This layout reminds me of a spider with its' long legs. The spiral effect is quite striking.
Swirl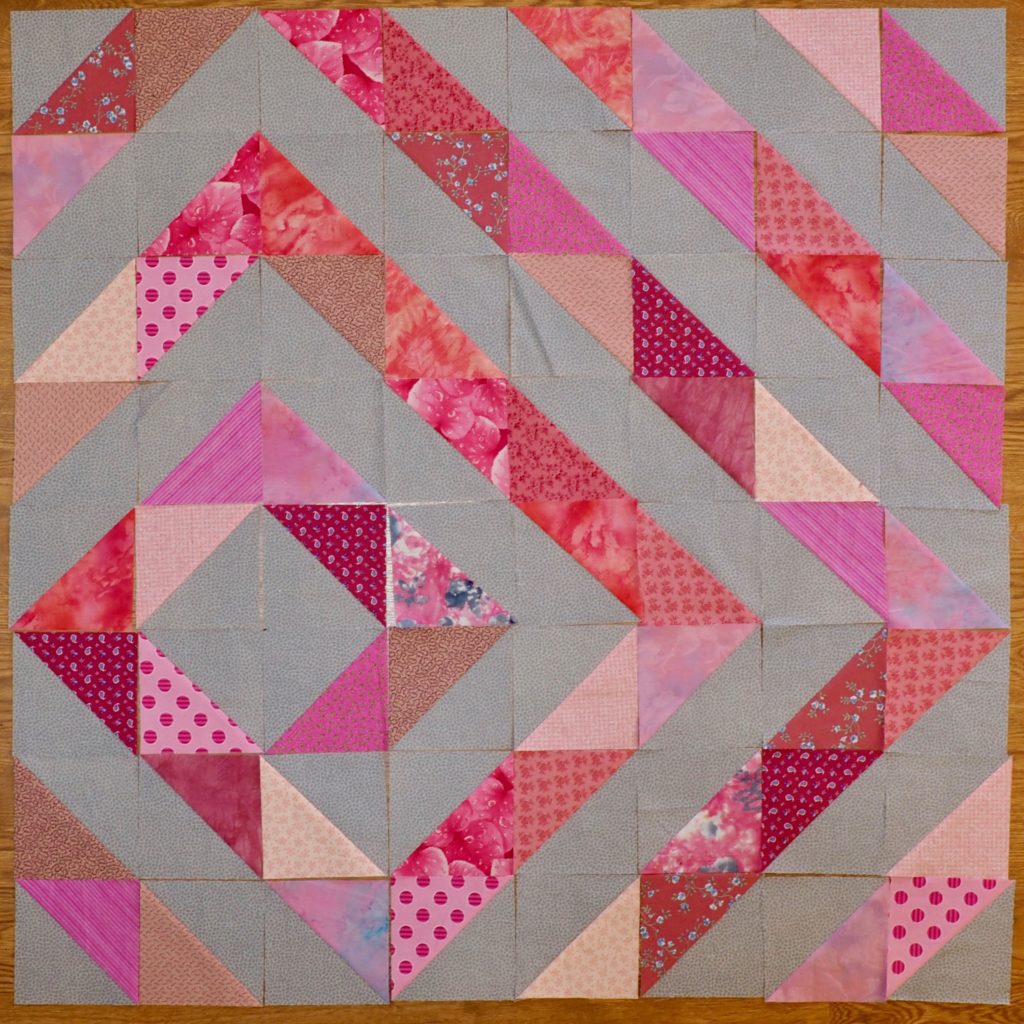 A bit like the bull's eye pattern, the swirl gives an interesting off-center look to the quilt top.
Wonky Diamonds
These wonky diamonds look like they are dancing across the design, and they show off the various fabrics.
Fractured Bull's Eye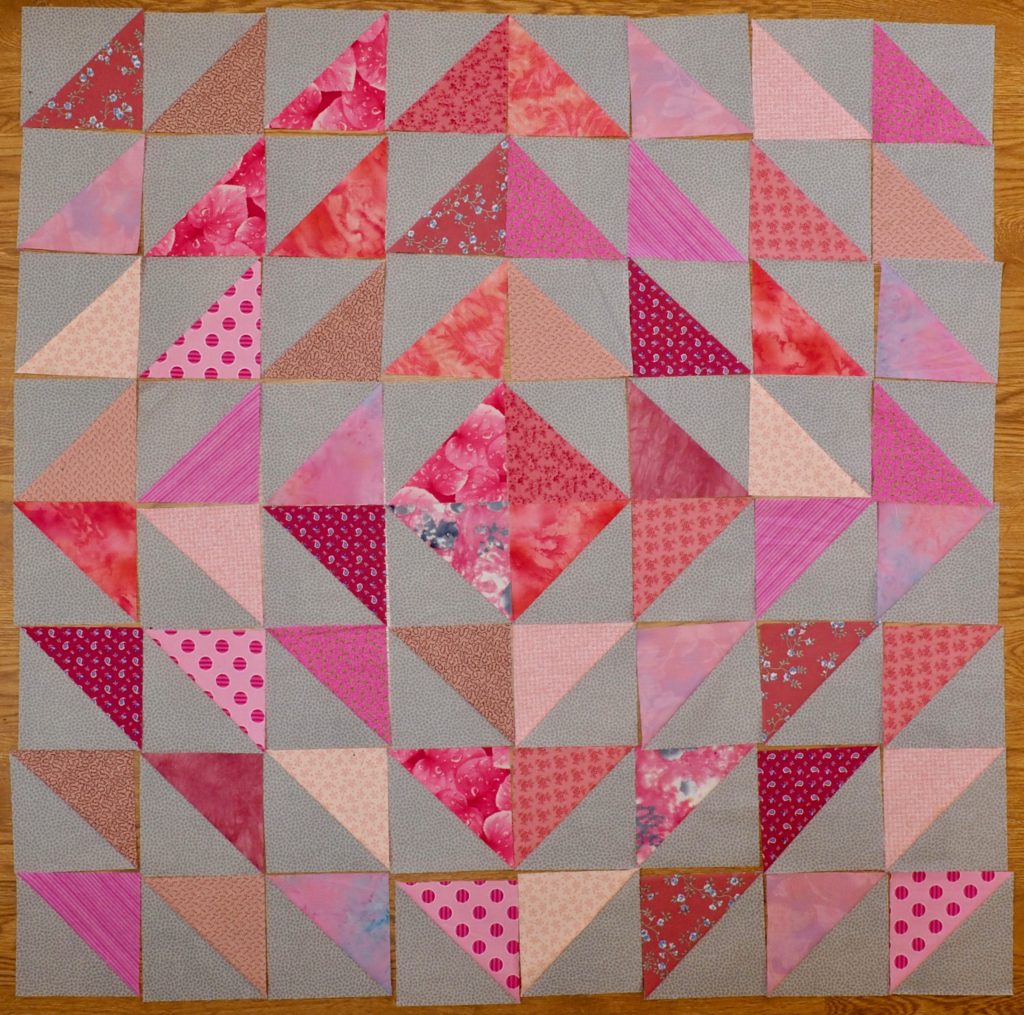 With just a few block rearrangements, the bull's eye layout turns into this mesmerizing design. Using ombré fabrics would really make this pattern shine.
Topsy Turvy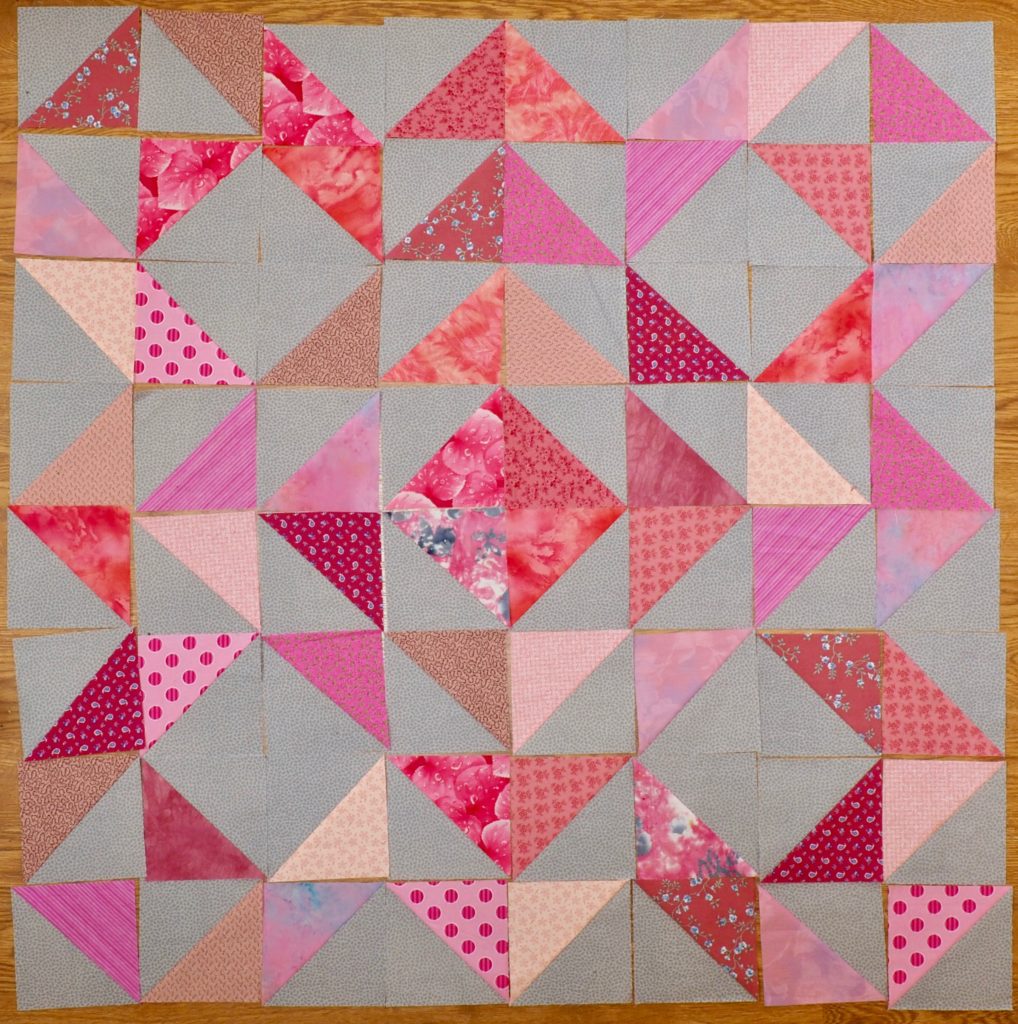 A variation of the fractured bull's eye, this layout resembles an individual quilt block. I think it would be quite striking in black and white.
Inverted Arrows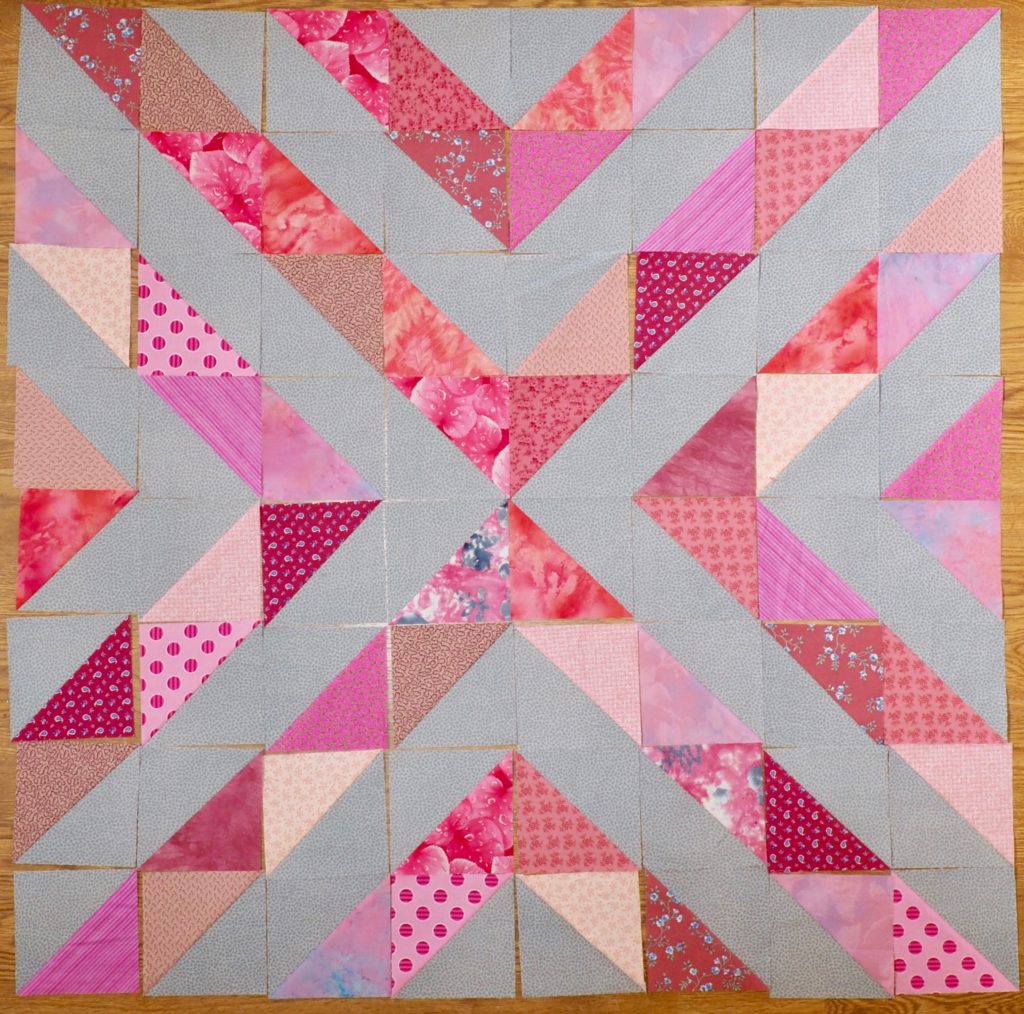 This pattern is powerful and quite eye-catching. When deciding which layout I wanted to use, this was one of the ones I was thinking about doing.
Squares in Squares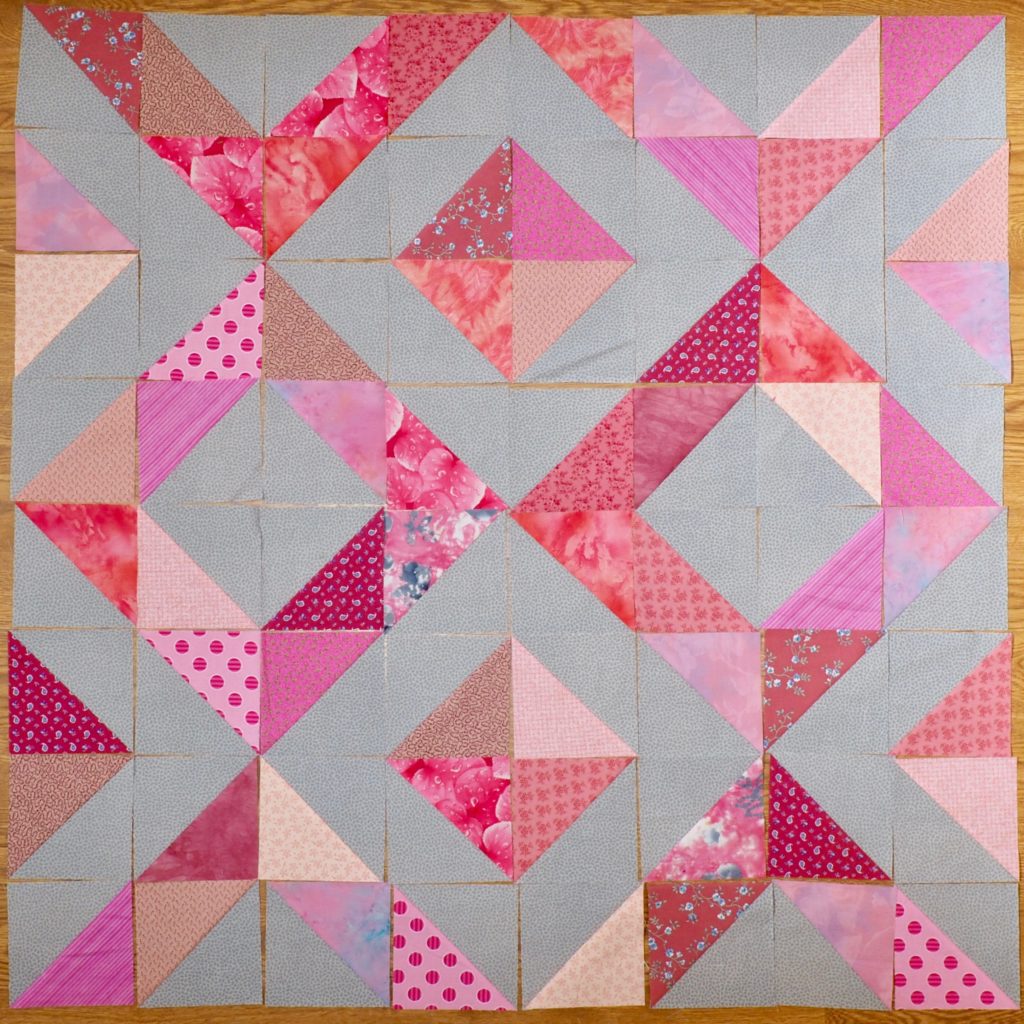 A bold design, this squares in squares layout presents a powerful graphic.
Fractured Flying Geese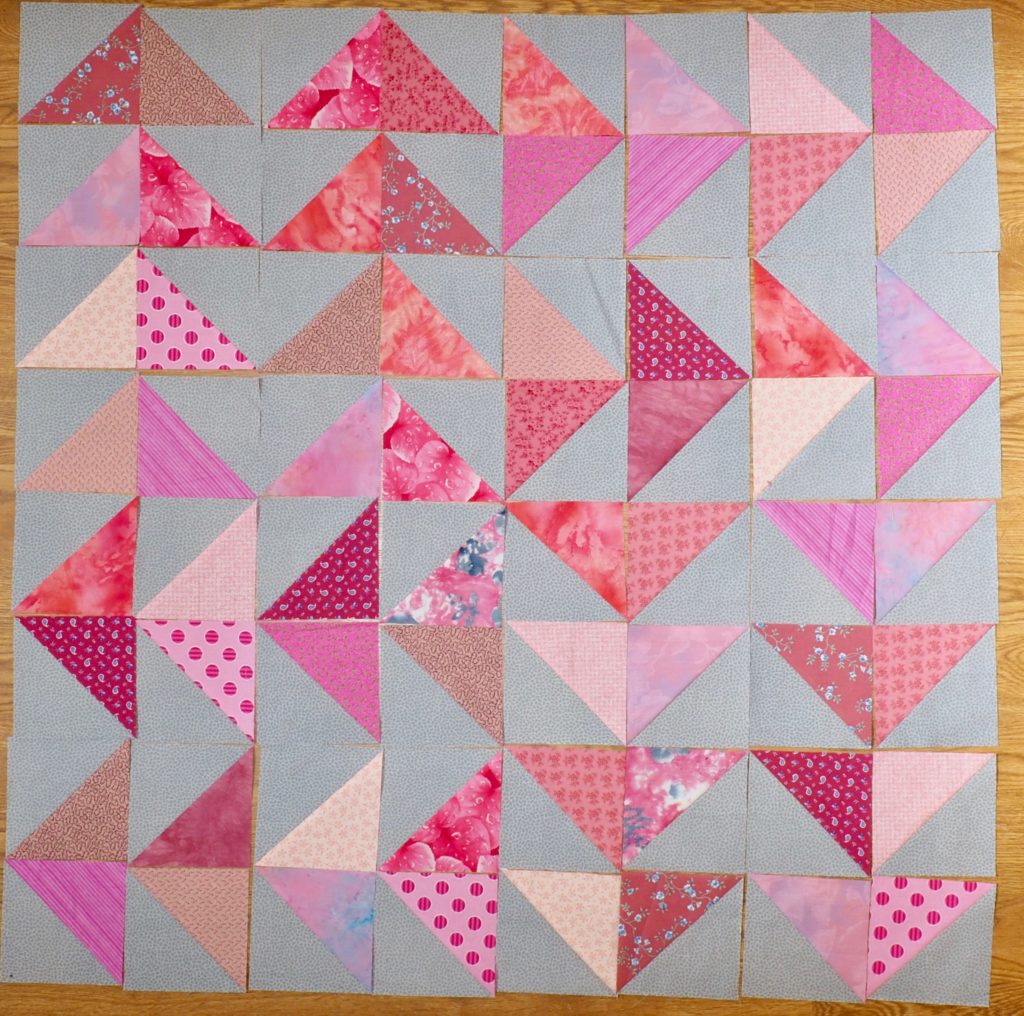 These half square triangle flying geese are flying in all four directions and give the design plenty of movement.
Which Layout Will You Choose?
I decided to go with the chevron pattern, and I couldn't be happier. It hangs over my desk. Which layout is your favorite?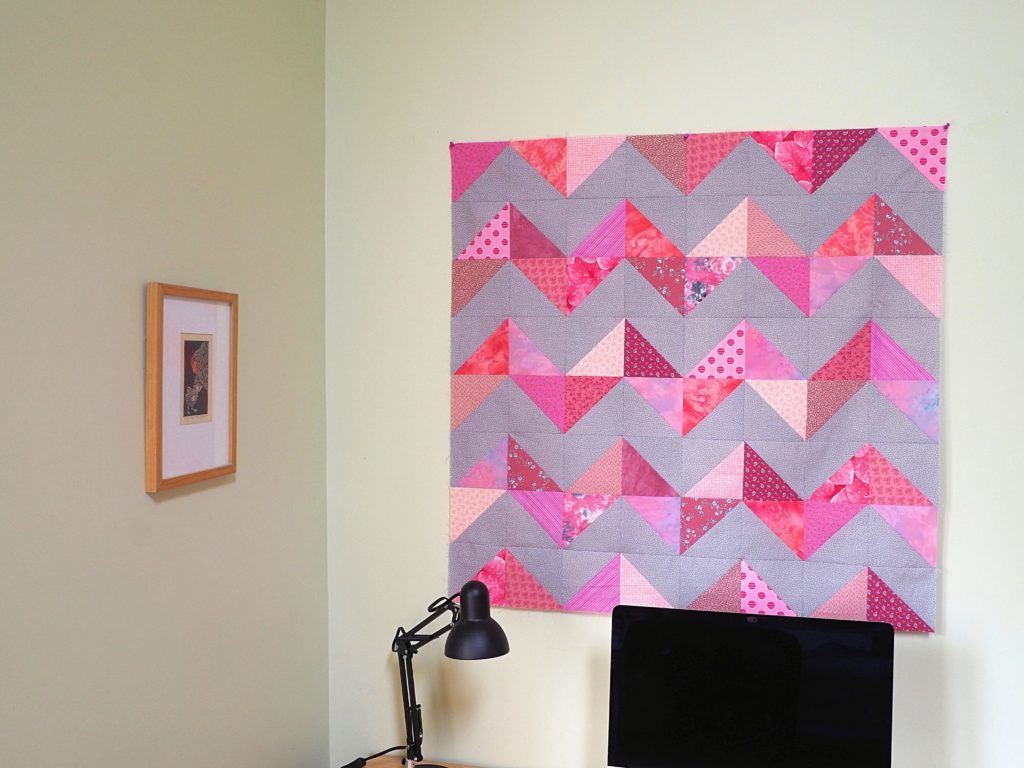 These sixteen patterns are just the beginning. The design possibilities are only limited to your imagination.
Want More Layouts?
Here are 11 more designs for your half square triangles.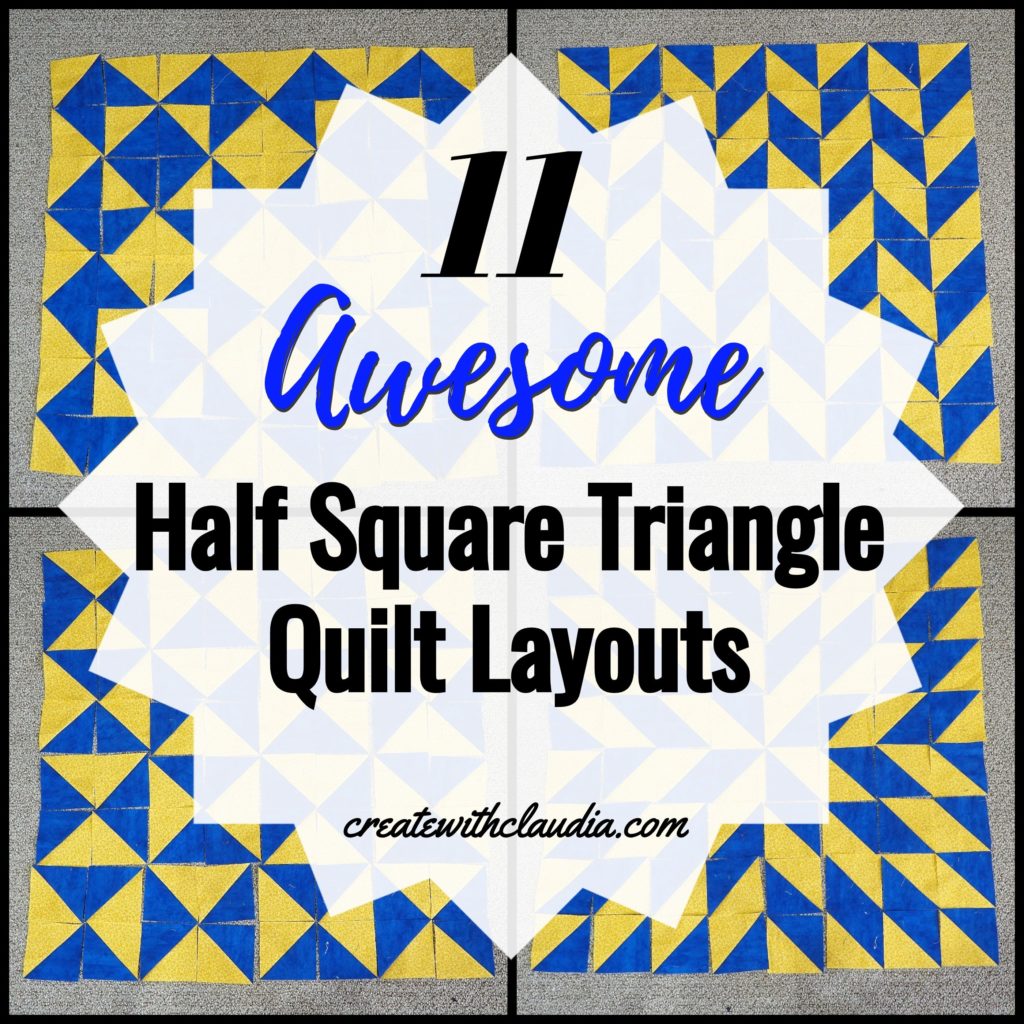 With this half square triangle tutorial, you can whip up 64 blocks in no time. The fun part is in laying them out and deciding which one you like best. Once you've done that, it's an easy quilt top to assemble.
Happy Quilting!