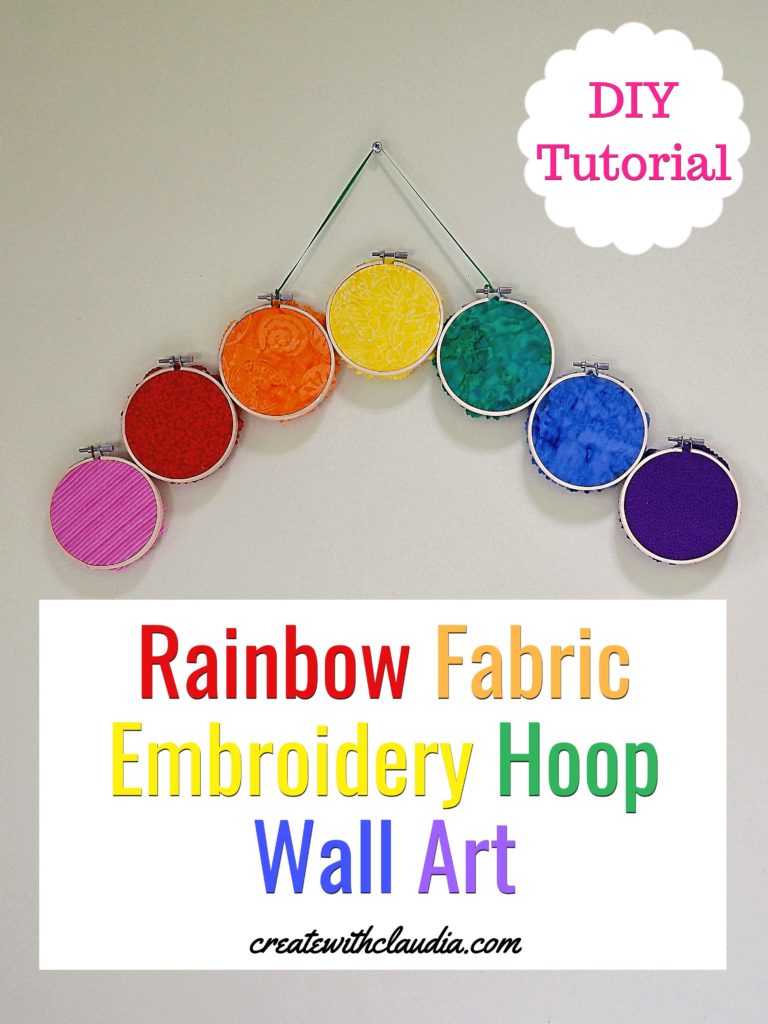 Who doesn't love the colors of a rainbow? I know I do, and if you do too, then this rainbow fabric embroidery hoop art project is for you.
Bright and cheerful, rainbows make great art. From pastel hues to vivid jewel tones, they can be portrayed in so many different ways.
This wall hanging is easy to make, doesn't take much time, and when done, is a cheerful decoration that looks great anywhere.
As far as supplies that you will need, there are not that many. Luckily, since I am a quilter, I did not have to look far for the fabrics I used, but you can easily find these colors at your local craft or fabric store. Other than that, the only thing you will need are embroidery hoops, and those are easy to find too.
Let's get started.
What You'll Need
7 Pieces of Fabric – 1 of each in pink, red, orange, yellow, green, blue, purple – Large enough to fit into the 4" hoops, so about 5" to 6" squares
7 Embroidery Hoops – 4" diameter
Pinking Shears
Glue Gun or strong craft glue
Circle template large enough so that the fabric will fit in the hoop – The plate I used was a scant 5 1/4″ in diameter and it fit the 4″ hoop well
Satin ribbon for hanging
Please note: This post may contain affiliate links which means that if you make a purchase after clicking on one of the links, I may get a small commission (at no additional cost to you). Please see my full disclosure policy for more information. As am Amazon Affiliate I earn from qualifying purchases.
Prepare the Fabric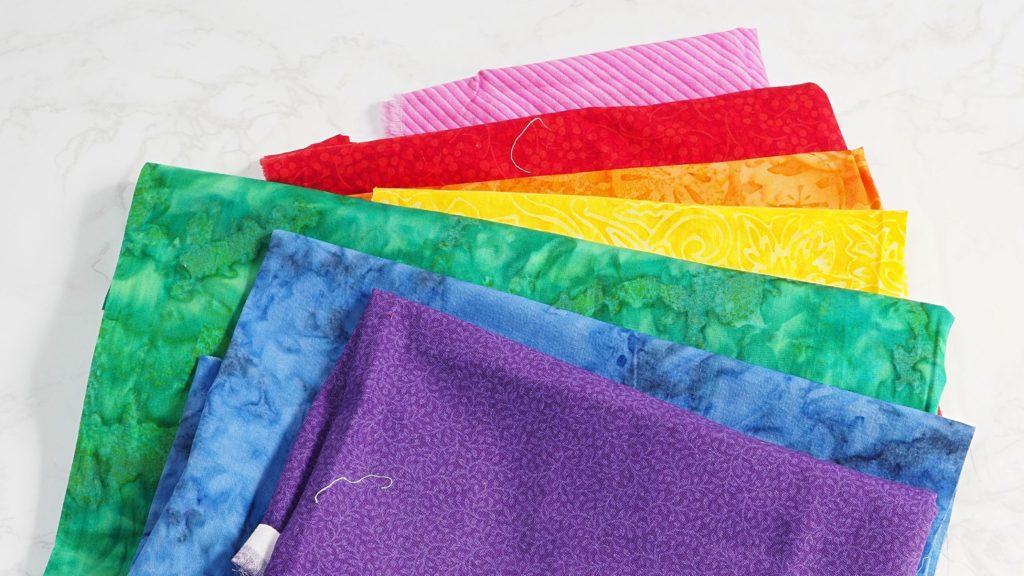 First, press your fabric. It does not have to be perfect. It gets stretched out when it goes in the hoop.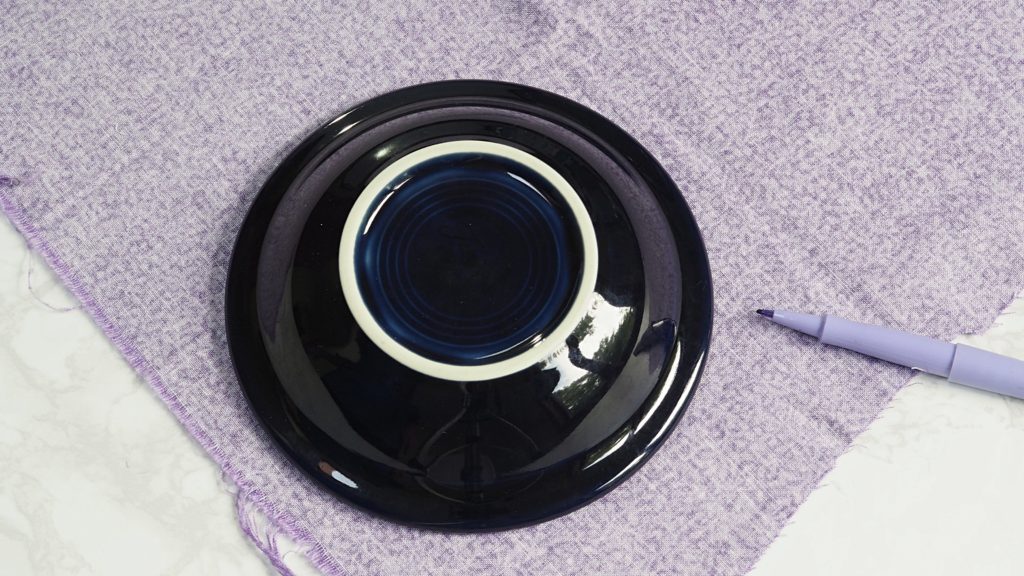 Next, take your template and trace around it on the back (wrong) side of the fabric. Repeat with all of the fabric pieces.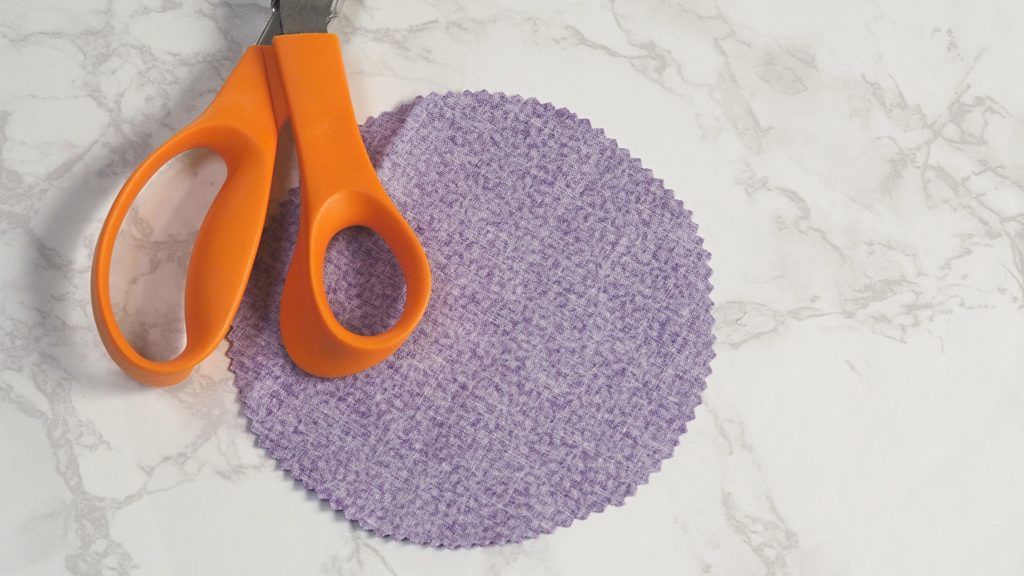 Finally, using your pinking shears, cut around the circle, on the inside of the traced line, so the marks don't show.
Prepare the Embroidery Hoops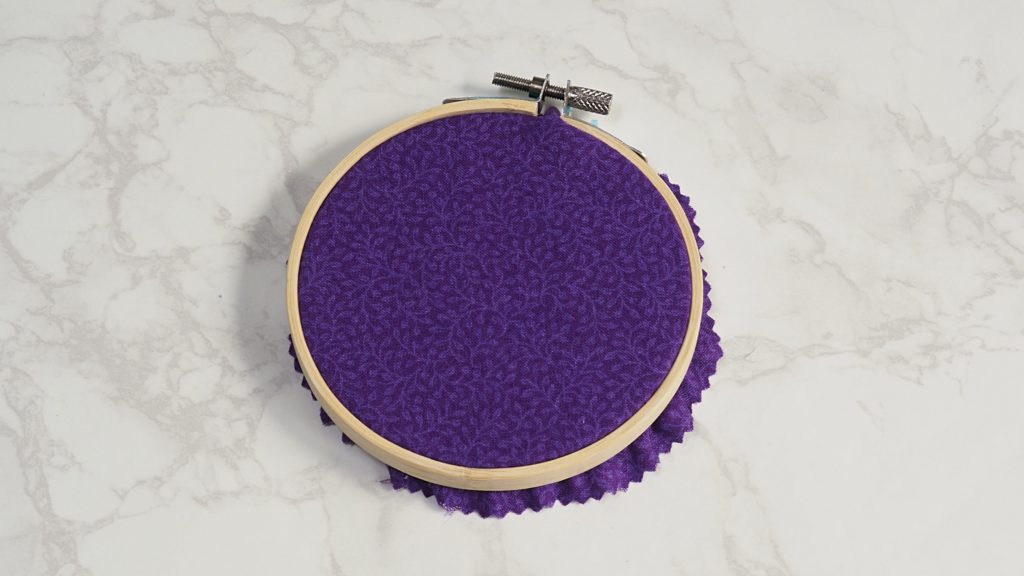 Add the fabric circles to the hoops, trying to get them as centered as possible. Tighten the screws and gently pull the fabric so it is taught in the hoop.
Make the Rainbow
Note: Make sure to protect your work surface. You may get glue on it.
Lay out the fabric covered hoops in an arch. I made mine in a flatter arch, but they can be placed however you would like. Once you are pleased with the layout it is time to start gluing them together.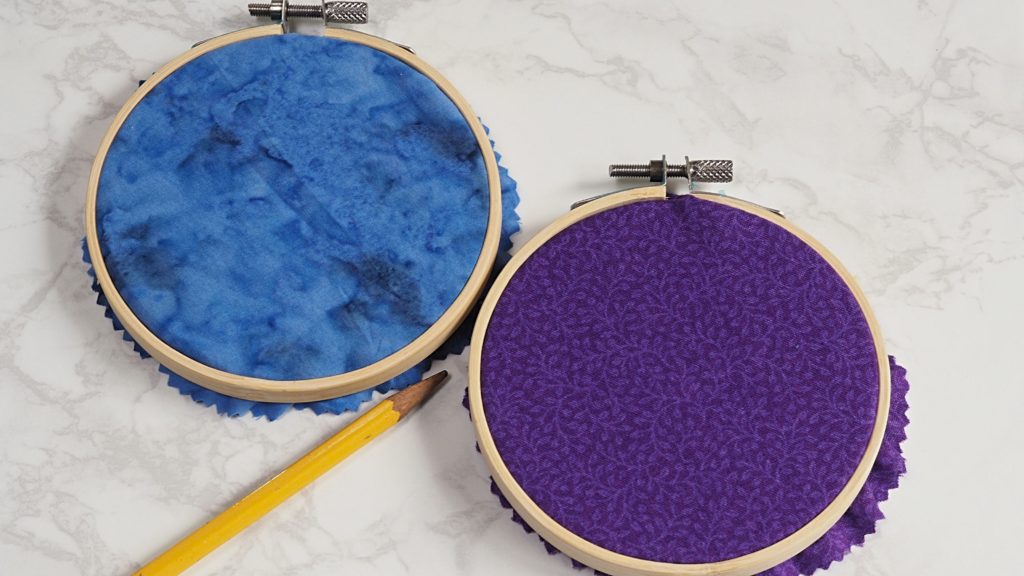 Going in the order they are laid out, take your first two hoops and carefully mark (on the inside where it won't be seen) where they meet each other. This will be where you want to apply the glue.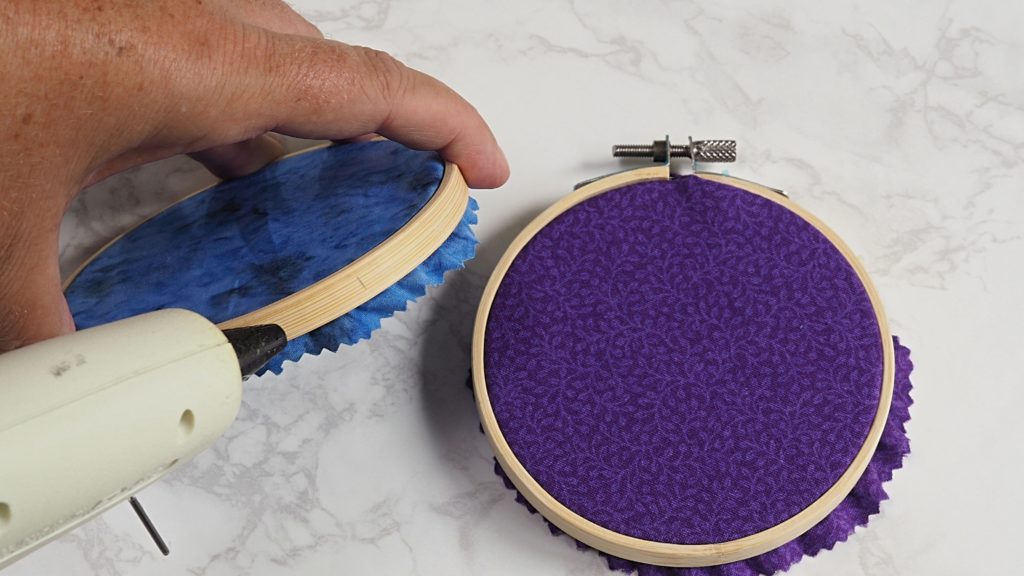 Take your glue gun and place a small drop of glue on the mark in between the two hoops. Put the glue towards the back side of the project so it doesn't get squeezed out too much on the front.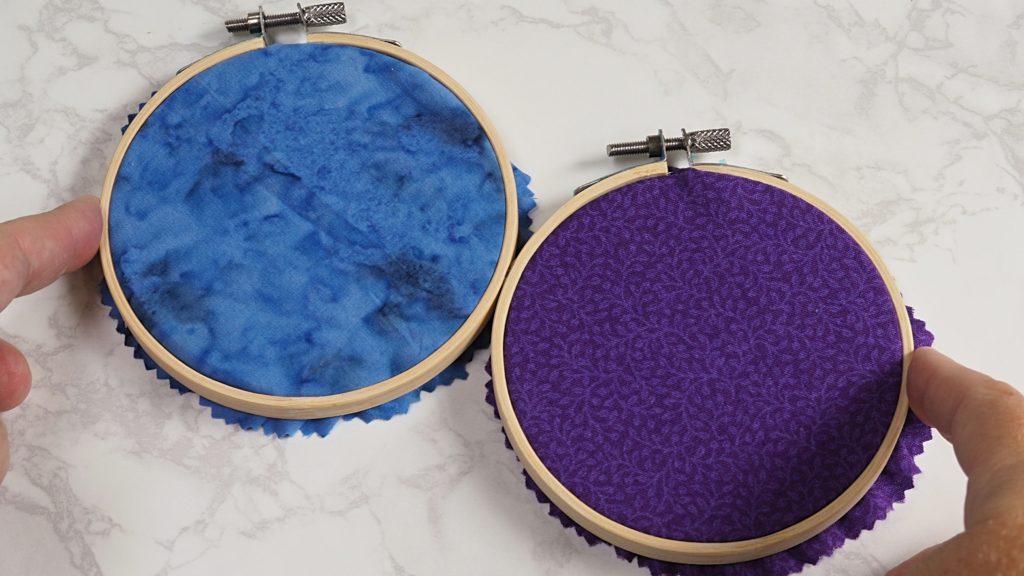 Hold the two hoops in place for about 15 to 20 seconds, or until the hot glue is set. Be careful here. The glue is hot and you don't want to burn your fingers.
Note: If you don't want to use a glue gun, you can always use craft glue, but keep in mind that it takes longer to dry.
Lay the glued section back down and readjust the layout if needed. Once the section is cooled, take the next hoop and glue it to the section that has already been glued, using the same method.
While you are attaching the sections, take care to make sure that you are keeping the hoops in the order and place you want them to be. I checked mine every time I added another hoop.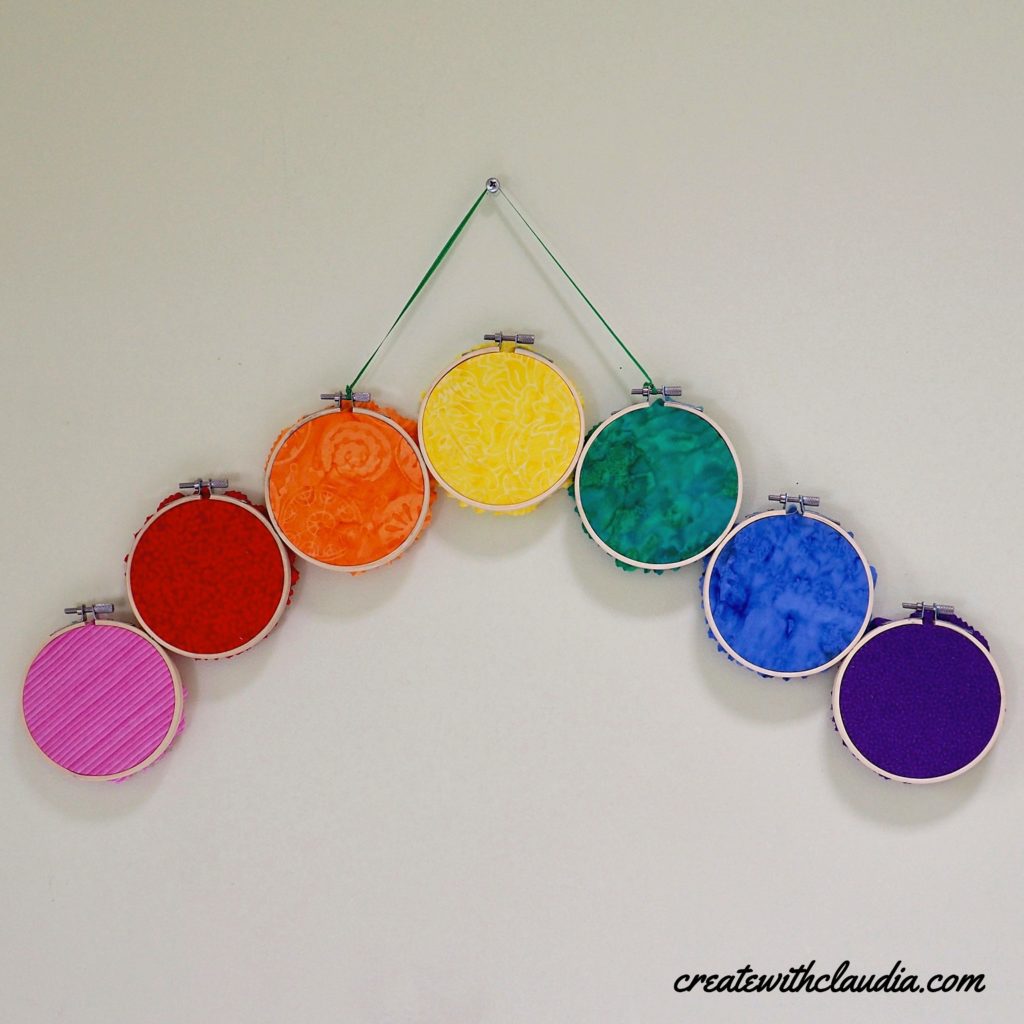 Finishing the Rainbow Fabric Embroidery Hoop
Once you have finished gluing all of the sections of your rainbow together, and it has cooled completely, it's time to get it ready to hang. Cut a piece of satin ribbon to the length you want and attach it where desired.
Because my arch is longer, I attached the ends of my ribbon to the hardware on two of the embroidery hoops. It hangs straighter this way.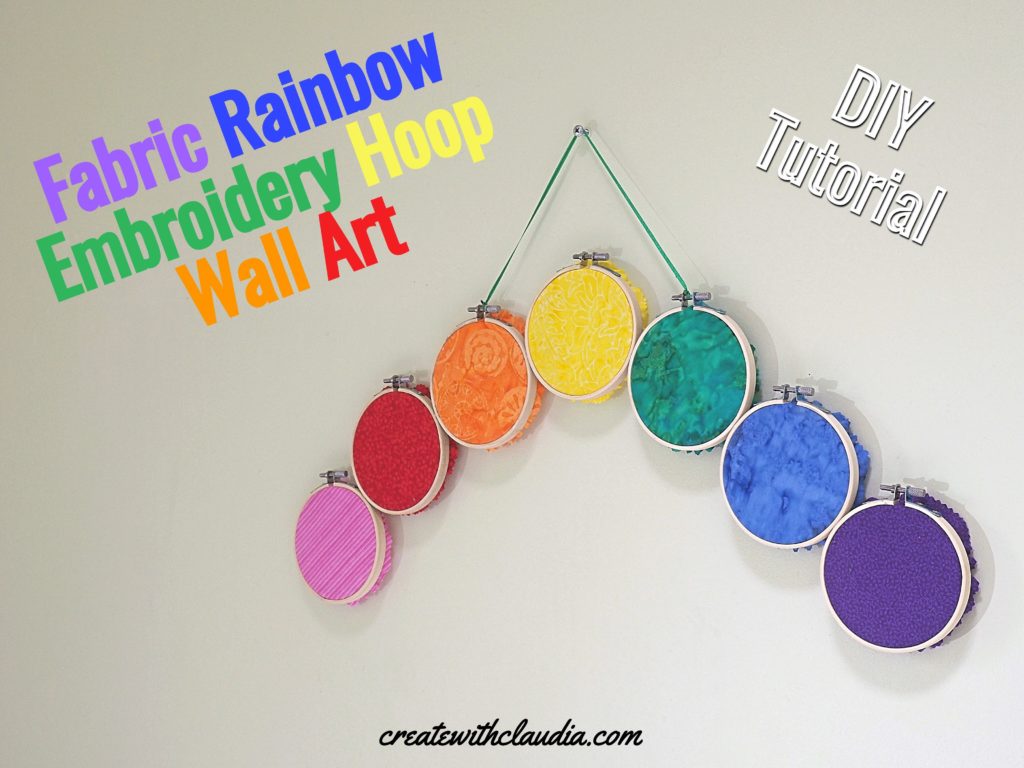 Rainbows Rock
When you make this wall hanging, you'll always have something bright and cheery to look at. You probably won't have the proverbial pot of gold at the end of it, but at least your wall will look nice.
Happy Crafting!