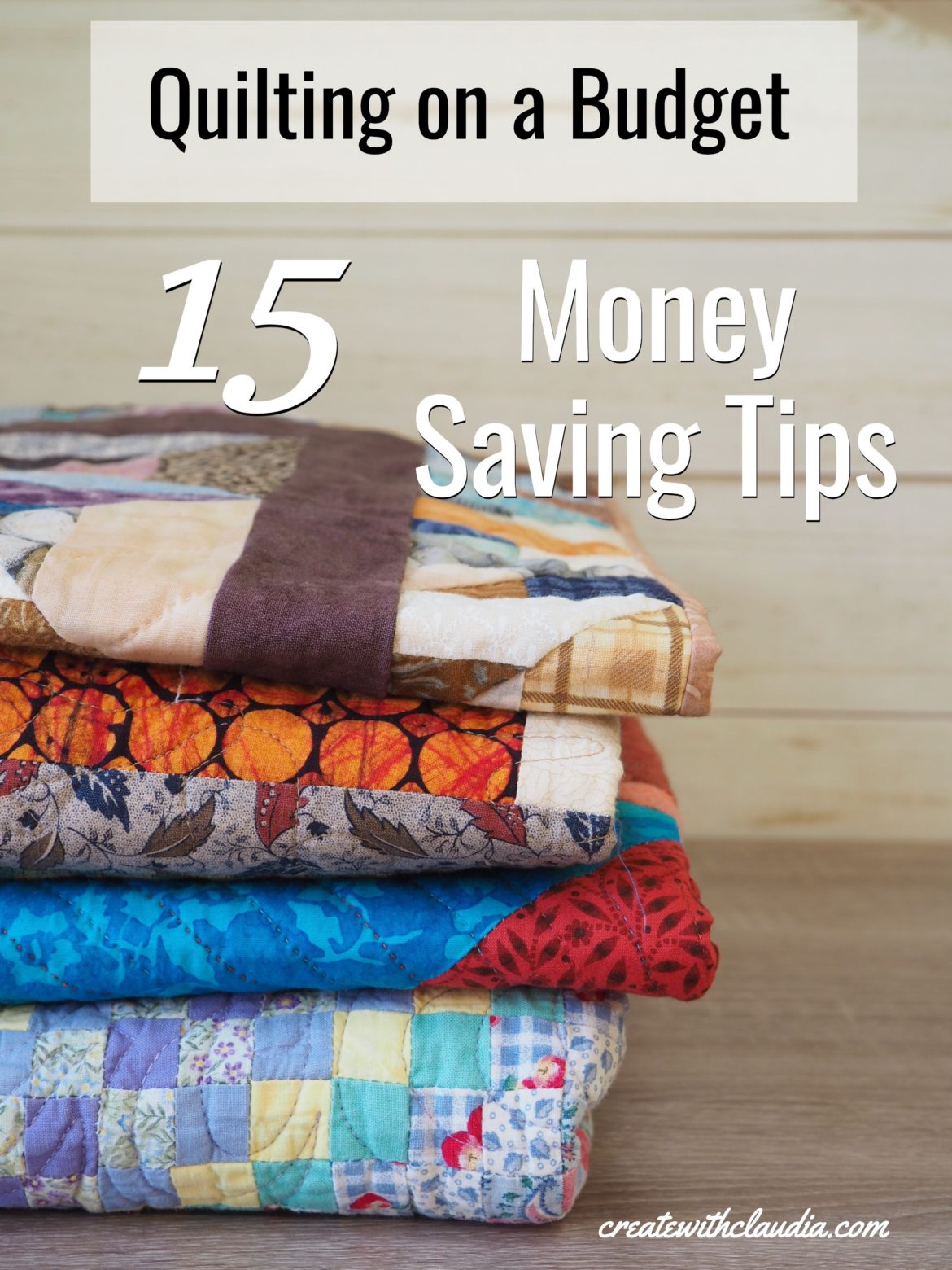 Quilting on a Budget – 15 Money Saving Tips
Whether you are just starting out, or you have been quilting for years, sometimes you just want to save some money. Let's be honest, quilting is not necessarily the cheapest hobby around. From fabric to notions, the price for making even one quilt can go up pretty quickly. That is why it's essential to get some tips about quilting on a budget.
These 15 money saving tips will have you quilting your next masterpiece in no time and for (hopefully) less money. Yes, some of them might be no-brainers, but sometimes the most obvious things can slip one's mind, so think of these as helpful reminders.
Of course, if you just can't live without that gorgeous piece of fabric that you have been eyeing, then what the heck, go ahead and splurge.
Video on 15 Money Saving Tips for Quilting
1. Sew Your Stash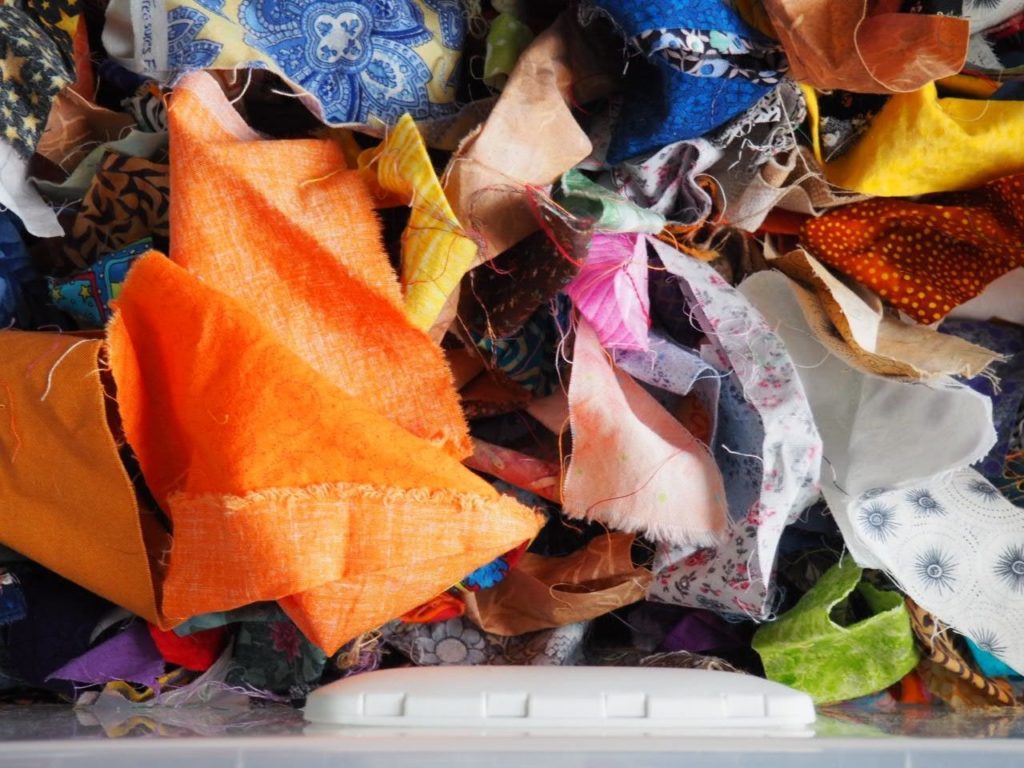 Before heading out and buying all new fabric for a quilt, double check your stash. For the last couple of years I have been making a concerted effort to use my stash instead of new fabric.
I'll be the first to admit that I am not always successful, but challenge yourself to use up your stash. You might be surprised at what you come up with.
2. Thrift Stores/Quilt Guilds/Quilt Shows/Dollar Stores
Thrift Stores – Don't overlook second-hand shops when looking for deals. If you hit it just right, you may find some really nice fabric or notions.
Quilt Guilds – Some quilt guilds have an annual stash busting event where people can bring in fabric they want to get rid of and, for a small price, you can get a bag and fill it. I know that the one I was in years ago did this and I got some lovely pieces.
Quilt Shows – Sometimes quilt shows will have a back room with tables of unwanted fabric at low prices. You never know what you might find.
Dollar Stores – Definitely don't forget to check out those stores where everything costs a dollar. You can definitely find some things to use there too. Here are 44 ideas to start.
3. Things from Around the House
There are plenty of things around your house that you can use when quilting. The best part about that is that they are free. You can't beat that price!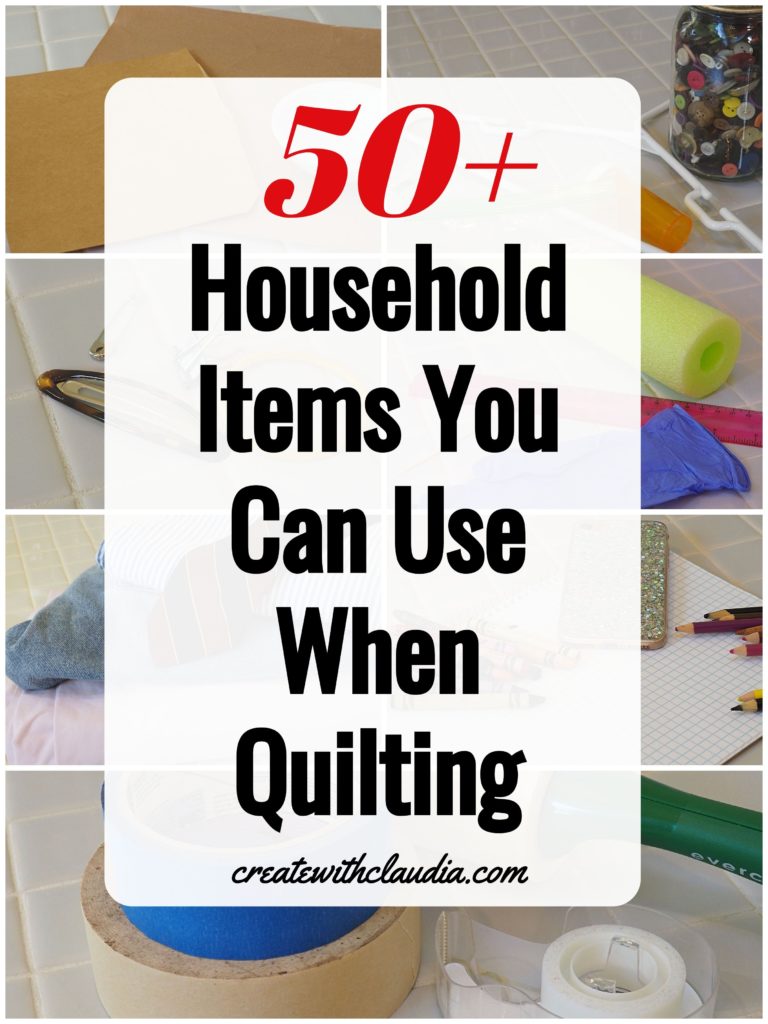 I wrote this article and made a video about quilting with things from around the house. I also did a second video of tips from viewers who had some great ideas.
4. Yard Sales/Estate Sales
You never know what you can find at yard or estate sales. I have gotten some beautiful fabrics over the years. A quick note on this however, make sure the fabric is in good condition.
I once bought some and when I got it home I found holes in it, presumably from moths. It all went in the trash right away because I was worried about bringing some unwanted critters into my other fabrics.
5. Repurpose/Recycle Fabrics
You can make some beautiful quilts from clothing and other items you have in your closets.
For example, here are two quilts I made with recycled fabrics.
My freeform denim quilt was made entirely from discarded jeans that were in bad shape. It's an easy and fun quilt to make.
I used my father's old handkerchiefs to make three wall hangings for myself and family members. It was a lovely way to remember him.
6. Free Patterns
You'd be surprised at how many free patterns are out there. From fabric designers to part time bloggers, you can find some really nice ones at no charge. My article, 10 Places to Get Free Quilt Patterns, tells you all about it.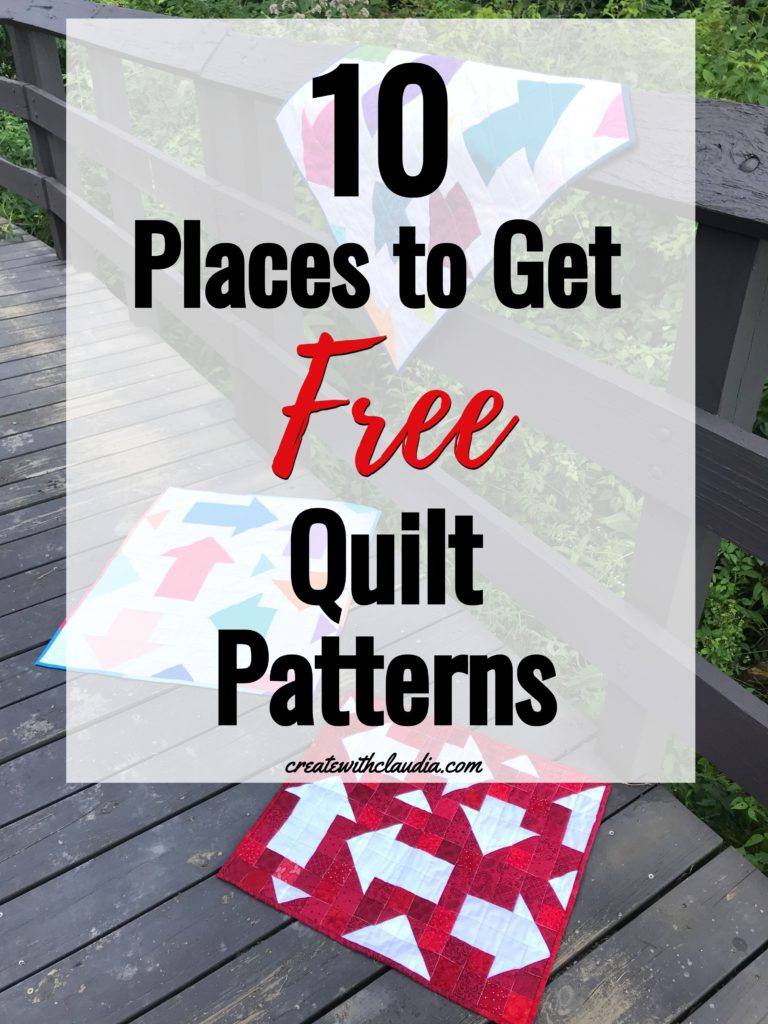 7. Friends & Family
You never know where you can find fabric. I've gotten some lovely pieces from a neighbor that went to good use.
One time I got a large amount of 1930s reproduction fabrics from a distant family member who had an acquaintance that had passed away. I was able to make a king size quilt out of it.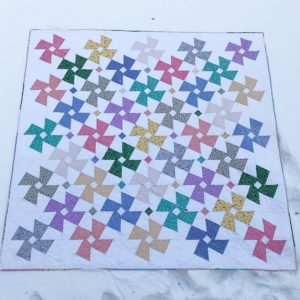 8. Start Slowly
I may have to raise my hand at this one. I tend to go all out when I first start a hobby. Try not to. Quilting can get pricey so start slowly, maybe with a small design that doesn't require too much fabric.
You never know, you might end up not enjoying the hobby (which I doubt) and if you buy too much stuff up front, you won't know what to do with it.
9. Avoid Buying Too Much Fabric at First
So I kind of questioned myself on this one, because there have been times when I did not buy enough fabric. Also, who am I to tell you how much fabric to buy. However, the bottom line is, if you want to save money, don't buy way more than is needed for whatever it is you want to make.
10. Save Those Batting Scraps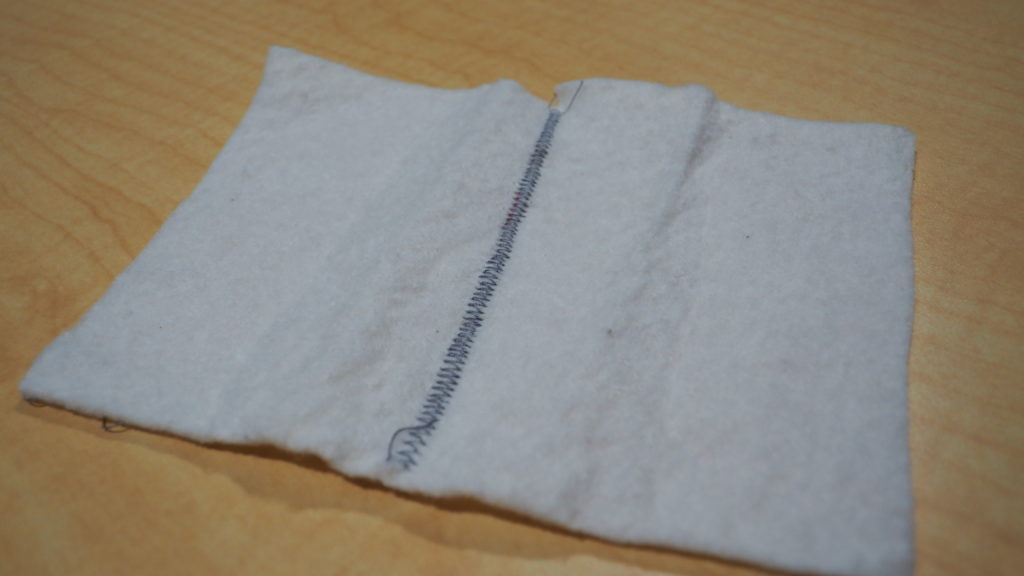 It's not hard to piece together batting scraps. I know that I always have some fairly wide and long pieces left over after I have finished a quilt. Use your preferred method ( I use a tight zig zag stitch) and sew together a large enough piece for your next project.
11. Hit the Sales in Your Local Shop
I know, I know… it's so tempting to look at all of the incredibly beautiful eye candy in the quilt store, but save that for the end of your visit.
When I go to my local shop, the first thing I do is head to the sales rack (in my case, near the back of the store). I peruse through it and snatch up any goodies that might catch my eye.
You never know what you might find.
12. Piece Your Backing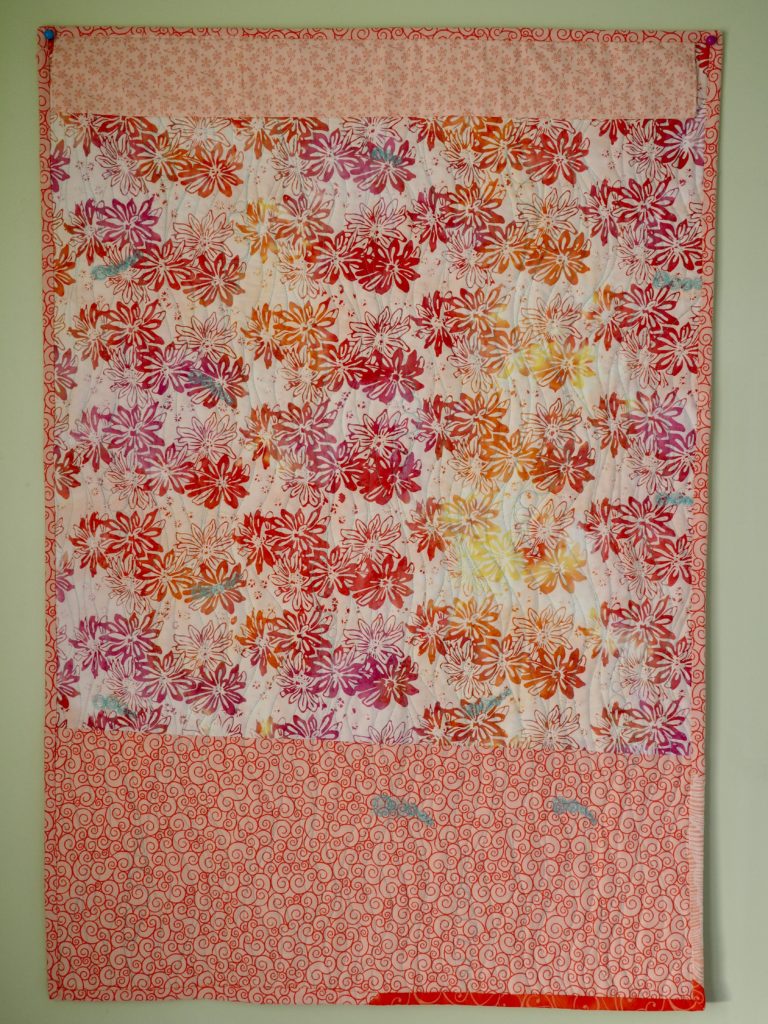 I love a pieced backing, especially on my scrap quilts. Not only are you saving money by not going out and getting more fabric, it is an awesome way to bust some of your stash. Often I will use use the leftovers from fabrics that I used on the quilt top ( like the one pictured).
I will also use fabrics that I know I will never use on the front of a quilt. You know what I'm talking about, the ones you look at and say "What was I thinking?!". Well, those fabrics make great backs.
13. Head to Your Local Library
Before you buy that pricey book, it may be in the library. Check it out and decide if you really want to buy a copy. Not only that, but if you are new to quilting, check out a book on quilting basics. They are good resource for determining exactly what you will need to get started.
14. YouTube
You can find practically everything on YouTube these days and that includes stuff about quilting. From free patterns to helpful tips, you can find it on YouTube.
15. Hold Off On Buying Every Quilting Tool When You First Start Quilting
I almost didn't add this one in, but when I was straightening up my sewing space the other day I came across some shaped rulers that I have never used. In fact, one of them still had the wrapping on it and it cost me about $15. Yikes!
I'm not saying to never buy a quilting notion, but think twice before you do.
Quilting on a Budget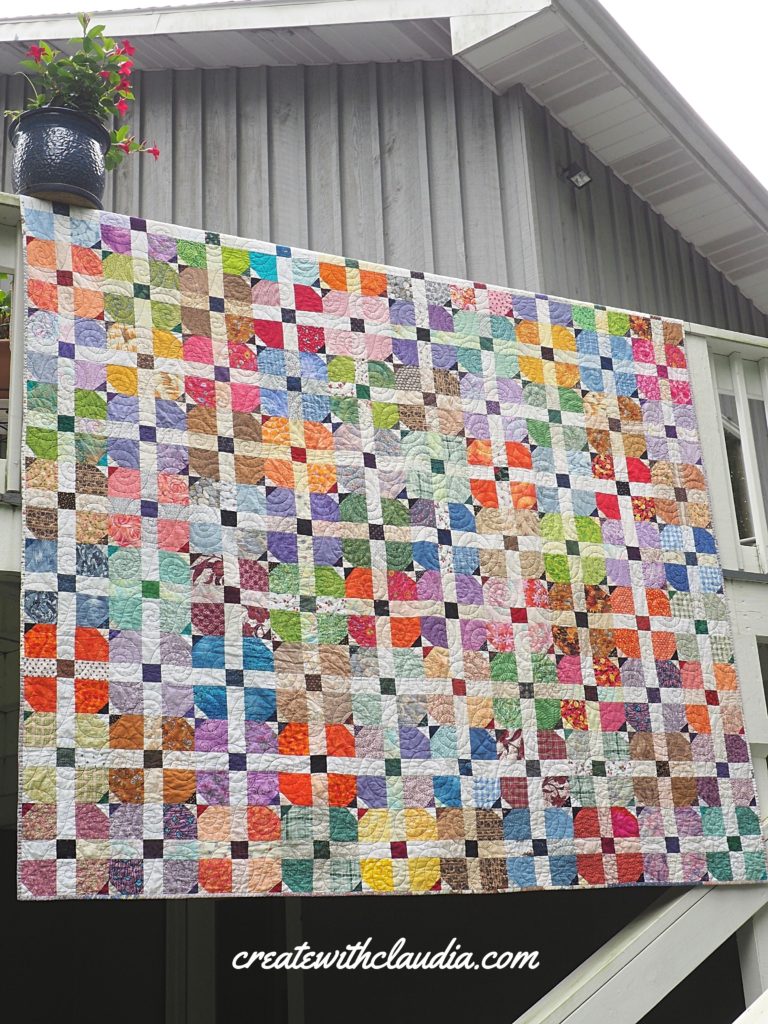 When I was writing this blog post I did not want it to come across that I was lecturing too much. I, and I daresay most other quilters, have spent a fair amount of money on their passion. It is easy to get caught up and bust a budget with this craft.
This article is just my way of pointing out some ways to help stay on a budget. But let's be totally honest here…if you really want that fabric and just can't live without it, then I bet you are going to buy it. I know I would.
Happy Quilting!