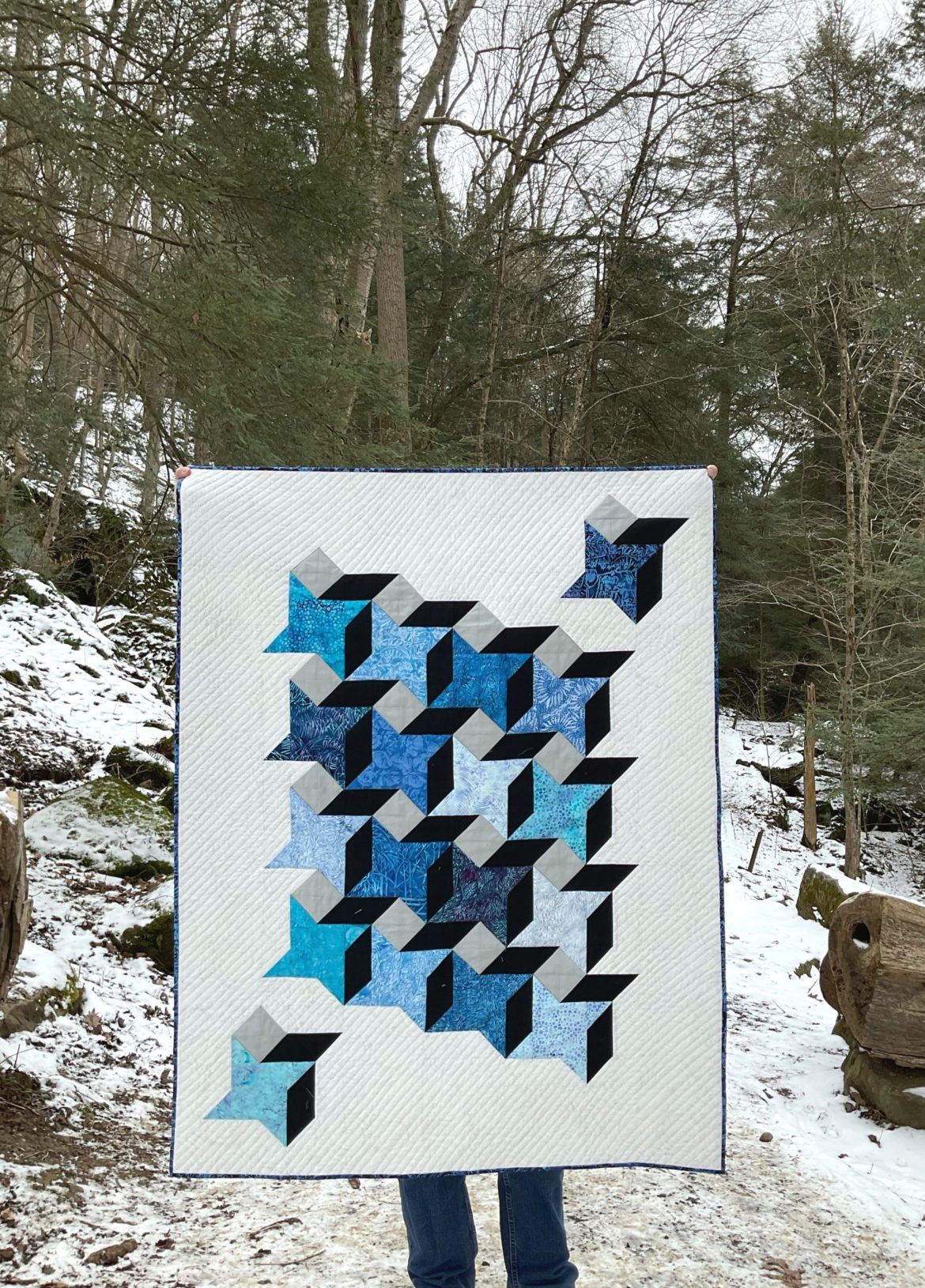 Create for a Cause Quilt – Pleiades
Each month the Island Batik Ambassadors have a challenge project to do. Our assignment for February 2021 was to create for a cause and the challenge was to use one of their new fabric lines. Now that is my kind of project! Not only will my quilt be going to a good charity, I get to use some gorgeous fabrics.
I decided to call this quilt "Pleiades", which is a cluster of stars that glow hot blue. It's also known as the Seven Sisters or M45. I thought that would be a fitting name for this design.
This project was so much fun that I decided to design a free mini 3D Friendship Star quilt pattern which is on my blog. It's a great little mini to highlight some fabric. You can see a picture of it further down in the article.
Disclosure: The products in this post were generously provided by Island Batik, Accuquilt, Aurifil, Schmetz Needles, and Hobbs Batting.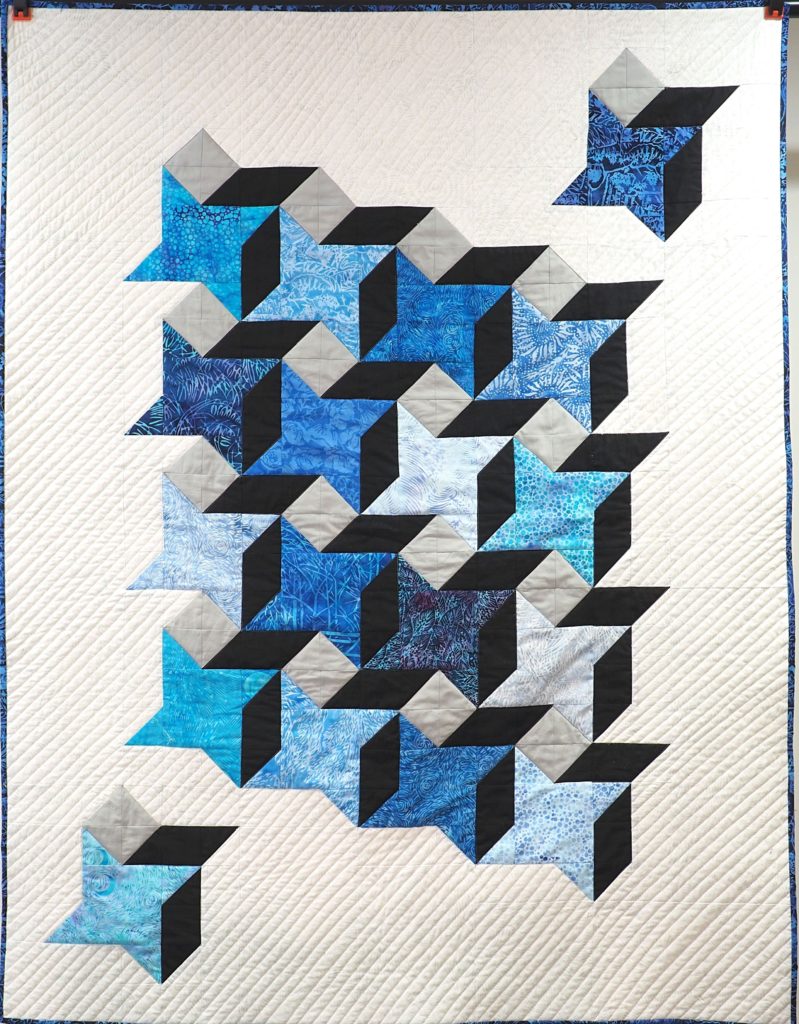 The Charity
The charity I chose was the Lutheran SeniorLife Foundation Benevolent Care Fund. It benefits the residents of their retirement/nursing communities who have outlived their resources.
"For more than 100 years, Lutheran SeniorLife has helped seniors throughout western Pennsylvania thrive spiritually, emotionally, intellectually and physically. Through our vibrant senior living communities and our comprehensive care options, our goal is to help you live life to the fullest—with the respect, love and compassion you deserve"

Lutheran SeniorLife
The foundation will be auctioning off this quilt at their next annual fundraiser. Fingers crossed it makes lots of money for them!
The Fabric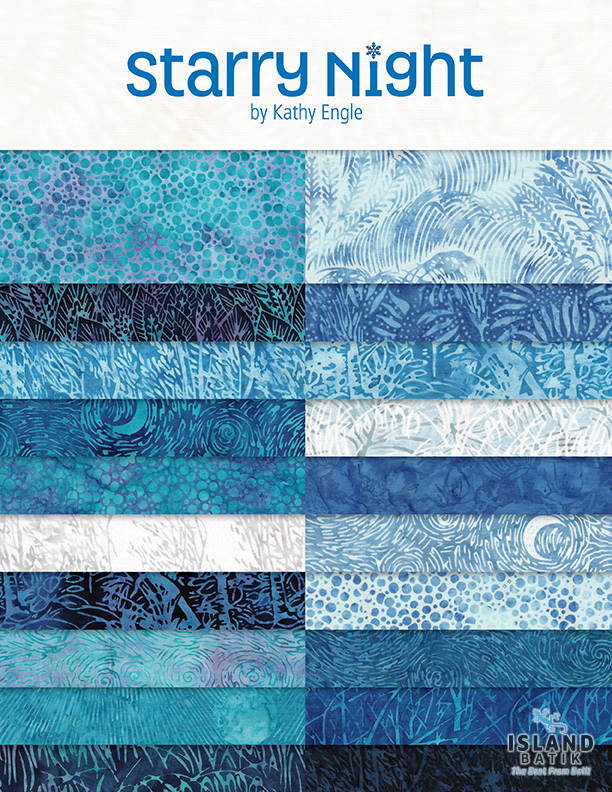 The fabrics I received for this quilt were right up my alley. Twenty glorious blues in various shades. The line, designed by Kathy Engle, is called "Starry Night" and is in stores now.
I wanted to really show off those gorgeous blues, and I also wanted the 3D friendship stars to really pop. That is why I went with Island Batik's "Coconut" from their neutrals line for my background.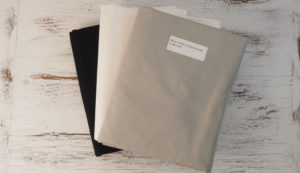 For the 3D accents on each star I used their solid black and solid gray fabrics.
The "Pleiades" Quilt
As soon as I saw the fabric I knew exactly what I wanted to do. About 25 years ago I made my father a small wall hanging. It was my original 3D friendship star design that had Y seams in it. It wasn't very well made, but he loved it and hung it up until he passed away. I have that quilt now. It's faded and dirty, but I can't part with it.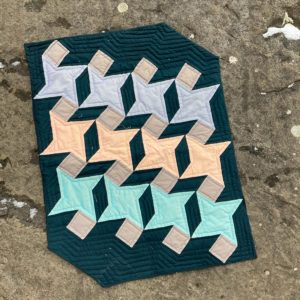 I've always known I've wanted to replicate that design and make it easier (since I cannot stand Y seams). Over the years I would take out my sketches and tell myself it was time. This fabric was the motivation to finally make it. So, after plenty of tweaking I had my design.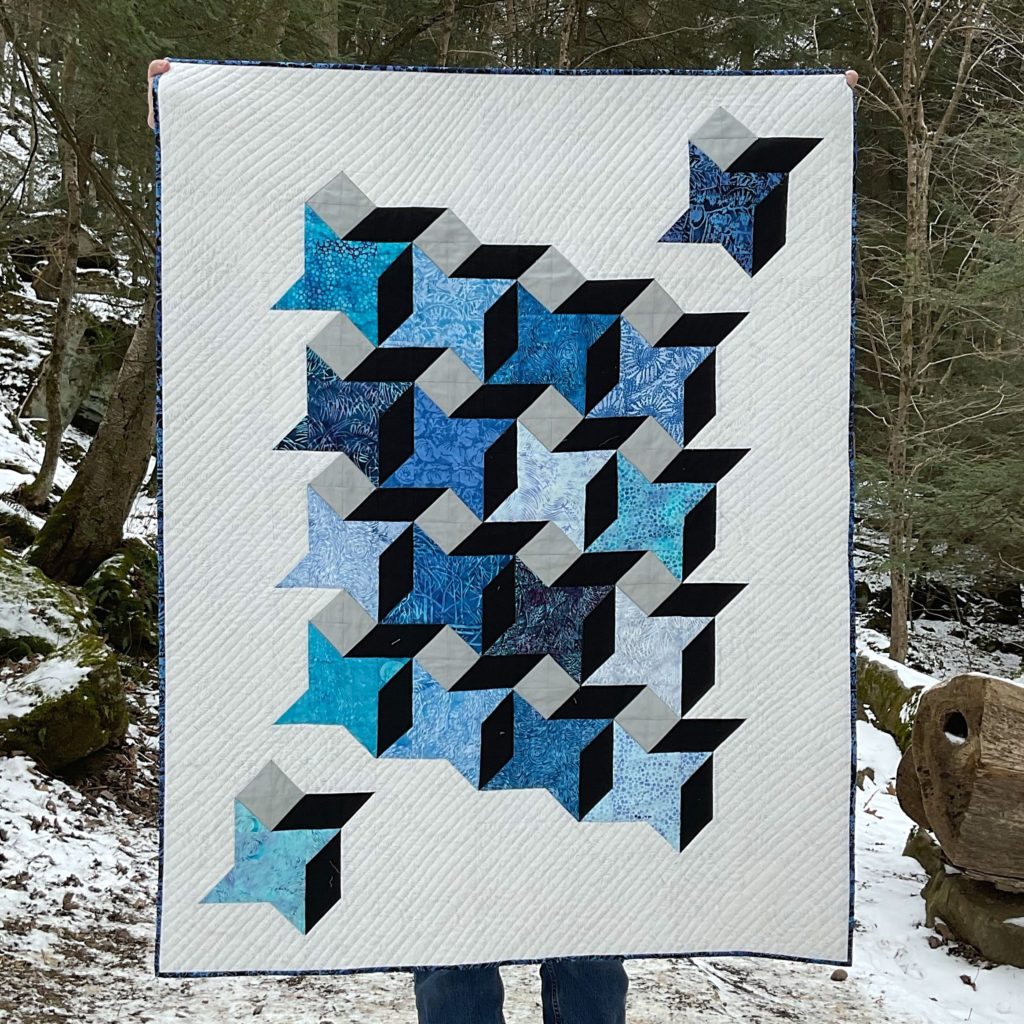 How I Made It
The stars are all made up of squares and half square triangles. The outer white area is various sizes of background fabric.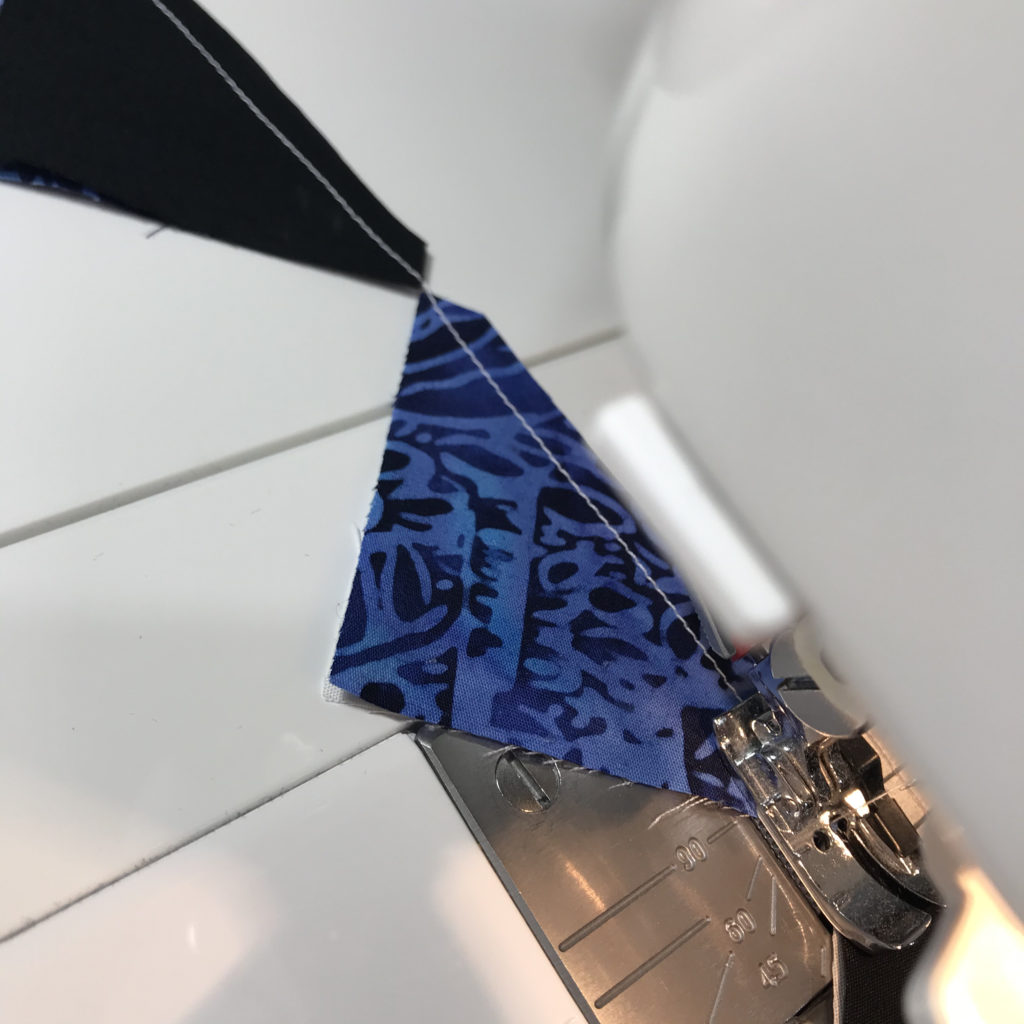 All of the triangles and smaller squares were cut using the AccuquiltGo! system. Can I just say wow! What a difference this tool made. I cut the shapes out in no time and they were all the same size. Every half square triangle came out perfectly using my 1/4″ seam allowance.
I used Hobbs Heirloom Premium Batting which was the ideal weight for this project. To machine quilt it I used Aurifil # 6724 Moonshine (what a great name) and #5004 Gray Smoke.
In my machine I used Schmetz Needles .
Thank you to the generous sponsors.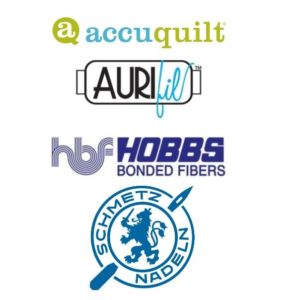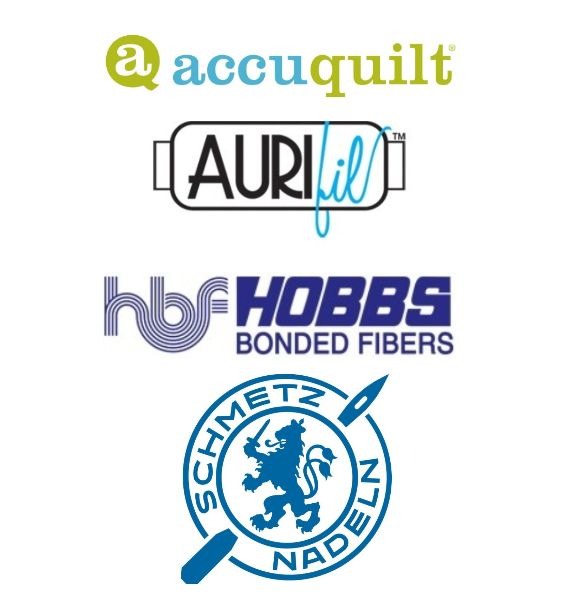 Want to Make Your Own Pleiades Quilt?
I have not written the pattern for the Pleiades quilt, but it was so much fun to make the 3D star that I came up with this mini quilt featuring one of the stars! It measures 14 1/2″ square, and it's super easy to do. You can get the pattern and tutorial over on the blog post here. Did I forget to mention that it's free? Yep. It's my free mini quilt pattern called "3D Friendship Star".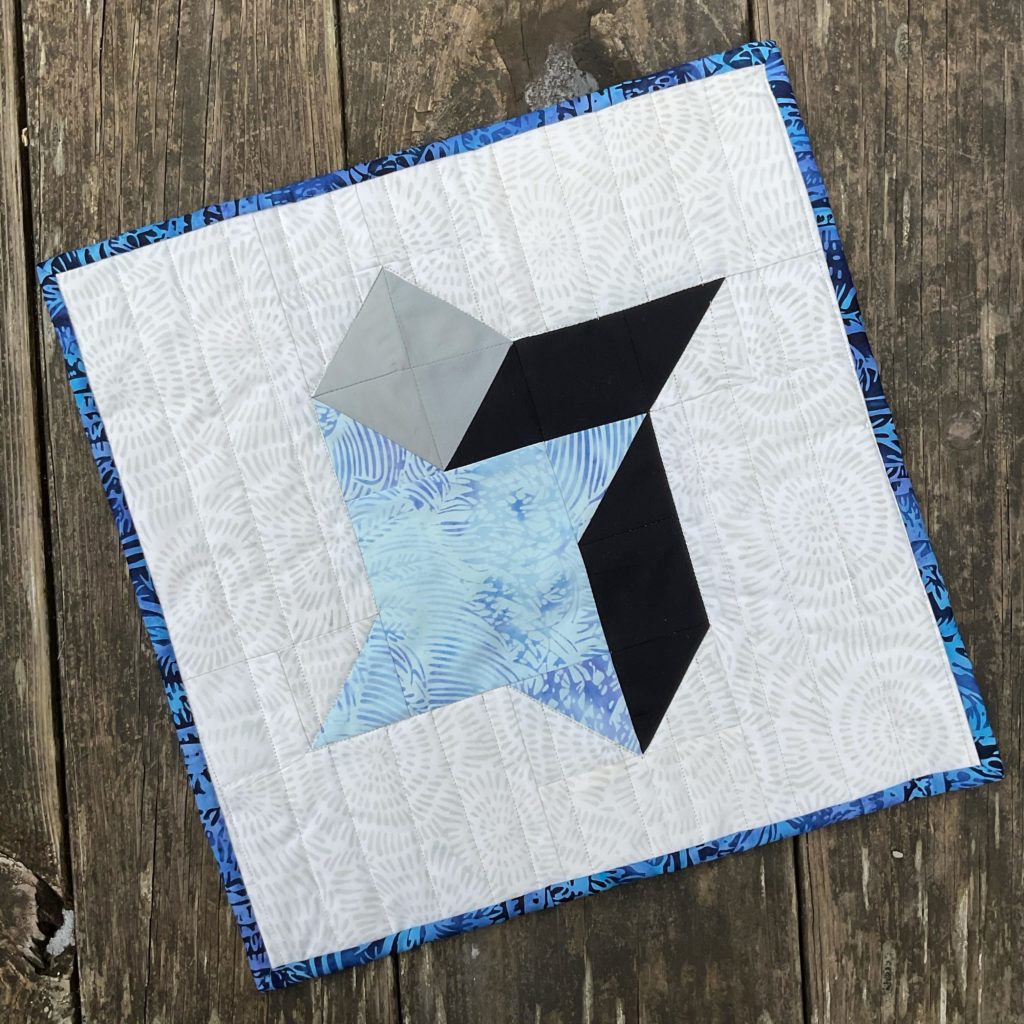 One More Look At Pleiades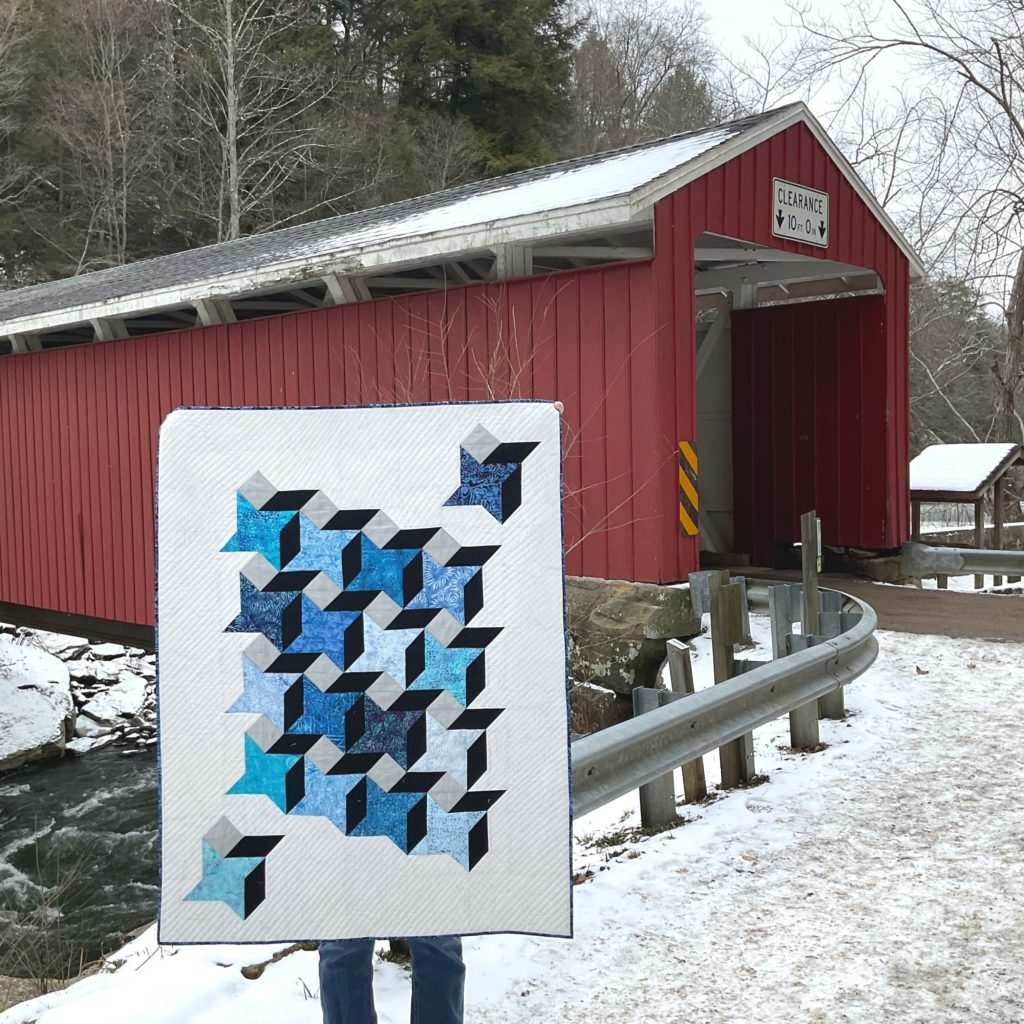 Check Out All of the Quilts for a Cause
Make sure to check out all of the quilts the Island Batik Ambassadors made for their favorite charities. Some of them also have giveaways, so you definitely want to take a look.
Just look at all of the beautiful new fabric lines used. I can't decide which one I like best!












Happy Quilting!