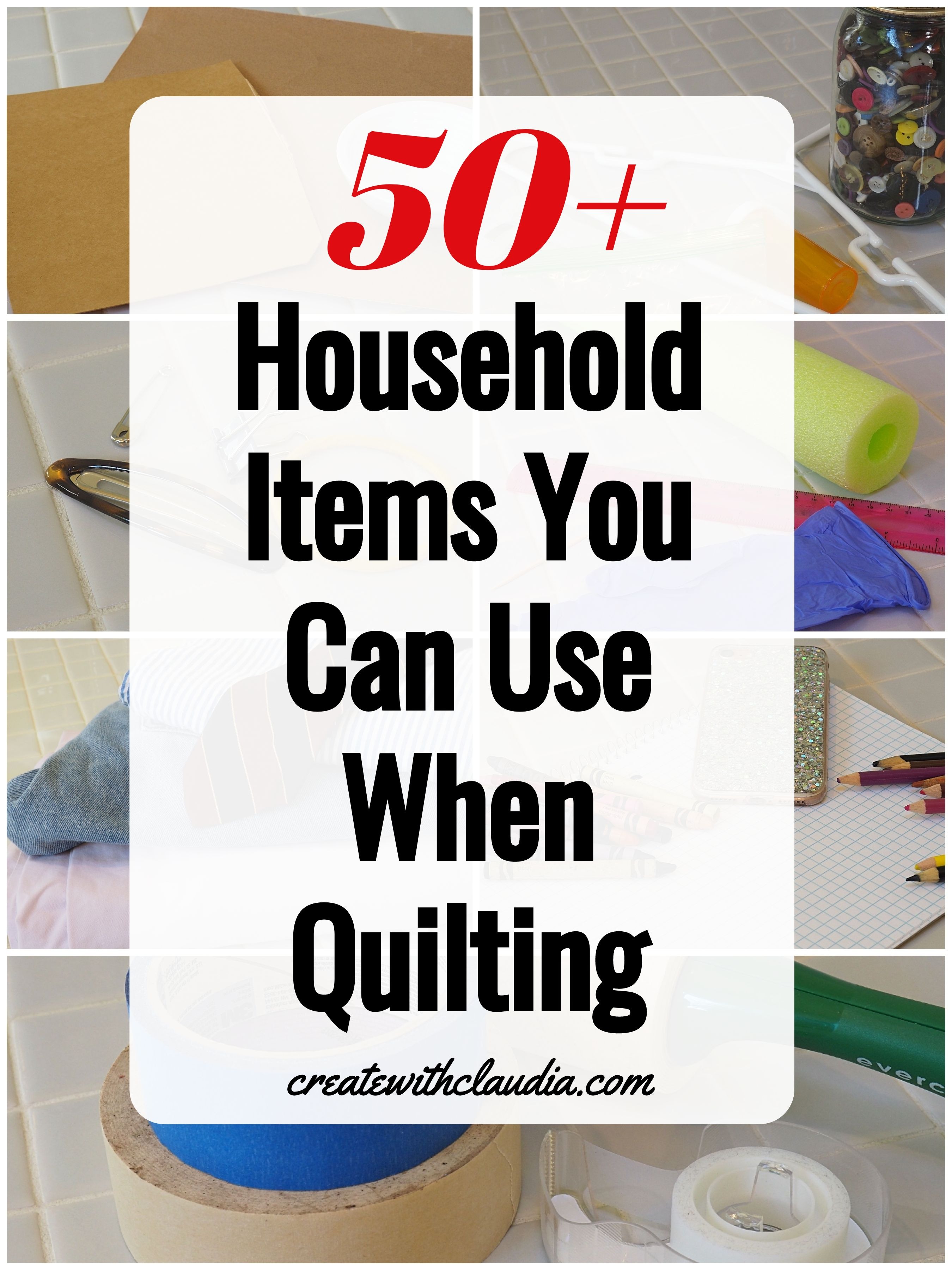 Everyday Household Items For Quilting
There are plenty of reasons people want to use everyday household items for quilting.
Let's be honest, quilting can be pricey. When you are first starting out you may not want to buy all of those fancy notions until you are convinced that quilting is the hobby for you. Even if you are not a beginner, you might be looking for budget-friendly alternatives for some supplies.
Not only that, but quilters sometimes need something quickly, and just don't feel like running out to the store.
Whichever category you fall in, here are 50 everyday household items for quilting.
More Household Items You Can Use in Quilting (From YouTube Viewer Comments)
Fabric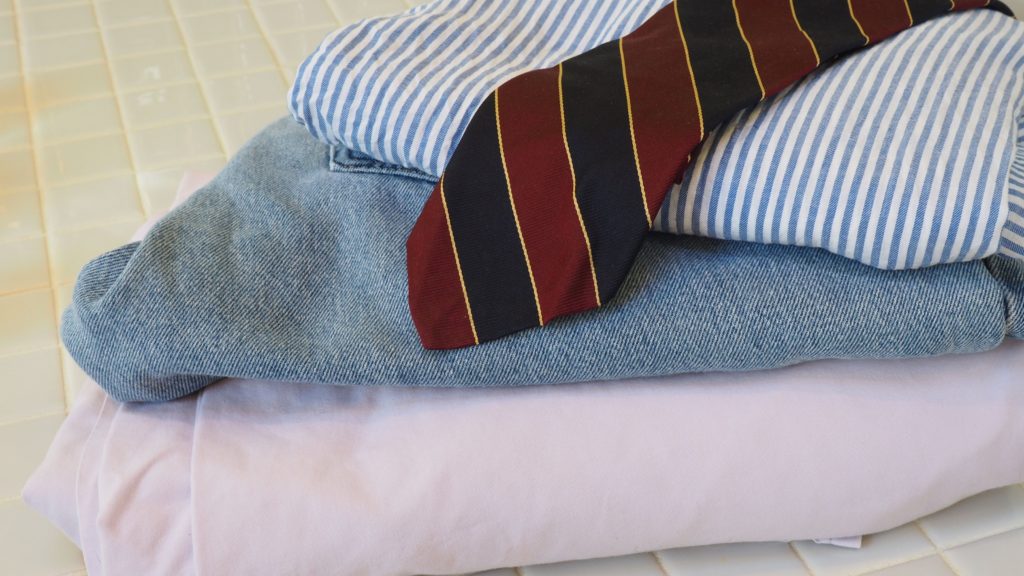 Fabric can be really expensive, so why not save some money and use items you have around the house. Depending on what you use, fabric is ideal for a memory quilt too. Not only is it unique, it's a great way to recycle. Just remember that in some cases, these fabrics won't be 100% cotton so they can affect your quilt in various ways.
Bed Sheets – For backing and, when cut, for piecing.
Shirts – Great patterns and colors, ideal for piecing.
Neckties – Nice for memory quilts, but tricky to work with.
Blue Jeans – Probably one of the most popular items of clothing to recycle. They have a dense texture, so that needs to be considered.
Handkerchiefs – Ideal for memory quilts like this one, but need extra attention when sewing.
Fleece Blankets – Depending on the texture type of fabric, it's a substitute for a design wall. They can also be used for quilt backing and even batting, but it can be thick and difficult to work with. It also may not hold up well down the line.
Lightweight Towels – Can be used as a substitute for batting, but it will definitely give a different thickness and feel to a quilt.
Storage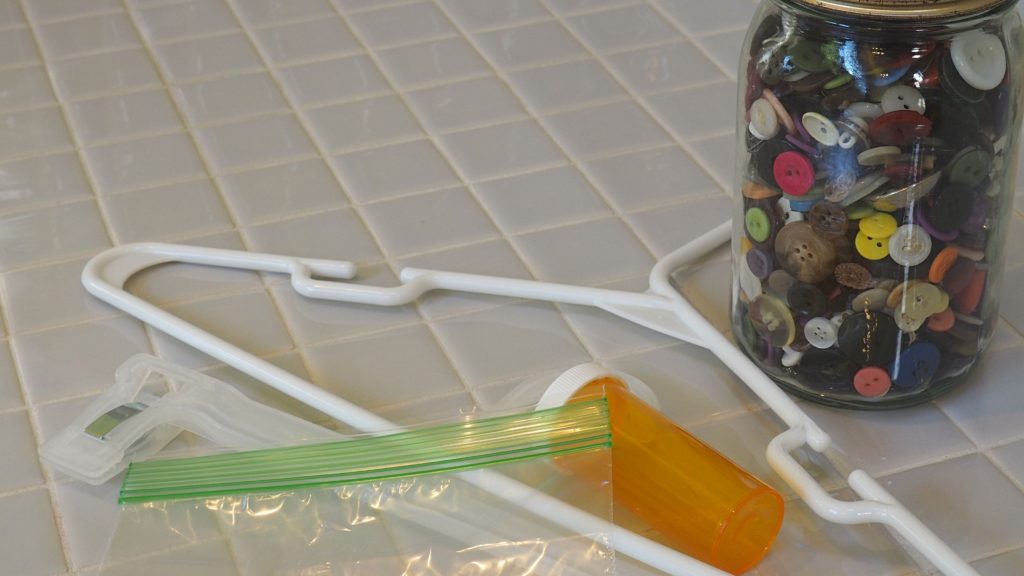 Quilting supplies can quickly get out of hand, so there are plenty of storage ideas around the house.
Mason Jars – Great for buttons, bobbins and all sorts of other small things. They are glass so you can see what's in them too.
Zip Top Plastic Bags – All sizes are useful for storing various fabric scraps and other notions.
Shoe Boxes – They may not look great, but fabric scraps fit well in them.
Old Prescription Bottles – Good for all kinds of small items. Depending on the size, bobbins fit well in them too.
Hangers – Instead of folding quilts or quilt tops, hang them up on sturdy hangers. Also, depending on your décor, they can be a nice way to display a quilt.
If you want fancier quilt storage items, here are a few ideas you might like
As an Amazon Associate I earn from qualifying purchases.
Quilt Design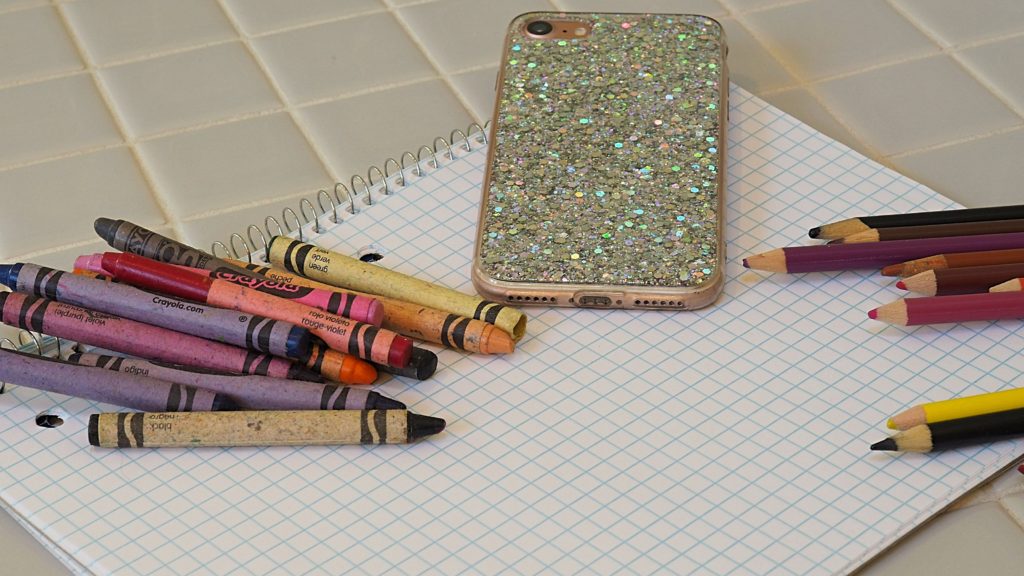 I'm not knocking all of the wonderful quilt software available, and you can do incredible things with them, but sometimes it's easier just to pick up a pencil and start drawing. It's cheaper too.
Cell Phone – Ideal for choosing quilt layouts, take pictures and then go back and choose which look is your favorite. Also great for choosing fabric value. Just change the photo from color to black and white and you'll be able to see how the fabric looks.
Colored Pencils – It's like you are kid again when you are designing with with colored pencils. The best part is they can be erased, so if you change your mind about a color in your sketch, you can change it.
Crayons – When sketching out a new quilt, crayons are a great choice. Raid your child's box of broken ones for all of those pretty colors.
Graph Paper – Ideal for designing quilts.
Green and Red Glassware – Looking through green or red can help determine color value and contrast on your quilts. It needs to be dark red and dark green.
Peephole – Go to the hardware store and pick up a door peephole. Then look at your quilt through it. It's a great way to see the entire quilt so you can get an idea of what it's going to look like.
Quilting and Sewing
I bet you are going to be surprised at how many everyday household items for quilting you already have.
Basting and Binding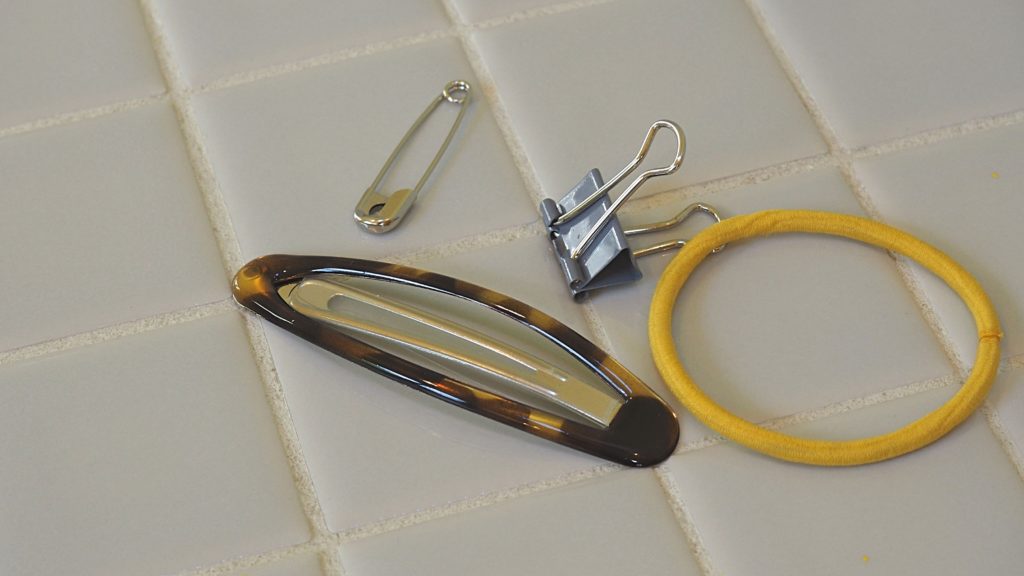 Binder Clips – Ideal for holding binding in place. Just make sure they aren't old and dirty.
Clip Barrettes – Use them to hold down binding.
Grapefruit Spoon – Helps when basting a quilt with safety pins.
Safety Pins – Perfect for basting a quilt, and ones from the office supply store are cheaper than the quilt store ones. One note of caution though, be careful that the ones you use can't rust.
Paper Towel Tubes – By wrapping binding around the tube it makes it easier to apply it to the quilt.
Marking
I have a couple of quilts which bear the scars of using the wrong marking tools, so when it comes to marking quilts, I am extremely cautious with what I use. Therefore, I suggest using tools made specifically for marking fabric and that you test them.
I will use pencil on the back (wrong) side of fabric to add a sewing guide line, but only with a very light touch, and if I am sure that it won't come through the fabric and be seen on the right side.
Piecing and Sewing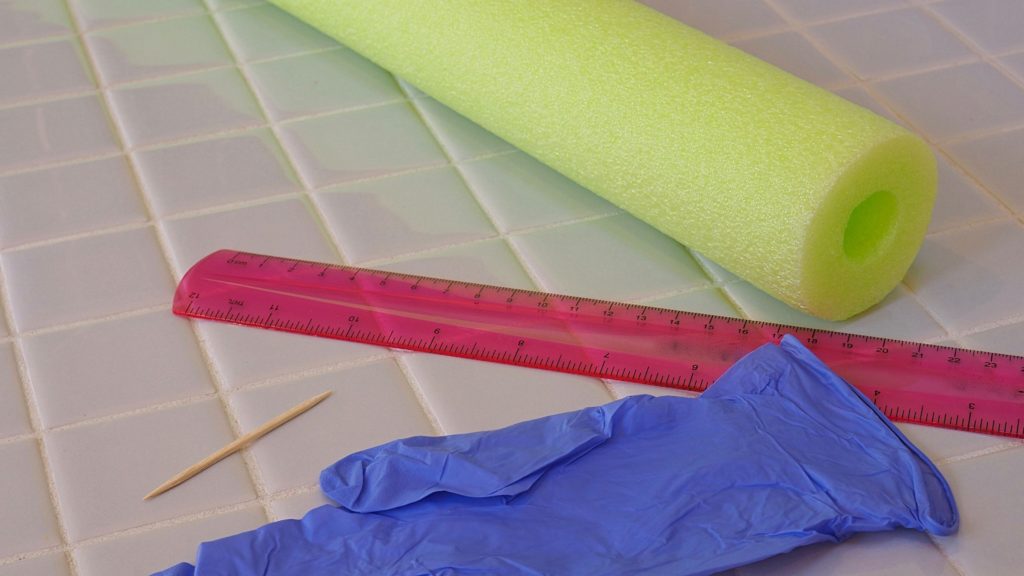 Chop Sticks – Can be used to straighten out corners when turning an item, like a pillow case, right sides out.
Clothes Rack – Set up next to a sewing machine, it's an easy way to lay out strips of fabric and keep organized when sewing or piecing a top.
Craft Knife – Can be used to get in those tiny spots to get at threads.
Latex Gloves – Admittedly not the most comfortable thing to wear, they can be used in a pinch when machine quilting (so the fabric doesn't slip). They are also good for hand quilting. The gloves easily grasp those small, slippery needles. Tip: If the gloves are tight enough, cut off the fingers and just use them instead of the whole glove.
Masking Tape – Use it to lay the backing down on the floor when you are getting ready to baste your quilt. You can also use a small piece to give you a 1/4" seam guide on your sewing machine.
Pool Noodles – Can be used to roll up the tops during the basting process and can also be used for quilt storage. The nice thing about rolling quilts is that they don't get the creases that come with folding.
Rubber Fingers – Another way to grasp needles when hand quilting is those rubber fingers that can be found in office supply stores. They do a take a bit of getting used to.
Ruler – While quilt rulers really are the best things to use, you can always use a ruler or a yardstick if you are in a pinch.
Scrap Paper – Instead of specialized plastic markers to keep track of your rows, just use scrap paper and a pin.
Shelf Liner – A piece of the rubberized liner under your sewing machines helps it keep from slipping.
Tissue Paper – If you need to trace something, but don't have tracing paper, tissue paper works just as well. Just don't used any with colors, only white. The colors can rub off onto fabric.
Toothpicks – Ideal for those tiny spaces when picking out stitches.
Wooden Kitchen Spoons – Used when hand pressing
If you like fancier quilting notions, here are some you might be interested in.
As an Amazon Associate I earn from qualifying purchases.
Miscellaneous
Elastic Hair Bands – Good for holding together blocks and fabrics.
Lint Remover – Perfect for getting rid of all of those loose thread and pet hair on your work.
Magnetic Bowl – Found in hardware stores, these bowls are perfect for your pins. Even better, make your own with this easy tutorial. They are much prettier!
Rubber Bands – Roll up your completed blocks and use a rubber band to keep them organized.
Scotch Tape – Depending on what is being sewn, a little scotch tape is a temporary way to keep something from unraveling. Also works on spools of thread so that the end doesn't unravel.
Toothbrush – For cleaning out the sewing machine.
Tweezers – Perfect for pulling out any small threads
Appliqué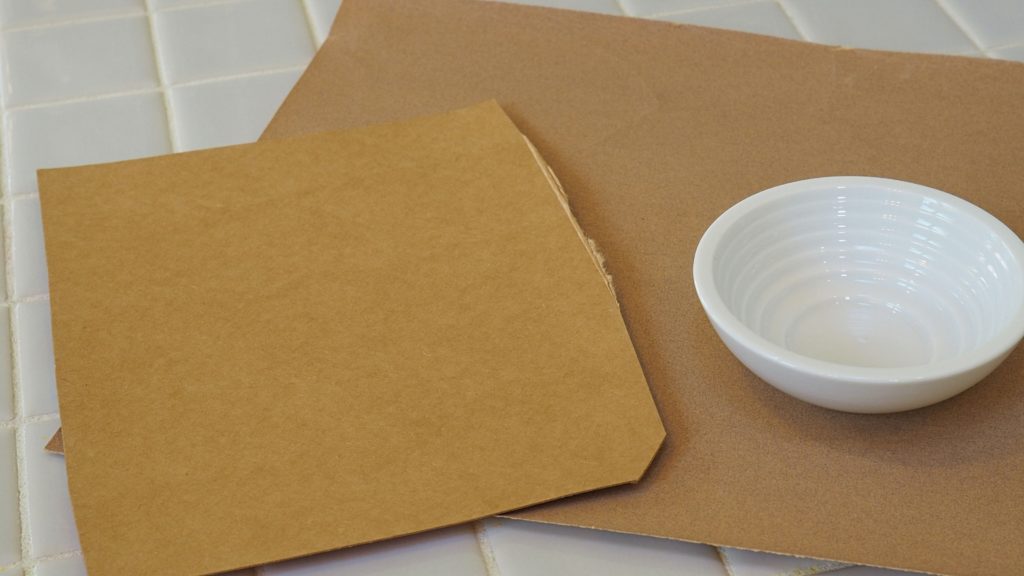 Besides what is listed here, there are plenty of other things from around the house that you can use for making appliqué templates. It's easier than you think.
Card Stock – Good for appliqué and other templates
Cardboard – Perfect for making quilt templates and a nice way to recycle those old cereal boxes.
Compass – For drawing circles.
Dishware – From cups to plates, dishware makes great appliqué templates.
Fine Sandpaper – Often used by people that appliqué, it's a great non-slip surface.
Freezer Paper – Ideal for appliqué
Glue Sticks – Grab a few around back-to-school time, when they are super cheap. They can be used in appliqué. Just make sure it's the washable kind and that you test it on your fabric first.
Plastic Packaging Inserts – Some things items, like toys, come in heavier plastic packaging. That plastic can be used for templates.
Windows – Good for using as a light box when tracing patterns.
What Everyday Household Items for Quilting Do You Use?
You don't have to spend a fortune on fancy quilting notions, especially when you are just starting out. Some of these everyday household items for quilting can help you get going, and save you some money. I can't tell you how many things I have in my sewing room that I spent money on, only to have them sit and gather dust.
Do you use anything that isn't listed here? I'd love to hear about it. Drop me a comment and let me know what it is.
Happy Quilting!