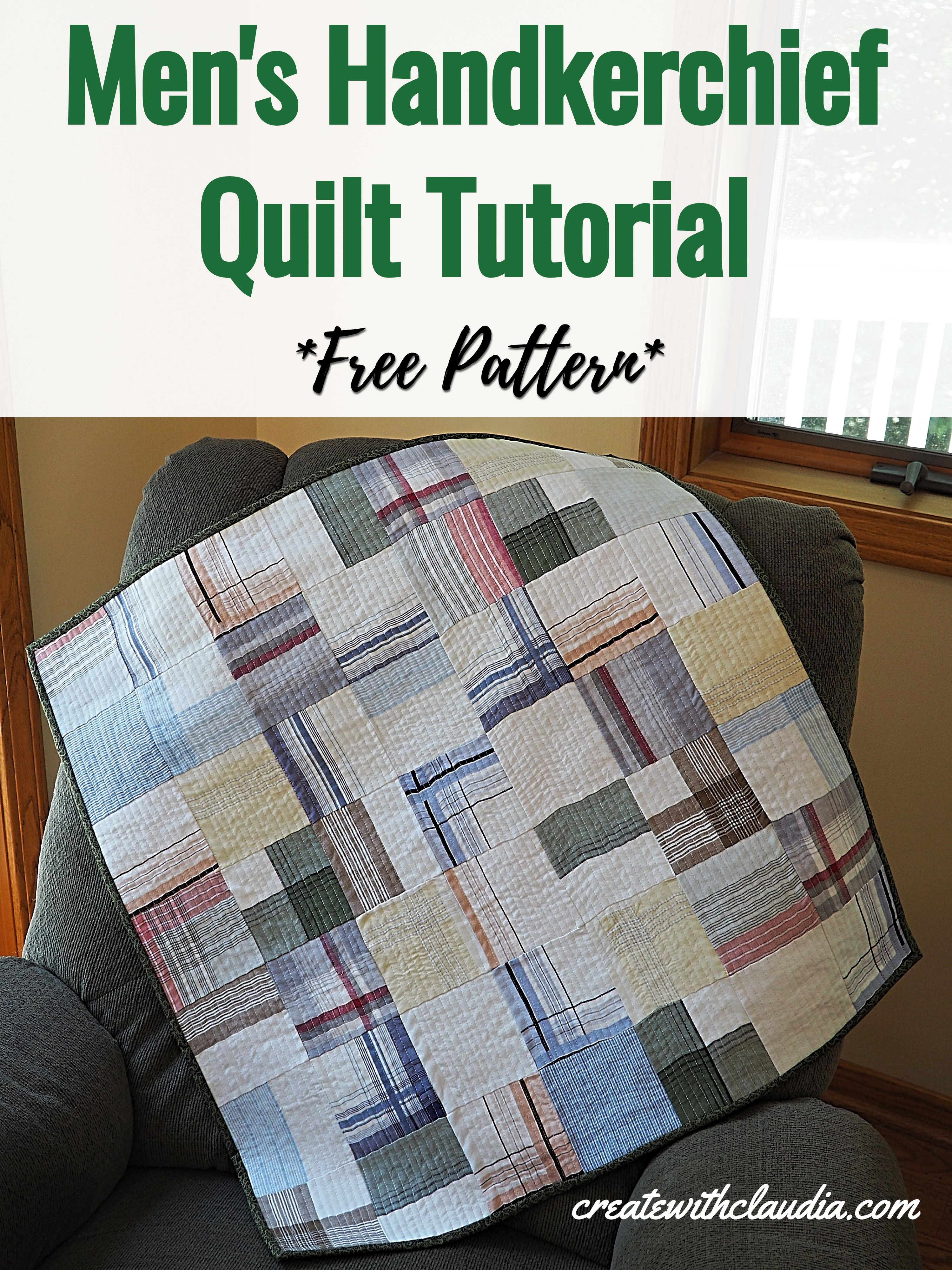 Men's Handkerchief Memory Quilt Tutorial
A little while ago, after a very long illness, my father passed away. He was a creative man who appreciated, and made, all kinds of art. I was lucky enough to inherit his artistic gene, and I always knew that I would make something from some of his things after he died. So, even though writing this men's handkerchief memory quilt tutorial was difficult for me, it was also been a big step in my healing process.
My father was never without a handkerchief in his pocket. Even when he was bedridden, he would have a clean one by the side of his bed. My brother and I still chuckle, remembering how we would roll our eyes when Dad would pull out is handkerchief to wipe our messy faces. It's one of things I will always remember about him.
He was a down-to-earth guy, so whenever we bought him new ones, we would get the simple plaid patterns because those were his favorites.
To me, those plaid handkerchiefs just screamed out to be turned into a quilt. At first I thought I'd make a larger quilt, but then realized that other family members would appreciate a quilt as well. That's how the idea of this wall hanging came to be, and I couldn't be happier with the results.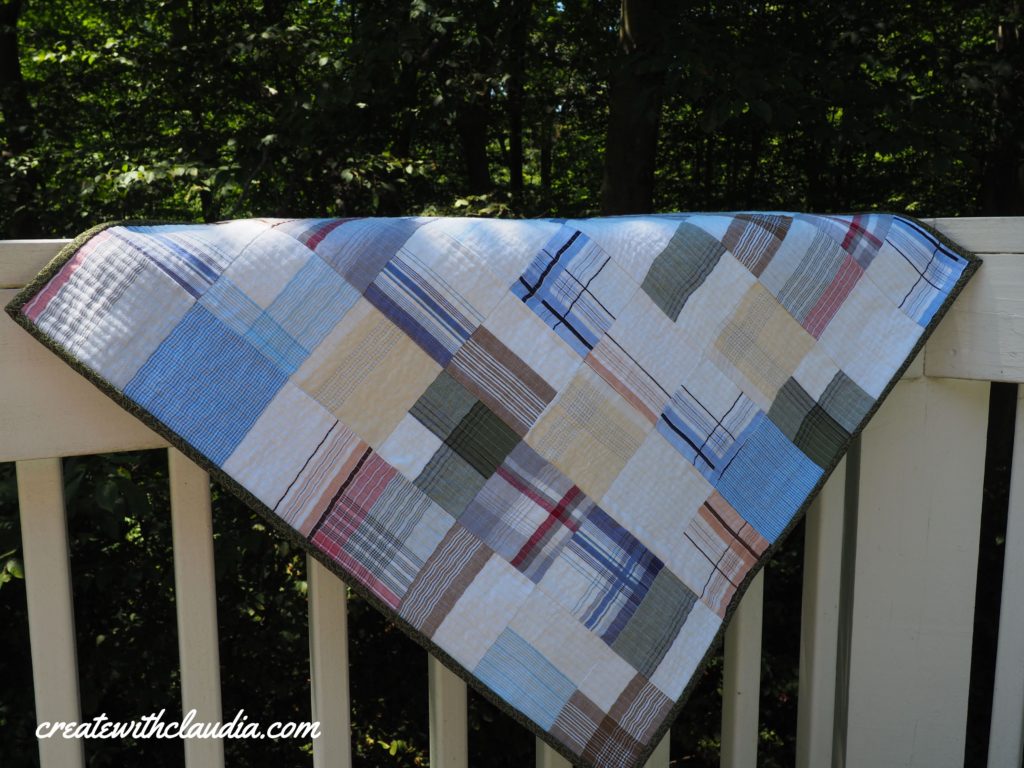 It's a relatively easy quilt to make, but because the handkerchiefs are so lightweight, an extra step is needed to stabilize them.
Quilt Notes
Finished quilt measures approximately 28" square
If desired, you can add a hanging sleeve on the back
I quilted this by machine using a simple straight stitch
Video Demonstrating How to Make This Special Quilt
What You'll Need to Make This Men's Handkerchief Memory Quilt
6 to 8 (Depending on the size) Men's Cotton Handkerchiefs – Mine were all about 15" square. Note: You are going to need a total of forty nine 4 1/2″ squares. I was able to get 9 squares out of each handkerchief, but you may get more or less depending on the size of yours.
Approximately 5 yards of Lightweight Fusible Woven Cotton Interfacing. Note: The interfacing I used measured 20" across which is why I needed so many yards of it. If you are using interfacing that is wider, you won't need as much yardage.
About ½ yard of fabric for binding
Approximately 1 yard of fabric for the backing
Approximately 1 yard of lightweight cotton batting
Fabric for hanging sleeve (optional)
As an Amazon Associate I earn from qualifying purchases.
Preparing the Fabric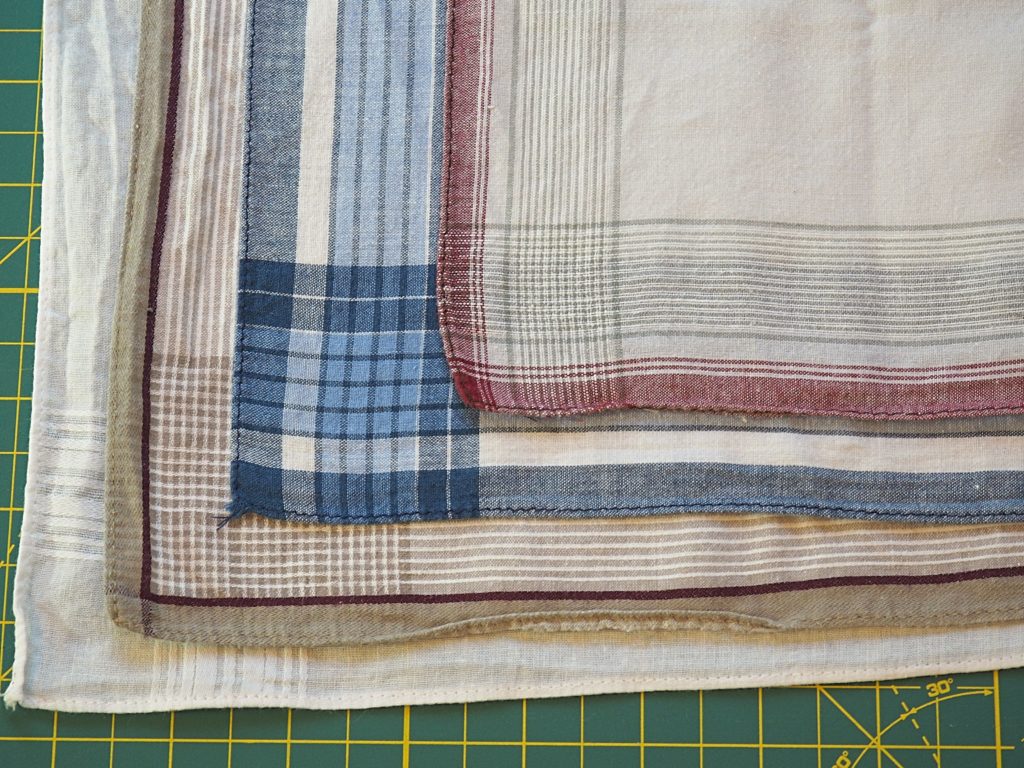 First, wash and press the handkerchiefs. Set them aside.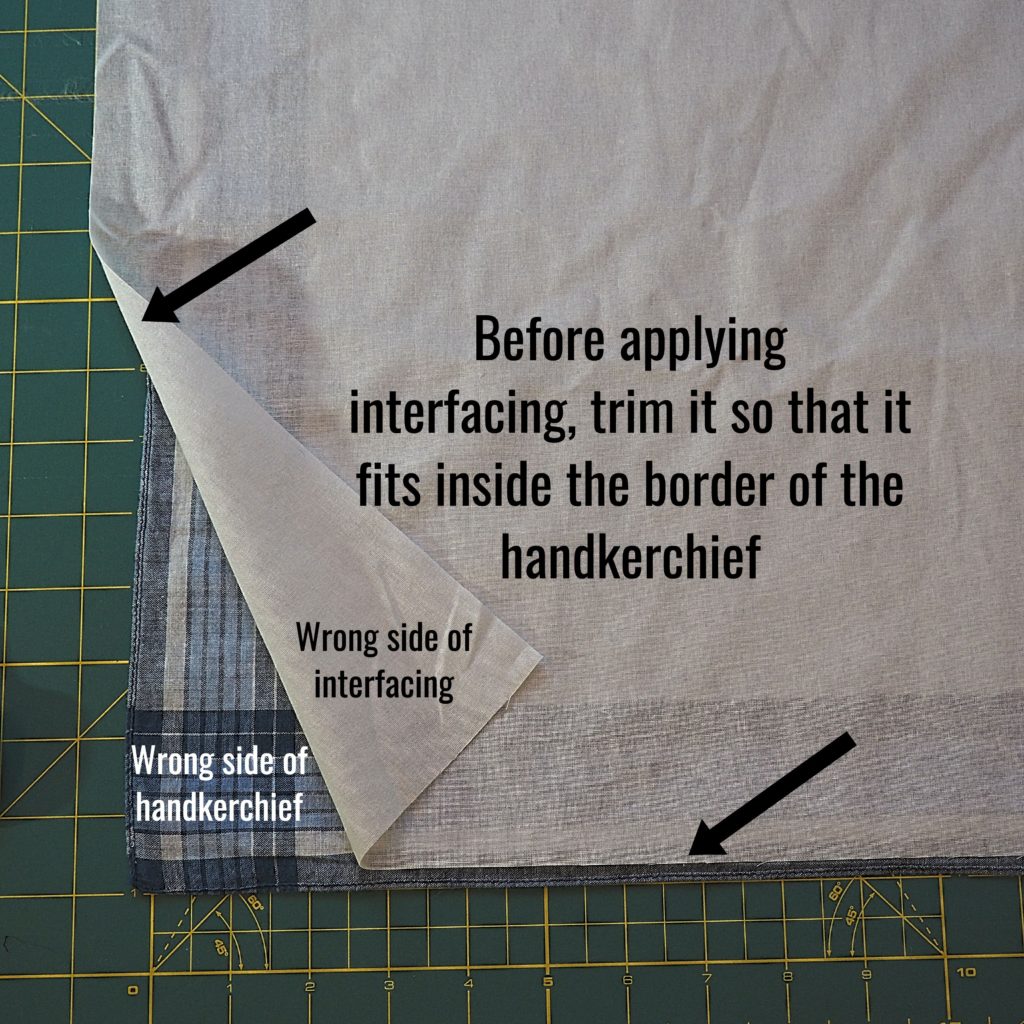 Take one of the handkerchiefs and measure it. Cut a piece of interfacing to fit the handkerchief. Important here is that the interfacing isn't the same size as the handkerchief. Make it about 1/8" to 1/4" smaller. Handkerchiefs have a tiny border and you want the interfacing to fit inside of that.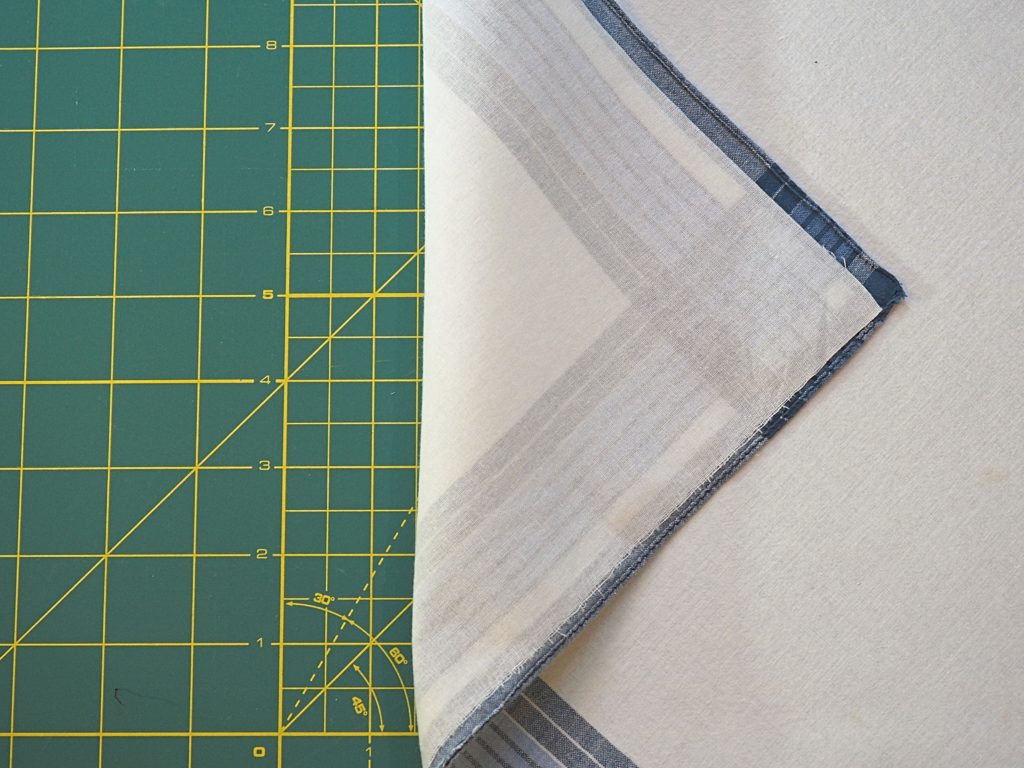 Next, following the manufacturer's directions, apply the interfacing to the back of the handkerchief. Set aside to cool. Repeat with the remaining handkerchiefs.
Cutting
You are going to need 49 blocks cut to 4 1/2" square. My handkerchiefs measured approximately 15" square and I was able to get 9 squares out each one, but yours may be different.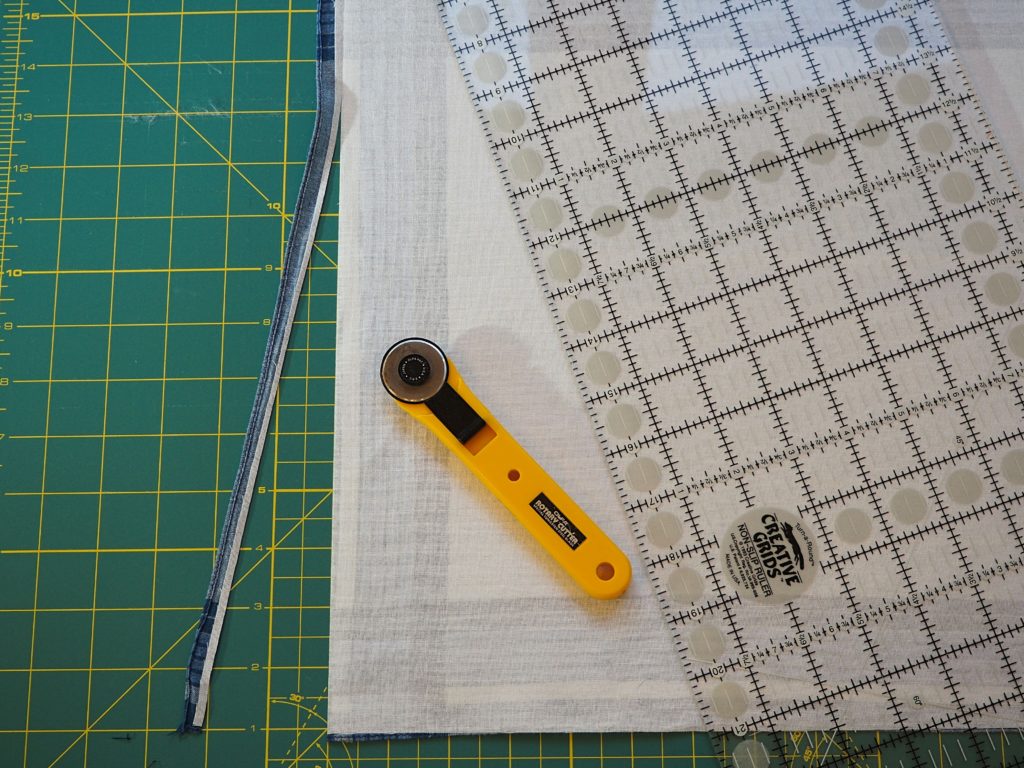 Using your cutting mat, quilter's ruler and rotary cutter, carefully cut out the squares, making sure that you trim off and discard the edges that don't have interfacing on them.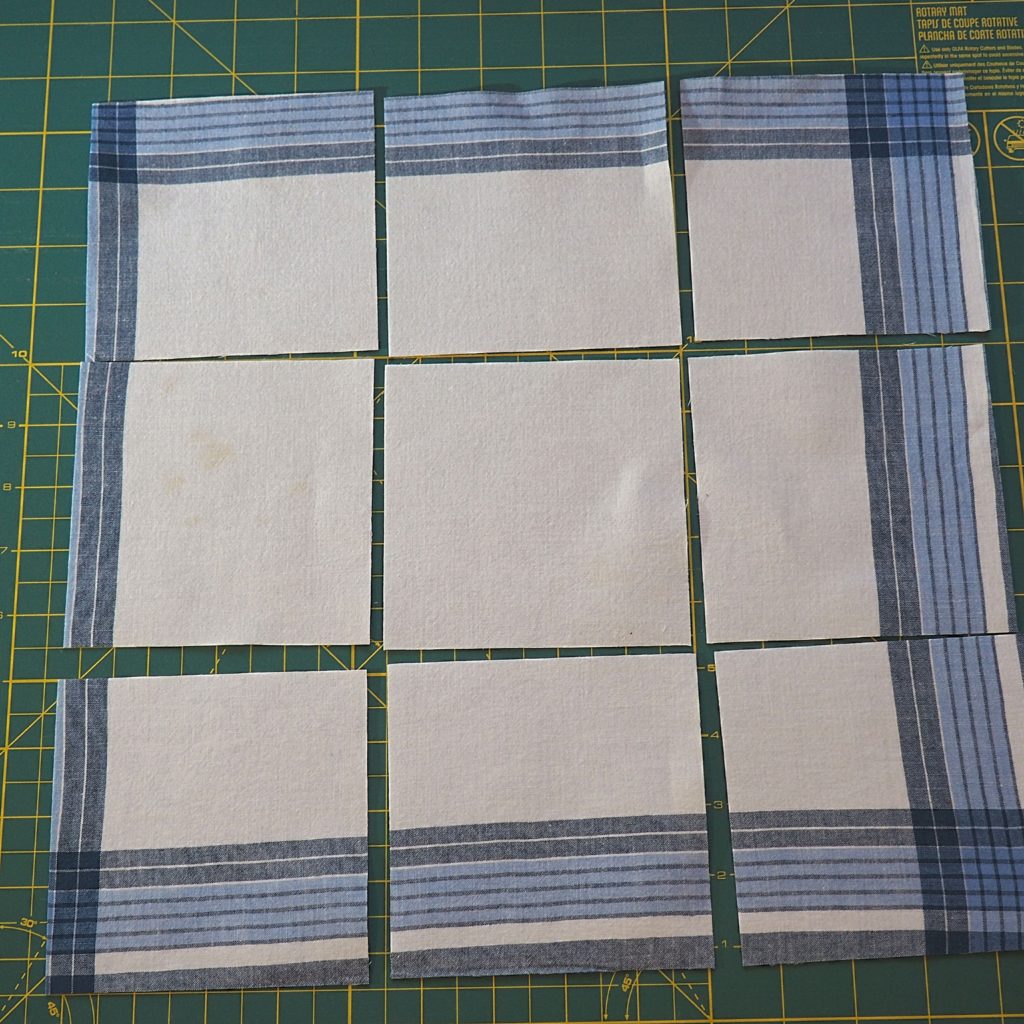 Assembling the Quilt Top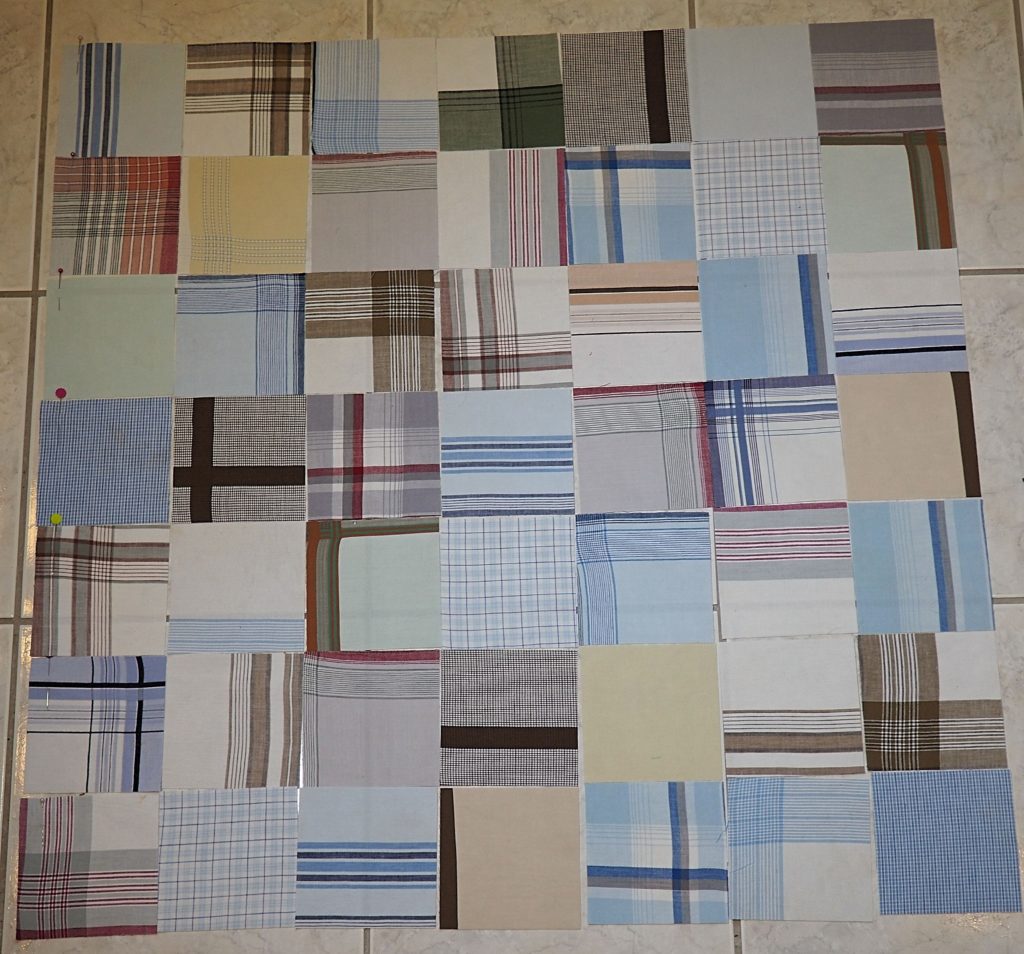 Lay out the squares, 7 squares across by 7 squares down. I played with the layout before I decided on the one I liked best.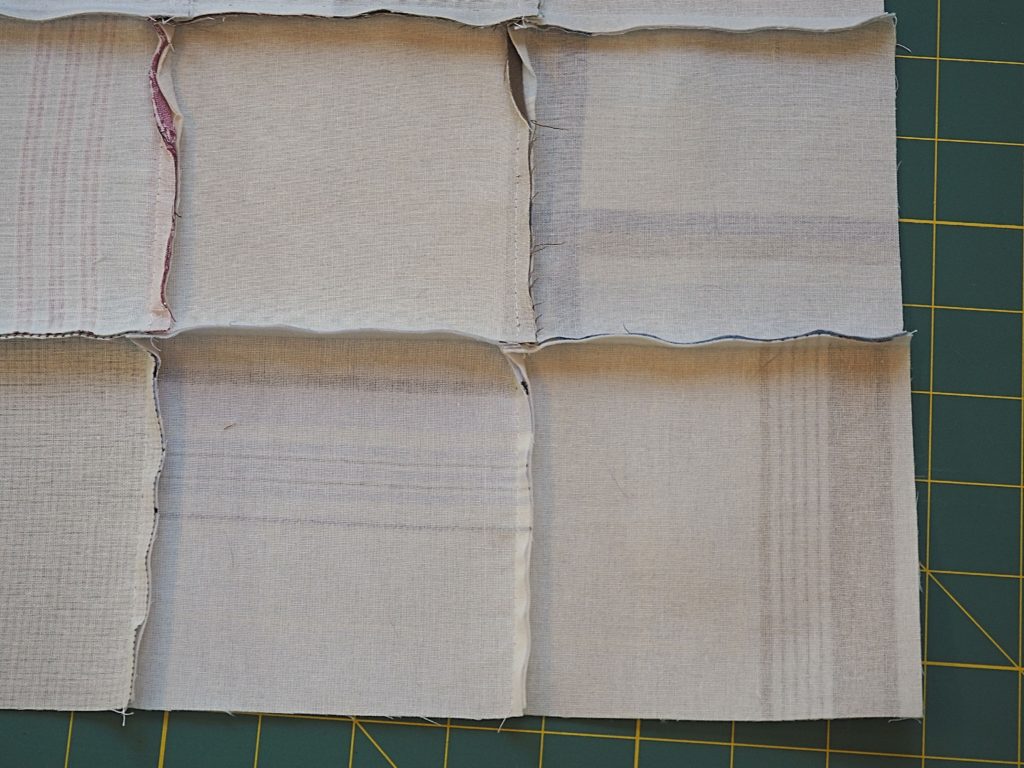 Once you are happy with the look, sew the squares together in rows. Then join the rows together. As you can see in the photo above, the seams are thicker because of the interfacing, but they do iron fairly flat and are not difficult to quilt through.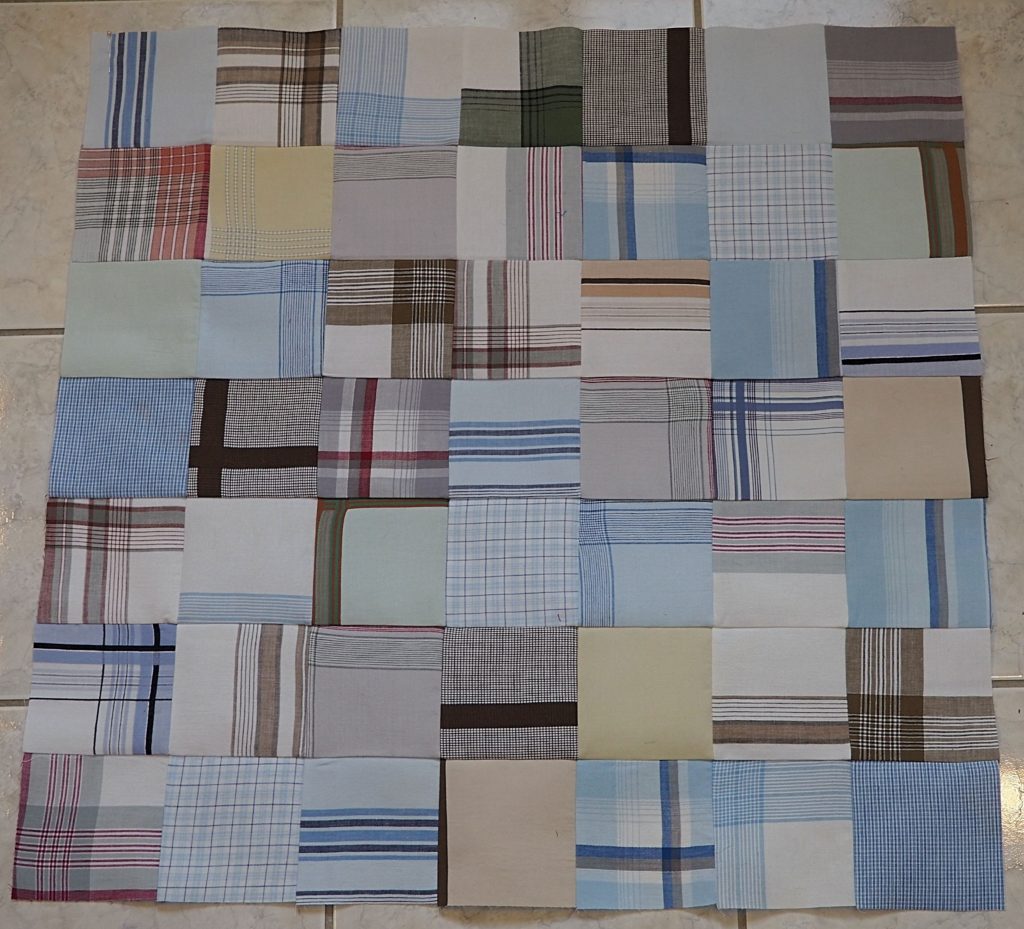 Finishing the Quilt
Cut out backing fabric and batting of your choice and quilt as desired.
Prepare and sew on your binding as you normally would. Note: If you are adding a hanging sleeve, this is when you do that. This useful tutorial by Jacquelynne Steves, The Art of Home, shows you how to do that.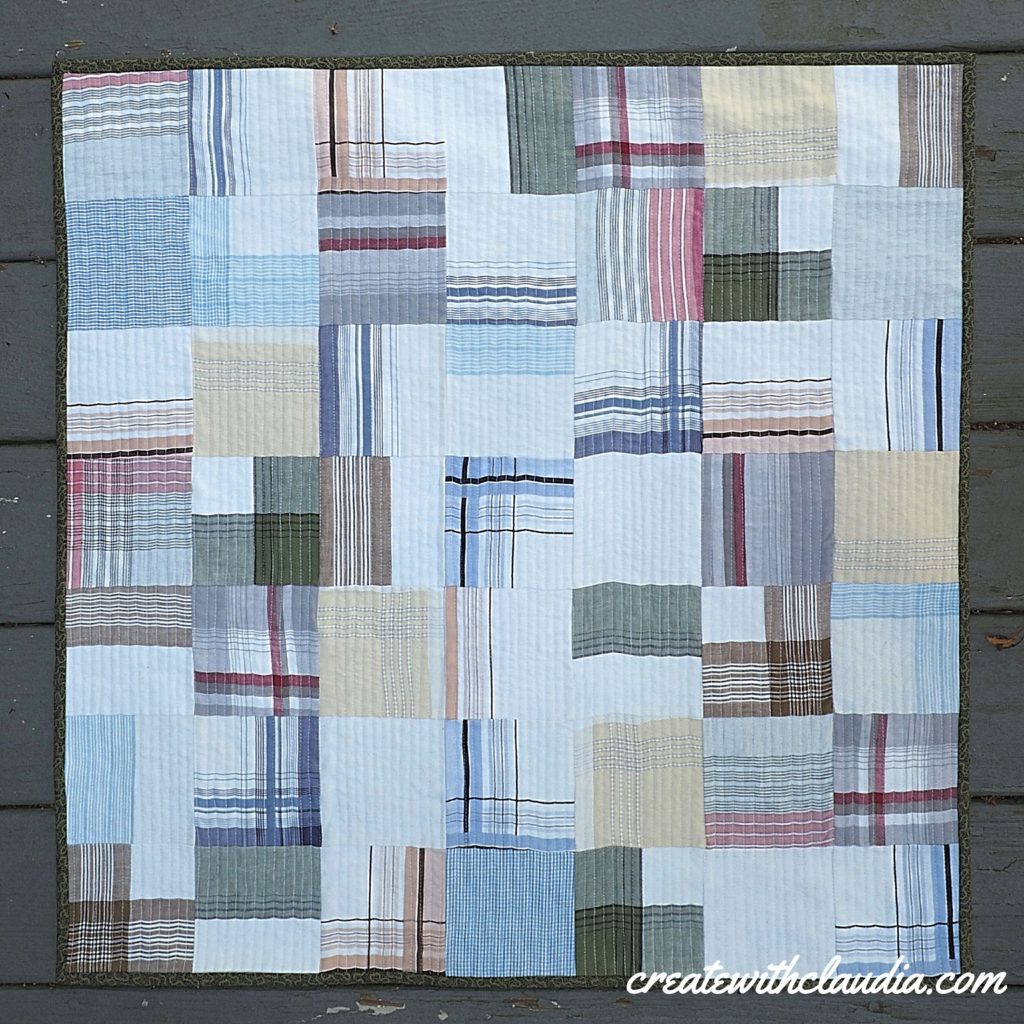 Tips:
Once the interfacing is added to the handkerchiefs, they are thicker and stiffer to work with. I did not have a problem piecing the squares together. It does makes it a little bit more difficult to press after sewing the blocks together.
Additionally, the seams will thicker. However, I did not have any problems machine quilting this piece.
I would not recommend hand quilting this. For me, it was too thick.
One other thing to note is that because the handkerchiefs are so thing and lightweight, there is a bit of shifting when quilting. As you can see in the photo above, you get a slight scallop look to some of the plaids due to the quilting stitch. I think it adds a little movement to the quilt.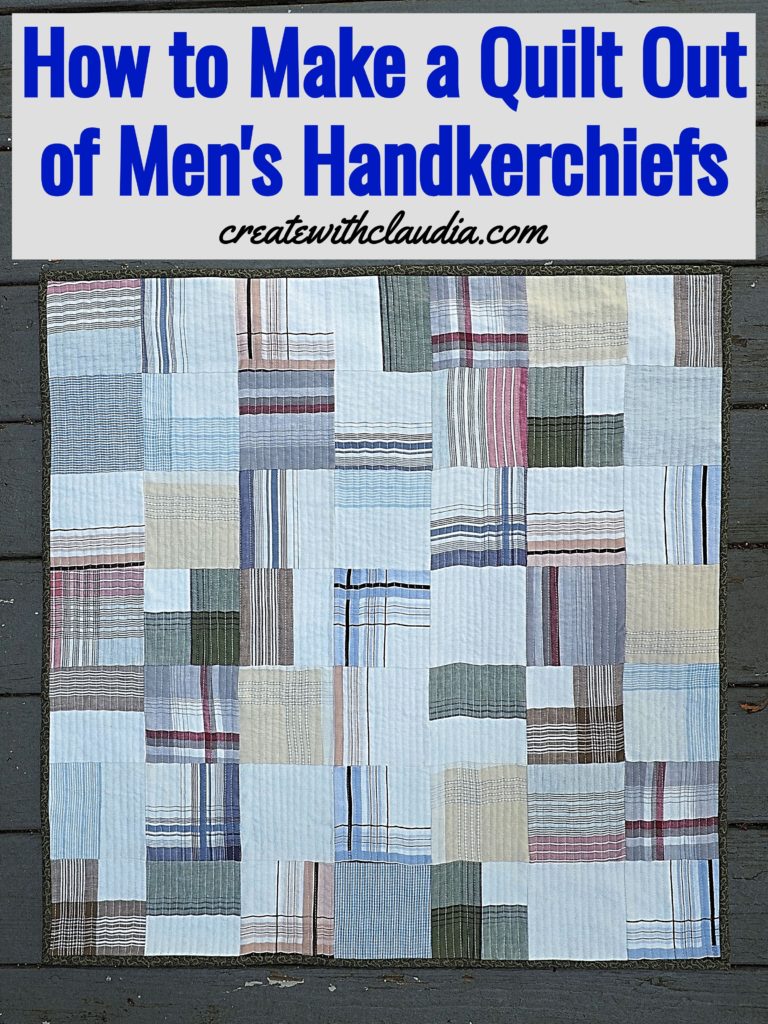 Men's Handkerchief Memory Quilt Tutorial
While I chose to make a small wall hanging, depending on how many handkerchiefs you have, you could easily make a larger quilt. One of the nice things about using my dad's handkerchiefs is that they were so soft after years of use. It gave the finished quilt a really nice drape to it.
I know that my dad would get a kick out this wall hanging. He always appreciated my work, and he'd chuckle knowing that I used his handkerchiefs in this way. I only wish he'd been able to see it.
If you are looking for a way to make a tribute to your loved one and he had handkerchiefs, try turning them into a quilt. I know I will always cherish mine.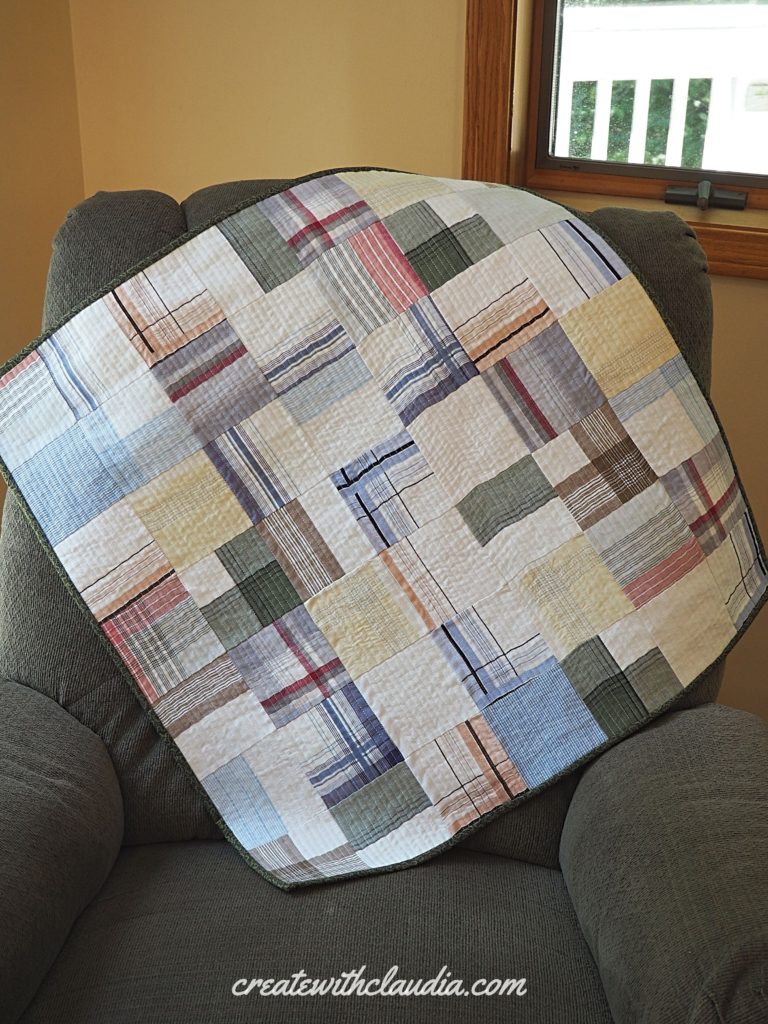 This article is dedicated to my dad, who always encouraged me to follow my dreams.