Stunning Ways to Display Quilts
Quilts are found throughout home décor these days. They've been around for centuries, but traditionally they were more utilitarian. Today you can find quilts in every room of the house, and they aren't just for keeping you warm anymore. If you have one that you want to show off, check out these 16 stunning ways to display quilts. There is bound to be one that you'll like.
Display Do's and Don'ts
Before you choose one of these stunning ways to display quilts, keep a few things in mind.
Try not to display a quilt in direct sunlight. The fabric will fade and the quilt will be ruined. You'd be surprised how quickly sun can fade it.
Switch out quilts from time to time. They will get dusty, and larger quilts may start to sag, which can lead to the stitching unravelling.
Use caution when choosing which display method to use. Antique quilts (and many new ones) are quite fragile, and some may be worth quite a bit of money. You may not want to have special ones on the back of a chair, where anyone can pick them up.
Don't use anything anything adhesive on a quilt. I learned that lesson the hard way years ago by displaying an antique quilt with velcro. The adhesive ruined the fabric on the back.
Don't stick nails in a quilt to hang it. They will tear the fabric and could get rusty and stain it.
If you are not sure how to care for your quilt, this article on quilt care and storage, can help guide you.
Hanging Sleeves or Not
Hanging sleeves are pieces of fabric that form a tube and run across the entire length of the top back of a quilt. It makes it easy to hang them on wall quilt racks. If your quilt doesn't have one, it can easily be added. This tutorial by Jacquelynne Steve, The Art of Home, shows you how.
Of course, you don't have to add one. There are many stunning ways to display quilts without needing a sleeve.
Floor Quilt Stands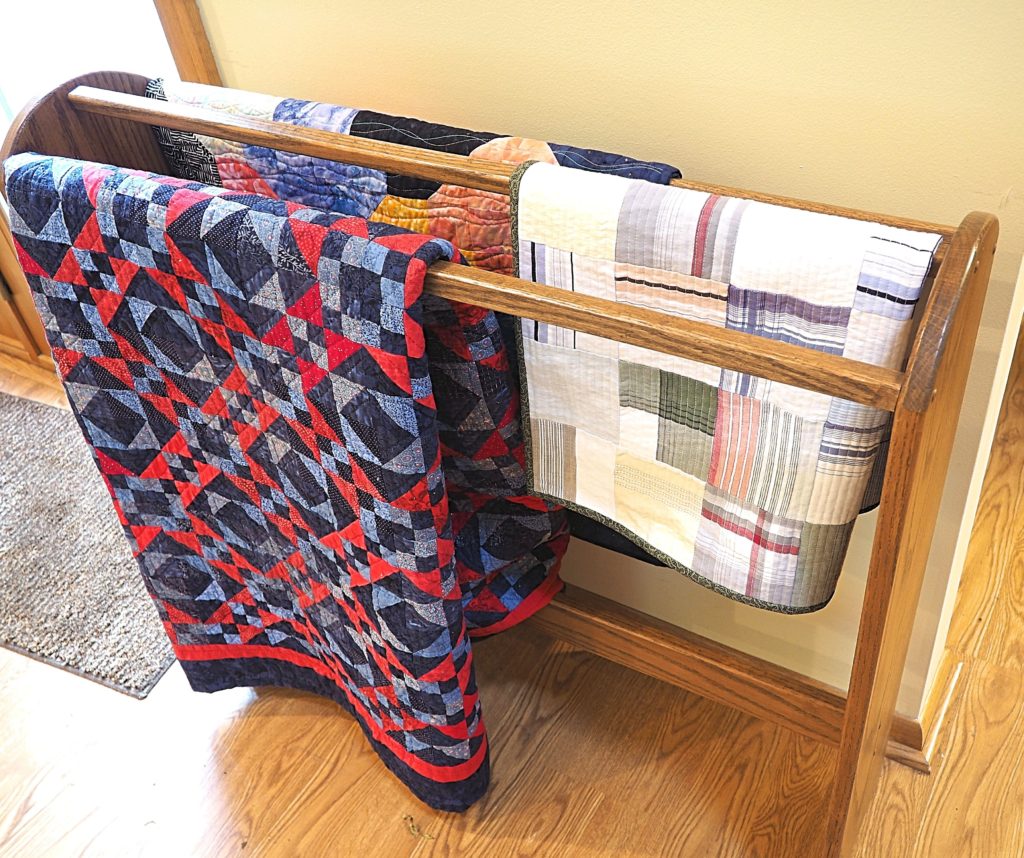 Good for displaying multiple quilts, floor quilt stands are made of wood or metal, and can be moved throughout the house. You can instantly change the look of a room with a display like this.
As an Amazon Associate I earn from qualifying purchases.
Wall Quilt Racks
We've all seen these, and they are an ideal way to show off a quilt. They come in all sizes and designs. Some have shelves on top to show off other decorative items, and some are just simple wooden bars in brackets.
Depending on the size, they can take up a fair amount of wall space, but when you use a wall quilt rack, you can usually show off the entire quilt.
Beds
I'll admit that this is an easy one, but often people forget about beds.
I love rotating quilts in my guest bedroom. It's good for the quilts because it airs them out a bit, and they can lay flat which can help with getting rid of fold marks. Additionally, visitors love looking at them.
Curtain Rods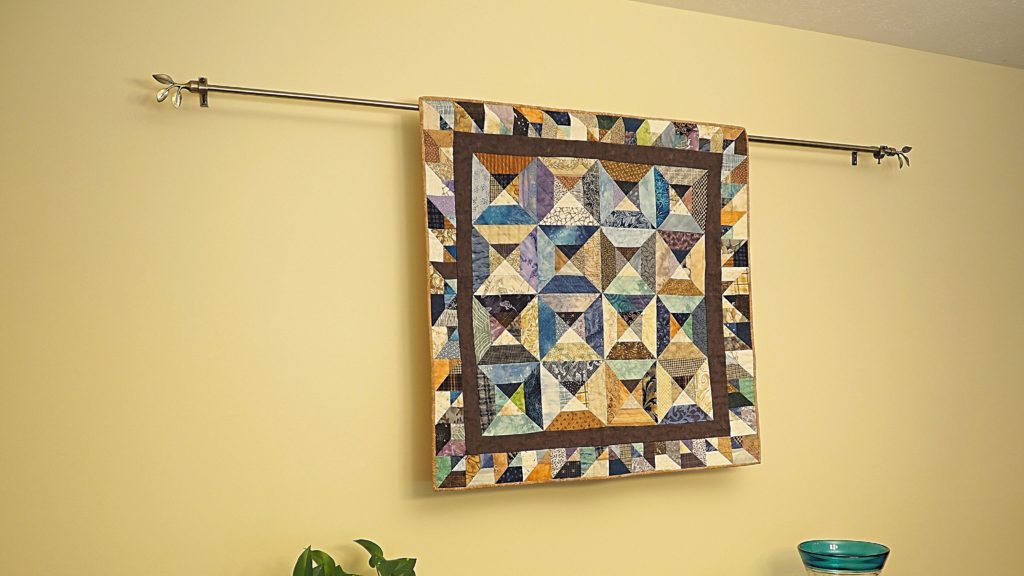 In my dining room I have a decorative brushed bronze curtain rod along one wall. It sits in brackets and it is easy to switch quilts whenever I want to.
The nice thing about curtain rods is that they are relatively small and lightweight. Unlike some quilt racks, they lay closer to the wall. They can also be an inexpensive option, depending on the style you choose.
The drawback to rods is that they can't take the weight of large quilts.
Ladders
If you are lucky enough to find an old wooden leaning ladder, then you have a great quilt display. You can find new versions in many home décor stores, and they are a unique and stylish way to show off your collection.
I've seen them leaned up against a wall or mounted horizontally on one. Personally, I would lean the ladder against a wall. That way the display can be moved anywhere in the house.
Note: If you are using an old ladder, make sure that the paint, or finish, doesn't rub off on the quilt. Put a towel over the rung of the ladder and then lay the quilt on top of it.
Cupboards
A folded quilt in a cupboard looks lovely. You can stack a number of them on the shelves and switch them out whenever you wish. You can even keep the door open and hang a quilt over it to add to the display.
Note: Some cupboards, especially antiques, may have paint that can rub off on a quilt. Lay down a piece of shelf paper or an old tea towel, and then lay the quilt on top. Better safe than sorry.
Furniture
Do you have a chair that people don't usually sit in? Throw a folded quilt over the back of it. Does your leather sofa get chilly in the winter? Throw a quilt over the back of it.
Not only will it look great, you'll have something to snuggle under.
Railings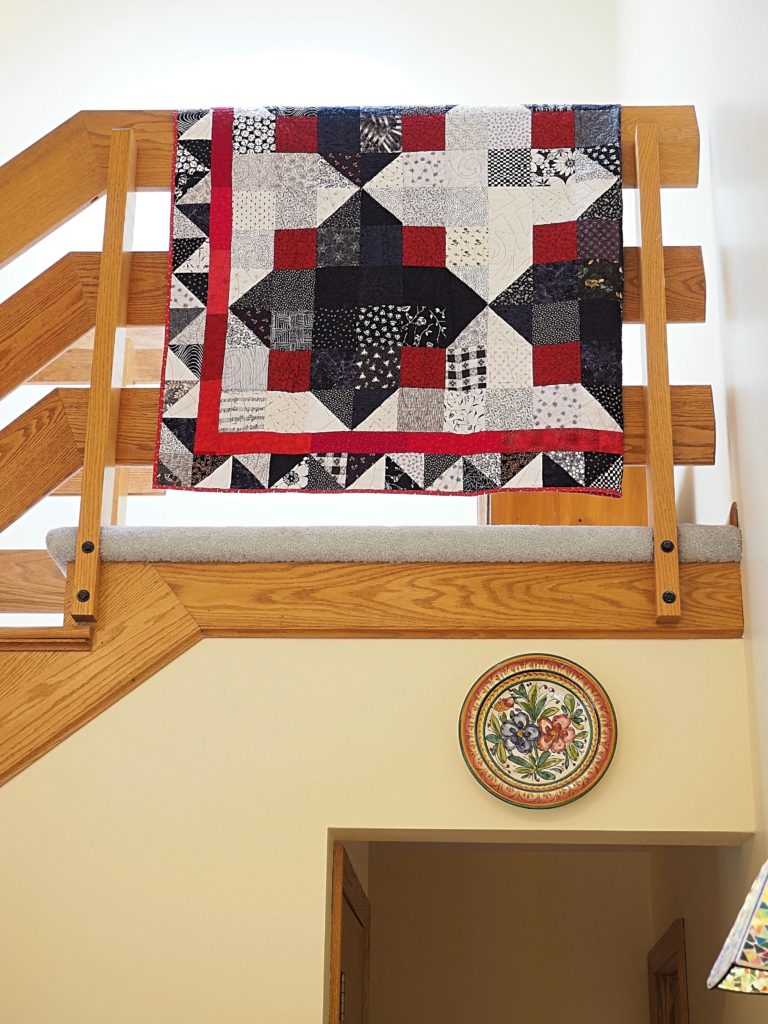 I'm fortunate to have a long horizontal railing on the second floor of my house that overlooks the living room. I always have a seasonal quilt displayed.
It's an easy, no-cost way to show off quilts.
Wall Hooks
Depending on the size of the quilt, you can simply hang it on a wall hook. For a striking look, hang a row of them. Of course, you won't be able to see the entire quilt, but the colors will shine.
Wreath Hooks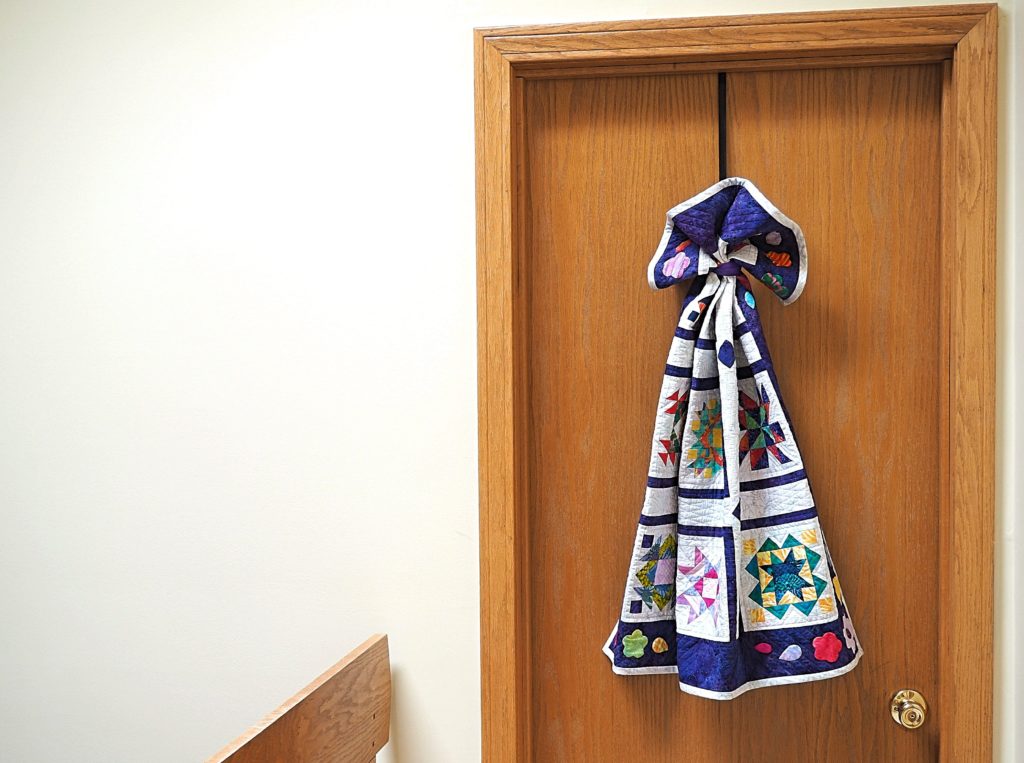 For a unique look, snugly tie one end of a quilt, about 6 or 7 inches down, with some string. Fan out out the short end, then hook the string onto a wreath hook.
This works particularly well on a door that gets little use.
Doors
Do you have a door that never gets closed? It's the perfect place to display a quilt. Just fold it over the top of the open door.
Table Tops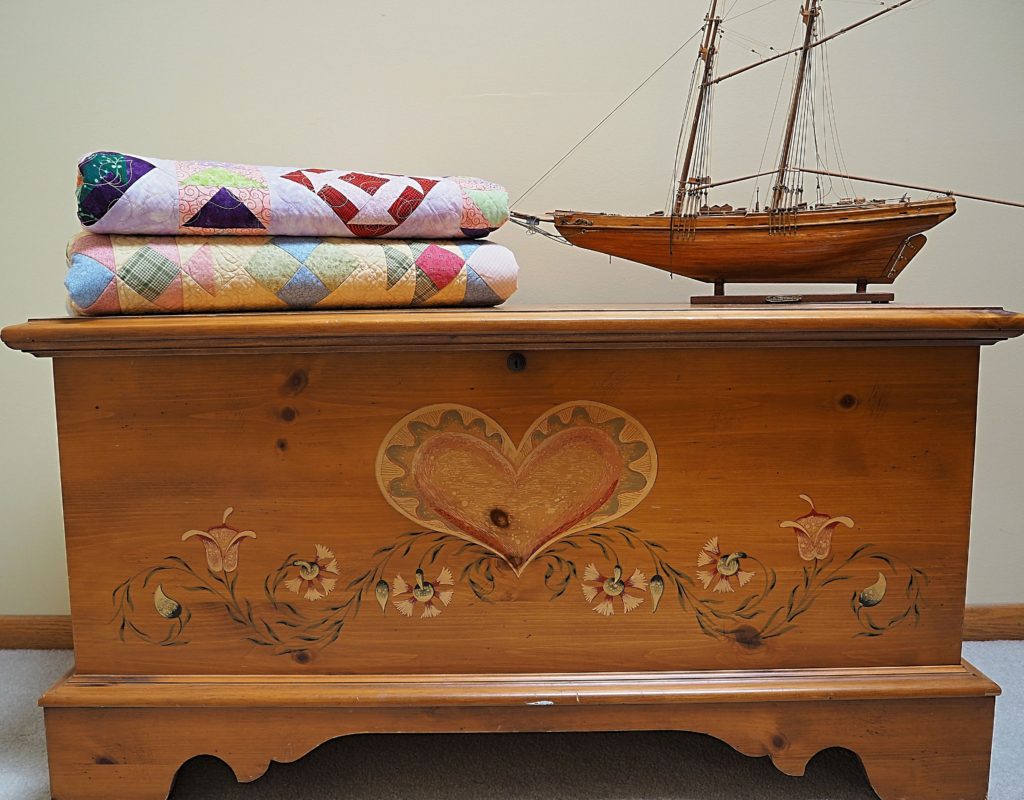 When you are thinking about displaying a quilt, table tops aren't the first thing that usually come to mind. However, a quilt can be quite striking on a table.
Small, or miniature ones, look good on side tables. Square quilts can add a nice accent to a dining room table.
Note: A quilt can look really good on a table, but you don't want it to get stained. If you are displaying one on a table that you eat on, take it off before food is set out. You wouldn't want anything to spill on it.
Plastic Rings
For small quilts, sew a couple of small clear plastic rings, one on each corner of the top of the quilt. Put a couple of nails, or even push pins into the wall, and hang the quilt.
The nice thing about this method is that the quilt is flush against the wall.
Dowels
If you don't want to spend a lot of money on a rack or curtain rod, try using a dowel and a couple of nails. It works perfectly for smaller quilts that have a hanging sleeve on the back.
Wooden Hangers
For a unique look, take some nice vintage wooden hangers and make a wall display with them. Then hang quilts over them.
Binder Clips
Whether your quilt has a hanging sleeve or not, this is a quirky, and cheap, way to show it off. You'll just need to put a few nails in the wall, clip the quilt, and hang it. It's simple and effective.
Note: If you are using this method in a room that may have some dampness in it, make sure that the clips don't rust and stain your quilt.
More Options
So Many Stunning Ways to Display Quilts
From simple binder clips to ornate wooden racks, there are so many stunning ways to display quilts. Each one looks great. Quilts are a great way to show off your individual style and add pops of bold graphic design to rooms.
So don't hide your quilts away, show them off instead!