How to Make a Modern Double Arrow Quilt Block
As an Island Batik ambassador I have the pleasure of working with all sorts of beautiful fabrics and this new line, Interurban, from them is no exception. The challenge for the month of February 2022 was to make row by row quilt and I decided to design my own modern blocks for my quilt. The fabrics are filled with beautiful graphic prints in various shades of brown. The prints, combined with the colors, just screamed modern to me. Over the next couple of months I will be doing tutorials for the various blocks, and this month I will be showing you how to make a modern double arrow quilt block.
Disclosure: The items in this post were generously provided to me by Island Batik, Aurifil, Schmetz Needles, and Hobbs Batting.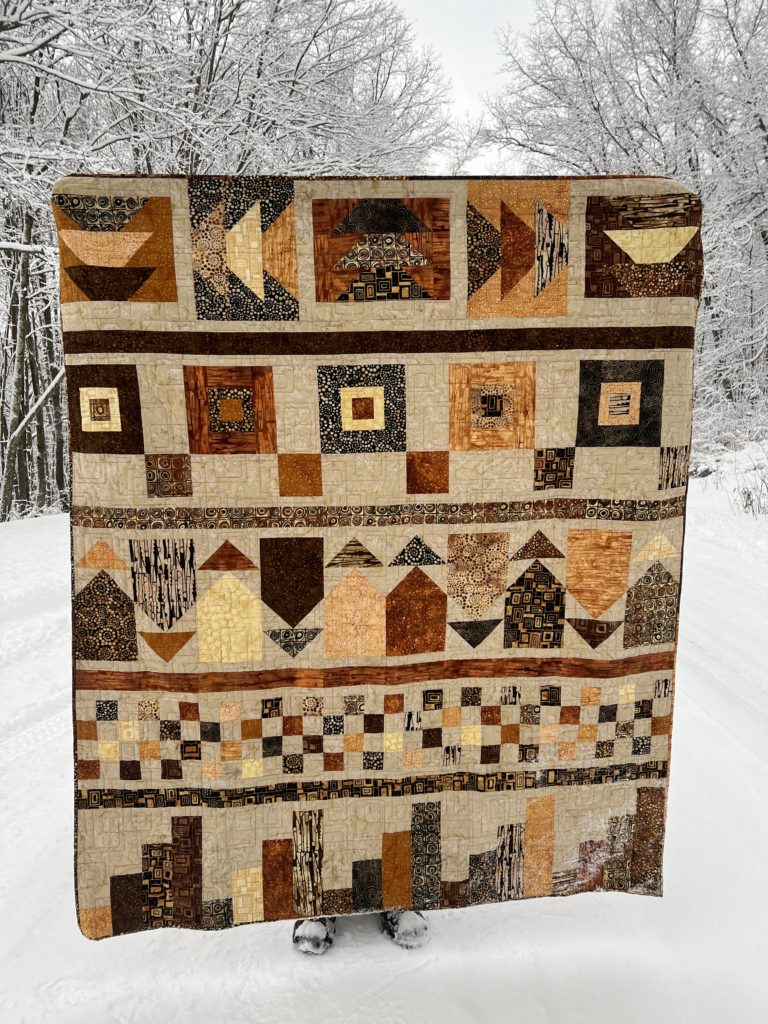 Here is a look at the complete quilt. Of course I picked the snowiest day of the year to go out and take photos of it, but thanks to my husband, we made it. I do not like driving in the snow! You can read all about my quilt in my blog post.
You can see how the new Island Batik fabrics practically glow. Including 20 different fabrics, the line was designed by Kathy Engle and is in stores as of February 2022.
How to Make a Modern Double Arrow Quilt Block
Here's my video tutorial for this link (plus a little show & tell about the quilt). If you prefer reading tutorials, you will find the step-by-step instructions below the video.
What You Will Need to Make 1 Block
2 rectangles cut 6 1/2″ x 9 1/2″
2 rectangles cut 3 1/2″ x 6 1/2″
8 squares cut 3 1/2″ x 3 1/2″ ( In my quilt I used my background fabric for these squares so you could see the arrows clearly)
Standard quilting & sewing supplies
Items That May Help You With This Project
As an Amazon Associate I Earn From Qualifying Purchases
Making the Block
Firstly, after getting your fabric cut and ready to go, the first thing you need to do is draw a diagonal line on the back of all 8 of the 3 1/2″ squares.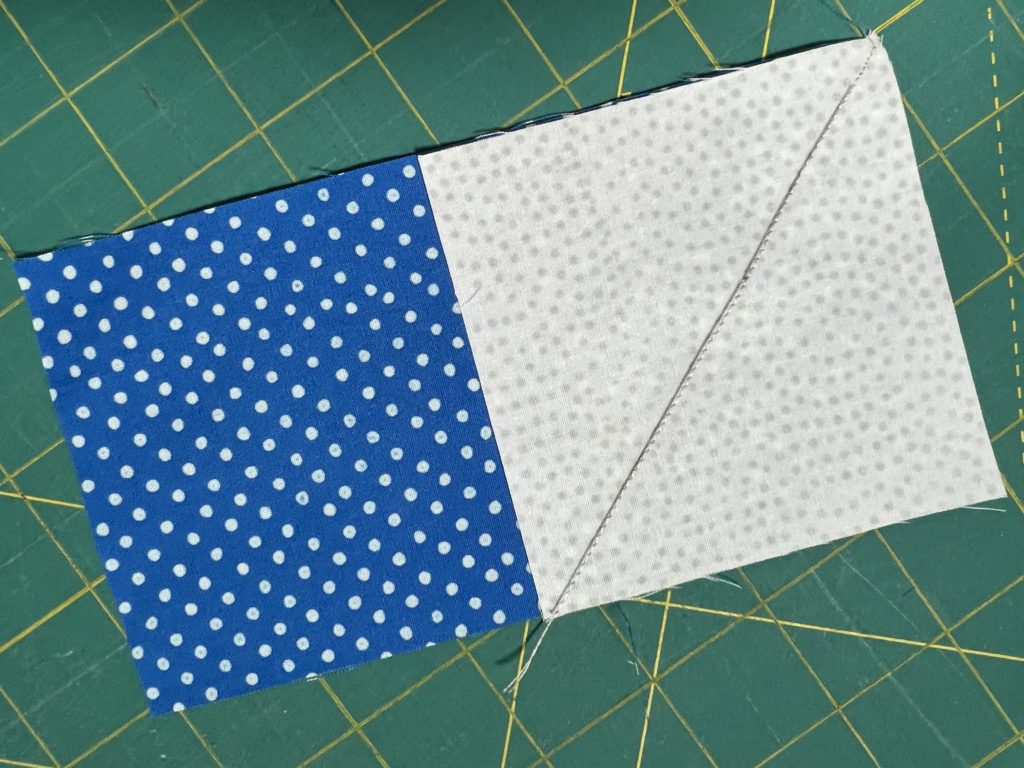 Secondly, line up one of the squares with one of the 3 1/2″ x 6 1/2″ rectangles. They should be right sides facing each other. Then sew along the drawn line or just a hair (thread's width) to the outside of it, closer to the corner.
Thirdly, trim away the excess, leaving a 1/4″ seam allowance. Press open.
Lastly, repeat on the other side. Repeat with the remaining 3 1/2″ x 6 1/2″ rectangle. Once pressed, these units should measure 3 1/2″ x 6 1/2″.
Once you have finished the two smaller rectangles. Repeat with the two larger ones. Add the squares to one of the ends that measures 6 1/2″. These units should measure 6 1/2″ x 9 1/2″ when done.
Add one of the smaller arrows to the top of one of the larger ones. Once sewn, this unit should measure 6 1/2″ x 12 1/2″.
One your arrows are done, sew them together as shown. You now have a 12 1/2″ block, perfect for a scrappy quilt or as part of a row by row like I did.
Here is the block in some of the extra Interurban fabrics I had left over from my quilt.
Happy Quilting! – Claudia