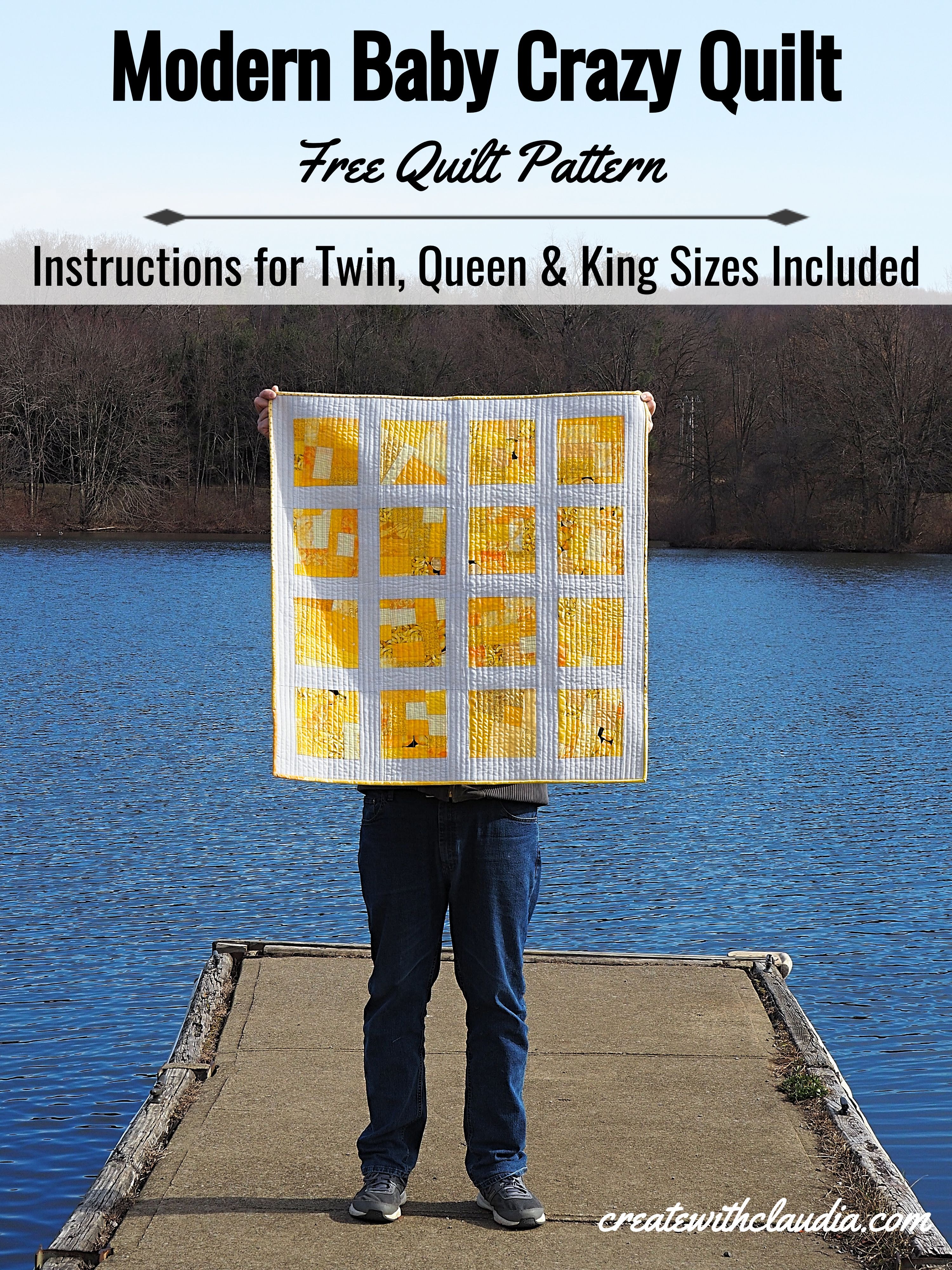 Modern Baby Crazy Quilt Pattern
A little while ago I put together a popular video and blog post on creating fabric yardage from scraps. Since then I've been thinking about various things I can make with that fabric yardage or, as my husband calls it "Frankenfabric". One of the things you see in the video and article is a grey and yellow quilt top. I finally got around to quilting it and now I have put together this modern baby crazy quilt pattern.
I'm so happy with the way this little quilt turned out. It is a quick make, and the yellow scraps pop. The pattern is easily adaptable to any size or color, so it isn't necessarily just for babies. For reference, I have provided a chart at the end of this article with the fabric and cutting specifications for twin, queen and king size versions.
If you have a lot of scraps on hand, then you really won't need that much more fabric. You will just need fabric for the sashing, backing and the binding. All the fabric I used in this quilt was from my stash.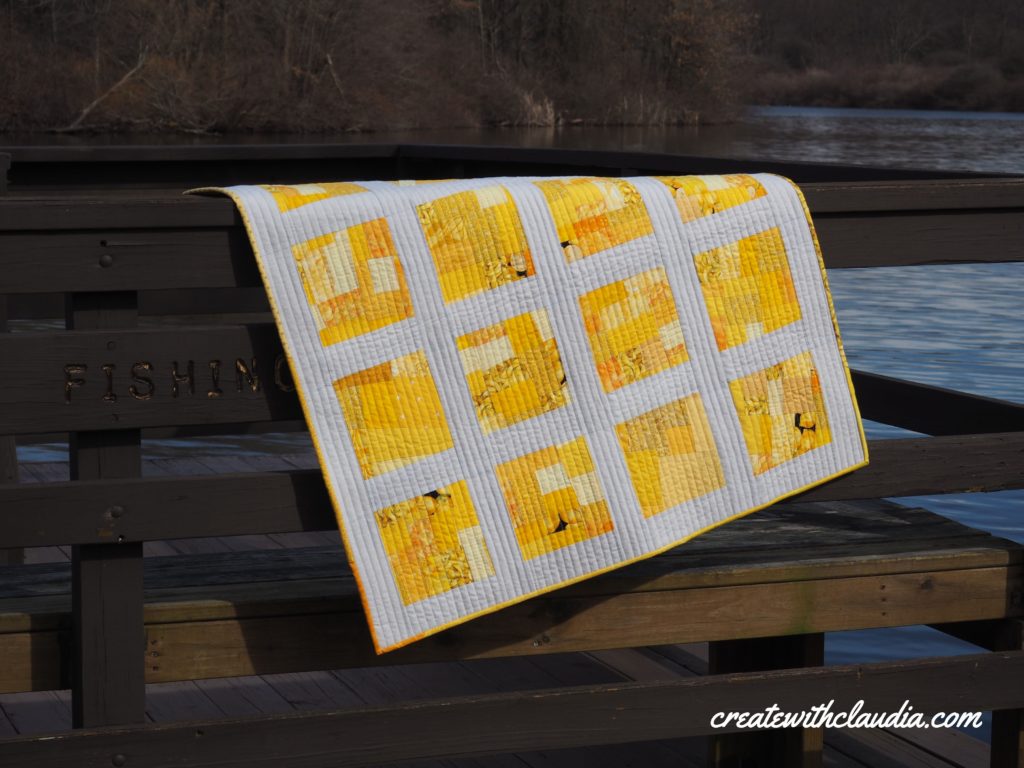 One of the things I like most about this quilt is that every one is completely unique. I could make five of these, in the same colors, and they wouldn't look alike. That is because of the easy method I use to create my own fabric out of my scraps.
If you'd like to see this fun way of making new fabric, you can see it here in my video.
Video Showing You How to Make the Fabric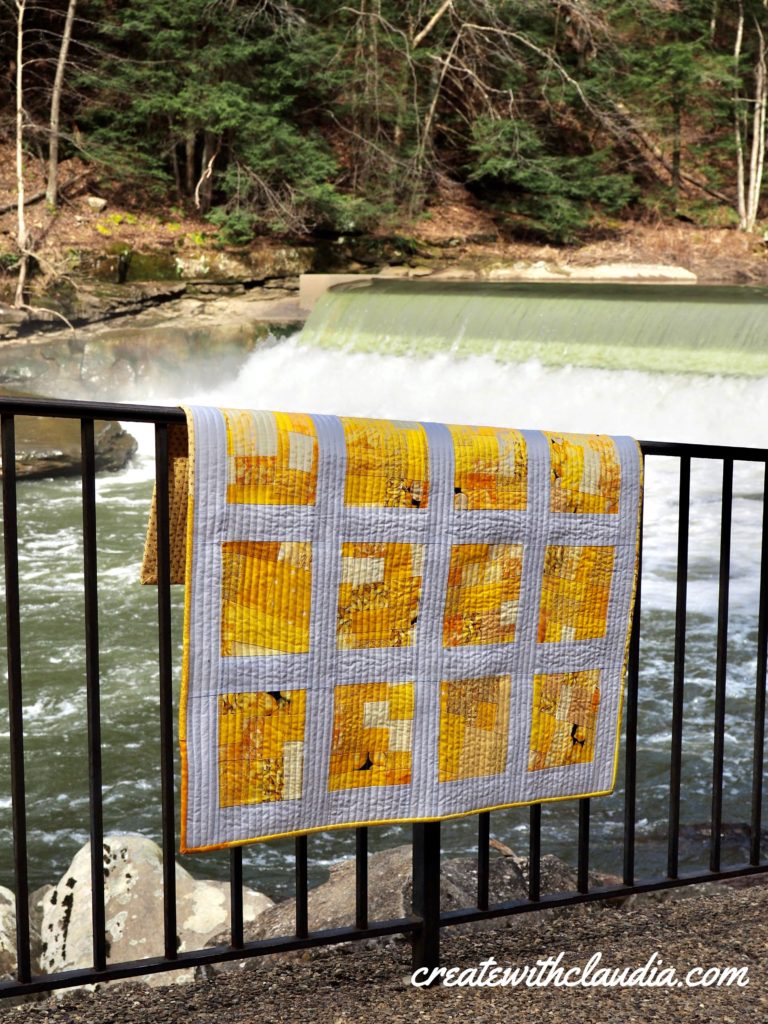 Modern Baby Crazy Quilt Instructions
Finished Quilt Size: 34″ x 34″
Blocks Needed: 16 crazy quilt blocks plus sashing (see below)
Materials Needed For the Baby Quilt Size
For the crazy quilt squares: Fabric scraps of various shapes and sizes totalling about 1 yard. You will need 16 squares cut 6 1/2″
Backing: 1 1/4 yards
For sashing: 3/4 yard – 5 strips cut 10 1/2″ x 2 1/2″ * 15 strips cut 8 1/2″ x 2 1/2″ * 20 strips cut 6 1 1/2″ x 2 1/2″
Binding: As needed, depending on your preferred method of binding
Batting: As desired
Supplies You May Need
As an Amazon Associate I earn from qualifying purchases.
Assembling the Modern Baby Crazy Quilt
Make The Blocks
Gather up your scraps and sew them together as desired.
First, sew together pairs of scraps. You may need to trim them down or even off the edges.
Next, sew together the pairs to make a larger piece made up of four fabrics.
Trim down any uneven edges as needed and sew these units together. Repeat until you have large enough pieces of scrap fabric to cut out your 6 1/2″ squares. You will need 16 crazy quilt blocks in total.
Note: For more detailed instructions on making the blocks, download the pattern above or check out my video demonstrating this fabric technique (link is near the beginning of the article).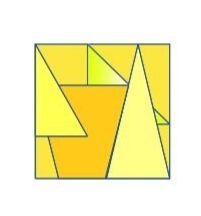 Add Sashing To Blocks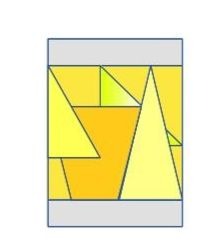 Take 4 of your crazy quilt blocks and add one of the 2 1/2″ x 6 1/2″ strips to the bottom and one to the top of the block.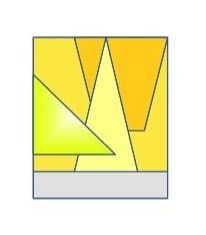 Take the remaining 12 crazy quilt blocks and add one 2 1/2″ by 6 1/2″ strips to the bottom of them.
Sew the Blocks Together
Assemble the Top Row

Using the strips that measure 10 1/2″ x 2 1/2″ as sashing, sew the row 1 blocks together.
Assemble Rows 2 through 4

Using the strips that measure 8 1/2″ x 2 1/2″ as sashing, sew the second row together. Repeat with rows 2 and 3.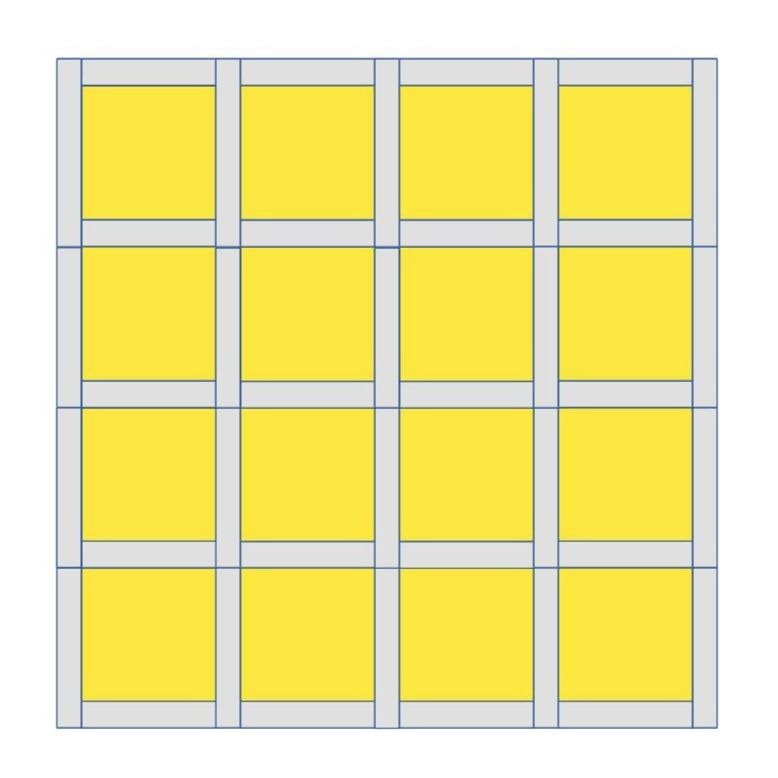 Sew all rows together.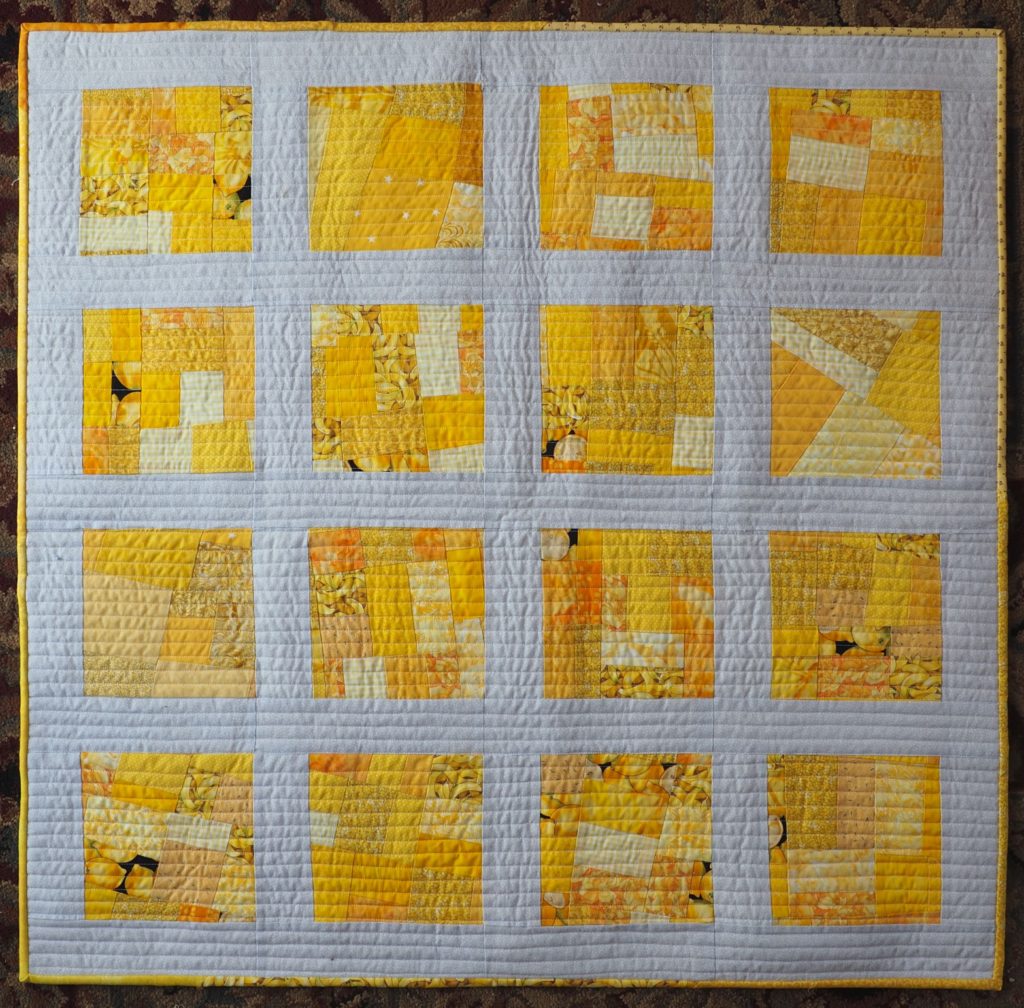 I quilted my modern baby crazy quilt with an easy straight stitch and bound it with scraps.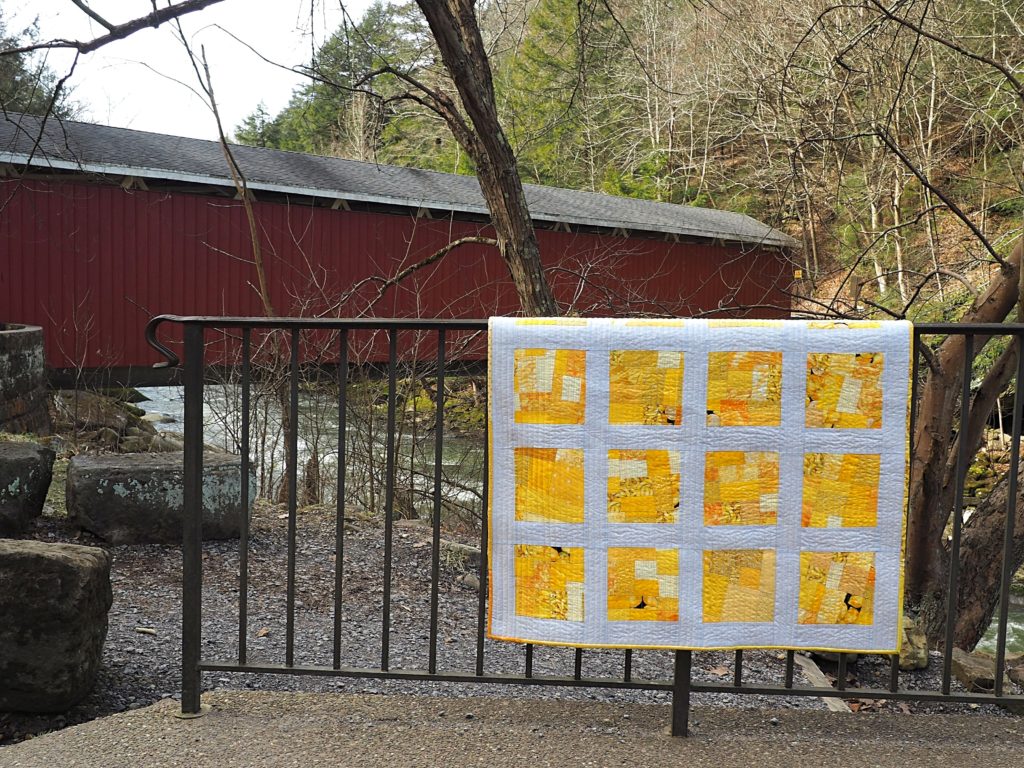 Other Standard Quilt Sizes
This pattern can easily be adapted to other sizes and it would look striking on a bed. Here are general guidelines for other sizes.
Crazy Quilt Blocks Needed
| | | |
| --- | --- | --- |
| Size | Fabric Requirements | # of Blocks Needed |
| Twin | Appx. 2 1/2 yards | 70 |
| Queen | Appx. 4 yards of scraps | 120 |
| King | Appx. 4 1/2 yards | 144 |
Sashing Strips Needed
| | | | | |
| --- | --- | --- | --- | --- |
| Size | Fabric Needed | 10 1/2″ x 2 1/2″ | 8 1/2″ x 2 1/2″ | 6 1/2″ x 2 1/2″ |
| Twin | 2 1/2 yards | 8 | 72 | 77 |
| Queen | 4 yards | 11 | 121 | 130 |
| King | 4 1/2 yards | 13 | 143 | 156 |
I hope you give this quilt a try. It is a fun and unique way to use up some of your scraps.
And don't forget, if you ever make one of my patterns, please post a picture to Instagram and use the tag #createwithclaudia so I can see it. I love seeing those pics!
Happy Quilting!