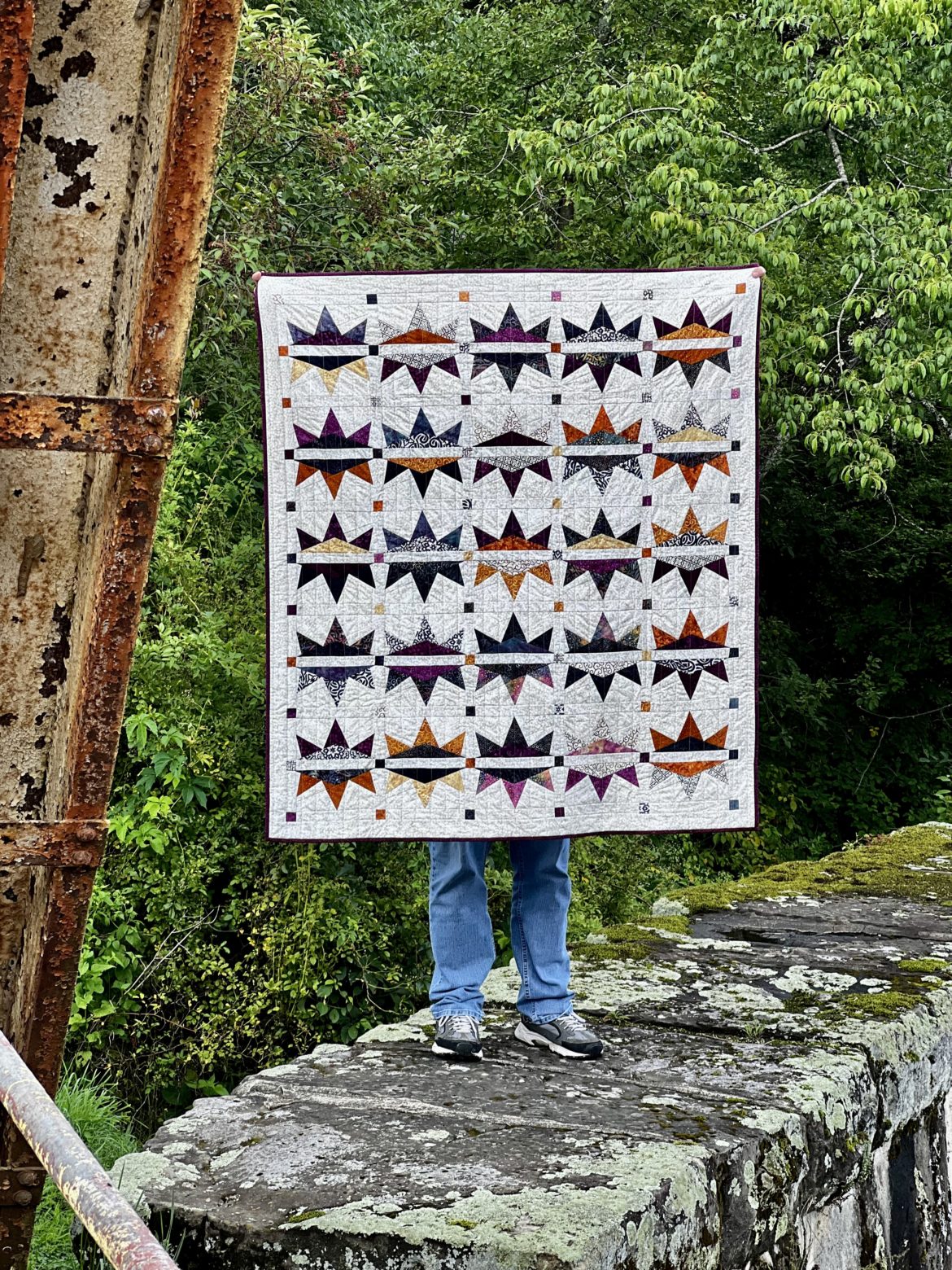 Paper Piecing with Island Batik
Introducing my latest quilt. My Shining Crowns quilt was made with a paper pieced pattern that I designed, and I am very happy with the way it turned out. I made it for a monthly Island Batik ambassador project. The ambassadors were given one of Island Batik's new fabric lines and I was assigned Magenta Dusk. This elegant collection is filled with various purples, plums, blacks, and golds. Here's more about my paper piecing with Island Batik.
Disclosure: Items used in this post were generously provided by Island Batik, Aurifil Thread, Hobbs Batting and Schmetz Needles.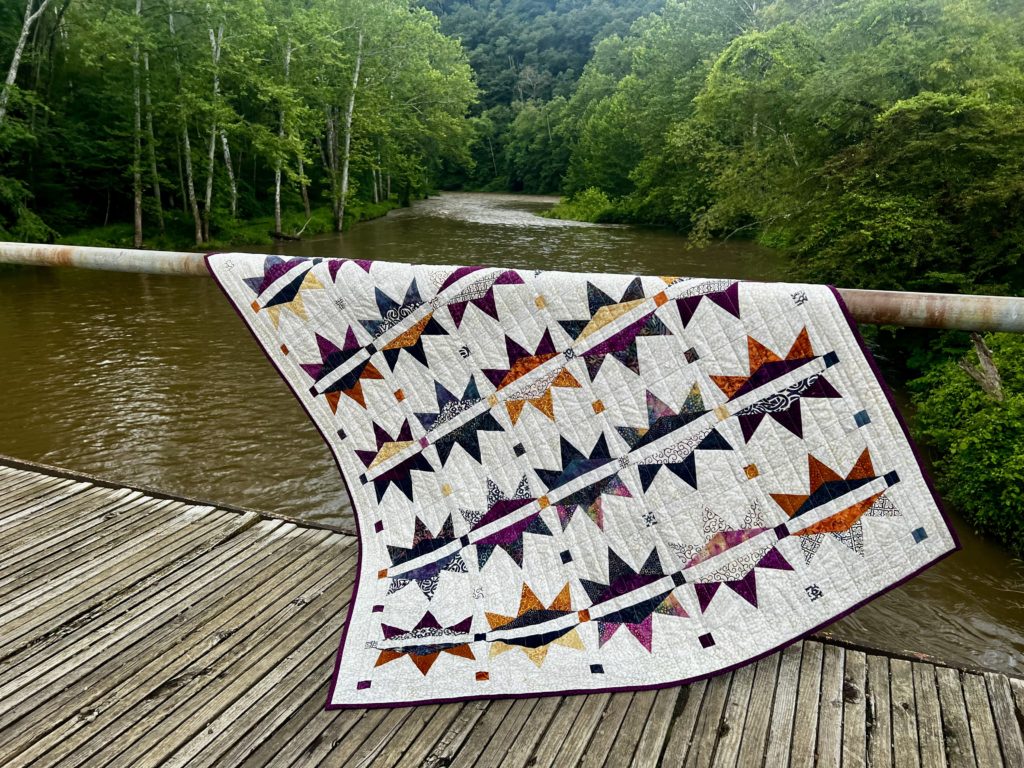 The Fabric
Island Batik lines usually have 20 different fabrics in them and Magenta Dusk is no exception. I have never made a secret of the fact that I absolutely love their gold fabrics. I was delighted when I saw the fabric line I got. That is because it has quite a few of their golds in it. Designed by Kathy Engle, it is a luxurious line.
For the background I used their gorgeous new neutral called Sugar. It was perfect for this quilt.
Ask for the Magenta Dusk and Sugar in your local quilt shop or online store. It will be in stores in October of 2023.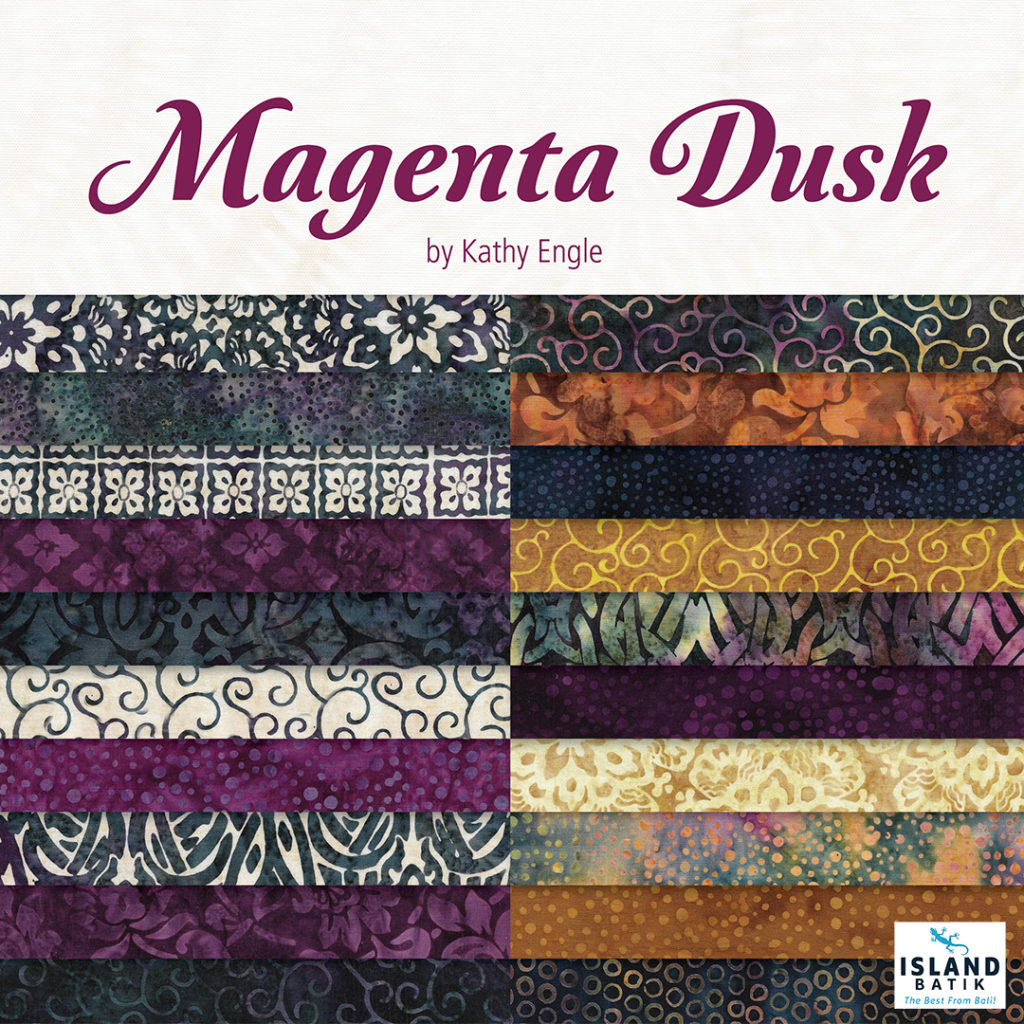 The Design
I used Electric Quilt 8 software to design the quilt and the block. It was fun playing with the various layouts of the block. I ultimately decided on mine because I wanted to make sure the fabrics were the focus. I'm always amazed at how my quilt turns so closely to the software version.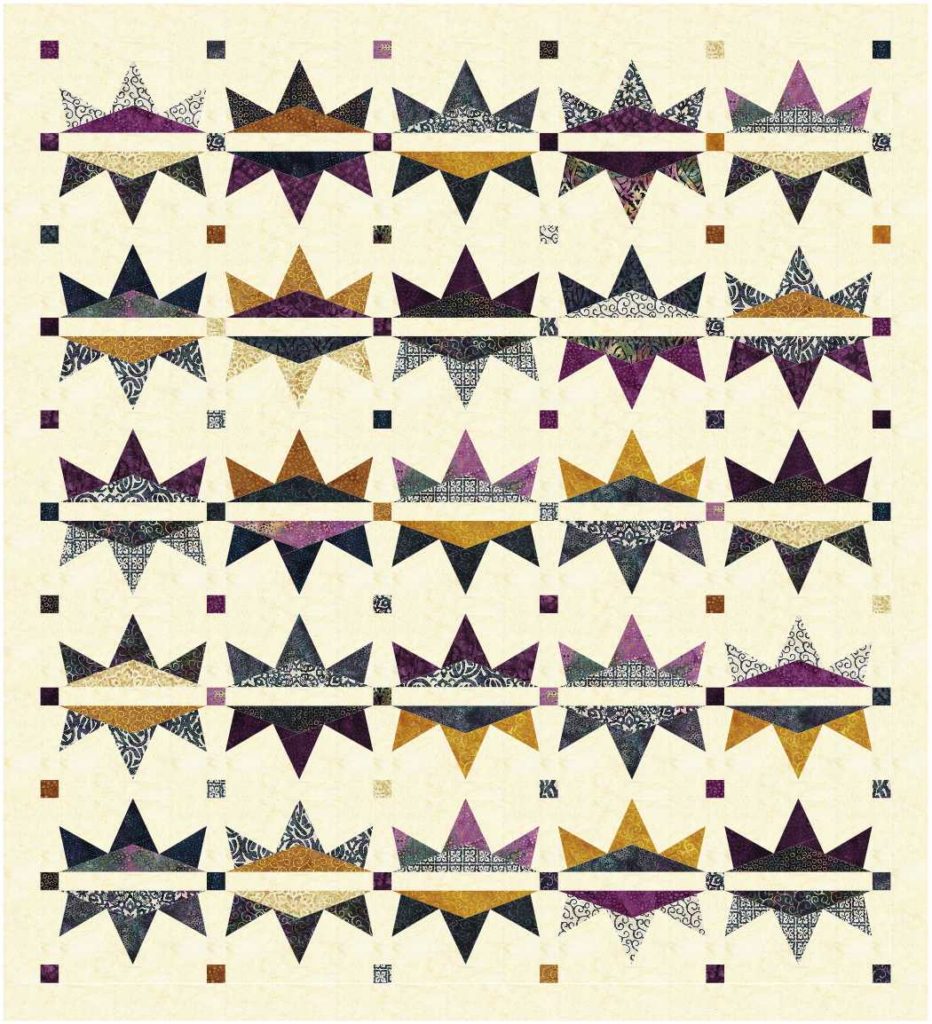 Making the Quilt
To make my quilt I used Hobbs Batting Tuscany Collection which is a wool/cotton blend. It gave this quilt a really nice feel and was easy to quilt through.
I used Auriful #2123 (Butter). It was perfect for this quilt. The needles I used for this (and that I always use) are Schmetz Microtex. They sew beautifully.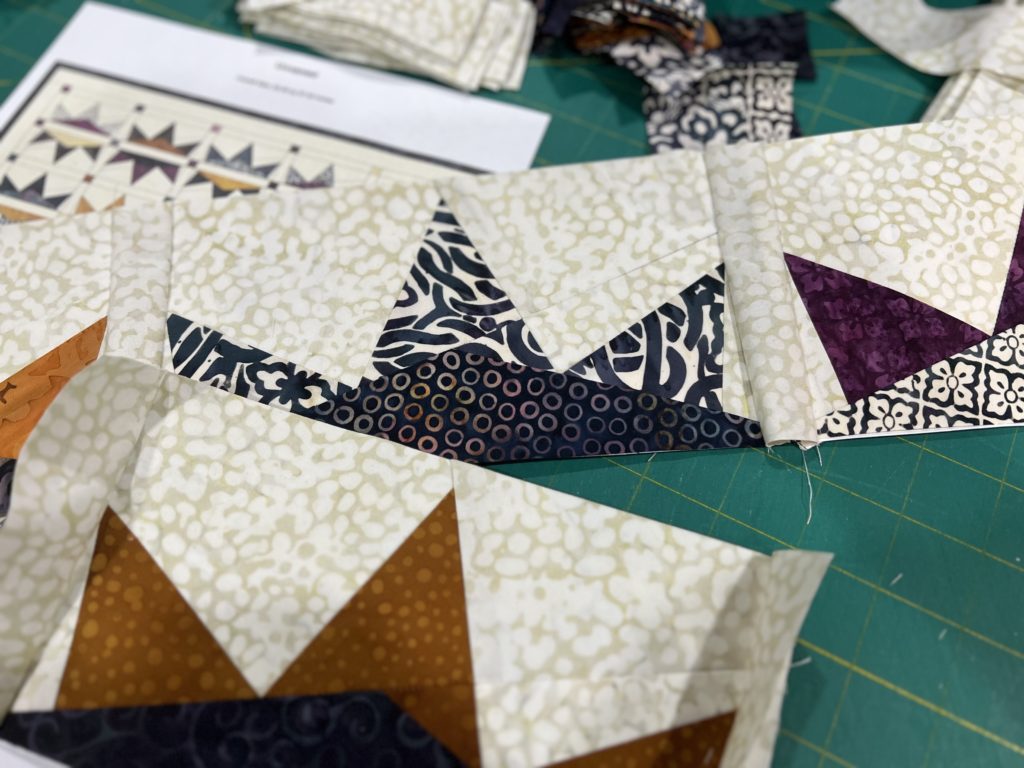 The Paper Pieced Block
I'm in the process of finishing up this block to release it as a pattern. It is fairly easy to make if you have some paper piecing experience and I can't wait to bring it to you.
The Blog Hop
Make sure to check out all of the other ambassadors and the new fabric lines. We all had fun doing some paper piecing with Island Batik!
Giveaway!
Head over to the Island Batik blog and don't miss out on their blog hop giveaways! You can win some gorgeous fabric!
The Photos
The wind was not cooperating when I went out to take photos however I managed to get a lot of them! Special thanks to my husband who always holds up my quilts, even when I ask him to go up on a steep wall!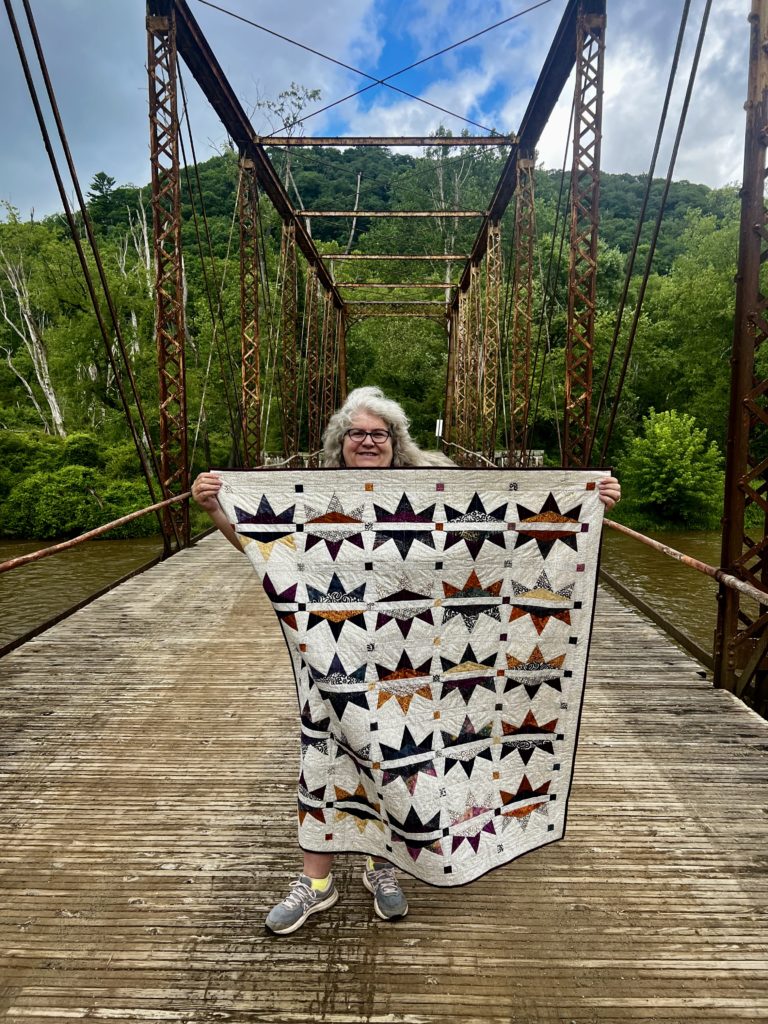 These photos were taken up near Cook Forest in North Western Pennsylvania.