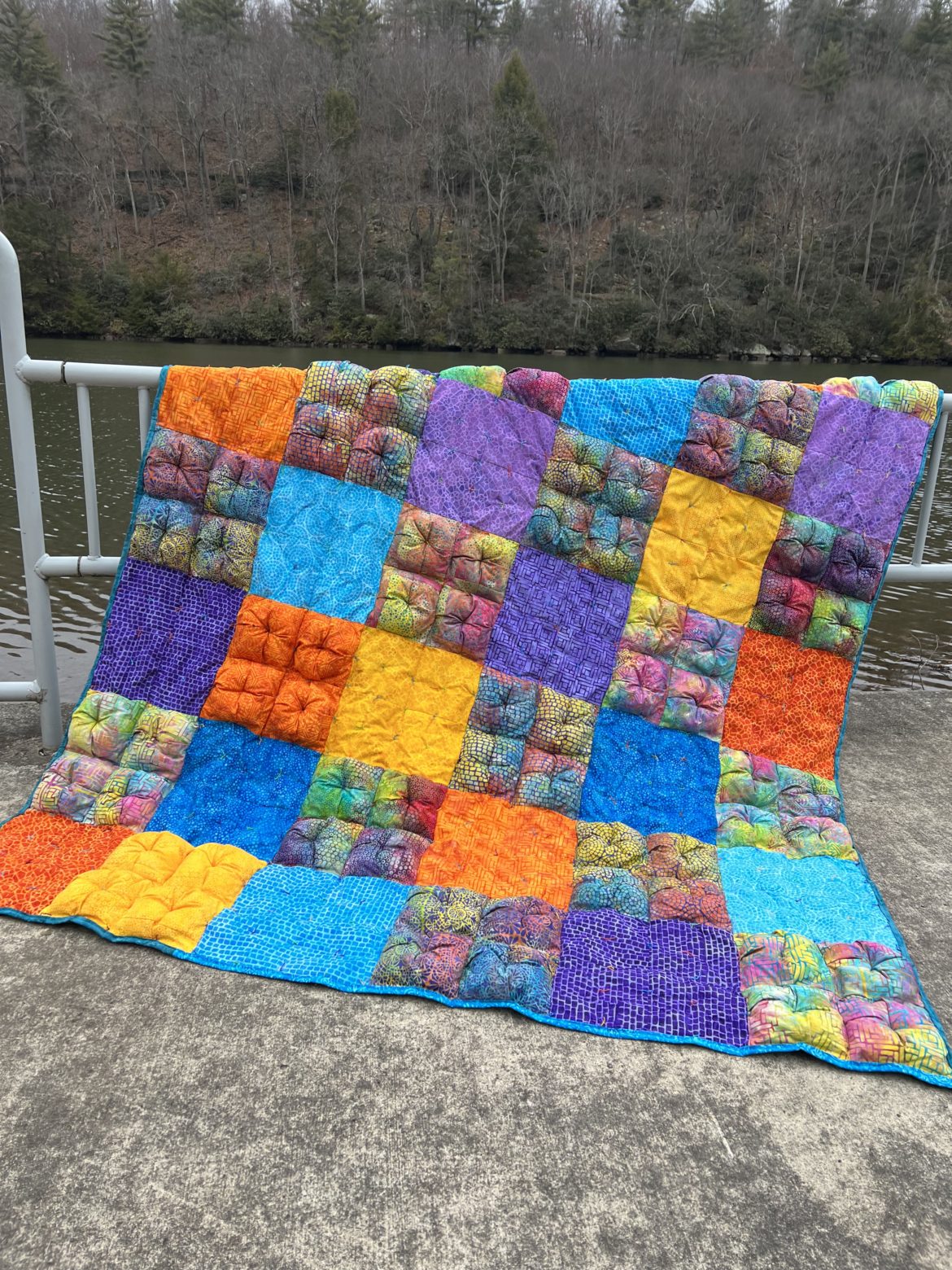 Puff Quilt Blog Hop
Hi Everyone! Welcome to my first post as a 2023 Island Batik Ambassador. This is my third year and I am just as excited and honored to be doing this as I was on my first year. Four times a year the ambassadors participate in a blog hop. We are asked to make a particular type of quilt and are assigned one of Island Batik's new lines to work with. This time it is all about texture. Enjoy my stop on the puff quilt blog hop!
My husband and I took my quilt for a drive on a cold and dreary day and found a fun spot to take some photos. If you are ever up in Northwest PA and like to ride bikes then you may to check out the Rail 66 County Trail. It passes through some lovely country. We decided to take my quilt pictures on this old caboose. I think the beautiful jewel tones in the fabrics brightened up that grey day!
Disclosure: Items in the post were provided by Island Batik, Hobbs Batting, Aurifil Thread and Schmetz Needles.
About My Puff Quilt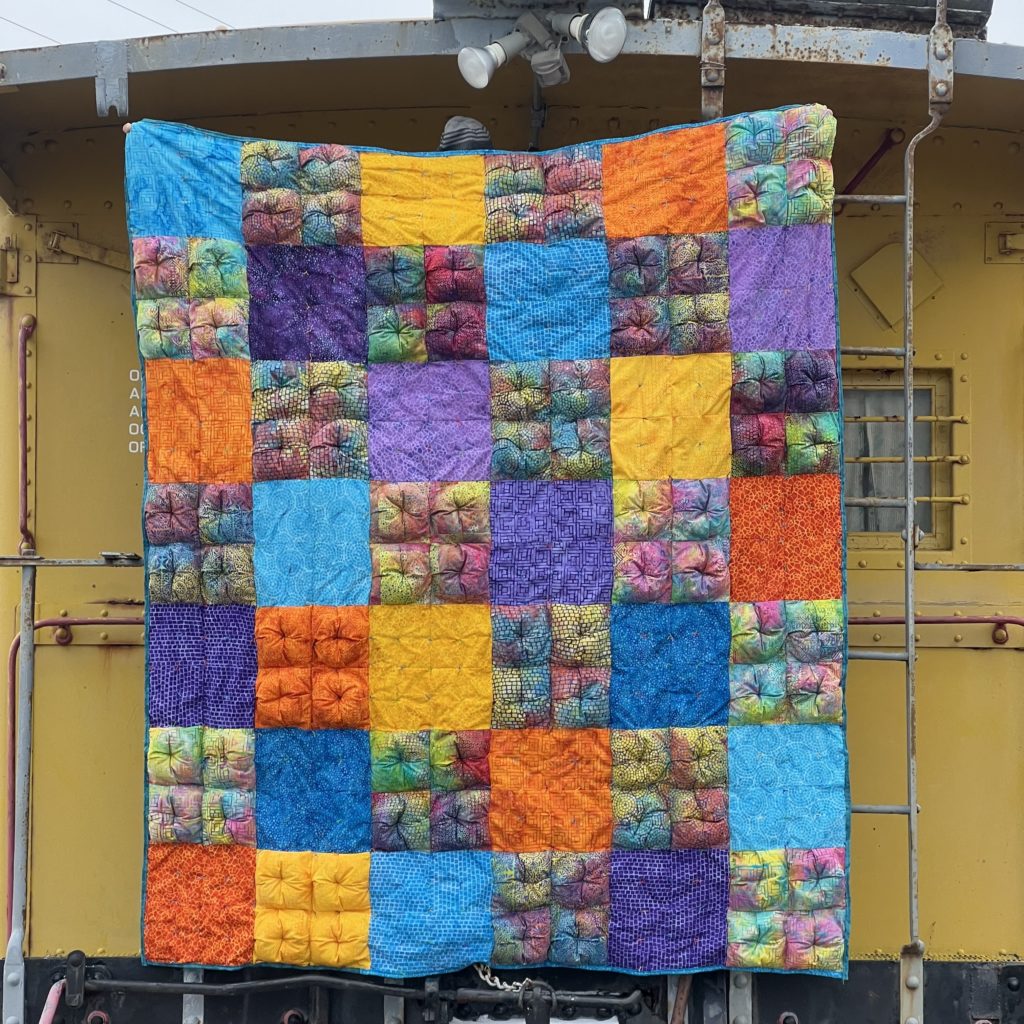 I designed my quilt in Electric Quilt 8. It is a simple design using all 20 of the fabrics in the fabric line I was assigned. Because I really wanted to show off those fabrics I decided to make a grid using 4 squares of each fabric and making it into a larger four-patch.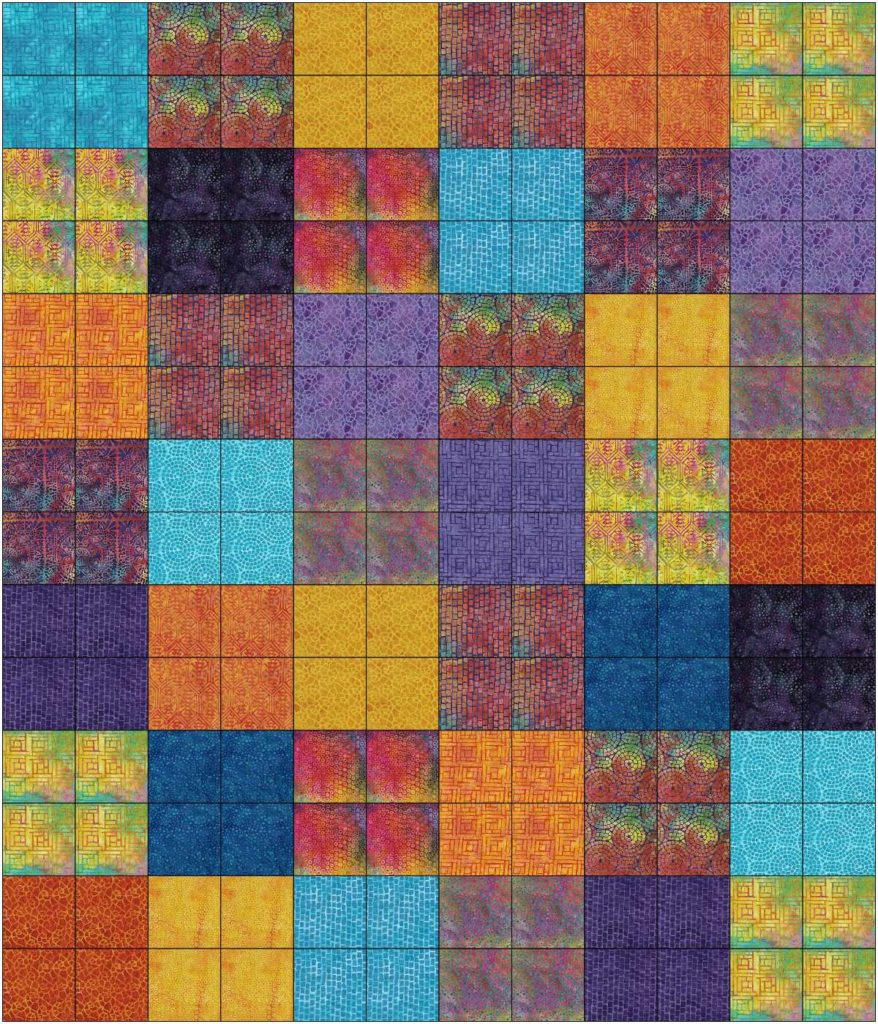 The other thing I wanted to do was not have every single square a puff. I alternated between the four-patches. That showed off those fabrics and gave it some more dimension (not that a puff quilt needs more dimension!).
My quilt is layered with batting and backing which makes it a bit heavier and makes it incredibly cozy and warm!
Lastly, my quilt is hand tied. I normally would not do that, but machine quilting is not one of my strong points and this quilt would have been hard for me to machine quilt. I have plenty of perle cotton thread in colors that matched the fabric perfectly. Because it is hand tied and my puffs were fairly large I decided to hand tie them in the center for a different look.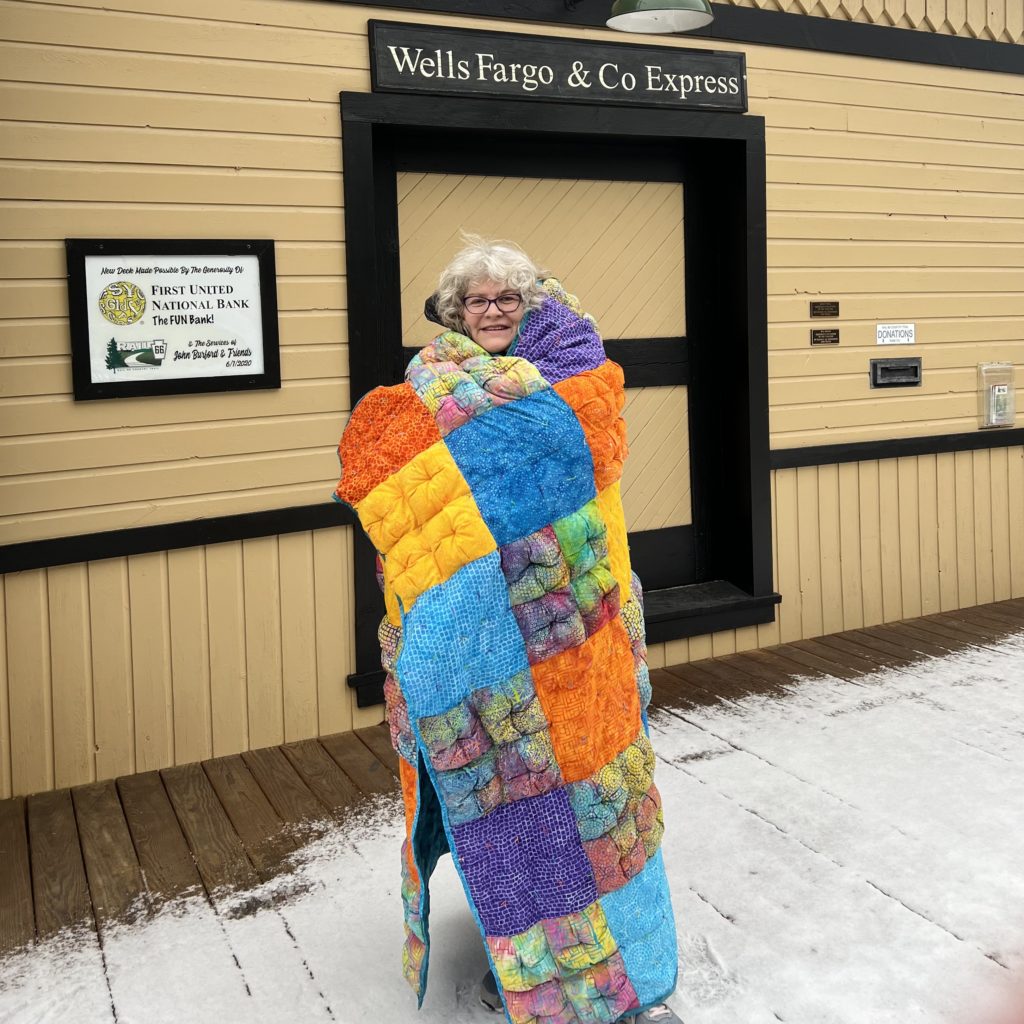 The Fabric
I was given the new Island Batik line called Broken Glass. It was designed by Kathy Engle for Swan Sheridan of Swan Amity Designs.
Just look at those colors! Every one of them is so beautiful! Look for this line in your local quilt shop. It comes in both yardage and precuts.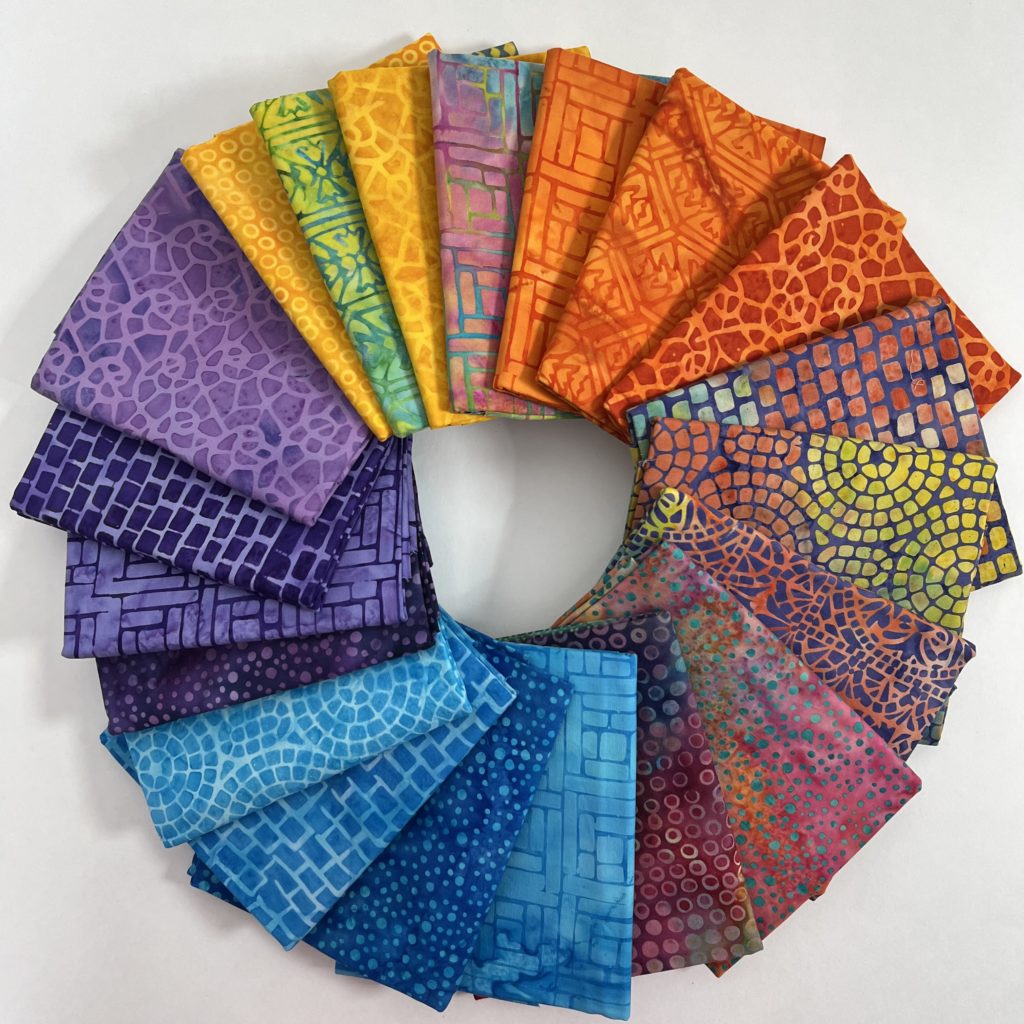 Making My Quilt
When I first heard about the puff quilt blog hop I was a bit nervous. I had never made one and was not sure where to begin. I looked at numerous tutorials and decided to combine a lot of them. Because some of squares are not puffy it was a bit different.
The first thing I did was prepare the squares that were going to get filling.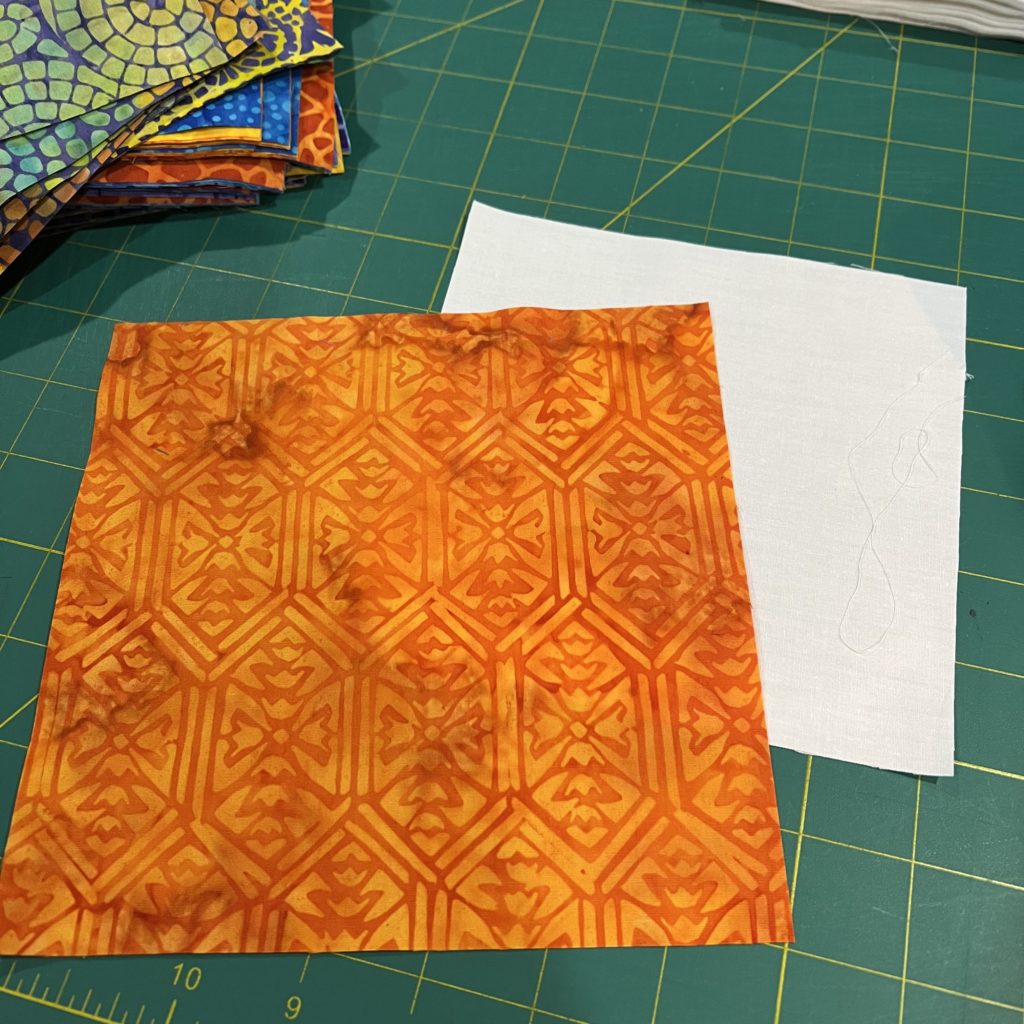 The puff squares needed backing so I used Island Batik scraps in whites and off whites. My top square was an inch larger than the backing so I had to make gathers. Then I started chain piecing, making sure to only sew three sides of each square. The open side is where the stuffing goes.
After that, I laid out my squares and sewed the columns with the opening on the puff squares facing towards the right.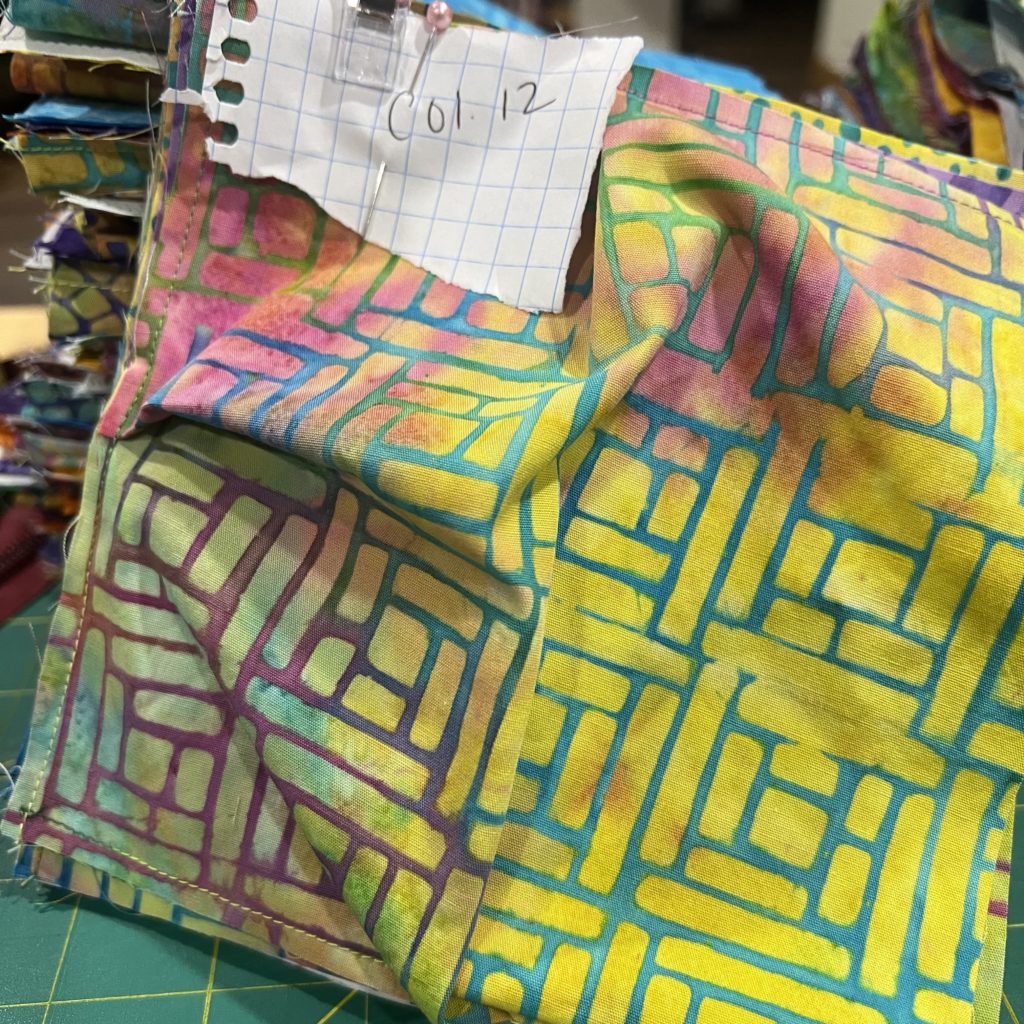 Working with the left column first, I stuffed the puffs and then sealed them using an 1/8″ seam allowance. Then I added the unstuffed second column to the first using a 1/4″ seam allowance, stuffed it, sewed it and added the next column. It may sound like a lot of work, but it actually goes pretty quickly.
Once the top was done I added batting and backing. I used Hobbs PolyDown for the batting because I wanted this quilt to be super warm and cozy! I hand tied it and added binding to finish it all off!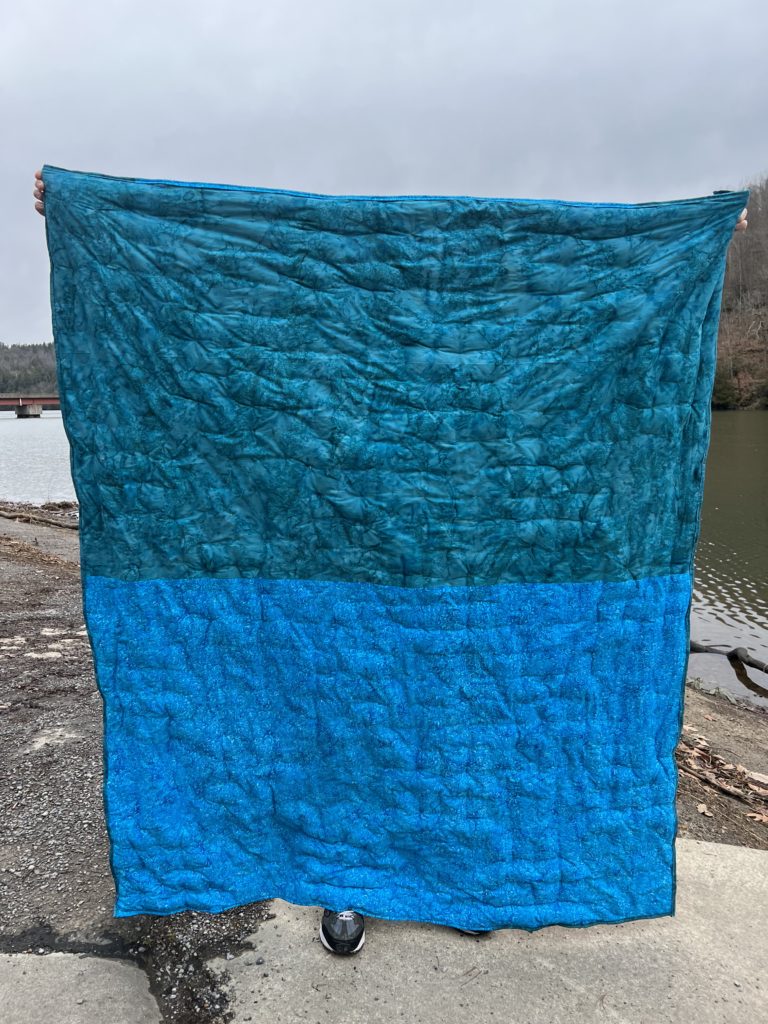 Quilt Specifics
Fabric line used on the front: Broken Glass designed by Kathy Engle for Swan Sheridan of Swan Amity Designs
Fabric used on the back: Teal from Island Batiks foundation line called Tantalizing Teals and Foulard-Waterfall from their Blenders line.
Batting: Hobbs PolyDown
Filling for Puffs: Polyfill
Pieced using Aurifil thread 40 wt. Light Jade
As an Amazon Associate I Earn From Qualifying Purchases (at no extra cost to you)
Thank you to Island Batik and the industry sponsors.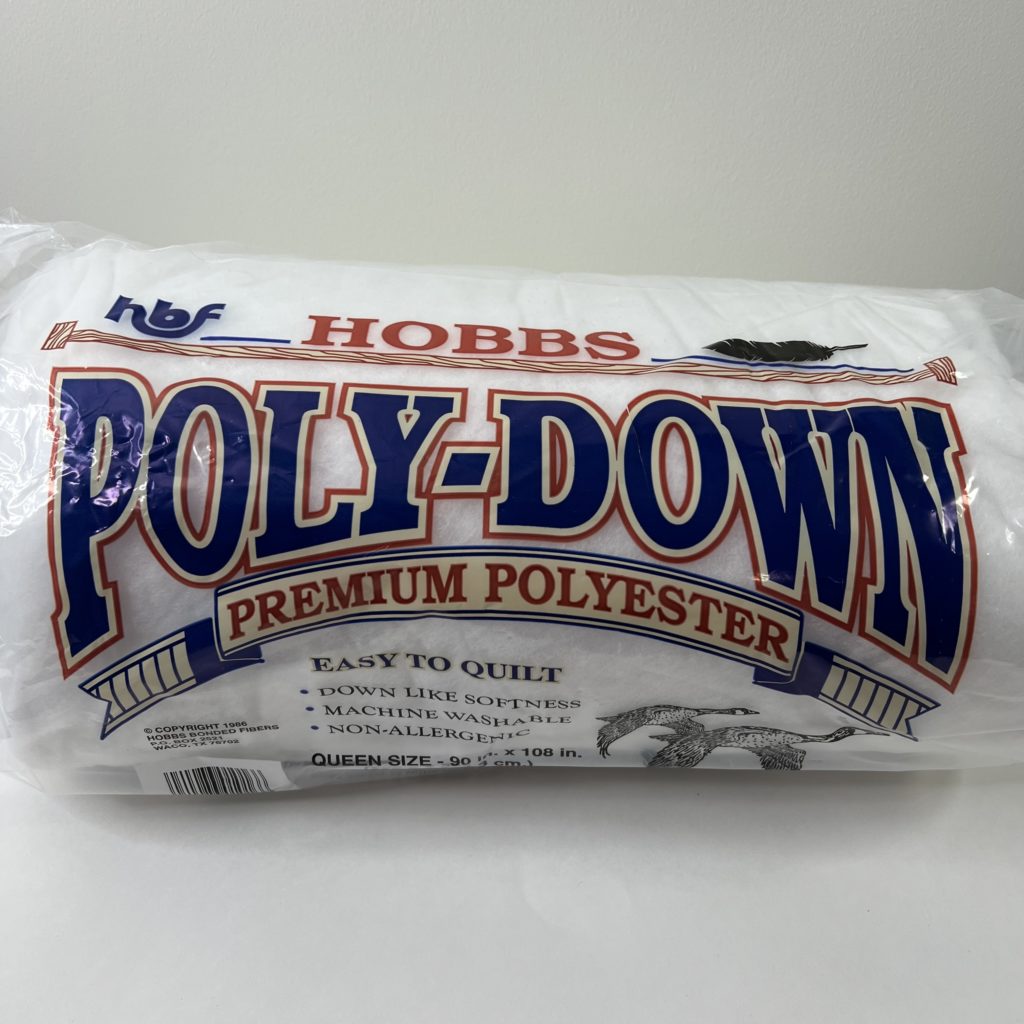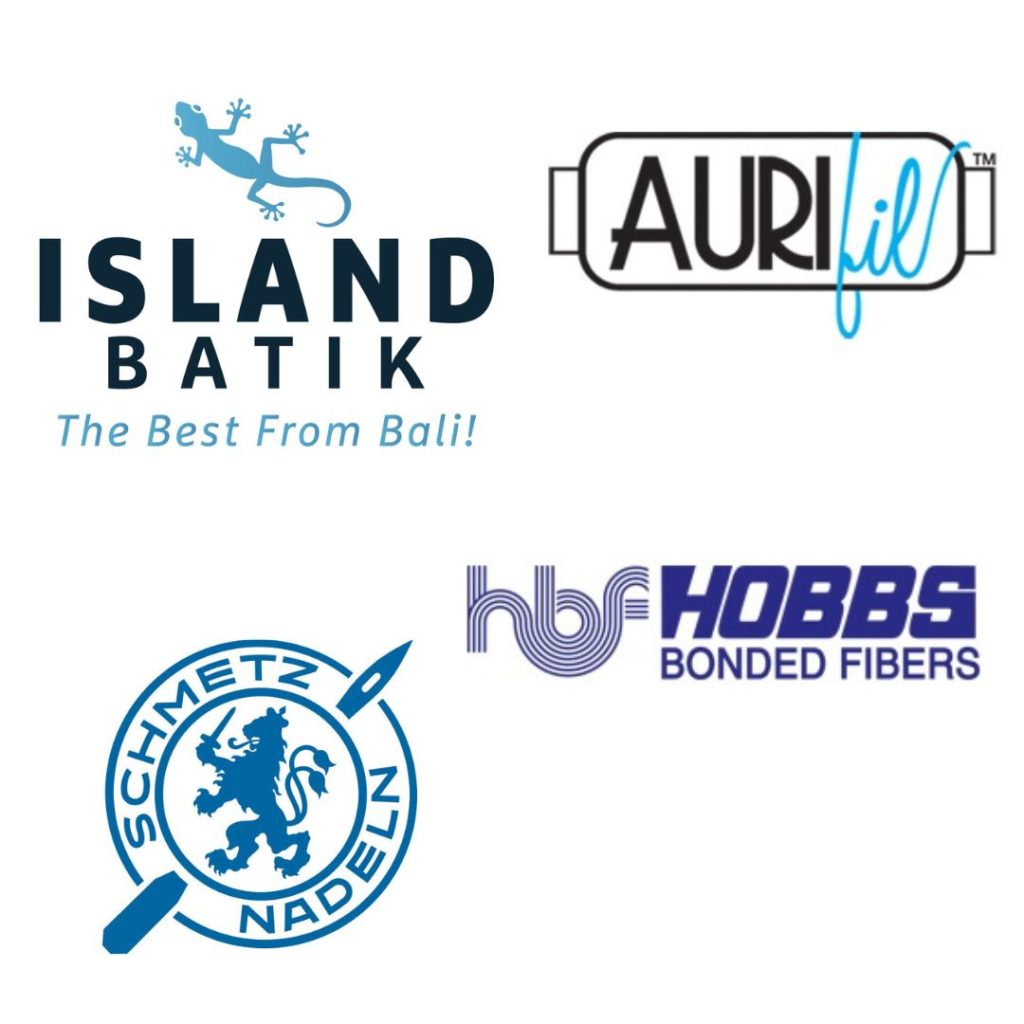 Bonus Project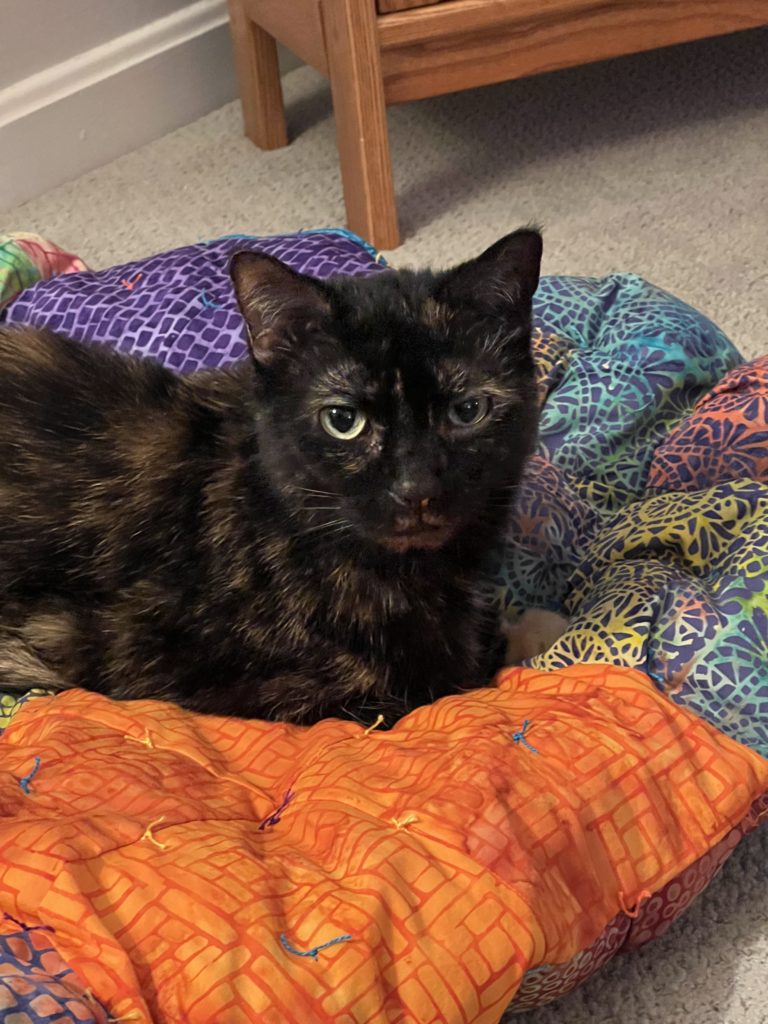 I always bring the quilts I make to show my mother and as soon as her cat got a hold of it she did not want to leave it. So I had to make her a little puff bed out of the fabrics I had left. It's an easy project although it is not the ideal thing for a cat that likes to scratch and chew. It is much better suited as a blanket for a doll.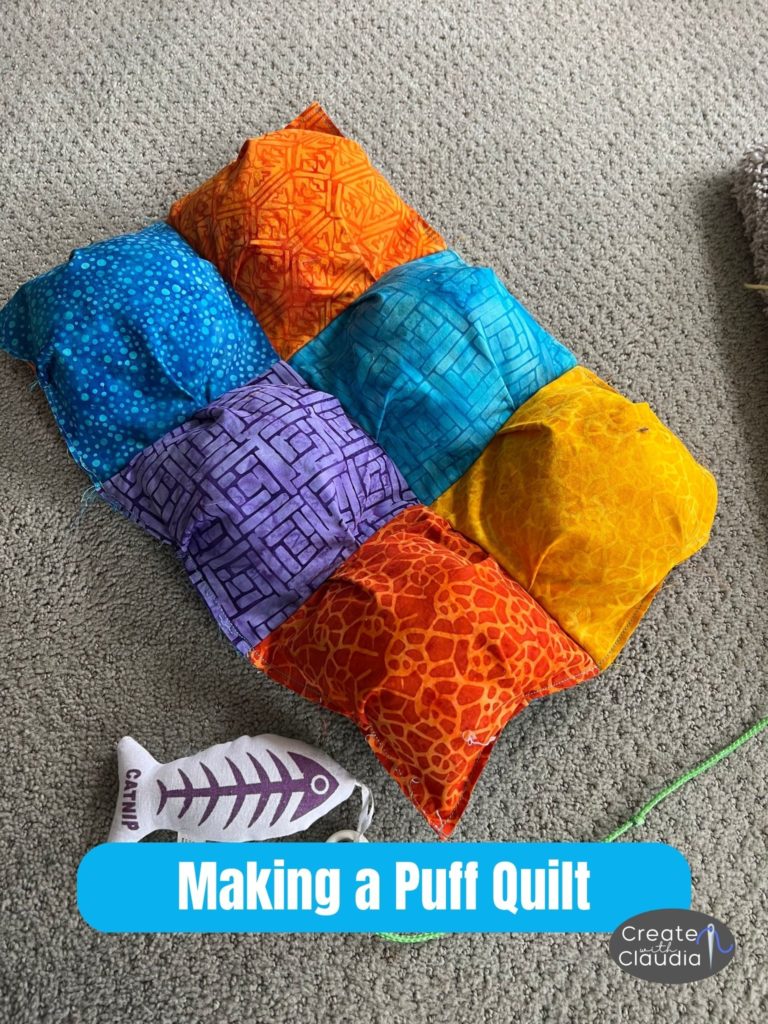 You can see how I made this little doll-size puff quilt in my tutorial.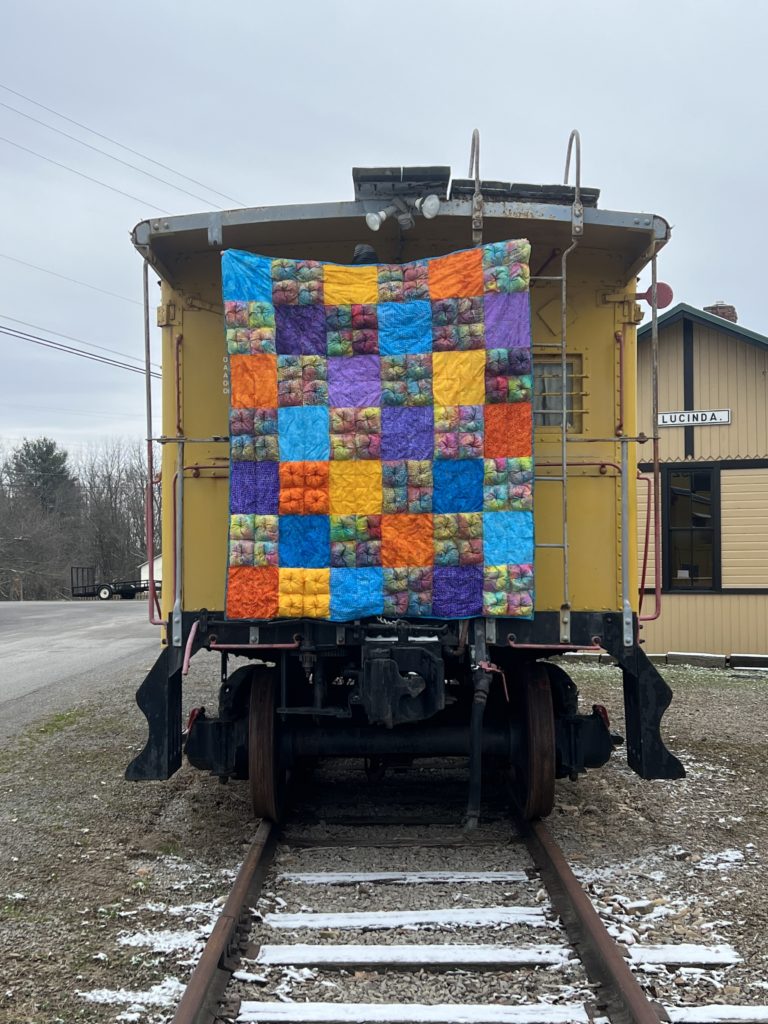 The Other Ambassadors
Don't miss the other ambassadors' gorgeous versions on the puff quilt blog hop and check out the gorgeous new fabric lines.
Emily Leachman, The Darling Dogwood
Sarah Pitcher, Pitcher's Boutique
Claudia Porter, Create with Claudia
Brenda Alburl, Songbird Designs
Elita Sharpe, Busy Needle Quilting
Reed Johnson, Blue Bear Quilts
Suzy Webster, Websterquilt
Preeti Harris, Sew Preeti Quilts
Special St Valentine's Day Post
Renee Atkinson, Pink Tulip Quilting
Denise Looney, For the Love of Geese
Gail Sheppard, Quilting Gail
Anorina Morris, Samelia's Mum
Sandra Starley, Textile Time Travels
Susan Deshensky, Lady Blue Quilts
Randi Jones, Randi's Roost
Brittany Fisher, Bobbin with Brittany
Lisa Pickering, Lisa's Quilting Passion
Victoria Johnson, Forever Quilting for You
Mania Hatziioannidi, Mania for Quilts
Lana Russel, Lana Quilts
Pamela Boatright, Pamela Quilts
Jennifer Thomas, Curlicue Creations
Maryellen McAuliffe, Mary Mack Made Mine
Leah Malasky, Quilted Delights
Connie Kauffman, Kauffman Designs