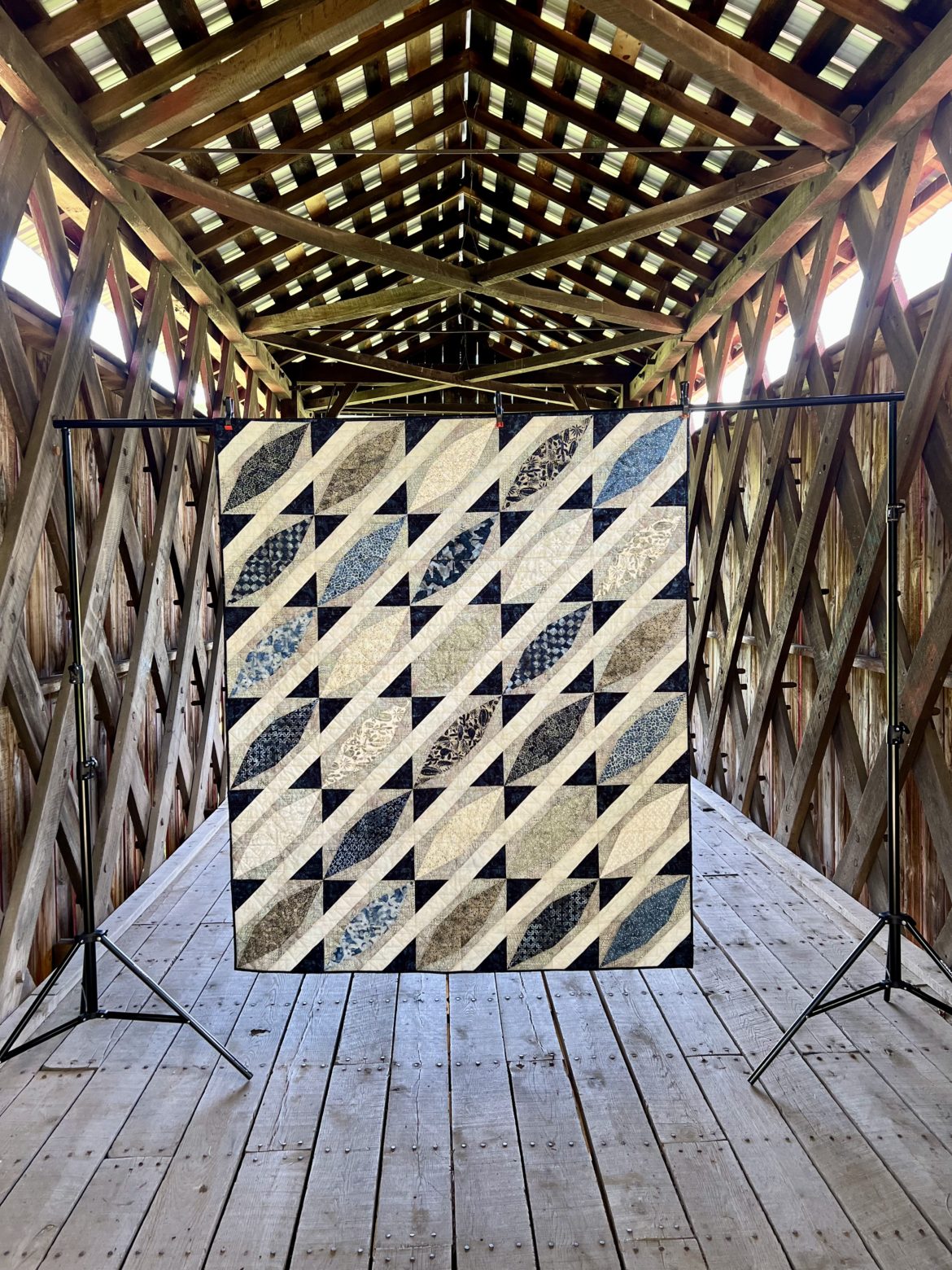 Silverado Canyon Tool Talk Quilt
Some of the items that Island Batik ambassadors get each year are 4 half yard bundles of some of their new fabric lines. With those bundles we are asked to make a special project and participate in that months' blog hop. We all anxiously await that fabric goodness. This month we received our fabric plus we received a tool from Deb Tucker Studio 180 Designs that we were asked to create our quilt with. What fun! Join me as I show you my Silverado Canyon Tool Talk quilt I call "River Bed".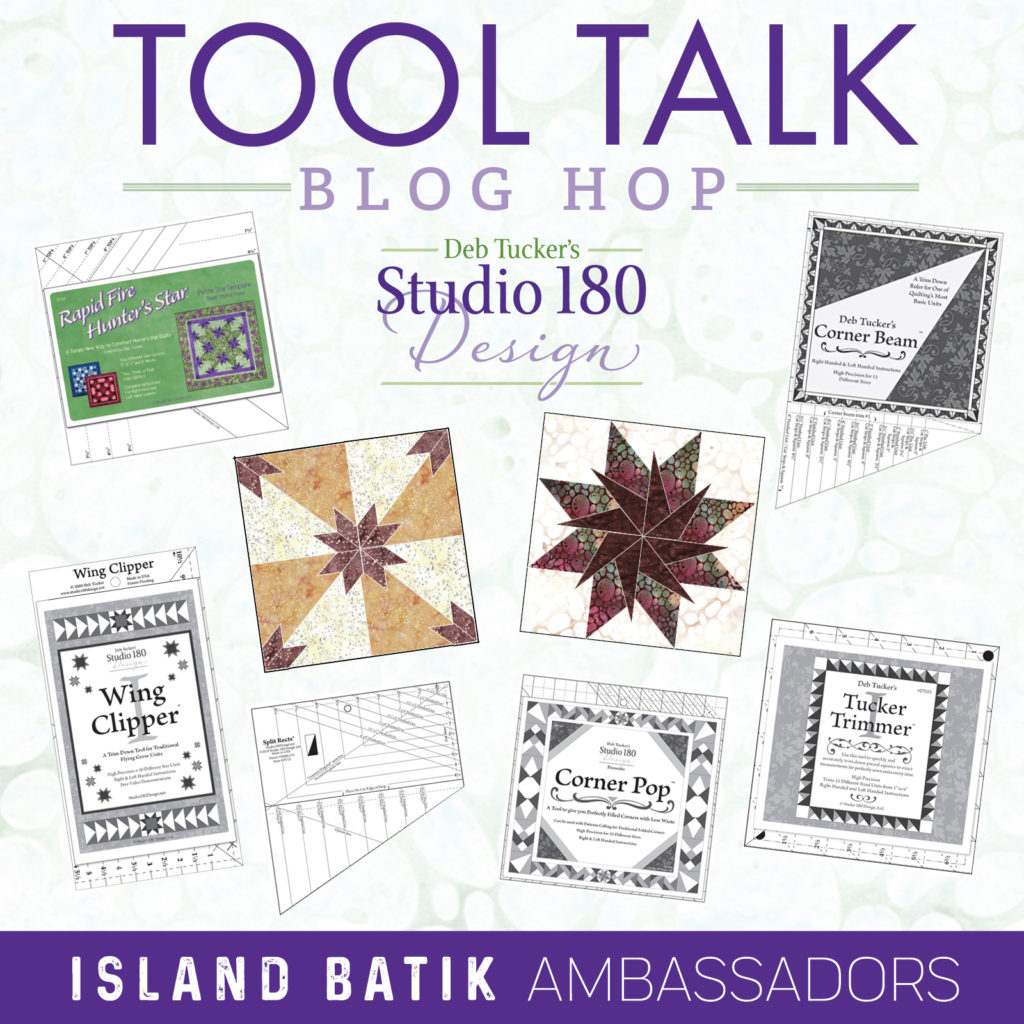 About the Quilt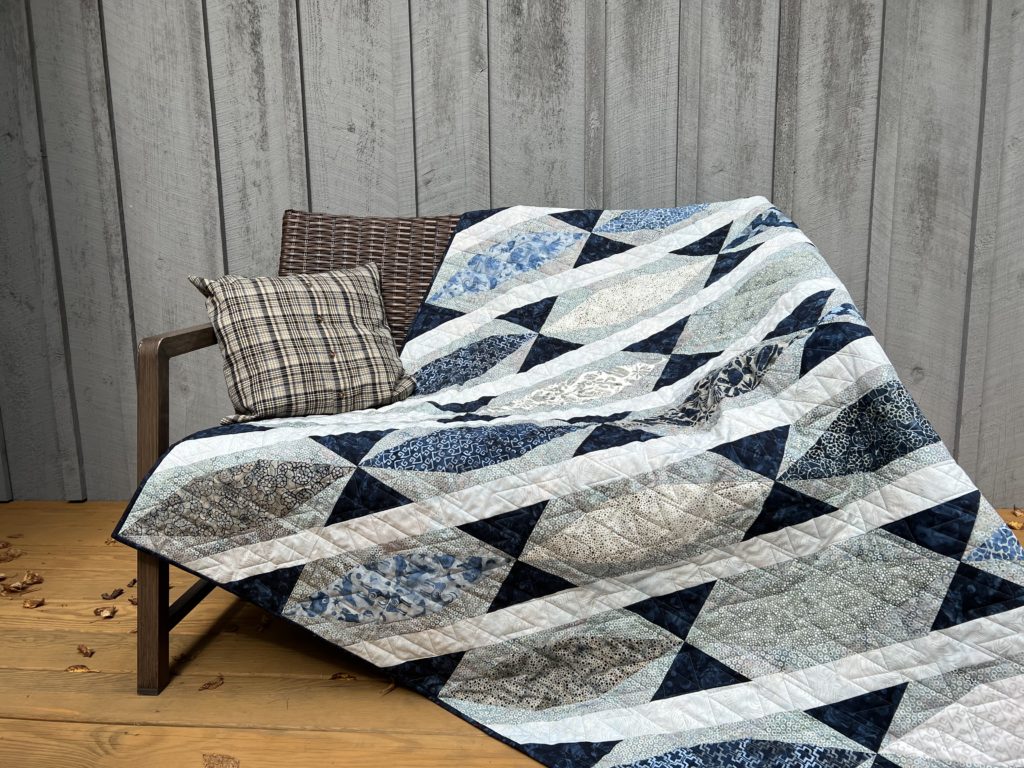 I always like to incorporate all 20 of the various fabrics in the new line that I receive in my projects for the blog hop. In addition, I like to show them off in a unique way. This fabric immediately took me to the earth. With the various designs and colors (especially the blues) I was reminded of water and stones. Hence the name of my quilt "River Bed".
Using the Deb Tucker Studio 180 tools and the fabric I like to think that I achieved the look of a river bed deep in a canyon.
You can see more about this quilt and check out what I did with the scraps left over from trimming my quilt blocks in this video.
The Fabric
The fabric bundle I received for this blog hop was called Silverado Canyon and it was designed by Kathy Engle. It is a gorgeous bundle filled with grays, blues, whites, and even some grays bordering on taupes. I love the earthy feel of the colors and some of the designs are definitely reminiscent of the West.
This line is now available in stores.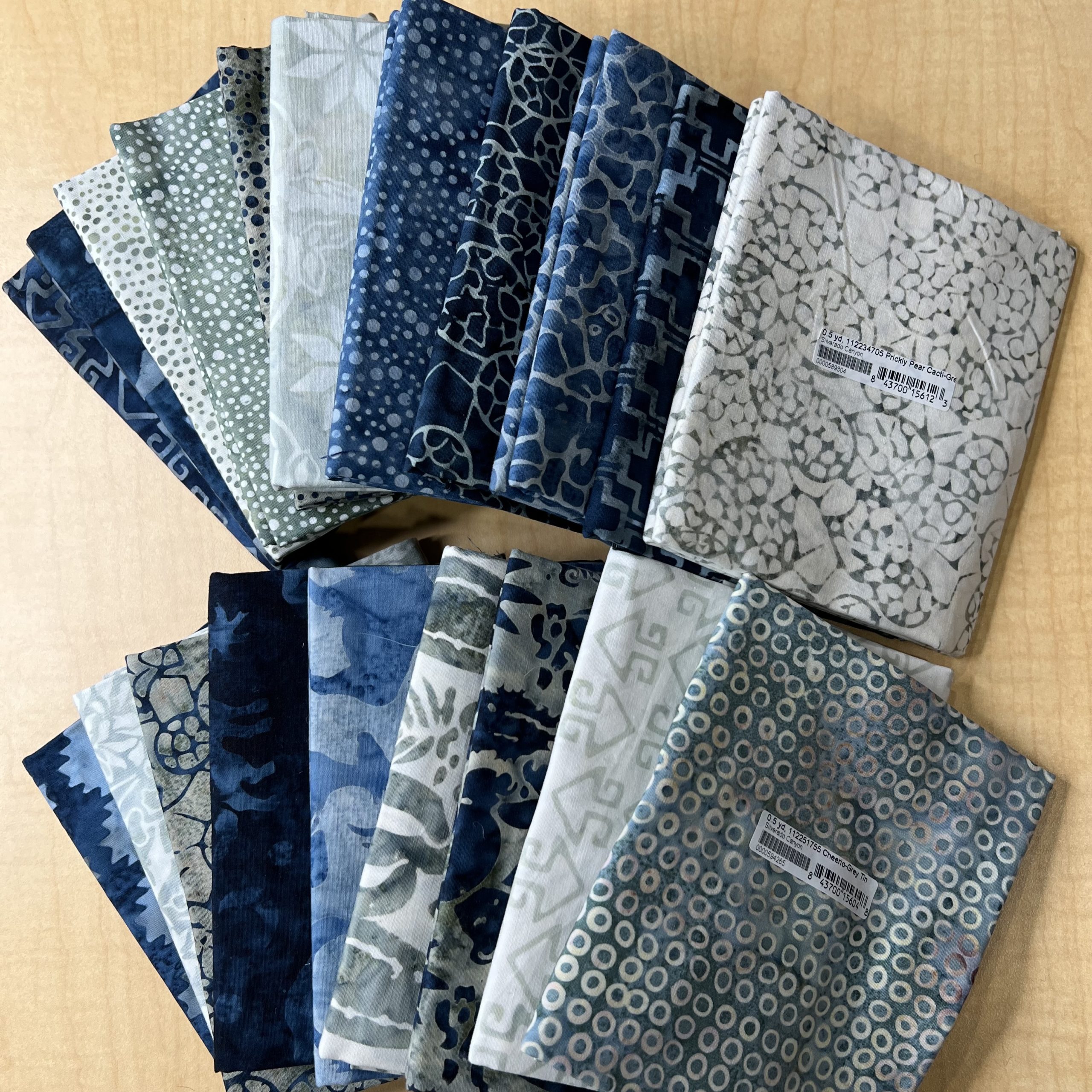 Not only did I receive the bundle of half yard cuts of all of the fabrics in the line, I also got 2 yards each of two of the fabrics in the line: Gray Tin and Plains Animal in Blue Ocean.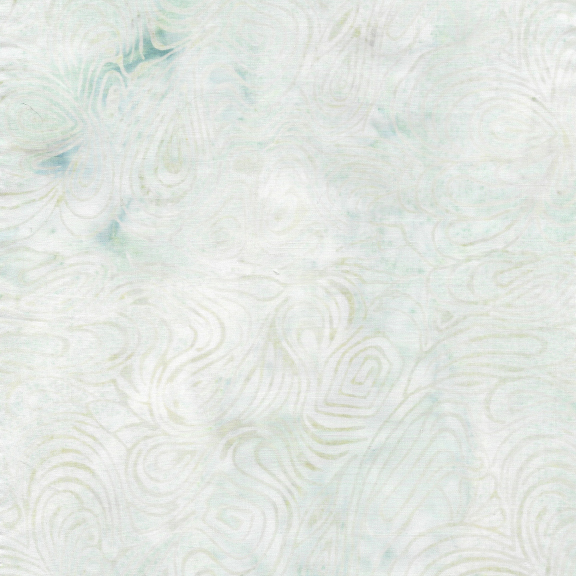 To finish off my design I needed another neutral and luckily I had a couple of yards of Whip Cream from Island Batik's Foundations – Neutrals line. With its white background and swirls of gray and blue it worked perfectly with the Silverado Canyon line.
The Corner Pop Tool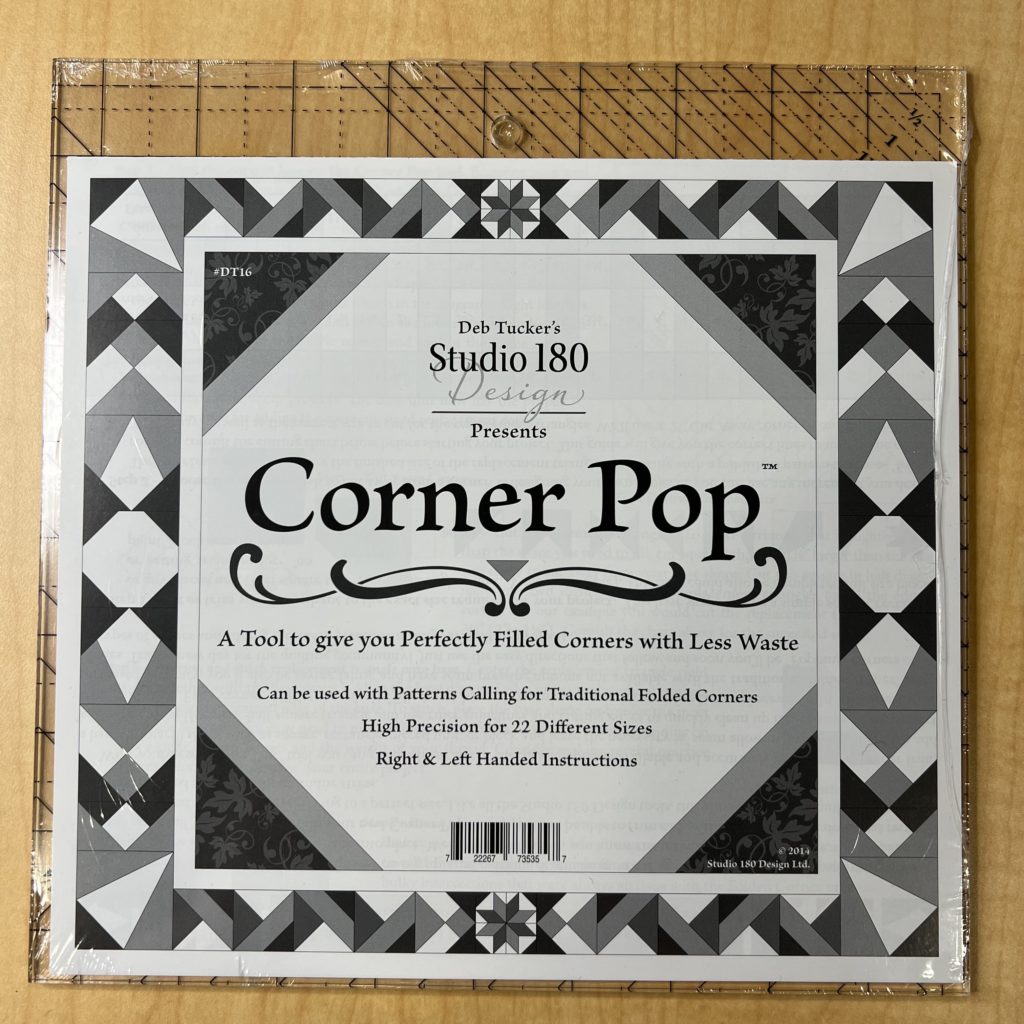 We were asked to design our quilt using one of the Deb Tucker Studio 180 tools and I was given the Corner Pop. I was excited to watch their video tutorial for it and designs started coming to me. I decided it would be fun to combine it with the tool I received from them in last year's ambassador box. It was the Corner Beam tool.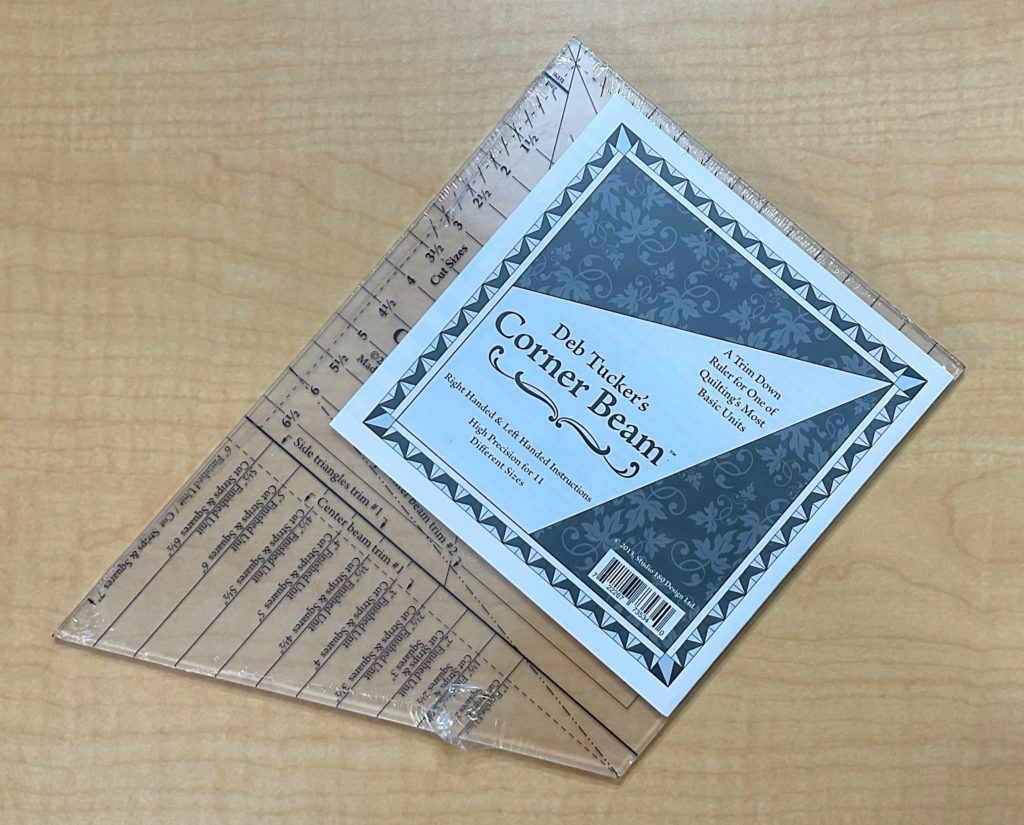 After playing around with the tools and figuring out which measurements worked together I came up with a quilt block that was made up of four blocks made with the Corner Beam and Corner Pop tools.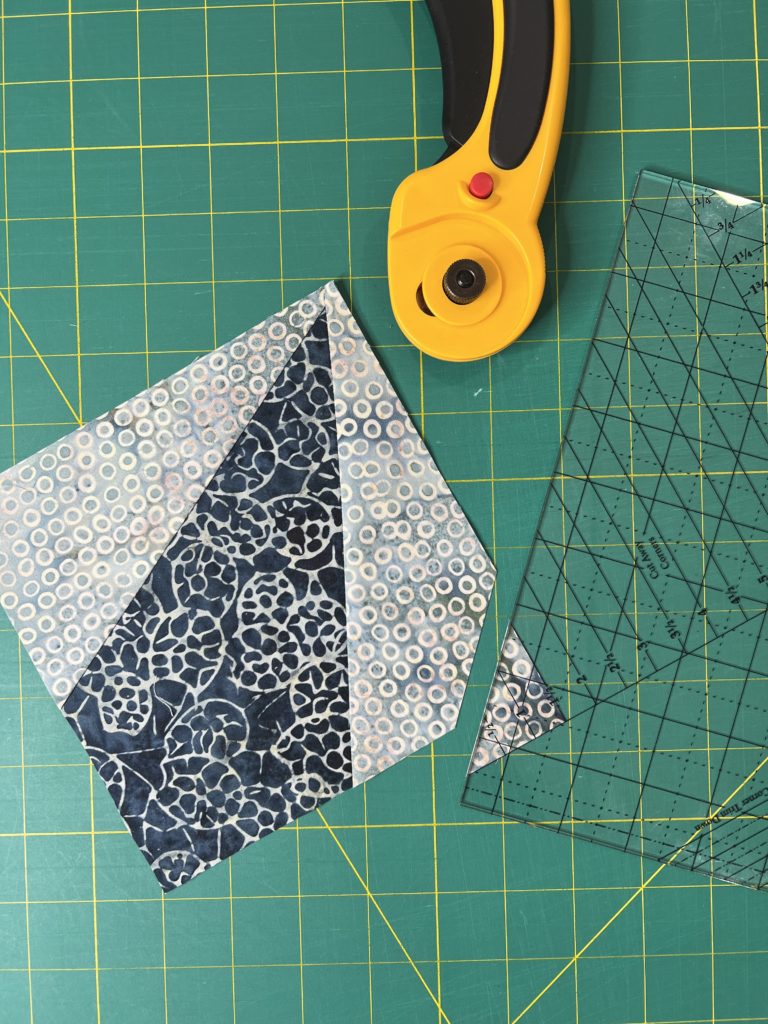 I made blocks using the Corner Beam tool and then trimmed them with the Corner Pop tool.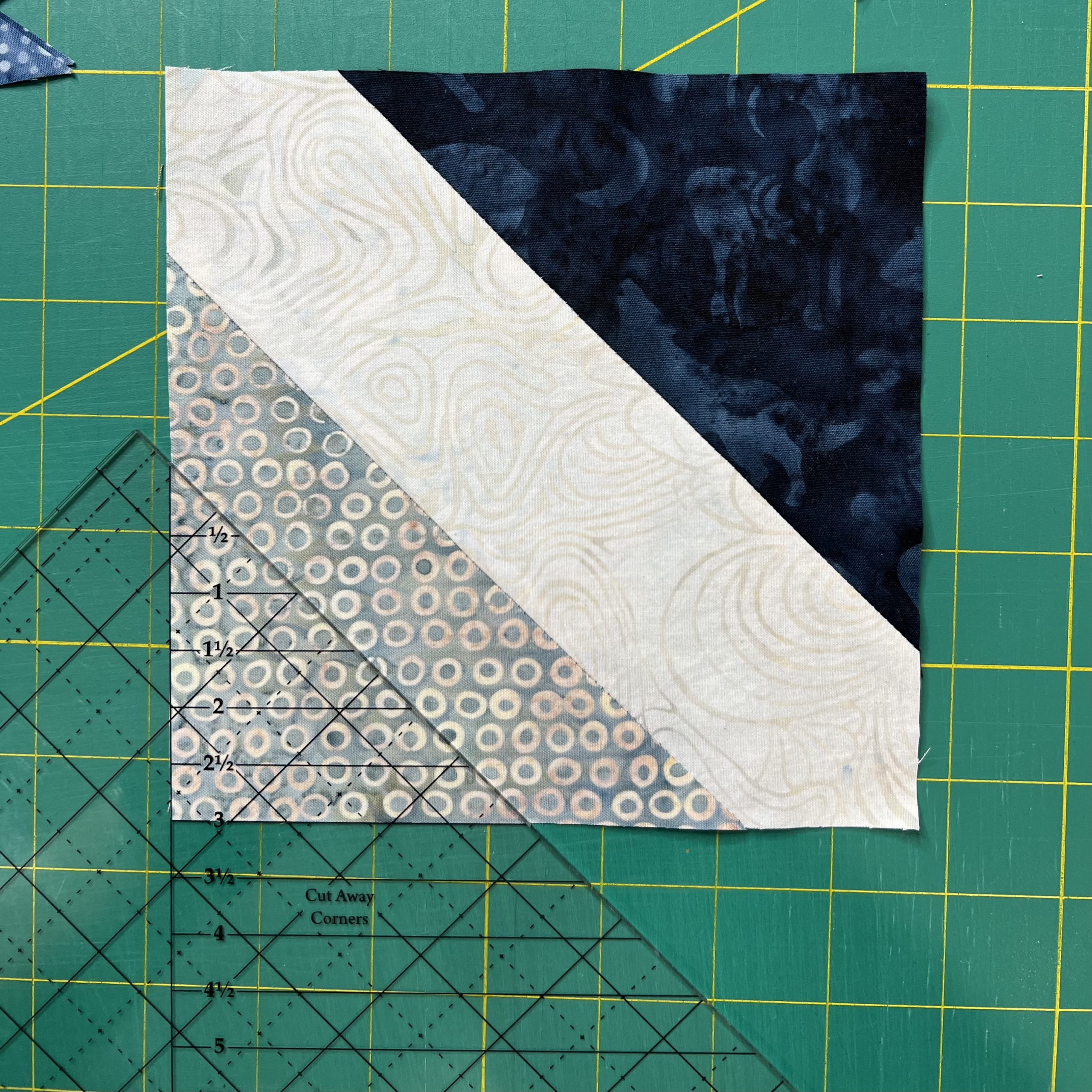 Then I used the Corner Pop tool to make some separate blocks. I definitely had to plan out the colors so everything would match up. 2 of the Corner Pop blocks and 2 of the Corner Beam blocks made up one block for the quilt. The center oval-like shape of each large block in the quilt features one of the 20 fabrics from the line.
These Deb Tucker Studio 180 tools are great to add to your quilting notions and you can purchase them in my Amazon store here. As an Amazon Affiliate I Earn From Qualifying Purchases (at no extra charge to you).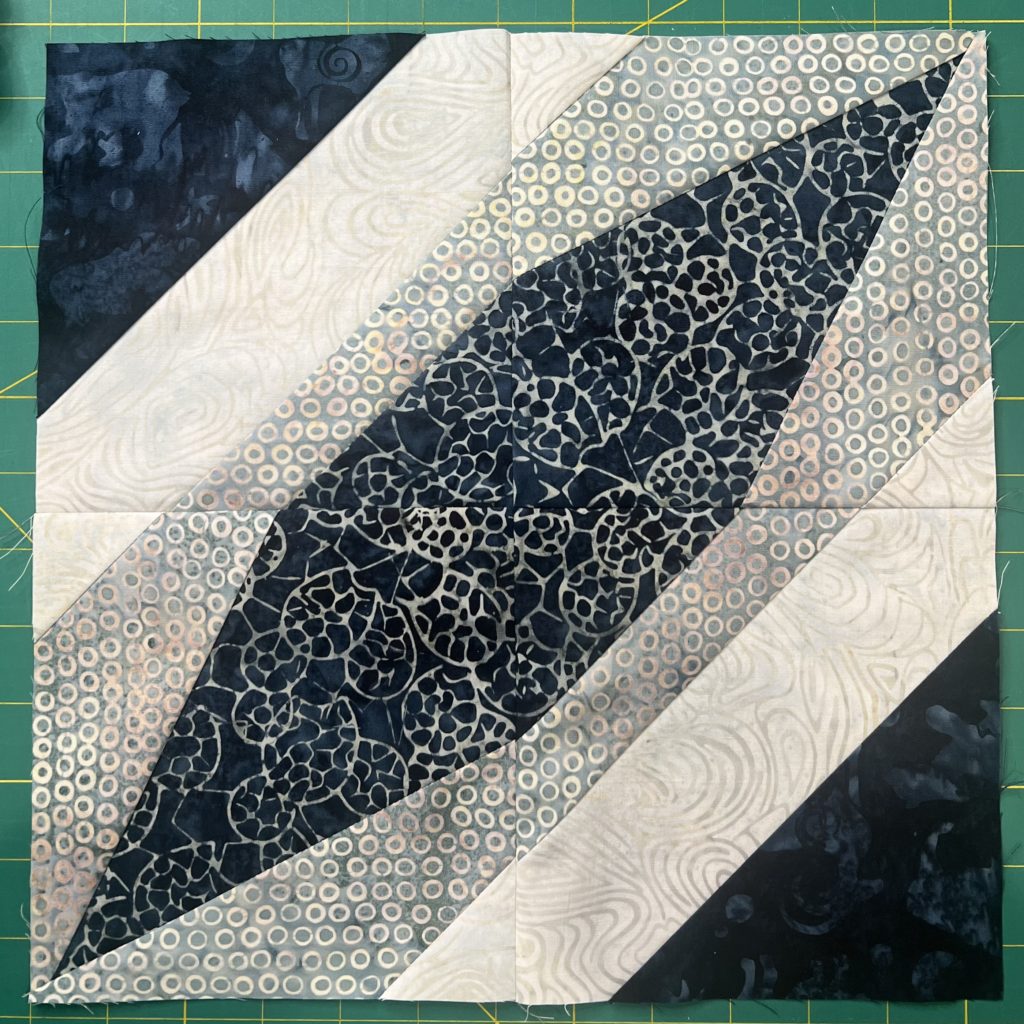 Items Used to Make My Quilt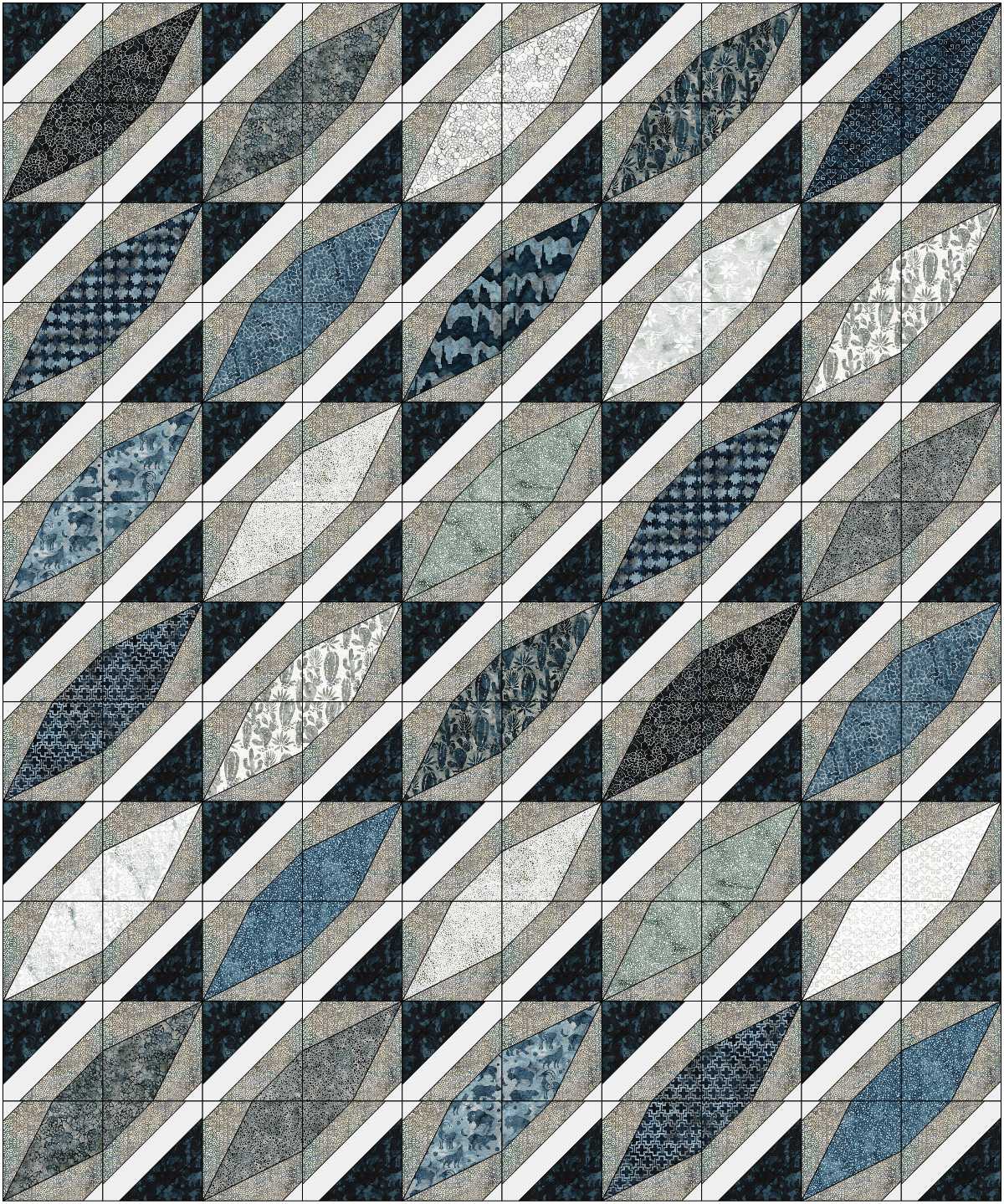 To design my quilt I used my Electric Quilt 8 software. Pretty close I would say!
The Island Batik ambassador program has many generous industry partners as well. I used Hobbs Thermore for the batting. It gave the quilt a wonderful lightness and drape. In my machine I used Schmetz needles. To piece my blocks I used Aurifil Dark Grey.
It was beautifully machine quilted by Melinda Keppler of ScottieBelle Designs using a gentle Southwest design.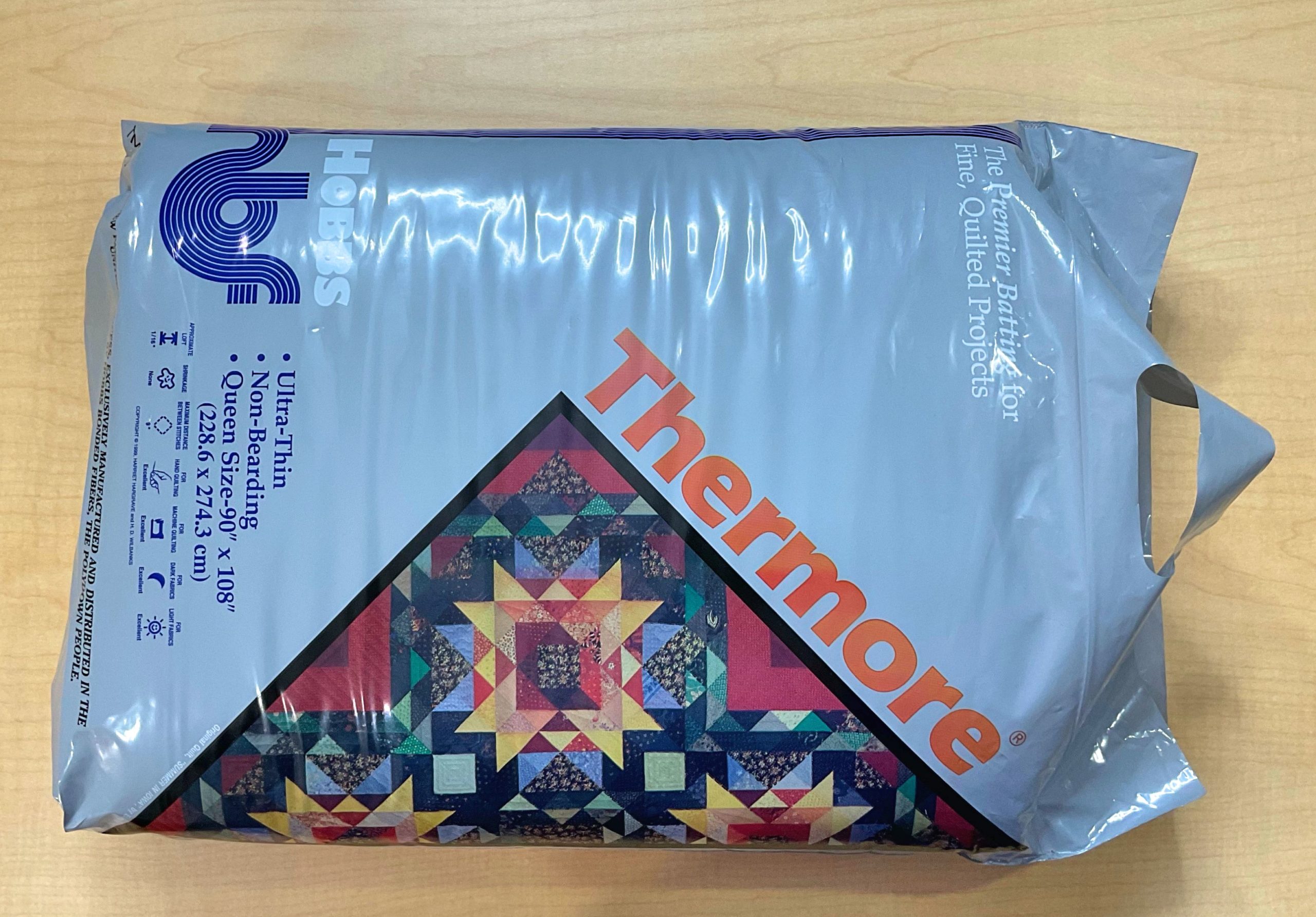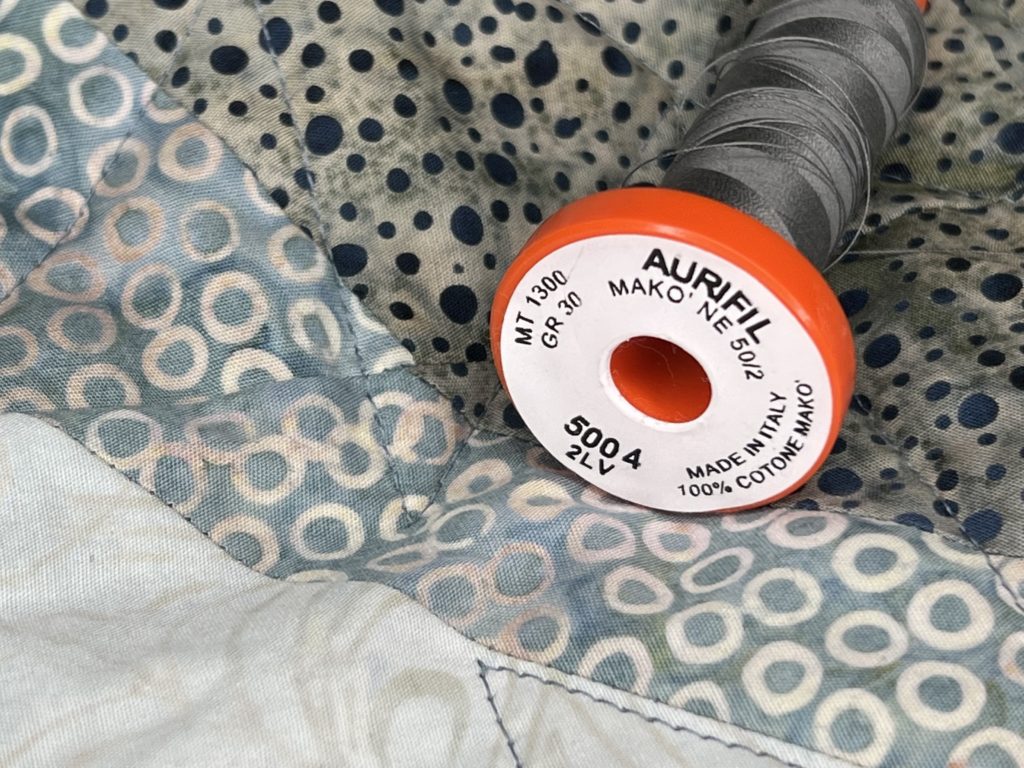 Thank you to all of the sponsors.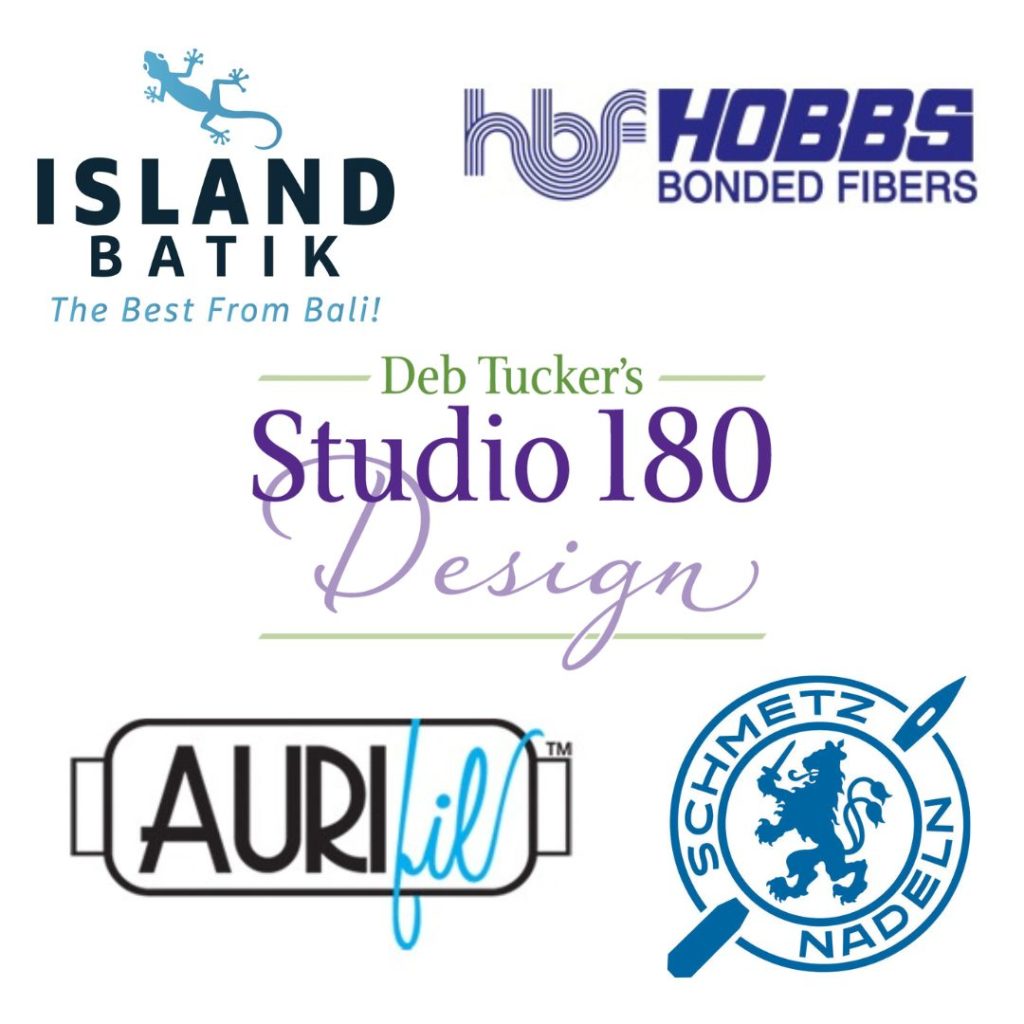 Bonus Project Made with Crumbs from Cutting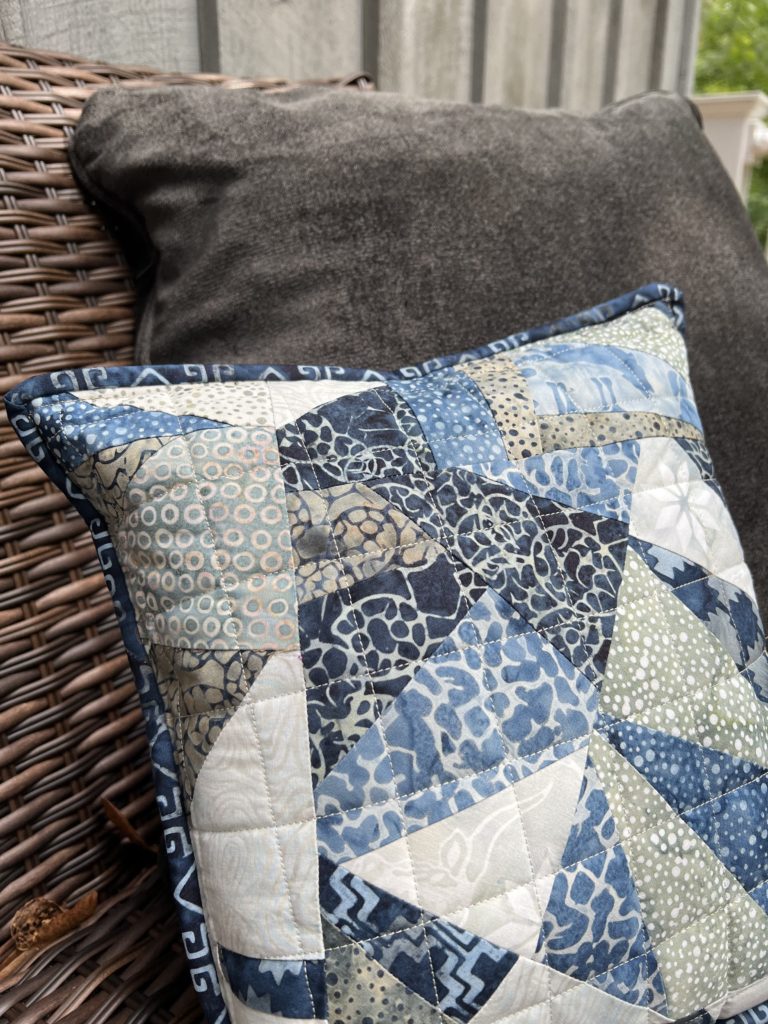 I have wanted to do some crumb quilting for a while and because of the way the Studio 180 Corner Pop tool cuts, I had a number of scraps to work with. I decided to make this fun and easy Crumb Quilted Throw Pillow. You can see how to make it here. It's perfect for all of your left over scraps!
Don't Miss Out!
Check out all of the gorgeous new lines from Island Batik and see how the other ambassadors used their new tools from Deb Tucker Studio 180 Designs.

Gail Renna, Quilt Haven Threads
Michelle Roberts, Creative Blonde Gifts

Sandra Starley, Textile Time Travels
Jennifer Thomas, Curlicue Creations

Brenda Alburl, Songbird Designs
Jennifer Fulton, Inquiring Quilter

Lisa Pickering, Lisa's Quilting Passion
Suzy Webster, Websterquilt

Denise Looney, For the Love of Geese
Gail Sheppard, Quilting Gail

Preeti Harris, Sew Preeti Quilts
Connie Kauffman, Kauffman Designs

Megan Best, Bestquilter
Maryellen McAuliffe, Mary Mack Made Mine

Elizabeth DeCroos, Epida Studio
Jane Hauprich, Stitch by Stitch Custom Quilting

Emily Leachman, The Darling Dogwood
Andi Stanfield, True Blue Quilts

Leah Malasky, Quilted Delights
Claudia Porter, Create with Claudia

Mania Hatziioannidi, Mania for Quilts
Reed Johnson, Blue Bear Quilts

Pamela Boatright, Pamela Quilts

Anorina Morris, Samelia's Mum
Brianna Roberts, Sew Cute and Quirky