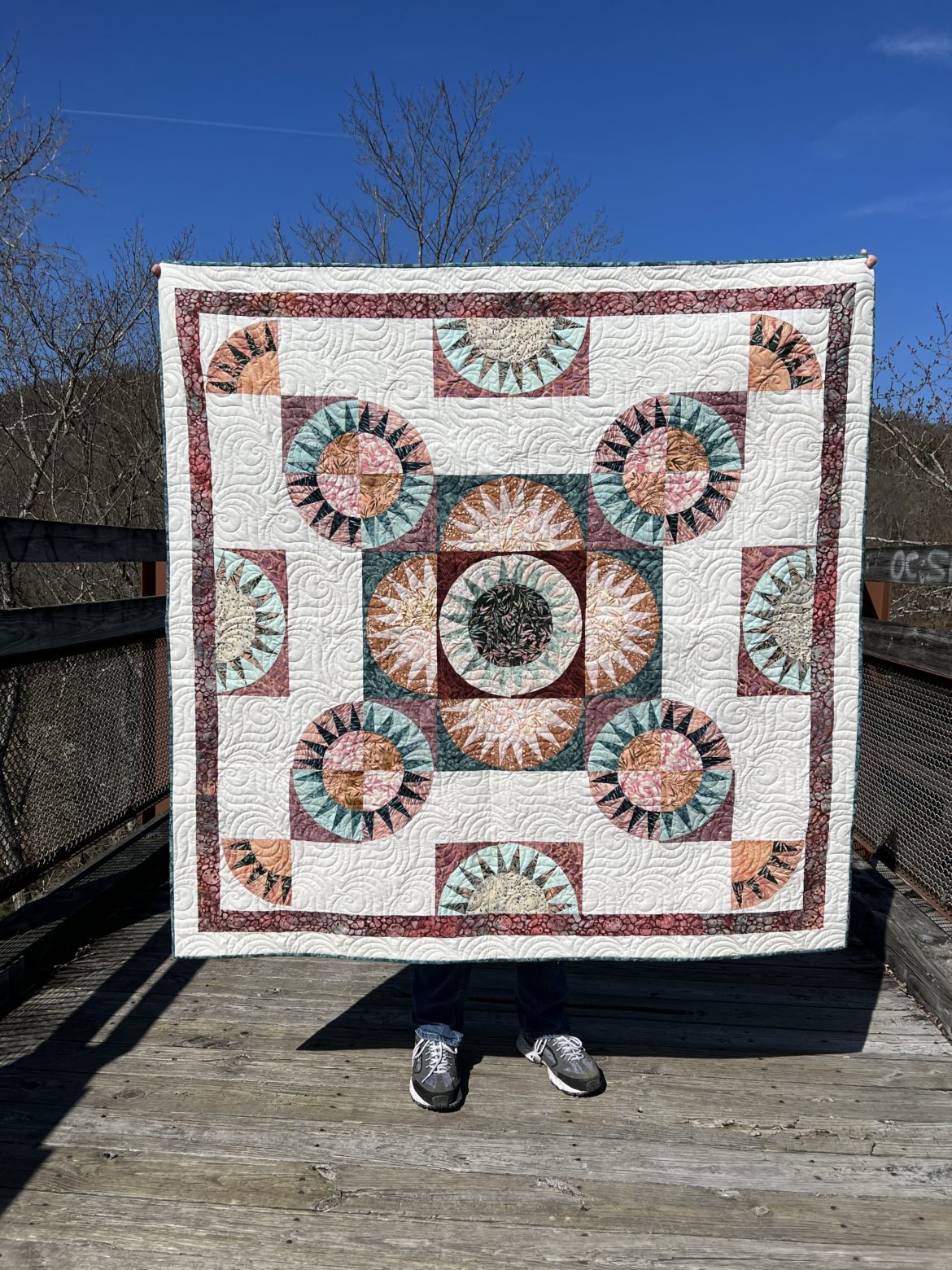 New York Beauty Quilt with Island Batiks
When I did my Island Batik Ambassador unboxing video back in January there was a surprise bundle of fabric. As soon as the cameras were turned off I opened up that package and inside was a gorgeous stack of 20 fat quarters from the new line designed by Deb Tucker's Studio 180 Designs! For this fabric the challenge was to make a New York Beauty quilt. Because I've never made one before I was a bit nervous, but went at the challenge head on.
Here's the story of my quilt that I call "Joshua Tree in the 1920s". When I first saw the fabric, it reminded me of Joshua Tree National Park. It's full of soft earth tones and organic patterns. Combined with the New York Beauty block, it took me back to that beautiful desert. Too bad I live on the opposite side of the country or I would have taken a road trip to get some photos.
Disclosure: Items used in this post were generously provided by Island Batik, Hobbs Batting, Aurifil Thread and Schmetz Needles.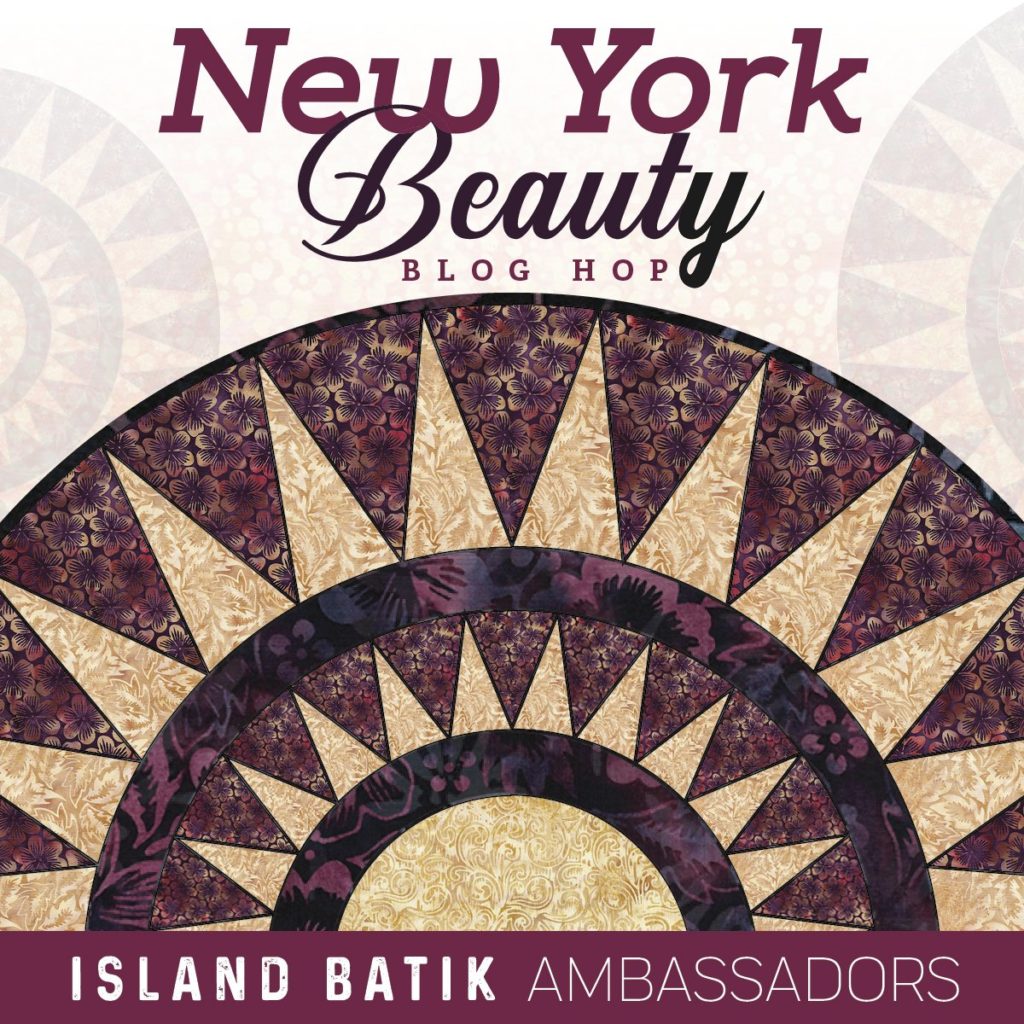 The Fabric
"Tranquility" designed by Deb Tucker's Studio 180 Designs is a collection various earthy tones. The 20 fabrics range from cream to dark burgundy with all sorts of organic patterns. To really show off the collection, I used Island Batik's "Meringue" from their Foundations – Neutrals fabric line.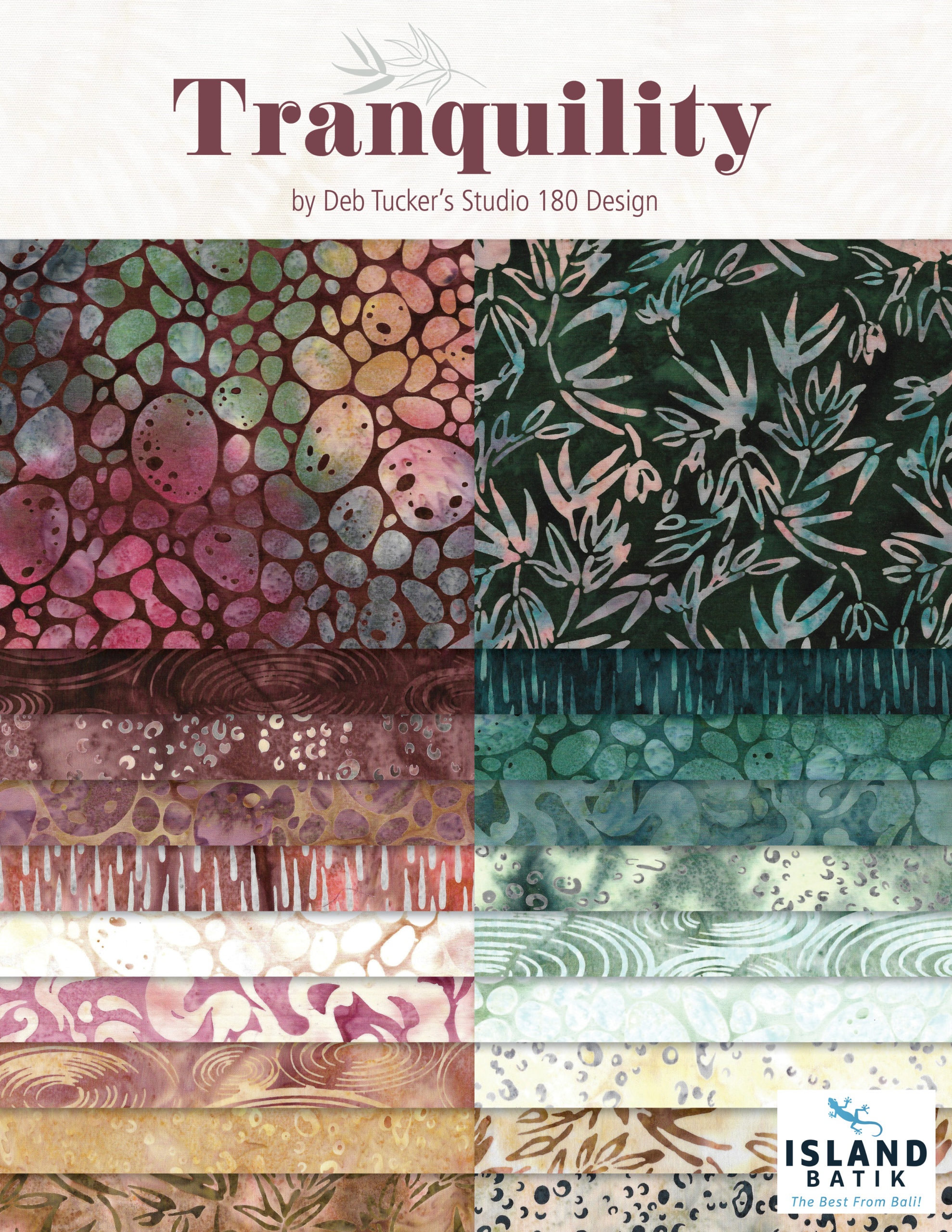 It was really fun playing with those organic fabrics and the angular New York Beauty block. To me, that block just screams art deco. I spent hours on Electric Quilt 8 trying to come up with my layout. That is how my quilt was born.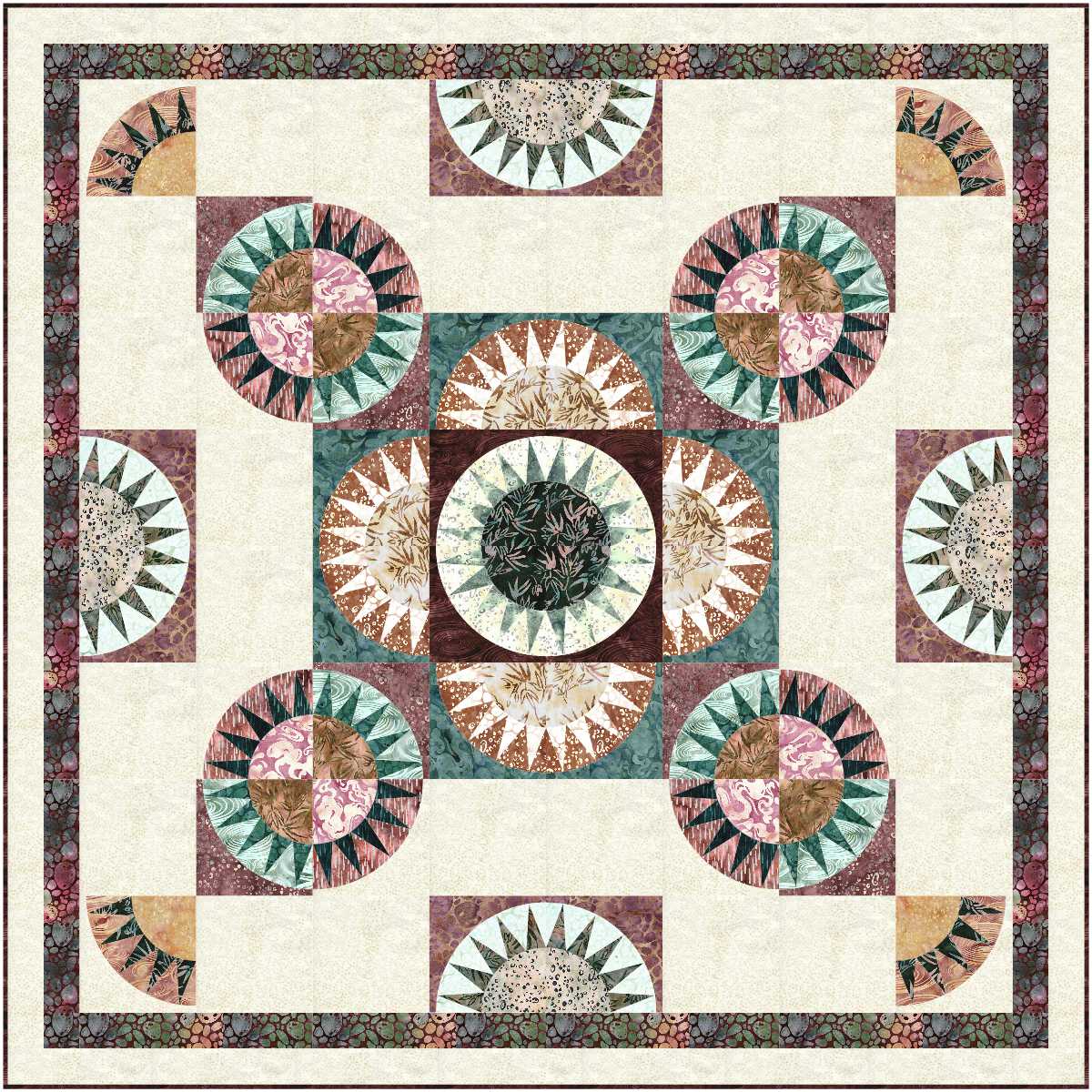 The sharp spikes reminded me of the spines of the various cacti in the desert and the earthy browns and mauves in the fabric collection reminded me of the landscape.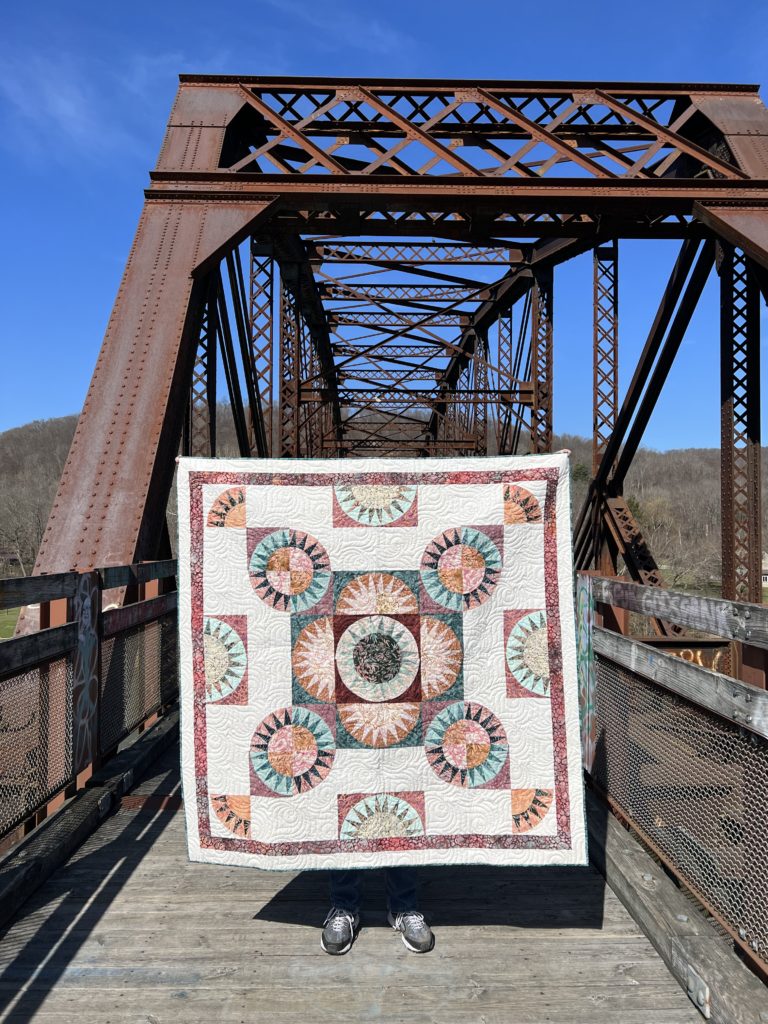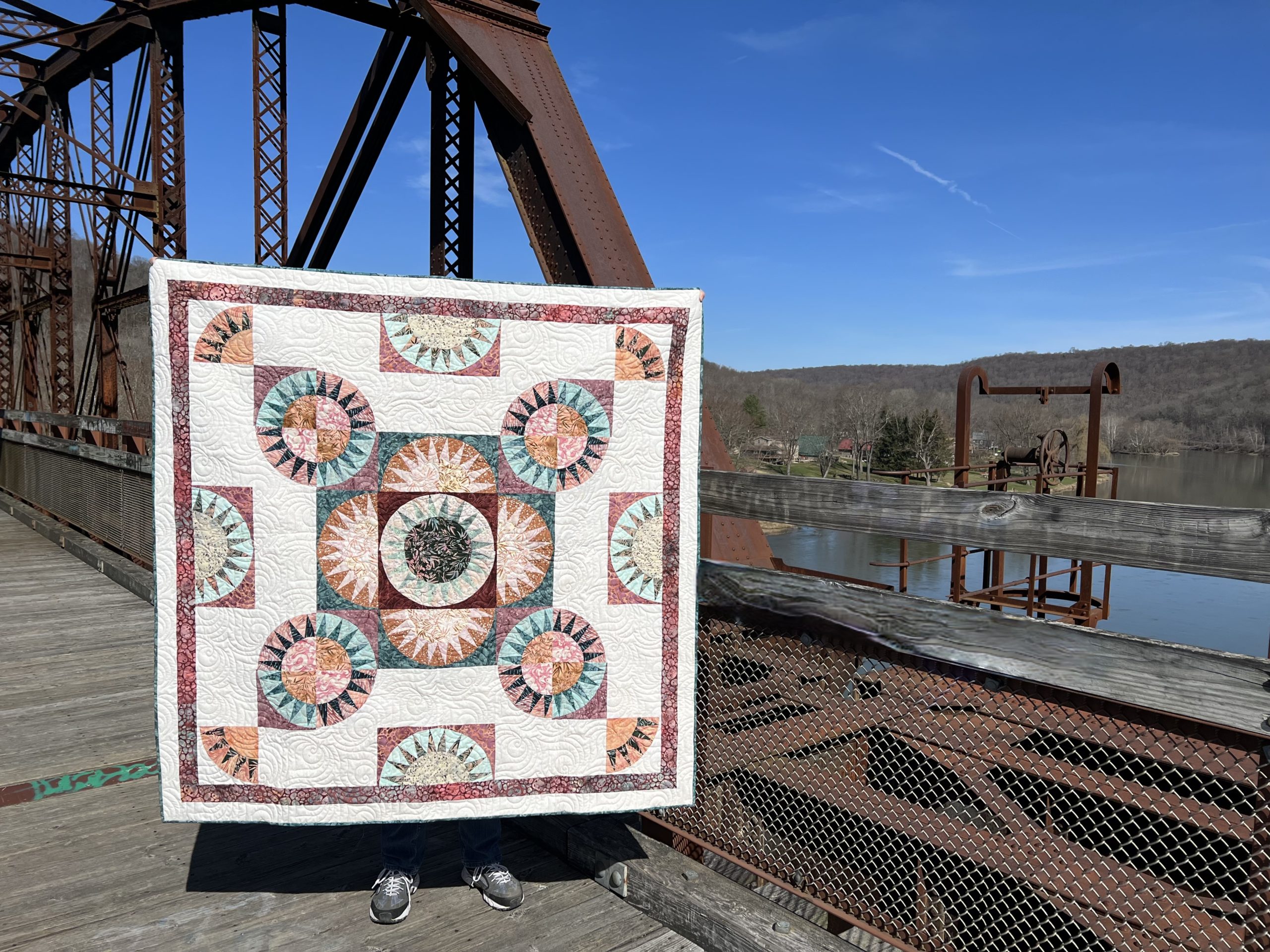 The Quilt Block
Having never made a New York Beauty block I did plenty of searching in my quilt books and the internet. Ultimately, I went with a pattern that was designed by Theresa Down Under. She sells this block pattern in her Etsy shop. It went together much easier than I thought it would although I have to say I used a lot of pins!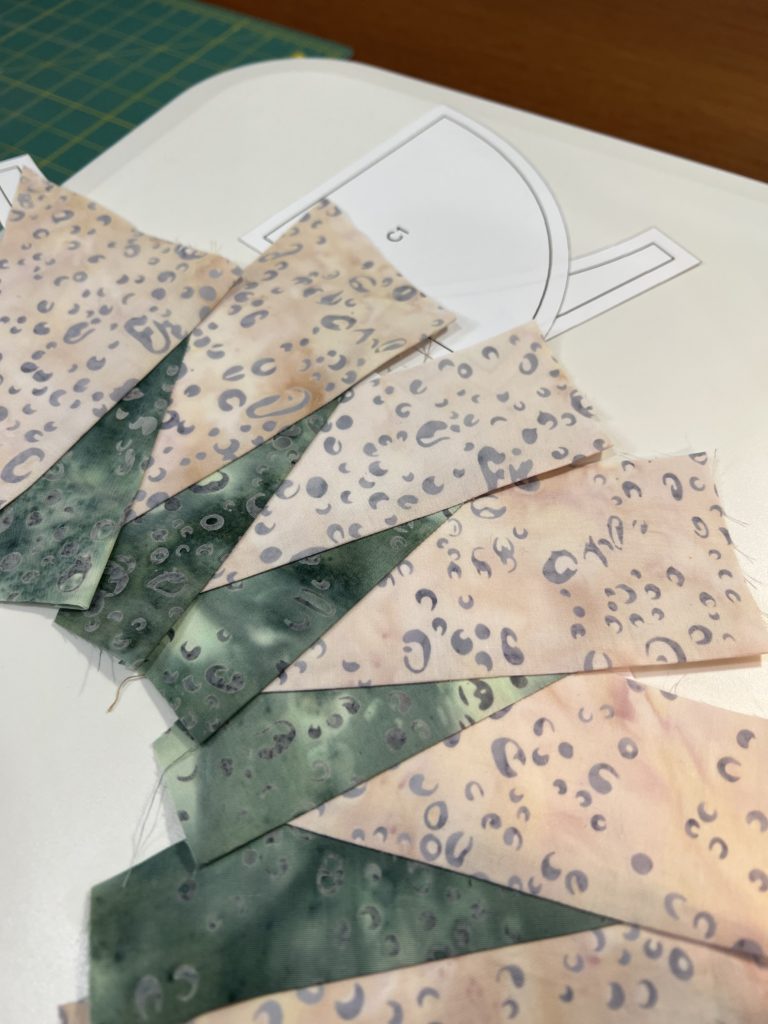 The Quilting
For some of my special quilts I like to have them professionally longarm quilted. This was beautifully quilted by Melinda Keppler of Scottie Belle Designs.
Other Supplies Used
In addition to the beautiful fabrics I used Hobbs Poly-Down Premium Polyester batting, the light tan from Aurifil Thread's Pangolin Color Builder and Schmetz Needles. Thank you to these companies for the continued support of the Island Batik Ambassador program.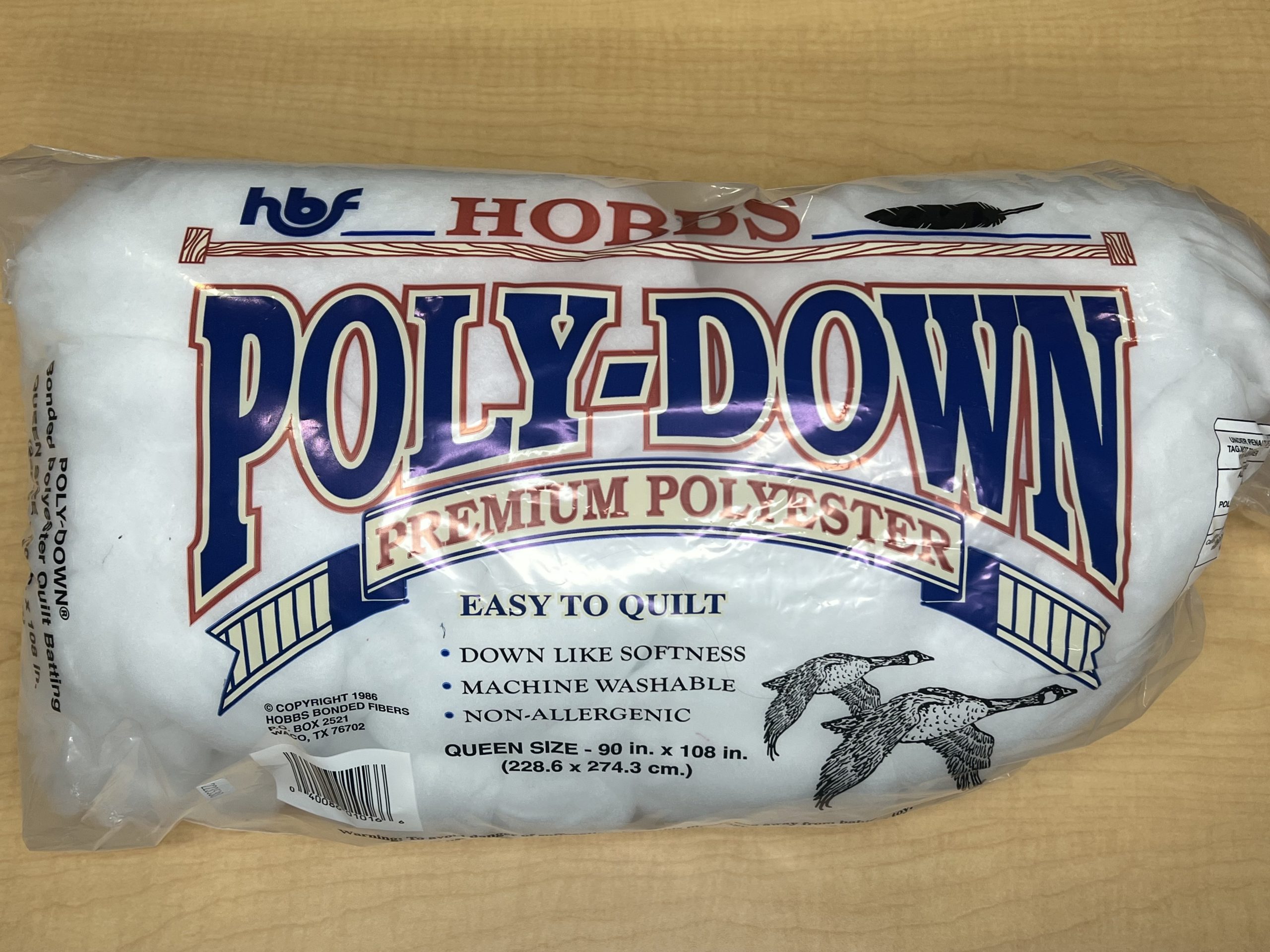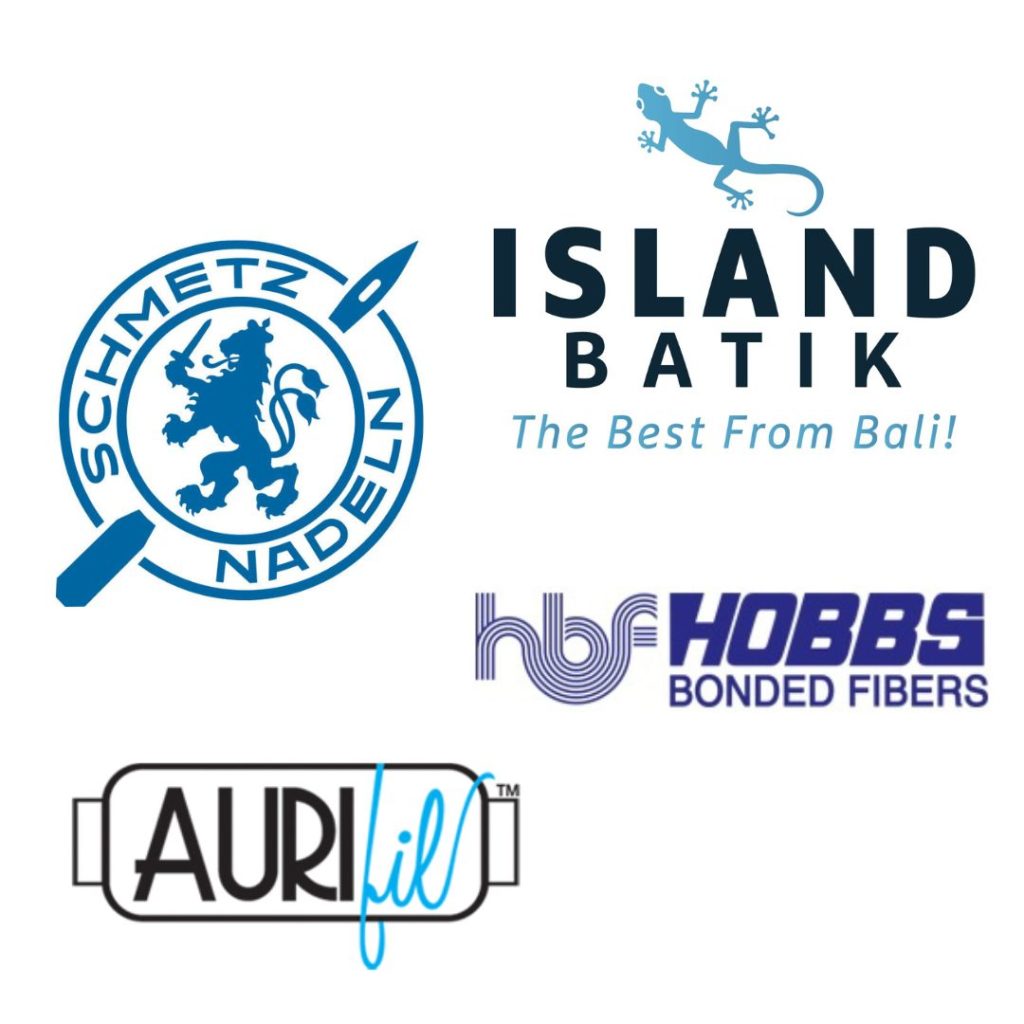 My New York Beauty Quilt
I have to say…I'm so pleased with my quilt. "Joshua Tree in the 1920's" proudly hangs in my living room. The colors go well with my décor and it fits the are where I hang it perfectly. I'm also not nearly as nervous about the quilt block as I used to me. I think I'll be making another New York Beauty quilt in the future.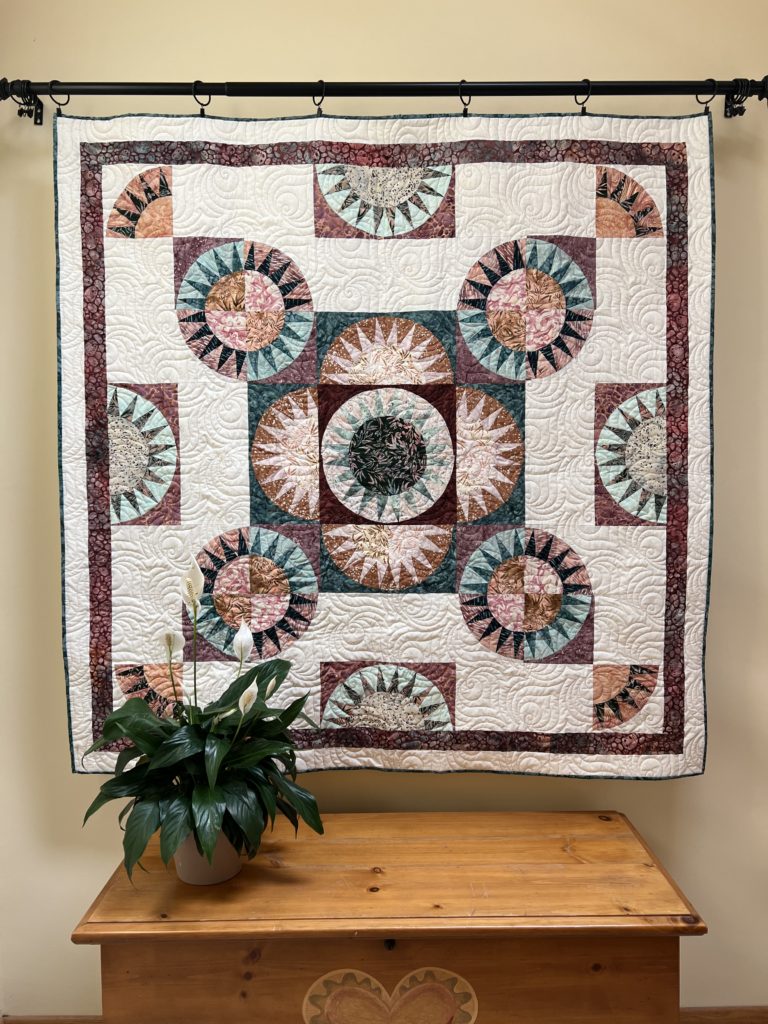 Bonus Project – How to Decorate a Baseball Cap with Mini Quilt Blocks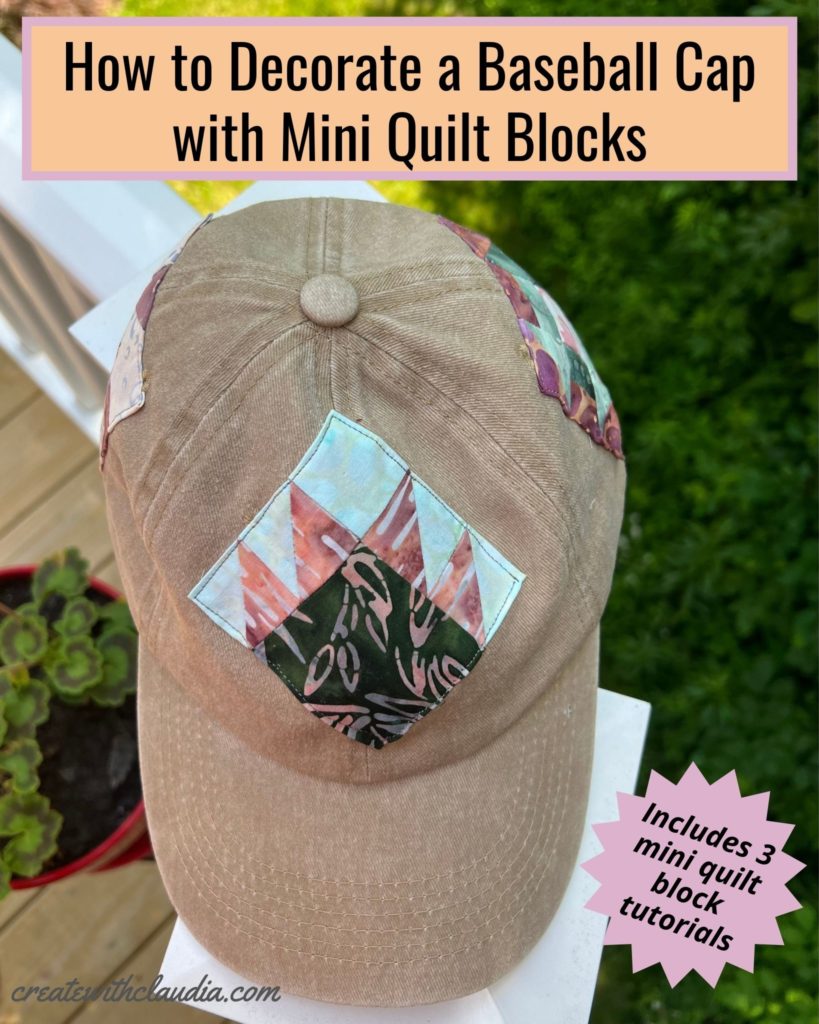 Because I had fabric left over I decided to have some fun and use it to make some mini quilt blocks. I used them to adorn a baseball cap. Learn how to make this fun project in my video tutorial. I'm kind of in love with it!
Fabric Giveaway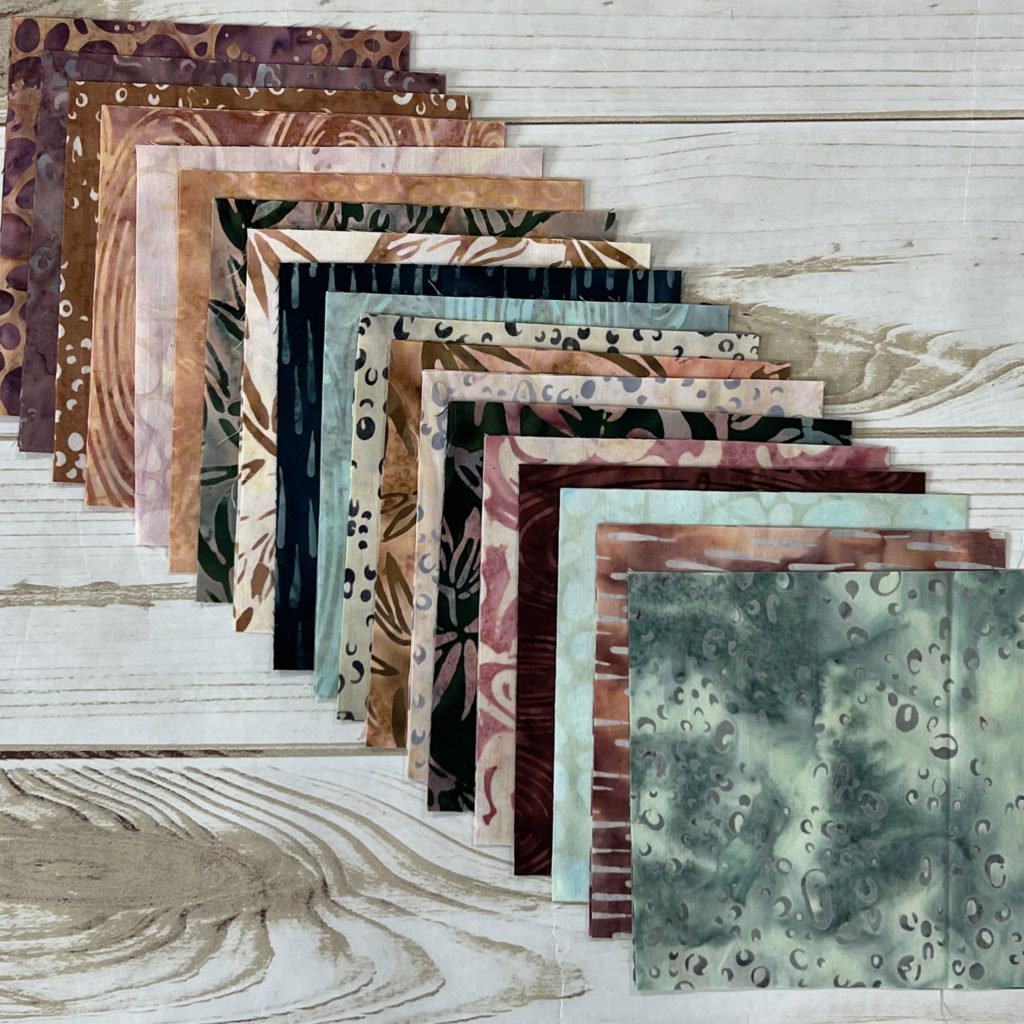 I was happy to have some of this gorgeous fabric left over so I'm having a giveaway! Usually I have them over on my Instagram page, but this time I decided to do it here. You can win forty 5 inch charm squares, 2 from each fabric! Just enter here. Good Luck!
Disclaimer: No purchase necessary to win. Giveaway is open to legal residents in the contiguous US only that are 18+ years of age. Giveaway starts at midnight EST June 20th, 2022 and ends at midnight EST on June 28th, 2022. One winner will receive forty 5″ charms (2 from each fabric in the line) from the Island Batik Tranquility collection with a total value of approximately $13. Odds of winning determined by number of eligible entries received. How to enter: complete the Rafflecopter below. Winner will be chosen by rafflecopter.com on June 29th, 2022 from all eligible entries and notified by email. If winner can not be reached via email or prize is unclaimed after two days, a new winner will be chosen by. Winner is responsible for paying any taxes related to the prize. By entering this giveaway, you release Create with Claudia from any liability whatsoever. Void where prohibited by law.
Enter Here:
a Rafflecopter giveaway
The Other Island Batik Ambassadors
Make sure to check out all of the gorgeous New York Beauty quilts that the other Island Batik ambassadors made. They are all of the brand new fabric lines coming to stores soon!
June 6:
Gail Sheppard, Quilting Gail
Elizabeth DeCroos, Epida Studio
June 7:
Reed Johnson, Blue Bear Quilts
Andi Stanfield, True Blue Quilts
June 8:
Sandra Starley, Textile Time Travels
June 9:
Jennifer Fulton, Inquiring Quilter
Mania Hatziioannidi, Mania for Quilts
June 13:
Jennifer Thomas, Curlicue Creations
Maryellen McAuliffe, Mary Mack Made Mine
June 14:
Pamela Boatright, Pamela Quilts
Anorina Morris, Samelia's Mum
June 15:
Michelle Roberts, Creative Blonde Gifts
Lisa Pickering, Lisa's Quilting Passion
June 16:
Denise Looney, For the Love of Geese
Connie Kauffman, Kauffman Designs
June 20:
Claudia Porter, Create with Claudia
Brianna Roberts, Sew Cute and Quirky
June 21:
Gail Renna, Quilt Haven Threads
Preeti Harris, Sew Preeti Quilts
June 22:
Megan Best, Bestquilter
Leah Malasky, Quilted Delights
June 23:
Suzy Webster, Websterquilt
Emily Leachman, The Darling Dogwood
June 27:
Jane Hauprich, Stitch by Stitch Custom Quilting
Brenda Alburl, Songbird Designs