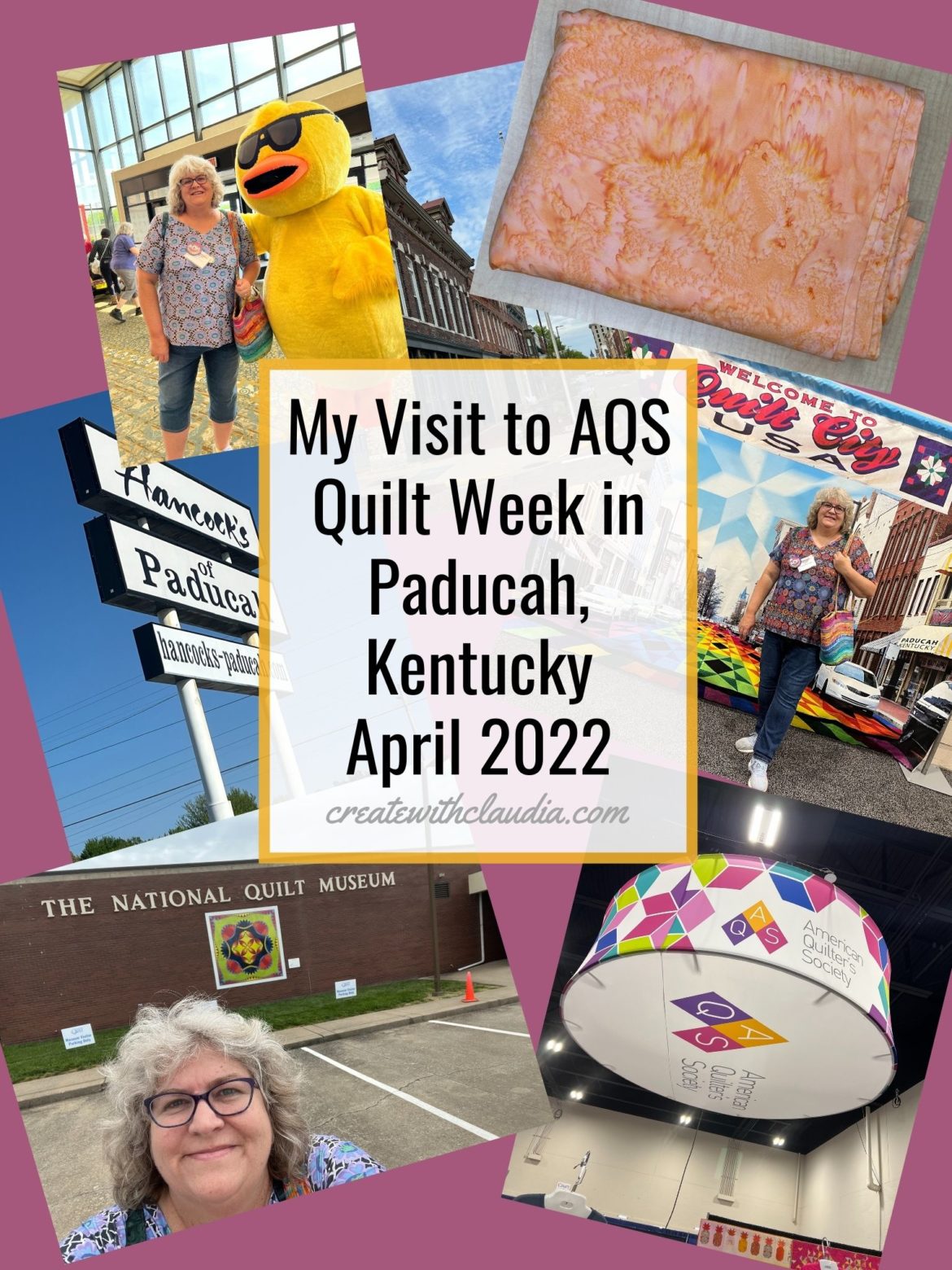 My Visit to AQS Quilt Week Paducah
Ever since I started quilting 30 something years ago I have wanted to go to AQS quilt week. I would look at pictures of all of the gorgeous quilts and dream of heading there. 2022 was finally my time to go and what a wonderful time I had. Join me as I show you a little bit about my visit to AQS quilt week in Paducah, Kentucky. I'll also show you my fabric haul from all of the wonderful vendors I went to.
I have rounded up the information about my visit in this video. Read on if you would prefer to read about it.
Arrival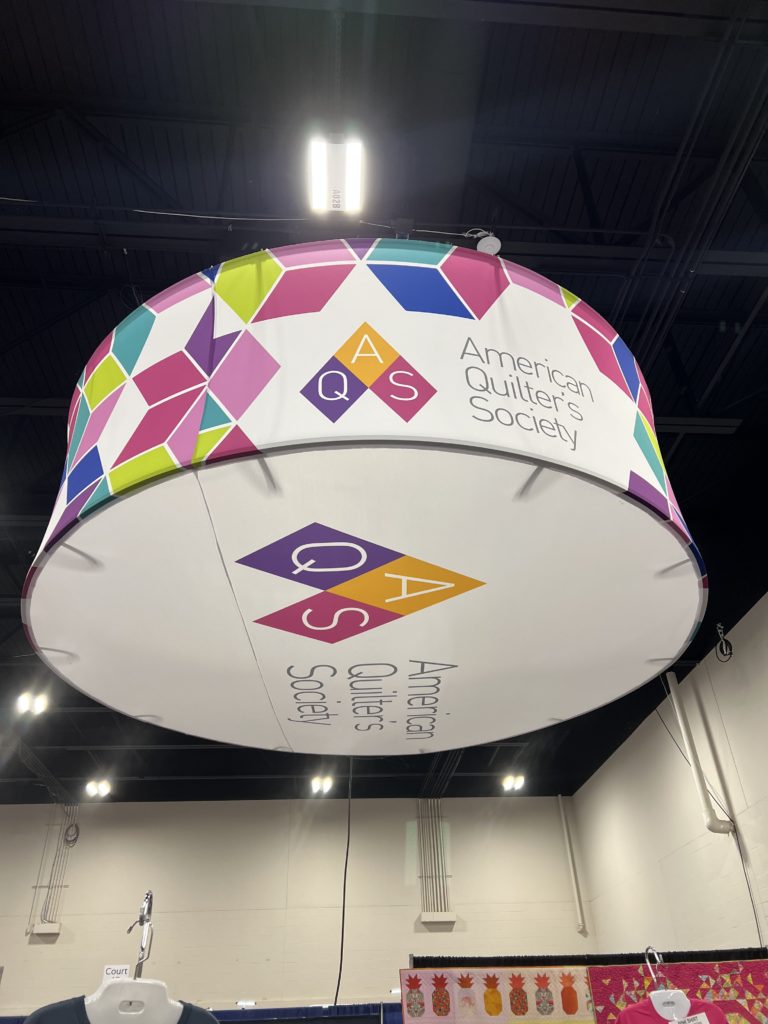 Paducah is about a 10 hour drive from my home so I headed down on Wednesday and arrived at my hotel around 4pm. I got off on my exit, made the turn towards my hotel and what was the first thing I saw? Hancock's of Paducah! Not only was that great, but my hotel was not that far from it at all. I checked in and decided to head over and visit the iconic store.
It is an incredible store. Unfortunately I got there right before they were closing. I still managed to buy a bit of fabric. I am an Island Batik Ambassador and they carry bolts and bolts of that brand so you can guess what I bought.
Day 1
Since I had not had much time to spend at Hancock's the day before, I went back the next morning. It was packed with shoppers as excited as I was to be there. If you have never been there then it's hard to imagine how many rows of brightly colored bolts of fabric goodness there are.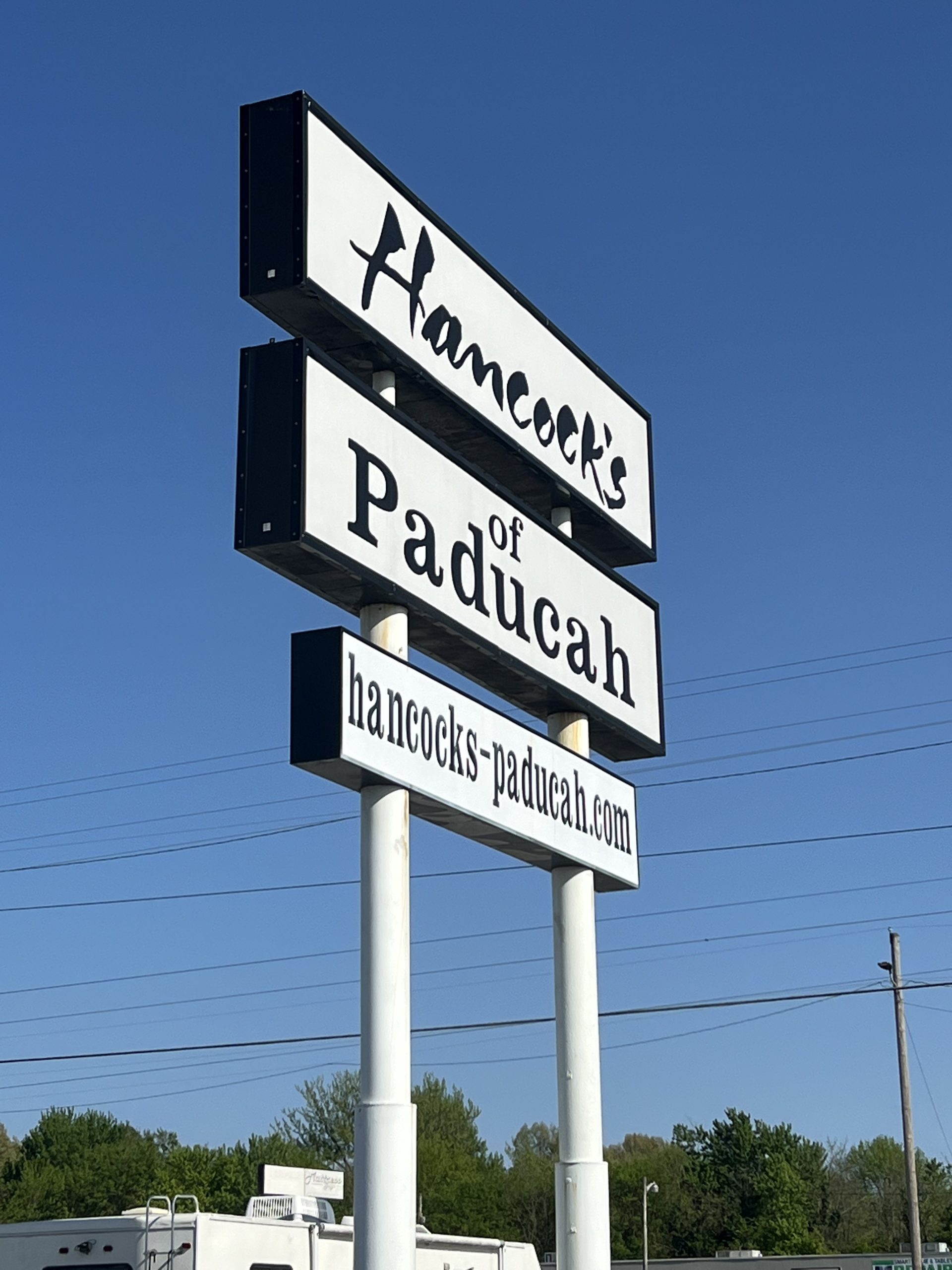 I had more of a chance to look around and had some time to speak with their social media director Victoria. She was very gracious spending some time with me and I learned quite a bit about the store.
Of course I could not leave without a few more fabric purchases.
Here's my haul from them.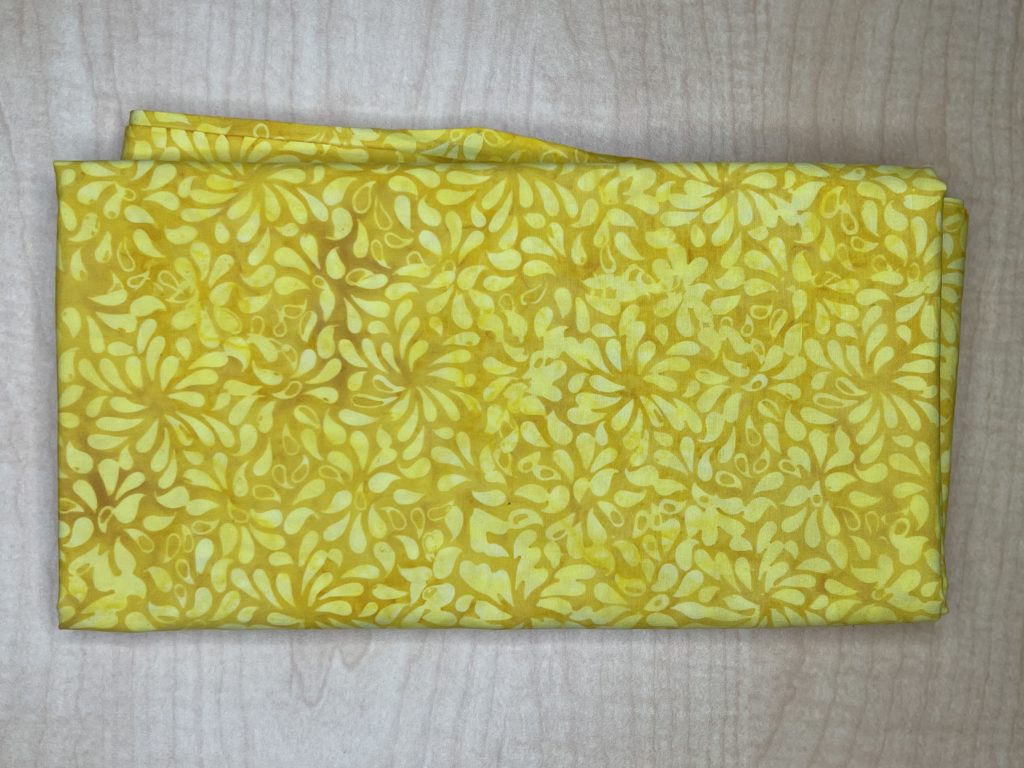 The Show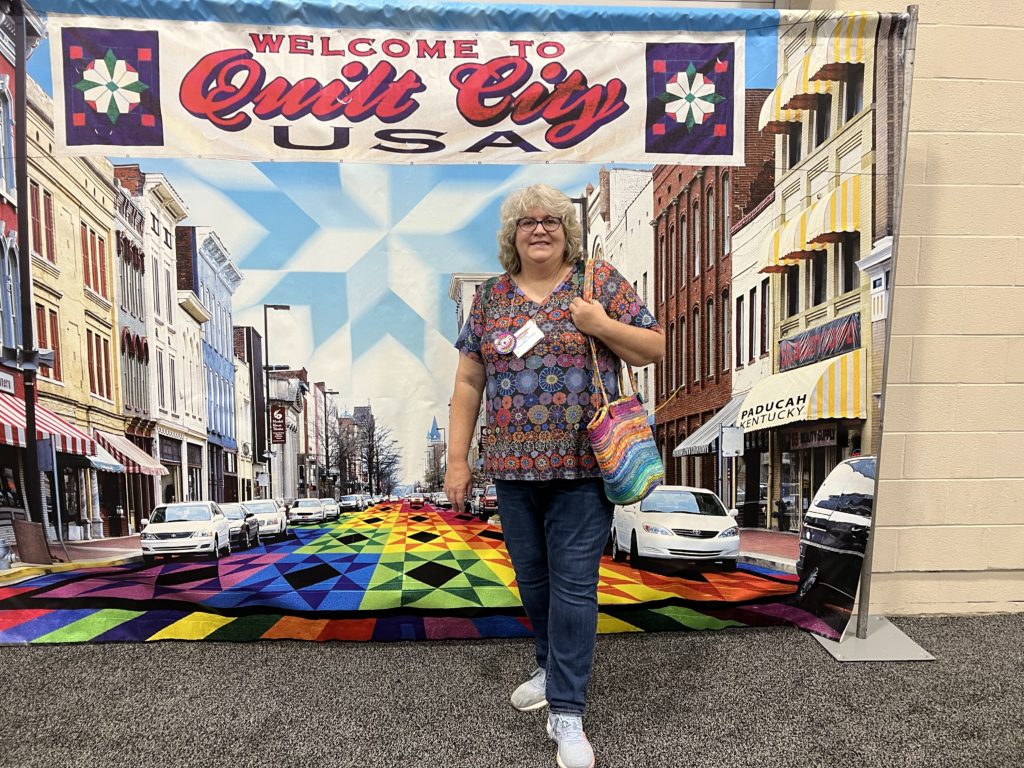 After my stop at Hancock's of Paducah it was on to the show. It was packed, and by packed I mean that there were certain areas that I could not even walk through. My senses were overloaded with beautiful quilts and booth filled with any kind of quilting notion you can think of.
The Quilts
My primary objective on the first day of my visit to AQS quilt week was to see the entries. There are not enough adjectives to describe how incredible the quilts were. Hung with care and roped off for safety, the quilts glowed against the black backdrops. I went away from this trip being inspired and humbled by the talent in this quilting world.
Of course, it was not all about the quilts. I did some shopping too.
I visited a booth called Threads & Ewe where I purchased some lovely fabrics. She had gorgeous yarn too. Here's my haul from that booth.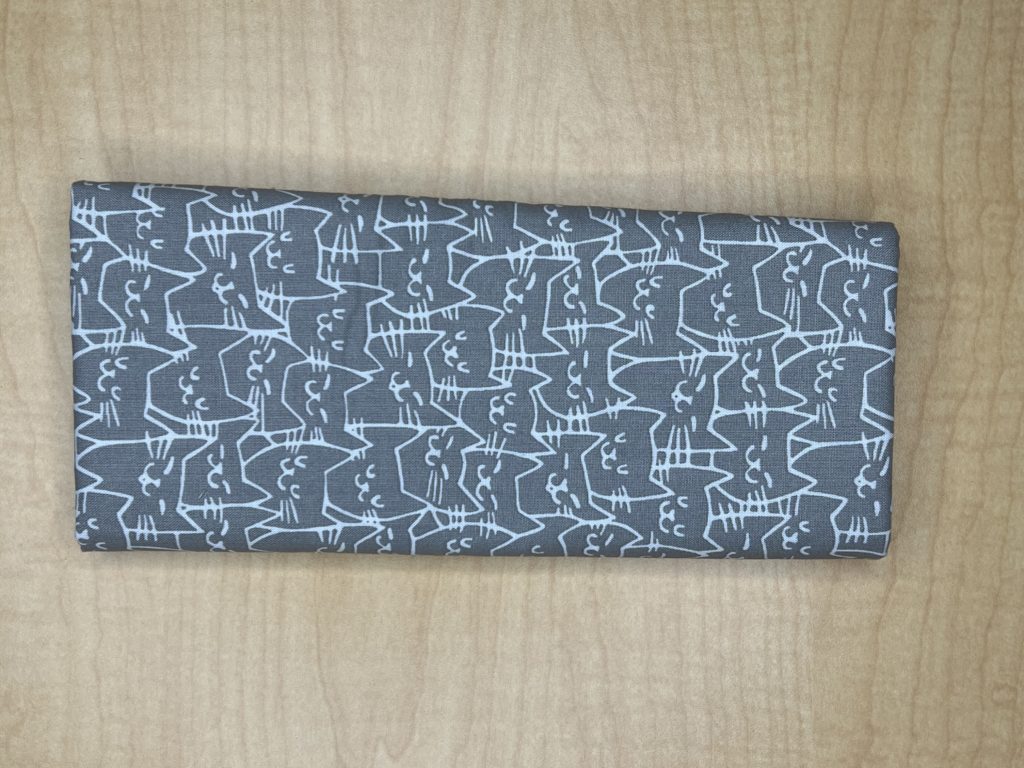 My next stop was Elkhorn Quilt Company. I loved the fabrics and the patterns she had hanging up and I just could not resist this bundle of low volume fabrics.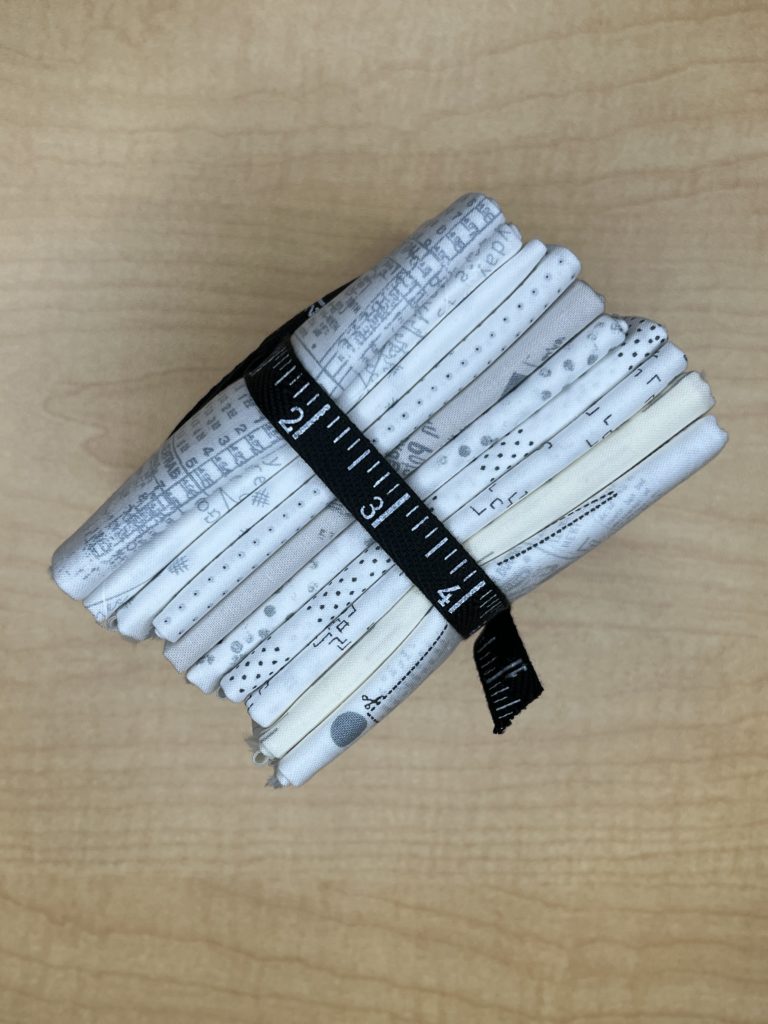 The booth at P. Carter Carpin's Serious Whimsy intrigued me because all of their fabrics were designed themselves. Gorgeous colorful fabrics filled the booth and I just had to have a few coordinating fat quarters.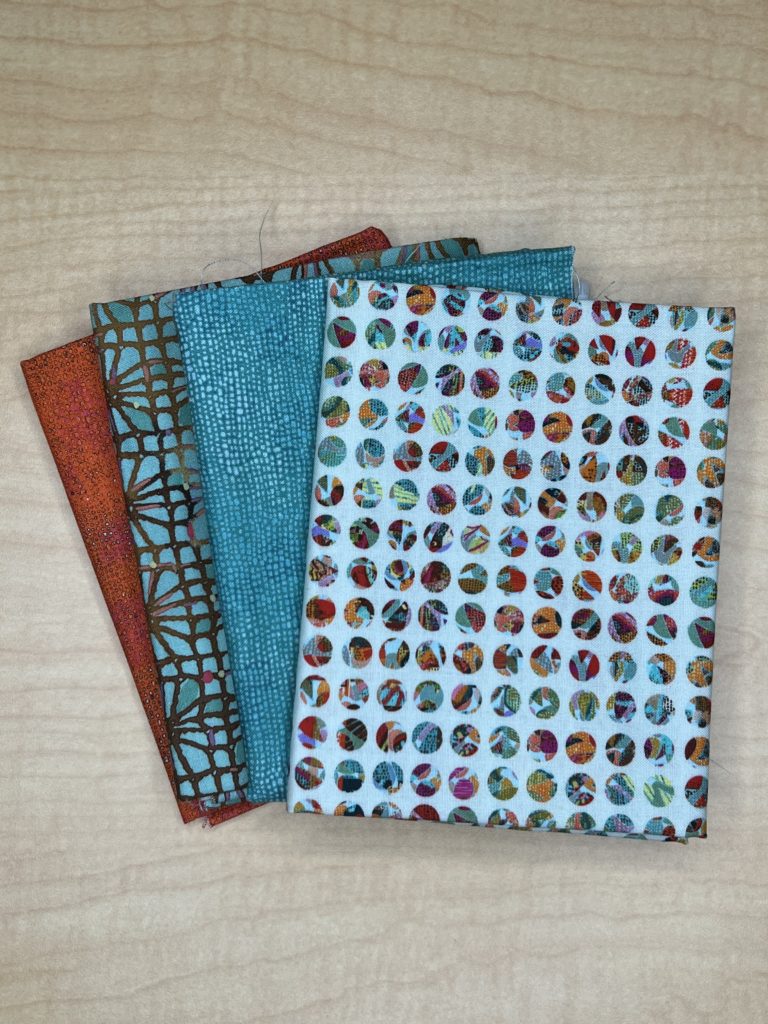 I also met an incredible artist who was wearing her quilt coat. I had to get a picture of Kris Vierra of Quilter on the Run in her stunning coat. Wow is it beautiful.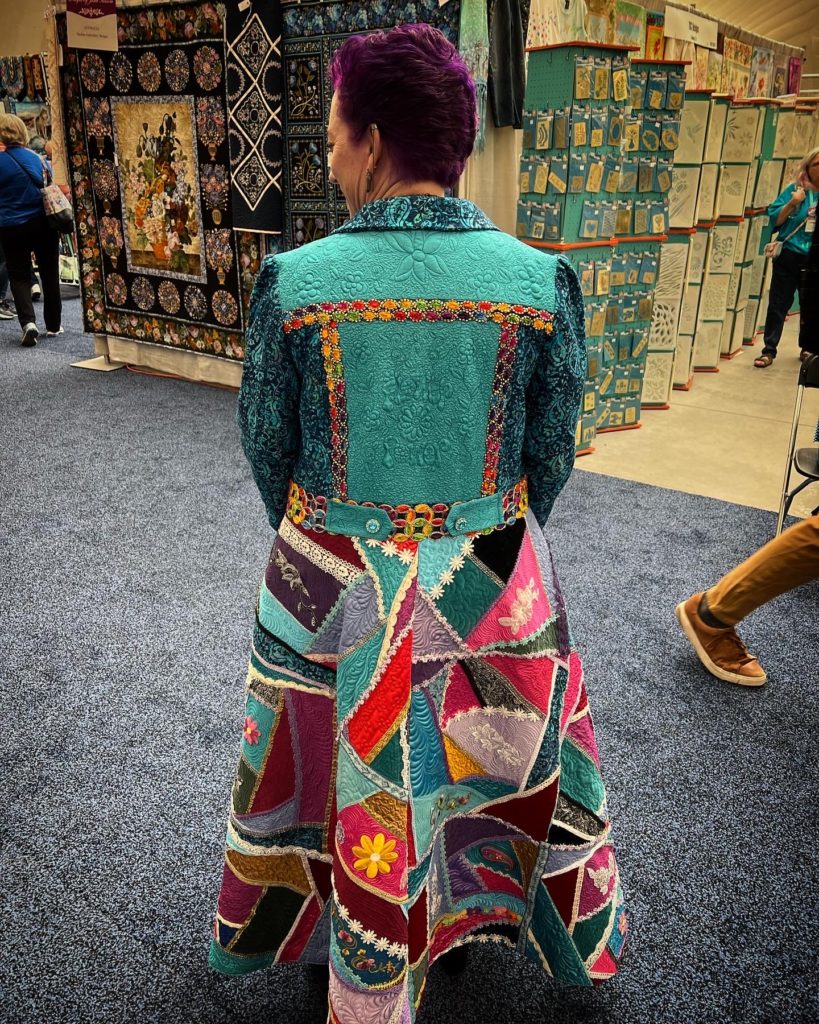 Day 2
Day 2 started out early at the National Quilt Museum. I've wanted to visit for so long and since they were open an hour earlier than the show it was delightfully empty. To say that I was in awe of the work there is an understatement. From the minis exhibit to their permanent pieces, everything was wonderful.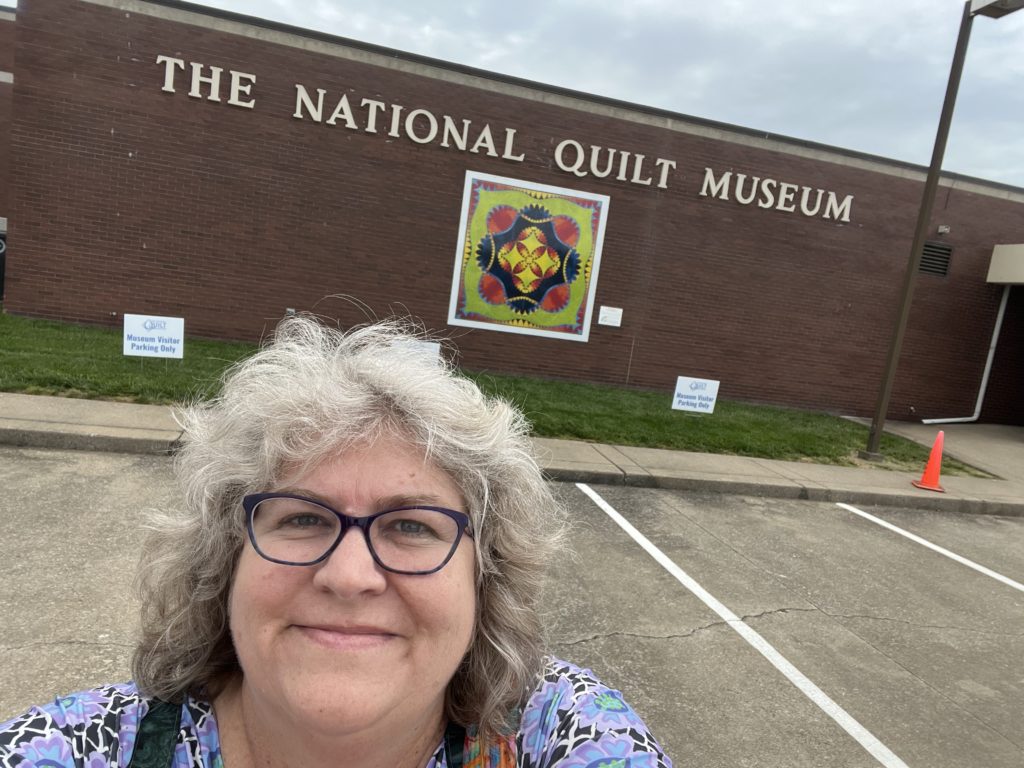 Here's a show tip for you. The museum opened an hour earlier than the quilt show. If they do that in future years I highly recommend going early. It was free of crowds and I could take my time and enjoy the exhibits at my leisure.
Downtown Paducah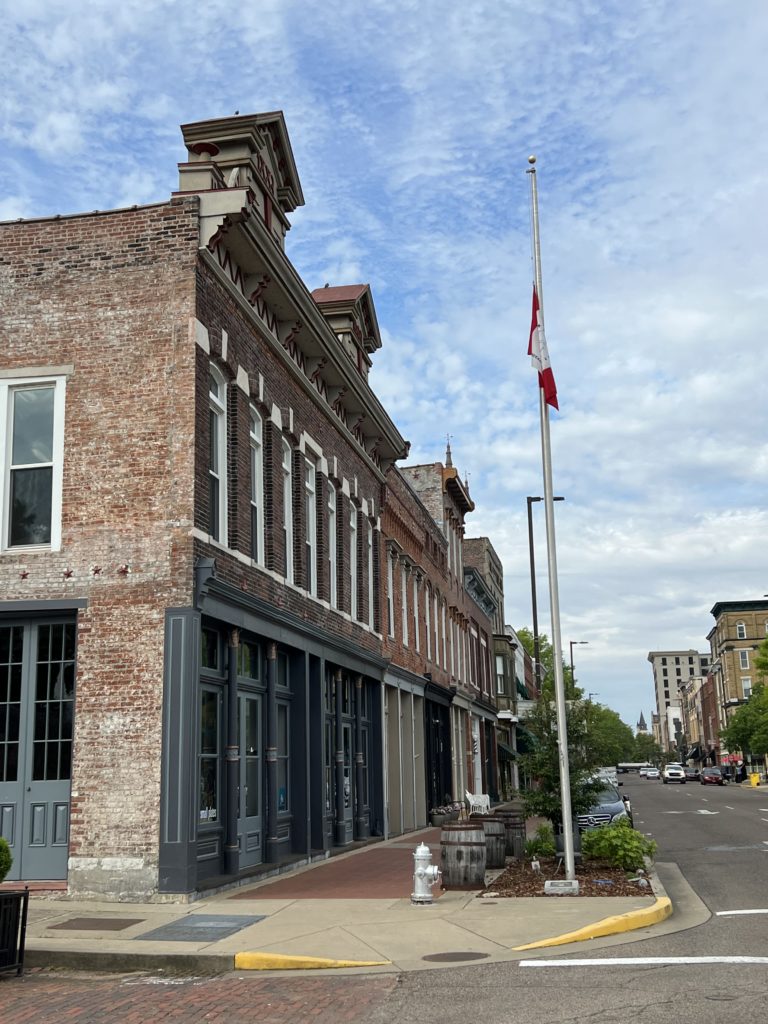 I had a bit of extra time and decided to walk around downtown Paducah a bit. It'a lovely historic river town. Many of the buildings have been restored. There is also a flood wall system with beautiful painted murals along it.
While exploring I came across a beautiful fabric and yarn store called Tuscan Rose. Not being able to resist a store like that, I went in and saw the most lovely hand dyed fabrics and yarn. As usual, I found some items that I could not resist.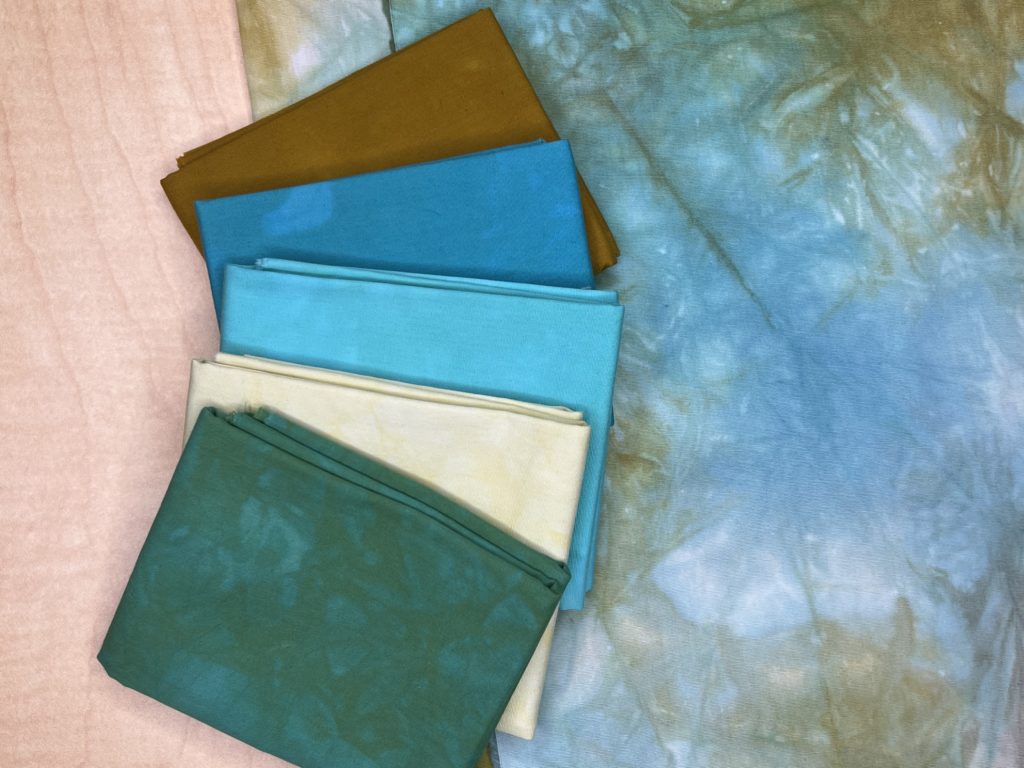 The Show
Day 2 was all about going back to see quilts I missed the first time around, seeing some fellow Island Batik ambassadors, and going to a trunk show.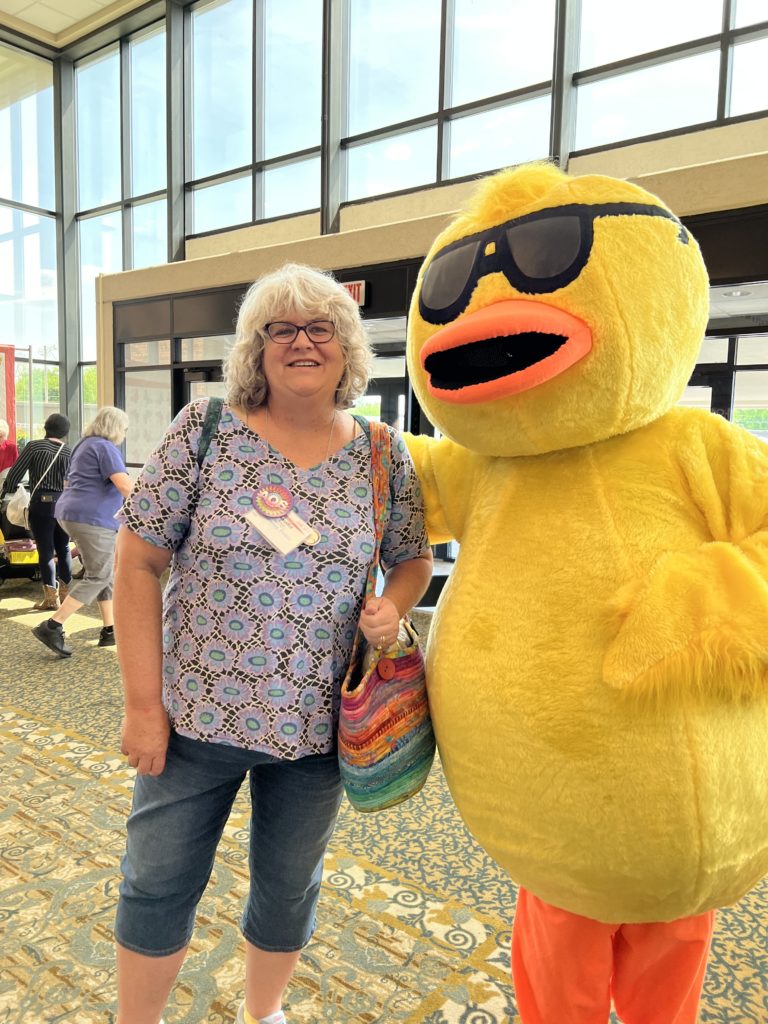 I hit the Villa Rosa Designs booth and made a beeline to a pack of half yard low volume fabrics. They had some Island Batik precuts and kits so I snapped a picture of one that caught my eye. As an ambassador and designer it is always fun for me to see how artists use the fabrics.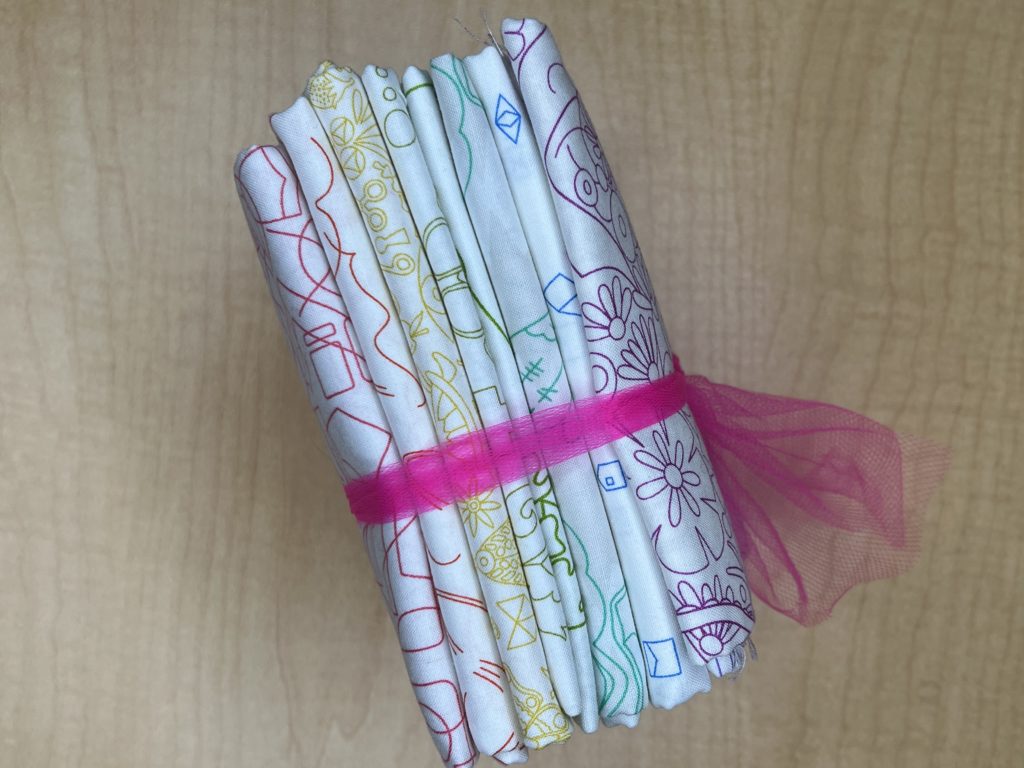 I also could not pass up this awesome tattoo fabric from The Yellow Door Quilt Store. It just makes me smile!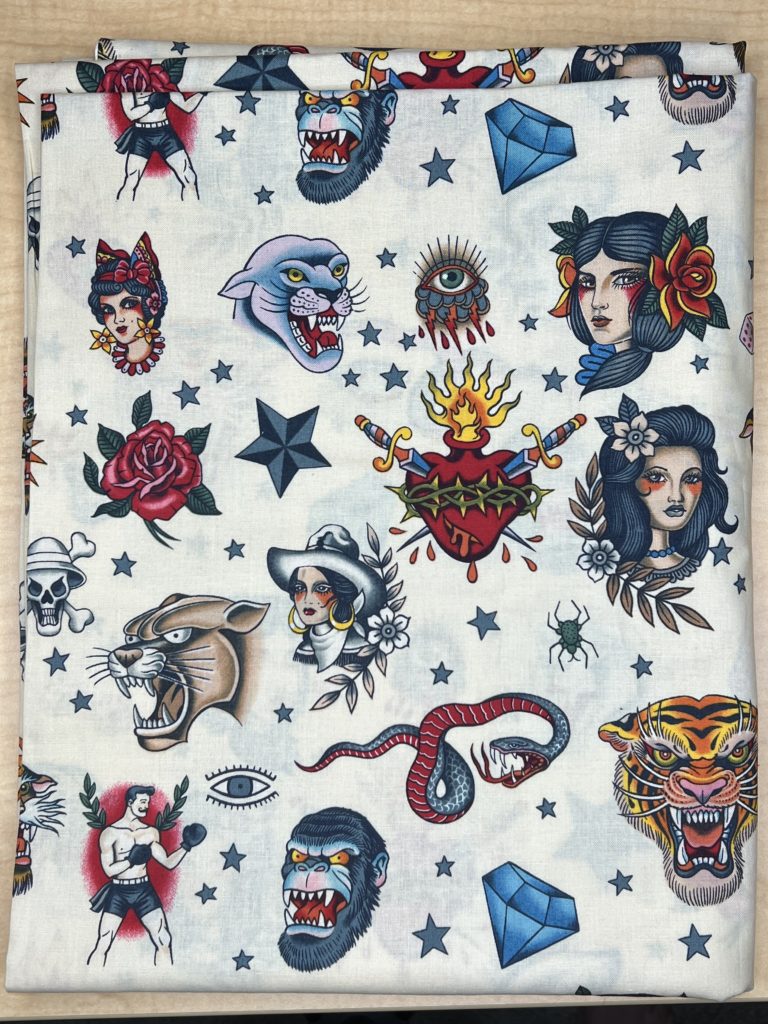 Meeting Friends and Going to a Trunk Show
When you work online and at home like I do, it is really nice to meet some of the people you work with in person. Luckily I was able to do that. I walked around the show with fellow Island Batik ambassador Gail Renna of Quilt Haven Threads and got to know her a little bit better.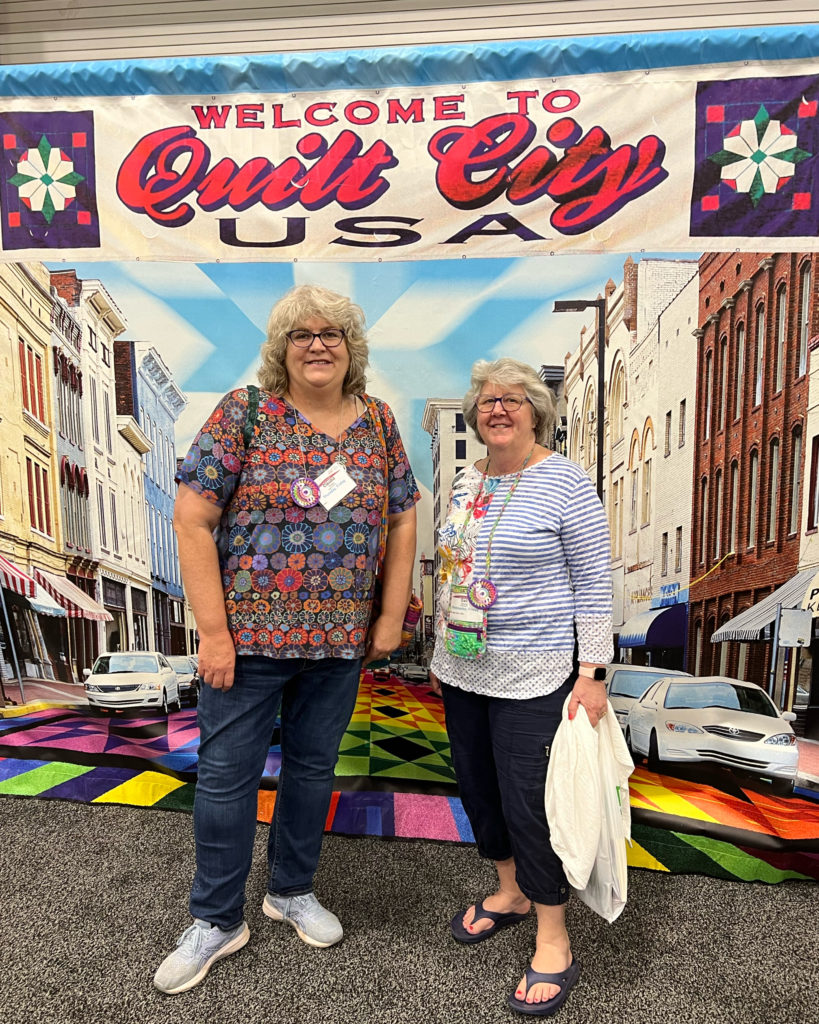 Not only that, but I also attended the trunk show of Sally Manke, Fiber Artist and former ambassador. What a treat that was! Sally's quilts are stunning and she is a great speaker. She also had a quilt in the show.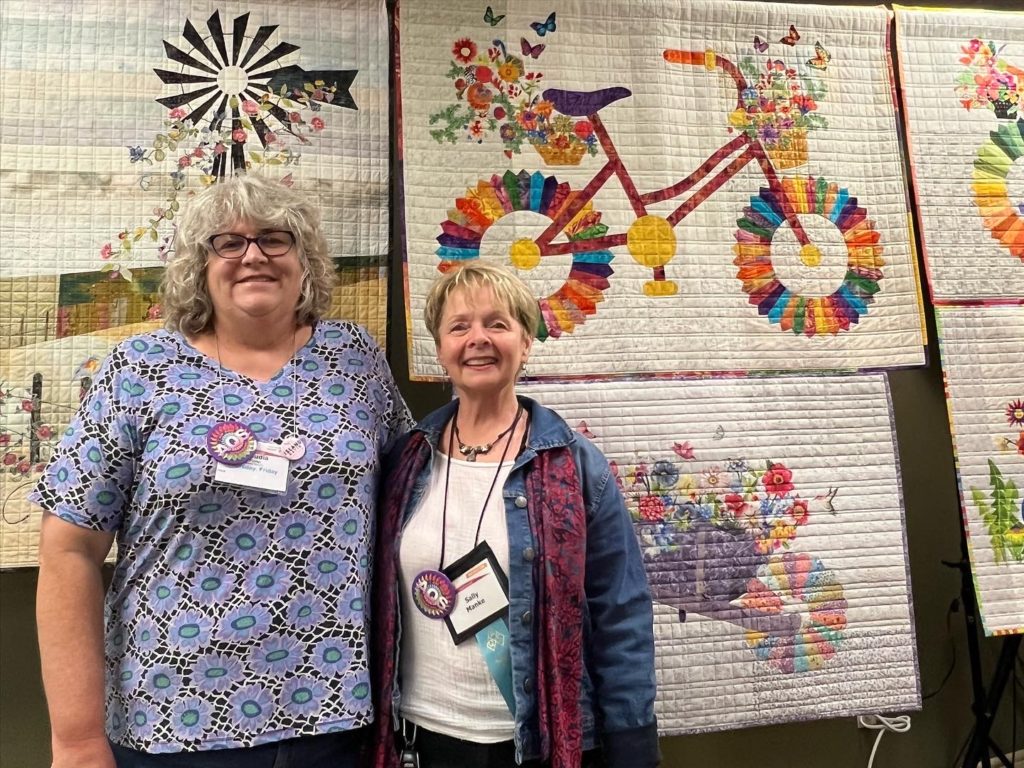 Finishing Up My Visit to AQS Quilt Week 2022
I'm so glad that I was finally able to go to this quilt show. It was such a treat and even better than I had imagined. Now I want to go again. Have you ever been? I'd love to know. Let me know in the comments.
Happy Quilting – Claudia