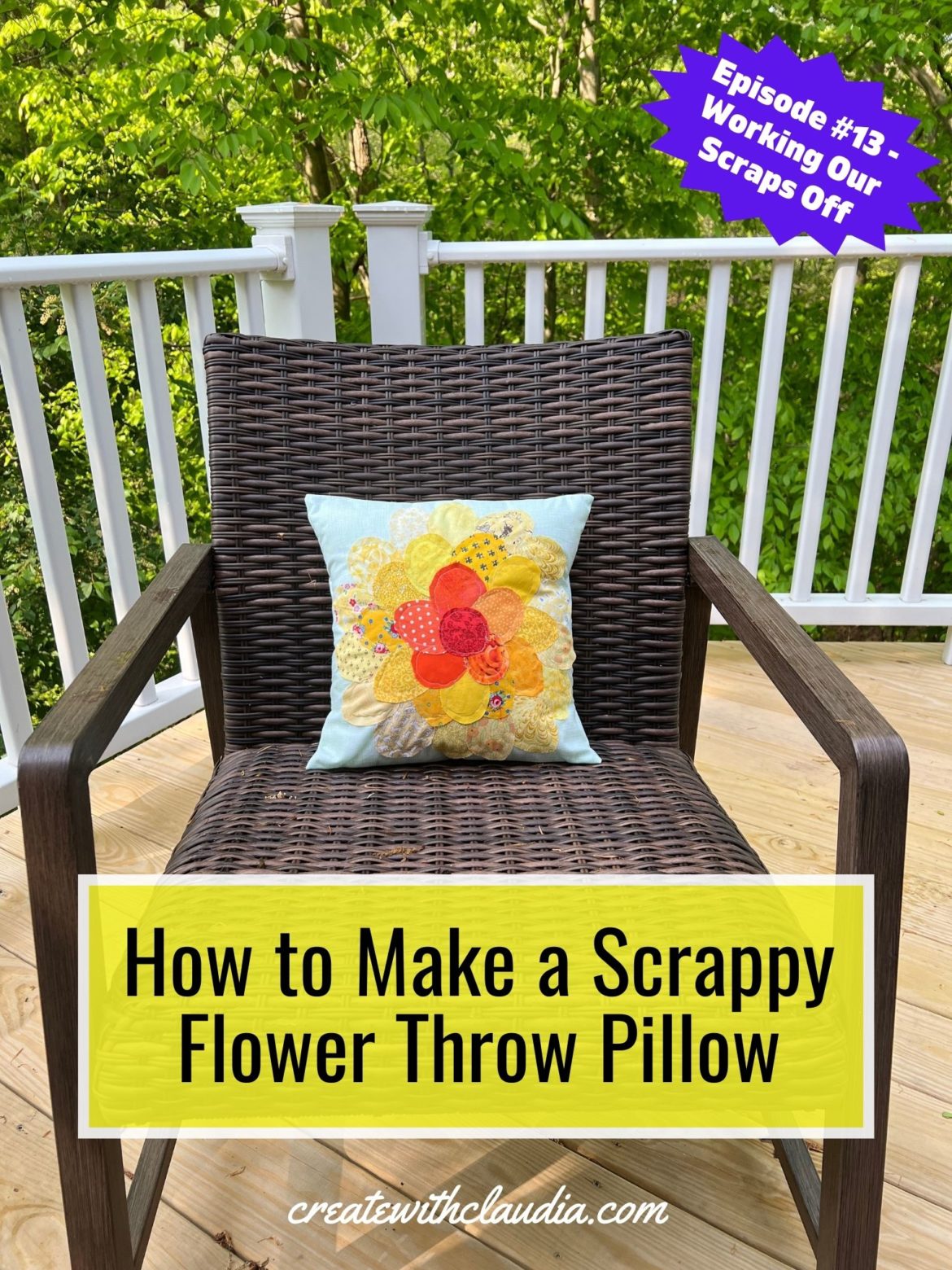 How to Make a Scrappy Flower Throw Pillow
With my garden in bloom I felt like making something floral. It was also time for the 13th episode in my "Working Our Scraps Off" YouTube series. I combined the two and came up with this easy tutorial. Made in any color combination, this is a fun project that you can make in a couple of hours. Grab a cup of coffee sit back, and learn how to make a scrappy flower throw pillow.
I decided to go with yellows and oranges for my pillow. My desk is by a window that overlooks my yard and there is a big batch of yellow flowers showing off right now. That was my deciding factor. And since I enjoyed making this one so much, I think I'm going to make another one.
Learn How to Make a Scrappy Flower Throw Pillow Video Tutorial
For this pillow you will need standard sewing supplies plus a pillow form. In the tutorial I show you how to make an envelope style pillow. It's an easy way to make a throw pillow cover. However, if you are a whiz at making throw pillow covers, then use whatever method you prefer. The flower decoration is all on the front of the pillow.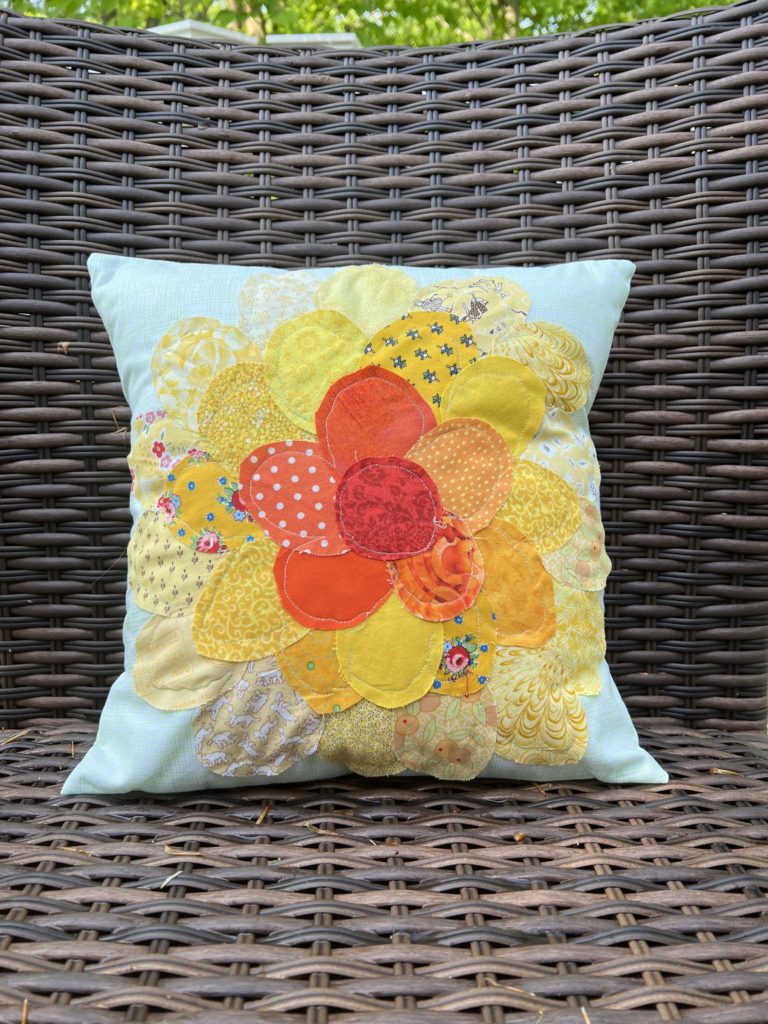 My pillow looks pretty on my new deck chair. I'm thinking a larger blue flower pillow might look nice along side this one.
What You'll Need
Fabric scraps
Larger fabric pieces for the front and back of the pillow
Pillow form – My video has instructions for a 14″ pillow form, but with a few adjustments that are explained in the video, you can make it in any size
Glue stick
General sewing supplies
My Pillow
I made my pillow cover out of quilting fabric so bring it inside if you use it outside. If it gets wet it may get ruined and the pillow form definitely will.
To sew down my petals I used my sewing machine's darning foot which doubles as a free-motion quilting foot. That made it easy to quilt around the scalloped edged flower petals.
I hope you give this project a try. You'll be surprised at how easy it is to learn how to make a scrappy flower throw pillow.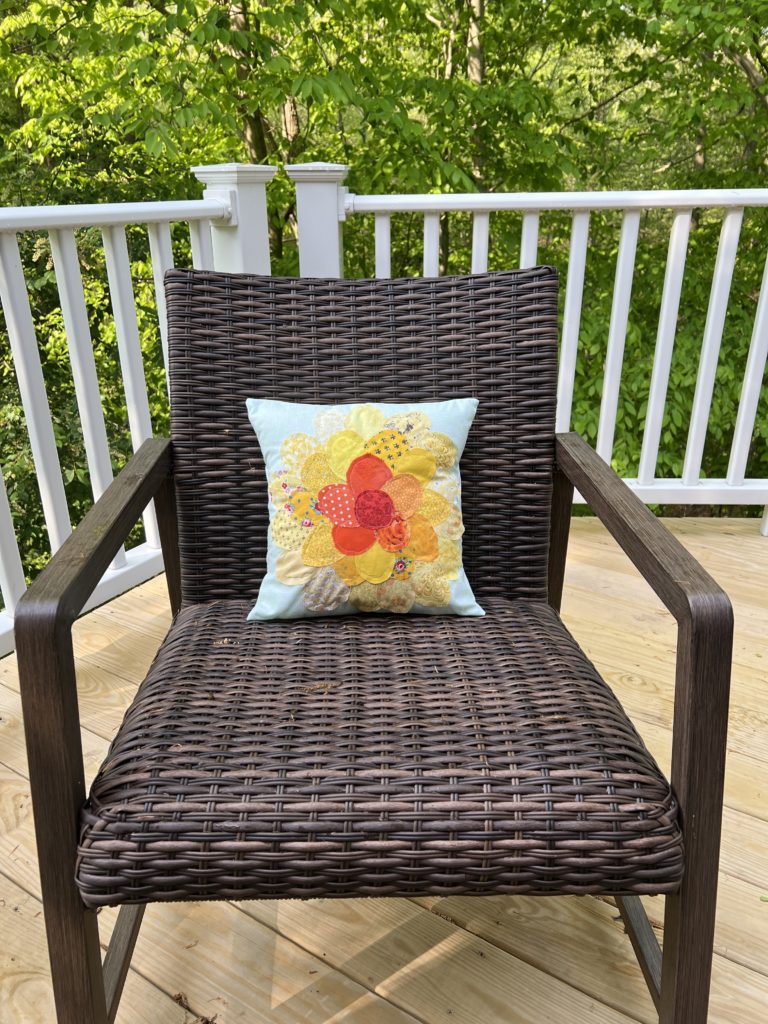 About my Working Our Scraps Off YouTube Series
Working Our Scraps Off is a YouTube video tutorial series. Each month I bring you a new scrappy project. You can find all of the other episodes here: Working Our Scraps Off Playlist.
I'm having so much fun with this video series that I started a facebook group for people who want to join me. It's a place where people who want to find out ways to use those left over fabric scraps can come together and share their versions of the projects I demonstrate. Members share some of their beautiful scrappy projects too! I hope you'll join us.
Remember, when posting pics of your work, make sure to use the hashtag #workingourscrapsoff so everyone can see your beautiful and scrappy creations.