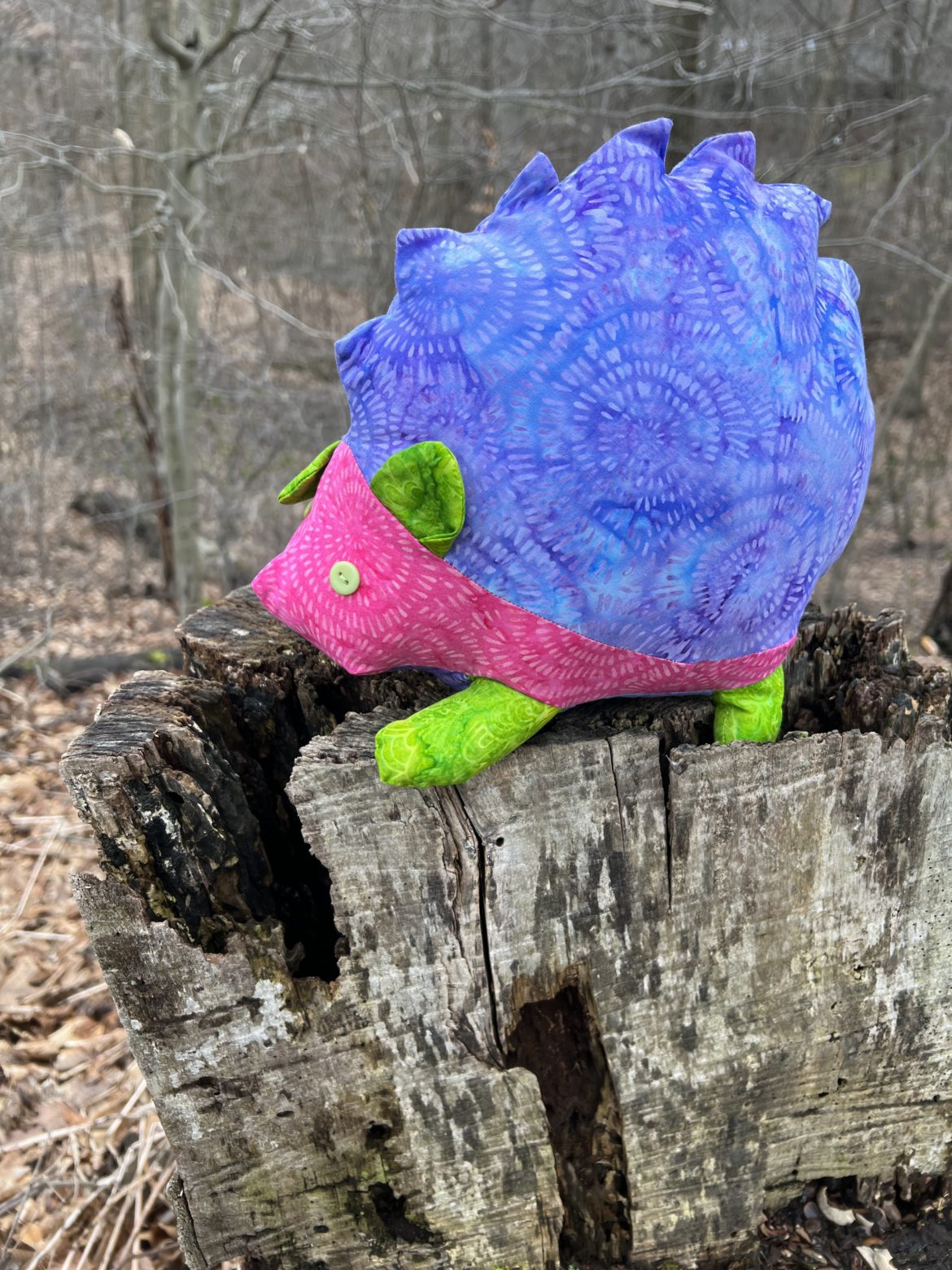 April Island Batik and Funky Friends Factory Project
This month's Island Batik ambassador project is a little different. The Funky Friends Factory sponsored the challenge. We were asked to choose a critter we wanted to make. Since I don't normally make stuffed animals I was not quite sure which one to choose. Because I'm fascinated with hedgehogs, I decided to go with their Hannah Hedgehog pattern. Stick around because I can't wait to show you my April Island Batik and Funky Friends Factory project.
Fun Fact: Hedgehogs do not live in the wild in the United States.

Hedgehogcare101.com
After getting the pattern it was time to choose fabrics for my critter. Not an easy choice when I have so many gorgeous Island Batiks to choose from. I decided to bring out my bold side and go with some bright colors, purple, pink and green. The purple and pinks are both from their Blenders line. the purple is Dandelion – Wisteria and the pink is Dandelion – Bubble Gum. That glorious lime green is from a gorgeous line called Proud Peacock that I made a quilt with last summer.
Disclosure: The products in this post were generously provided by Island Batik, Funky Friends Factory, Aurifil Thread and Schmetz Needles.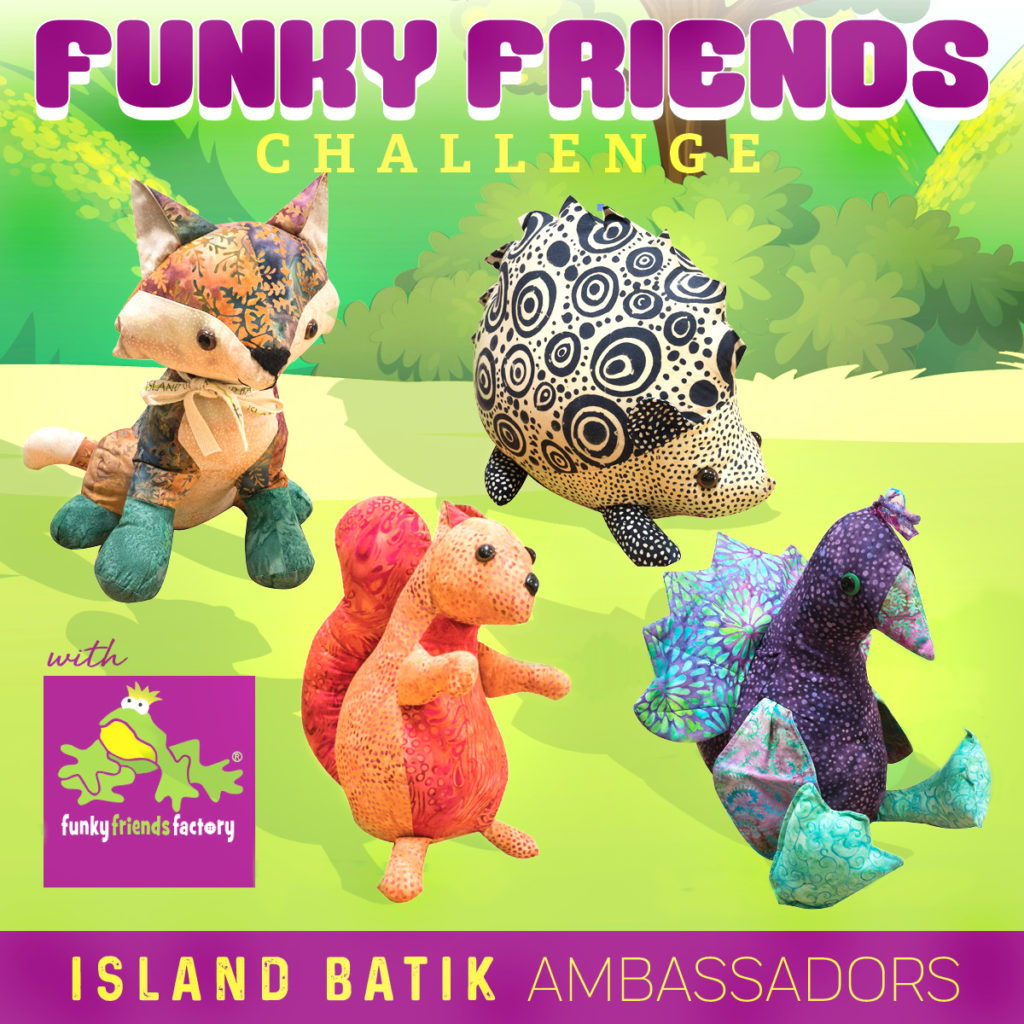 Getting Ready to Sew
The pattern was easy to download and came with detailed and easy-to-follow instructions. I particularly liked that the template pieces were clearly marked. That was extremely helpful to a newbie stuffed animal maker like myself.
I cut out all of the templates, did my tracing and cut out all of the shapes. Easy as pie!
Sewing
To sew her I used Aurifil thread and Schmetz needles.
After all of the shapes were cut out it was time to start sewing. Again, this is where the templates were helpful. There were pattern marking so it made it easy to know where to start and stop sewing.
In addition, the Funky Friends Factory has a blog post with assembly instructions. I found myself heading to that article a few times. I'm a visual learner so the photos in the tutorial were extremely helpful.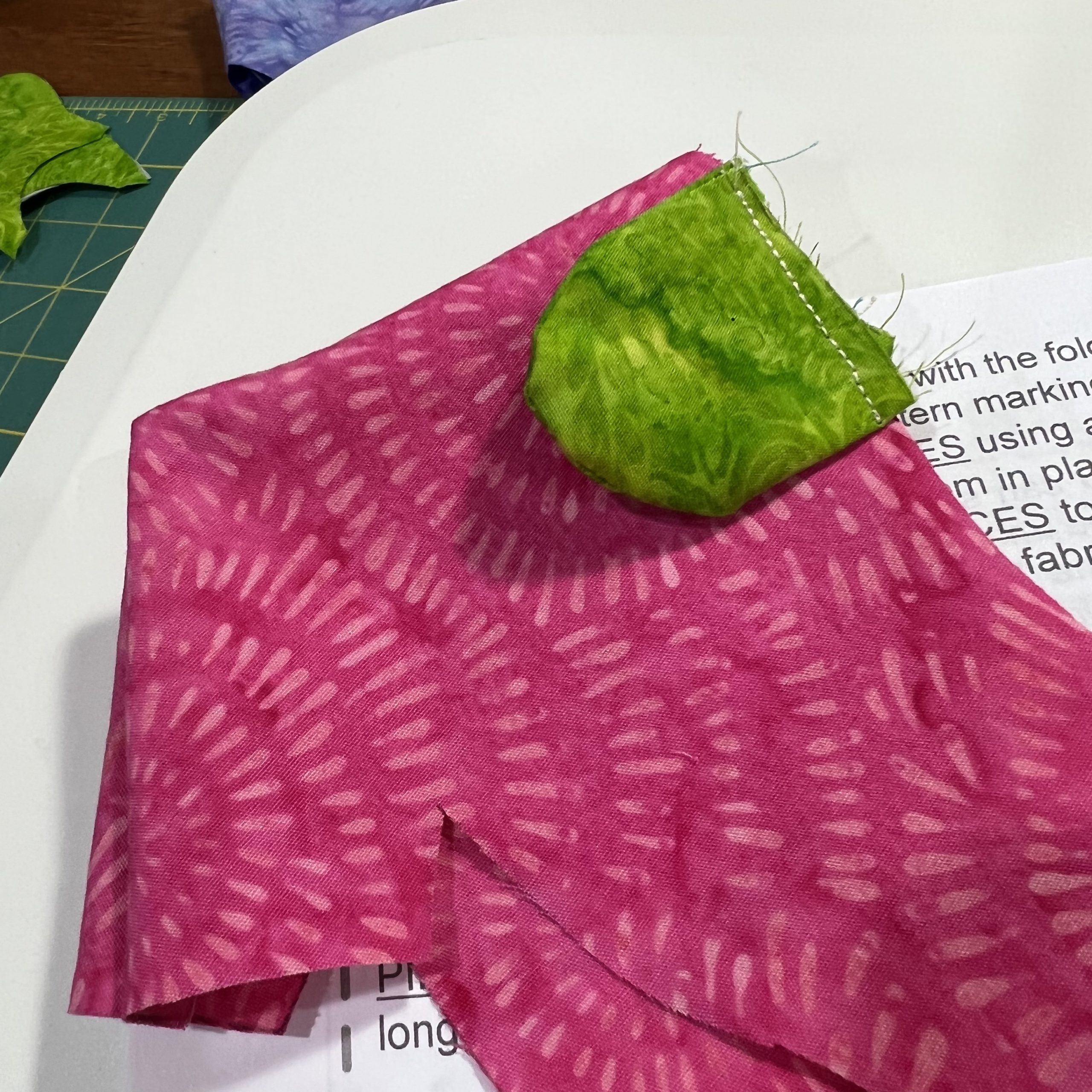 A Bit More About My April Island Batik and Funky Friends Factory Project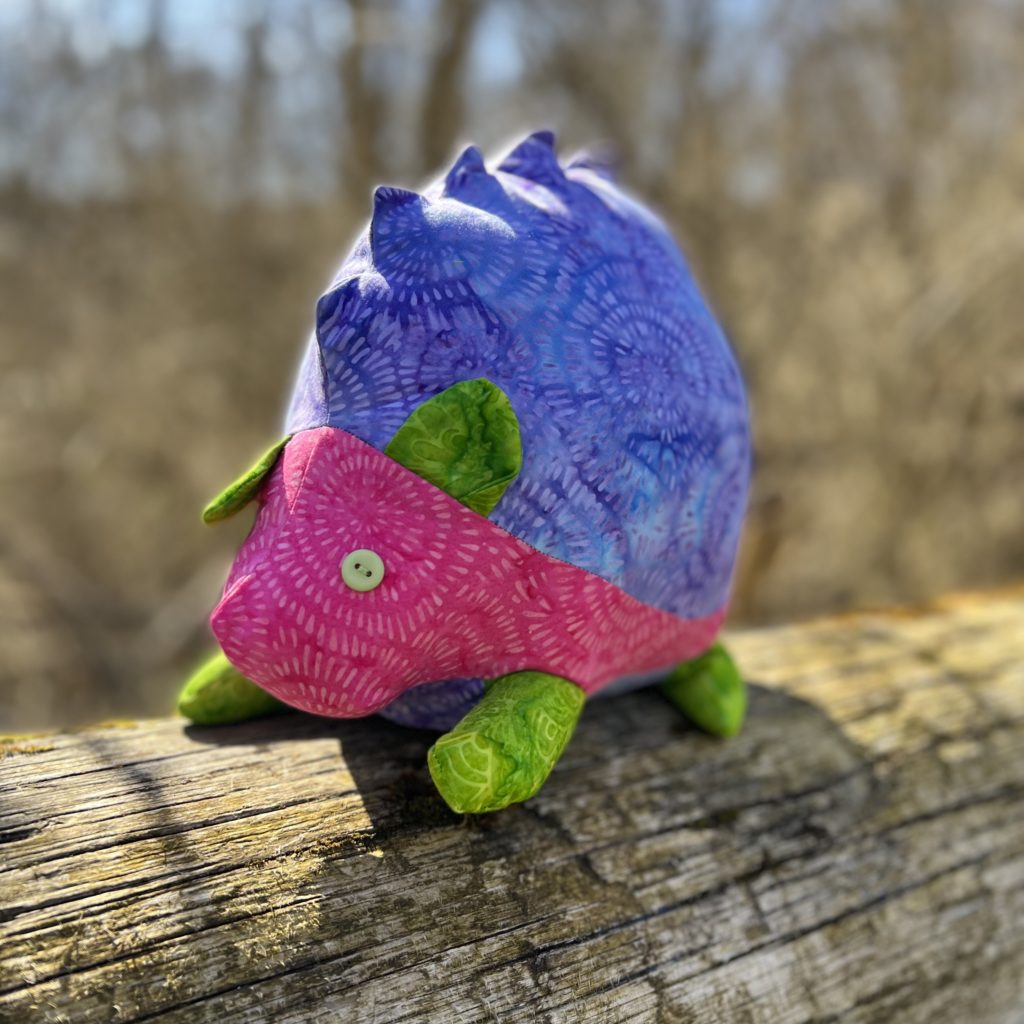 When my critter was done I realized she did not feel like a Hannah (the pattern name) to me. I decided to name her Henrietta. I'm not sure why, but to me it fits her personality.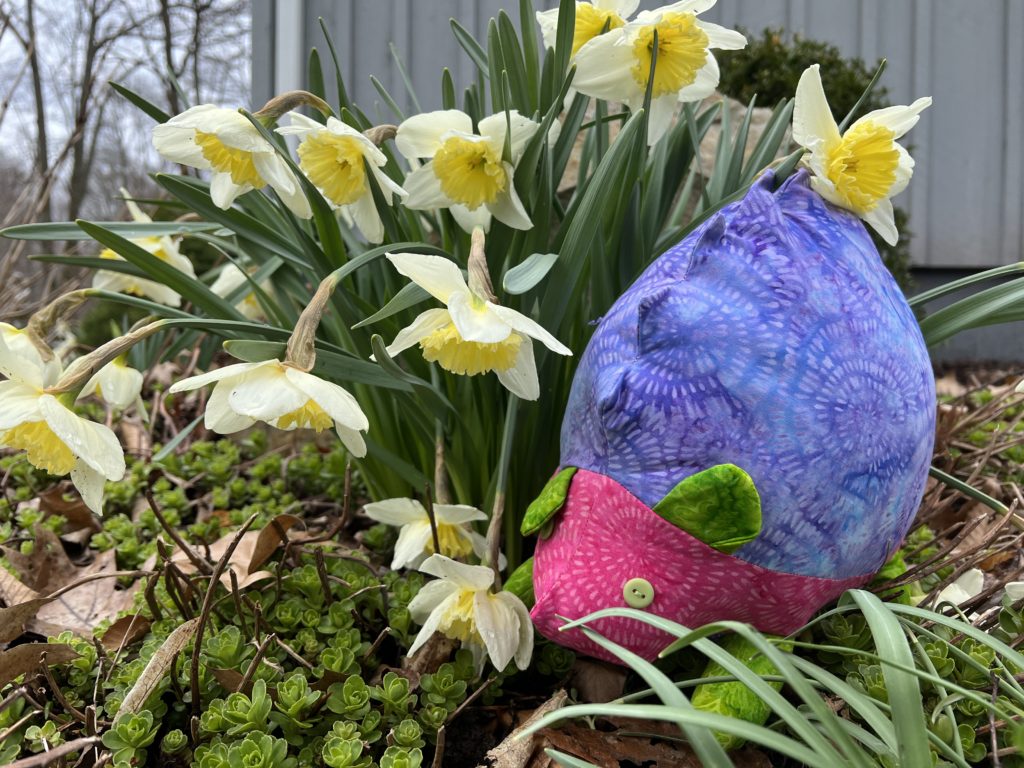 You may have noticed that I used buttons for her eyes. I decided to do that because she will not be gifted to a child. I will be keeping her for my sewing studio. The other thing you can't miss is her sweet little ear. I messed her right one up and did not notice until I was ready to sew her closed. The ear stayed because I think it gives her a bit more character. Like in nature, not everything is perfect.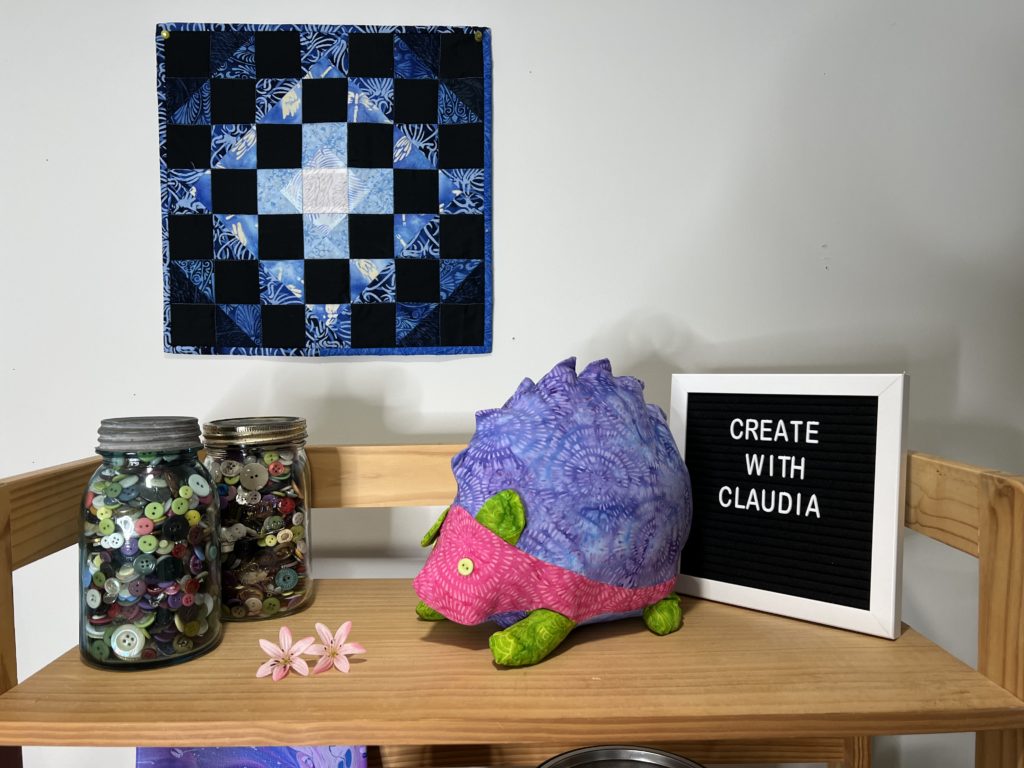 Henrietta will be staying in my studio and if you watch my YouTube videos she will probably make an appearance.
The Other Island Batik Ambassadors
Make sure to check out the stuffed animals that the other ambassadors made. They are all super cute and you will realize why it was so hard for me to choose the one I wanted to work on.
Brenda Alburl @ Songbird Designs
Megan Best @ Best Quilter
Jennifer Fulton @ Inquiring Quilter
Preeti Harris @ Sew Preeti Quilts
Jane Hauprich @ Stitch by Stitch Custom Quilting
Reed Johnson @ Blue Bear Quilts
Connie Kauffman @ Kauffman Designs
Emily Leachman @ Darling Dogwood
Denise Looney @ For the Love of Geese
Leah Malasky @ Quilted Delights
Maryellen McAuliffe @ Mary Mack Made Mine
Lisa Pickering @ Lisa's Quilting Passion
Claudia Porter @ Create with Claudia
Gail Renna @ Quilt Haven Threads
Brianna Roberts @ Sew Cute and Quirky
Andi Stanfield @ True Blue Quilts
Sandra Starley @ Textle Time Travels
Jennifer Thomas @ Curlicue Creations
Pamela Boatright @ PamelaQuilts
Suzy Webster @ Webster Quilt
Elizabeth DeCroos @ Epida Studio
Mania Hatziioannidi @ Mania for Quilts
Anorina Morris @ Samelia's Mum
Michelle Roberts @ Creative Blonde