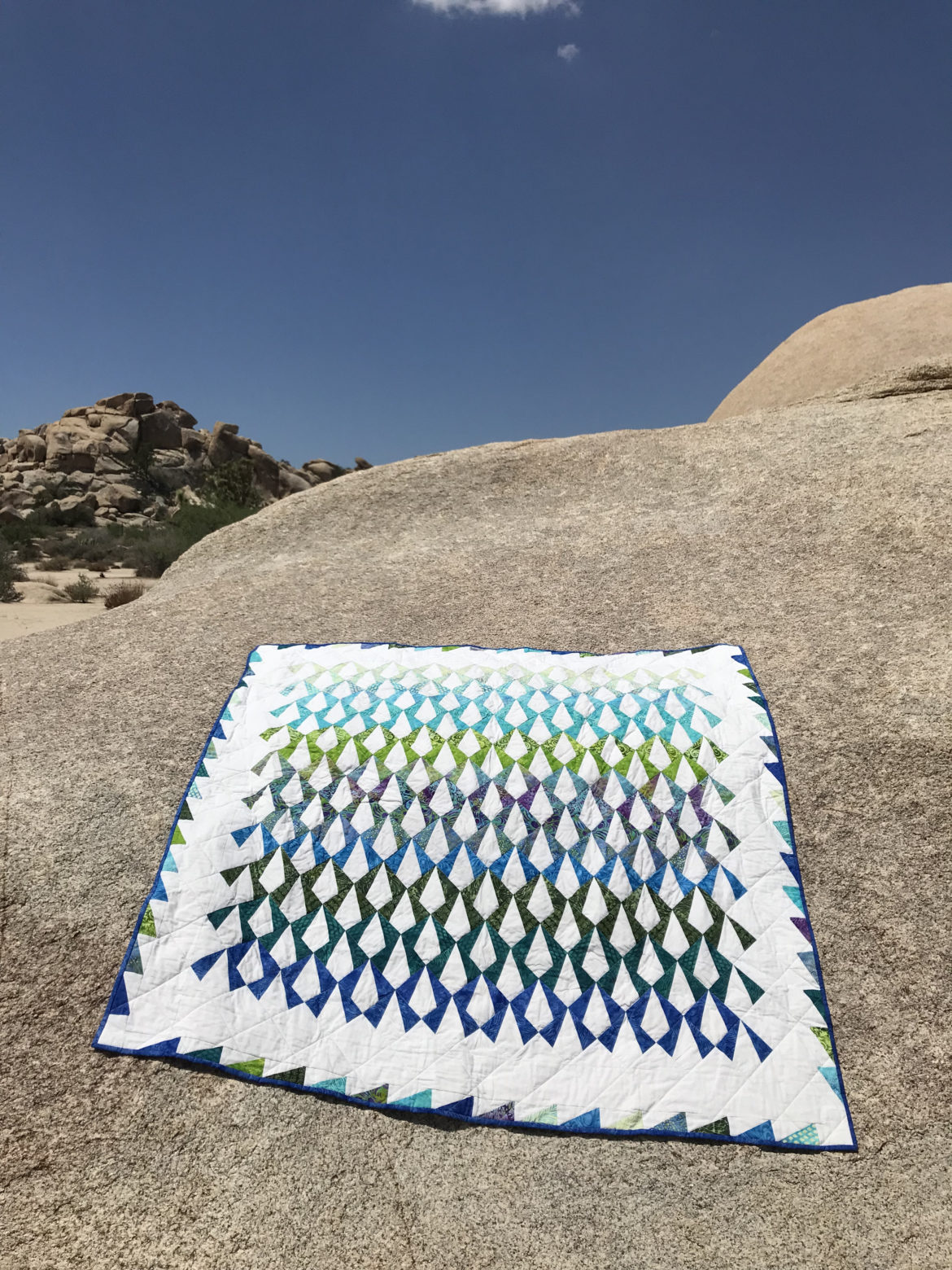 Island Batik Try a Tool Blog Hop
It's time for some more quilting fun. This month it is the Island Batik "Try a Tool" blog hop with one of the rulers from Deb Tucker's Studio 180 Designs. I was really excited about this one for a couple of reasons. First, it is always loads of fun getting new fabrics to work with and second, I have never used one of the Studio 180 Designs rulers and could not wait to give it a try.
The Island Batik ambassadors got their second shipment in July and I was lucky enough to get the stunning line shown in the quilt. I started designing right away because I really wanted to take my quilt with me on vacation. I know I know… that is kind of weird, but we went out to Los Angeles and the surrounding areas and I thought that the fabrics would look great in that landscape (lots of pics are below).
Disclosure: The products in this post were generously provided by Island Batik, Aurifil, Hobbs Batting and Deb Tucker's Studio 180 Designs.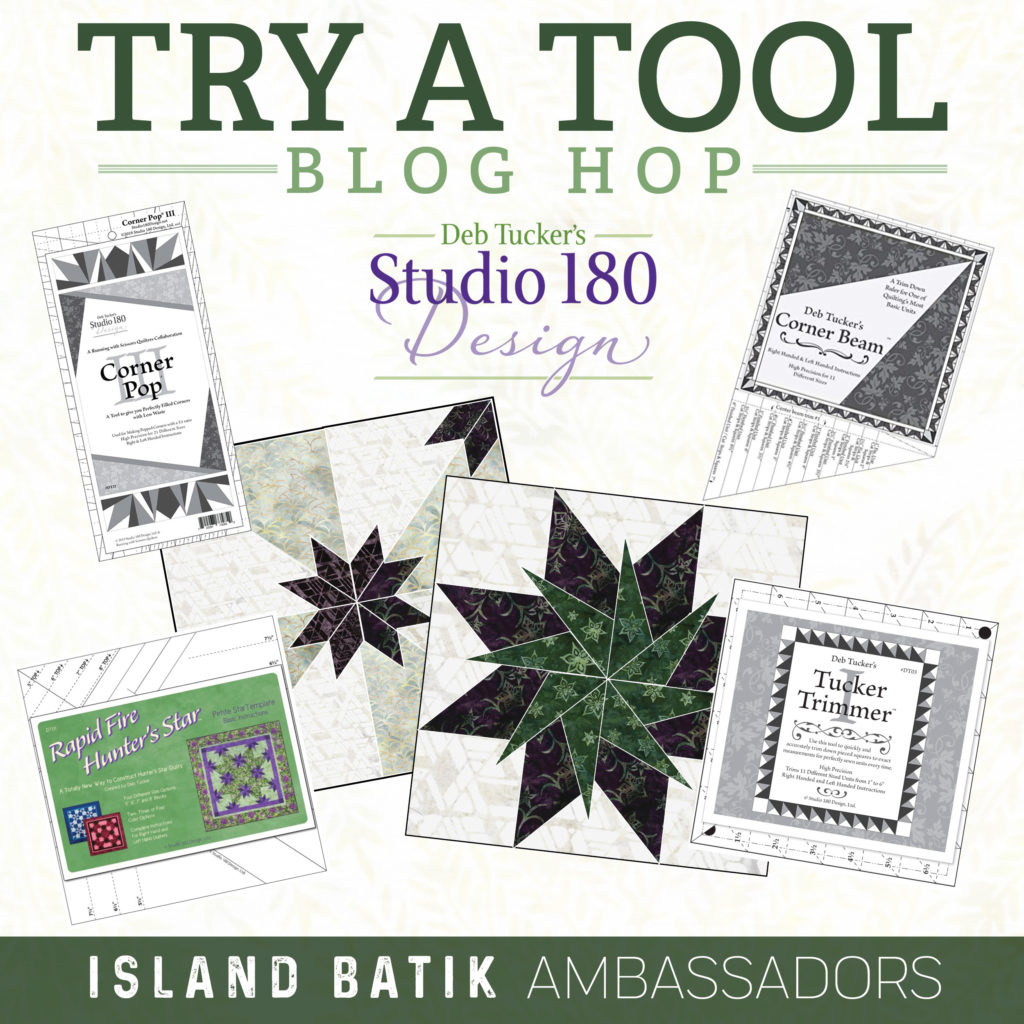 I call my quilt "Butterly Wings" because of the way the blocks fit together.
Because of the way the ruler I received works, you end up with a lot of usable trimmings. I put them to good use making a small wall hanging for my studio. As you may know, I always love a scrappy quilt and I'm happy with the way this scrap buster turned out.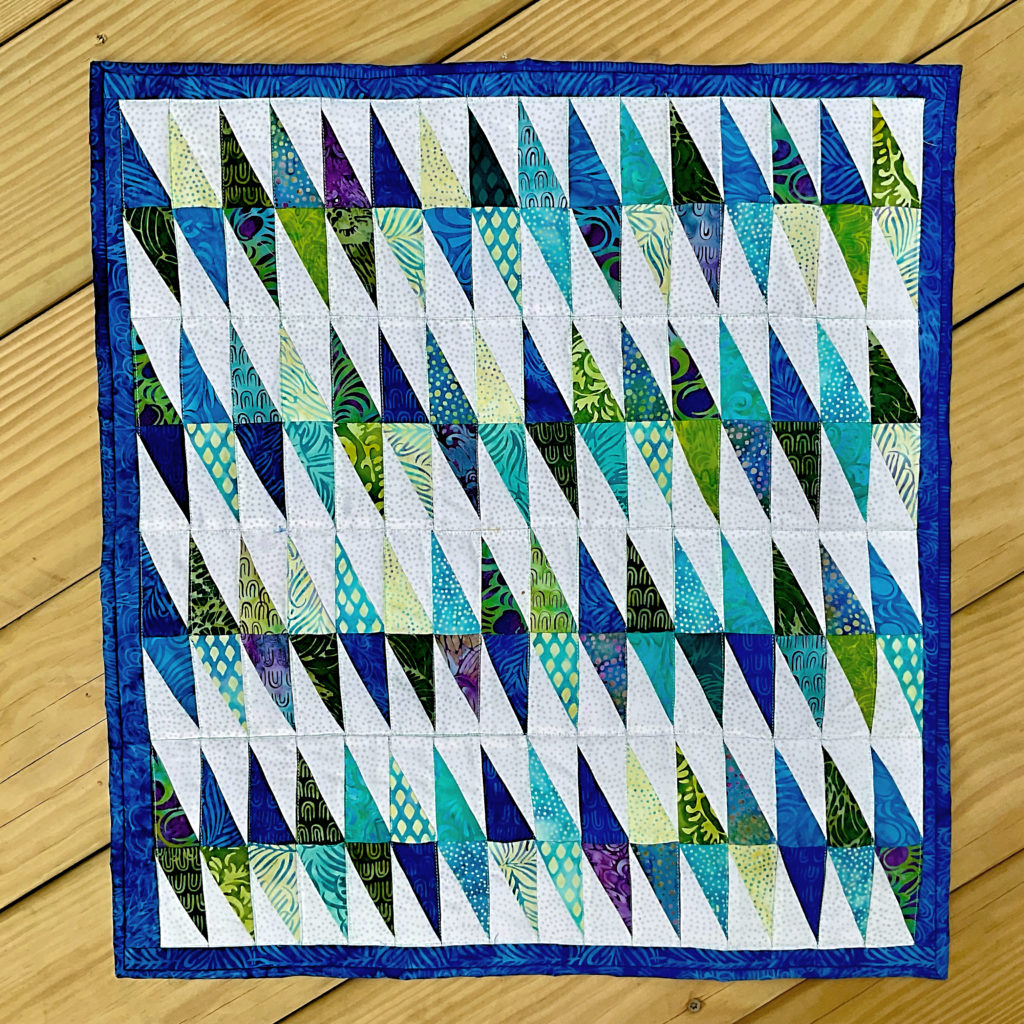 About the Quilts
I recorded this quick video which tells you all about both of the quilts and the ruler I used. Enjoy!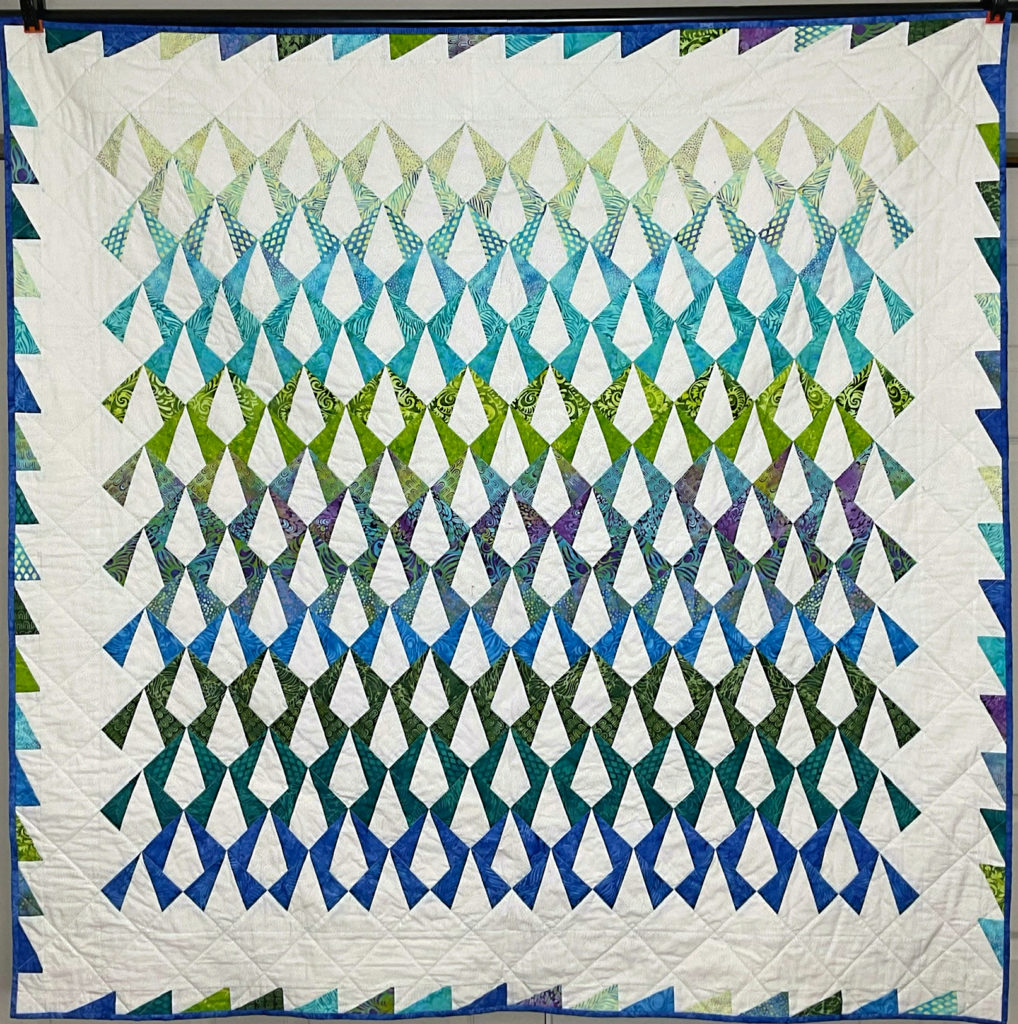 For my "Butterfly Wings" quilt I used the Studio 180 Designs Corner Beam Tool. With the exception two of the dark blues that I used for the binding, I used all of the fabrics in the line I was given and placed them in an ombré order.
I added one border to make the blocks look like they were floating. For the outside border I pieced together some of the left over trimmings that were created from tool. I thought it added a nice frame and some movement to the design.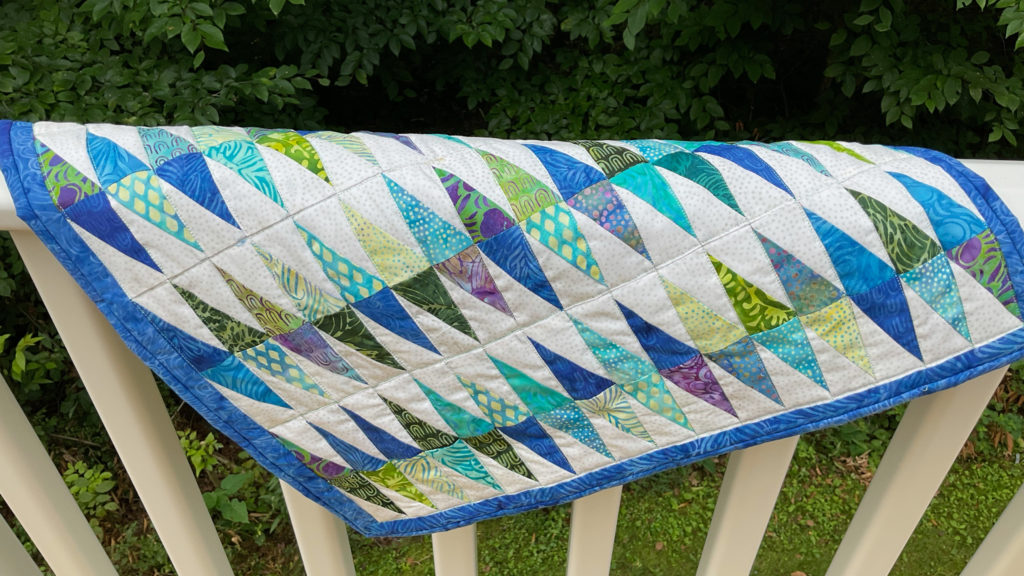 I made this smaller wall hanging called "Shards of Glass" with the trimmings that were left over after making the corner beam blocks with the ruler. Many of the fabrics in the collection remind me of sea glass and with the sharp points, I thought they looked like pieces of broken glass.
About the Fabric
For this blog hop I got the gorgeous new Island Batik line called "Proud Peacock". It was designed by Kathy Engle and is in stores as of September, 2021. The twenty different fabrics in the line are filled with greens, blues, teals, purples and even a few butter yellows. Just scrumptious! Right away the fabrics reminded of me of the sea and sky.
For the background I used "Sprinkles" from the Island Batik Foundations Neutrals line.
About the Ruler
The industry sponsor for this month's blog hop was Deb Tucker's Studio 180 Designs. They provided all 24 of the ambassadors with various rulers. I received the Corner Beam and immediately started playing around with it. Not only did I want to show off what the tool could do, I wanted to show off the fabrics too.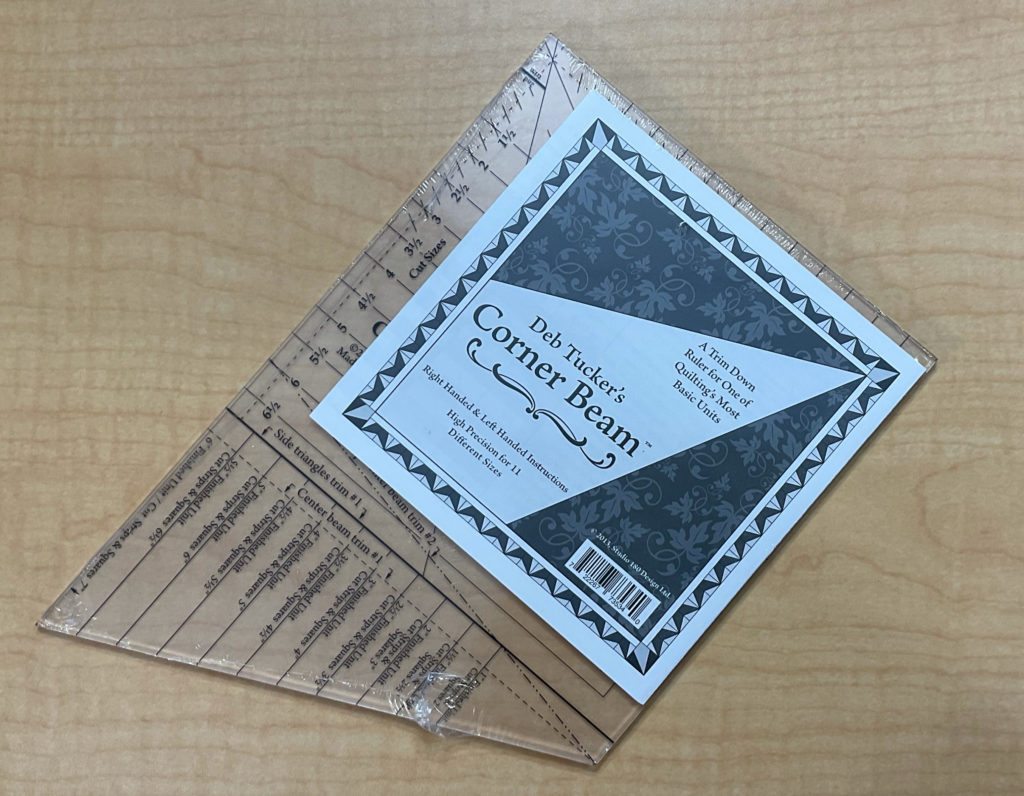 Easy to use, this ruler is quite versatile. As you can see in the quilt, I set my blocks on point to get that desired wing effect.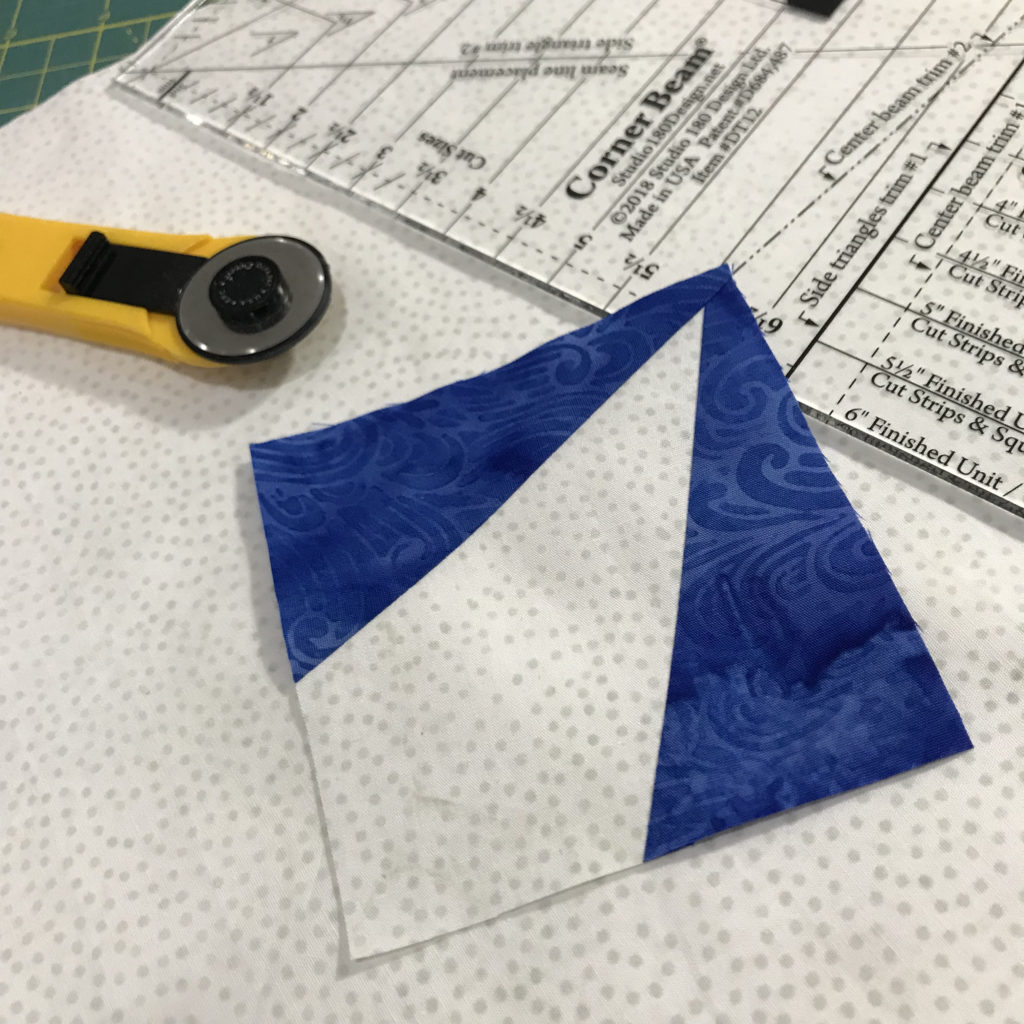 One of the parts I particularly like about this ruler is that after trimming, you end up with extra triangles. I used some of them for the border of my "Butterfly Wings" quilt. Since I've never met a scrap of fabric that I don't like so I made my second quilt out of the rest of the trimmings.
Other Supplies Used
Hobbs generously supplied batting in our ambassador boxes and I went with their fusible batting. All I can say is wow!. It made quilting this piece so easy and best of all I did not have to baste! I hate basting quilts and try to avoid it at all costs. I will definitely be getting some more of that batting!
To piece and quilt both quilts I used Aurifil #4661 and it worked out perfectly with the fabrics I used.
My Island Batik Try a Tool Blog Hop Quilt Takes a Vacation
I couldn't resist taking my quilt on my family vacation. My husband and daughter obliged me by taking pictures. The fabrics blended so nicely with some of the scenery in Southern California. It was our first visit and it was wonderful. I should say it was wonderful except for the traffic. I'm not sure how people can drive around LA. Yikes!
The first two pictures are from our visit to Joshua Tree National Park. I wish we had spent a couple of days there. It was absolutely stunning. Of course, us East coasters did not know quite what to do with the temperature that hit 105˚ that day. Phew was it hot.
I could not resist posing next to one of those iconic California lifeguard stations and the gloriously blue pacific ocean. Almost every color in the fabric line was in that beautiful ocean.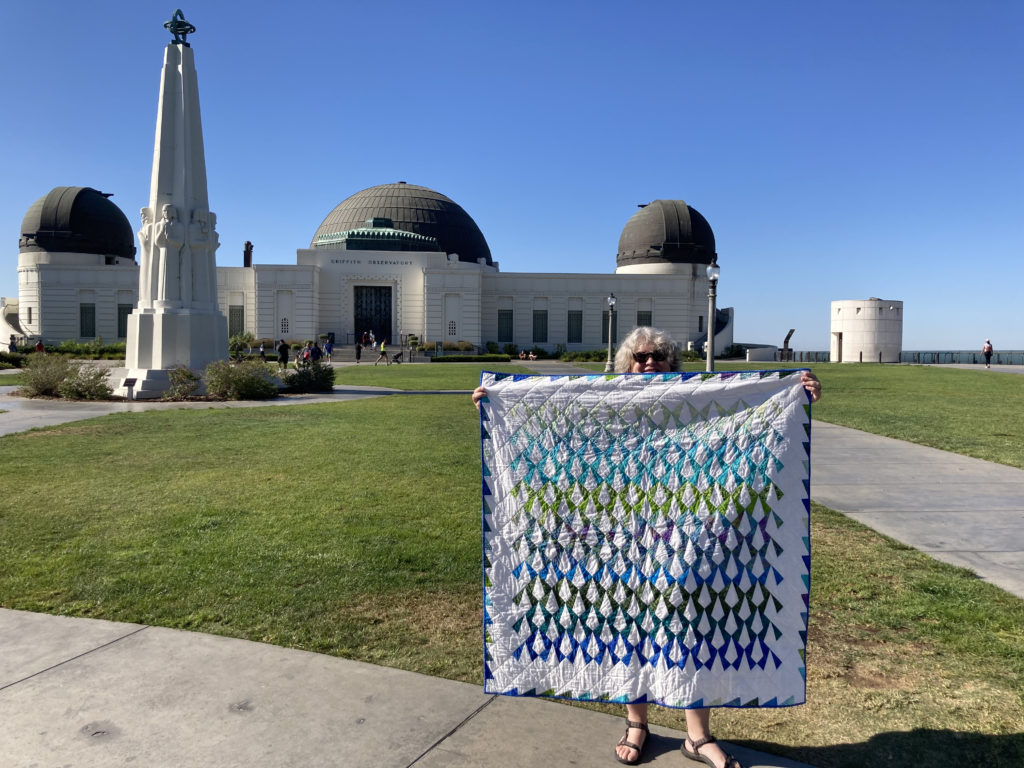 I did not have a chance to finish my smaller quilt before we went so the only vacation it got was to take photos of it on my deck.
Don't Miss the Other Ambassador Blog Hop Posts
Mania Hatzioannidi, Mania for Quilts
Gail Sheppard, Quilting Gail
Elizabeth DeCroos, Epida Studio
Preeti Harris, Sew Preeti Quilts
Emily Leachman, The Darling Dogwood
Jennifer Thomas, Curlicue Creations
Pamela Boatright, Pamela Quilts
Gail Renna, Quilt Haven Threads
Denise Looney, For the Love of Geese
Sally Manke, Sally Manke Fiber Artist
Brianna Roberts, Sew Cute and Quirky
Suzy Webster, Websterquilt
Jennifer Eubank, Archipelago Quilting
Jennifer Fulton, Inquiring Quilter
Jane Hauprich, Stitch by Stitch Custom Quilting
Maryellen McAuliffe, Mary Mack Made Mine
Megan Best, Bestquilter
Janet Yamamoto, Whispers of Yore
Claudia Porter, Create with Claudia
Michelle Roberts, Creative Blonde
Leah Malasky, Quilted Delights
Andi Stanfield, True Blue Quilts
Joanne Hart, Unicorn Harts
Connie Kauffman, Kauffman Designs