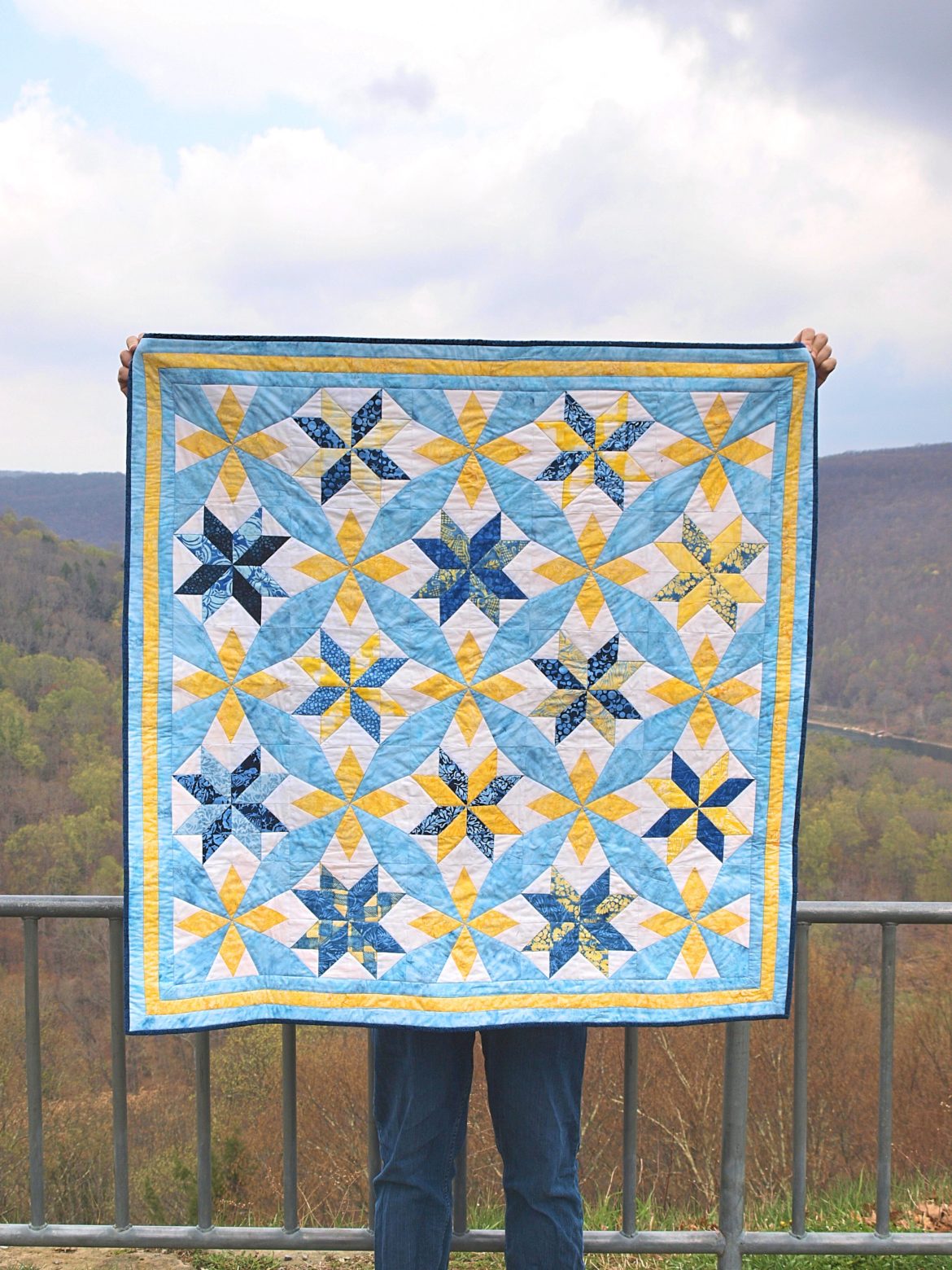 Quilting with the AccuQuilt® Go! Hattie's Choice Die and the 8″ Go! Cube – An Island Batik Quilt
If you have been quilting for a while like I have, you find that some quilts are nearer and dearer to your heart than others. That is definitely the case with this quilt. This month, the Island Batik ambassadors were challenged to make a quilt combining the AccuQuilt® die we received in our first product box and a die (or dies) from the Go! cube that we also received. Specifically, we were asked to Spread Love & Joy with Accuquilt® with our project. What a wonderful challenge to get, and I was ready to start quilting with the AccuQuilt®.
It did not take me long to decide where my quilt was going to go. My father was in a nursing home for 3 years before he passed away and the staff there was wonderful. They became like a second family to us. I had been wanting to make a quilt for them for a while, but the timing and the inspiration were never quite right. When this opportunity came along, I knew in my heart that this was the opportunity.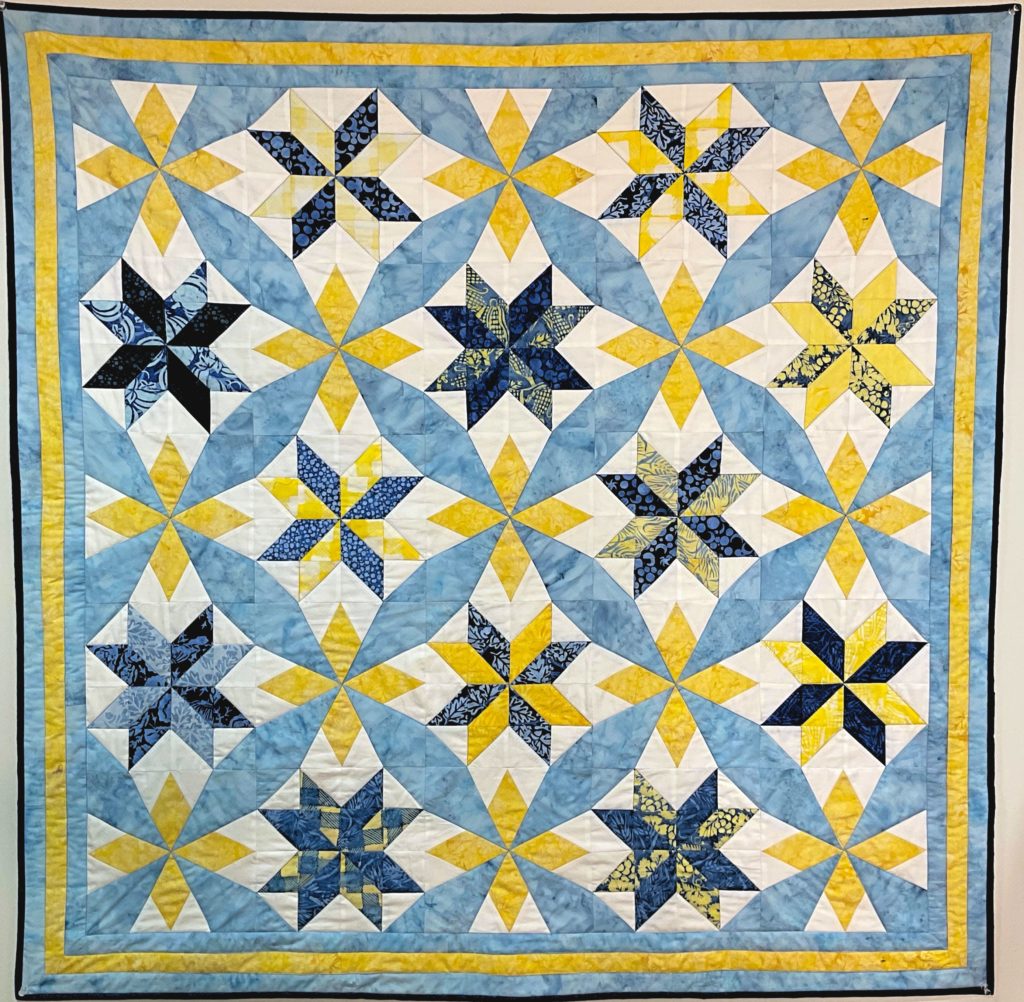 My quilt, called "With Love", is going to the nursing home unit that my father was in. It is made in memory of one of his primary caretakers who passed away recently as well as in honor of all of the wonderful staff who took such good care of him and all of their residents. My family will never forget them.
Disclosure: The products in this post were generously provided by Island Batik, Accuquilt, Aurifil, Schmetz Needles, and Hobbs Batting.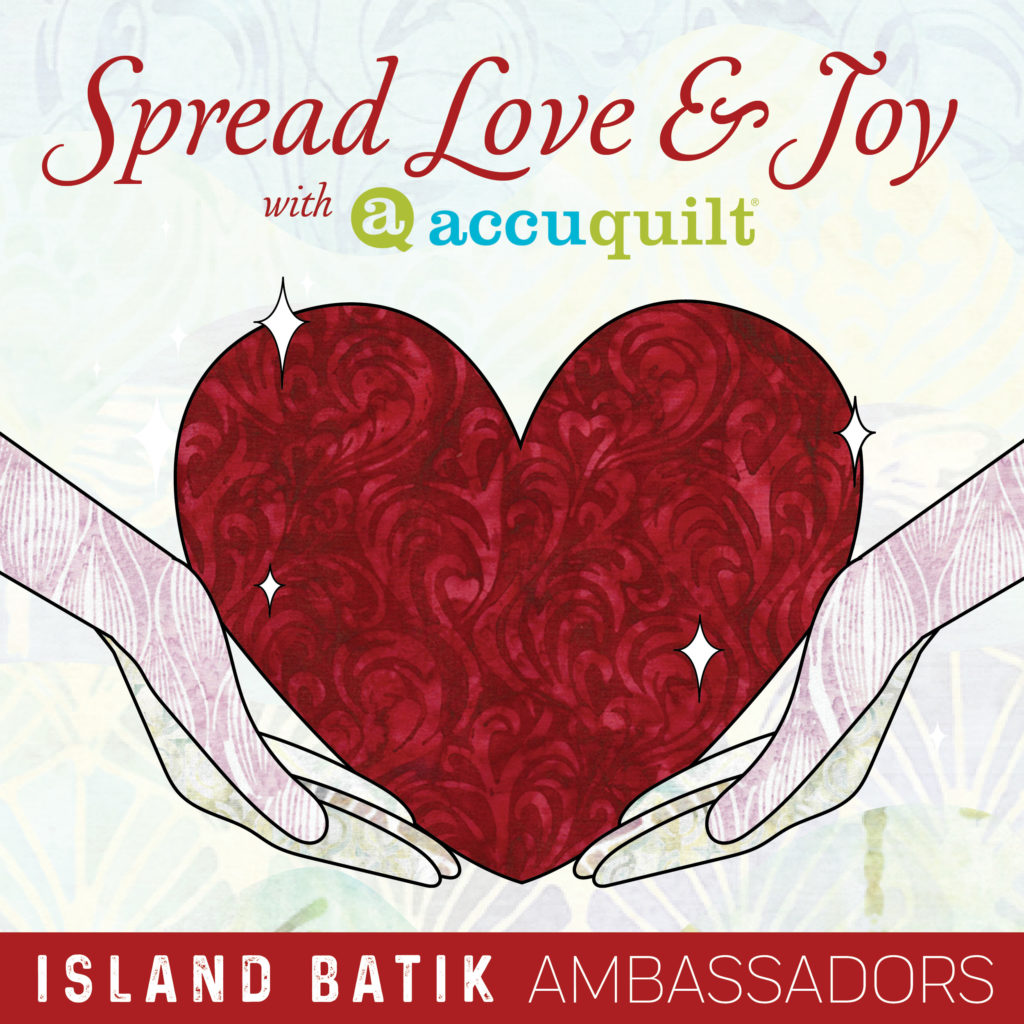 Bonus Project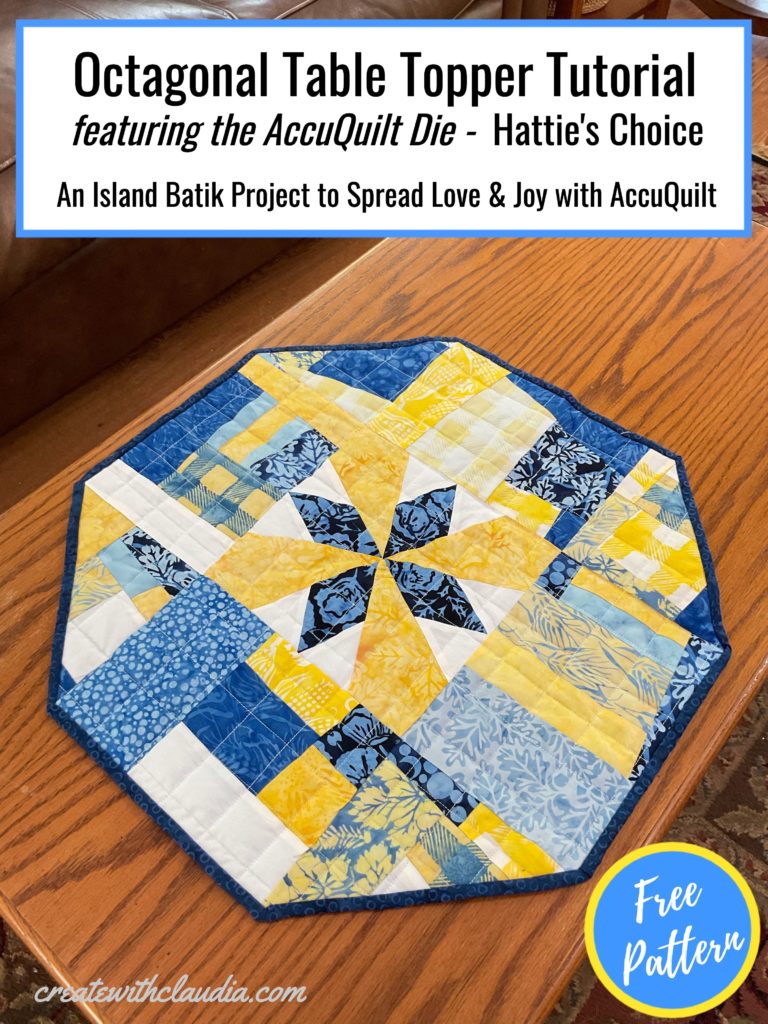 As any quilter will tell you, we always have scraps left over and I really wanted to use them. I also wanted to show off my new Hattie's Choice AccuQuilt® Go! die so I came up with an octagonal table topper pattern. It's a free pattern and super easy to put together. It's also an awesome scrap buster. Best of all, if you don't have the Hattie's Choice die, it's a nice showcase for any 8″ finished block.
The Fabric
Island Batik sent us so many beautiful fabrics to work with at the beginning of this year so it was hard to choose which ones to use for this quilt. I settled on the 10″ stack of Harvest Blue that was designed by Kathy Engle. What a stunning fabric line in one of my favorite color combinations, blues and yellows! It was perfect for this quilt.
I paired it with Island Batik's solid white and their soothing blue fabric called "Rain" from their Foundations Basics line. To bind the quilt, I used strips from Cheerio – Navy from their Foundations Blenders line.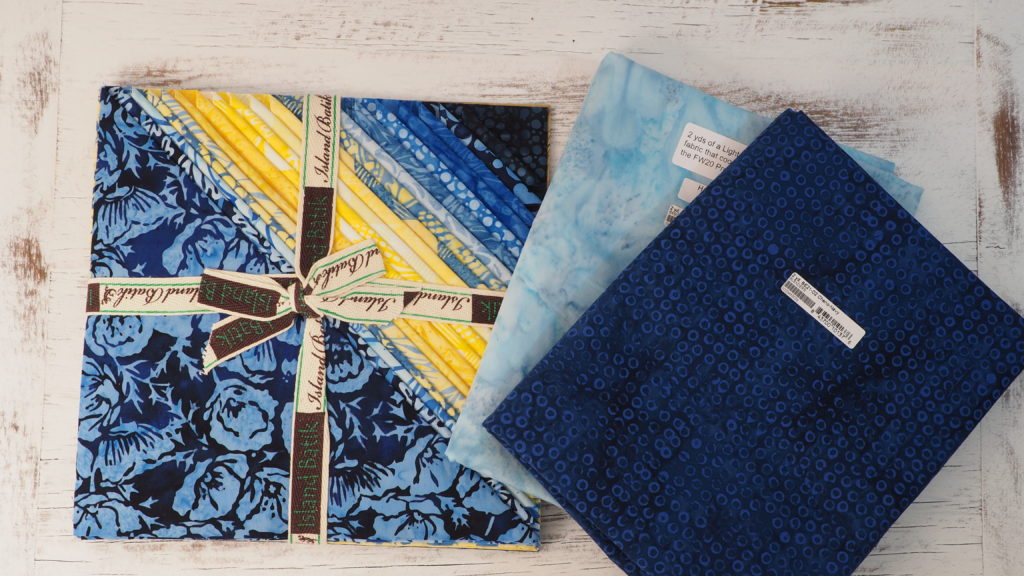 Together, I think that these fabrics have such a harmonious and soothing look to them. Perfect for a nursing home setting.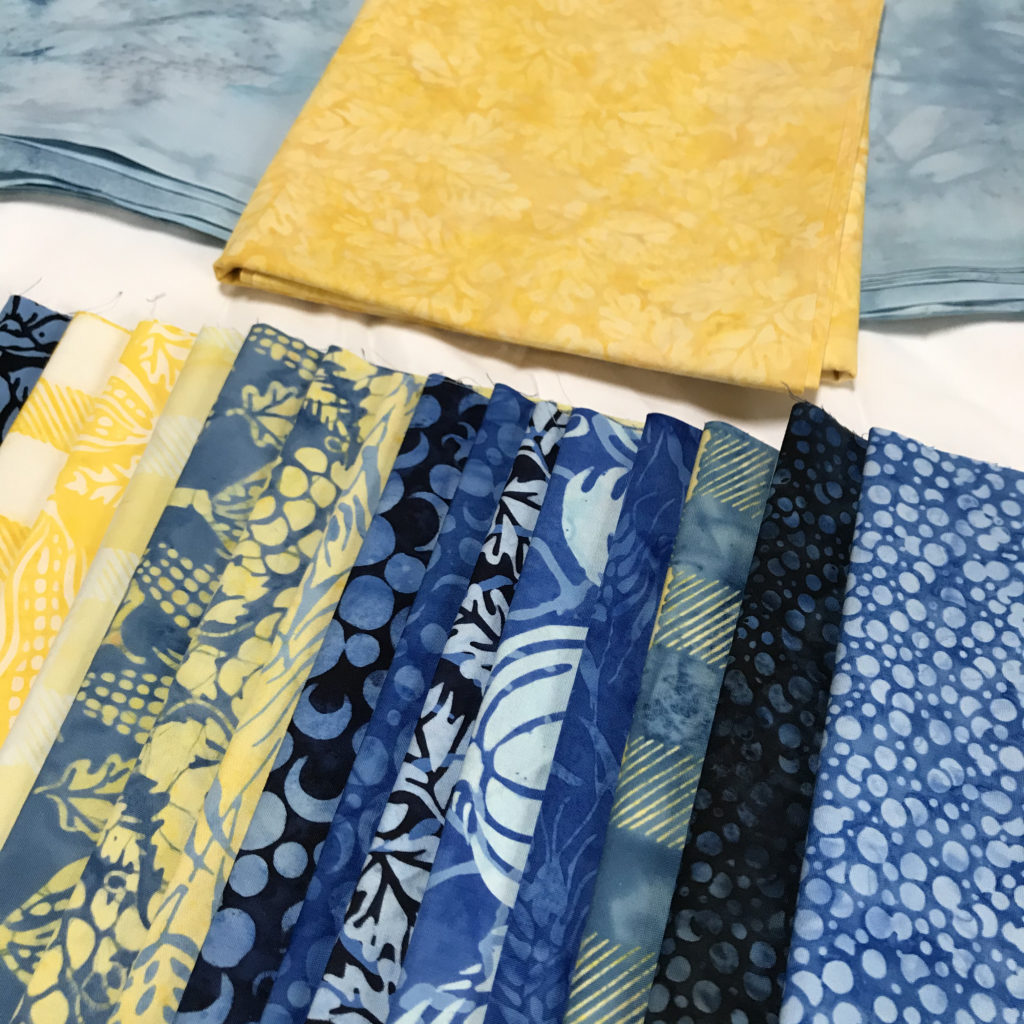 Quilting with the AccuQuilt® Dies
Accuquilt® was so generous with the items in our ambassador boxes this year. Not only did I get an AccuQuilt® Go! cutting system and the 2 1/2″ strip die, I received the 8″ Go cube which contains 8 different dies. To top it off, I got their "Hattie's Choice" die which is one of AccuQuilt's BOB (Block on Board) dies. Basically that means that every piece you need to make the block is on one die. Perfect!
Quilting with the AccuQuilt® Go! system has made cutting various shapes so easy and I find myself gravitating to it more and more. Since I received it I have already purchased two more dies.
The Hattie's Choice Block
What I really like about the Hattie's Choice block is that it is so versatile. It has those fun small triangles that give it a little bit of extra sparkle. The challenge was to combine the Hattie's Choice block with units from the Go! Cube so I started sketching away. With 8 different dies to choose from in the Go! Cube it took me a while, but finally decided on doing a modified Lemoyne Star. I made it entirely with AccuQuilt's® 2 1/2″ half square triangle die. For the corners, I added the light blue so that I could get that seamless look and give the quilt those rings as a secondary design.
All of the "Hattie's Choice" blocks are the same color. With the exception of the corner triangles, the Lemoyne stars are made with various fabrics.
Making the Quilt
After making the blocks, I decided on a layout and then pieced them together. I sewed three 2 1/2″ strips (cut with my AccuQuilt® Go!) to form the mitered borders and then finished the quilt off with the dark blue binding. I decided to use some of the 10″ squares of the blues and yellows to add some interest to the back of the quilt.
For this design I wanted a little bit of loft so I went with Hobbs Poly Fill batting. It's lightweight and was ideal for this quilt.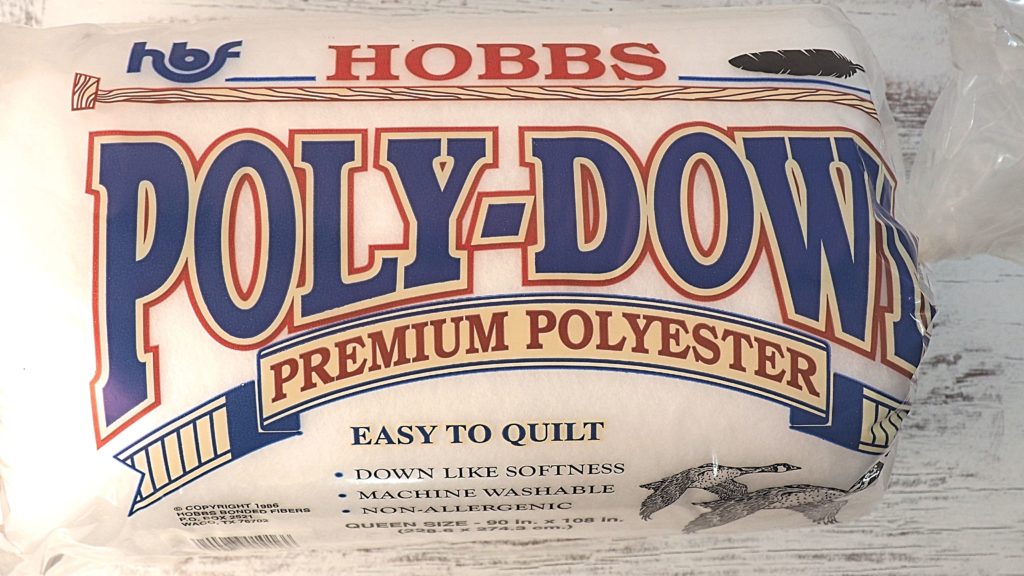 I finished the quilt off by quilting it in the ditch and I used Schmetz needles in my machine.
The quilt measures about 52″ square so it's a nice wall size for the nursing home. I can't wait see where they hang it.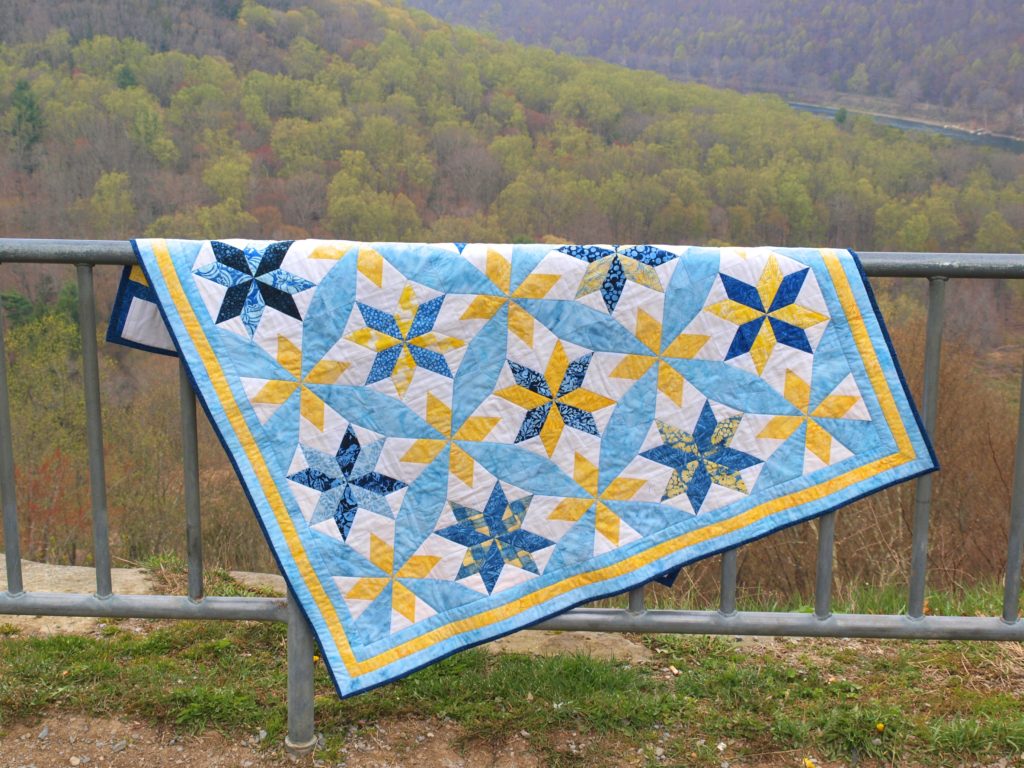 The Leftover Fabric
Don't forget to check out my new (and free) octagonal table topper. It's an ideal scrap buster, perfect for showing off your favorite block.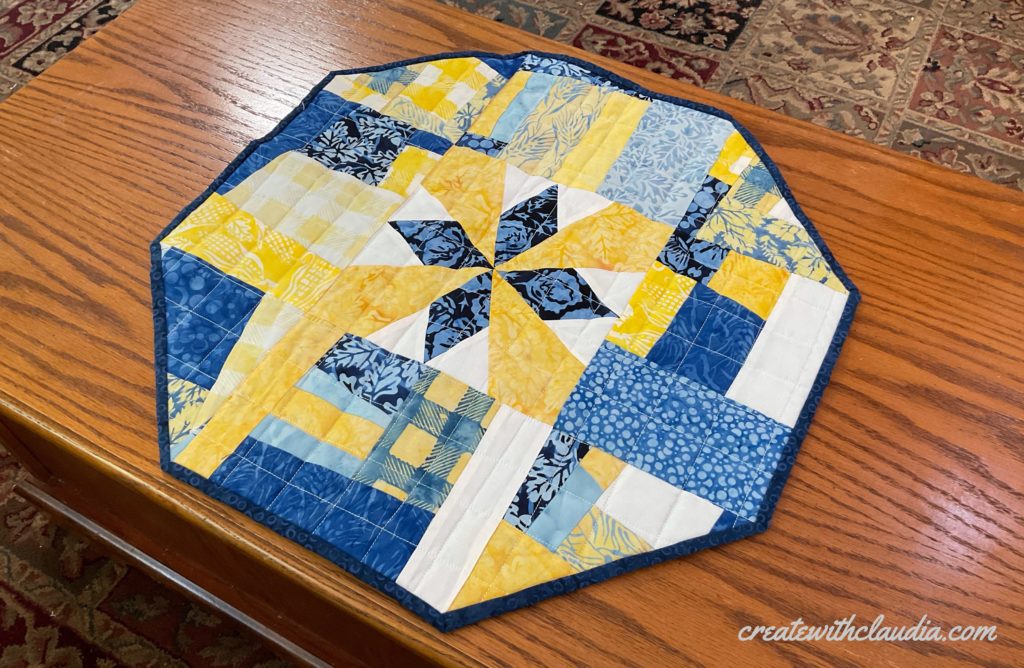 The Island Batik Ambassadors
Make sure to visit the other ambassadors and see what designs they came up with when quilting with the AccuQuilt® Go! die they received and what they made with it. There are some beautiful quilts and all of them are spreading love and joy with AccuQuilt.
See you next month!