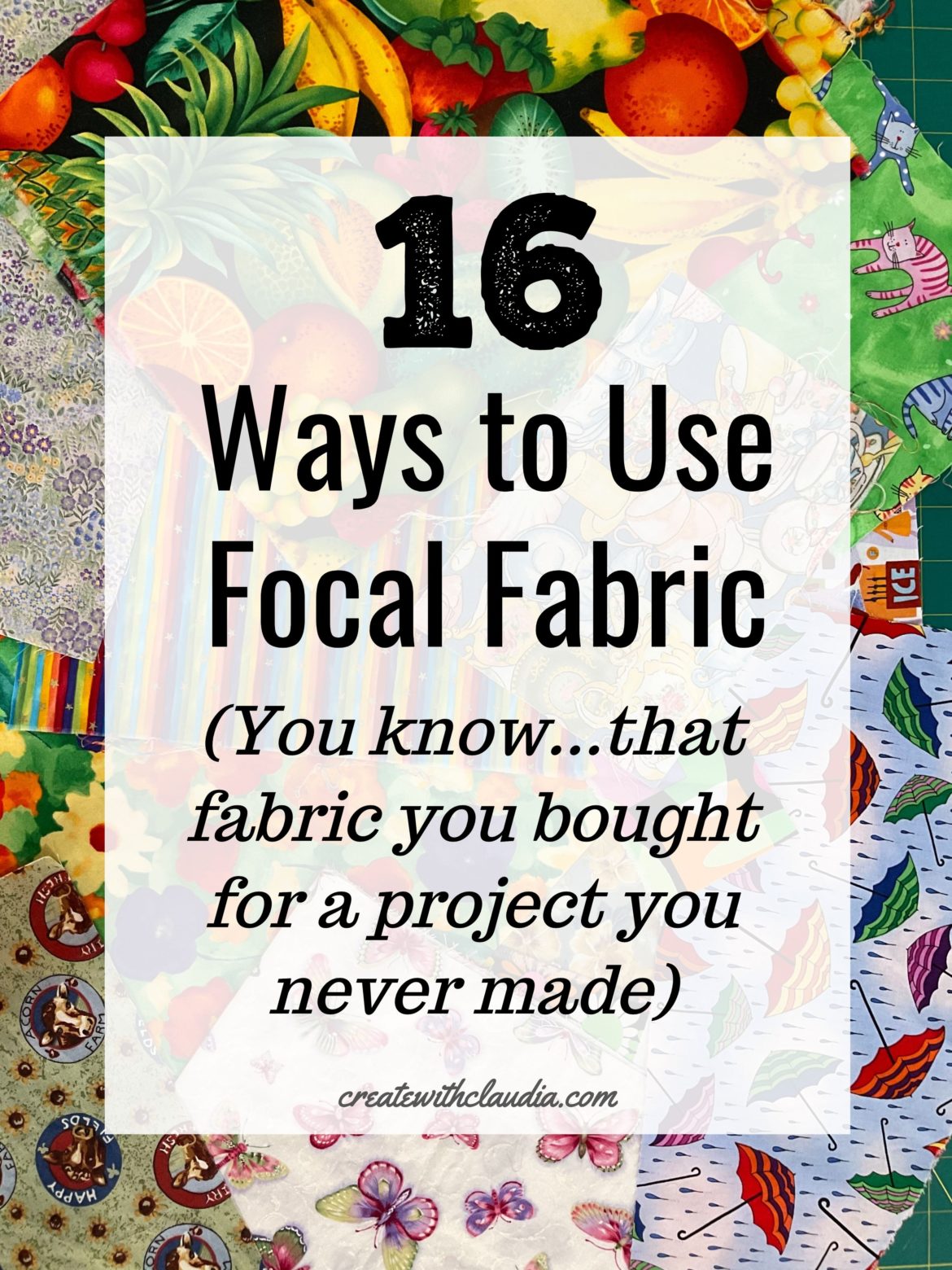 Ways to Use Focal Fabric
Picture this…you are in a quilt store and you see the perfect fabric. You say to yourself that you are going to make a gorgeous quilt with it. It's the focal fabric you have been looking for. You buy some yardage and then buy a bunch of coordinating fabrics to go with it. Once at home, all of that fabric goodness goes on your shelf, only to be forgotten, or put at the end of a long line of other unmade projects. Some time later you look at the fabric and think, what am I going to do with that now? Well here are 16 ways to use focal fabric.
What is Focal Fabric?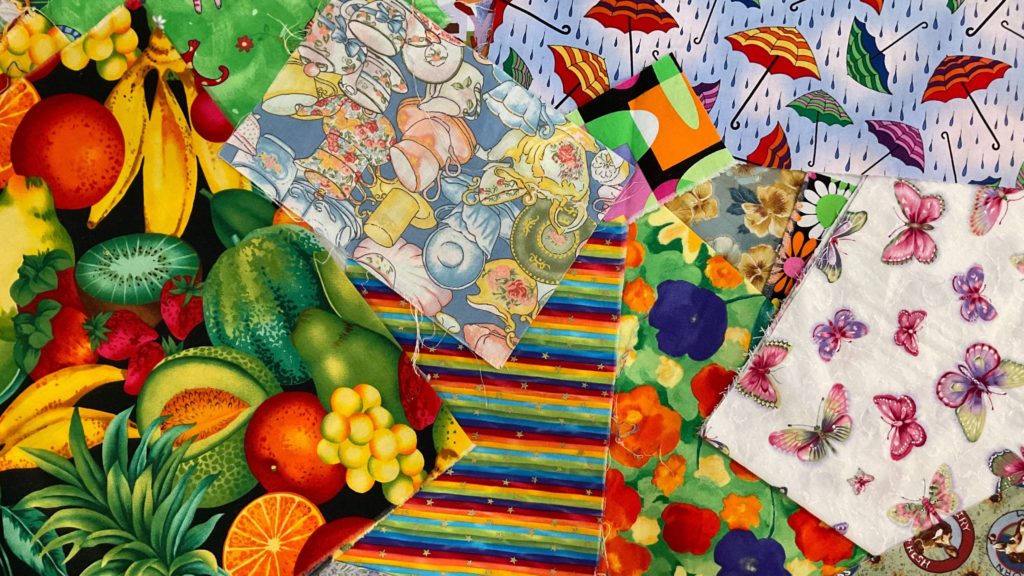 While focal fabric can be any fabric you want it to be, it usually (not always) has a larger print and has a number of different colors in it. It is the fabric that you want to design your quilt around and show off. Most of the time you buy coordinating fabrics that go well with it.
Video List
I also made a video of these 16 tips. Hopefully you find it helpful.
16 Ways to Use Focal Fabric
1 – Keep It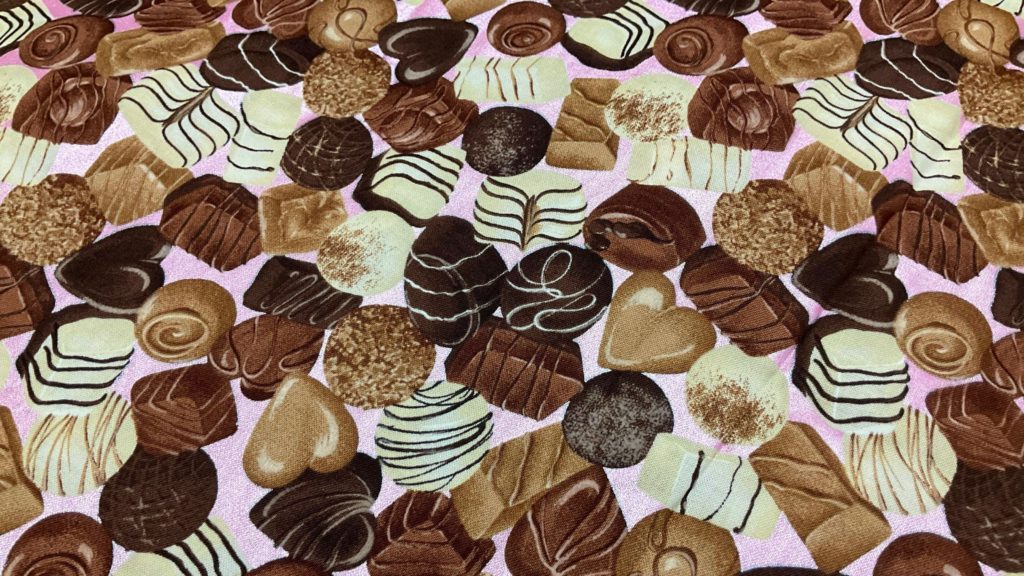 I know, I know, it's a no-brainer. But honestly, you don't have to get rid of it or use it. I've had this chocolates fabric for longer than I can remember and I just can't bear to part with it.
2 – Make Pillowcases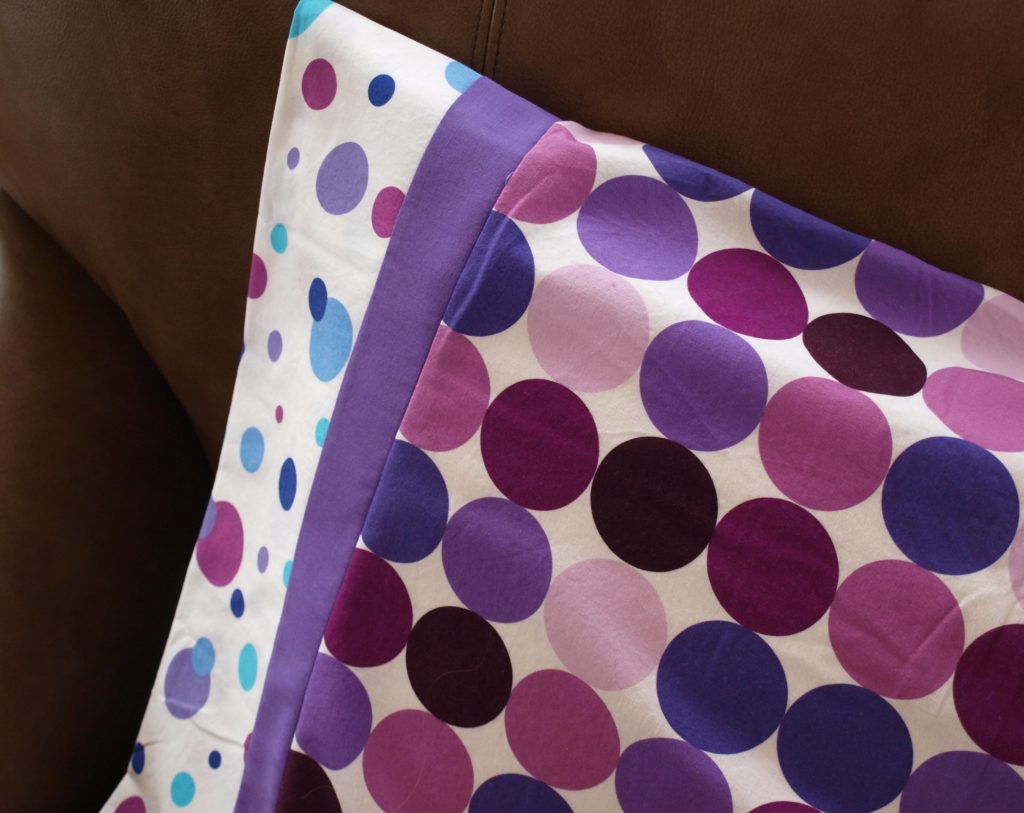 I originally bought this purple polka dot fabric with grand plans to make a large quilt. It never got made, but I did make this fun pillowcase.
Kids especially love brightly colored pillowcases, and focal fabrics make them that much more fun to look at.
Many children's hospitals accept pillowcases for sick children. Using all sorts of focal fabrics, I made a number of them a few years ago and donated them to a local hospital. In fact American Patchwork & Quilting has a pillowcase challenge.
3 – Make a Scrap Quilt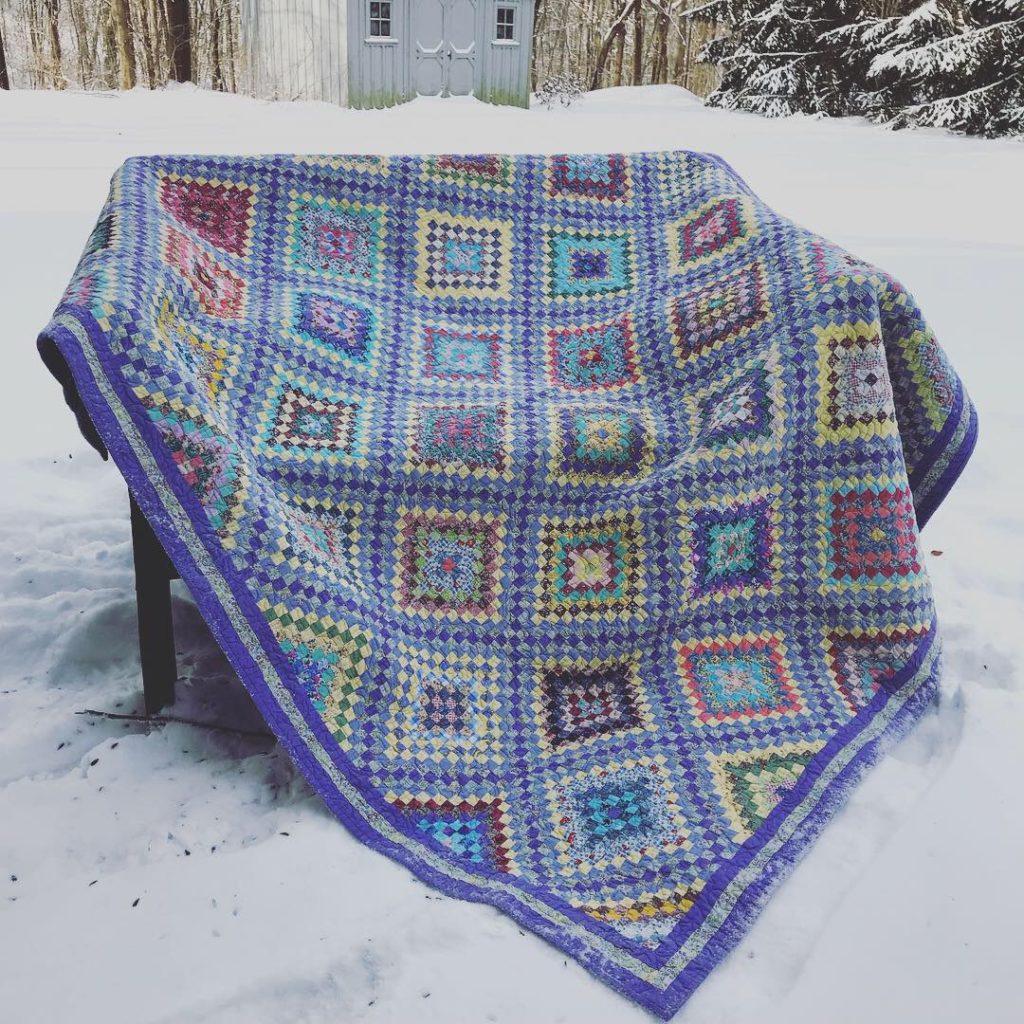 Scrap quilts are a terrific way to use up focal fabrics. The squares in this quilt are about the size of a dime so you don't see the fabric pattern at all. I was able to use up a lot of unwanted focal fabric in this piece. Instead of the pattern, I focused on the fabric's dominant color when I placed it in the quilt.
4 – Donate or Give it Away
Maybe you are downsizing, or maybe you just really don't want to see that fabric on your shelf anymore. Whatever the reason, there are places that will take fabric donations. I have found some nice fabric at thrift stores that had been donated to them.
When I was making masks for a local retirement facility, some of the fabric I used had been donated to them so they could make more masks.
5 – Make a Stuffed Animal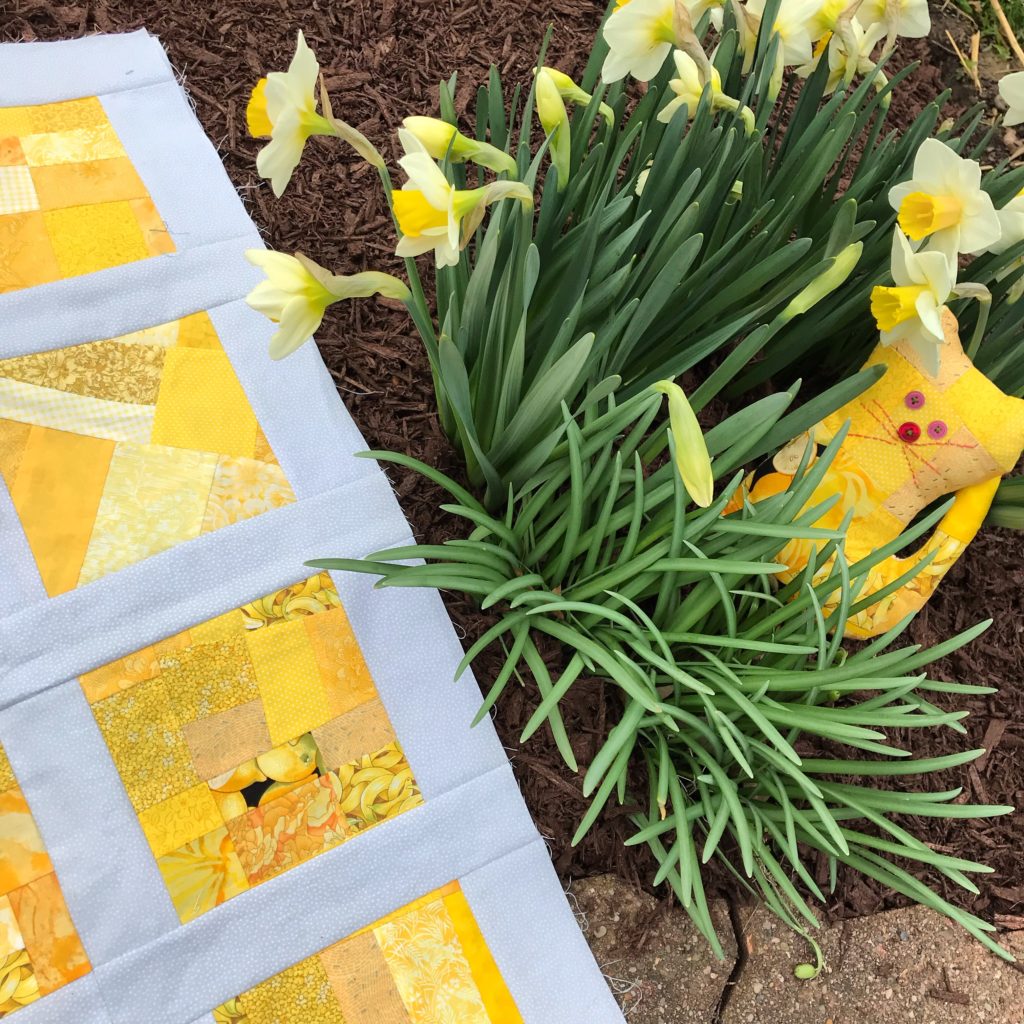 Usually focal fabrics have really pretty or fun designs on them A stuffed animal is a fun way to use up that fabric. Make one (or lots of them) and put a smile on someone's face. Can you spot the kitty hiding in the flowers?
6 – Use Focal Fabrics for Your Quilt Backing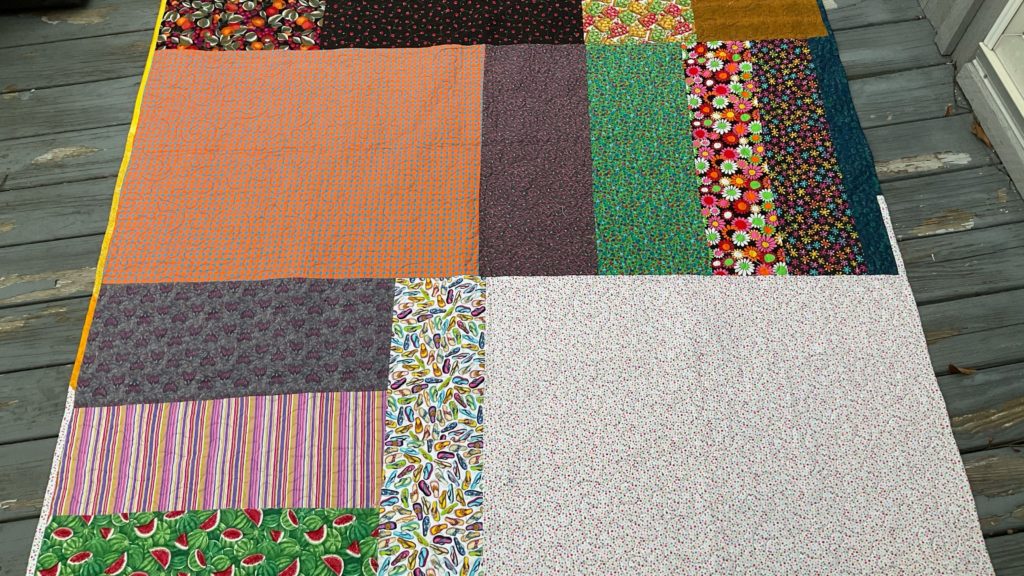 This is one of my favorite ways to use up focal fabric I don't want anymore. It's perfect for the backs of your quilts. Often, you have a larger cut of it, and you can piece a bunch together. You save money and make room for new fabric. What could be better?
7 – Make Quilts to Donate
There are many organizations that would love to get quilts donated to them. Some places, like the Quilts of Valor Foundation, give them to worthy recipients, while others auction the donated quilts to make money.
8 – Kids Clothes
Just think how cute some of those focal fabrics you have sitting on your shelves gathering dust would look cute turned into an outfit for a child. I know I have a few pieces that could easily be made into a little jumper.
9 – Cloth Napkins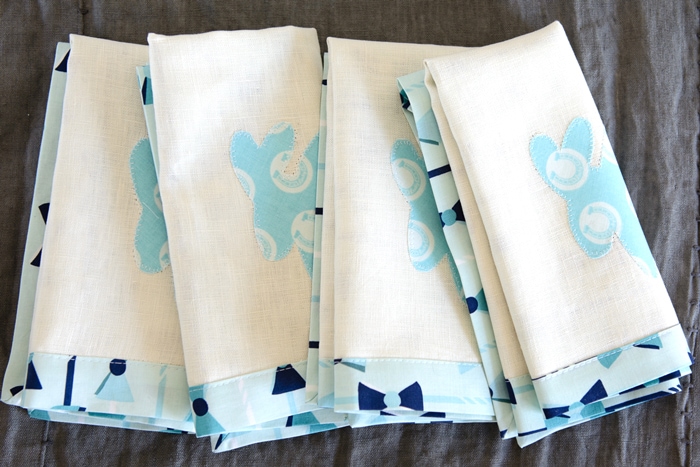 Jazz up your table or make a set as a gift and make some cloth napkins. These fun ones from Polka Dot Chair would make any table look great. They are really easy and fast to make, and they look lovely.
10 – Table Runners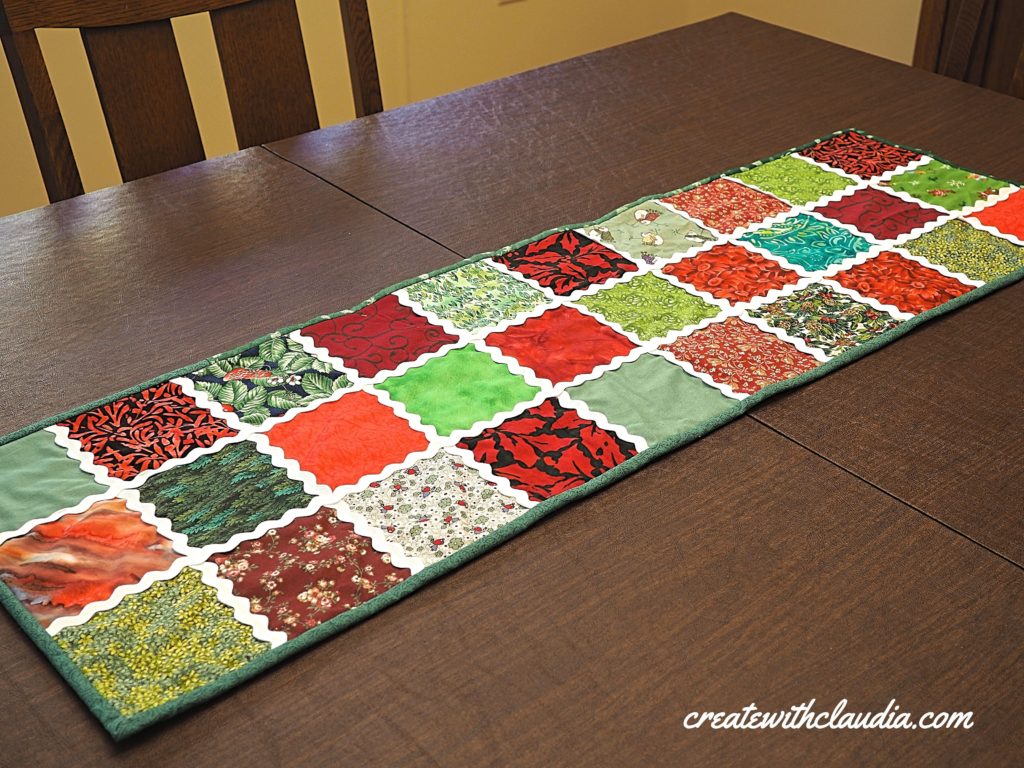 I make table runners all the time. They are fast and, depending on the pattern, easy to make. Focal fabrics look good in many of the patterns too. Just look at my Christmas rick rack design pictured above. It has quite a few focal fabrics in it.
11 – Coasters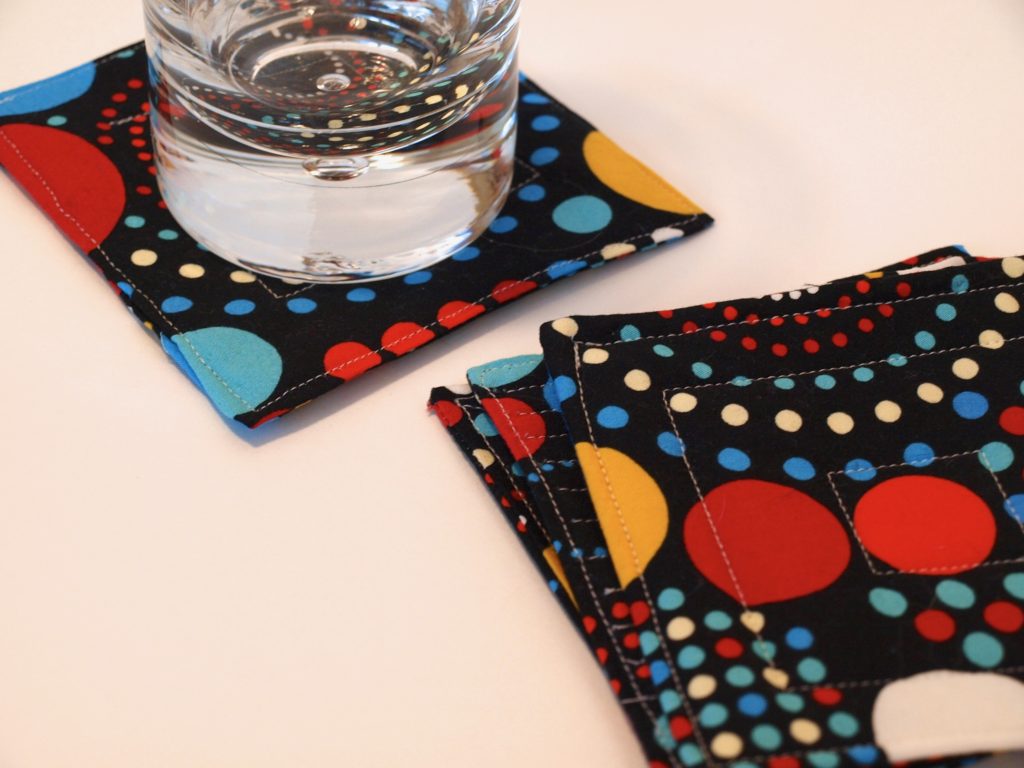 Coasters are super easy to put together, make great gifts, and show off the fabric really well. This pattern for these polka dot ones are about is simple as it gets.
12 – Things for Around the House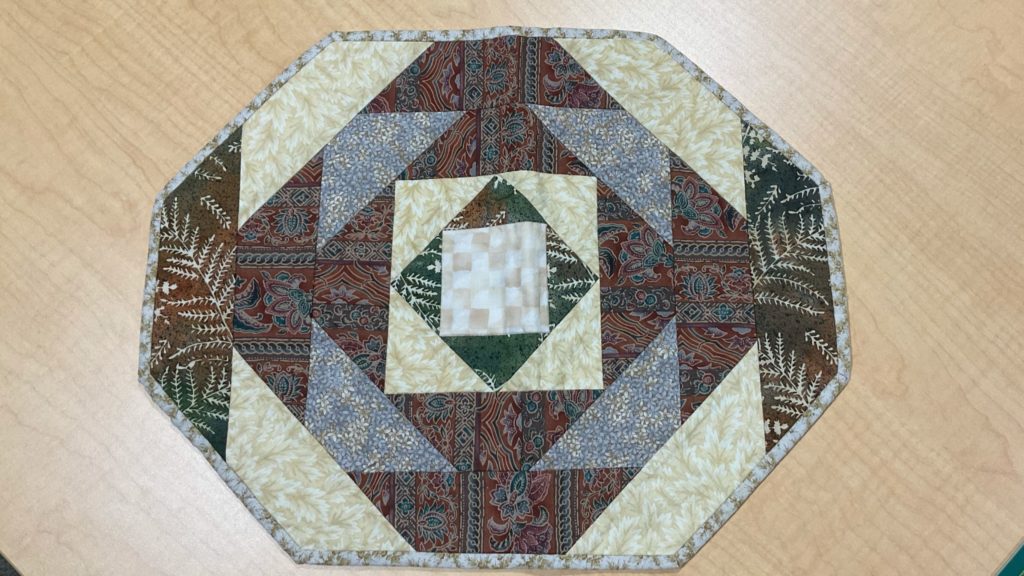 Make different things for around the house, like some placemats or bowl cozies. They are a great way to use up focal fabric, are useful and can also make great gifts.
13 – Cosmetic Bags/Purses/Totes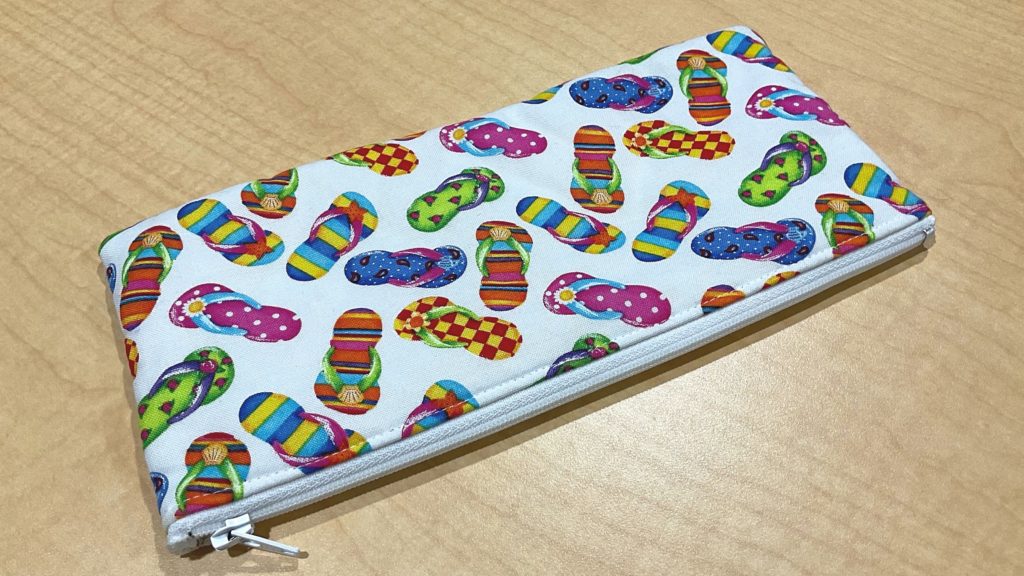 My mom bought me this little bag at a craft fair. The flips flops are darling and a fantastic example of a focal fabric. Who knows, maybe the maker had plans for a fun tropical quilt when he/she bought the fabric originally. Whatever the reason, it's my cosmetic bag now.
You can find bag patterns of all shapes and sizes on the internet.
14 – Fussy Cutting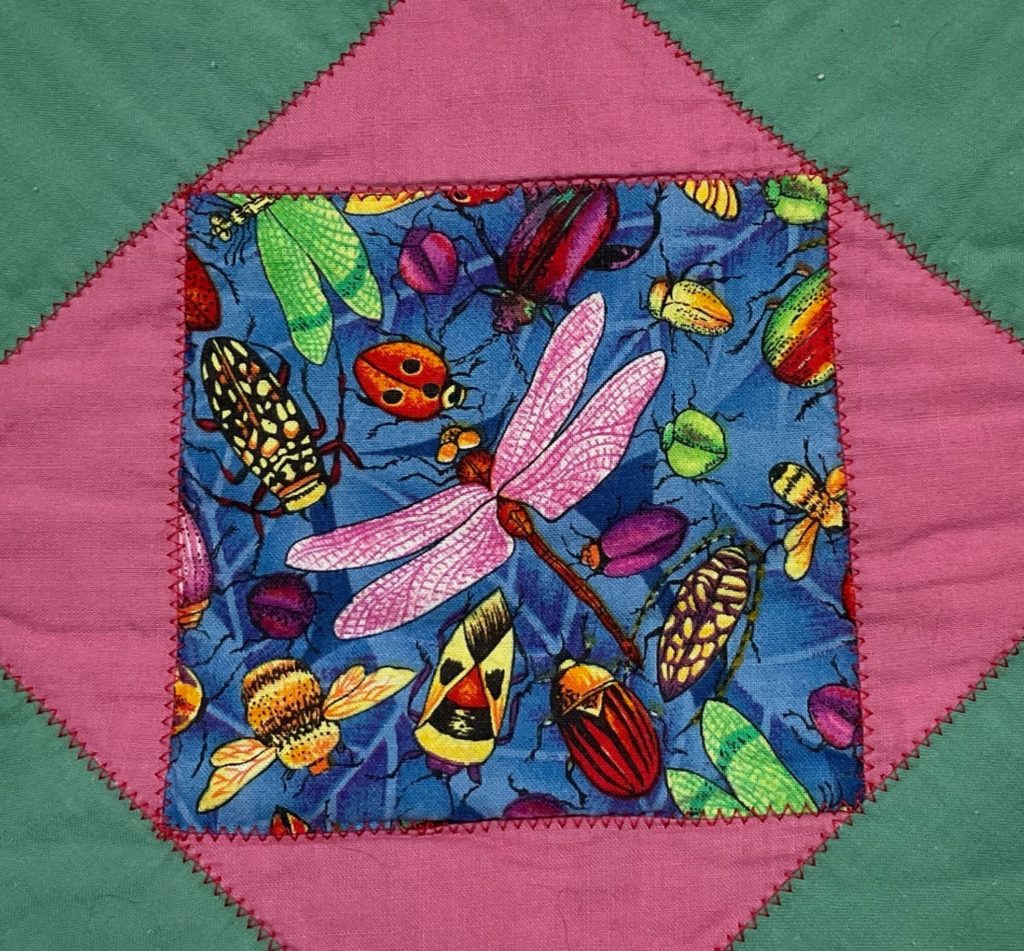 If you have given up on ever making an entire quilt with the focal fabric, why not try making a quilt that incorporates fussy cutting? You can cut out all of those fun images and highlight them in an "I Spy" quilt.
15 – Test Blocks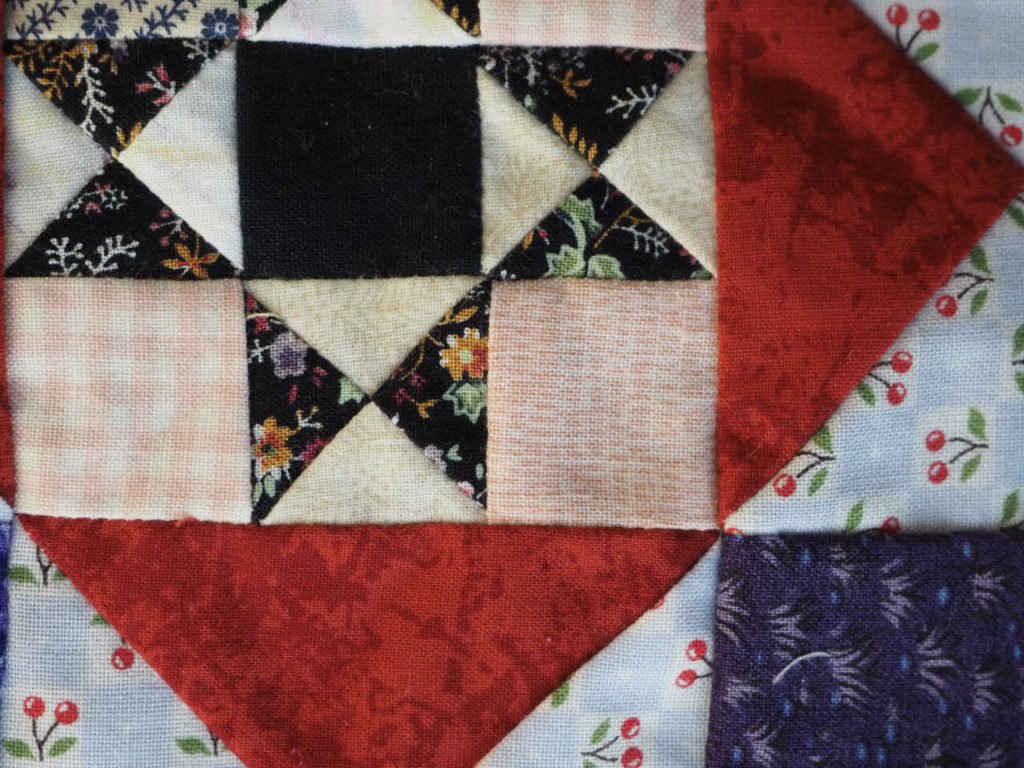 I don't know about you, but I often make a test block when I am starting a new quilt. It's a good way for me to practice and make sure everything is correct before I cut into the fabric I'm using in my quilt.
If you make test blocks, then use your unwanted focal fabric to make them.
16 – Sell It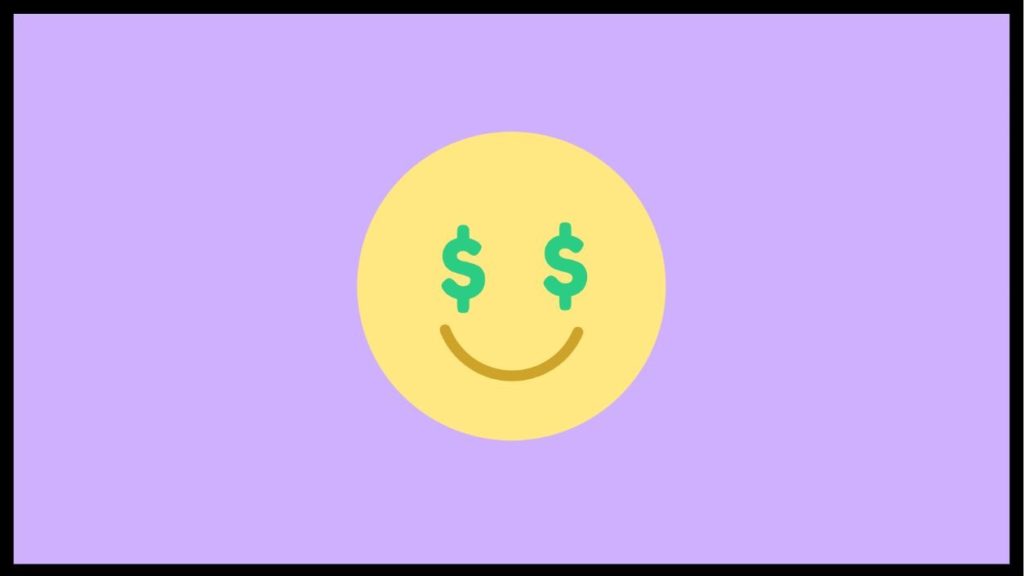 No matter what the reason is for getting rid of your focal fabric, try selling it. If you do manage to sell it, you make a little cash and achieve your goal of doing something with that fabric you don't know what to do with.
Those are My 16 Ways to Use Focal Fabric
I'll be honest here, I don't like getting rid of fabric, but for the last few years I have been really trying to use up my older stash. I found that I had so many focal fabrics that I knew I was never going to use. These are some ways of de-stashing that unwanted fabric that worked for me.
Do you have any other ideas for the fabric? If so, I'd love to hear them.
Happy Quilting!