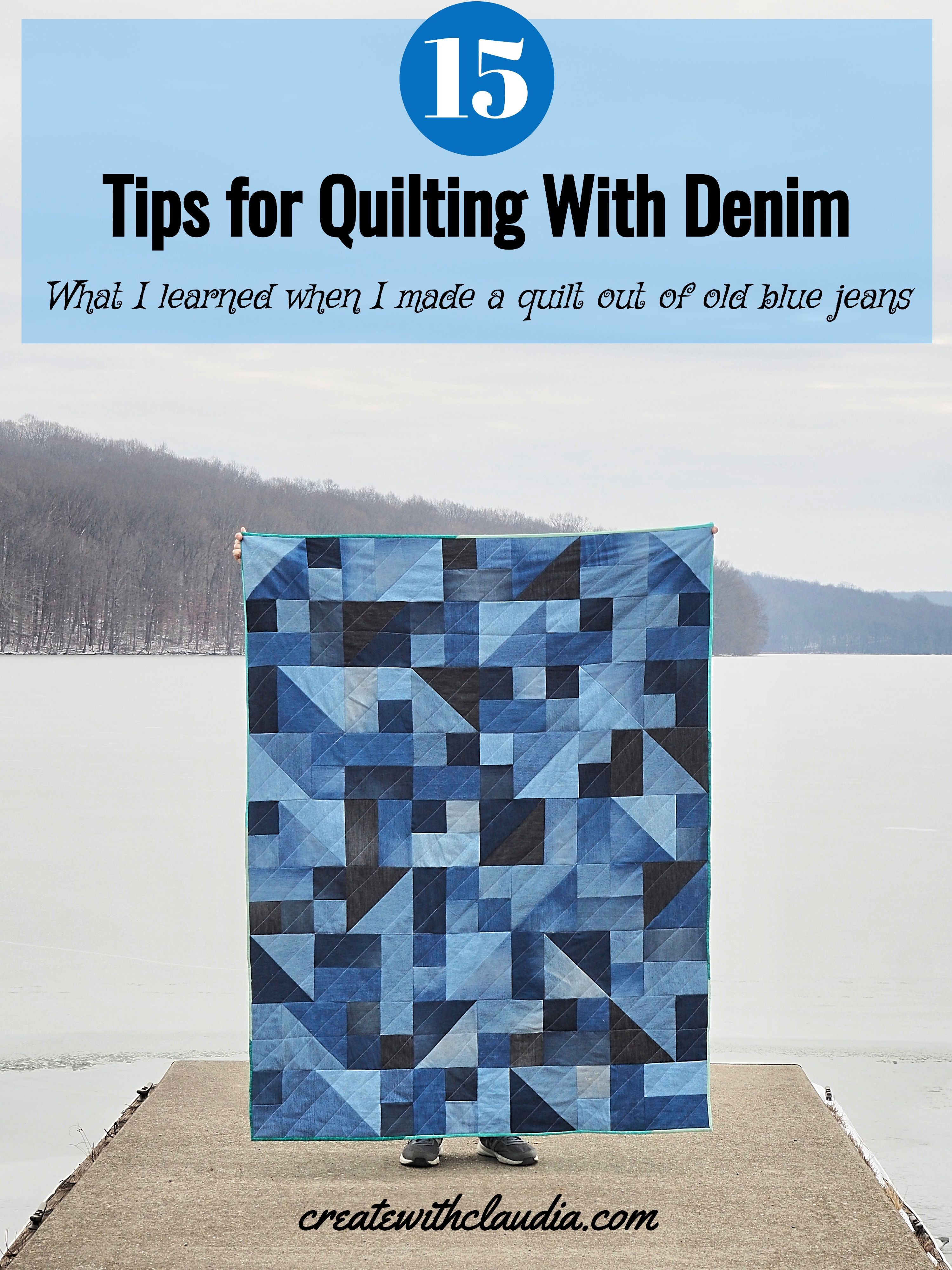 Tips for Quilting With Denim Jeans
15 Things I Learned From Making a Quilt Out Of Old Blue Jeans
Making a quilt with denim is not quite the same as with other fabrics, and there are a number of things to keep in mind. These tips for quilting with denim jeans can help you out.
I practically live in blue jeans and I'm pretty sure almost everyone does. Of course, once they have worn out, or don't fit anymore, they basically just take up space.
As a result, you have to decide to either donate them, throw them away, or repurpose them. If they cannot be donated, then why not try making a quilt.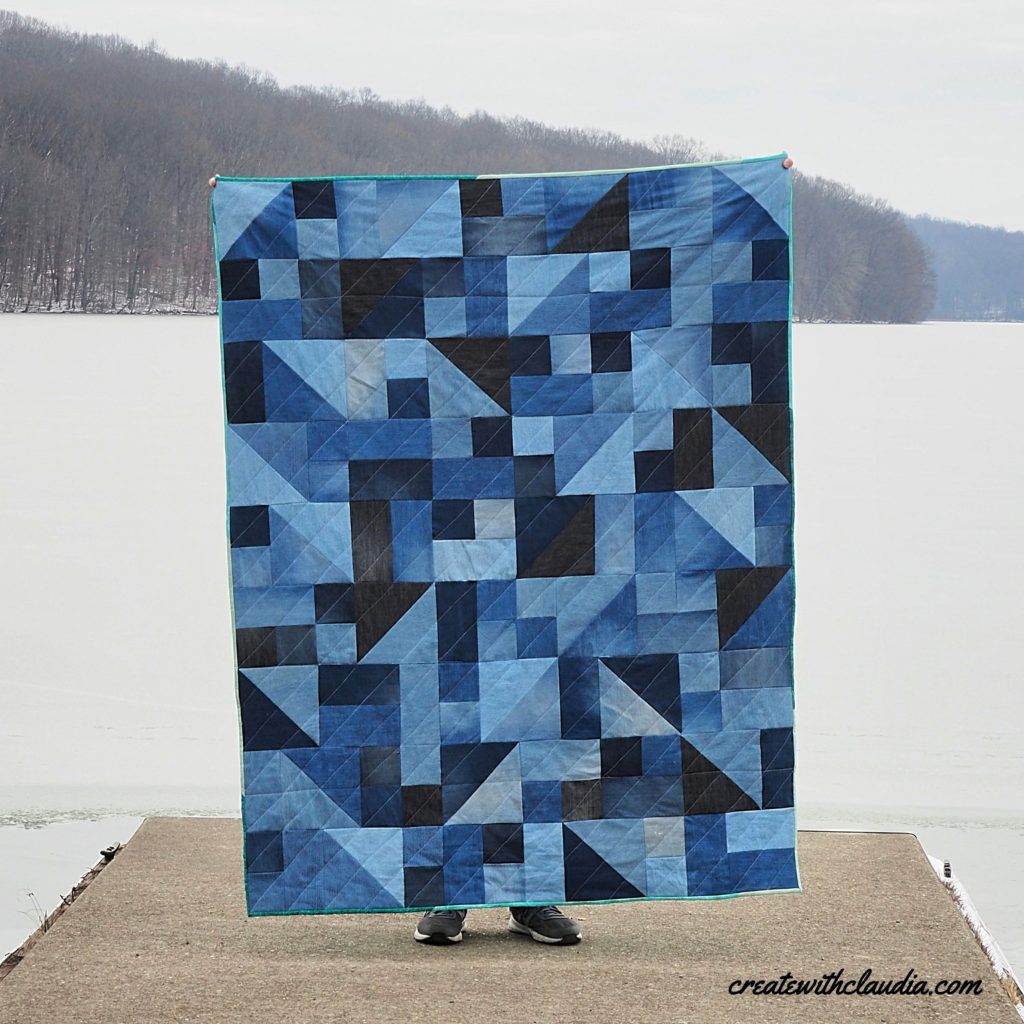 My First Full Size Denim Quilt
Over the years I have made a number of items with recycled jeans, but I've never attempted a full size quilt and I learned quite a bit during the process.
It's not as hard as you may think, but there are some things to consider.
Watch the Video: Tips For Quilting With Denim Jeans
1. Clean Your Machine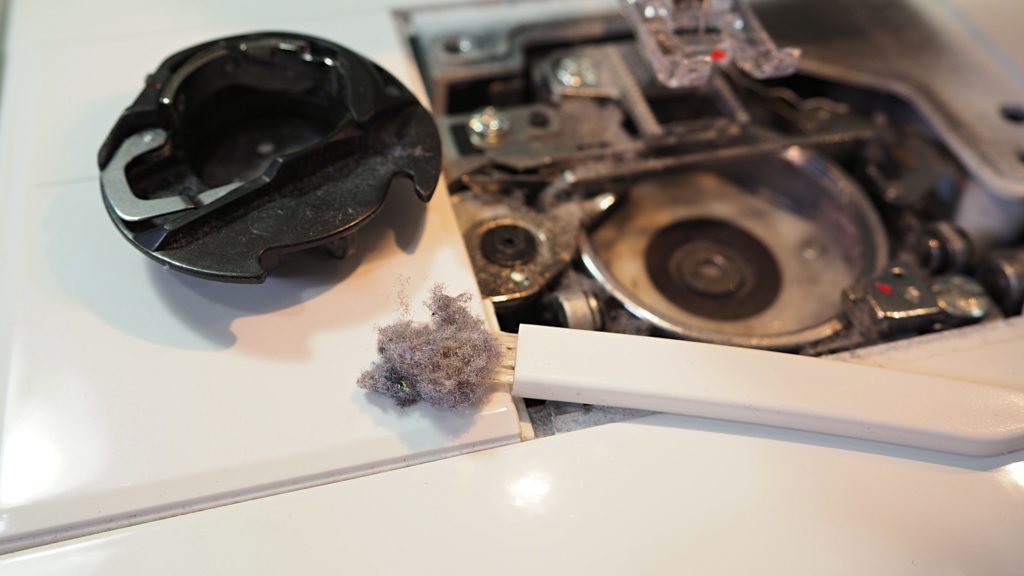 Full disclosure here, I'm the first to admit that I don't clean my machine as often as I should, but working with denim creates A LOT of fabric dust. For this quilt I ended up cleaning my machine every time I changed the bobbin.
2. Wash and Dry the Jeans
This might be a no-brainer for some, but you want to run those old jeans through the washing machine and dryer so you are starting with clean fabric. My husband tends to get oil on his clothes when he is working in the garage, and I would hate for that to get on the other fabric.
3. Use Heavier Sewing Needles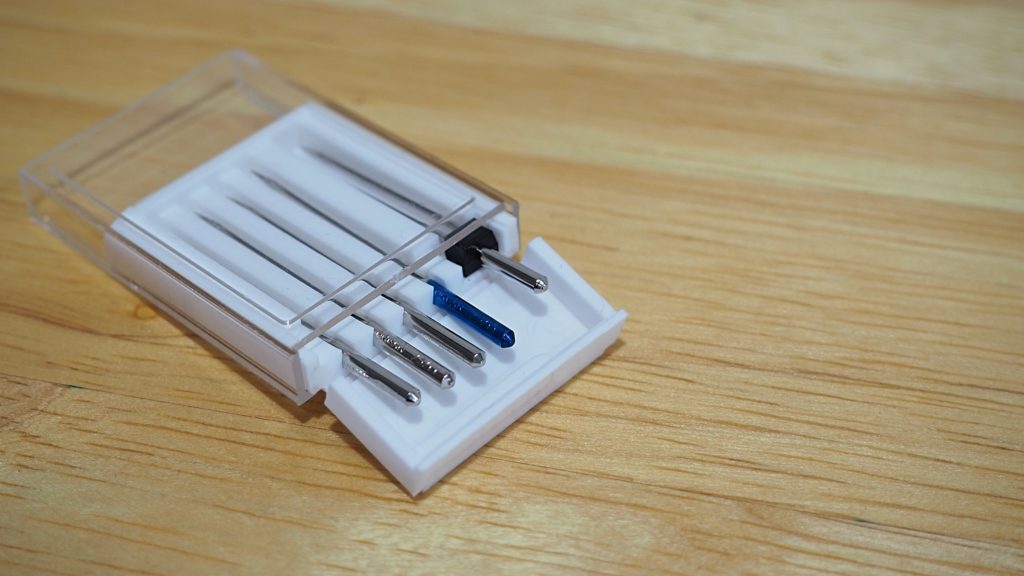 Denim is pretty heavy-duty fabric, so it's worth it to use sturdier sewing machine needles. I used a 100/16. Many manufacturers have needles labeled specifically for denim.
4. Change Needles More Often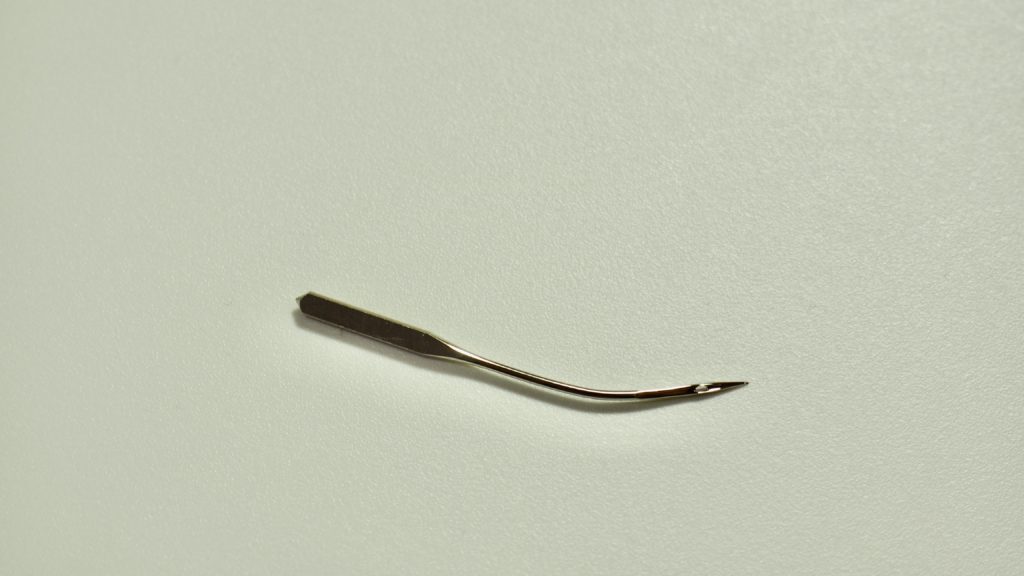 My needles seem to dull fairly quickly when I am sewing with denim. I like to change mine every so often so I don't run into problems.
5. Press Seams Open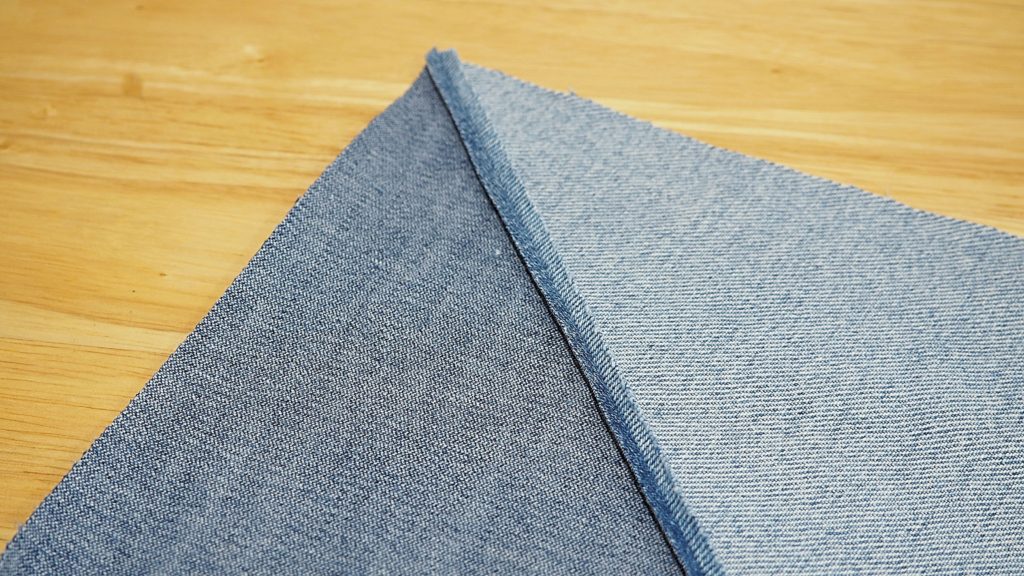 I have made smaller denim items and pressed the seams to one side. It was tough sewing through all of those layers. I also did that with part of this quilt. Mistake! I started pressing the seams open and it made a huge difference.
6. Stabilize Stretch Jeans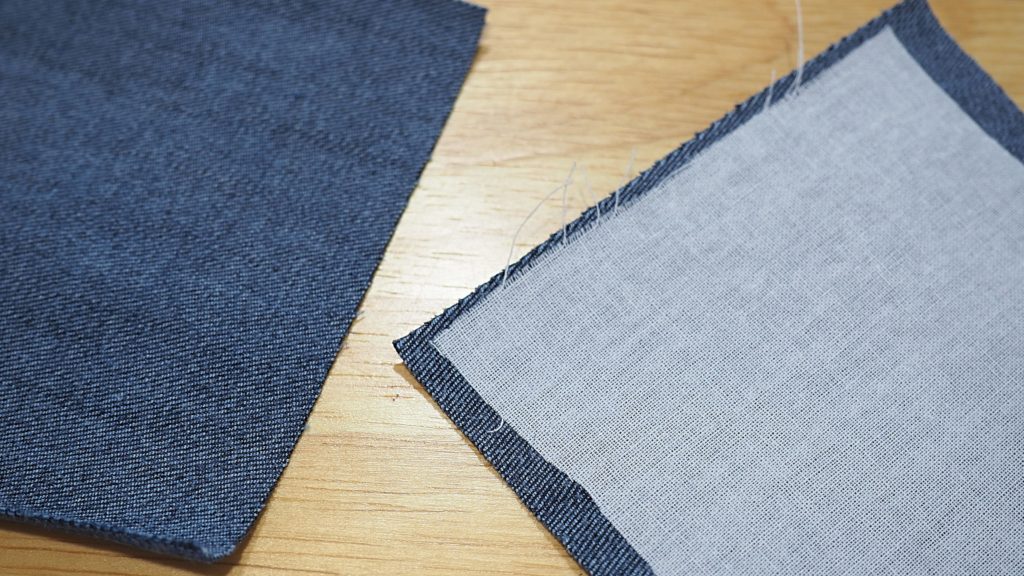 If the jeans you are using are the stretchy ones, it's probably worth it to stabilize with a lightweight stabilizer. It can help with sewing and avoiding stretching.
7. Slow Down
Because denim is so thick, if you sew too quickly you run the risk of breaking a needle.
8. Avoid Using Your Favorite Fabric Scissors
I don't know about you, but I watch my fabric scissors like a hawk and I don't use them when cutting denim. Blue jeans fabric can dull scissors, so you may want to use a pair that you aren't too worried about dulling.
9. Think About The Quilt Batting & Backing
I thought long and hard about adding a thin cotton batting. In the end, I did. I also used fleece backing. Needless to say, my quilt is warm, really warm. I don't think that the batting made it much harder to quilt through.
As far as backing goes, it's your quilt so you can use whatever you would like, but, depending on the size, denim quilts are pretty heavy and dense. In addition, denim is not the softest fabric, so if you are planning on using it as a blanket, you may not want to use denim on the back.
Think about backing it with quilting cotton or fleece. I used fleece and my quilt warm and toasty.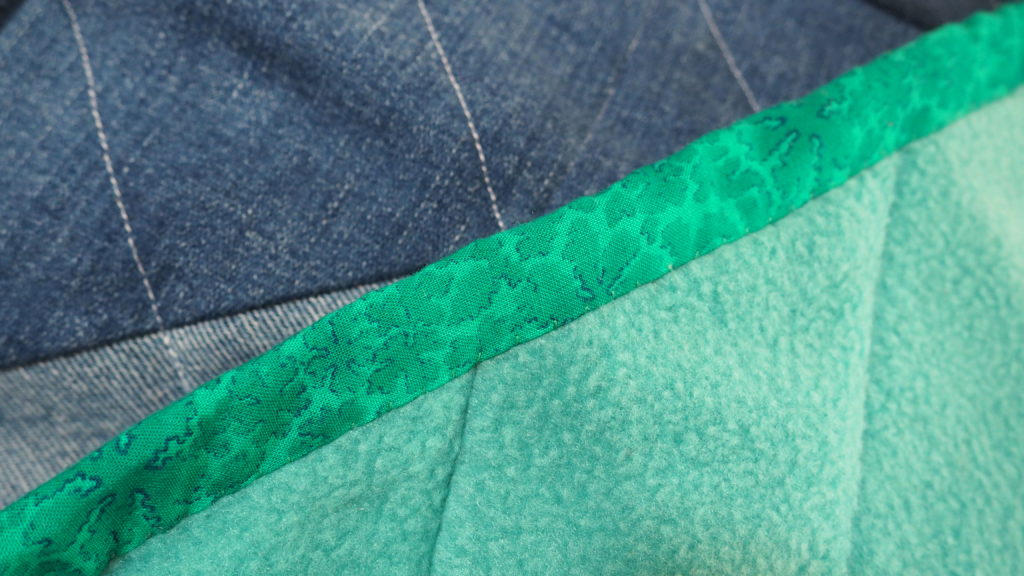 10. Think About the Binding
There are a couple of things to consider when binding a denim quilt.
First is the type of fabric. You can use denim, which would look great, but it is super thick to sew through. I can only imagine how hard a mitered corner would be with blue jean fabric. It may be better for you to bind with fabric other than the denim. I used cotton quilting fabric and it worked out well.
Second is the width of the binding. When I bind a standard quilt, my binding is 2 & 1/2 inches wide. Because of the thickness of denim, I bumped the width up to 3″ for my quilt. Before you decide what width you want to use, test out a few different ones. I liked the wider width for the denim quilt because it was easier for me to sew down.
11. Hand Quilting versus Machine Quilting
I love hand quilting, but not with denim. If you can do it, that's awesome. I think it would look great, especially if you used big stitches and incorporated it into the design. I know from experience that it is tough to hand quilt through blue jean fabric.
However, give it a try and see what you think. You may not have any problems with it at all.
12. Longer Stitches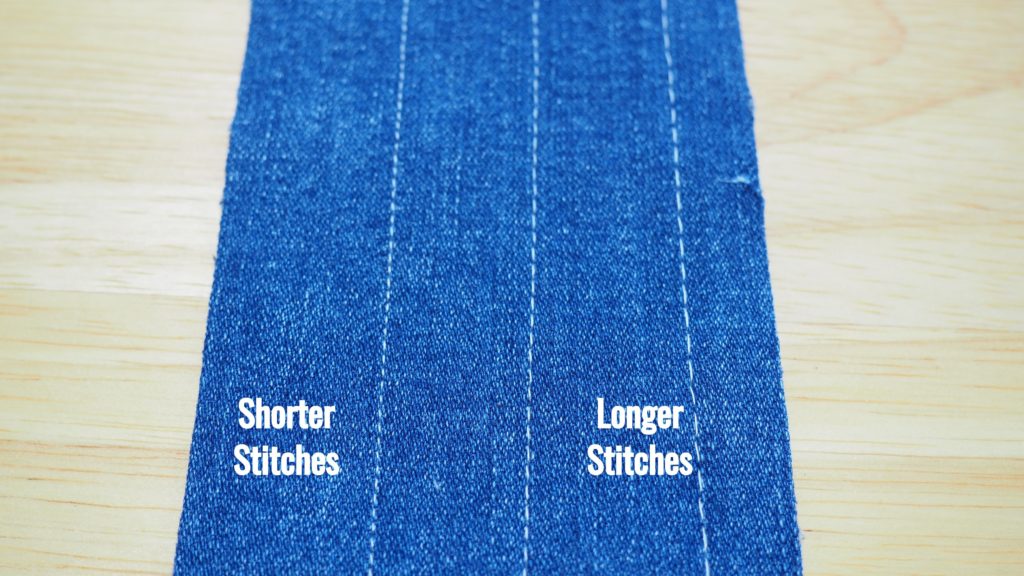 Because of the fabrics' thickness, you may want to increase your stitch length. That can help the needle go through more smoothly and avoid any skipping or other problems with your machine.
13. Think About Thread
Consider the thread you are using. I find a stronger thread works well, especially for heavier denim. I used a 30wt cotton for my quilt. Finer thread may break or get tangled.
14. Consider Grain
Denim, especially jeans, has a pretty obvious grain and it is something to think about. That being said, I am notoriously bad about paying attention to grain and I did not have many problems. It's also not always easy to get a large piece of denim out of a pair of jeans without going against the grain.
15. Weight
Denim quilts are heavy, heavier than you may think. I checked and mine weighed about 7 pounds. I like that heavier feel, but it may not be everyone's cup of tea. The bulk also makes it harder to quilt together the layers.
If You Aren't Sure About Taking Jeans Apart
I made this video demonstrating how to take apart a pair of jeans. It isn't hard, it just takes a little bit of time.
Items That May Help You Make Your Denim Quilt
As an Amazon Associate I earn from qualifying purchases.
Why Denim?
I hope these tips for quilting with denim jeans have not deterred you from giving it a try.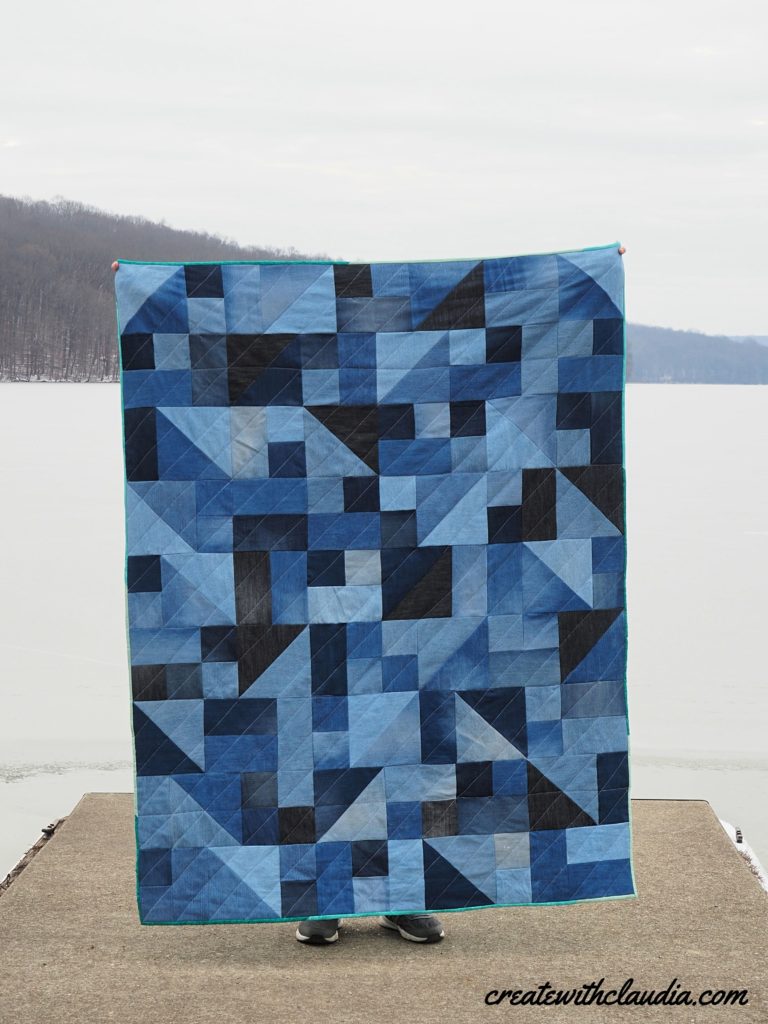 Jeans quilts look great and, because of their weight, they are nice and cozy.
Additionally, they are earth-friendly. You are keeping a few pairs of jeans out of the landfill.
Lastly, they are cost effective. Not only do you get to wear the jeans, but now you have a new use for them. And you don't have to go to the quilt store to buy new fabric.
Happy Quilting!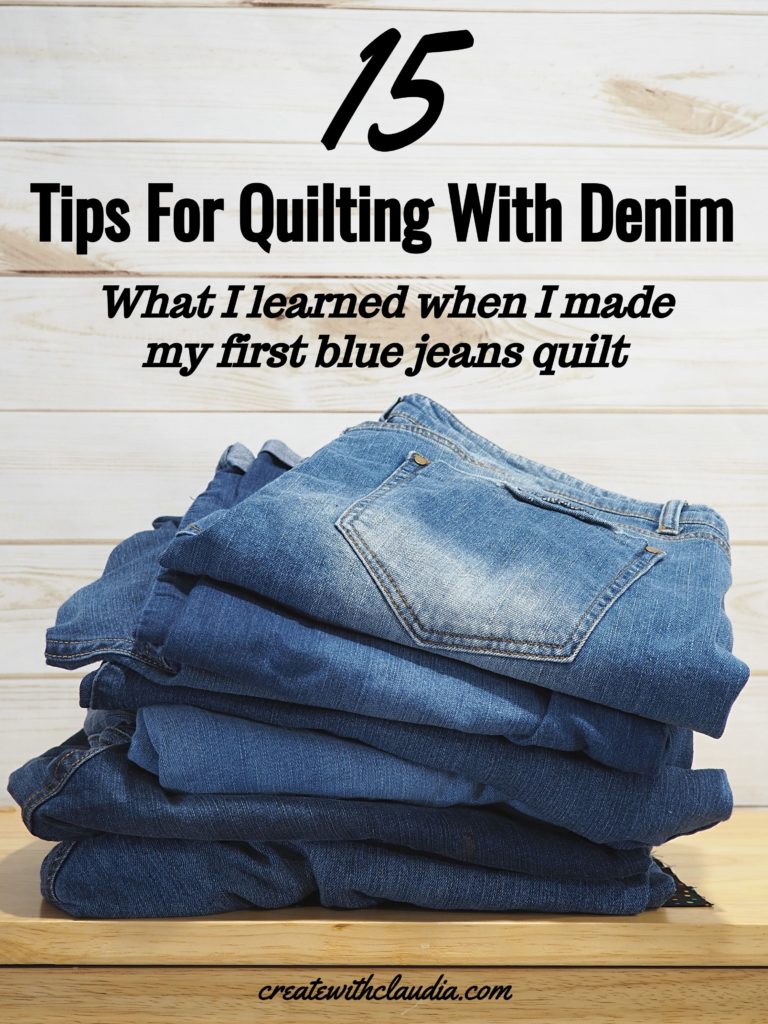 Some Of My Other Denim Projects