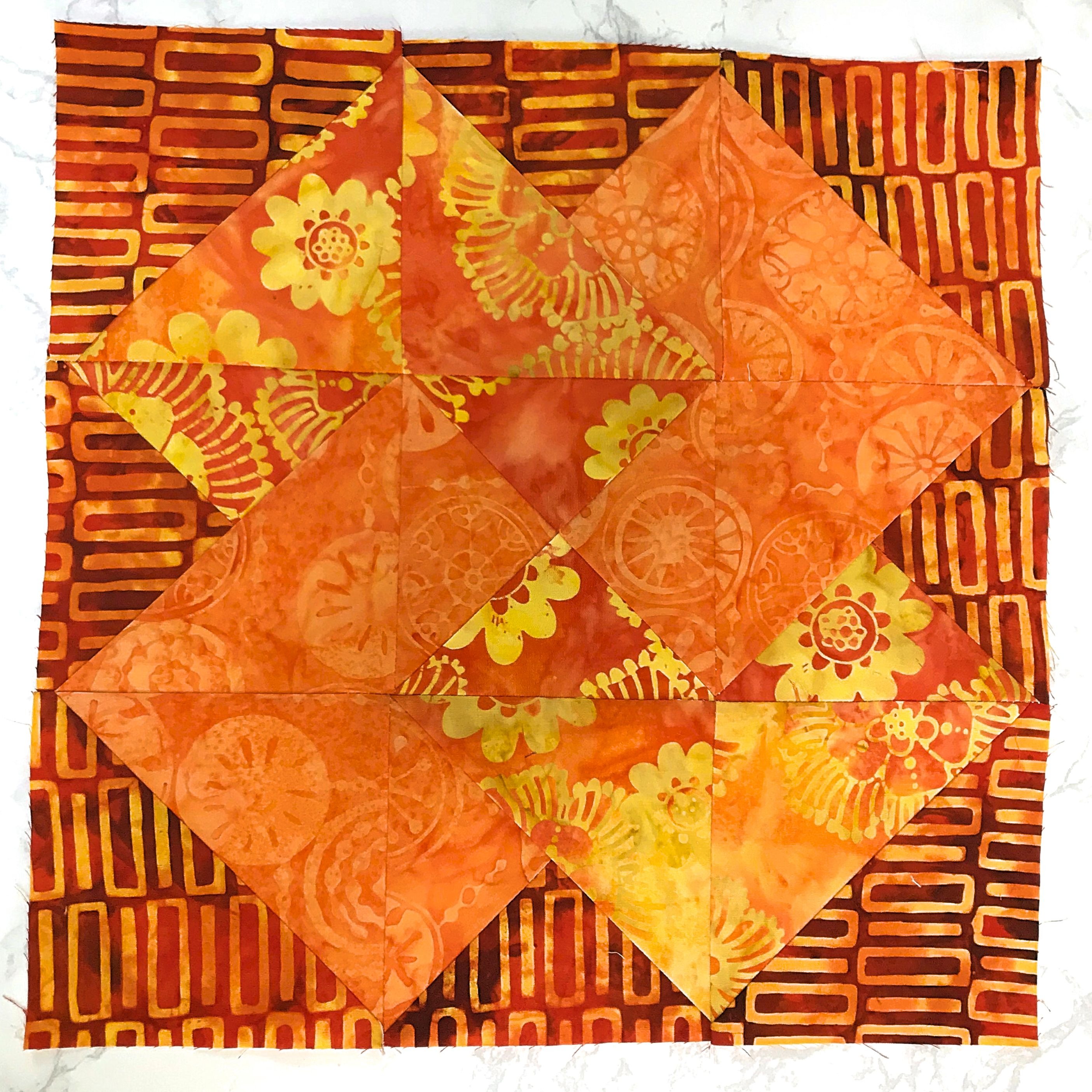 June Entry for the Patterns by Jen 2019 Monthly Color Challenge
I'm so happy to be creating again after having to take a few weeks off. My first order of business was to do my June entry for the Patterns by Jen 2019 Monthly Color Challenge. I just made the deadline, and I'm glad I was able to.
This month's color prompt was orange, a color I don't have a lot of. I had to do a fair amount of searching through my stash to see if I had enough batiks to be able to make the block. Luckily I did, and here is the result. I think that orange will start making more appearances in my work. It's so eye-catching!
I'll be the first to admit that it's a pretty busy block, but I really like the way it turned out. This month definitely challenged me because I had limited fabric choices and didn't have a chance to go fabric shopping. There is a lot going on, but the results work.
The block is a bit tricky to put together, but Jen's instructions are clear and easy to follow, so that helps. Many years ago I made a baby quilt using this block, and I'd forgotten how much fun it is. Just imagine all of the different color combinations you could use.
I'm glad I was able to finish my June entry for the Patterns by Jen 2019 monthly color challenge in time. I wasn't sure I would be able to, and since it's June, that means we are half way there! Only six more blocks to go, and I can't wait. The batiks I've been using really pop, and, just like the flower prompts in the challenge, my blocks are starting to look like a garden in full bloom.
Check out the this fun challenge for yourself over at the Patterns by Jen website.
Here are the other blocks that we've done so far. I wonder what July is going to bring? I'm looking forward to it.