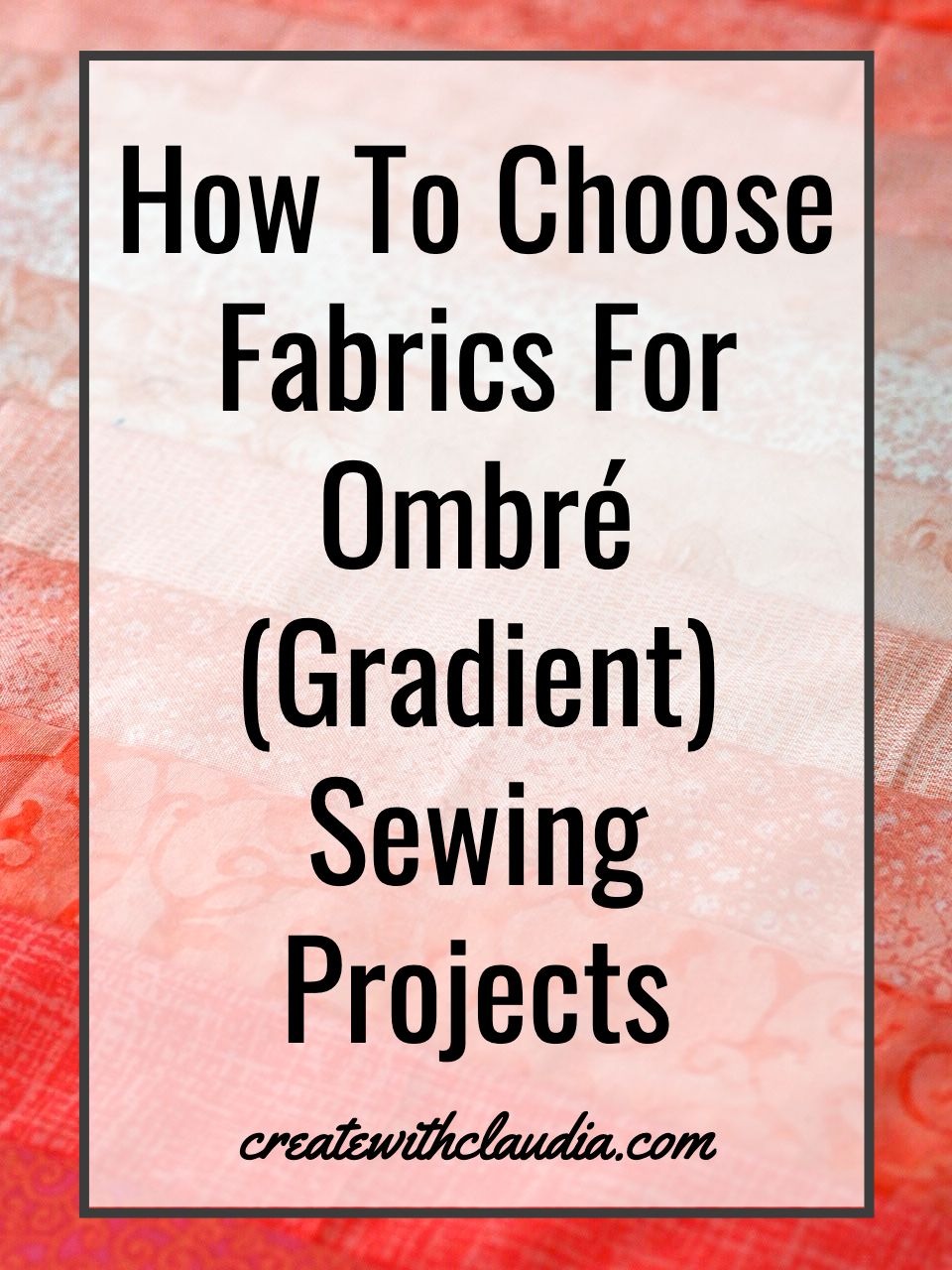 Choosing Fabrics For Ombré Projects
The ombré look is popular right now, especially in fabric arts. This play on color lends itself well to quilting and, if done well, can result in a stunning piece. So if you are interested in choosing fabrics for ombré projects, then this article will help you out.
Ombré, or gradient, is a look that is achieved by organizing colors from dark to light, or vice versa. It can be done with one dominant color, like the coral used in this article, or with multiple colors, like in a watercolor quilt.
Of course, you can easily get the look by purchasing ombré fabric bundles at quilt or craft stores. However, if you want to use fabric that you have on hand, then it takes a bit of planning.
There are a couple of reasons I like to use fabrics from my own collection. First of all, it's fun. Be honest, we quilters and sewers like looking at our fabrics. Half the time I find pieces that I had completely forgotten about. Second of all, it saves money. Fabric is not cheap so it's nice to use up what is on hand.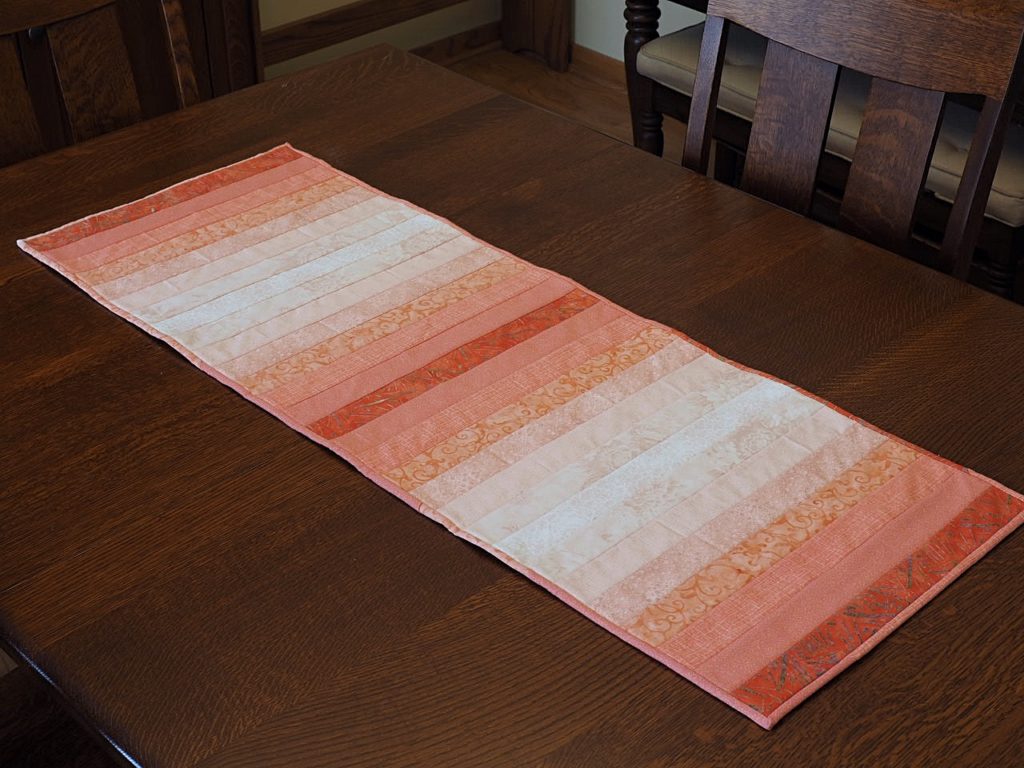 For the photos in this article, I am using my table runner pattern. However, these tips can be used when planning any ombré project.
1. Choose a Pattern
Almost any pattern lends itself to a gradient look, but the more detailed it is, the more difficult it will be to attain the effect.
If you are choosing a more advanced pattern, it may help to plan it out on paper, or in a computer program. You can fill in the blocks with general colors to get an idea of what the finished piece will look like.
This will help you to determine how many fabrics you are going to need. For my runner I needed eight different fabrics.
2. Choose a Color or Colors
Many ombré patterns are in one color, like various shades of purple, but that doesn't mean you cannot use more than one color. It is all about the shading when planning out your look.
As a general rule, the smaller the project is, the better it is to stick with one color and use shades within that color. Larger gradient quilts tend to be better suited to using various colors and shades. Of course, rules are made to be broken, and I've seen some stunning ombré work using all kinds of combinations.
3. Start Choosing Fabrics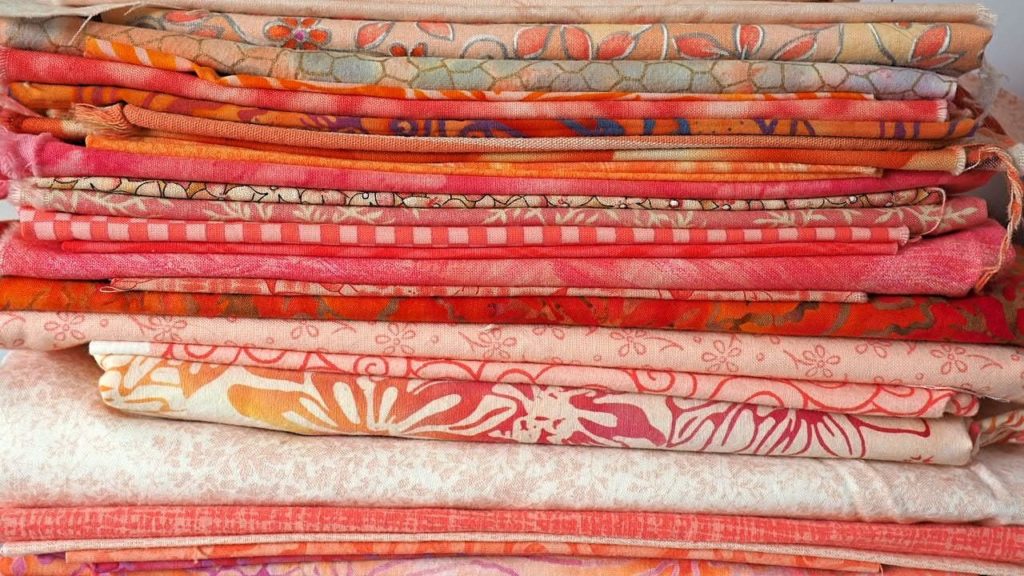 Now comes the fun part, at least for me.
If you are using one color, pull every fabric you have in that color and stack them all together.
If you are using more than one color, and picking many fabrics, it is easier to snip a small patch from each one and make a stack to sort through. It might help to use a design wall for larger projects.Hint: Stand on the other side of the room from where your fabrics are stored and look at them. You will see the various shades in the different colors. That will help you with your choices.
4. Narrow Down Choices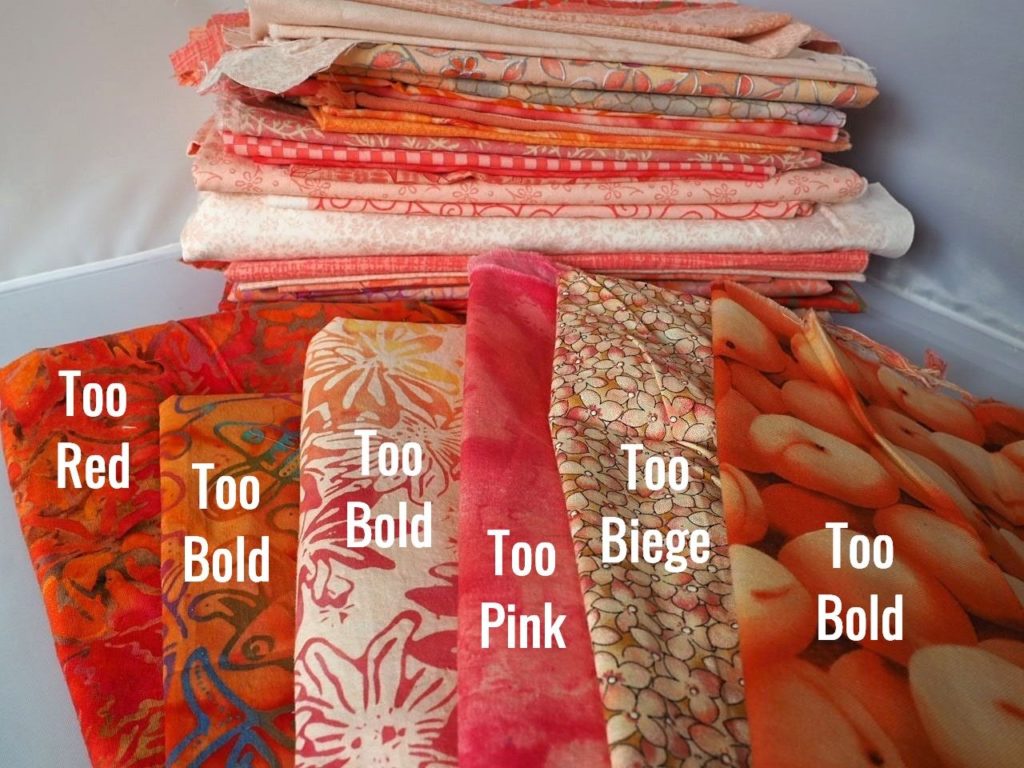 Take a look at your fabric stack and immediately some will stand out, and not in a good way. They can go back on the shelf. Bold patterns, large graphic designs, and multicolored fabrics don't usually work well in a gradient design.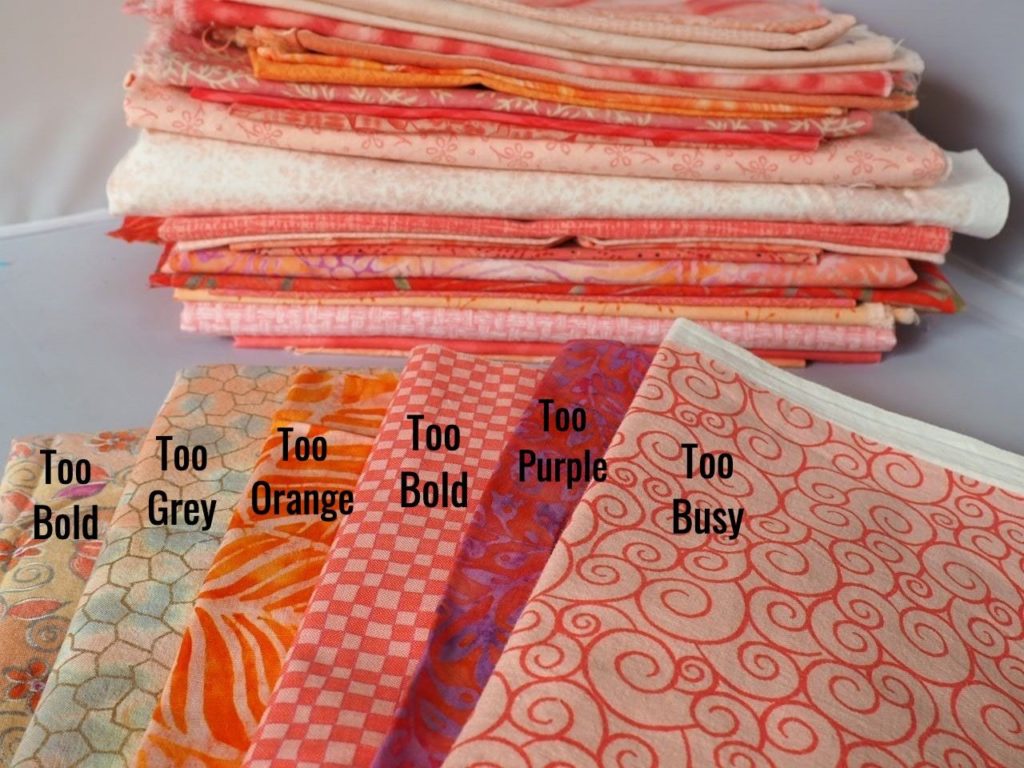 Once you have gone through the stack, go through it again and keep repeating until you have the ones you really like. If you are not sure about a particular fabric, set it aside instead of getting rid of it. You may change your mind later.
Lay out the ones you really like and then start organizing.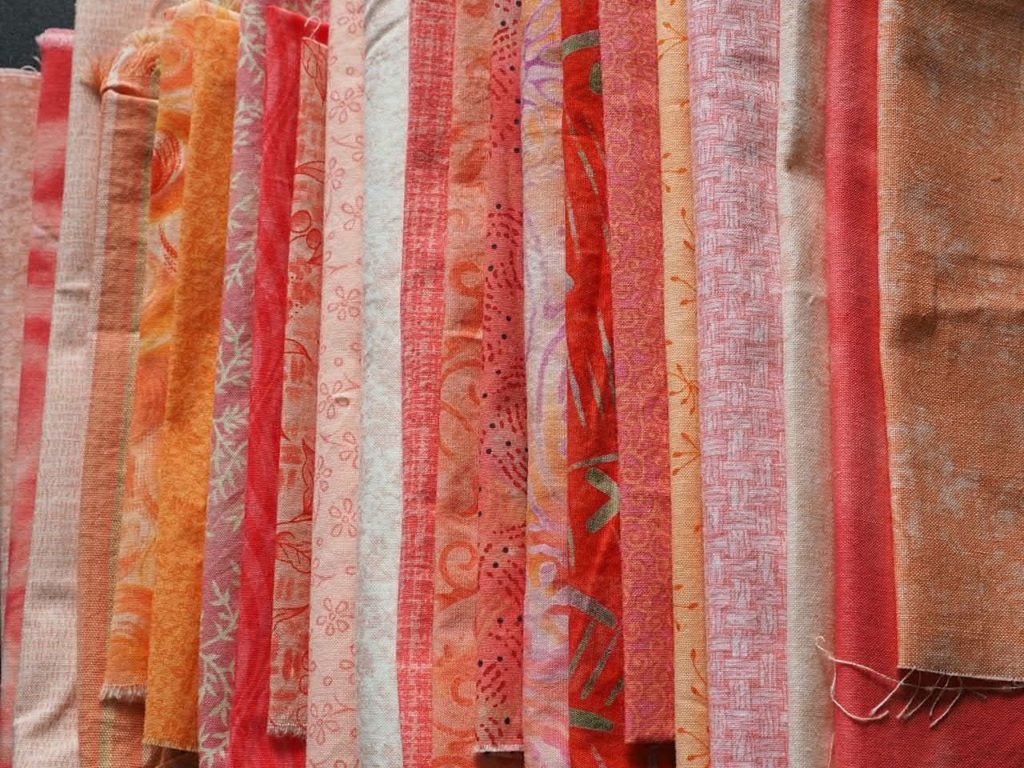 5. Organize By Shade
At this point it still doesn't matter how many fabrics you have chosen. It is now time to organize from light to dark, or vice versa. You may find that some fabrics are similar, so it may take a little playing around to get them in the right order.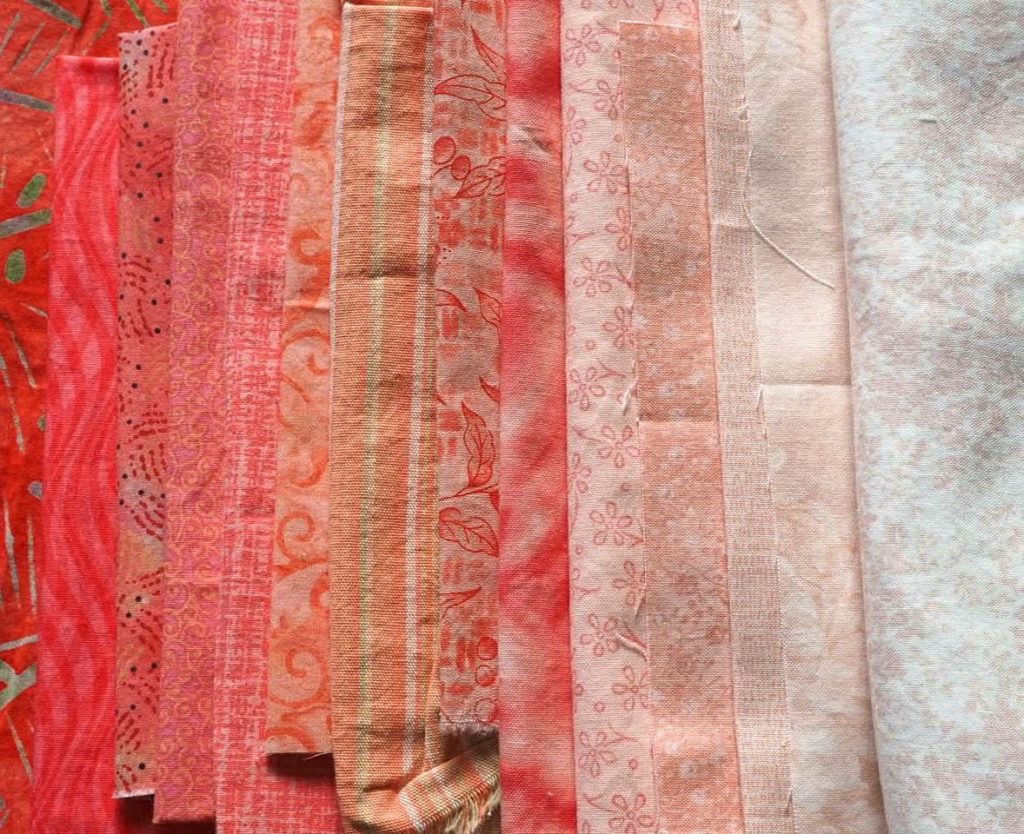 While organizing, you will probably find that you will pull out a couple more choices that you won't use.
Once you are happy with the look, and you have narrowed it down to the number of fabrics needed, leave them out and step away for a while. I know that sounds funny, but it helps, I promise.
I do a few things before I finalize my choices.
Leave them on the table overnight. They will look different in the morning.
Take the choices to various areas in the house. Colors change in various lighting.
Recruit a family member or friend to take a look. A different set of eyes helps.
Look at them from far away.
Take a picture of the choices with a cell phone. It's amazing how different something can look in a picture versus the naked eye.
Finally, and I know this is a weird one, squint when you look them. Often, this is when I change around the order of my choices. Squinting gives the fabrics a whole different look.
Tip: Make sure you have enough of a particular fabric before you decide that it will be a part of the design.
The Final Choices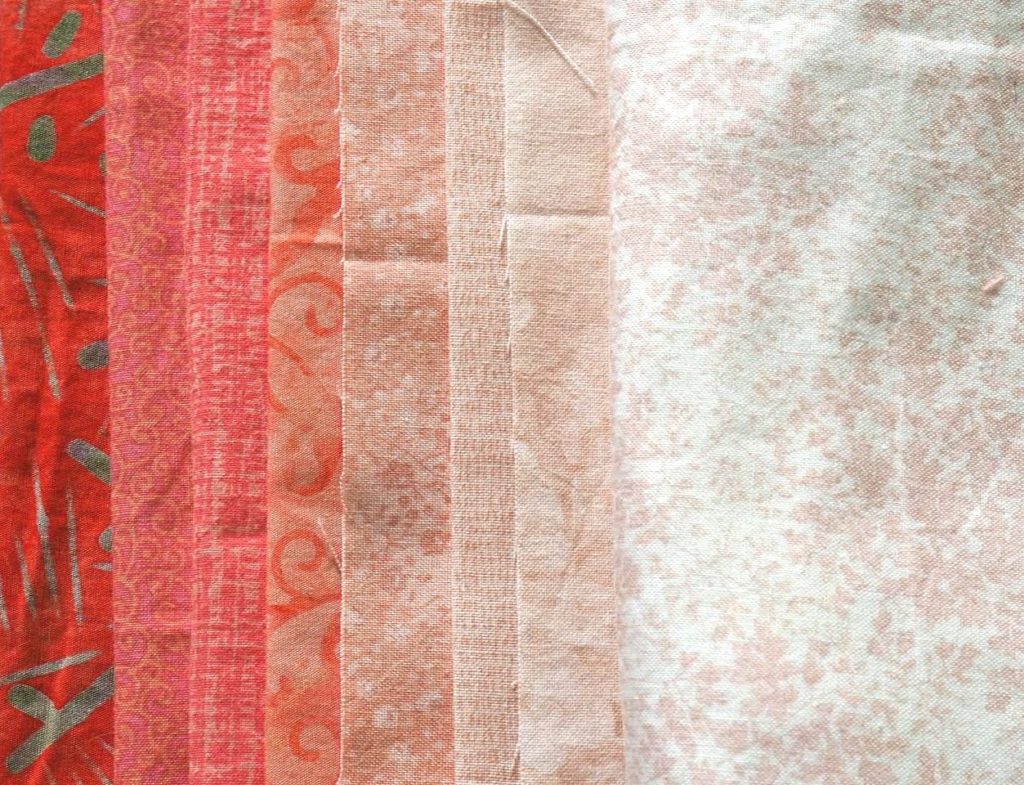 6. Start Sewing
Once you have finalized your fabric selection, it is time to start sewing. Remember to keep the colors organized in the correct order.
If You Are Interested In Exploring Fabric Color In More Detail, Here Are Some Good Books
As an Amazon Associate I earn from qualifying purchases.
Final Thoughts On Choosing Fabrics For Ombré Projects
Hopefully this article has helped you to learn how to choose fabrics for an ombré, or gradient, pattern. If you have ever seen a quilt, or another fabric object, using this type of color design, you know how striking the look can be. Many look as if they are glowing.
If you have never tried making something with this type of design, start with something easy, like my table runner pattern I used as the example. It comes together in no time, and the design packs a punch.