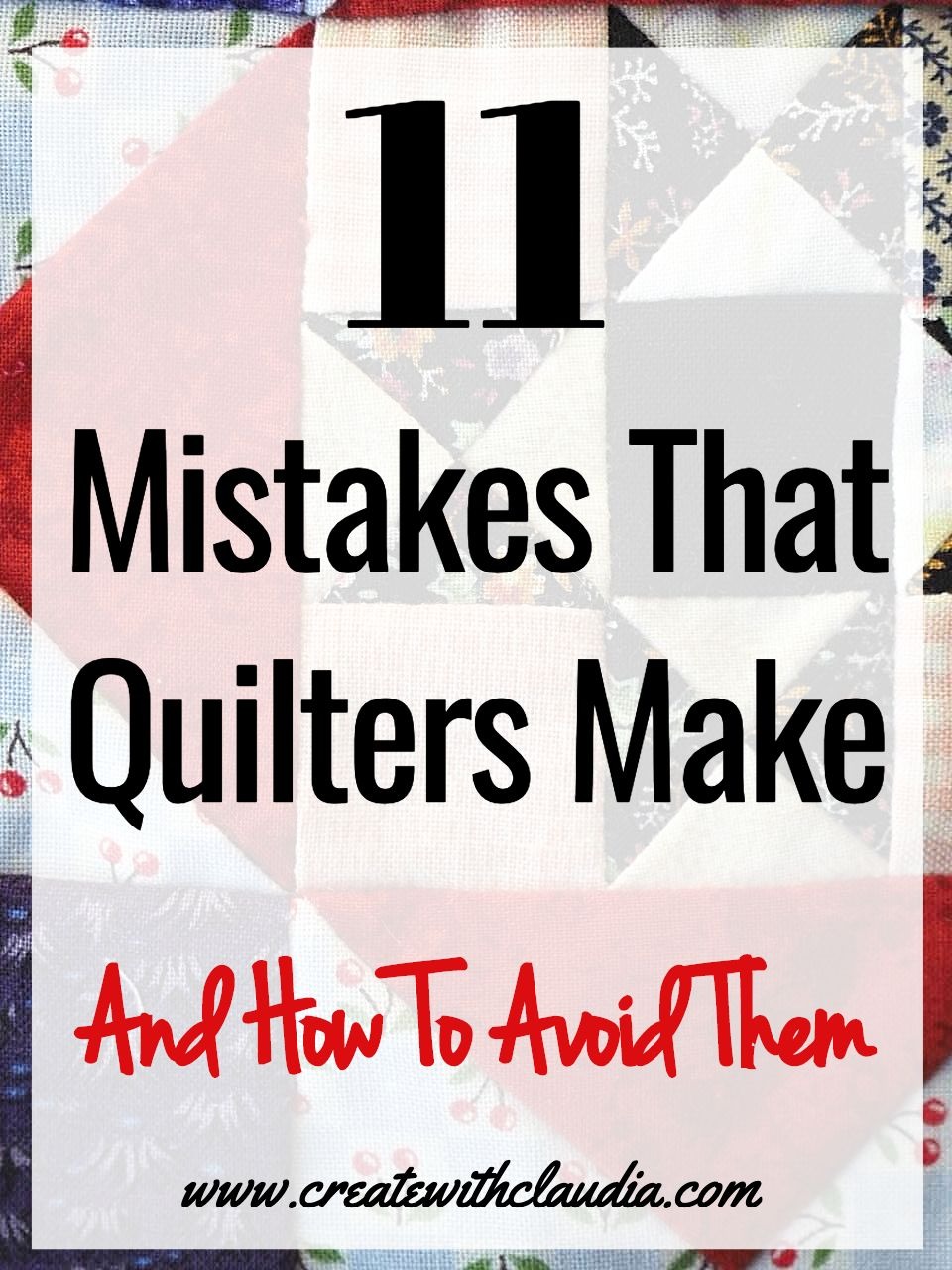 Common Mistakes Quilters Make
Nobody is perfect, no matter how skilled we are at something. I have been quilting for about 30 years and I still make mistakes when I sew. I don't make as many as I used to, but enough to annoy me. That is why I came up with this list of common mistakes quilters make, and tips on how to avoid them.
Hopefully this list will help you out with your quilting journey.
1. Using the Wrong Color Thread to Piece the Top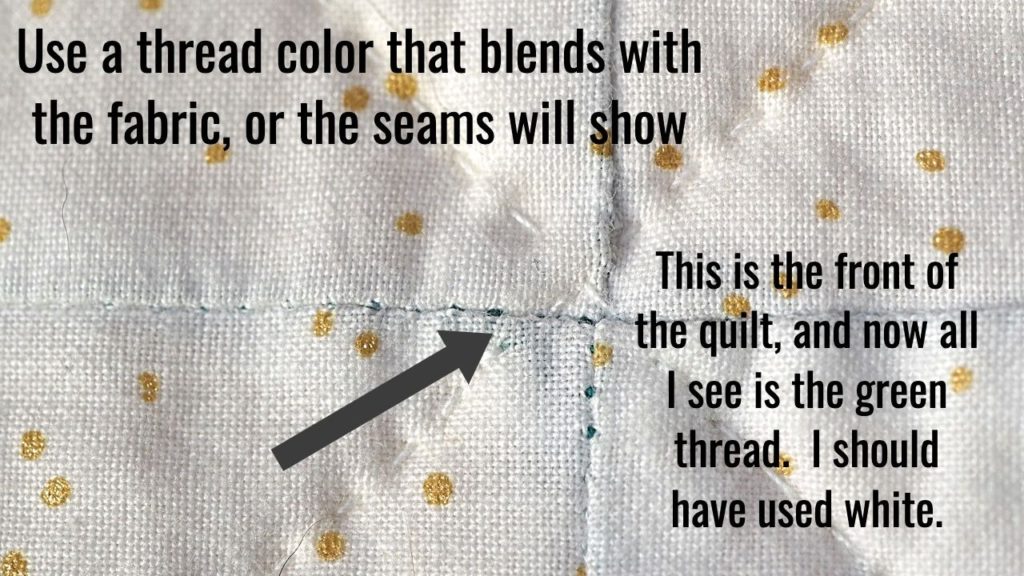 Use thread that blends in with the pieces of fabric you are sewing together. If using multicolored fabrics, grey thread is a good choice. Just make sure to hold your thread up to the fabrics to see which one blends in the best.
Years ago I designed a Christmas quilt that had a primarily white background. For some reason I used dark green thread to piece the top together. Now, whenever I look at this quilt, the only thing I notice are the dark seams.
2. Not Buying Enough Fabric
If you are following a pattern, buy the yardage that the designer suggests. If you are designing your own quilt, plan carefully before heading to the fabric store. Few things are worse than realizing that you don't have enough fabric.
It never hurts to buy extra fabric, and if you don't use all of it, you have enough left over to make another quilt! I have never met a quilter who didn't like fabric!
3. Not Following the Pattern or Instructions
I feel like a school teacher with this one, but read and re-read the instructions. A good pattern has details that will tell you everything you need to know.
A few months ago I made a small piece and assumed that I knew what I was doing, so when the time came to sew two sections together, I realized that I had skipped an entire part of the pattern. After I mumbled a few choice words, I pulled out my trusty seam ripper and took the whole thing apart.
4. Not Pre-Washing Fabrics
This is one of the great debates among quilters. I have always pre-washed my fabrics. The one time I didn't, one of the dark colors ran all over the lighter border.
I know that it is hard to precut charm packs or jellyroll strips, but if you buy yardage, prewash it.
Not only does it get rid of some of the excess color that could bleed onto other fabrics, but it removes some of the chemicals from the manufacturing process. Pre-washing also shrinks the fabric a bit, which you want so the finished quilt doesn't shrink when it is washed.
5. Not Adhering to the Suggested Seam Allowance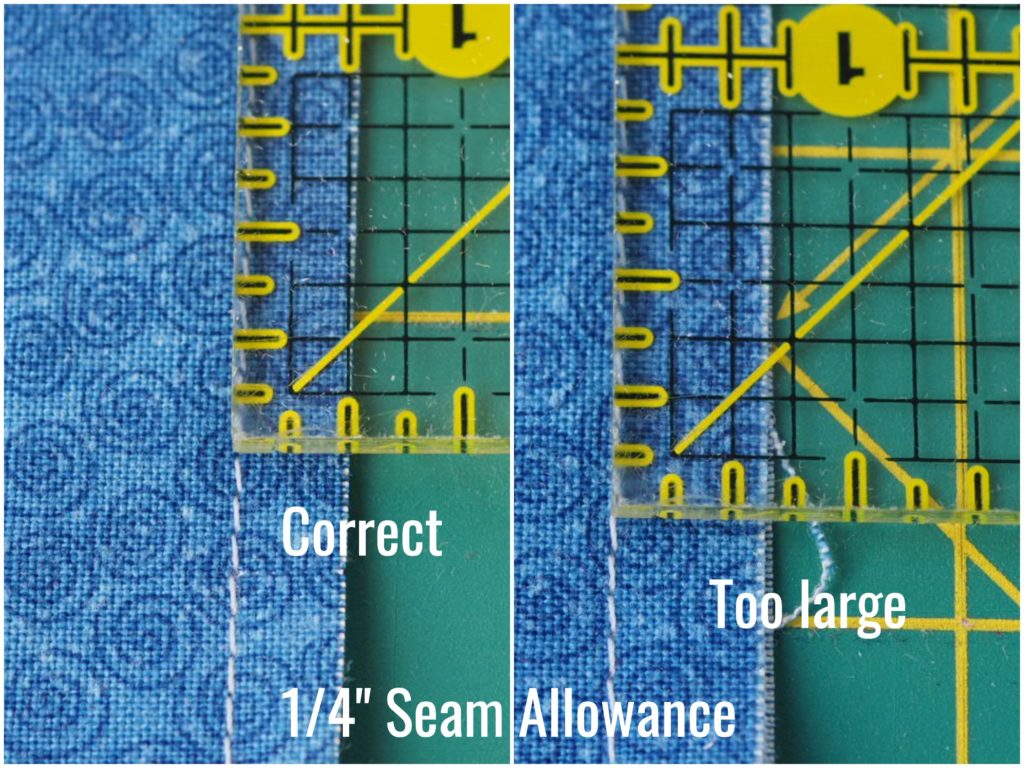 The majority of quilts are sewn together with a 1/4" seam allowance. Before you start sewing, do a test on your machine to make sure that your seam allowance measures 1/4" (or whatever seam allowance the pattern suggests).
Sew two pieces together and measure from the stitching to the edge of the fabric to see what the measurement is. Even being off 1/8" will make a huge difference by the time you have completed an entire quilt top.
Many machines come with a 1/4" sewing foot. They can also be purchased, and it is well worth the investment.
6. Start Simply
There are some incredible quilt designs out there that may look easy to make, but are quite difficult.
When you begin, choose an easy pattern. If you are taking a class, the instructor should provide you with a suitable choice. If you are teaching yourself, start with one for beginners.
My first quilt was made up of various stars and was made entirely by hand. None of the points matched and the six-pointed stars all had big bumps in the middle. It was definitely the wrong thing to start out with.
7. Stay Organized When Sewing
I'm an over-organizer so this come easily to me, but for many it's not their strong suit. But when you are making a quilt with a precise pattern, it is important to be organized.
It is very easy to mix up fabric pieces when you are sitting at the sewing machine. As a result of not being organized, you will be tearing out seams more often than not.
8. Pressing Too Firmly
This one may sound a bit odd, but ironing incorrectly can really mess up fabric. If you press too firmly it can warp and stretch out fabric.
Try gently pressing in the fabric instead of using a heavy hand with the iron. It's surprising what a difference a good pressing technique can make.
9. Not Squaring Up Blocks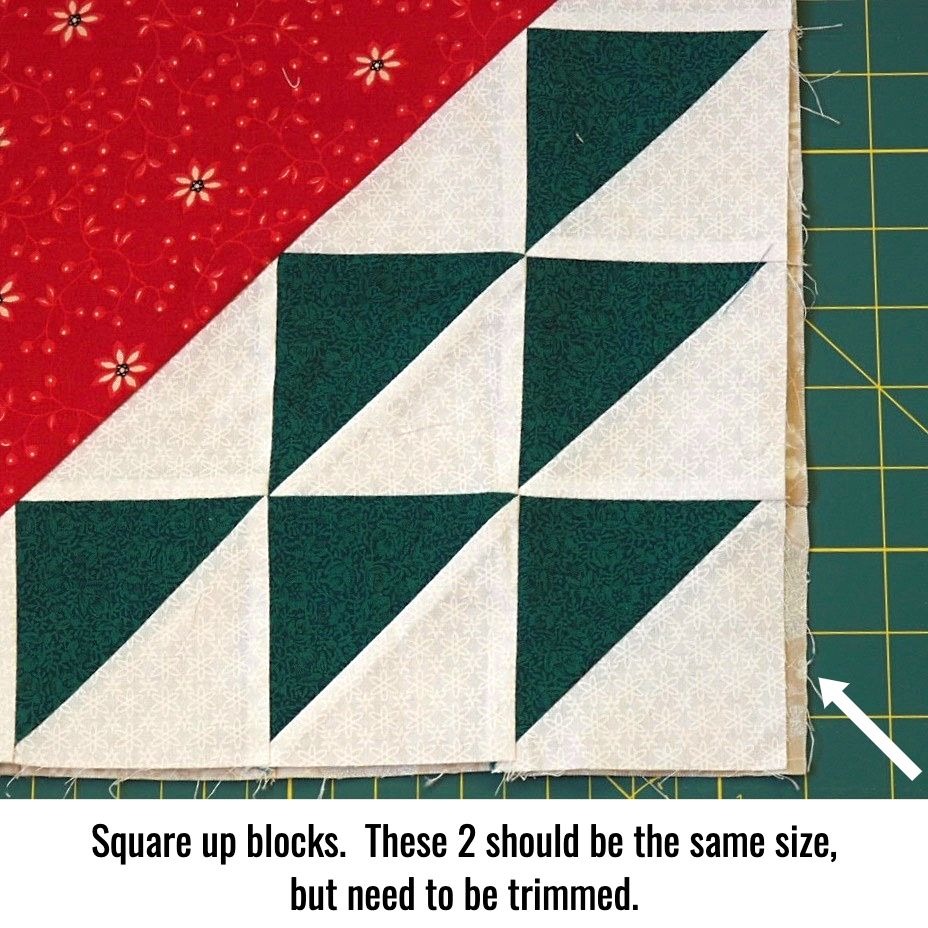 Have you ever thrown a pebble into a pond and watched the ripples grow larger and larger? Well, if you don't square up your quilt blocks, you may run into problems when assembling the entire top.
If your blocks should measure 12 1/2", then make sure they all do before sewing them together.
10. Choosing the Wrong Batting
The type of batting you choose is up to you, but if you choose the wrong one, you may be disappointed with the results.
There are many types of batting, from low to high loft, and made with both natural and synthetic materials.
If you are hand quilting a small wall hanging, you probably don't want to use fluffy high-loft batting. It may not hang well. Likewise, if you are making a table runner, you do not want to use fluffy batting, or it won't lay flat on the table.
When choosing batting, read the description on the packaging and take into consideration what you will be using your finished product for.
11. Measure Twice, Cut Once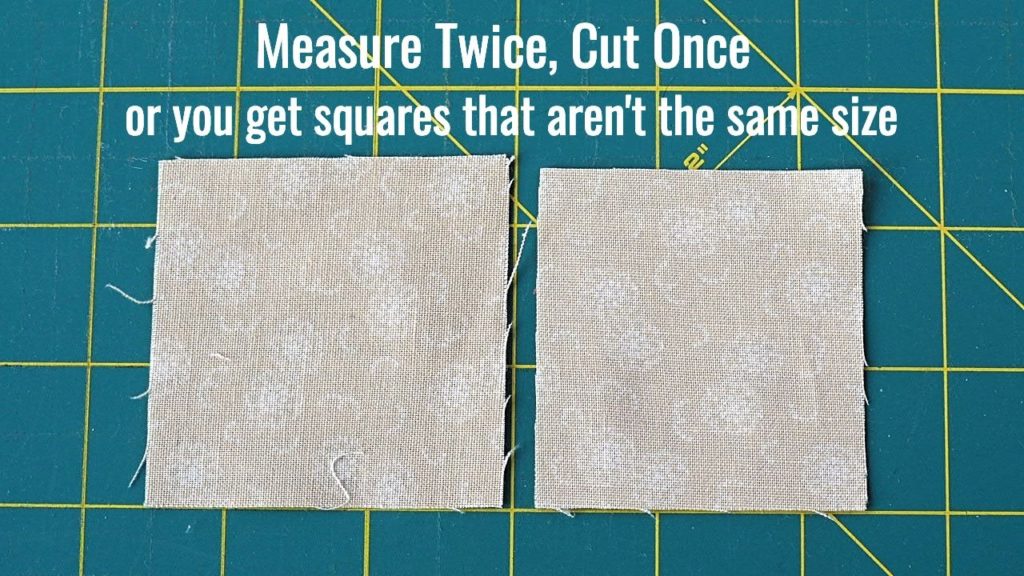 An old saying that still holds true today, make sure your cuts are accurate. Even being off 1/8" makes a big difference.
As an Amazon Associate I earn from qualifying purchases.
Try To Avoid These Common Mistakes Quilters Make
Believe me when I say that you will make mistakes. That's why seam rippers are such big sellers, and why I have four of them sitting around my house! However, with a little bit of preparation and thought, you can avoid some of the big mistakes.
As a result, the process will be much more enjoyable.
Happy Quilting!
If you are just starting out with your quilting journey, here is a list of 25 quilting terms that you should know about.