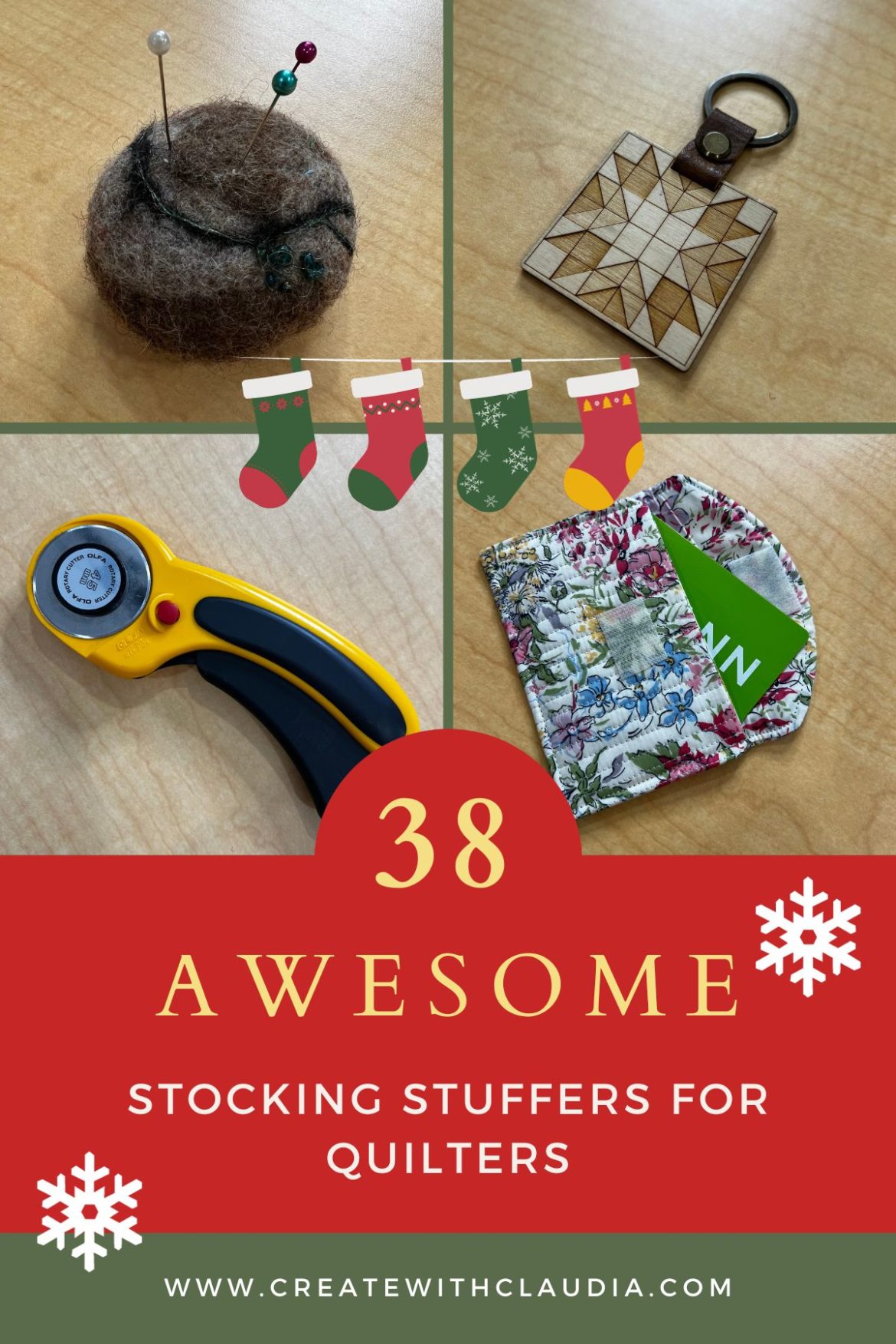 38 Awesome Stocking Stuffers for Quilters
With the holiday season around the corner it's time to start coming up with ideas for gifts. If you are looking for ideas, here are 38 awesome stocking stuffers for your quilting friends. These are great for stockings, holiday parties, secret Santa gifts or any other occasion. They are all reasonably priced so you won't bust your holiday budget.
Whether you want to fill an entire stocking with quilting goodness or you just need a little something to give a friend, this list has you covered. In this list I included items that I enjoy using and many of them can be found in my Amazon shop here.
As an Amazon Affiliate I Earn From Qualifying Purchases (at no extra cost to you)
Disclosure: The t-shirt in this list was generously provided by Stella Vita Studio.
Watch the List Here
Pick Out Your Favorite Ideas From One of These 38 Ideas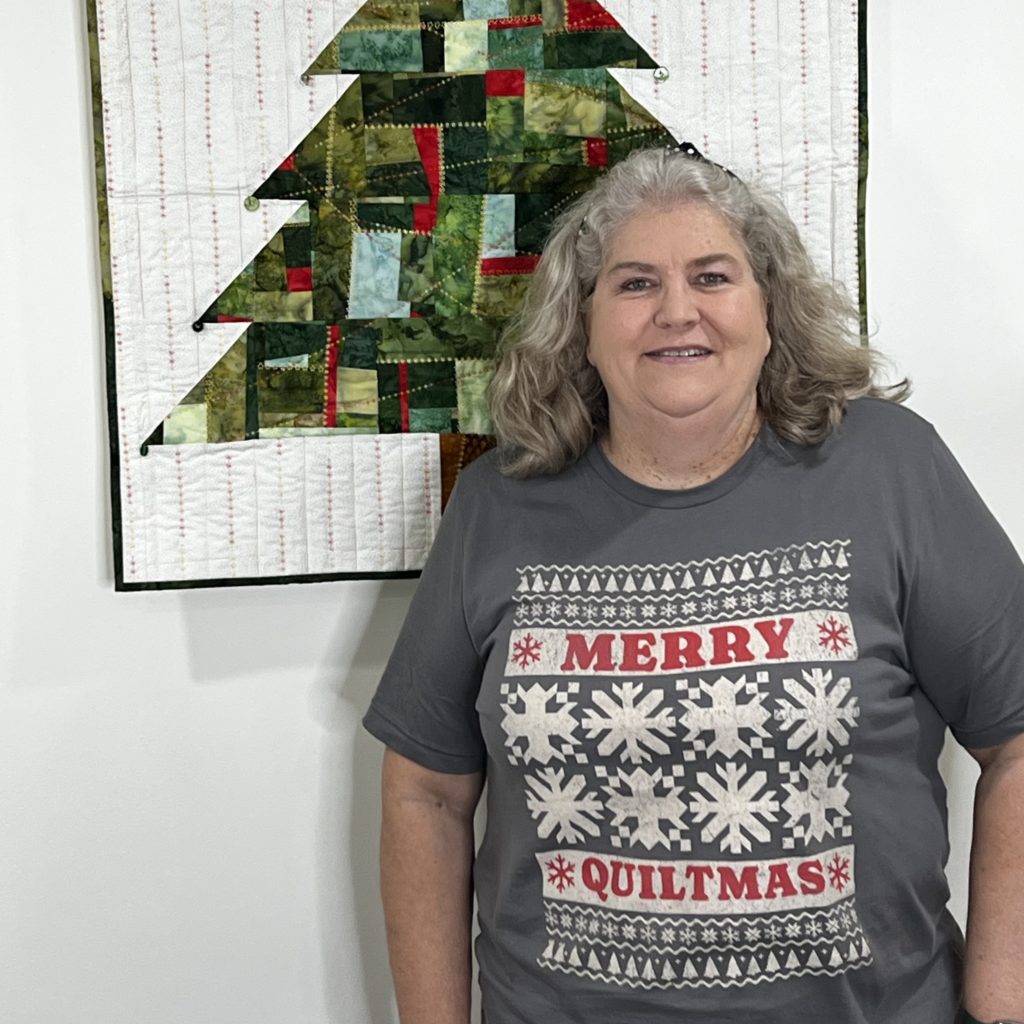 T-Shirt – Every quilter loves some quilt-themed apparel. This terrific t-shirt is from Stella Vita Studio and I love it. I'll be wearing it a lot this holiday season. You can pick up this t-shirt at the Stella Vita Studio Etsy shop.
Handmade Items – Give your friend something you've made. It doesn't have to be large. My easy quilted business card holder tutorial is a good one for gift giving.
Gift Cards – If you aren't quite sure what to get, go to your local quilt shop and pick up a gift card. That way your friend can get whatever they want or need. Put the card in a pretty holder to make it extra special.
Clips – Most quilters would love a set of these handy clips.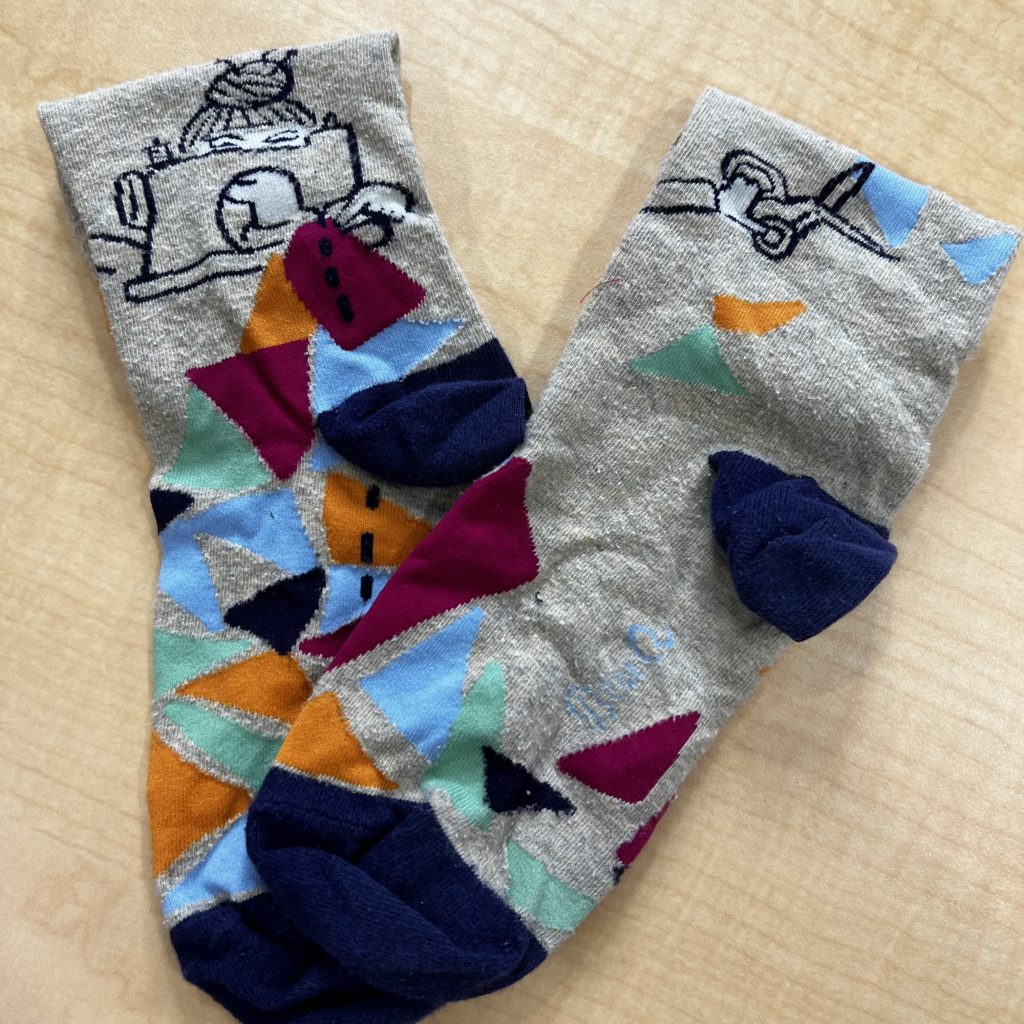 Novelty Socks – Fun and easy to find, there are all kinds of sewing-themed socks available.
Stickers – Stickers are really popular right now. Here are some fun ones that are available in my Etsy shop.
Marking Tools – From time to time quilters need to mark their quilts. Regular pens and pencils can stain fabric so marking tools are a better choice.
Bobbins – If you sew you know that bobbins are always needed. You will need to know what machine you are buying the bobbins for, but they are a welcome gift.
Pincushion – I have received a number of pincushions over the years and I use them all. There are plenty of pretty ones to choose from too.
Yo-Yo Makers – It is fun to make fabric yo-yos and these tools make it really easy.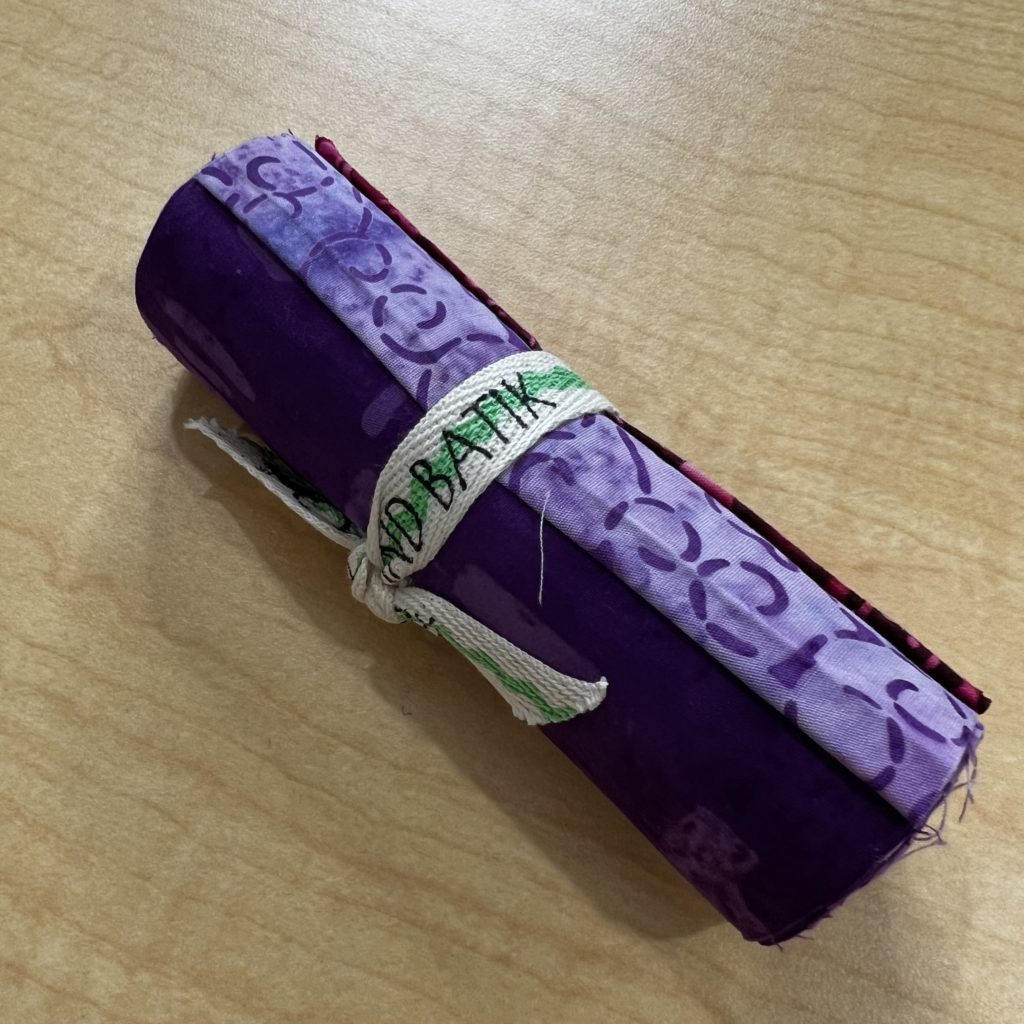 The List Continues
Fabric – Fabric can be subjective, but anyone will tell you that quilters love fabric. Check out a local quilt shop for some fun fabrics to give your friend.
Magazine Subscription – Everyone loves to get magazines and a subscription to a favorite quilting magazine is always welcome. Just make sure that your friend doesn't already have one.
Jewelry – Does your friend like jewelry? There are so many beautiful options out there. I bought these red crochet earrings from Parlez Vous Crochet and I absolutely love them.
Notecards – Yes people still write notes every once in a while. A lovely box of quilt-themed notecards is a thoughtful gift.
Keepsake Box – Pretty boxes are nice for storing little keepsakes and there are many with quilt themes on them.
Hand Lotion – This may sound odd to some of you, but quilter's hands get very dry, especially in the winter. People who hand quilt also get lots of chapping. Throw a jar of their favorite hand lotion in their stocking. They'll love it.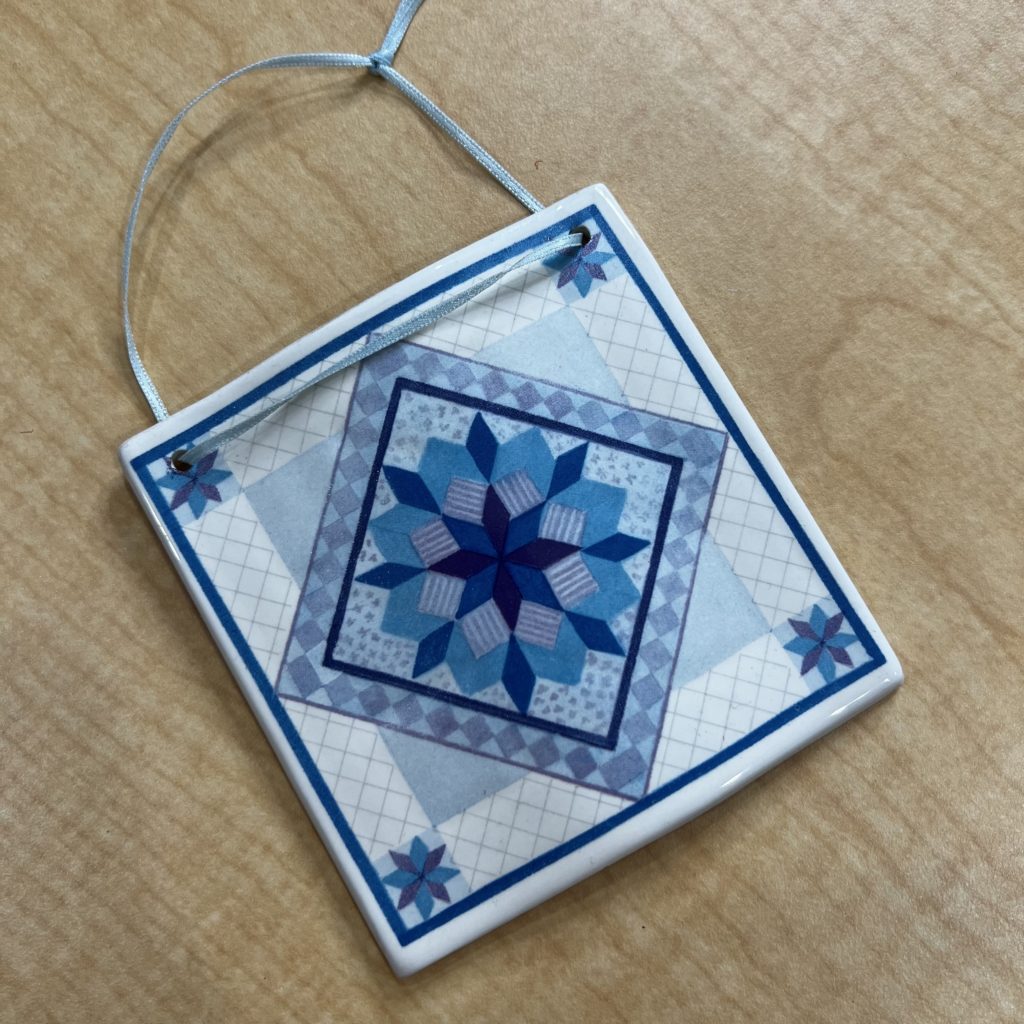 Ornaments – A pretty ornament is a nice keepsake for a friend.
Rotary Cutter – Quilters can always use a rotary cutter. If you aren't quite sure what to get, ask at the quilt shop. They can help you decide.
Straight Pins – If you quilt then you know that you always need more straight pins. I go through them like crazy and am always picking up more.
Quilt Hangers – Quilters are always looking for ways to show off their work. For smaller quilts, these types of hangers work well.
Color Wheel – Great for a newer quilter, give them a color wheel. It is a nice way for them to explore colors and color combinations for their quilts.
Mini Ruler – There are so many awesome mini quilt rulers out there and they all get used. This one is perfect for 2 1/2″ squares which is a fairly common size in quilting.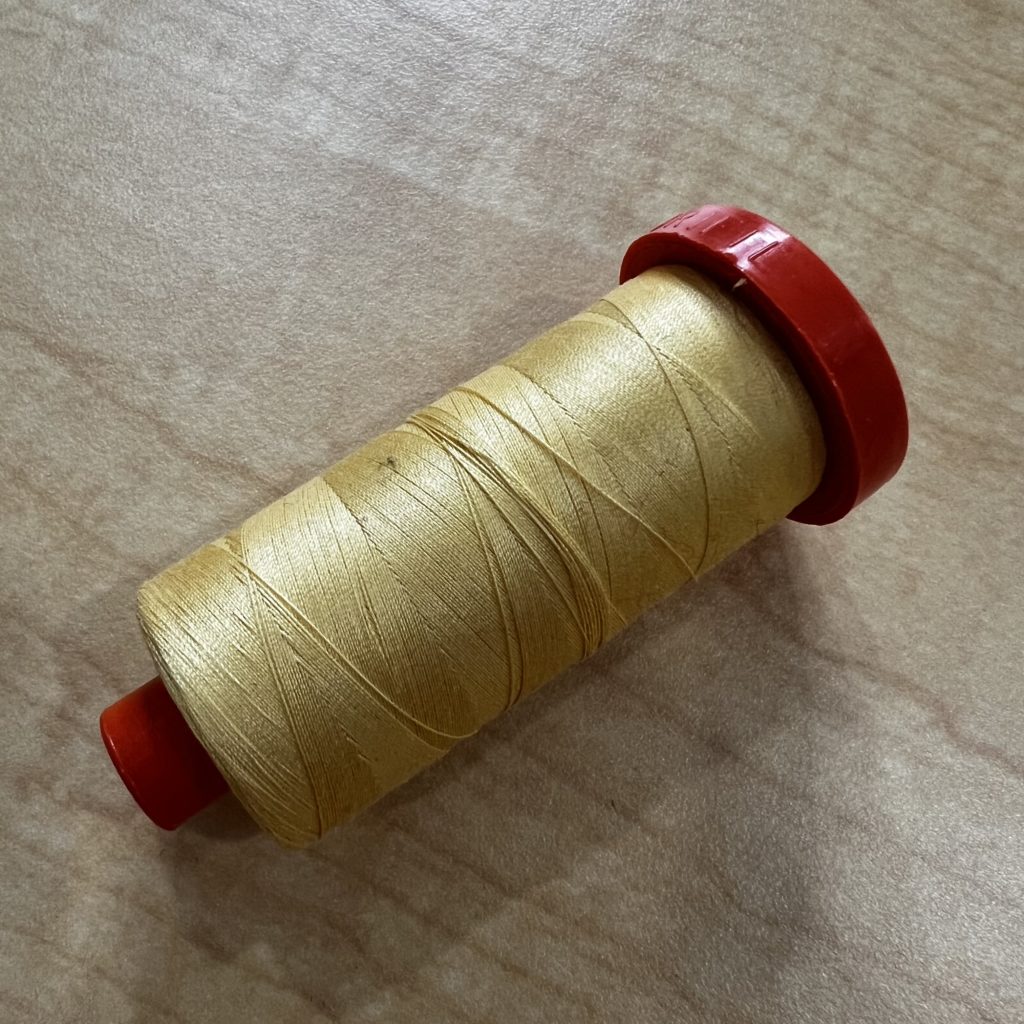 More Awesome Stocking Stuffers
Thread – Thread is always useful. If you aren't sure what color to use, go for a neutral like beige, white or gray. It will come in handy.
Snippers – This has quickly become my favorite quilting tool. They are very useful in the sewing room.
English Paper Piecing Glue Stick – This little stick was invaluable when I was doing some English paper piecing last year. If your friend does a lot of it, think about getting them one.
Fabric Glue – Whether in stick form or liquid, we quilters need some fabric glue every once in a while and we don't always have it on hand.
Archival Marking Pen – These are great for labeling or writing on quilts. The ink doesn't fade and lasts a long long time.
Bias Tape Maker – This little tool is so helpful when making quilt bindings.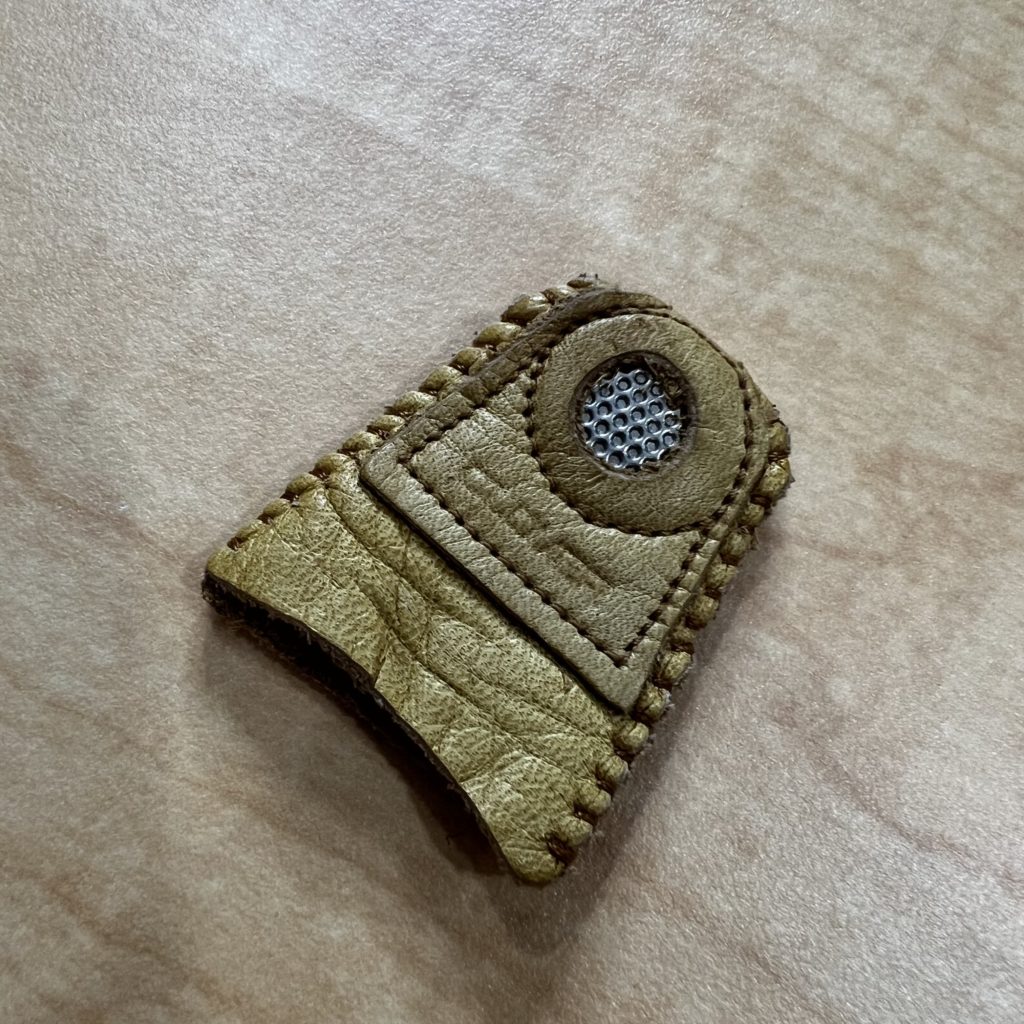 Thimble – There are some any beautiful thimbles available. Many are decorative and sure to be a hit with a friend. The one shown is utilitarian which is also thoughtful and useful.
Sewing Machine Needles – Before you buy some, find out what brand and size your friend uses. However, they will be very much appreciated because quilters go through needles pretty quickly.
Needle Keeper – A little needle keeper is great for storing needles and taking them with you when you sew in various places. There are all sorts of pretty ones available.
Seam Ripper – From basic ones like the one pictured, to elaborate ones made in silver or carved wood, a seam ripper is always needed.
Key Chain – Key chains are a great way to show off your quilting pride.
Needle Threader – The older I get, the more I use this little device. Your friends will thank you if you put one of these in their stocking.
Last But Not Least
Cups or Mugs – Who wouldn't love a fun thermal cup like this. I always have water by my side when I'm sewing. There are plenty of pretty designs available.
Decorative Pins – Pins are all the rage right now. This pretty mandala was given to me by a friend and I always put it on my bag strap when I hit the quilt shows.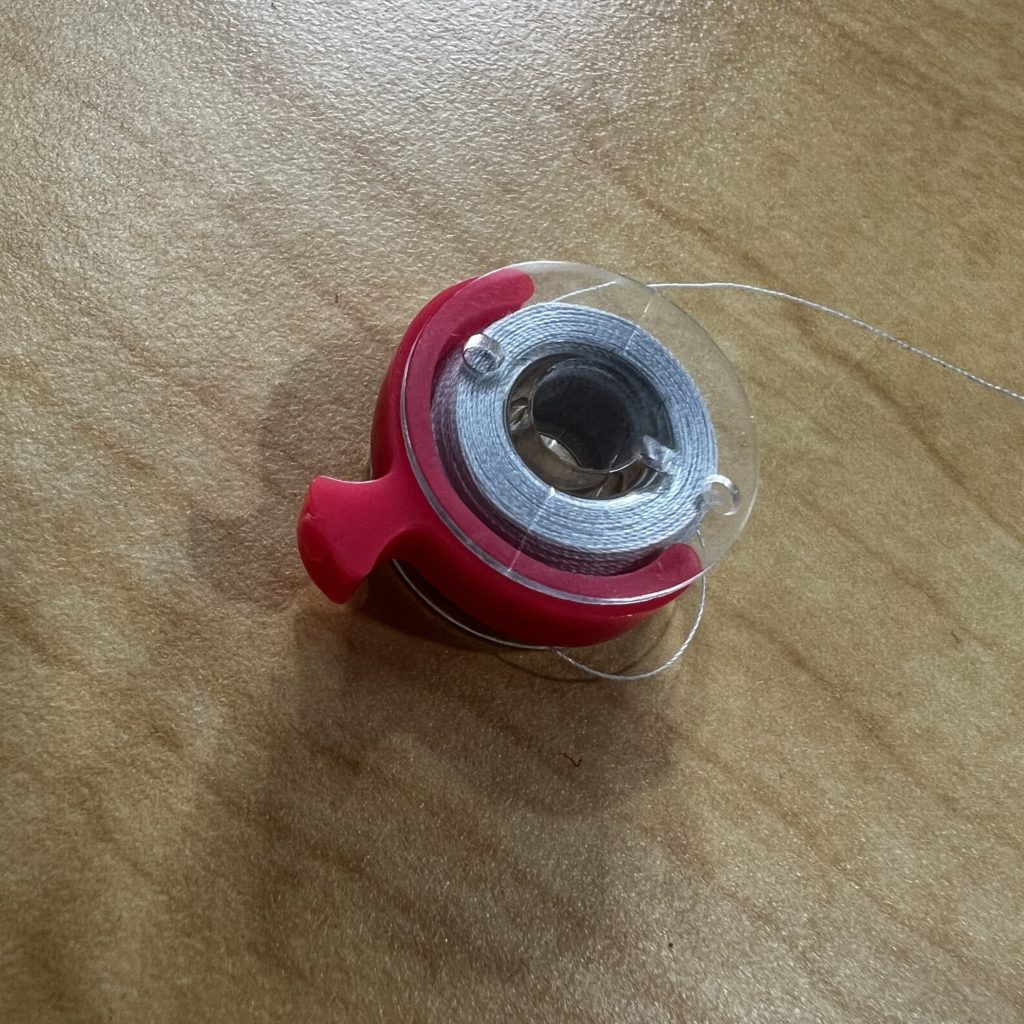 Bobbin Keeper – Bobbins unwind very easily and these little gadgets help keep them in check. There are all sorts of designs and they are all useful.
Magnetic Needle Minder – These little magnets are great to keep track of needles. I have a couple which I keep around the house since I have stepped on one too many needles in my time.
So there you have it, my list of 38 awesome stocking stuffers for quilters. If you aren't sure what to get your quilting friends, try one (or more) of these ideas. They all fit into stockings and they are all useful.
Don't forget that many of these items can be found in my Amazon shop.
As an Amazon Associate I Earn From Qualifying Purchases (at no additional cost to you)
Happy Quilting!