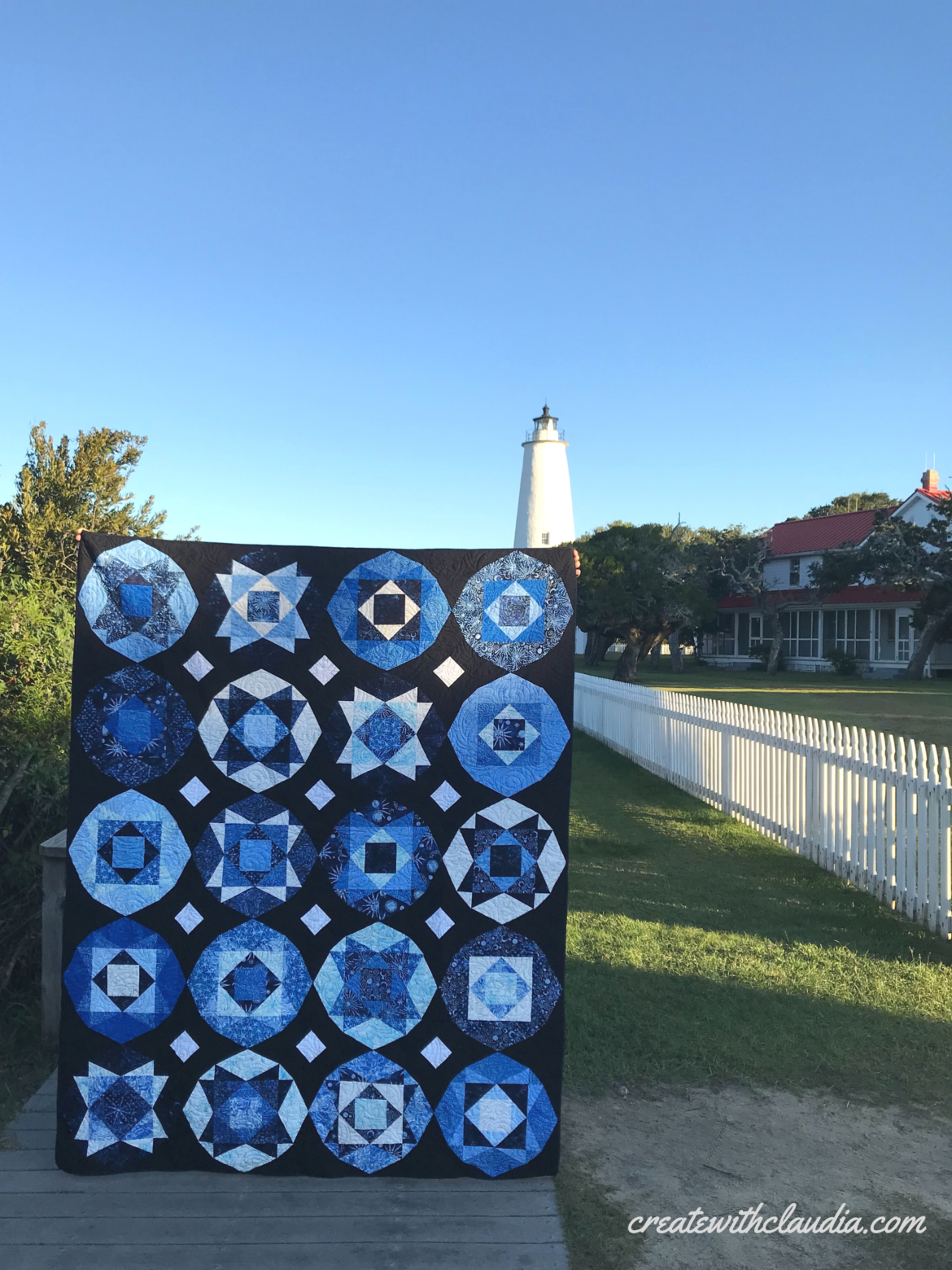 Island Batik Storm at Sea Quilt – Night Navigator
November marks the final blog hop in the year's Island Batik Ambassador program. What fun I have had in this year. For this month we were asked to make quilts using their new collections of fabrics and the Storm at Sea pattern. We were asked to play around with this traditional block and that is just what I did. For my Island Batik Storm at Sea quilt I made this piece I named "Night Navigator".
I cannot say enough how pleased I am with the way my quilt turned out. For my challenge, I received the new Island Batik collection called "Constellations". This gorgeous line was designed by Kathy Engle for Kari Nichols of Quilting Renditions, and it will be available in stores in December 2021. If you watched my July unboxing video you may remember that there was a "surprise" package in it. Well, this is the fabric that was in that package.
Twenty half yards of blues in every shade with beautiful patterns in each fabric. There were even a couple of whites in the collection. Wow is all I can say!
Disclosure: The products in this post were generously provided by Island Batik, Accuquilt, Hobbs Batting and Schmetz Needles.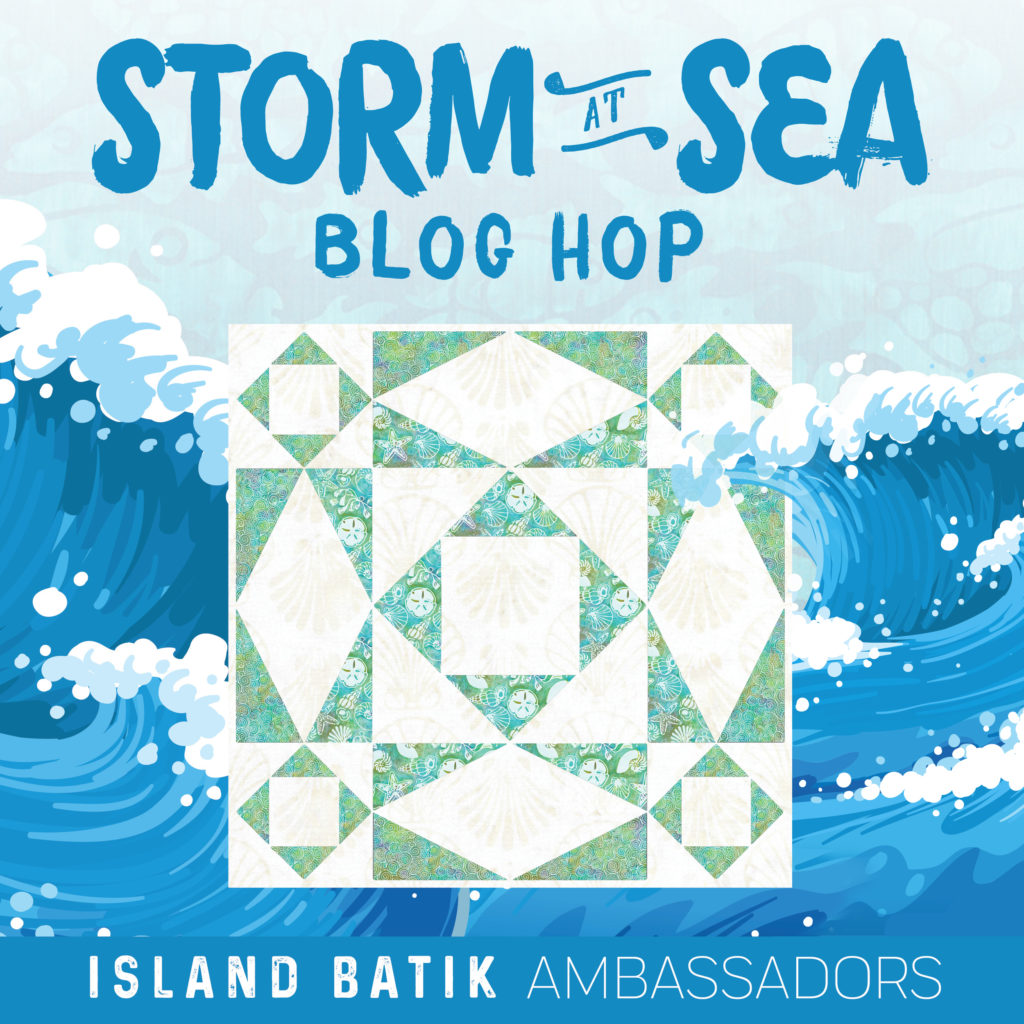 For my photos, I was lucky to have already booked a beach vacation with my husband to Ocracoke Island, North Carolina. We go there most summers, and this year the timing was perfect because I packed up my quilt and took it with us. What better place to take pictures of a Storm at Sea quilt than the beach, right?!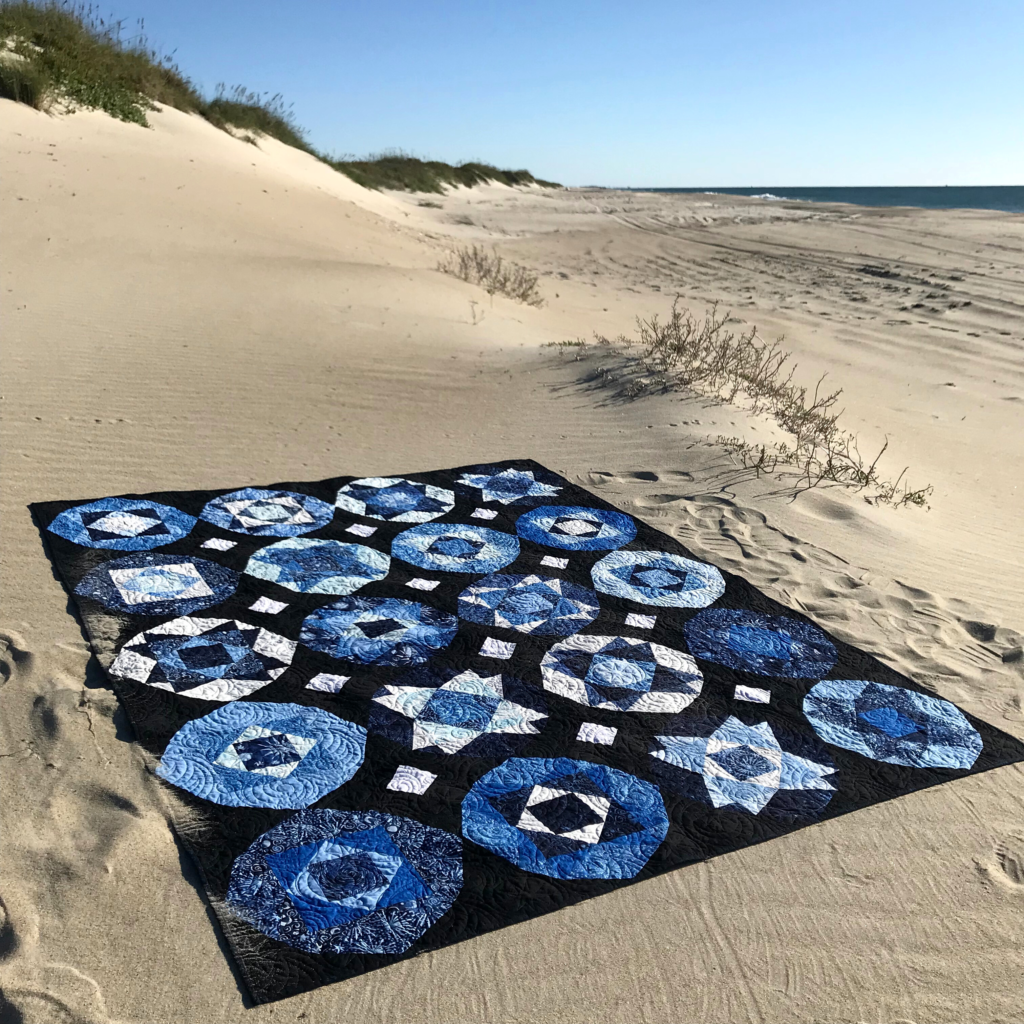 About the Quilt
I recorded a quick video which tells you about the quilt and shows you how I used my Accuquilt Go! system to make my Storm at Sea quilt blocks.
To design "Night Navigator" I used my Electric Quilt 8 software. It took a while because I really wanted to come up with something unique that showed off the gorgeous fabric. I also love scrap quilts, so I couldn't resist making it scrappy.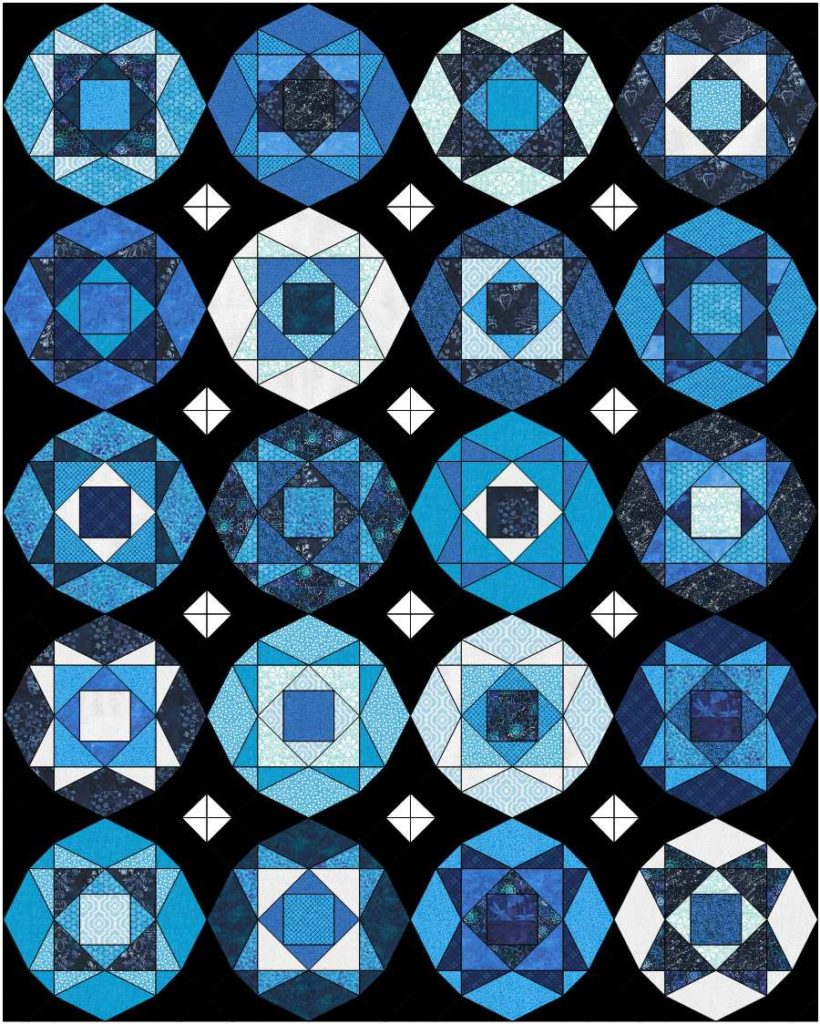 There are so many beautiful versions of Storm at Sea quilts out there, but what kept popping out to me was that center circular shape. It reminded me a bit of a compass. Because of that I colored my blocks so that shape would be the dominant feature of the quilt.
Island Batik fabrics lines normally have 20 different fabrics in them and throughout all of our blog hops I have incorporated all 20 of them. This hop was no exception. The quilt has 20 blocks in it, and each one is a combination of various shapes.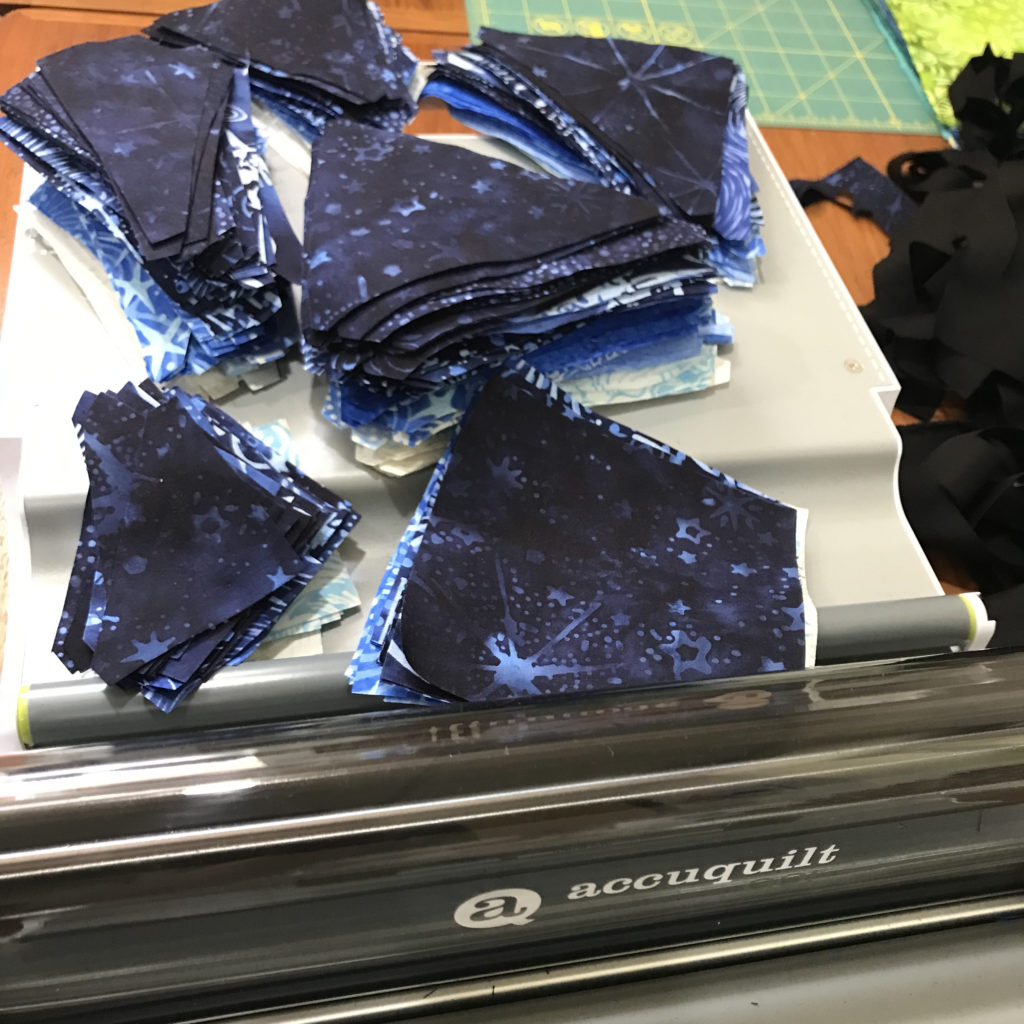 Measuring about 64″ x 80″ when finished, the quilt was beautifully machine quilted by Melinda Keppler of ScottieBelle Designs. The design fit the theme of the quilt perfectly.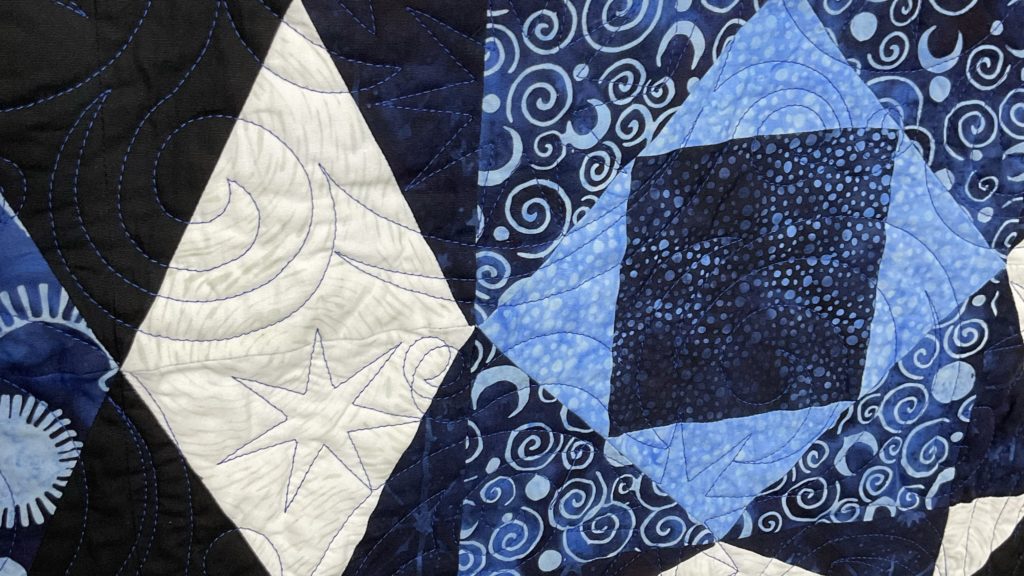 About the Fabric
The real star of this quilt is the fabric. Blue after glorious blue (plus a couple of whites) is what you will find in "Constellations".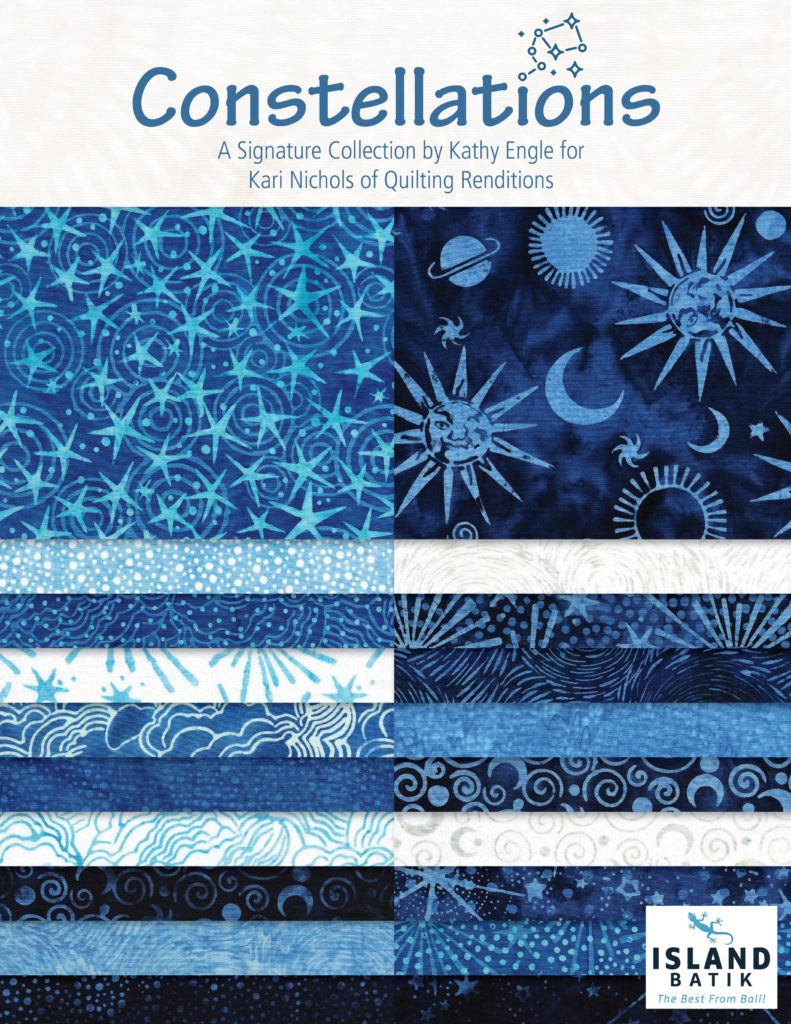 I am a fan of blue fabrics so this collection blew me away. In addition, because of the theme (and title) of the line, it fit in perfectly with what I had in mind.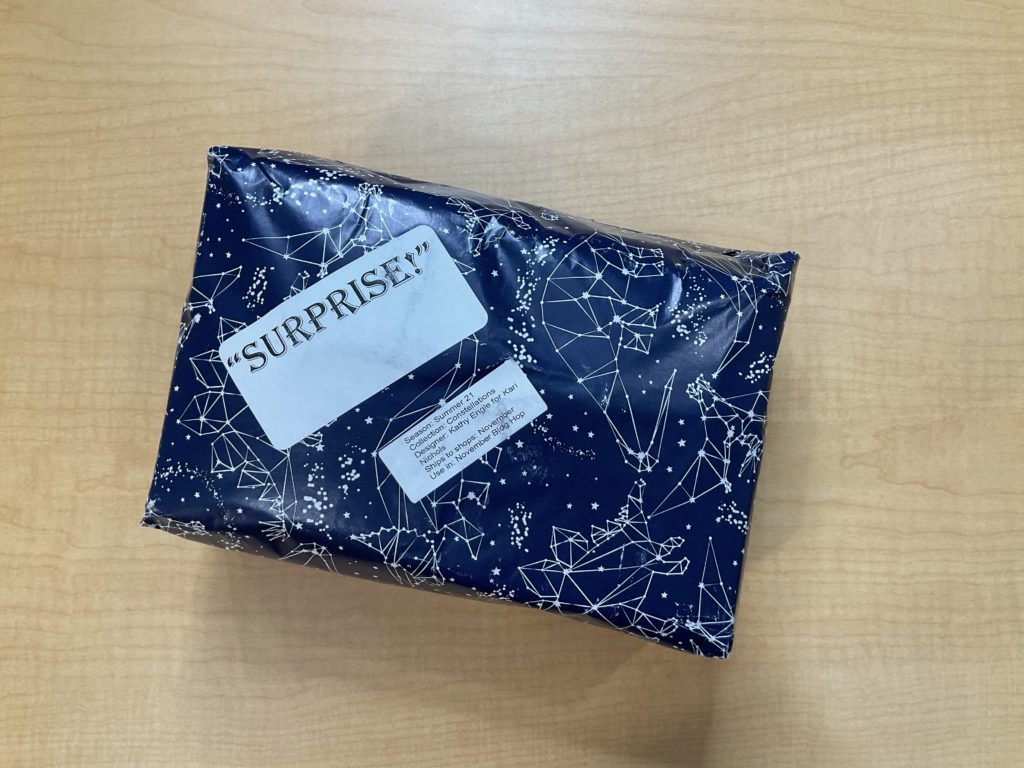 For the top I used all twenty of the fabrics in the collection. I also used Island Batik's black solid fabric for the outer area of the block. In the center blocks I used their white solid to get those diamond shapes. For the back of the quilt I used the two fabrics they gave me from their foundations lines (pictured on the far right).
The darker one is called "Ravine" and is from their Brilliant Blues foundations line. The lighter one is called "Wavy Dots Bluebird" and is from their blenders collection.
What a pleasure it was to quilt with these fabrics.
Other Tools Used
To make my individual blocks I used my Accuquilt Go! cutting system. I did not have the "Storm at Sea" die so I came up with my own combination of dies to make my block. In fact, the video show and tell of this quilt also has a tutorial showing you how to make a Storm at Sea quilt block using dies from the Accuquilt Go! 8″ cube as well as their Triangle in a Square die. You can also see my entire block-making process in my blog post entitled How to Make a 16 1/2″ Storm at Sea Block Using the AccuQuilt Go! Cutting System.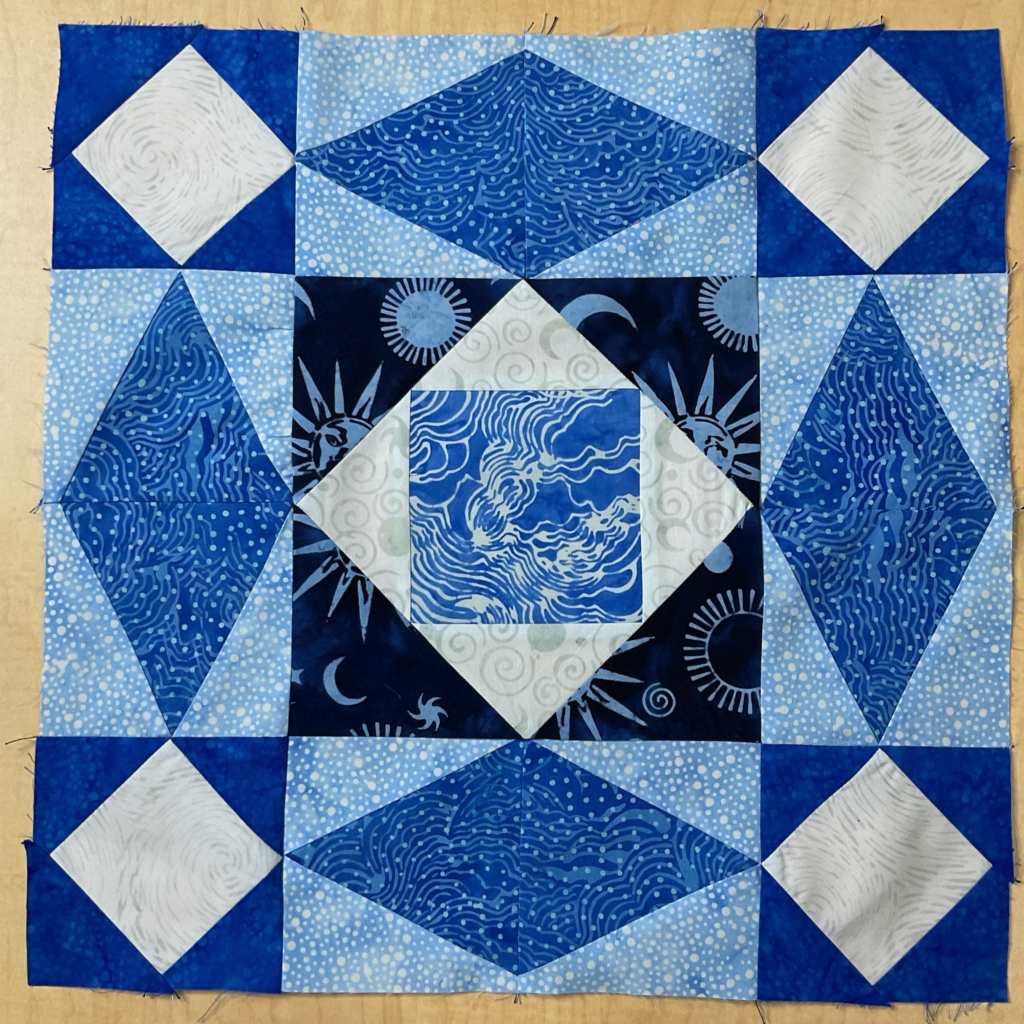 For all of the quilt top assembly I used Schmetz microtex needles.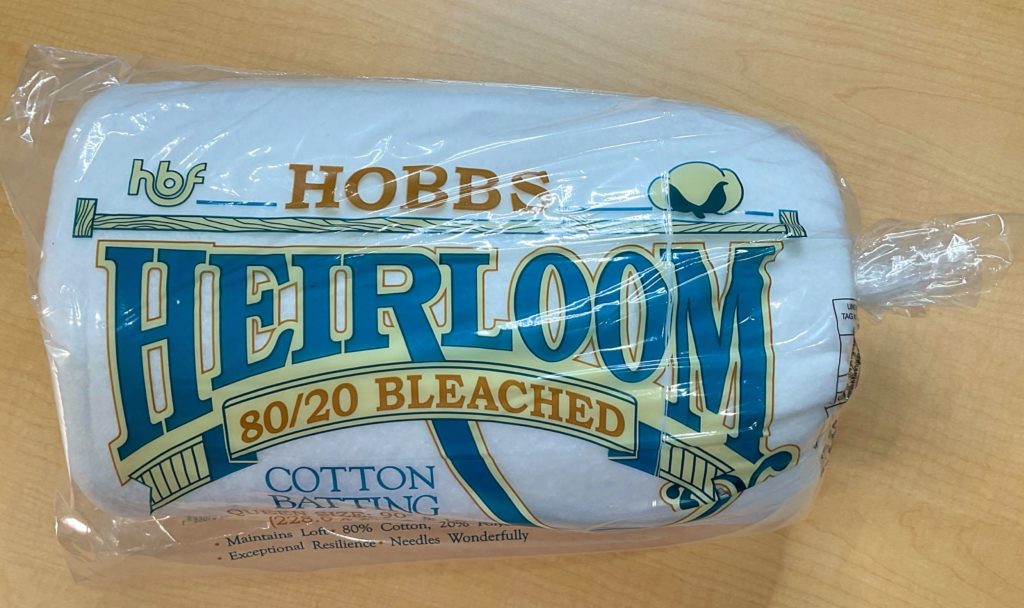 For the batting I used Hobbs 80/20 bleached batting. This gives the quilt a nice drape and feel.
"Night Navigator" Takes a Vacation
Our favorite place to vacation is Ocracoke Island, North Carolina. It is at the very bottom of the Outer Banks and you can only get there by ferry. With my quilt carefully packed, we headed down. If you have ever been to the Outer Banks, then you know that it is almost always windy on the beach. While you can get the occasional slight breeze day, it is usually a pretty strong wind.
Luckily there are some sheltered areas where I was able to get some decent photos. I am also lucky because I have a very patient husband who holds my quilts for me, wind and all.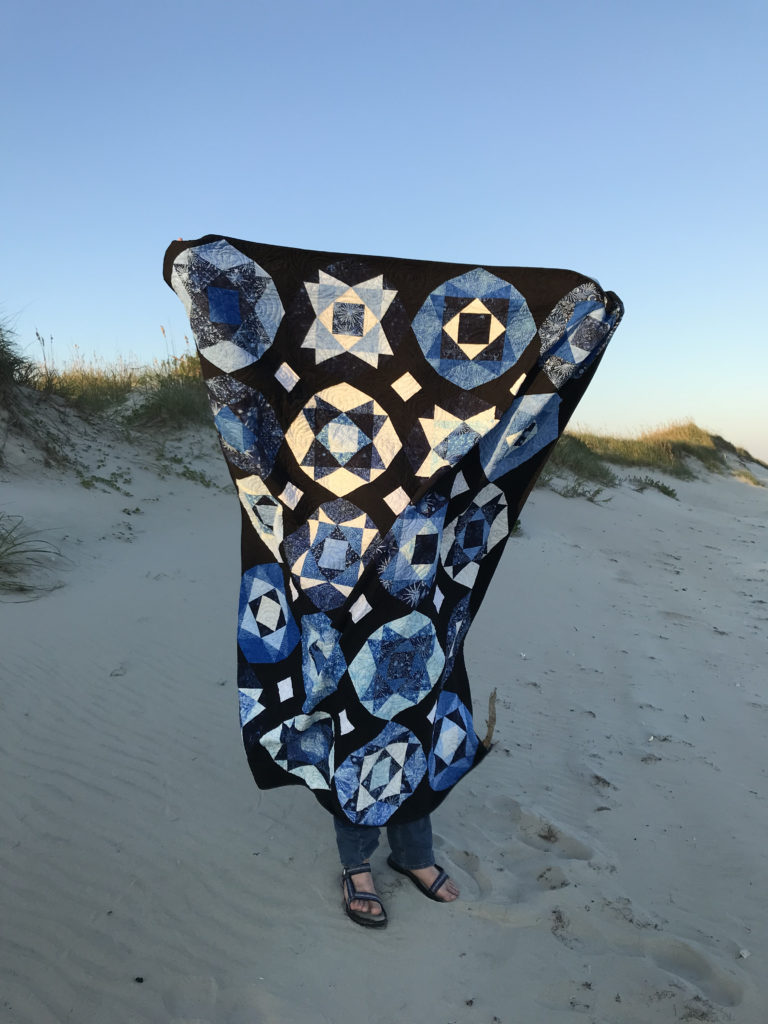 The wind did not cooperate the week were visiting. In addition, you may notice the sky. With the exception of the last day, there was not a cloud in it. I rarely want bad weather on our vacations, but I was hoping I might get at least a tiny thunderstorm to take a few pictures. But I can't complain, we had gorgeous weather the entire week.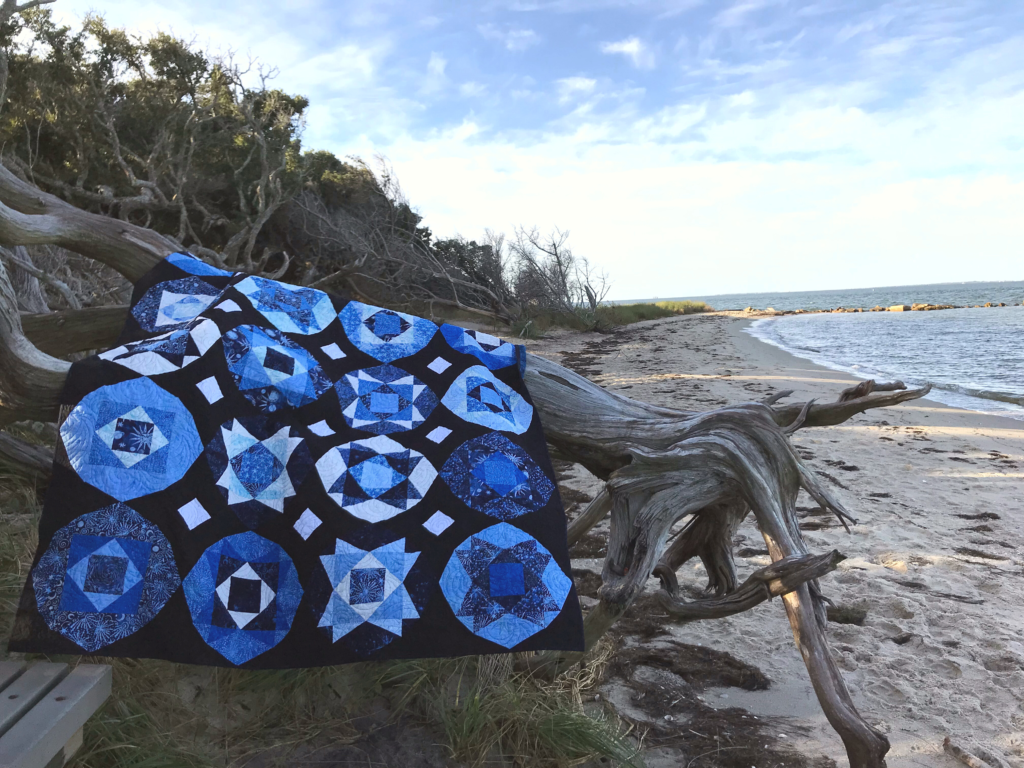 This photo was taken at Springer's Point. The area here is called Teach's Hole because it is off of this coast that the famous pirate Blackbeard (Edward Teach) lost his life.
Don't Miss Out On The Other Ambassador Blog Hops!
You will want to check out all of Island Batik's newest fabric lines. They are all gorgeous!

Gail Sheppard, Quilting Gail
Preeti Harris, Sew Preeti Quilts

Pamela Boatright, Pamela Quilts
Jane Hauprich, Stitch by Stitch Custom Quilting

Denise Looney, For the Love of Geese
Megan Best, Bestquilter

Gail Renna, Quilt Haven Threads
Claudia Porter, Create with Claudia

Mania Hatzioannidi, Mania for Quilts
Jennifer Fulton, Inquiring Quilter

Joanne Hart, Unicorn Harts
Connie Kauffman, Kauffman Designs
Jennifer Eubank, Archipelago Quilting

Jennifer Thomas, Curlicue Creations
Janet Yamamoto, Whispers of Yore

Emily Leachman, The Darling Dogwood
Maryellen McAuliffe, Mary Mack Made Mine
Elizabeth DeCroos, Epida Studio
Andi Stanfield, True Blue Quilts

Brianna Roberts, Sew Cute and Quirky
Michelle Roberts, Creative Blonde

Sally Manke, Sally Manke Fiber Artist
Leah Malasky, Quilted Delights
Suzy Webster, Websterquilt