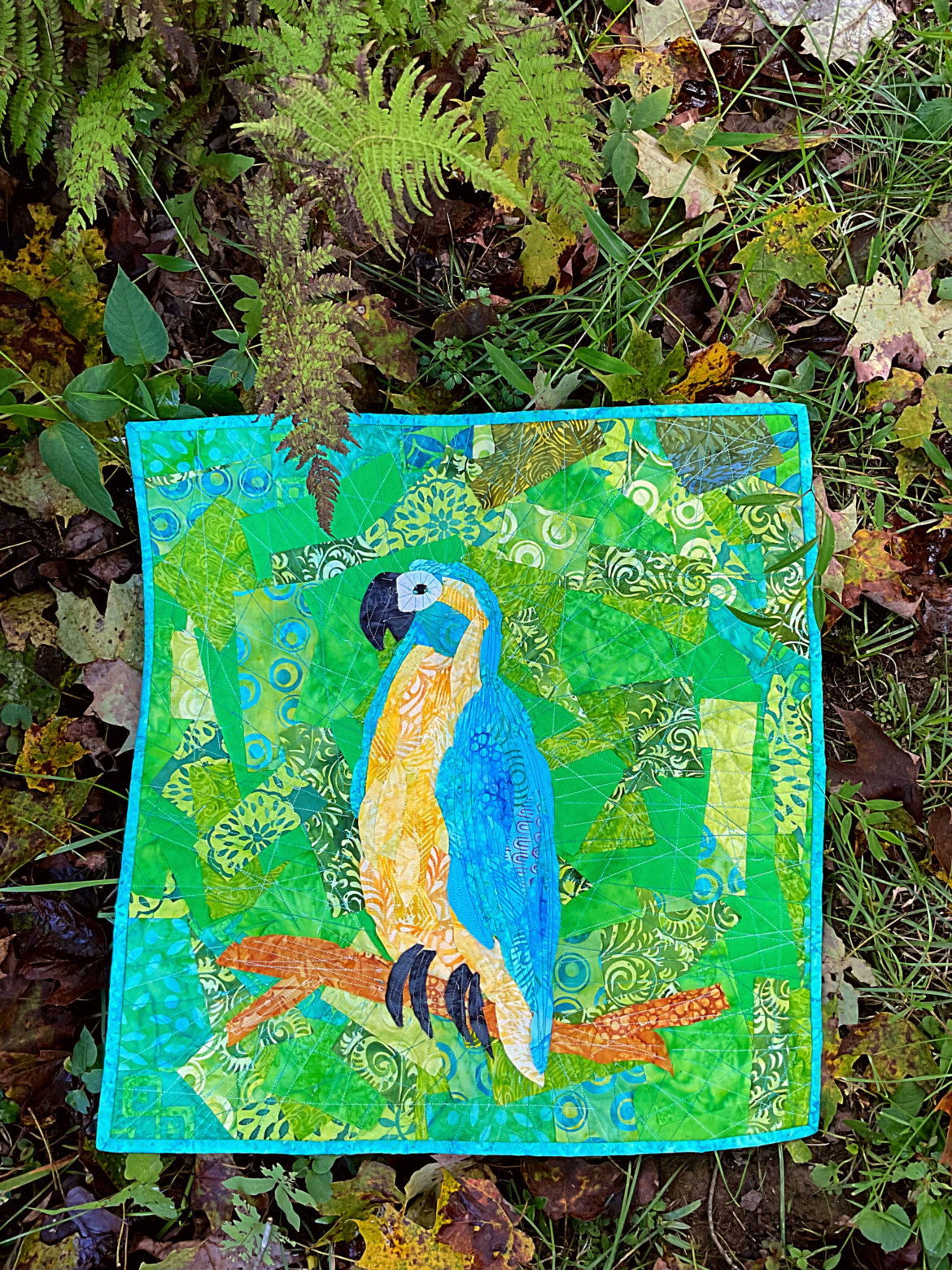 Aurifil Thread Art – Endangered Blue-Throated Macaw Collage
For the tenth Island Batik ambassador project we were asked to make a project using one of the 2021 Aurifil endangered species color builder sets. I was delighted when I saw which set I got. It was the one with 3 beautiful tones of blue/greens. The hard part of this project (for me at least) was coming up with an artistic design. I'm usually a geometric shapes quilter and I don't draw. I threw caution to the wind and just let the bird do the talking. That is how I came up with my Aurifil thread art – Endangered Blue Throated Macaw Collage.
It was an incredibly liberating art process and I am pleased with the results. In fact, I was so happy with it that I decided to give my collage a name…Clyde. He will be hung in a prominent place as a happy reminder of what I can do when I let my artistic side show itself.
Disclosure: The items in this post were generously provided by Island Batik, Aurifil Thread, Hobbs Batting and Schmetz Needles
About the Thread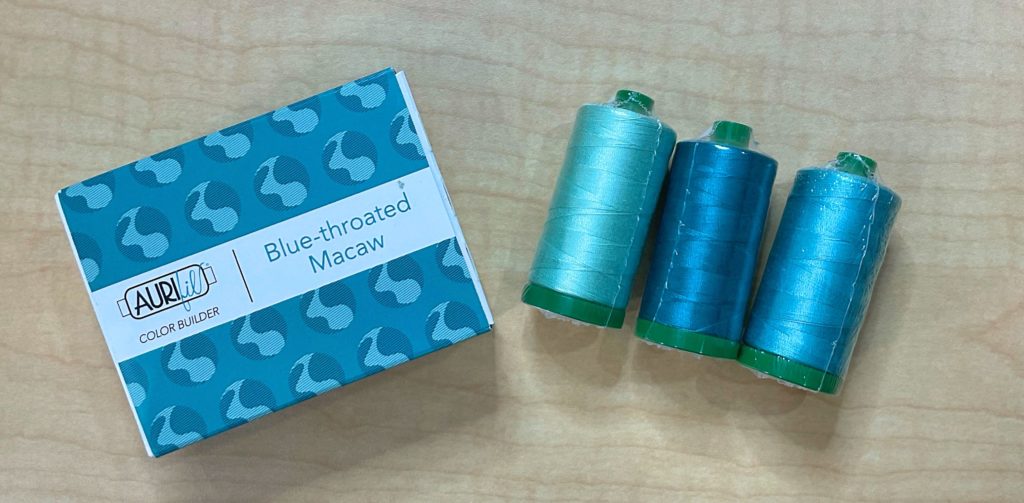 There are a total of twelve endangered species in the 2021 Aurifil collection. I received the Blue-Throated Macaw set which is a combination of three large 40 wt. spools of light, medium and dark blue/green shades. Beautiful! And of course, they have that wonderful Aurifil quality. The colors alone were a big inspiration for my project.
The set includes the following threads: #2835 (Medium Mint), #1148 (Light Jade), and #4093 (Jade).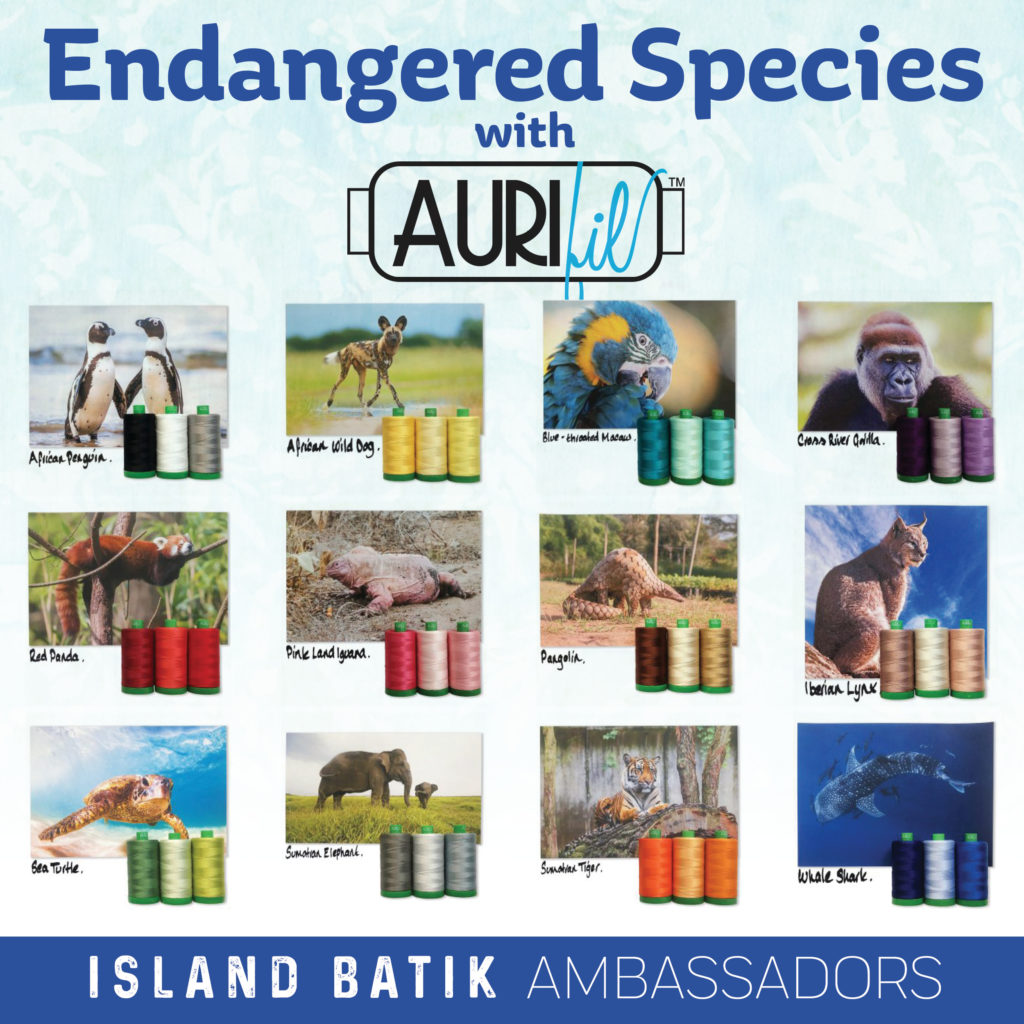 About the Blue-Throated Macaw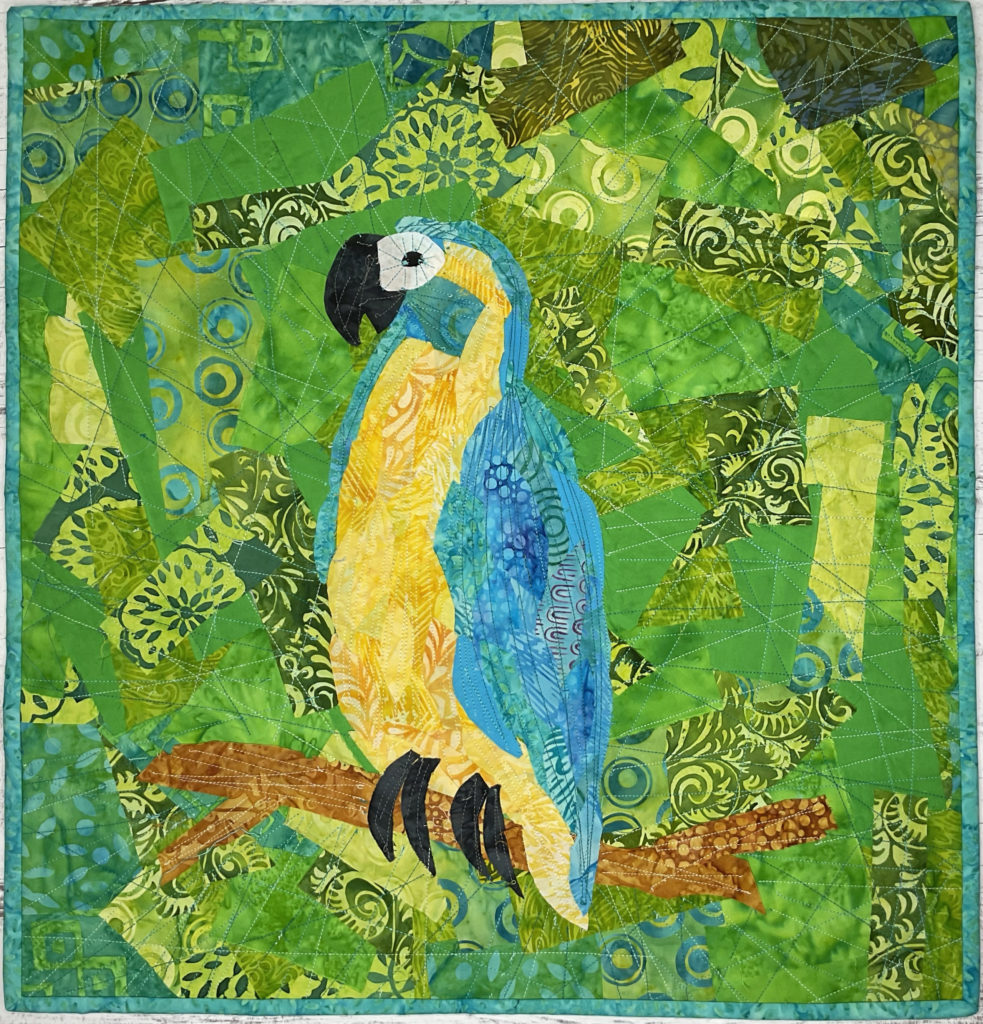 The blue-throated macaw is a highly endangered bird that is found only in Northern Bolivia. As of 2018 it was estimated that there were only about 350 – 450 left in the world. In recent years attempts have been made to bring the bird back from the brink of extinction. A number of reserves set up to help with this effort. Zoos are also helping by setting up various breeding programs for captive birds.
Looking similar to the blue and yellow macaw, these birds are distinct because of their blue throat. Because of their dietary habits, they are an important part of the northern Bolivia ecosystem. The forests that make up their habitat would be sorely affected if the birds were to become extinct.
Sources: American Bird Conservancy and Zoo Atlanta.
Making My Aurifil Thread Art – Endangered Blue Throated Macaw Collage
You can watch an overview of my collage making process here. In my video I talk about making Clyde and then show you how you can make an easy fabric collage using the same method. I think this mini scrap fabric flower collage will go nicely with Clyde.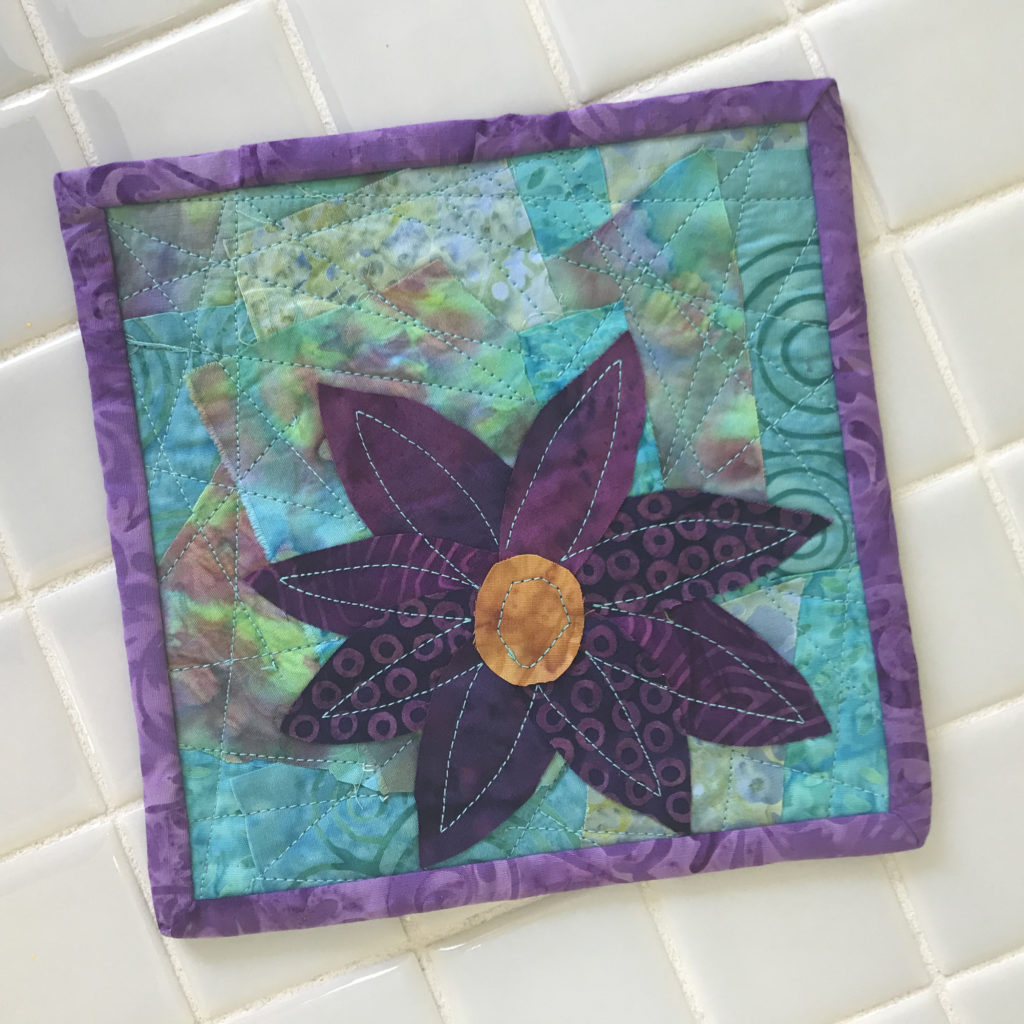 Sketching the Design
With paper and pencil in hand I looked at various images of this majestic bird and came up with a composite sketch. I wanted him to be perched on a branch in a tree because that is where the species is normally found. I also wanted a side view so I could see his lovely plumage and distinct facial features. Most importantly, I wanted him to be perched among the forest canopy, safely away from any harm. That accounts for the lush green background.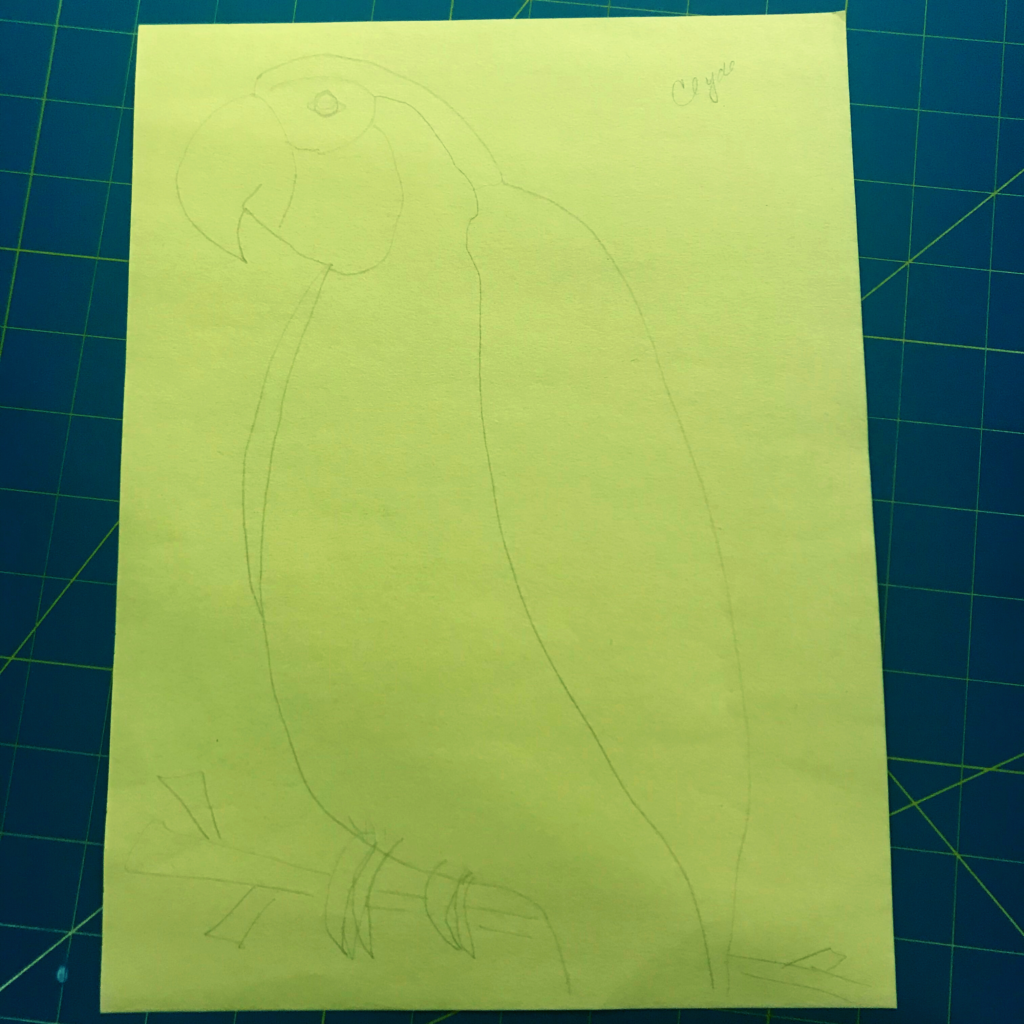 In my sketch the bird is a little bit chunkier than I would have liked, so I decided to slim him down when I laid out the fabrics.
Laying Out the Design
To begin, I cut a piece of backing fabric slightly larger than the finished size I wanted and laid it wrong side up on a flat surface. I put a same sized piece of batting on top of the backing fabric. Then it was time to play with fabrics.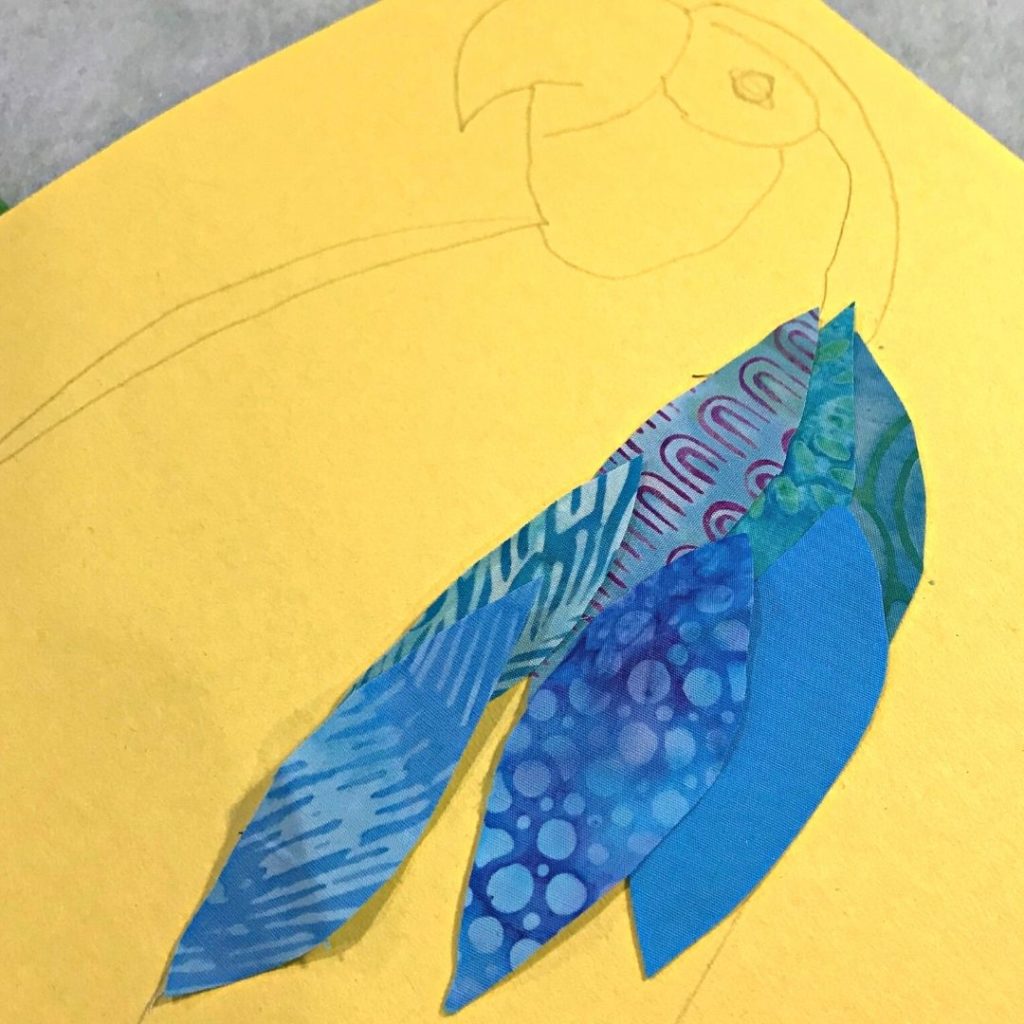 Using mostly scraps from various Island Batik projects that I have made through the year, I started cutting and laying out the green background. I went with various bright greens and covered the entire surface with various pieces. Once I was happy with the forest background it was time to lay out the bird.
To make him I cut out small feather shaped pieces of fabric in various shades of turquoise and yellow. Using gold batiks from the Holly Holiday Island Batik line, I cut out a tree limb. For his eye I used black and white solid batiks and for his beak and claws I used "Smoke" from their Bodacious Blacks Foundations line.
Once everything was cut out I started "painting" with the pieces of fabric.
Securing the Fabric Pieces
Since I did not use any glue when I was laying out fabric pieces I had to figure out a way to make sure they did not shift when I was thread painting. Luckily I had some Hobbs fusible batting left over from my August ambassador project so that helped a bit.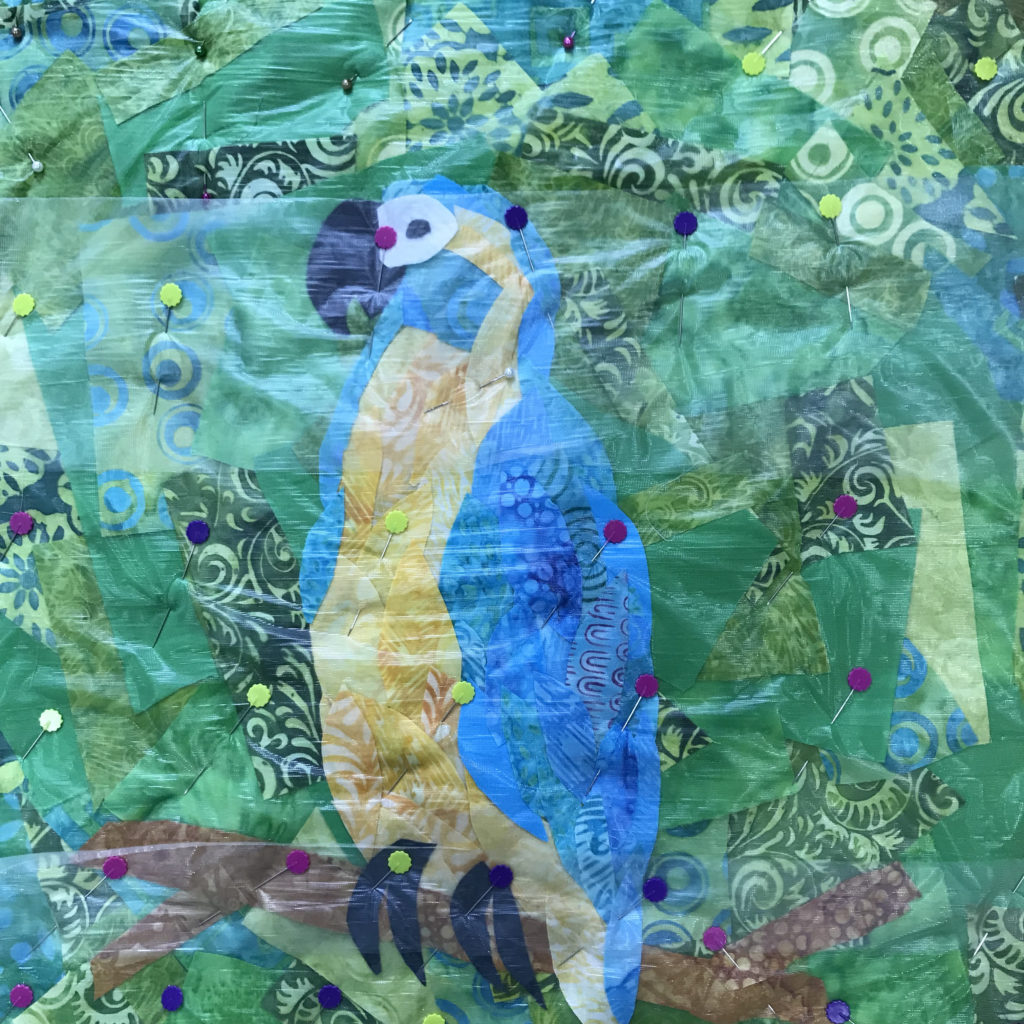 I also decided to use some water soluble stabilizer. I cut out a couple of pieces, carefully laid them out on top of the canvas and pinned. Then I pinned some more, trying to tack down as many of the pieces of fabric as I could.
Painting With the Thread
Once secured, I carefully moved the entire piece over to my machine and started sewing. Sewing through all of the layers and watching out for all of the pins, I started with the body of the bird. I used Aurifil "Butter" #2123 for the yellow feathers and the branch. For the beak and claws I used Aurifil Gray Smoke # 5004. The rest of the bird's body and the background were quilted with the three shades in the Aurifil color builder set. I stitched slightly curved lines in the bird's body to mimic his shape.
For the leafy background of my Aurifil thread art – endangered blue – throated macaw collage I used all three shades in the color builder. I went with straight lines in every direction to offset the softer lines of the bird.
Once I was happy with the stitching, I got rid of the water soluble stabilizer following the manufacturer's instructions. After removing the product, the quilt was wet, so I set it aside to dry.
After it was dried and pressed, I added a bit of stitching and a few extra pieces of fabric to areas that had shifted during sewing. I then snipped away all of the loose threads.
Finally the border was added.
Clyde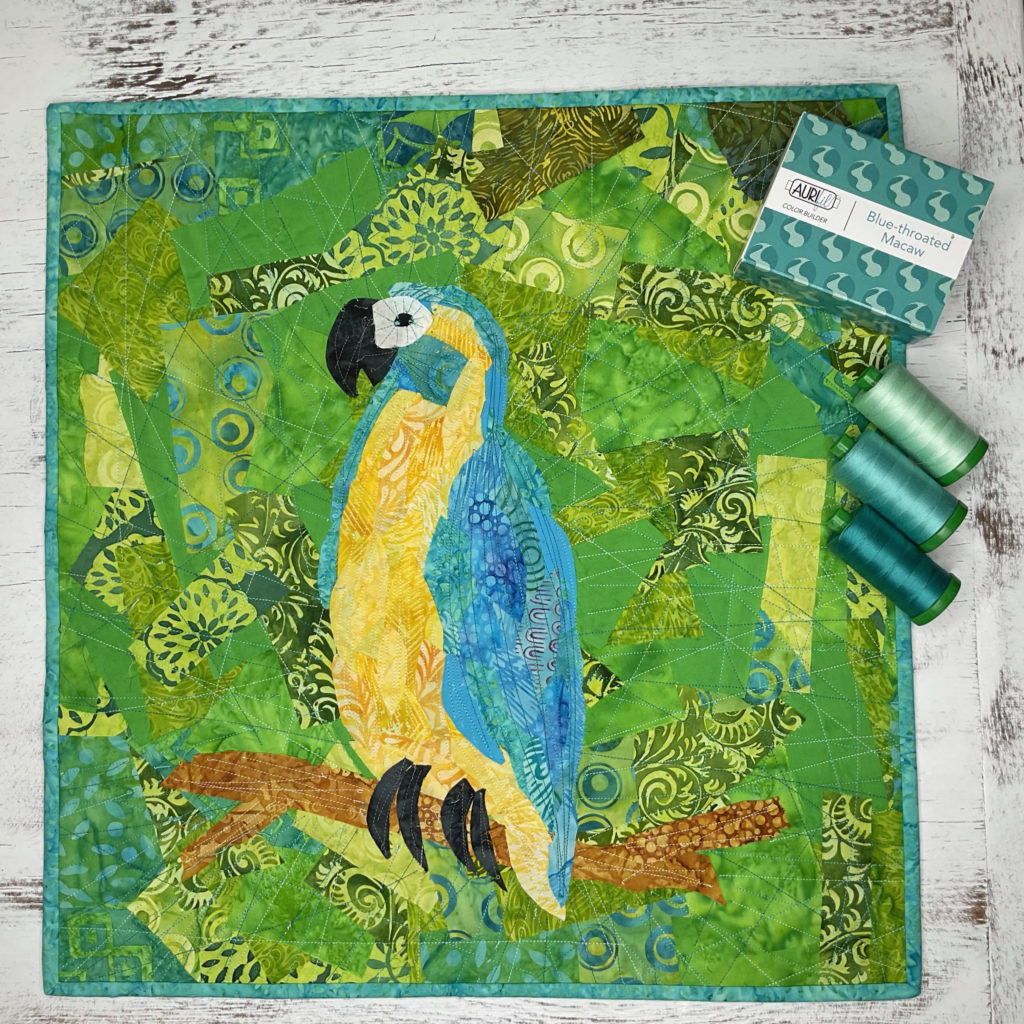 Heading into this process I was quite apprehensive. I am not an art quilter However, once I started I could not stop, and that carefree artistic part of me that was around when I was a child came out. It was so much fun making this project and I was delighted with the result. So much so that I had to give him a name…Clyde.
He now hangs proudly in my living room.
My hope for Clyde is that somehow, via social media and sharing, he will bring some attention to the plight of this magnificent bird.
Other Island Batik Ambassador Aurifil Thread Art – Endangered Species Projects
The creativity by all of my fellow Island Batik ambassadors is pretty amazing. You will want to check out their blog posts to see what they came up with. All I can say is WOW!
Happy Quilting!