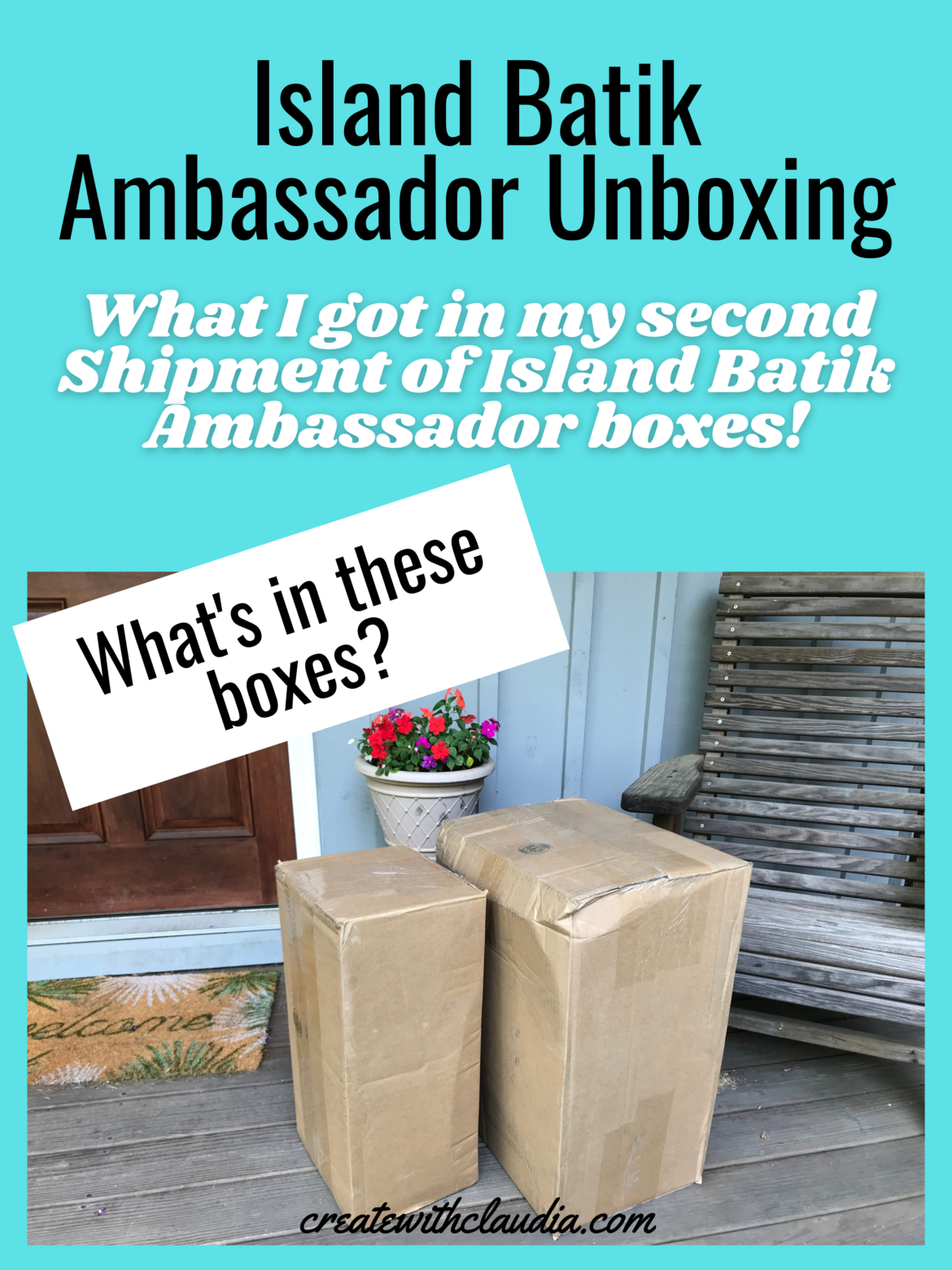 Island Batik Ambassador Unboxing – July 2021
In 2021 I was honored to have been chosen as one of Island Batik's 24 ambassadors. As part of the program we receive two shipments of goodies, one in January, and one in July. Along with these items, we receive monthly challenges where we use the items for various themes. I am excited to show you my latest Island Batik Ambassador unboxing. I am again overwhelmed at their generosity and that of all of the sponsors, and want to thank them for all of the items I received.
If you did not get a chance to watch my very first unboxing video, you can find it on my Youtube channel. In think I ran out of adjectives to describe all of the items and it is the same thing this time around. I didn't count, but I think I used the word gorgeous about 30 times!
Disclosure: The products in this post were generously provided by Island Batik, Aurifil, Hobbs Batting, Deb Tucker's Studio 180 Designs and Patterns by Annie.
Watch My Island Batik Ambassador Unboxing Video Here
The Fabrics
The fabrics I received this time around are all lovely. One is a surprise though, so you will have to wait until the grand reveal in November 2021!
Surprise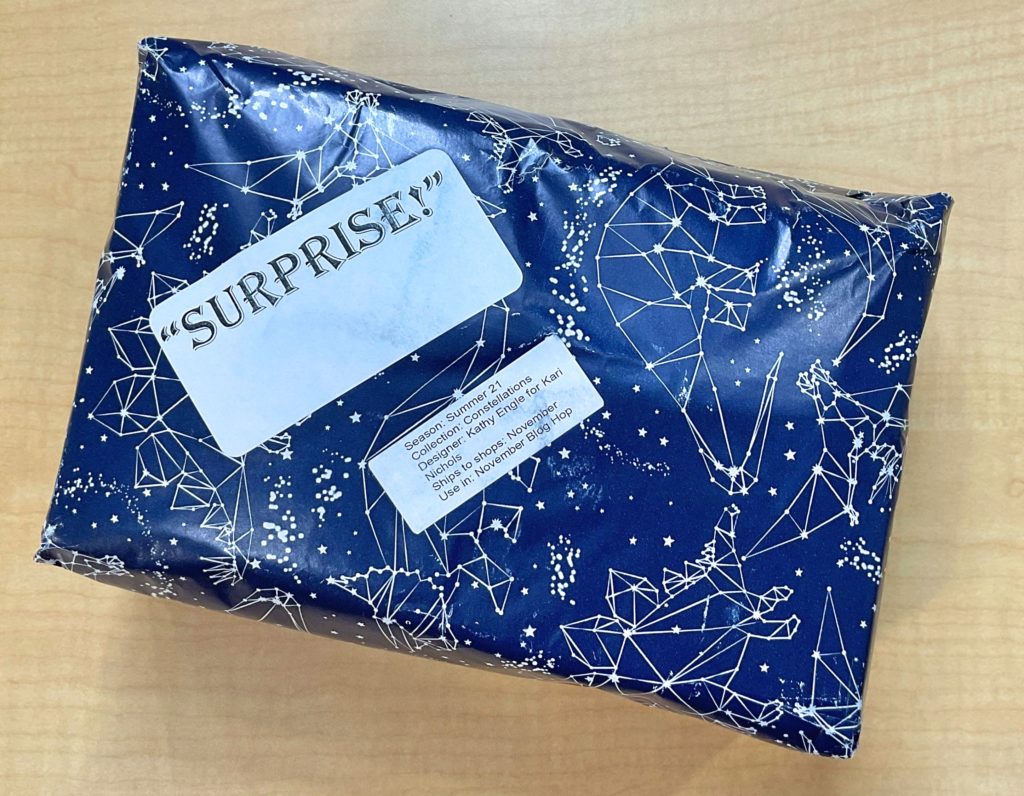 Along with the surprise bundle, I received some coordinating half yard cuts. From left to right they are:
Dark Grey – Solids Line
Cobalt – Solids Line
Cream – Foundations – Neutrals Line
Smoke – Foundations – Basics – Bodacious Blacks Line
Dot Sky – Foundations – Blenders Line
Marble Storm – Foundations – Blenders Line
I'm thinking that those coordinating fabrics they sent along with the surprise bundles might give a tiny hint and what colors might be hidden behind that wrapping paper (wink wink).
Proud Peacock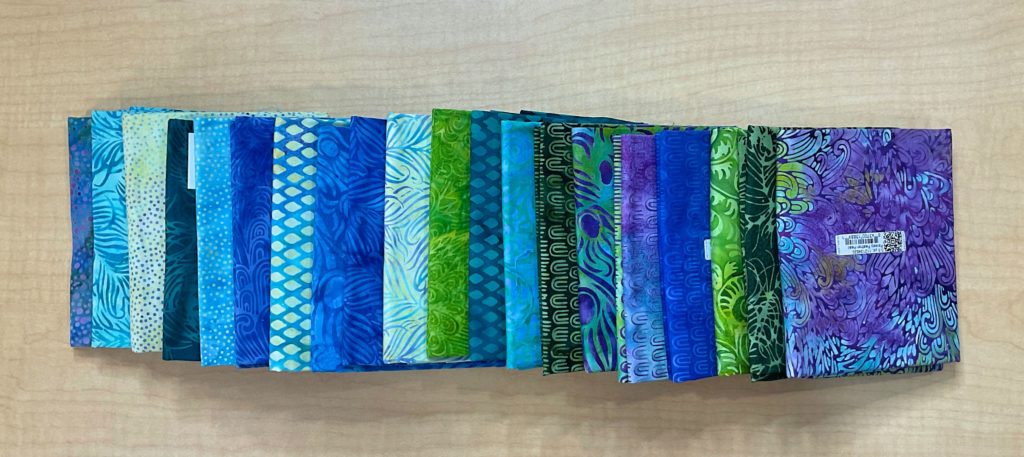 Next up is this glorious new line of fabrics called Proud Peacock designed by Kathy Engle. It will shipping to stores in September 2021. Wow is it gorgeous!
The coordinating fabrics from left to right include:
Cherio – Bermuda – Foundations – Blenders Line
Small Pointed Floral Turquoise – Foundations – Blenders Line
Grape – Foundations – Basics Playful Purples Line
Blueberry – Foundations – Basics Brilliant Blues LIne
Green – Solids Line
Lime Green – Solids Line
From the photo on the far right:
Large Netting Ivy – Foundations Blenders Line
Celery – Foundations – Blenders – Glorious Greens
Yes…There are More Fabrics!
There were also some much appreciated neutral fabrics in my box.
Black – Solids Line
White – Solids Line
Grey – Solids Line
Sprinkles – Foundations – Neutrals Line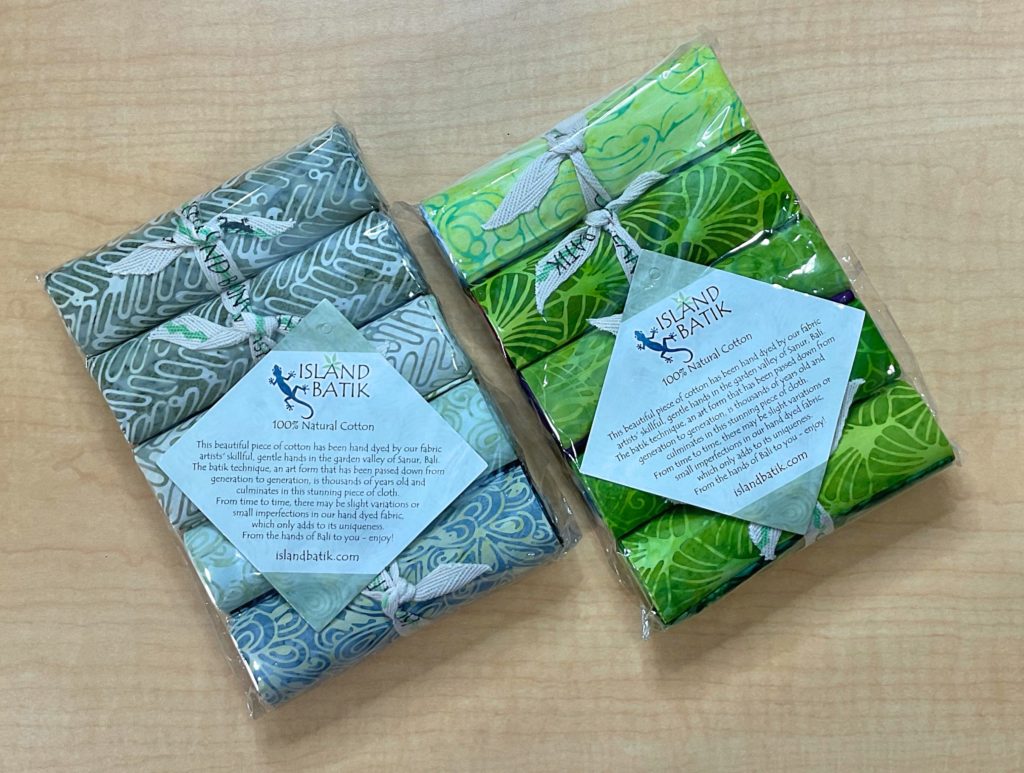 These stash buster packs will come in super handy! I got a pack of grey/neutrals and green. The green package has some other colors in it too.
Thank you Island Batik!
From The Sponsors
Hobbs Batting sent us five different products to work with. Wow! Thank you to Hobbs Batting!
Clockwise from top left they are:
Fusible Batting Strips
Heirloom 80/20 Bleached Cotton Batting
Heirloom Fusible Cotton Batting
Tuscany Collection Cotton Wool Blend
Thermore Ultra Thin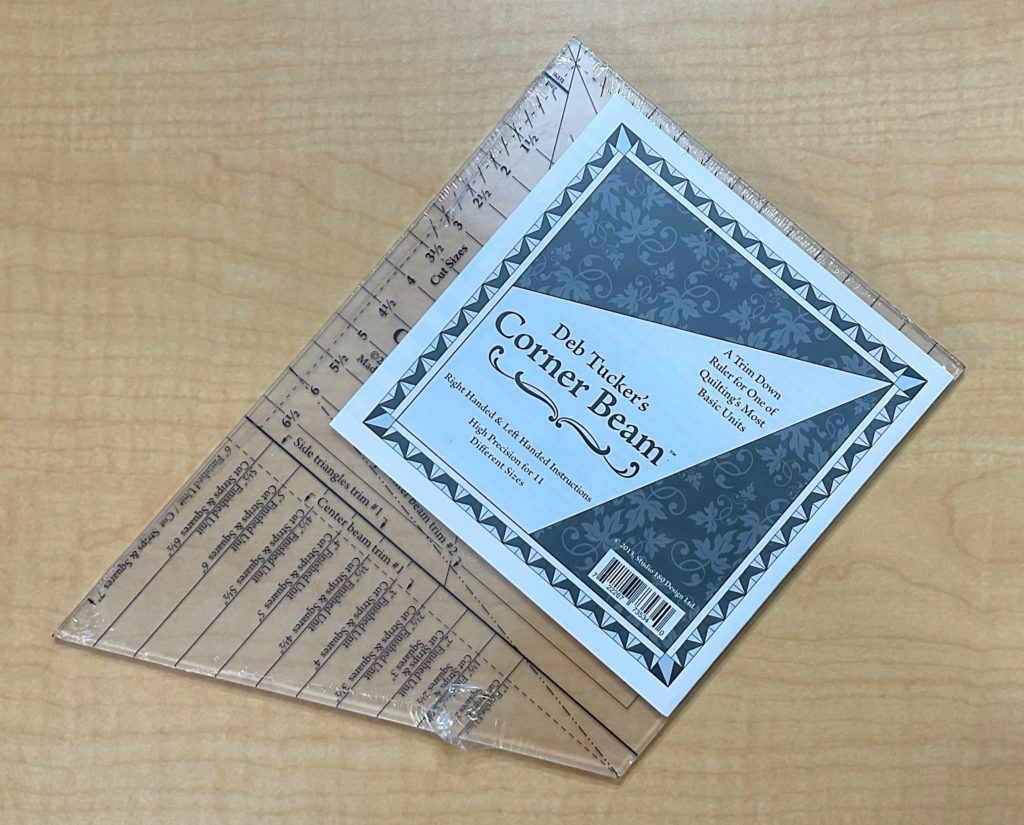 I can't wait to try out this Corner Beam ruler. Not only does it make the block shown in six different sizes, but there are other blocks you can make with the trimmings. Thank you Deb Tucker's Studio 180 Design.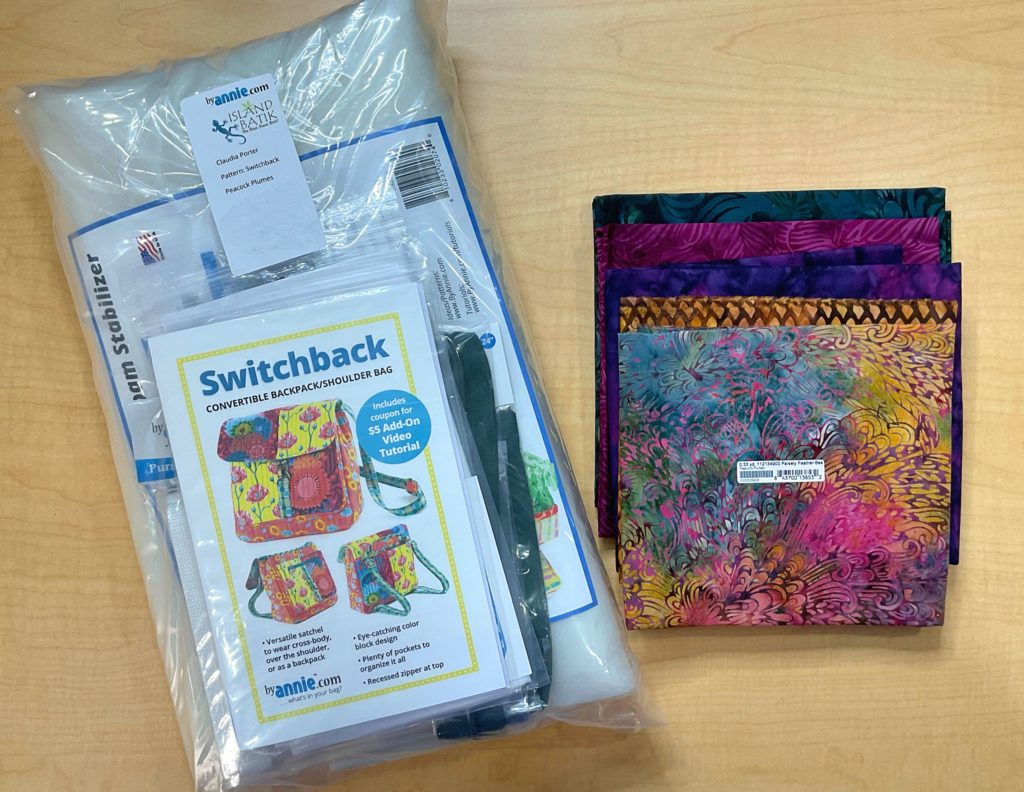 In September the ambassadors will be making a bag with a pattern from Patterns by Annie. I can't wait to get started although I've got to be honest, I've only ever made a tote bag. This will definitely be a challenge, but one that I am really looking forward to.
The fabrics I chose to make my bag in are from the the Peacock Plumes collection designed by Kathy Engle for Tammy Silvers of Tamarinis. The lining (the darker purple) is Blackberry from the Island Batik Foundations Basics line.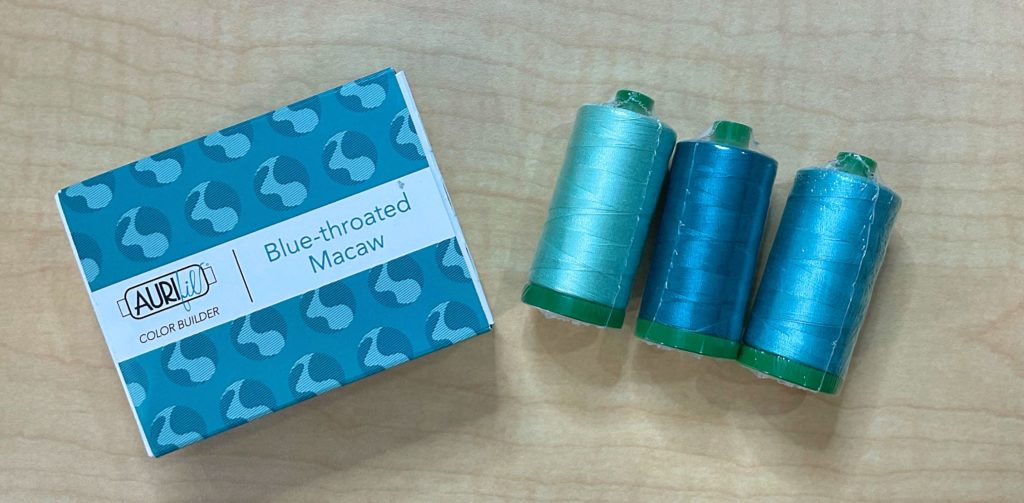 Aurifil generously donated packages of their 2021 Color Builders. I was lucky enough to receive the Blue-Throated Macaw and I am looking forward to creating something special with this thread.
Here is a little bit more about the 2021 Color Builders from the Aurifil website: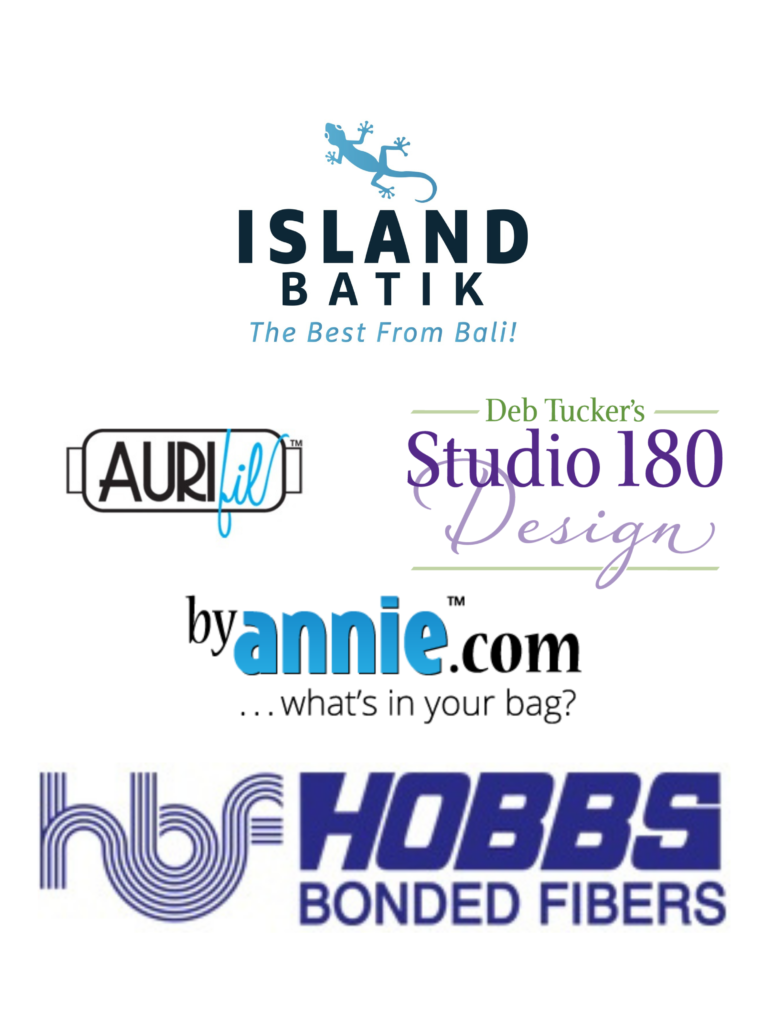 Finishing Up My Island Batik Ambassador Unboxing
So there you have it…there is everything that was in my boxes. I have a hunch my sewing machine will be getting a workout for the next six months!
I would like to thank Island Batik, Hobbs Batting, Deb Tucker's Studio 180 Design, Patterns by Annie and Aurifil for their generosity. I am looking forward to working with all of these products.
The Other Ambassadors
Make sure to visit all of the other ambassador websites to see what goodies they got. We all got different things you'll definitely want to check them out.