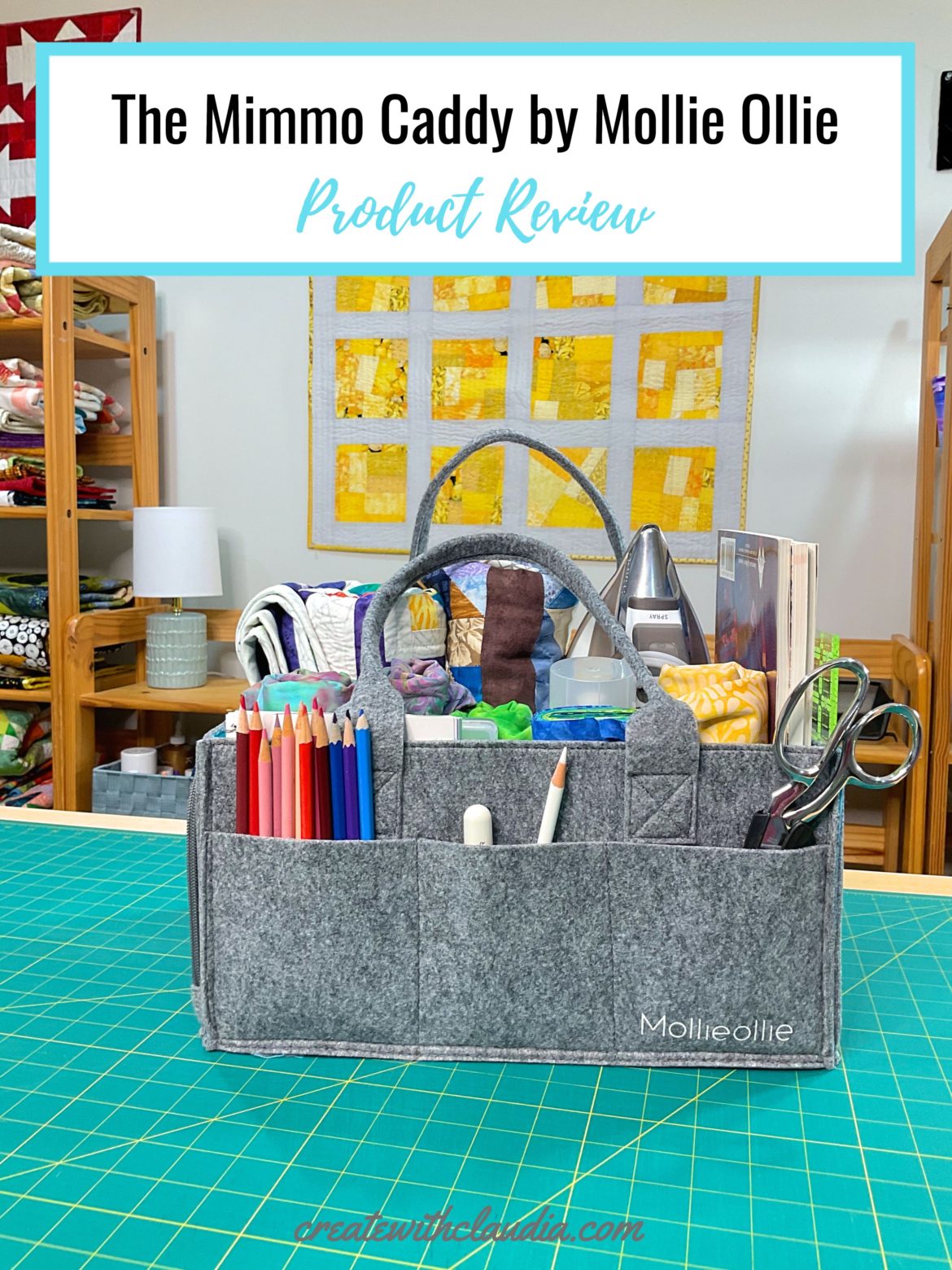 Mimmo Caddy Product Review
When the people over at Mollie Ollie reached out to me and asked me if I would be interested in taking a look their caddy, it did not take me long to make up my mind. After receiving it, I can tell you that I am happy that they asked me to do a Mimmo caddy product review. I can't wait to tell you all about it. From the materials used to its practicality, this is a really nice product.
Disclosure: The Mimmo caddy was provided to me by Mollie Ollie. All opinions are my own.
As a quilter and crafter whose studio is in the basement, I am always bringing things up and down the stairs. Usually I'm trying to balance thread and fabric and other knick knacks. I also like to sew when I'm watching television and it is helpful to have something to keep all of my supplies in. Not only does the mimmo caddy help me when carrying things around the house, I now have something to help me stay organized (and make my family happy since there are usually spools of thread all around the house).
For a limited time you can use this discount code: 10CWClaudia over on Amazon to get a 10% discount on the Mimmo Caddy. You can also visit their website www.mollieollie.com to learn more about how to redeem a 15% discount.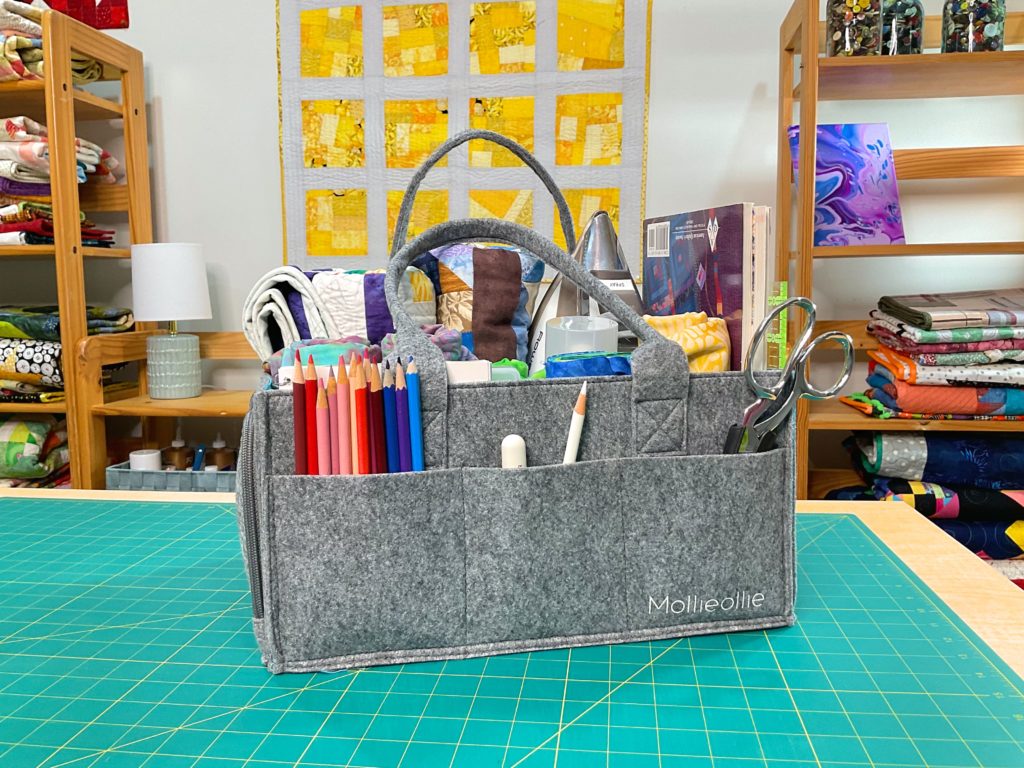 You Can Watch My Review Here
Highlights of the Mimmo Caddy by Mollie Ollie
There are a number of items that I want to highlight about this caddy so let's start.
The Look
This caddy looks great and the gray color is a nice neutral that blends in anywhere. The sleek lines give it a modern look.
The Workmanship
As a quilter, I tend to looks at the stitching on items. It's just something that I do without thinking. From the hook and loop fasteners throughout the caddy, to the the stitching on the handles, it is nicely made.
The caddy is incredibly light. In fact, when I got the shipment I was almost wondering if the product was in the box. No worries about packing it full of items though. Per the Mollie Ollie website, this caddy can carry up to 50 pounds.
The fabric is a soft felt that is chemical-free. That is always a plus.
Lined in a pretty turquoise, the inside has two removable panels that can be adjusted so that you can have either 1, 2 or 3 compartments. Handy! There are also open pouches on three sides and a zip pouch on the other.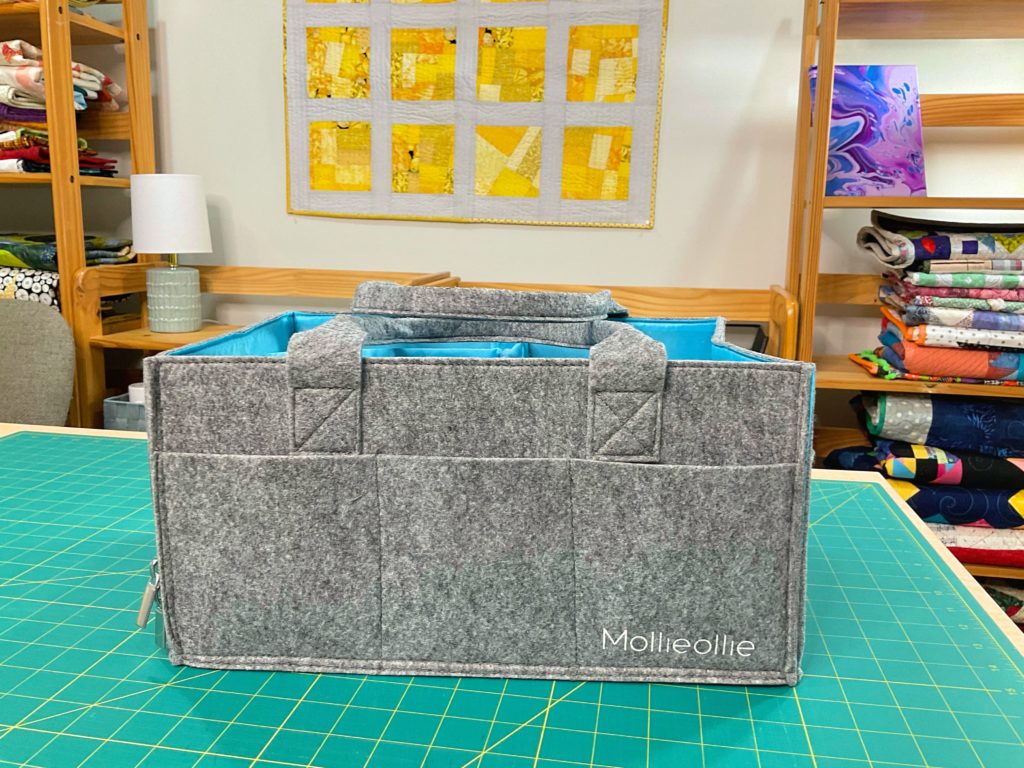 Lastly, it retains its shape, even when empty. You will see how much stuff I put in mine shortly. Even after I'd emptied it out, it stayed upright and nothing was stretched out.
What Was in My Mimmo Caddy?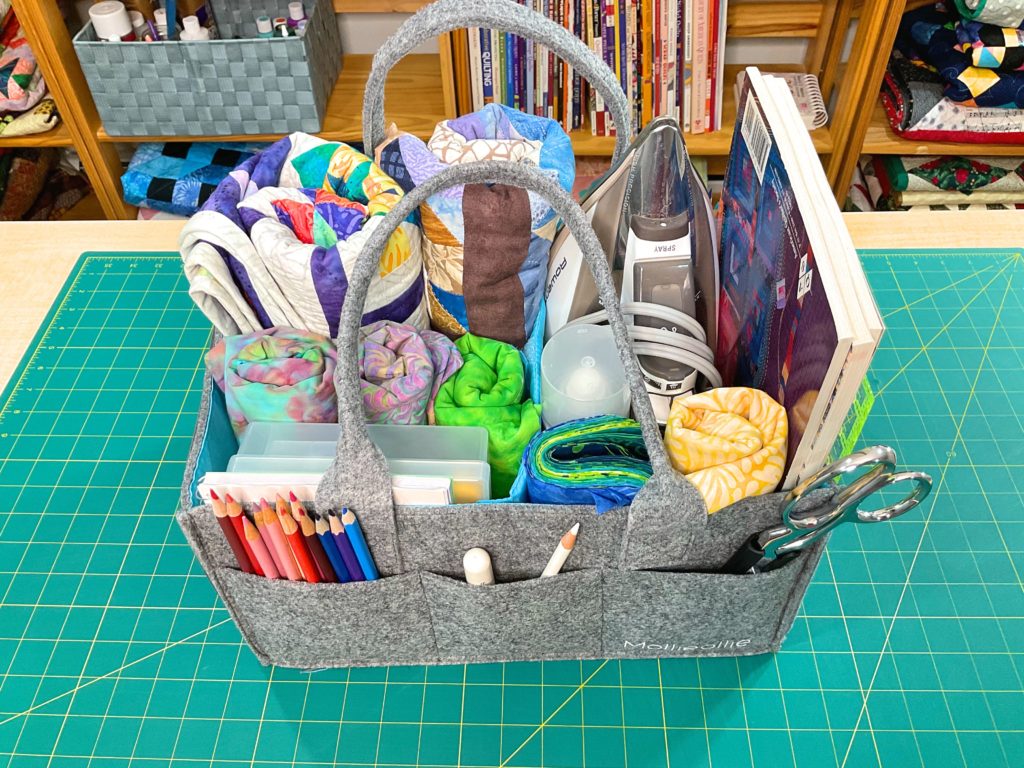 As you can see, I loaded the caddy up to show you how much I could put in it. In my video I pull everything out, so you get a good idea of what was in the bag. In all honesty, I normally would not put so much in it. I was able to comfortably fit:
4 yards of fabric
2 quilts (one that was about 24″ squares & one that was about 42″ square)
1 pack of charm squares
3 full size quilt books
Scissors (use care that your pair that has a protective sheath. You don't want them poking a hole in the caddy)
Colored pencils
Basting spray
Straight pins
Safety pins
Full size iron (never put a hot or warm iron in the caddy)
Sewing machine accessories case
Glue stick
Needles
5 spools of thread
2 quilt rulers
Appliqué paper
Marking tools
2 yo-yo makers
Small notebook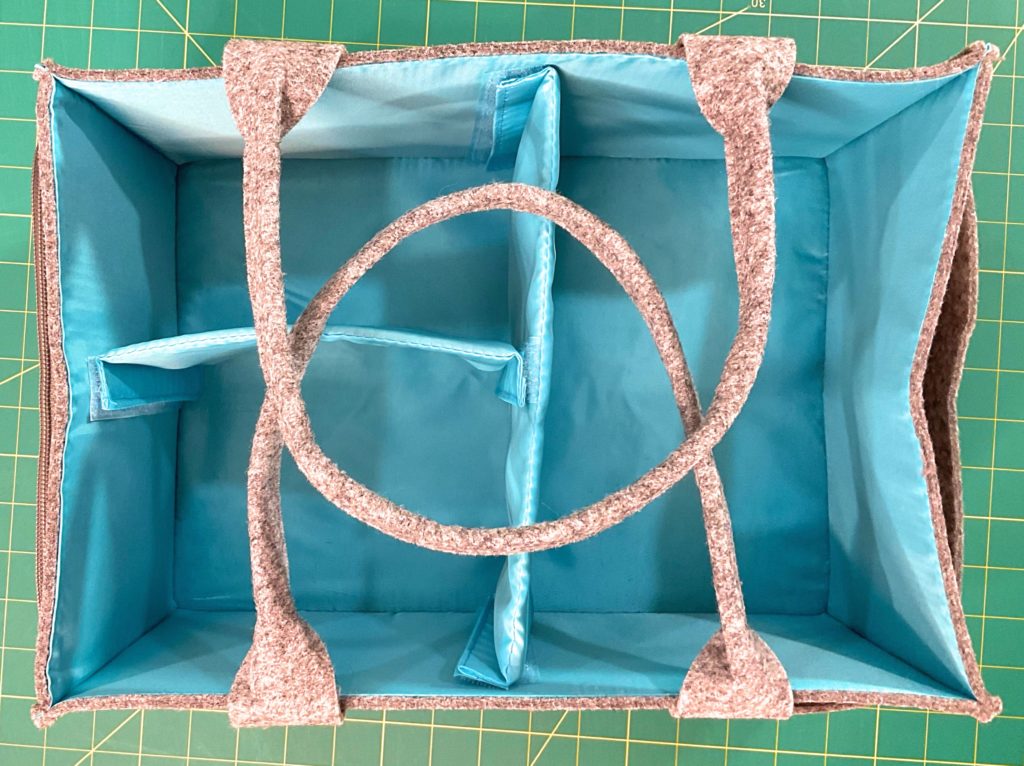 What Can Quilters/Crafters Use The Caddy For?
What is a mimmo caddy product review without a list of things I will be using it for? These are just a few ideas, but I bet people can come up with plenty of other ones too.
Studio Storage – With the various compartments. I'll be able to stay organized in my sewing space.
Around the House – This was attractive to me, especially since my work space is in my basement and I am always carrying things up and down stairs.
Quilt Guild Meetings – Often there are events going on at guild meetings where people need to bring items. This is an ideal carry all for that.
Quilt Retreats – It will be easier to stay organized when heading out to a multi-day retreat with all of my sewing notions in one place.
Teaching – For quilters/crafters who teach, this would be the perfect caddy for supplies.
Gift Packaging – I think this would be a lovely part of a gift for a new mom or bride. You could pack it full of all sorts of goodies for them.
What are some of the things you would do with yours?
Things About the Caddy That Stood Out To Me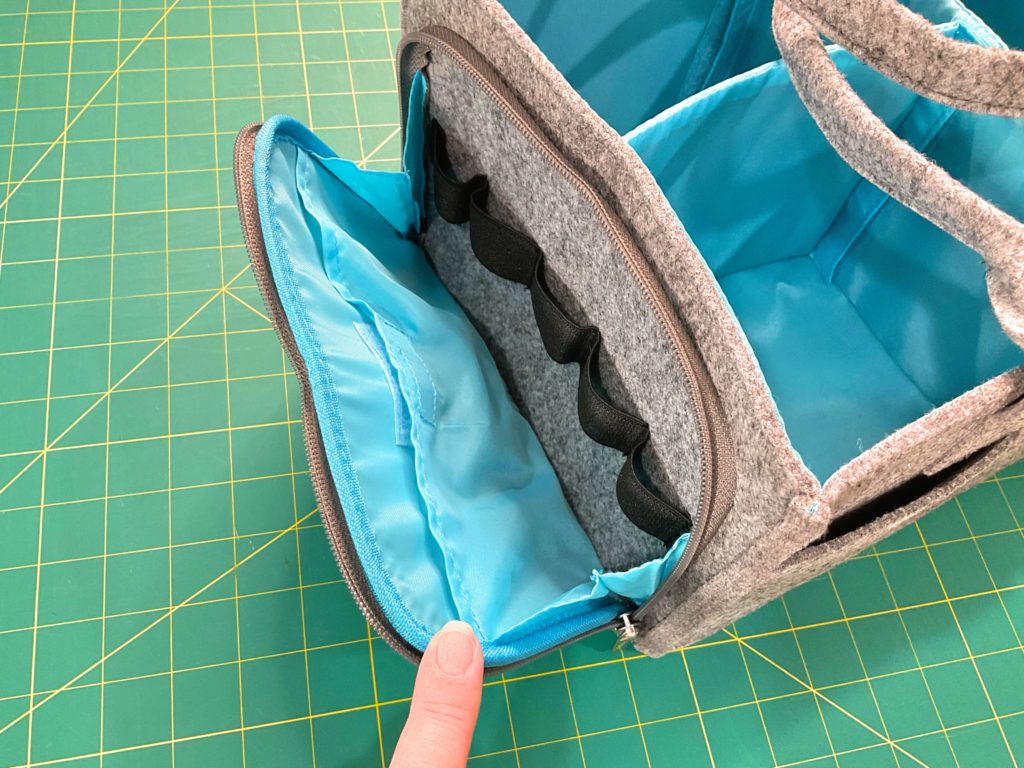 You can probably tell by now that I really like this bag and I will be using it a lot. There were few things that really caught my eye.
The zipper pouch on the side – Handy for items that need to be securely stored.
Elastic holders – Smaller spools of thread fit in these and this way, the spools won't be rolling all over the place and unwinding.
The weight – I mentioned it before, but even though I can fit a lot in the caddy, it is lightweight. Nice when you have a lot to carry around.
My Mimmo Caddy Product Review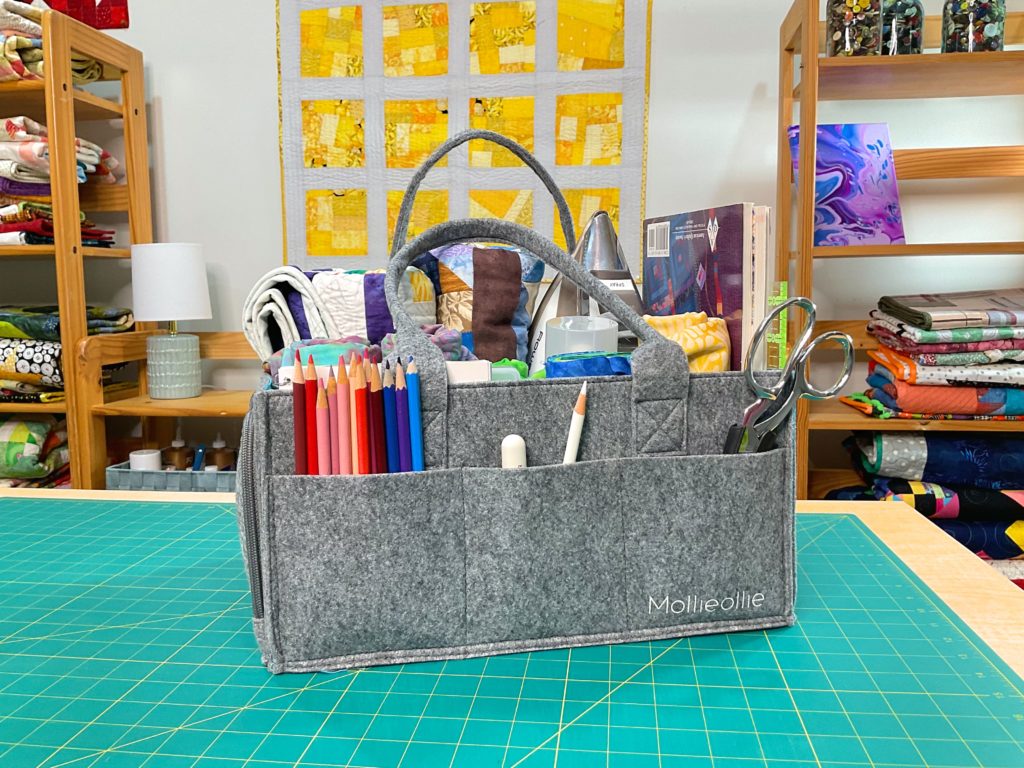 I'm pleased that the people over at Mollie Ollie asked me to review their Mimmo caddy. Not only does the bag look great, it is incredibly practical to have. I know that I will be using it for a long time to come.
Want to Buy the Mimmo Caddy?
For a limited time you can use this discount code: 10CWClaudia over on Amazon to get a 10% discount on the Mimmo Caddy. You can also visit their website www.mollieollie.com to learn more about how to redeem a 15% discount.
Curious About the Yellow Quilt On the Wall in the Photos?
If you like the yellow quilt in my photos, it is my modern baby crazy quilt pattern and it is free. You can find it here: Modern Baby Crazy Quilt.
Happy Quilting!