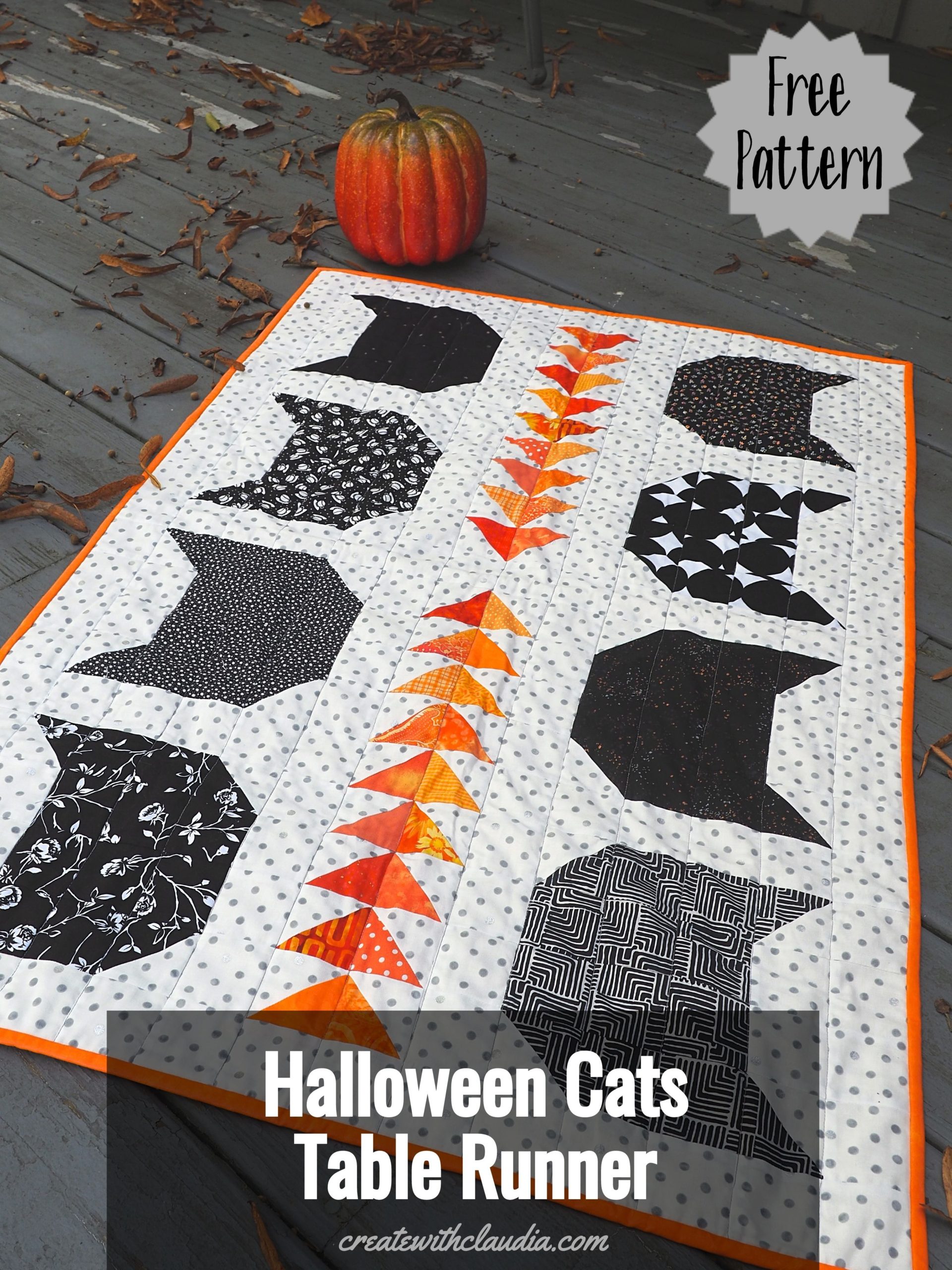 Halloween Cats Table Runner Pattern
Perfect for all of those Halloween scraps you have, this adorable Halloween Cats table runner is a must-make addition to your holiday décor. These kitty cats aren't spooky at all, just super cute, and they are thinking about chasing those orange flying geese that are running down the center.
Made up of 2.5″ squares and half square triangles, it is the ideal pattern for all of your scrap fabrics. I used a different one for each cat and then mixed up my oranges for the half square triangle arrows down the center. For the background I had a perfect polka dot that even had a little silver bling it it.
You could easily change this up, maybe with a black background, orange cats and white arrows. Whichever way you decide to make it, you will love it. It's a nice easy pattern too, so it's beginner-friendly. You just need to make sure to stay organized so some of the blocks don't get mixed up.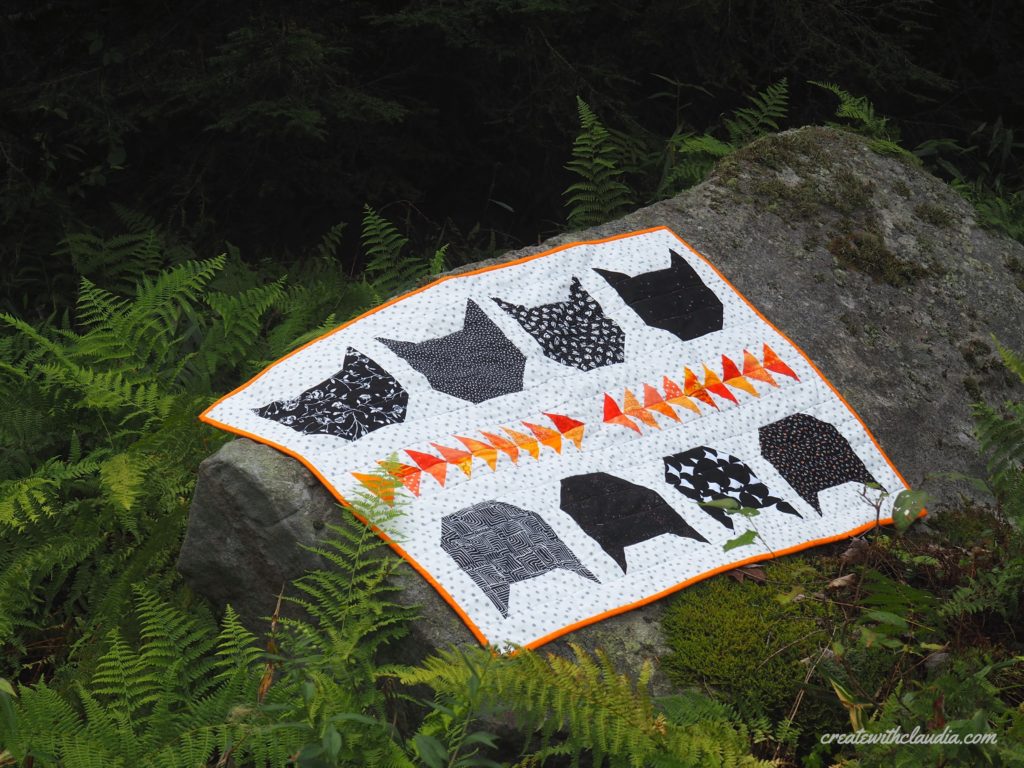 Here's everything you need to know to make this design.
Watch My Halloween Cats Table Runner Tutorial Here
More and more of my readers like having a video tutorial to go along with my written one, so here you go. You'll also find the downloadable pattern for your use.
Pattern Specifics
Finished runner measures approximately 28" x 42"
¼ inch seam allowance is used
Items To Help Make This Runner
As an Amazon Associate I earn from qualifying purchases.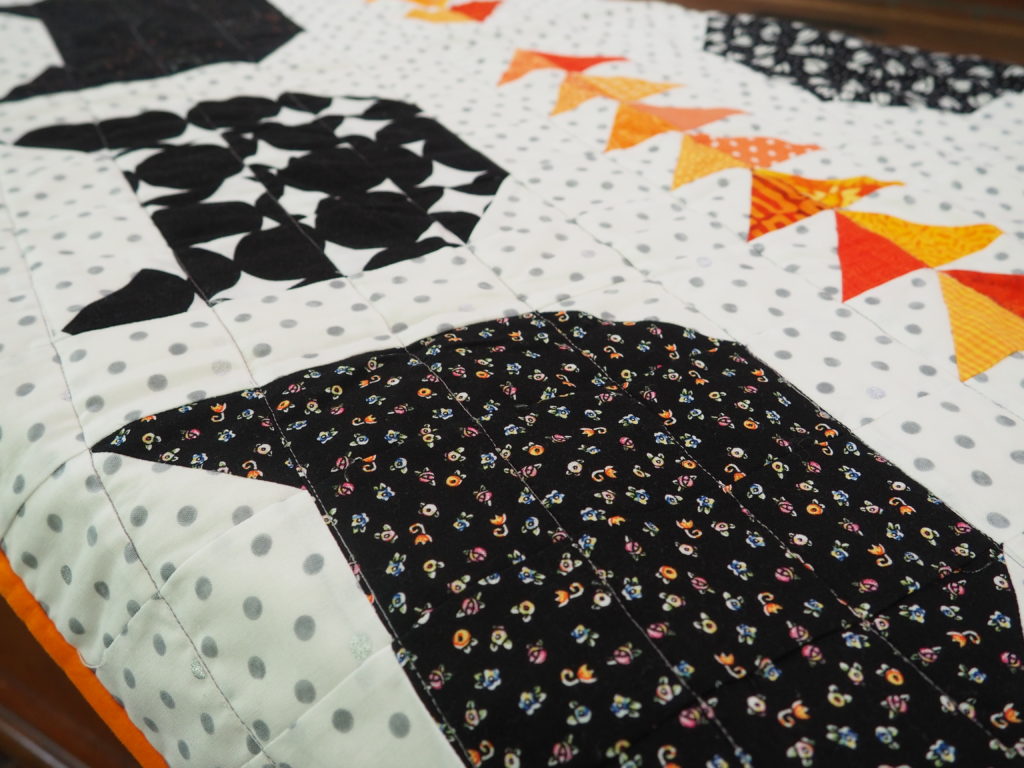 Fabric Requirements
Background Fabric: 7/8 yard
Fabric for Cats: ¾ yard
Fabric for Arrows: ¼ yard
Backing: 1 ¼ yards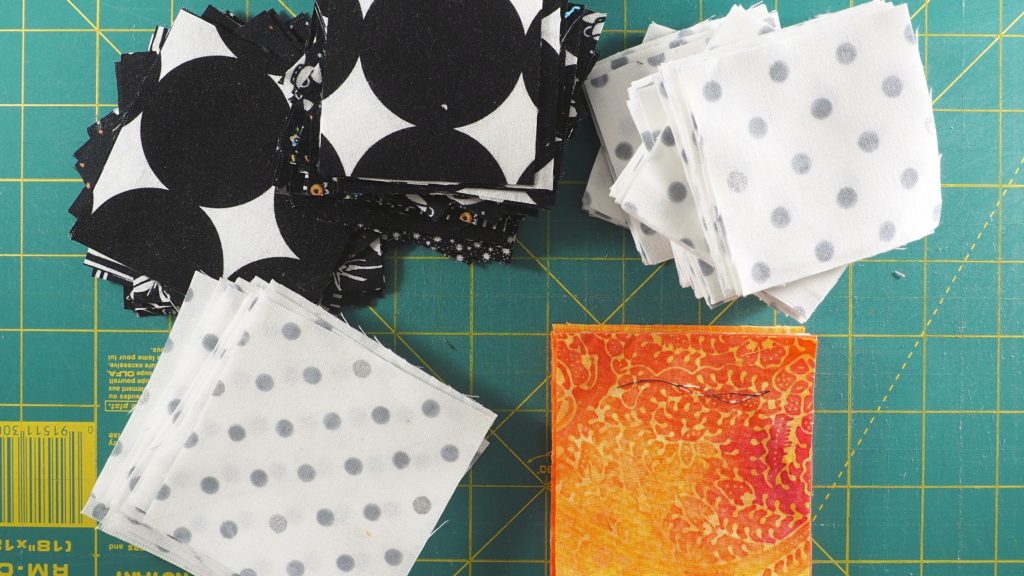 Cutting Instructions
Background Fabric:
146 squares cut 2 ½ inches by 2 ½ inches
34 squares cut 3 ¼ inches by 3 ¼ inches
For the Cats:
Note: Each cat takes 10 smaller squares and 2 larger ones. The cutting here is for all of the cats. I used a different fabric for each cat.
80 squares cut 2 ½ inches by 2 ½ inches
16 squares cut 3 ¼ inches by 3 ¼ inches
For the Arrows:
18 squares cut 3 ¼ inches by 3 ¼ inches
Make the Half Square Triangles
Before assembling the entire table runner, make the half square triangles. Pair up the 3 ¼ inch squares as indicated here:
Arrow fabric squares with background fabric squares: 18 pairs
Cat fabric squares with background fabric squares: 16 pairs
Using the pairs of 3 ¼ inch squares, draw a diagonal line on the back (wrong) side of the lighter square of fabric. This will be your sewing guide.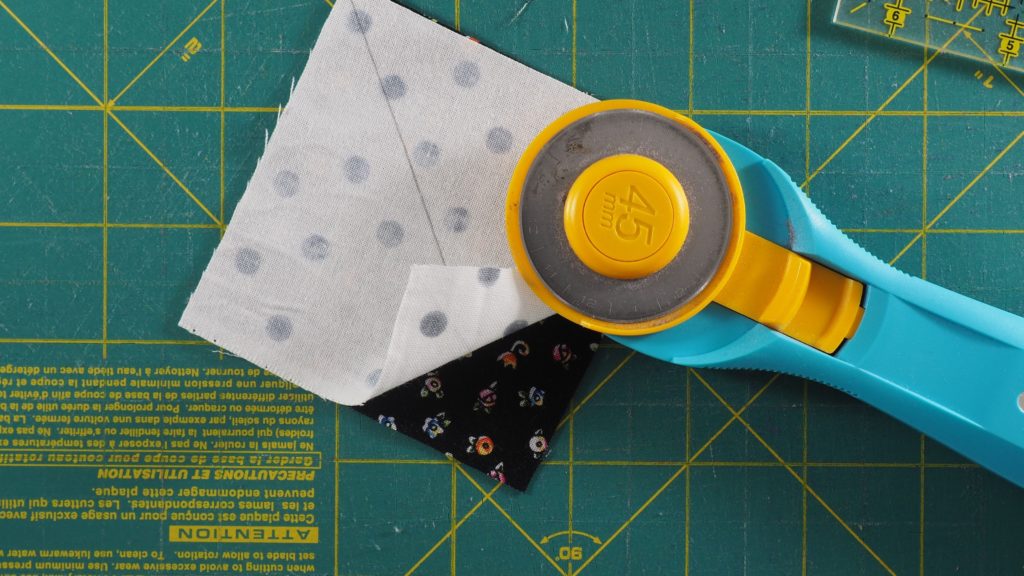 Take a pair and line up one of the squares of fabric on top of the other, with front (right) sides facing each other.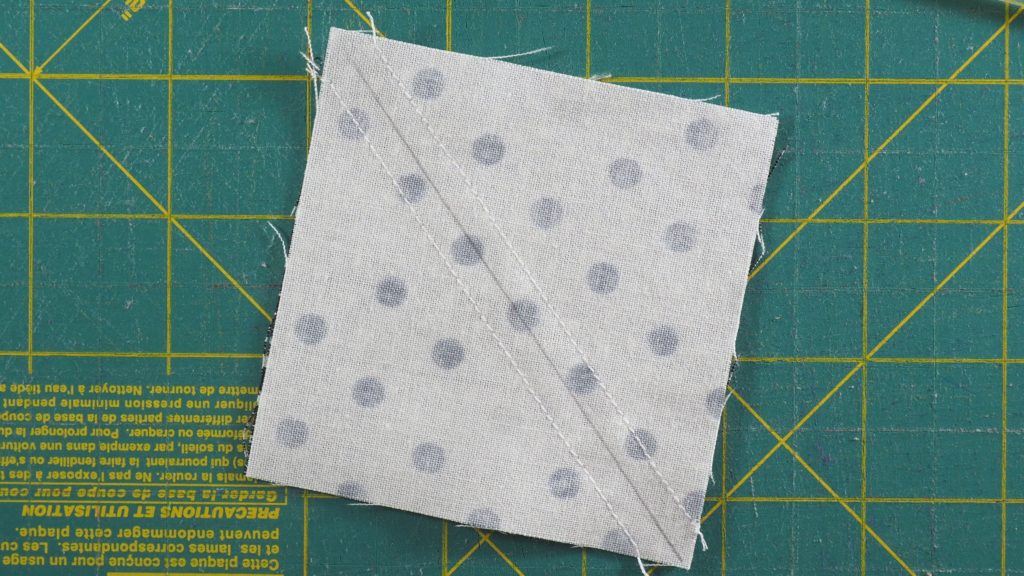 Using a ¼ inch seam allowance, sew along both sides of the diagonal line drawn.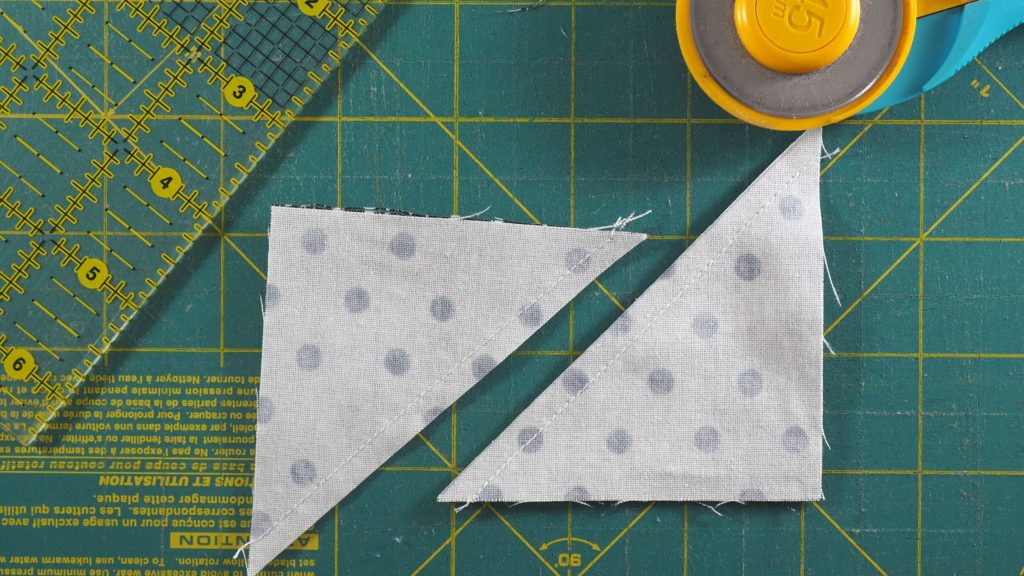 Cut down the center, along the line that was drawn earlier. You will have two blocks that now need to be pressed open.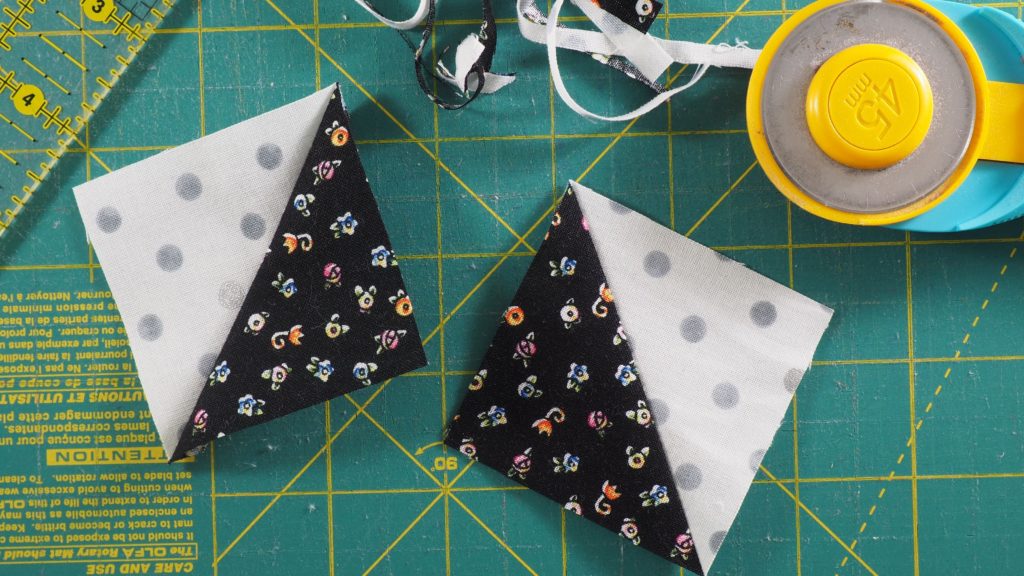 Trim the blocks down so they measure 2 ½ inches by 2 ½ inches.
Repeat with all of the pairs of 3 ¼ inch squares. You will end up with 36 half square triangles made up of the arrow and background fabrics and 32 of the ones made up of the cat and background fabrics.
Layout and Assembly
Pattern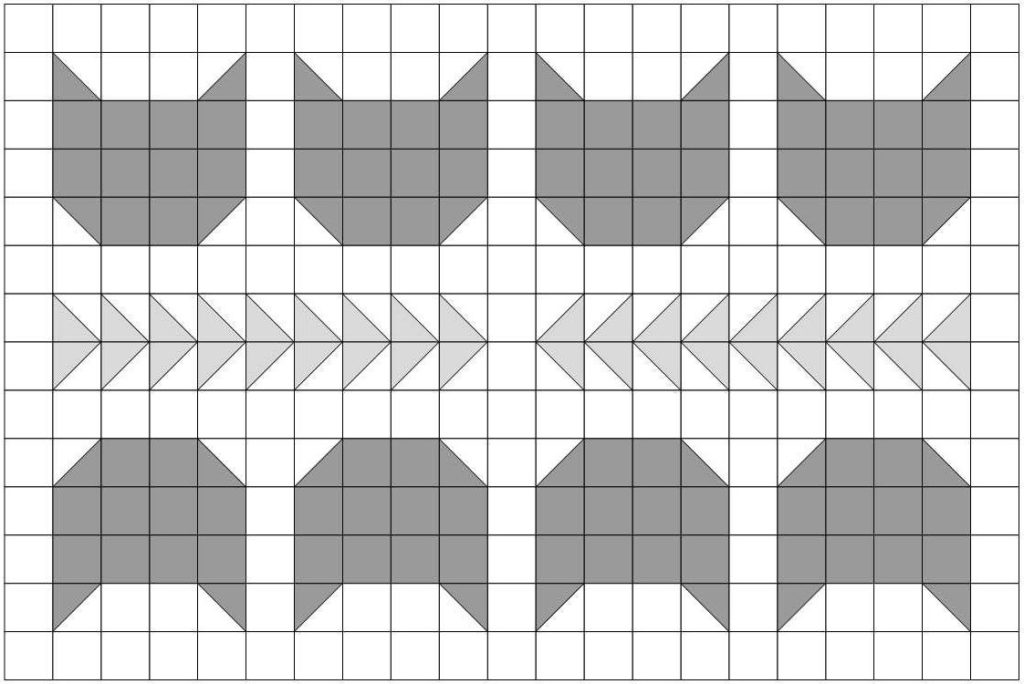 Lay out the squares in the design shown.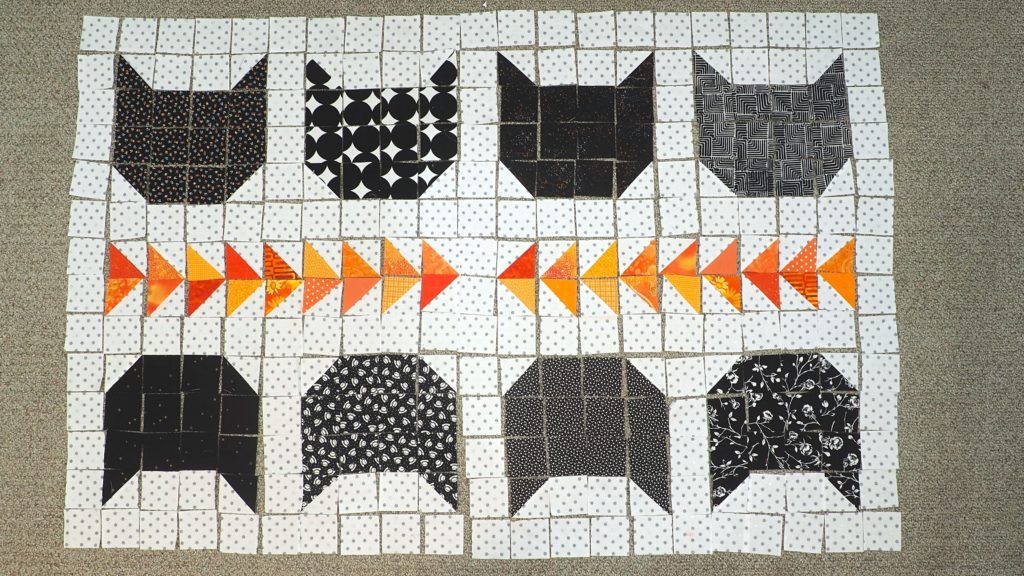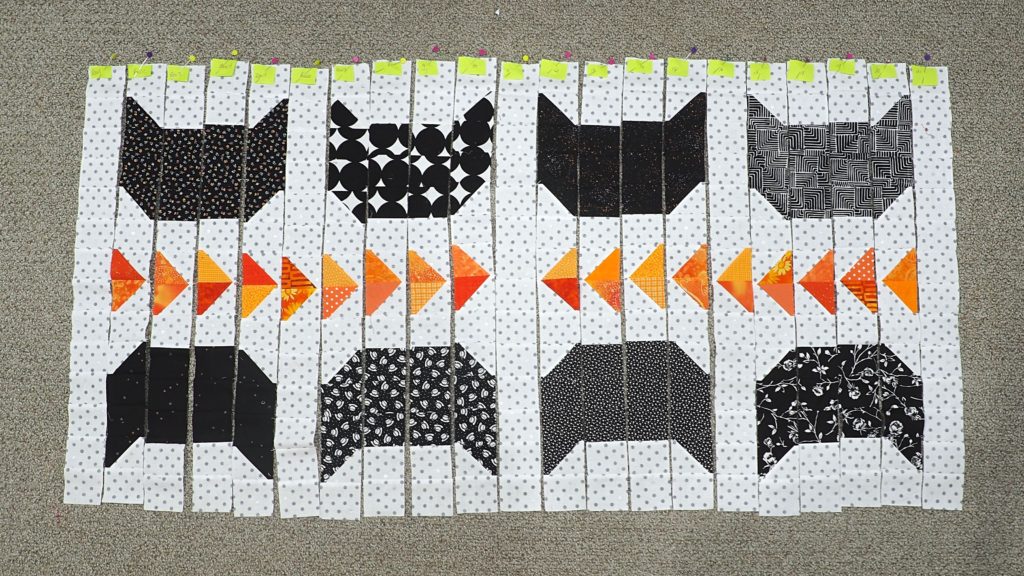 Sew together each column first. Tip: Stay organized by labeling each column with a number. It's easy to get some of the squares turned around when assembling this table runner.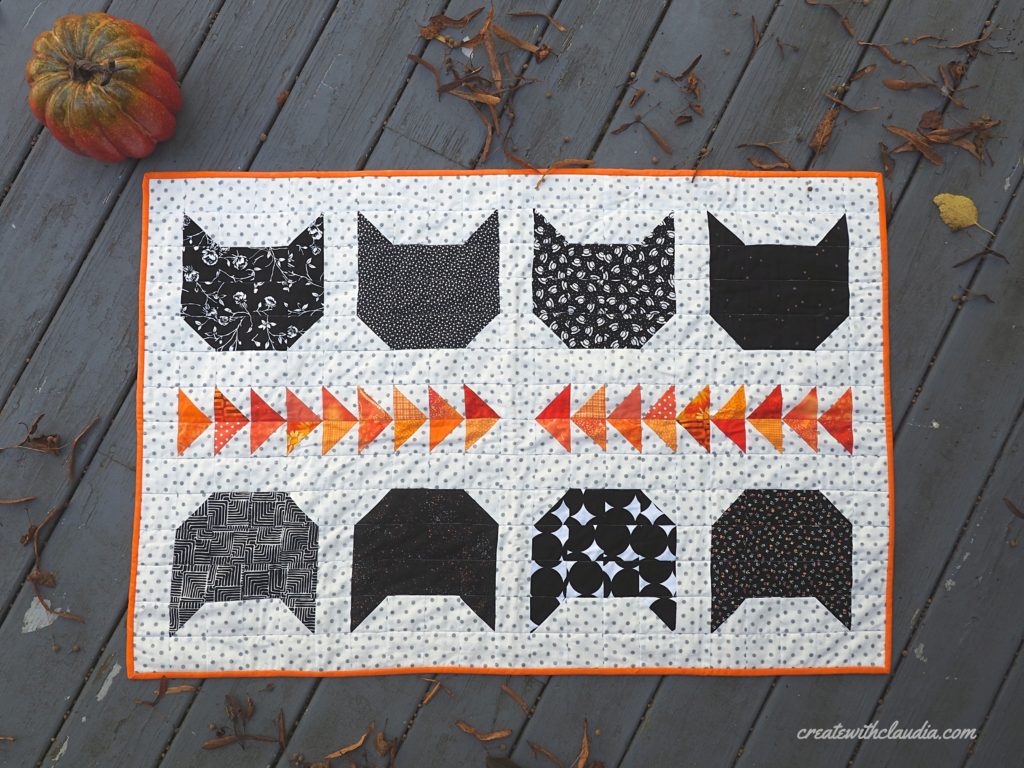 Once the individual columns are sewn, join them together. Back and bind as desired.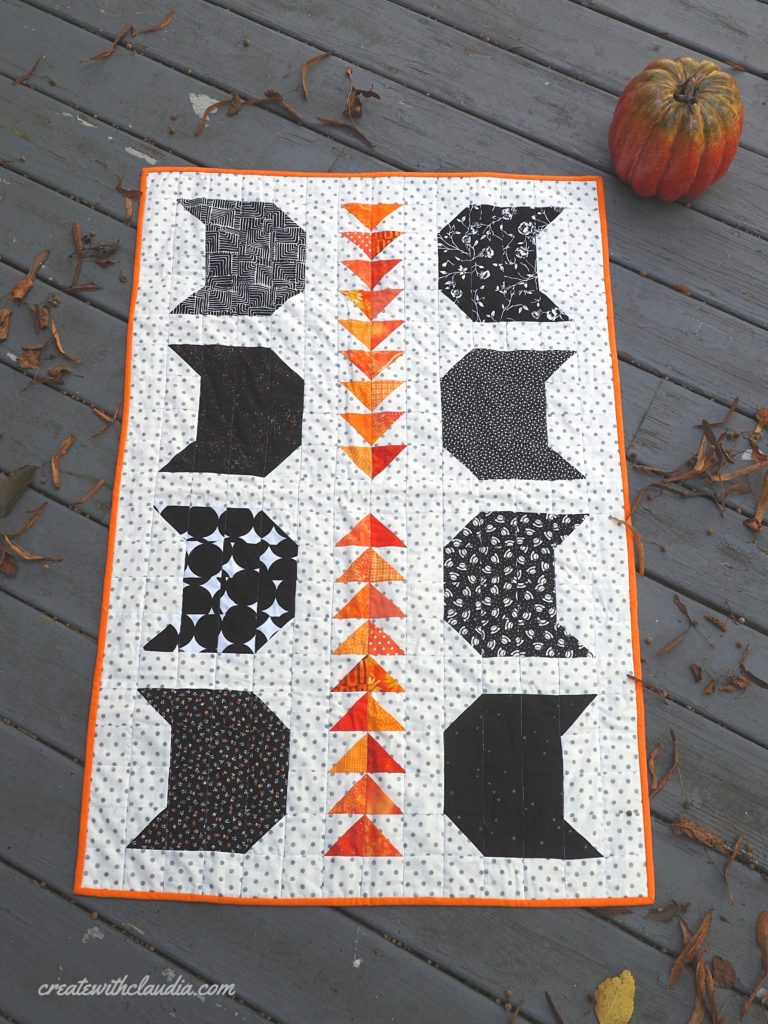 Show Off Your Table Runner!
Seriously, isn't this the cutest Halloween Cat table runner?! It will be the star attraction at your Halloween party (well, let's be honest, the candy probably will).
Pair it up with my Pixelated Witch's Hat Pillow and you are set!
Happy Quilting!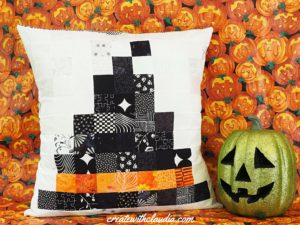 Don't forget to share off your beautiful table runners on Instagram and use the hashtag #createwithclaudia so we can all see them!