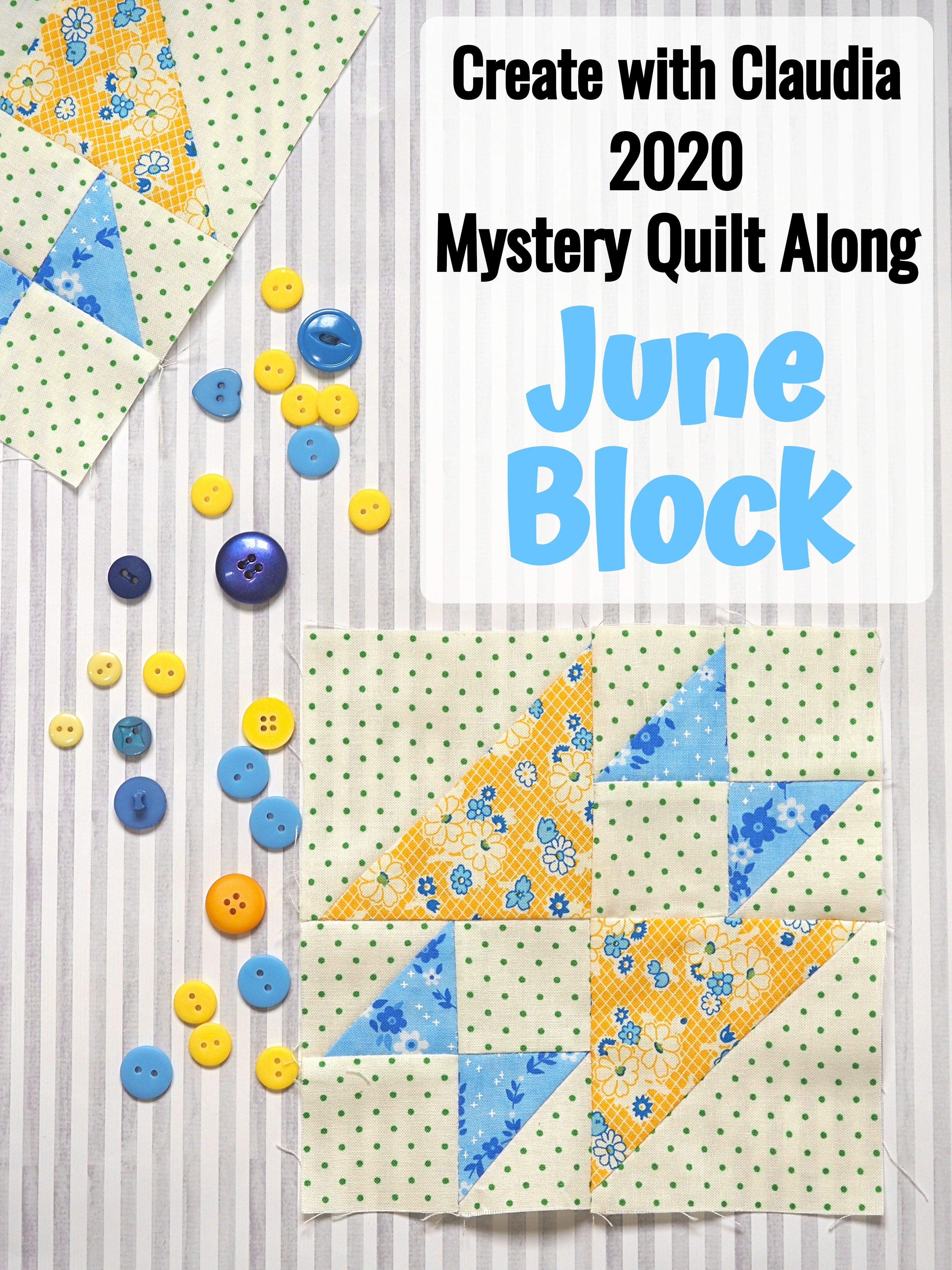 How to Make a 6 1/2″ Old Maid's Puzzle Quilt Block
Originally part of my 2020 Sparkling Sampler Mystery Quilt Along, this tutorial shows you how to make the sparkling Old Maid's Puzzle quilt block. For the mystery quilt, we made two blocks, so the information listed in this article is for 2 of them. Adjust accordingly, depending on how many blocks you want to make.
The June mystery block instructions are for the Old Maid's Puzzle. This charming block, the sixth in the quilt along, may look tricky to assemble, but it is pretty easy.
Yes, you read that right, it's already time for the sixth block in the mystery quilt along. After this one there are only five more to go. The final month, December, will be when we sew everything we have made, together. I can't wait for everyone to see the final quilt.
Because of the use of the half square triangles in this block, it has always reminded me of a butterfly. Depending on what fabrics you choose, it's a terrific way to show off fabrics.
If you have been quilting along with me for this challenge, then you have probably figured out that I love the half square triangle. In fact, I've used this quilting unit in almost every one of the six blocks we have made so far.
I believe that the half square triangle is one of the most essential building blocks in quilting. Just take a look at various patterns. So many of them have the half square triangle incorporated in them.
So let's get started on month six.
Fabric Requirements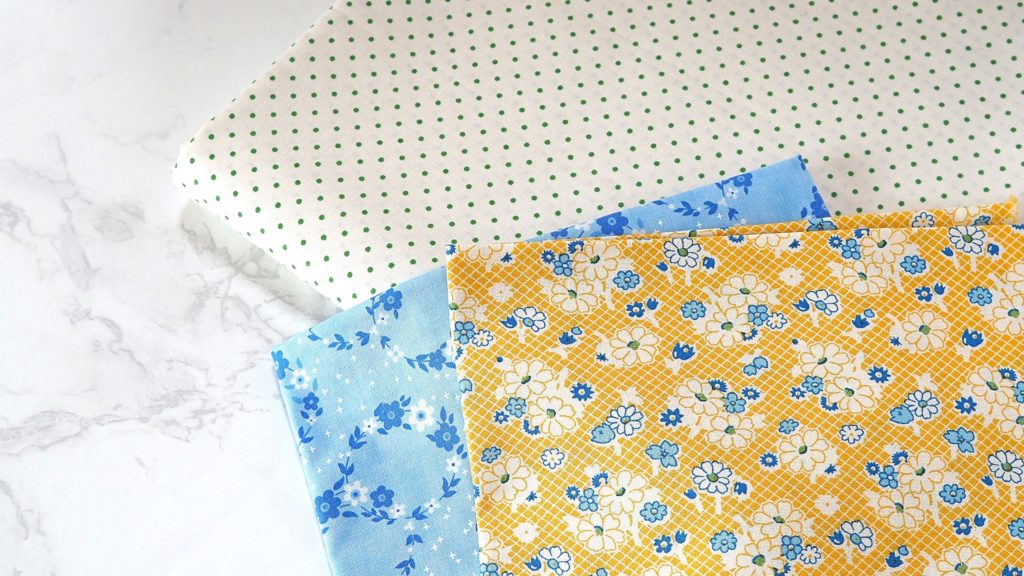 A – Fat Eighth (In my block, the white with green dots)
B – 9″ x 5″ Rectangle (In my block, the yellow with flowers)
C – 6″ Square (In my block, the blue fabric)
The fabrics I used for this were all from Moda and include Kelly Green on White from the Essential Dots collection. They also include Daisy Check on Yellow from the Sweet Harmony collection by American Jane Fabrics and Blue Double Wreaths from the Flower Sacks collection by Me & My Sister Designs.
The block in the video tutorial is made up of various fabrics from my stash.
Items that may help you with this block
As an Amazon Associate I earn from qualifying purchases.
Video Tutorial
For my readers who enjoy watching video tutorials, you can find this block, as well as all of the other months on my YouTube channel.
Cutting (For Both Blocks)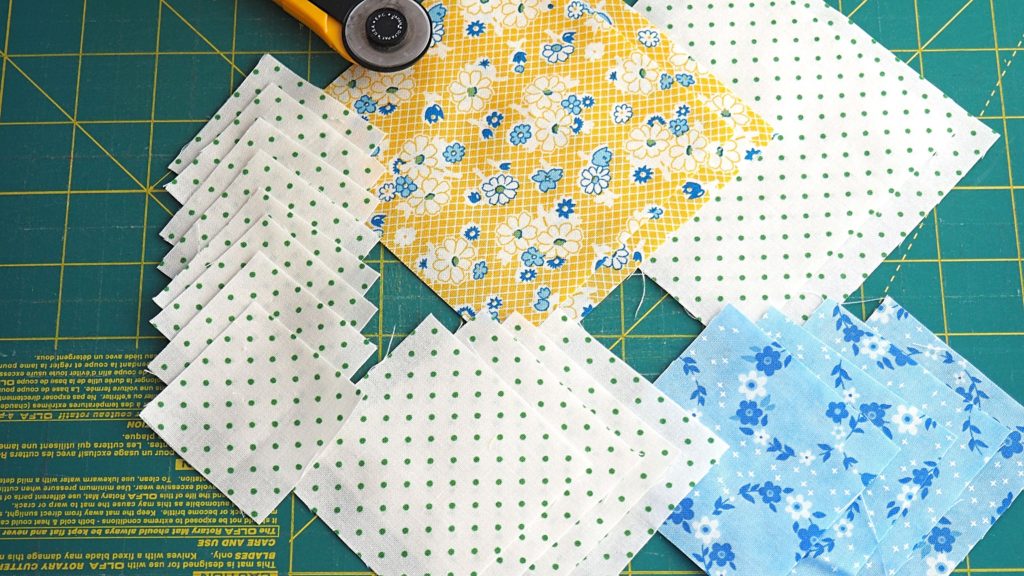 From Fabric A:
Two squares cut 4 ¼ inches by 4 ¼ inches
Four squares cut 2 ¾ inches by 2 ¾ inches
Eight squares cut 2 inches by 2 inches
Fabric B: Two squares cut 4 ¼ inches by 4 ¼ inches
Fabric C: Four squares cut 2 ¾ inches by 2 ¾ inches
Block Assembly
Take one of the 4 ¼ inch squares of Fabric A and one from Fabric B.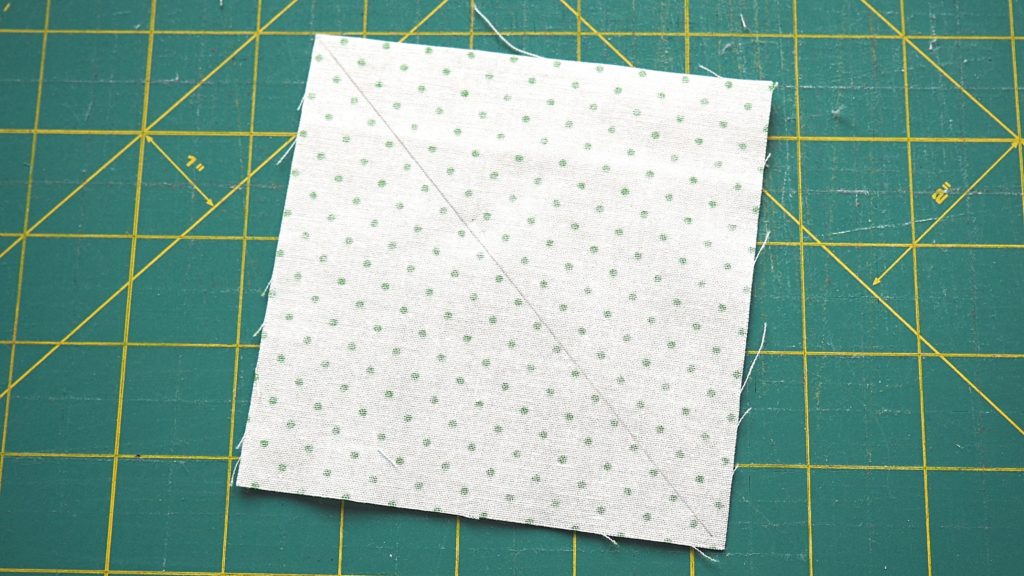 Draw a diagonal line on the back (wrong) side of one of the squares. This will be your sewing guide.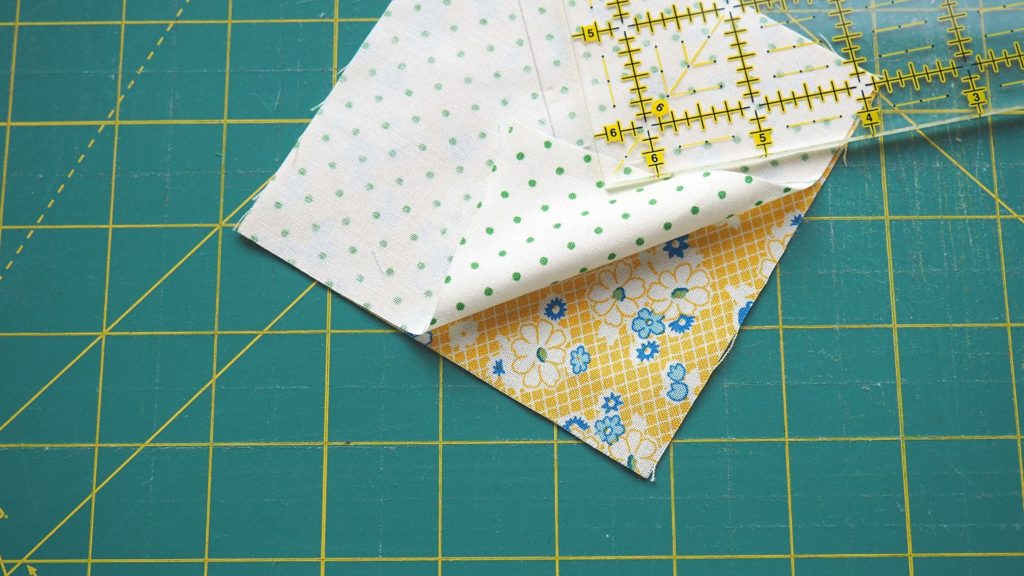 Line up the squares, right sides facing, on top of each other.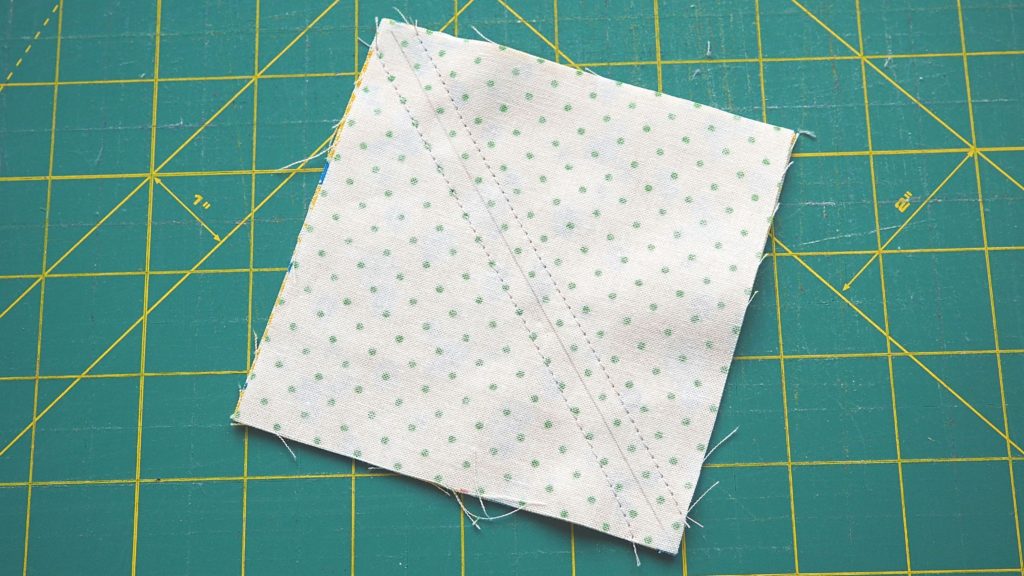 Using a scant ¼ inch seam allowance, sew along both sides of the line drawn earlier.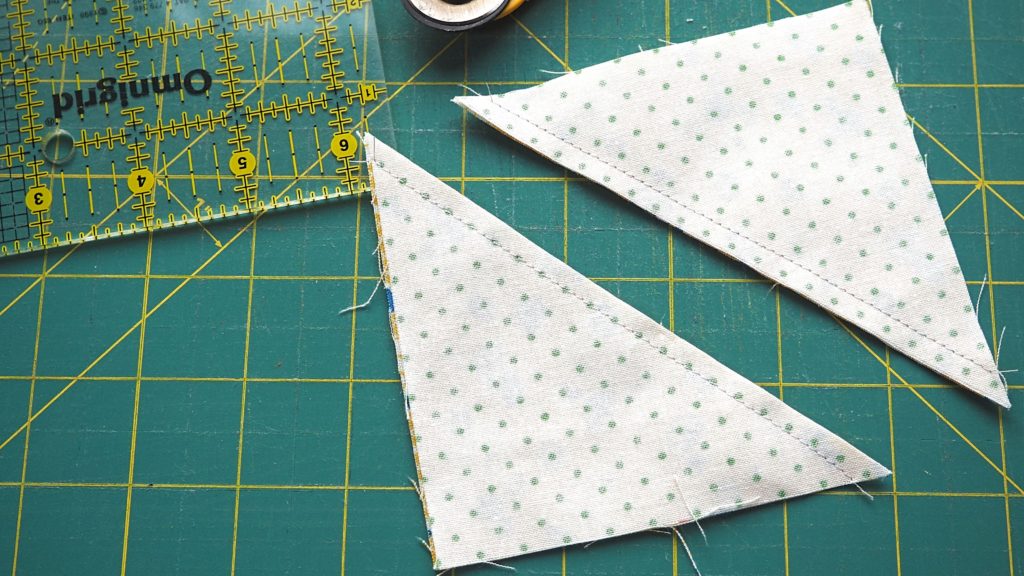 Cut down the center, along the drawn line. You will have two blocks that now need to be pressed open.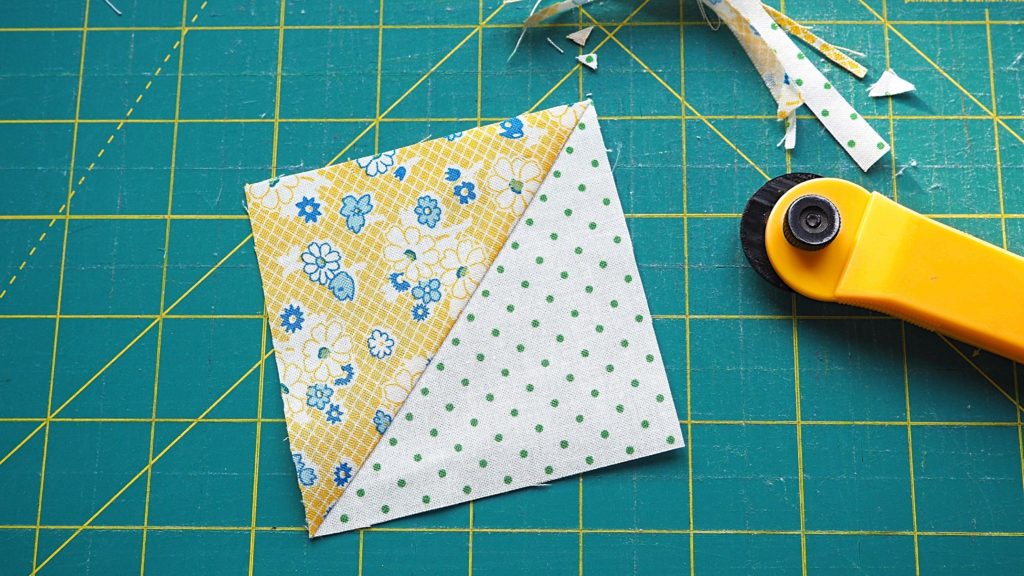 Trim the blocks down so they measure 3 ½ inches by 3 ½ inches.
Make the Remaining Half Square Triangles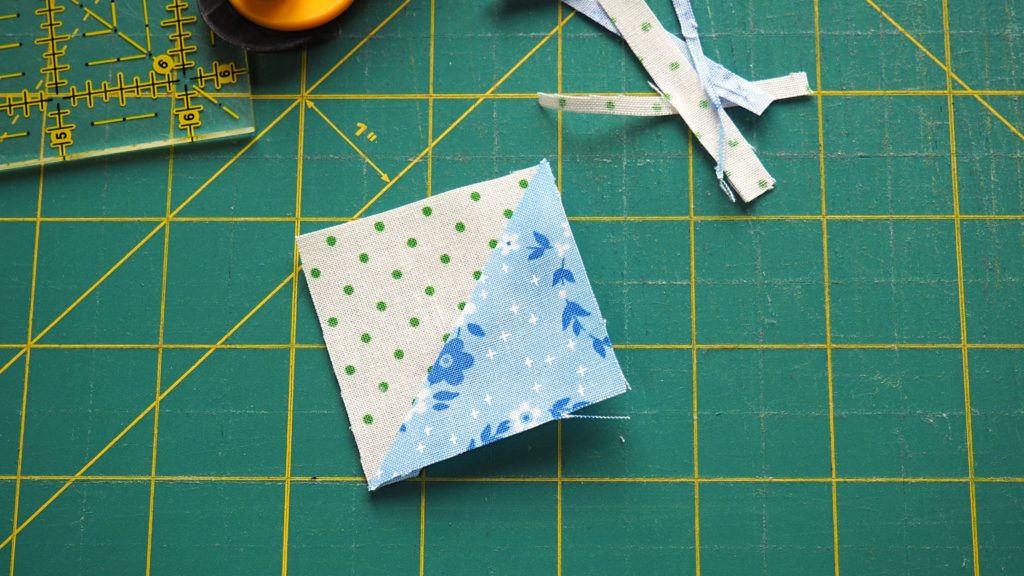 Next, take two of the 2 ¾ inch squares of fabric A and two of them from fabric C and repeat the steps above. You will end up with four half square triangles that should be trimmed down to 2 inches by 2 inches square.
Block Layout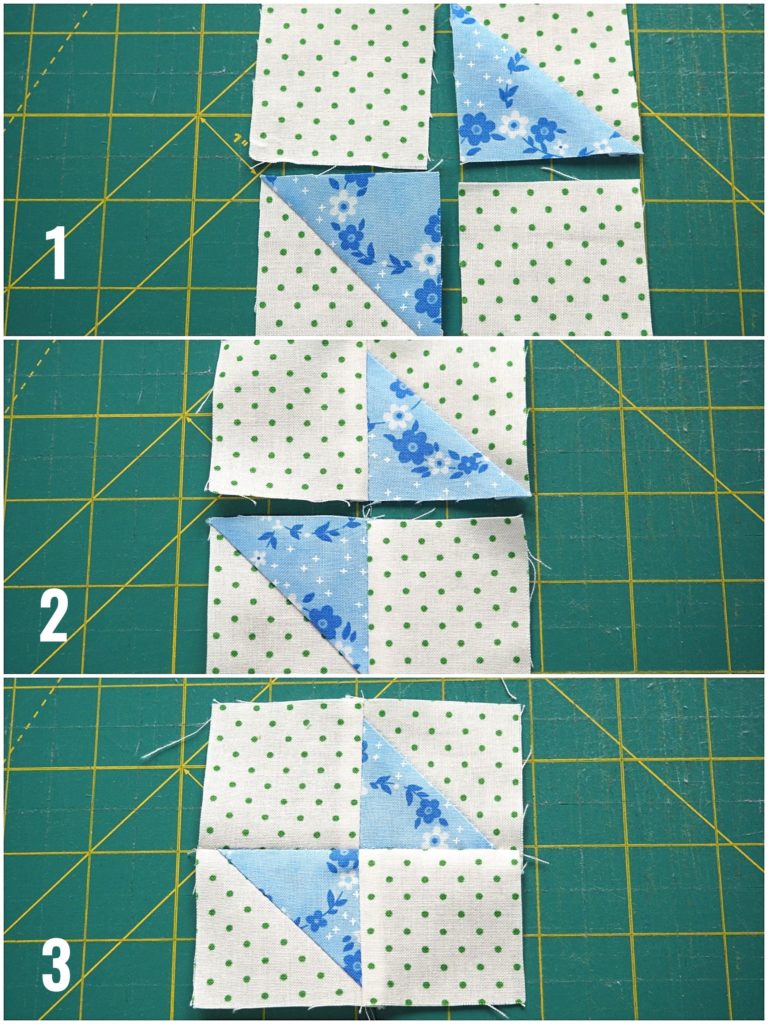 Sew one of the 2 inch squares of Fabric A to one of the 2 inch half square triangles. Repeat with the second pair.
Sew the pairs together to form one unit as shown. Repeat to form one more unit.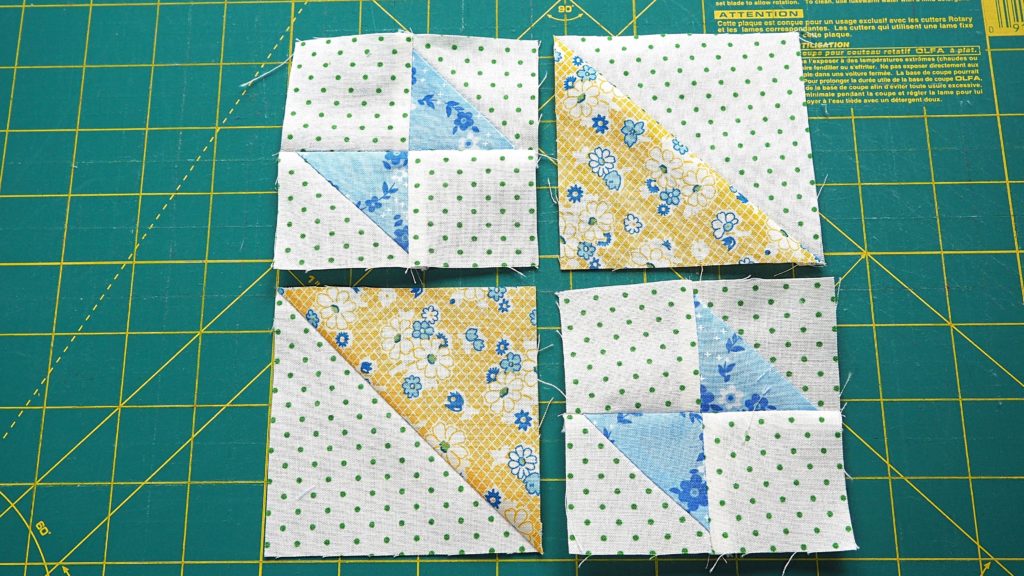 Lay out the units as shown and then sew together to form the block.
Sew block together.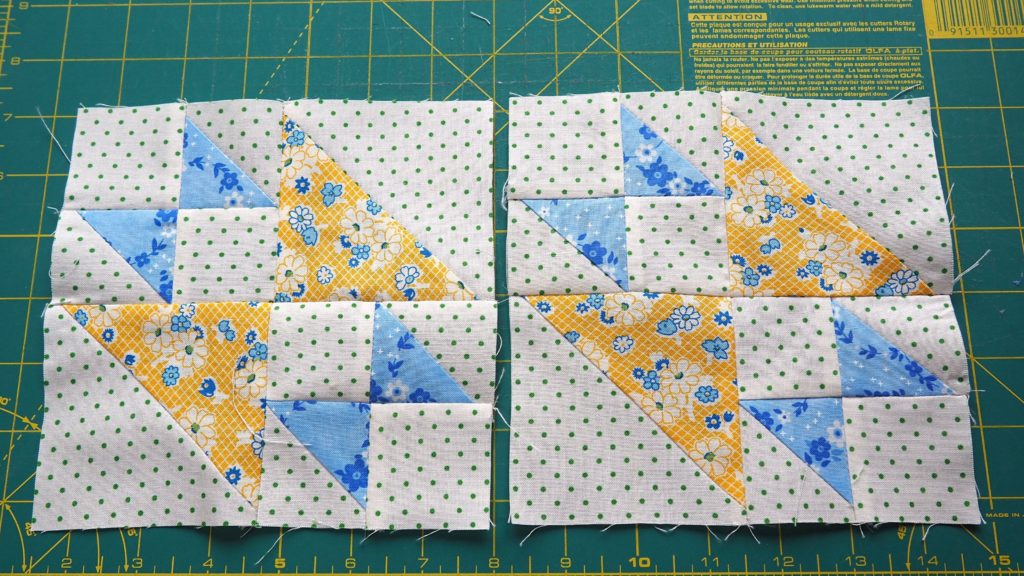 Repeat with remaining fabric squares and you end up with two blocks. The blocks should measure 6 ½ inches by 6 ½ inches.
July's Clue: It's summer, so the flies are out. Just keep brushing them away!!
Feel free to join in the quilt along. You can find all of the details here.
I also have this FB group for people who are participating. It's a fun place to see what other people are doing for their blocks.
Check out what fun blocks we've done so far!
Show off your progress on social media! Make sure to use the hashtag #createwithclaudiaqal if you post any pictures!
*This mystery quilt along is for entertainment purposes only. There are no prizes or giveaways.* Best efforts have been made to ensure that the instructions are correct, however sometime errors occur. If you have any questions, please contact us at claudia{at}createwithclaudia{dot}com*