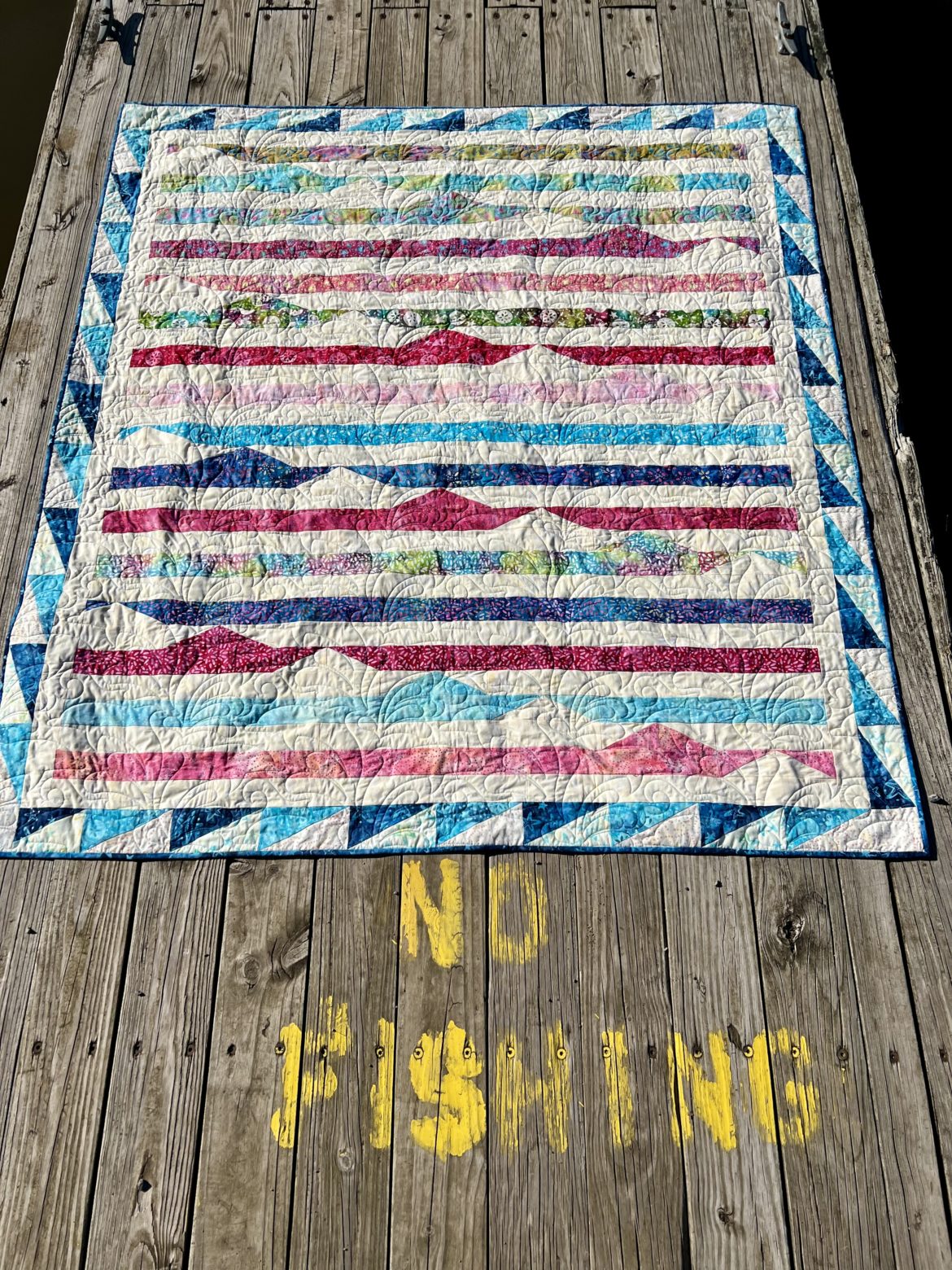 Beach Themed Quilt Blog Hop with Island Batik and Deb Tucker Studio 180 Designs
It's time for another month of quilt eye candy! Let the May 2023 Island Batik ambassador blog hop begin. This month I was given the absolutely gorgeous new Island Batik fabric line called Sea Cookies. The challenge was to use a tool from Deb Tucker's Studio 180 Design. I got the Split Recs rulers which has been on my wish list for a while now. Welcome to my beach themed quilt blog hop. Enjoy!
I call my quilt "Shore Break". This design has been floating (no pun intended) around in my head for quite some time. My new ruler was perfect, as were the beach-themed fabrics. Using my Electric Quilt 8 software, I came up with the quilt and I'm so happy with the way it turned out.
Disclosure: Items in the post were generously provided by Island Batik, Deb Tucker's Studio 180 Design, Hobbs Batting, Aurifil Thread and Schmetz Needles.
The Fabric
Sea Cookies was designed by Kate Colleran of Kate Colleran Designs. Filled with beautiful pinks, blues, teals, yellows and greens, it is a wonderful collection. Many of the fabrics incorporate a beach theme. You can find starfish, sand dollars and flowers scattered among the fabrics.
In addition to the pack of 20 half yard cuts from the fabric line, I received 2 yards each of more fabric from the line, the dark and light versions of the starfish fabric (pictured on the left). I paired that with one of Island Batik's neutral foundations called Ghost (the cream colored one in the photo on the left).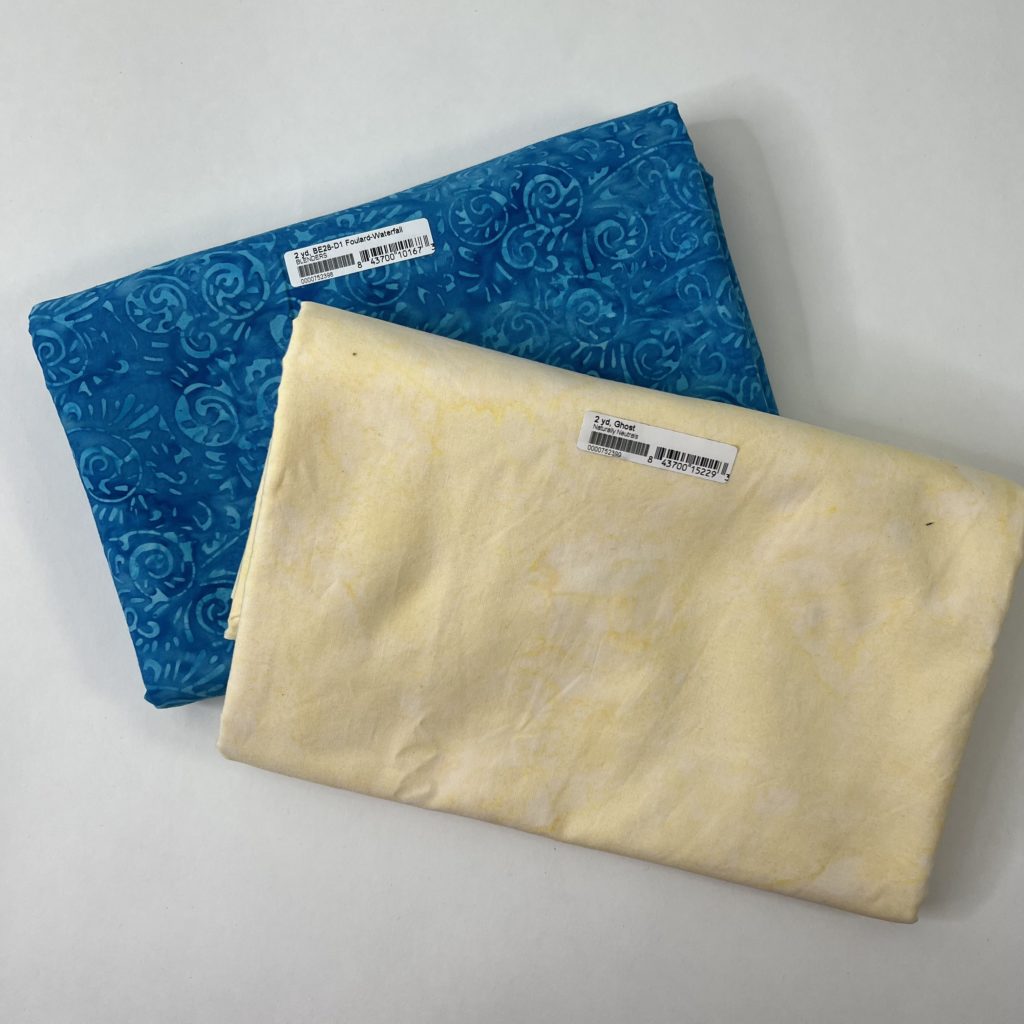 For my quilt I alternated a row of one of the new fabrics with a row of the neutral. Using the ruler I tried to make it look like waves breaking on the shore. For the borders I used the two off-white fabrics from Sea Cookies and combined them with the two darkest blue ones to form the waves around the outside.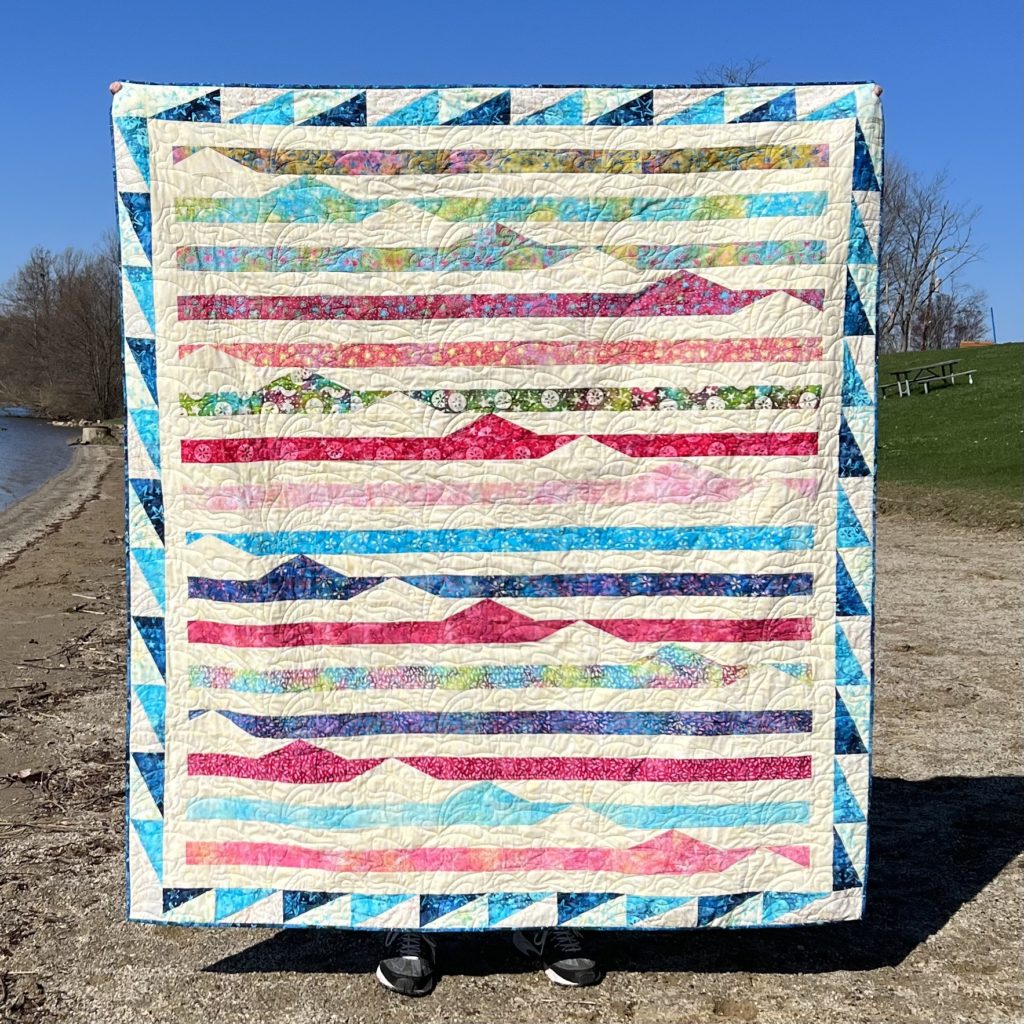 Finally, for the back I used the lighter yardage from the quilt combined with other Island Batik yardage I had on hand.
The Ruler
I have always wanted Deb Tucker's Split Rects ruler. Half rectangles can be tricky to make and this tool makes it much easier. As a quilt pattern designer it opens up a whole new world of designs for me.
The tool comes with a handy instruction pamphlet and once I tried it a couple of times I was off and running. Best of all, each one of my units came out perfectly. I can't wait to use it again.
I used two different sizes for my half rectangles. The waves around the border were about an inch larger than the center ones.
Other Quilt Specs
For the batting I used Hobbs Bleached Cotton It had the ideal drape that I was looking for. To piece it I used Aurifil thread (Butter) which matched the background fabric perfectly. The needles I used were Schmetz Microtex 80/12 which are ideal for sewing with batiks.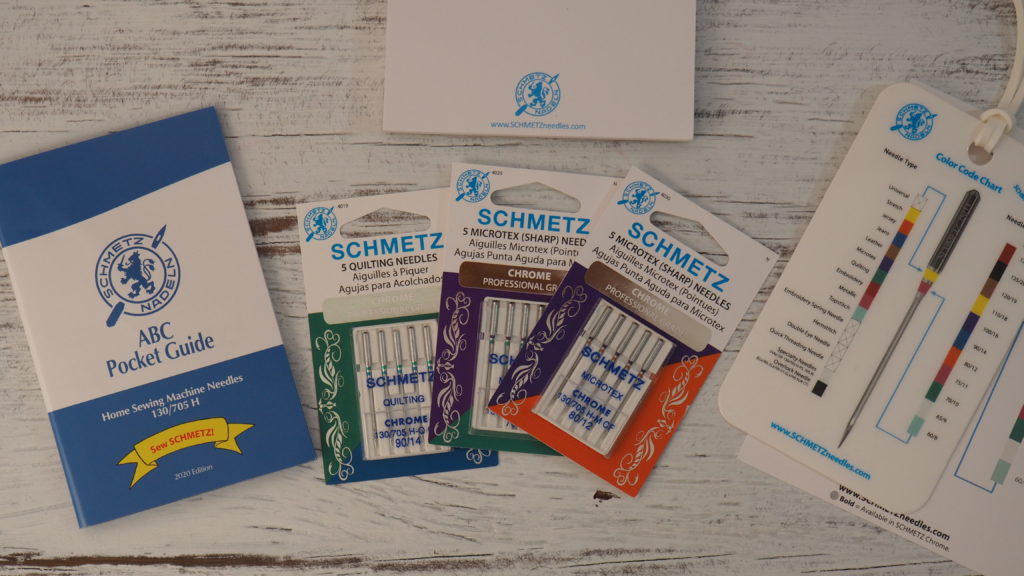 I sent this out to my longarmer Melinda Keppler of Scottiebelle Designs. She did a wonderful job quilting water and dolphins into it! It adds a fun touch to the piece.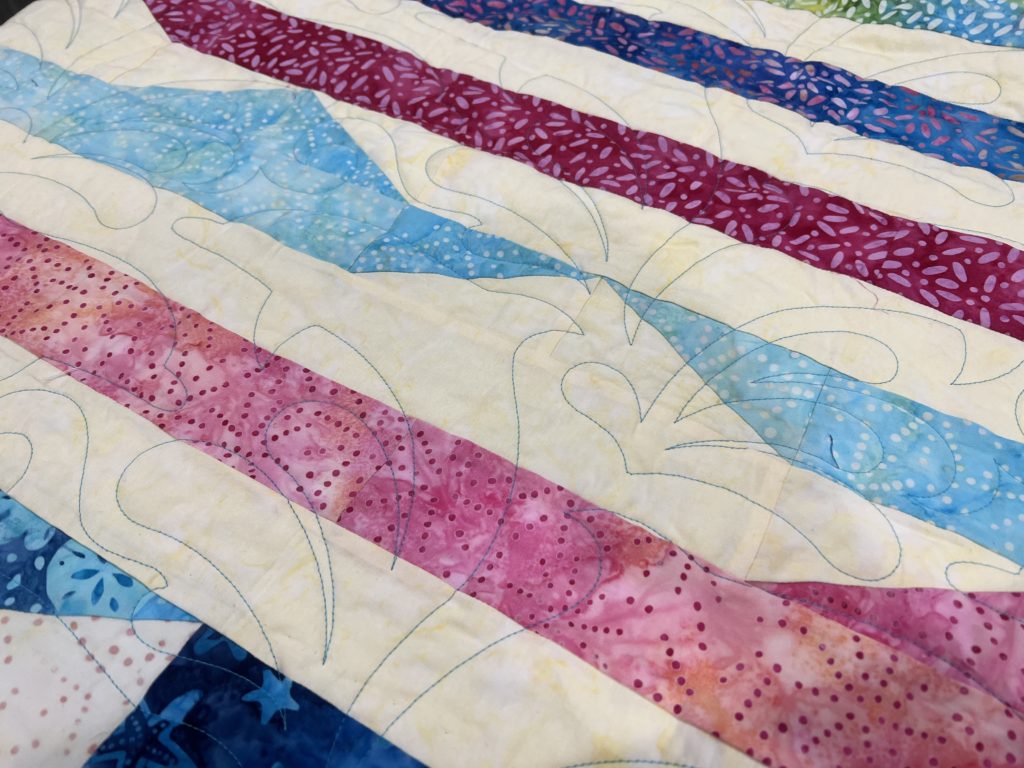 My Beach Themed Quilt Blog Hop and Giveaway!
Thank you to all of the sponsors for this month's blog hop.
I am doing a giveaway of some charm squares of this fabric line on my Instagram and Facebook page. Look for the post with the photo below and it will tell you how to enter.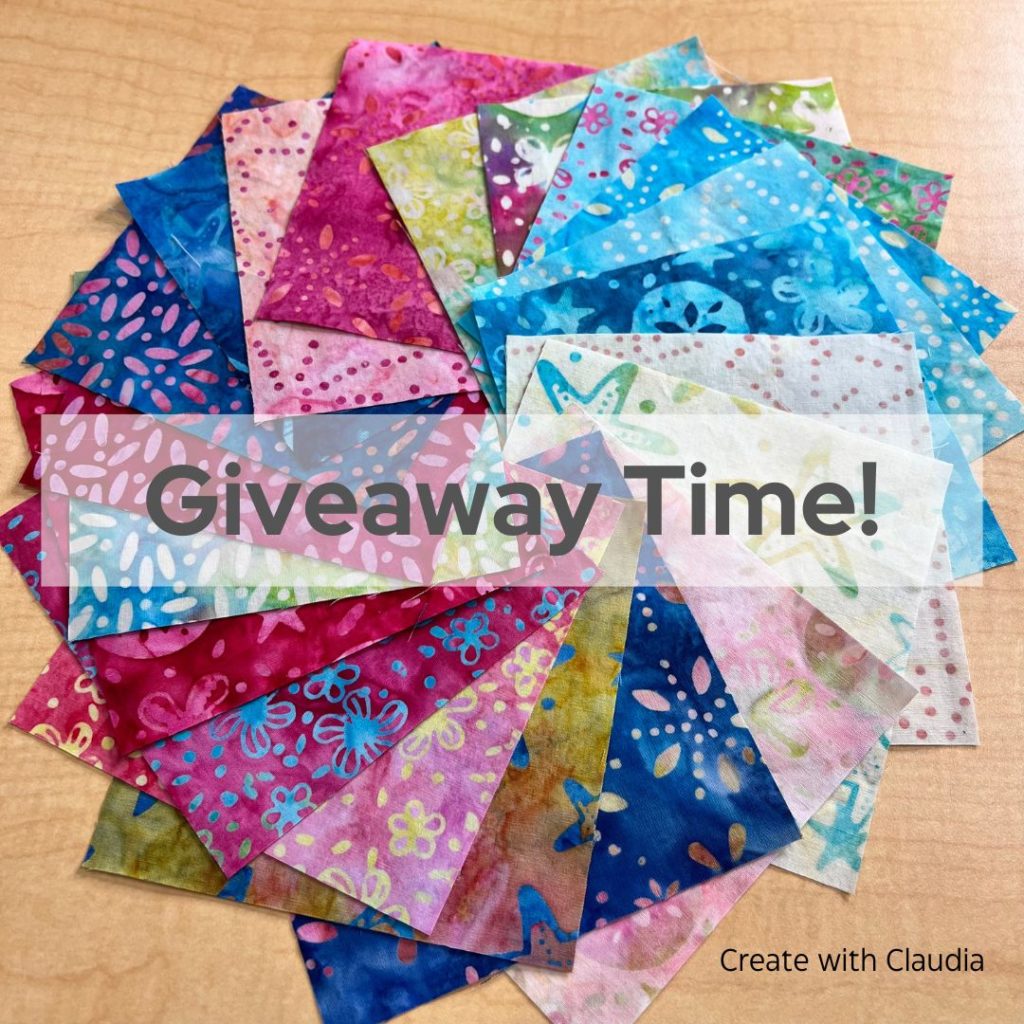 Check Out All of the Other Ambassador Quilts in the Blog Hop
Make sure to visit all of the other ambassadors. We all have designated days for our blog hops and lots of us are having giveaways too!
May 1

Susan Deshensky, Lady Blue Quilts
Randi Jones, Randi's Roost
May 2

Elita Sharpe, Busy Needle Quilting
Mania Hatziioannidi, Mania for Quilts
May 3
Brittany Fisher, Bobbin with Brittany
Pamela Boatright, Pamela Quilts
May 4
Connie Kauffman, Kauffman Designs
Denise Looney, For the Love of Geese
May 8
Reed Johnson, Blue Bear Quilts
Sandra Starley, Textile Time Travels
May 9
Gail Sheppard, Quilting Gail
Lana Russel, Lana Quilts
May 10
Emily Leachman, The Darling Dogwood
Claudia Porter, Create with Claudia
Anorina Morris, Samelia's Mum
May 11
Brenda Alburl, Songbird Designs
Jennifer Thomas, Curlicue Creations
May 15
Victoria Johnson, Forever Quilting for You
Leah Malasky, Quilted Delights
Maryellen McAuliffe, Mary Mack Made Mine
May 16
Renee Atkinson, Pink Tulip Quilting
Sarah Pitcher, Pitcher's Boutique
May 17
Suzy Webster, Websterquilt
Preeti Harris, Sew Preeti Quilts
Lisa Pickering, Lisa's Quilting Passion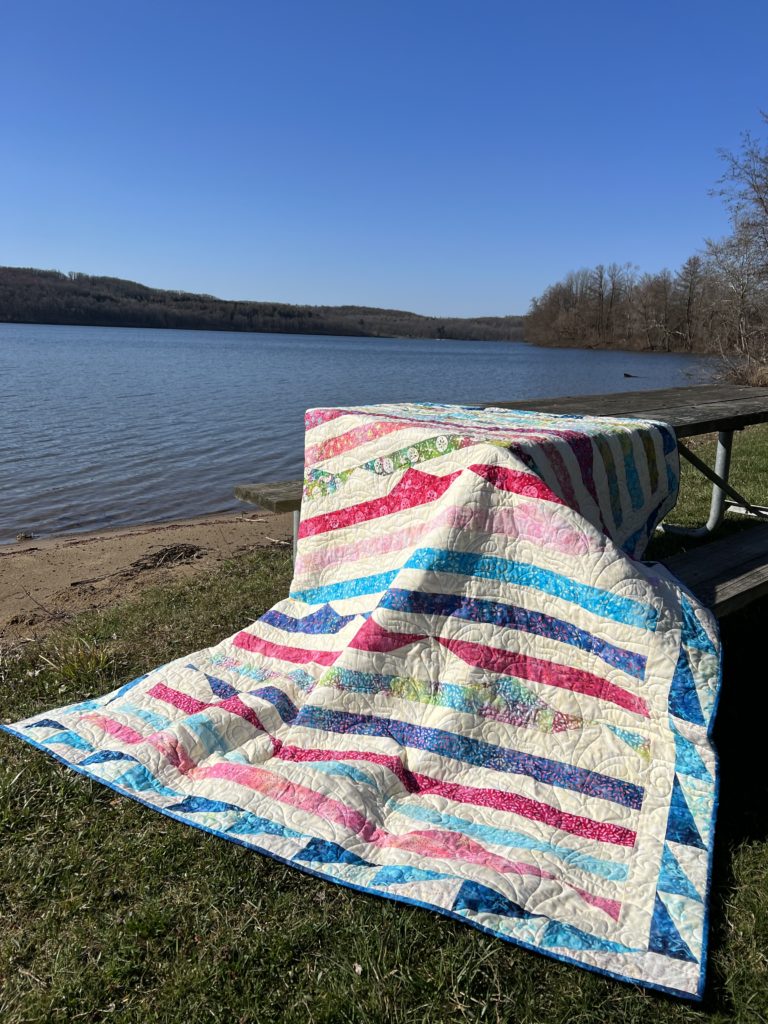 Sea Cookies Is Shipping to These Stores Soon!
| | | |
| --- | --- | --- |
| Accent Sewing Inc | Murrells Inlet | SC |
| Appletree Fabrics-MA | Auburn | MA |
| Betty's Quiltery-SD | Rapid City | SD |
| Bird In Hand Fabric | Bird In Hand | PA |
| Bismarck Sewing & Quilting | Bismarck | MD |
| Boutique 4 Quilters | West Melbourne | FL |
| Cinnamon's | Jacksonville | FL |
| Cotton Weeds | Freeport | ME |
| Creekside Quilts-OR | Gales Creek | OR |
| D & D Sewing | Plaistow | NH |
| Divine Threads-NY | Manlius | NY |
| Fab Fabrics | St George | UT |
| Fiberworx | McQueeney | TX |
| Foust Textiles-NC | King's Mtn | NC |
| Gardensong-MS | Brookhaven | MS |
| Gruber's | Isanti | MN |
| Hancocks of Paducah | Paducah | KY |
| Heart & Home-CT | Danielson | CT |
| Keep Me in Stitches-Clearwater | Clearwater | FL |
| Kentucky Quilt Co. | Bowling Green | KY |
| Kiki's Quilt Shack-CA | Fresno | CA |
| Kilauea Kreations | Volcano | HI |
| Mainely Mimi-ME | Wells | ME |
| Mulqueen Sewing & Fabric Centers | Mesa | AZ |
| My Favorite Quilt Store-TX | Humble | TX |
| Nine Patch Fabrics | Chantilly | VA |
| People, Places, & Quilts | Summerville | SC |
| Quilt Passions – HI | Kailua Kona | HI |
| Quilt Passions-CA | Mission Viejo | CA |
| Quilt-agious LLC-WI | Eagle | WI |
| Quilted Threads | Henniker | NH |
| Quilter's Attic-NY | Pine Bush | NY |
| Quilter's Corner-NY | Ithaca | NY |
| Quilter's Emporium-TX | Stafford | TX |
| Quilters Quest-IL | Woodridge | IL |
| Rushin' Tailor Skagway-AK | Skagway | AK |
| Rusty Crow Quilt Shop | Nags Head | MC |
| Ruth's Stitchery | Colorado Springs | CO |
| Serendipity QS-DE | Dagsboro | DE |
| SEW JERSEY-NJ | East Hanover | NJ |
| Sew What Fabrics/Batiks Etc. | Wytheville | VA |
| Sew With Me-MN | Lake Elmo | MN |
| Sierra Patchworks | Fernley | NV |
| Spoiled Quilter-TX | Fayetteville | TX |
| Stitchin Heaven | Quitman | TX |
| Stylish Fabrics Bernina | Logan | UT |
| Sweet Time Quilting-Sebastian | MElbourne | FL |
| The Electric Needle | Madison | WI |
| The Stitching Place | Indianola | IA |
| Vicky's Fabrics | Kapaa | HI |
| Whale's Tail-AK | Ketchikan | AK |
| Yankee Quilters | Seymour | CT |