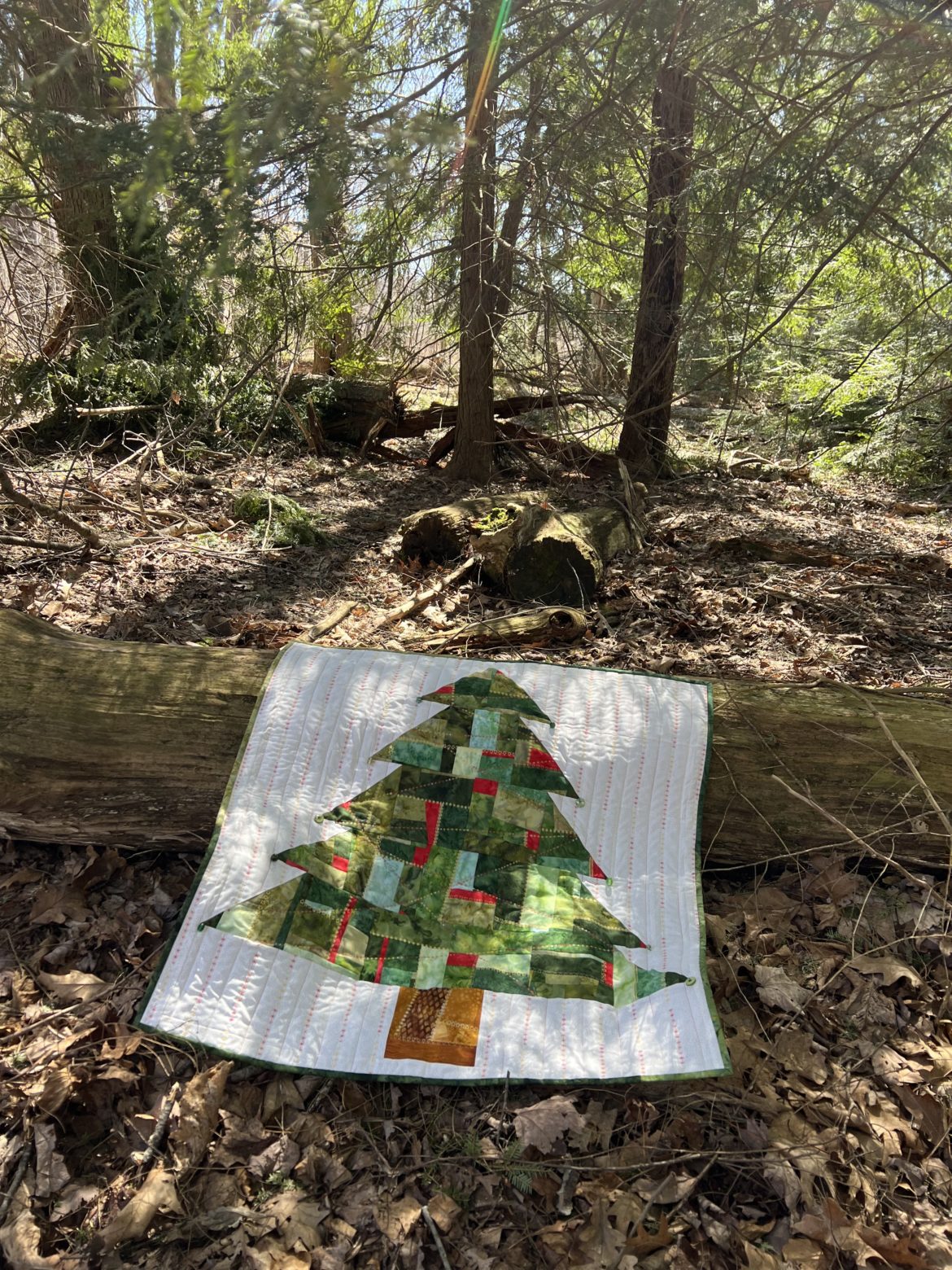 Crazy Quilted Christmas with Aurifil and Island Batik
This month the Island Batik ambassadors were asked to do some crazy quilting with some of their gorgeous fabrics and Aurifil thread. I jumped at this opportunity because I have been wanting to practice my machine embroidery skills and I LOVE making scrappy improv pieces of fabric (crumb quilting). I decided to have a Crazy Quilted Christmas with Aurifil for this project.
In my first ambassador shipment of 2023 I received a strip set of Island Batik's Glorious Greens and a 10″ pack of their Ravishing Reds. These are just two of the color gradient packs that they sell. For me this project was the best of both worlds, crumb quilting AND monochromatic quilting. Because the colors screamed Christmas to me I decided to go that route.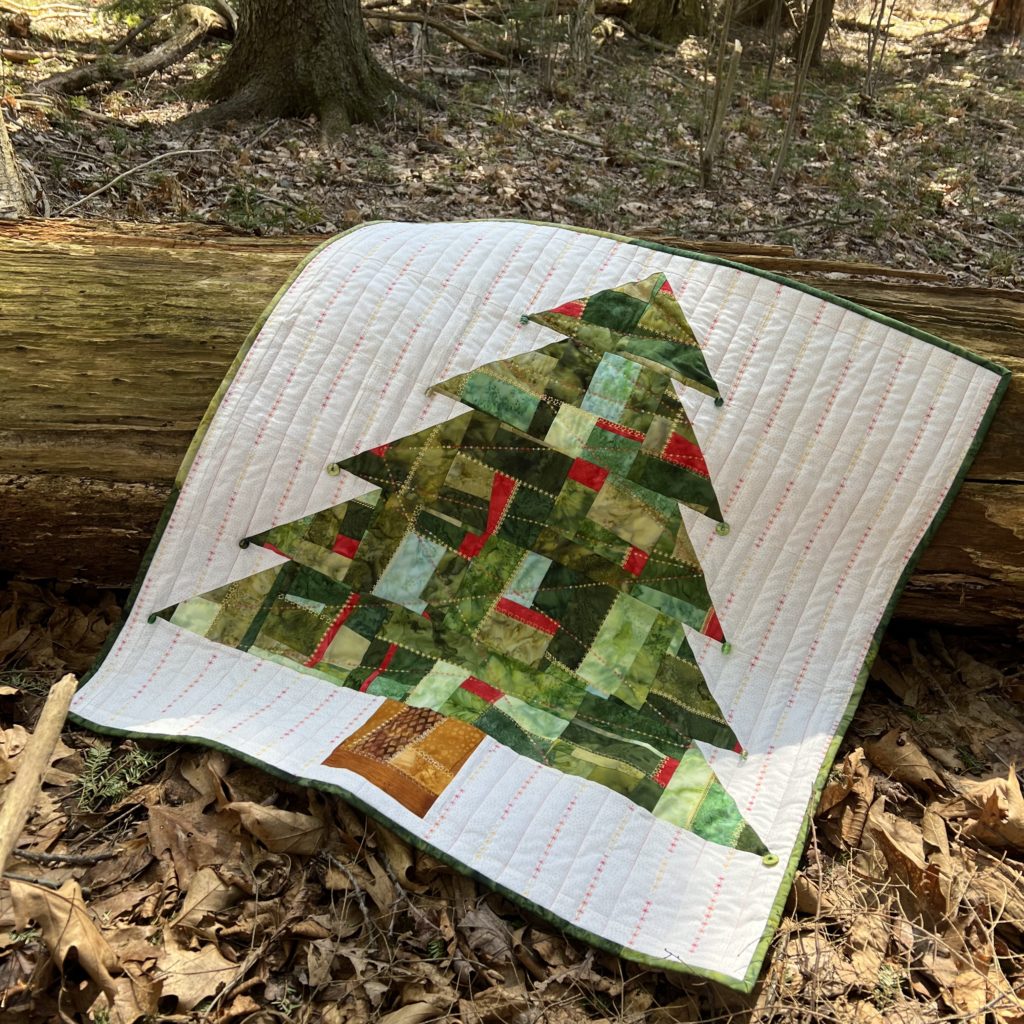 For my crazy quilting I had received the Bird of Paradise color builder set from Aurifil in my ambassador shipment. I thought that the golds and reds in the threads would shine against the greens and reds.
Disclosure: Many of the items used in this post were generously provided to me by Island Batik, Aurifil Thread, Hobbs Batting and Schmetz Needles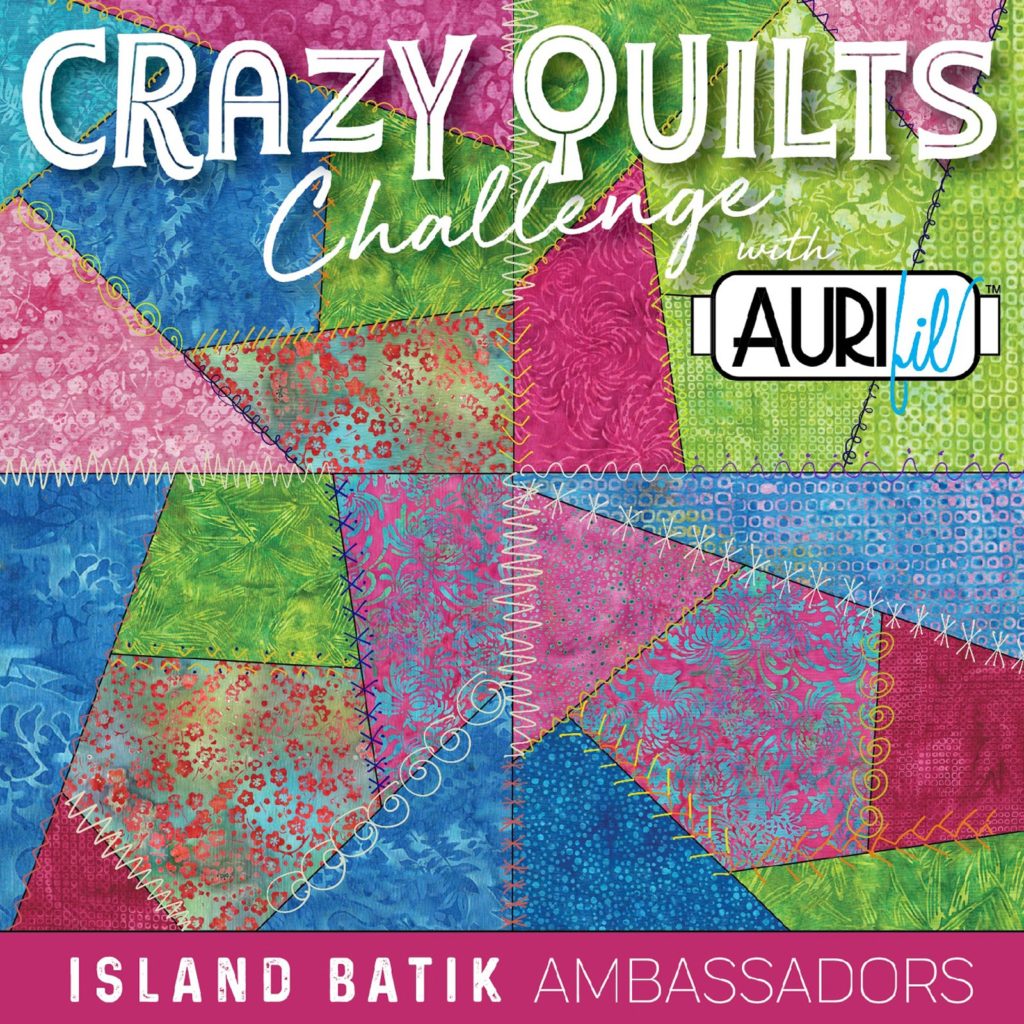 Making the Crazy Fabric
The first step for me was creating the fabric. I have used this method many times. I just started cutting pieces off of the various greens in the strip set and sewing them together in any way. The only guideline I used was that some of the greens in the set were a bit too bright for what I was looking for. I pulled one of the reds out of my pack (which leaves me with lots to play with later!) and added a small piece here and there. It's a super fun and easy process. I find it incredibly relaxing.
If you are interested in learning more about my crumb quilting technique, you can watch my tutorial.
The Embroidery
After the fabric was made and cut into the pieces I needed it was time to do some embroidery. I tried out a few methods and really liked using Sulky iron-on tear-away stabilizer and it worked perfectly. I embroidered before I pieced my quilt together.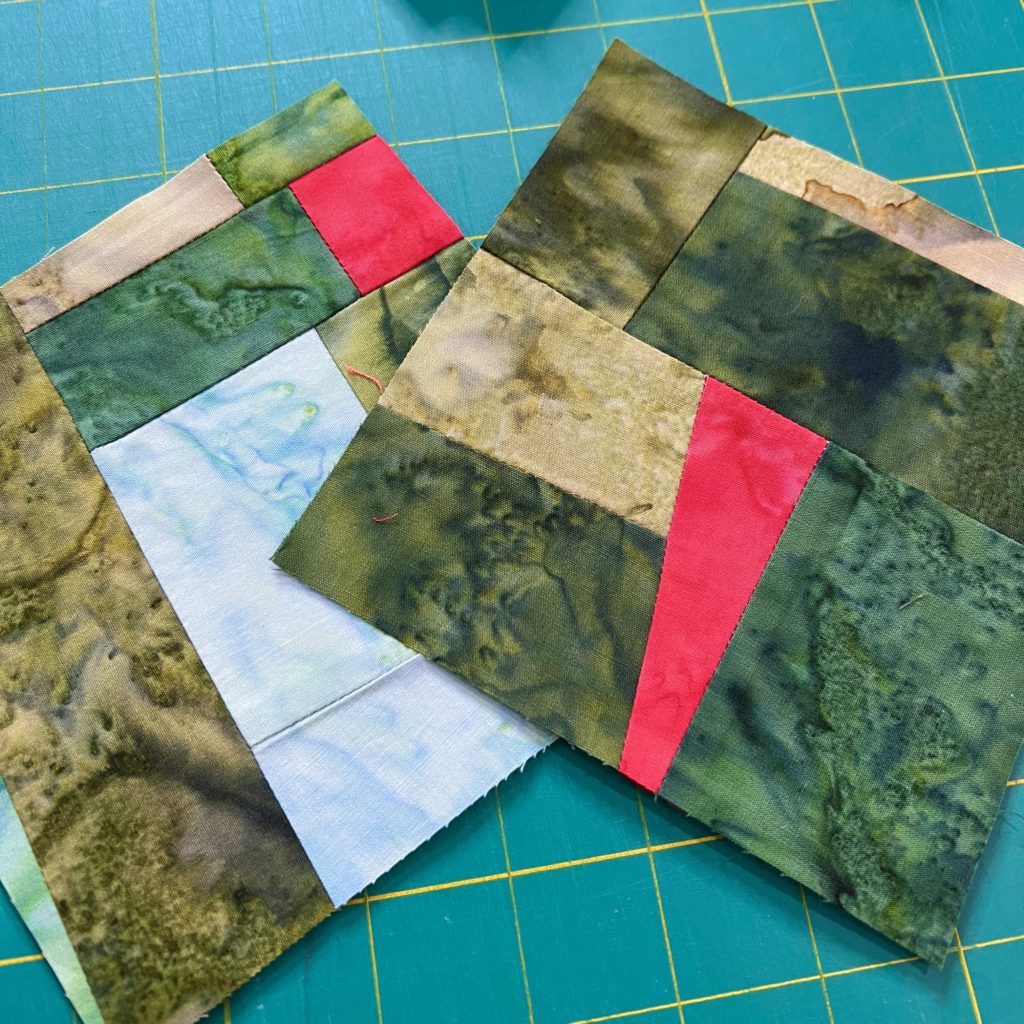 My Janome MC6600 has some great festive stitches and I had lots of fun playing with various ones.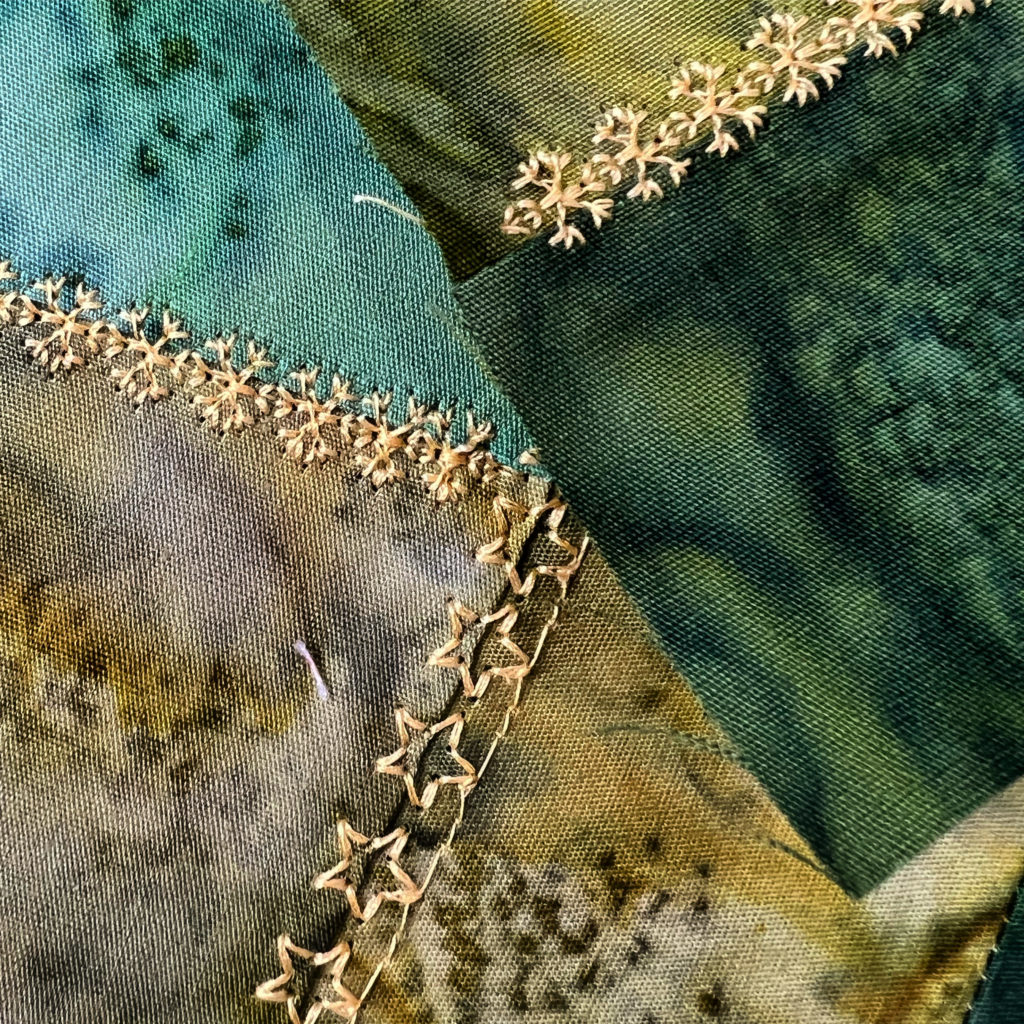 Piecing and Quilting the Quilt
For the white background in my design I chose Island Batik's Sprinkles fabric. It has tiny whitish grey dots that look a bit like snow in this quilt. Perfect! I made some half square triangles and squares and then pieced it together.
I decided to add a trunk made from various Island Batik brown scraps that I had on hand.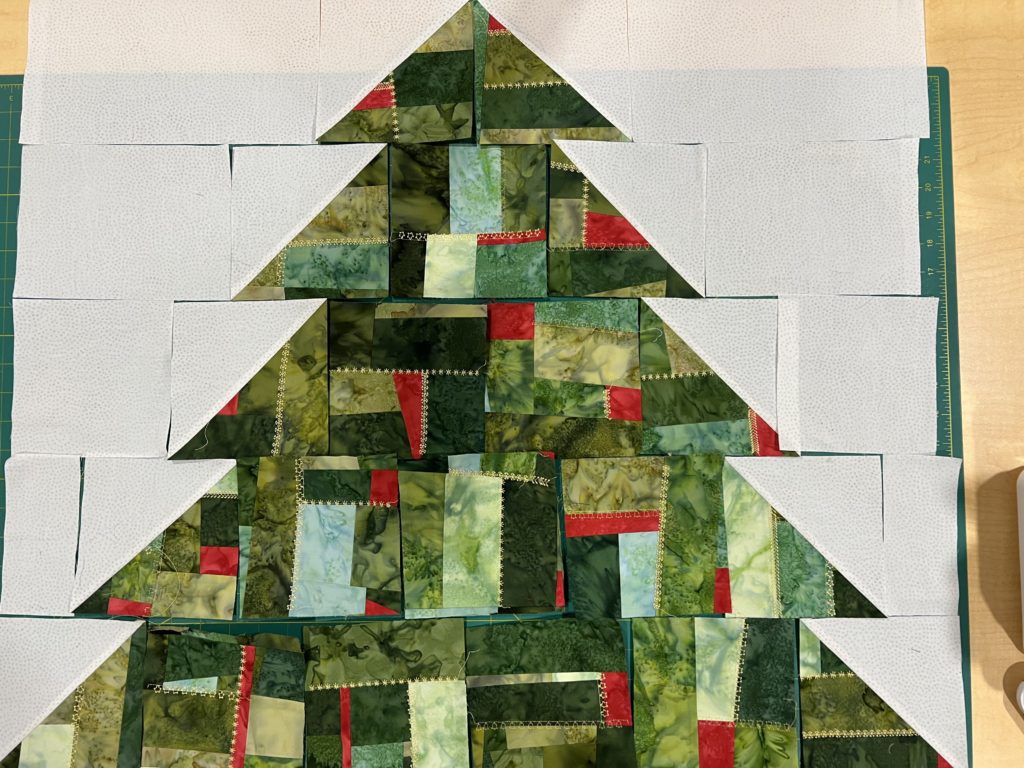 Once the quilt top was pieced it was time to quilt. I layered the top with Hobbs 80/20 Cotton White Bleached batting, and started quilting. I quilted the tree first and used more decorative stitching to make it look like a garland of stars. Then I quilted the white sections of the piece with another garland of stars mixed with straight stitching.
The tree trunk was quilted with even more decorative stitching.
For the blocks I stitched with Aurifil #2130 (Butter). It has a lovely shimmer to it. For the tree trunk I used #3920 (Golden Glow). This thread is a subtle variegated thread with soft yellows in it. Finally, for the garland and the stitching on the white I used #4657 (Sunset). What a gorgeous thread! From reds to oranges to corals to blush, it has it all!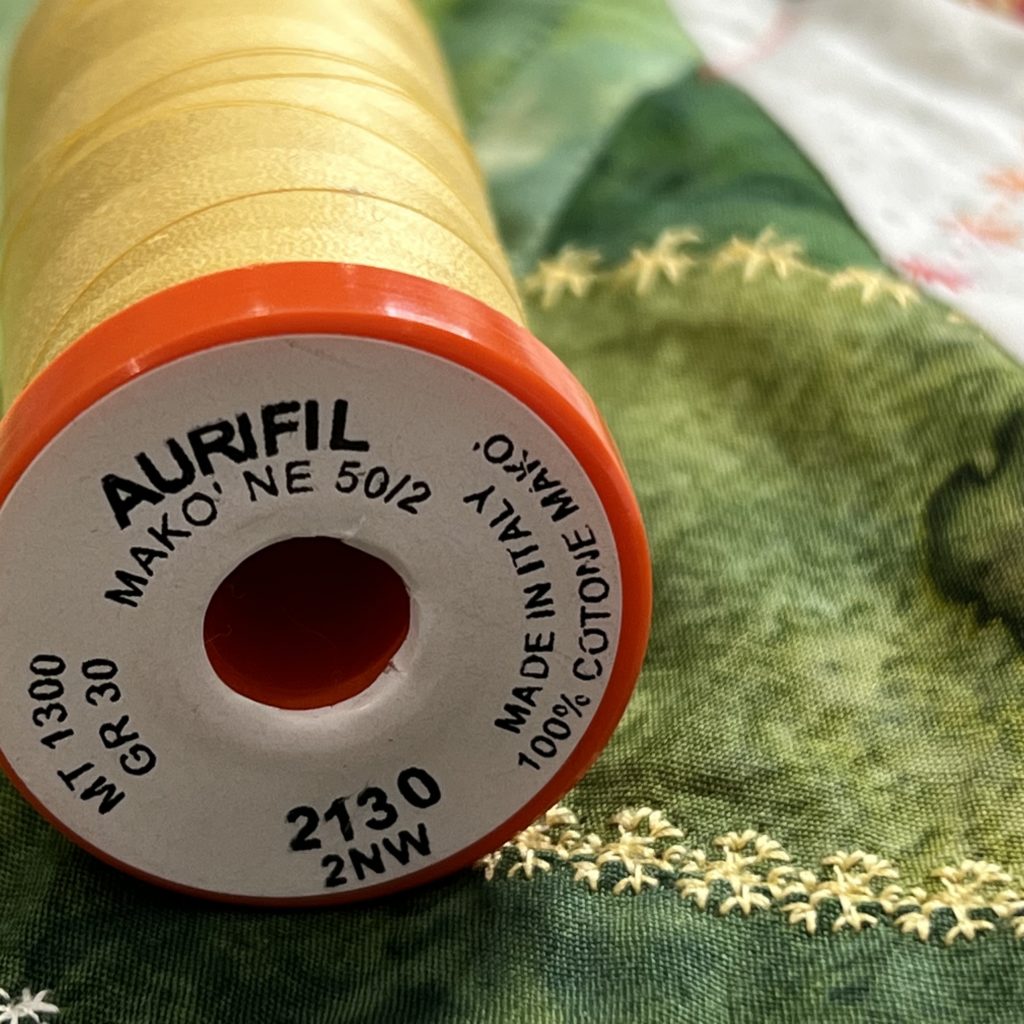 I will be proudly displaying this quilt! I'm very happy with the way it turned out and now I am much more confident doing decorative stitching!
Finishing My Crazy Quilted Christmas with Aurifil and Island Batik
No Christmas tree is complete without a little bling, so I dug out some green glass beads and added some at the points of the tree.
Special Thanks!
Thank you to Island Batik, Aurifil Thread, Hobbs Batting and Schmetz Needles for providing the items used in this post.
Thank you to my husband who always helps to hold up my quilts when I'm taking pictures. He's a trooper! It may look warm in this photo but is was super cold and breezy! It was taken at the Erie National Wildlife Refuge in Northwest Pennsylvania. It's one of our favorite hiking spots!