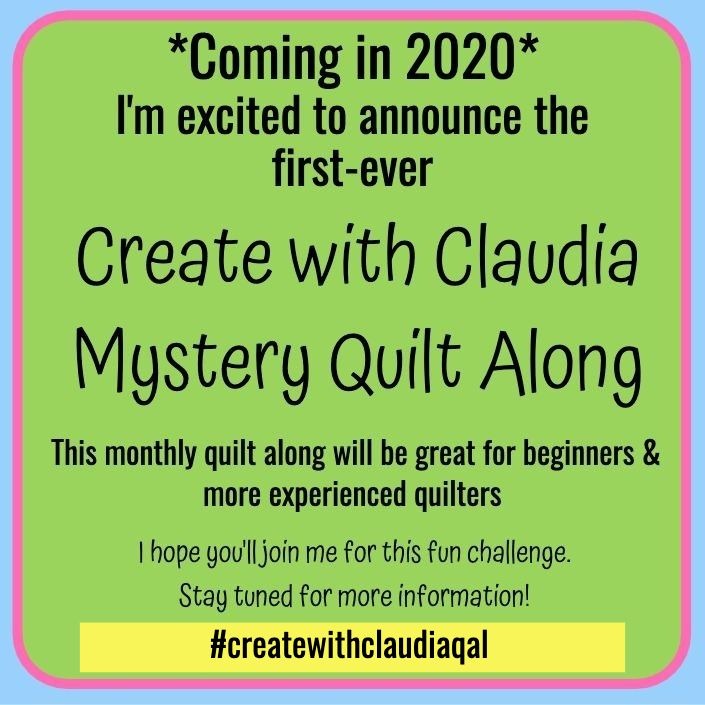 Create with Claudia Mystery Quilt Along 2020
It's hard for me to believe that January 2020 will mark the one year anniversary of the Create with Claudia website. To celebrate, I am excited to announce that I will be hosting my first ever mystery quilt along. The plan is that it will be a monthly event that should start at the beginning of the year.
Since it's my first time doing something like this, I will be keeping it simple and on the traditional side. The blocks will be suitable for beginners, but also fun for people with any skill level. It will also be a scrap-friendly pattern, which is my favorite kind of look.
Written and video instructions will be provided. For many of the months you will need to sew multiples of the block. But don't worry, the block for those months will be easy, and should come together quickly.
In the next few months I will be rolling out the details, along with a few clues to help you out. After that, we should be ready to get started.
This mystery quilt along is purely for fun and entertainment purposes. There will not be any prizes or giveaways.
I can't wait to see what people come up with!
Don't Miss Out On The Mystery Quilt Along Fun!
Check out my social media to stay up-to-date with the latest posts.
Subscribe to my email list here on my blog
Follow me:
Are You Joining in the Fun?
I'd love to see your progress once we've started.
When posting pictures once we get started, just use the hashtag #createwithclaudiaqal so everyone can see your work!
I hope you'll join me for this fun event. I'm excited to get started!