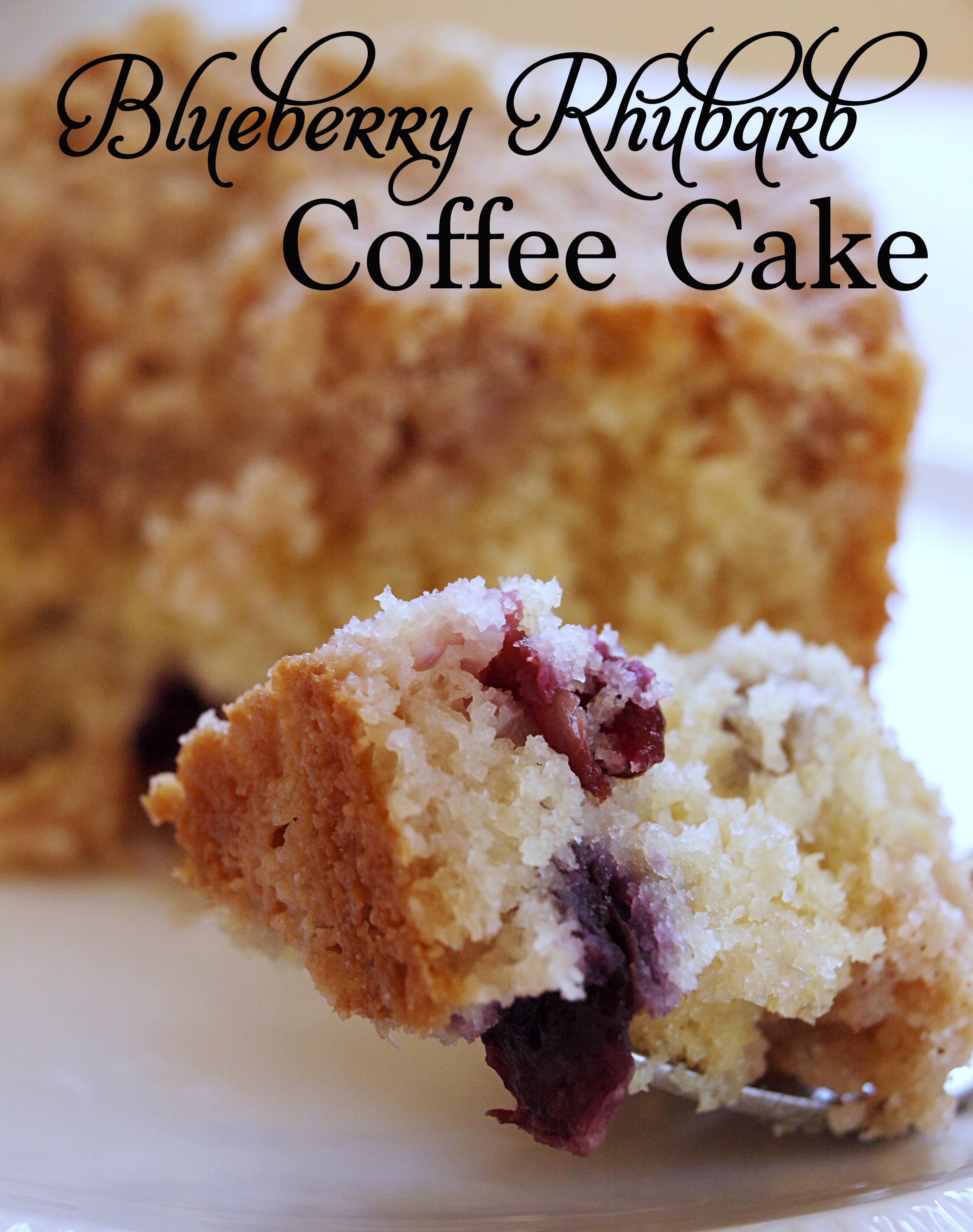 Blueberry Rhubarb Coffee Cake Recipe
With fresh local rhubarb in plentiful supply a few days ago, and blueberries picked last summer in my freezer, that were just begging to be used,  I became inspired to come up with a fruit coffee cake recipe.   Fruit coffee cakes are a nice change from heavier nut-laden ones and are always a welcome twist when served to guests.
My recipe is adapted from
mmmisformommy.com
's cake which is a wonderful rhubarb buttermilk cake that I tried at a friend's house once.
This coffee cake is filled with fruit, it's not too sweet and the streusel topping adds a nice crunch with a light cinnamon flavor.
The whole thing together is buttery goodness that melts in your mouth, especially with your morning coffee or tea.
My apologies up front on this post.  I usually like to include step by step pictures of the process, but unfortunately my camera was not cooperating so I only have pictures of the finished product.  It looks pretty tasty if I do say so myself and it's an easy cake to put together.  If you have any questions about the preparation since there aren't any photos of it, just let me know in the comments section.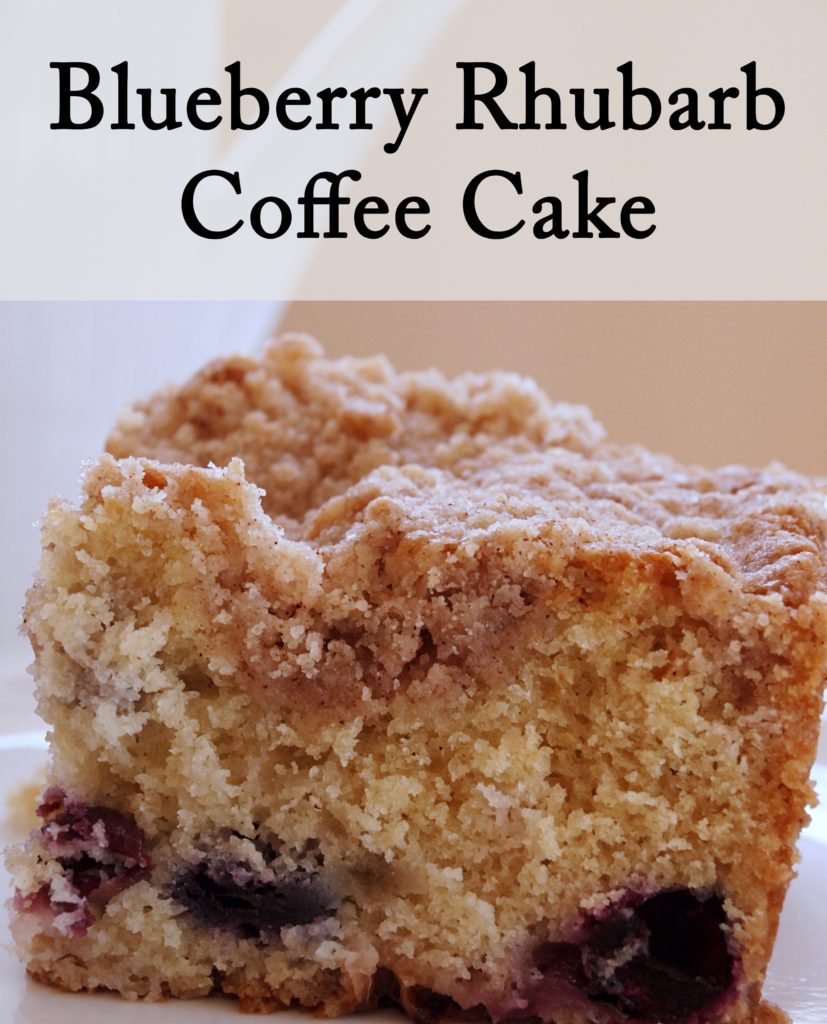 Blueberry Rhubarb Coffee Cake Recipe
Ingredients
For the cake…
2 cups washed and chopped rhubarb (Cut into about 1 inch pieces.  Any smaller and the rhubarb tends to disappear along with the flavor.)
1 cup rinsed frozen (do not thaw) or fresh blueberries
5 tbsp. sugar
1 1/3 cups butter, softened
1 1/3 cups sugar
4 eggs
3 tsp. vanilla
3 cups all-purpose flour
1 tsp. salt
2 tsp. baking powder
1/4 tsp. baking soda
1 cup buttermilk
For the streusel topping…
1/2 cup (1 stick) butter, softened just slightly, or not at all
1 cup all-purpose flour
1 cup sugar
1 tsp. cinnamon
Preheat the oven to 350°.  Grease and set aside a 13 x 9 inch pan.  I like to use non-stick baking spray to prepare my pan.
In a medium bowl, mix together flour, salt, baking powder and baking soda.  Set aside.
In a small bowl, mix together the fruit and the 5 tablespoons of sugar.  Set aside.
In a large mixing bowl, cream together butter and the 1 1/3 cups sugar until fluffy.  Add in eggs and vanilla. Mix until just smooth.
Starting and ending with the dry ingredients, and the mixer on the low setting, add the dry ingredients and the buttermilk, alternating between the two and mixing until just smooth.
Remove the bowl from the mixer and gently fold in the fruit.
Pour into the prepared pan.  It's a thick batter so you'll need a spatula to spread it around.
Prepare the streusel topping by mixing together the butter, flour, sugar and cinnamon.  I use a fork and work the butter into the mixture until it's crumbly.
Sprinkle over the top of the batter, covering it completely.
Bake for 50 – 55 minutes or until a wooden toothpick comes out cleanly when inserted in the middle.
Remove from the oven and let it cool before serving.  I find that if it is served while still too warm it tends to fall apart a bit.  Of course it still tastes pretty good so if you just can't wait, go ahead and give it a try!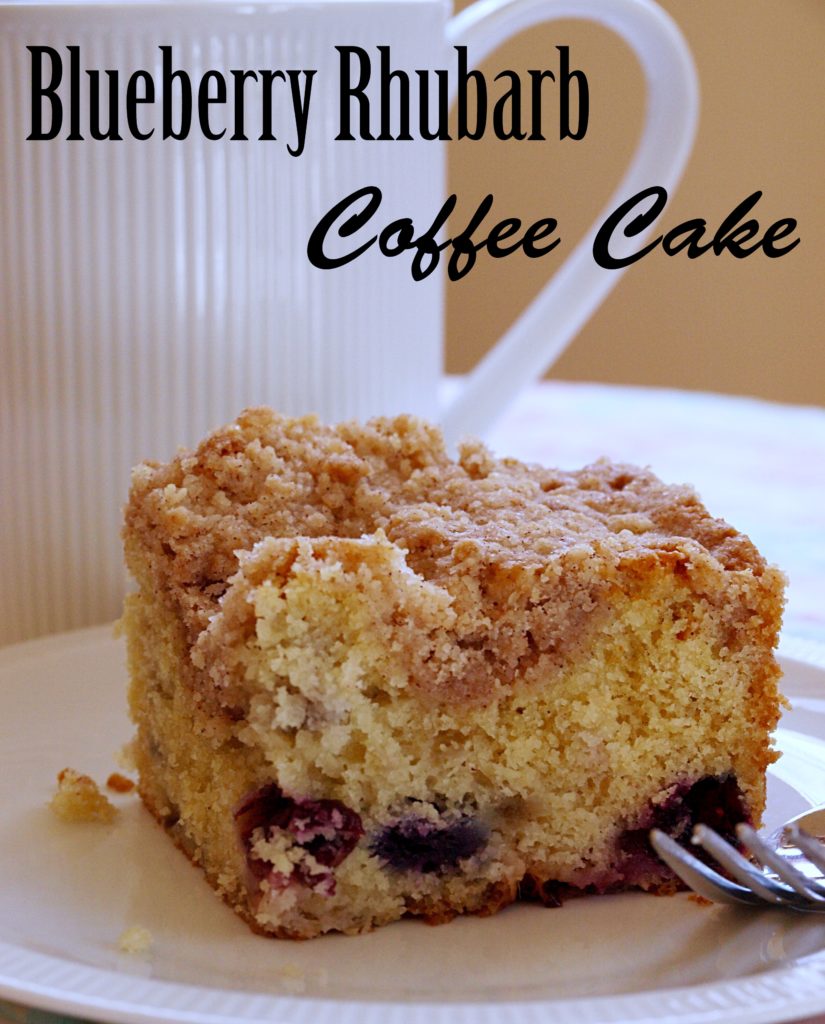 Just imagine presenting this to a houseguest for breakfast or taking it to a brunch at church.  It's absolutely delicious and people will enjoy it.  I hope you do too!