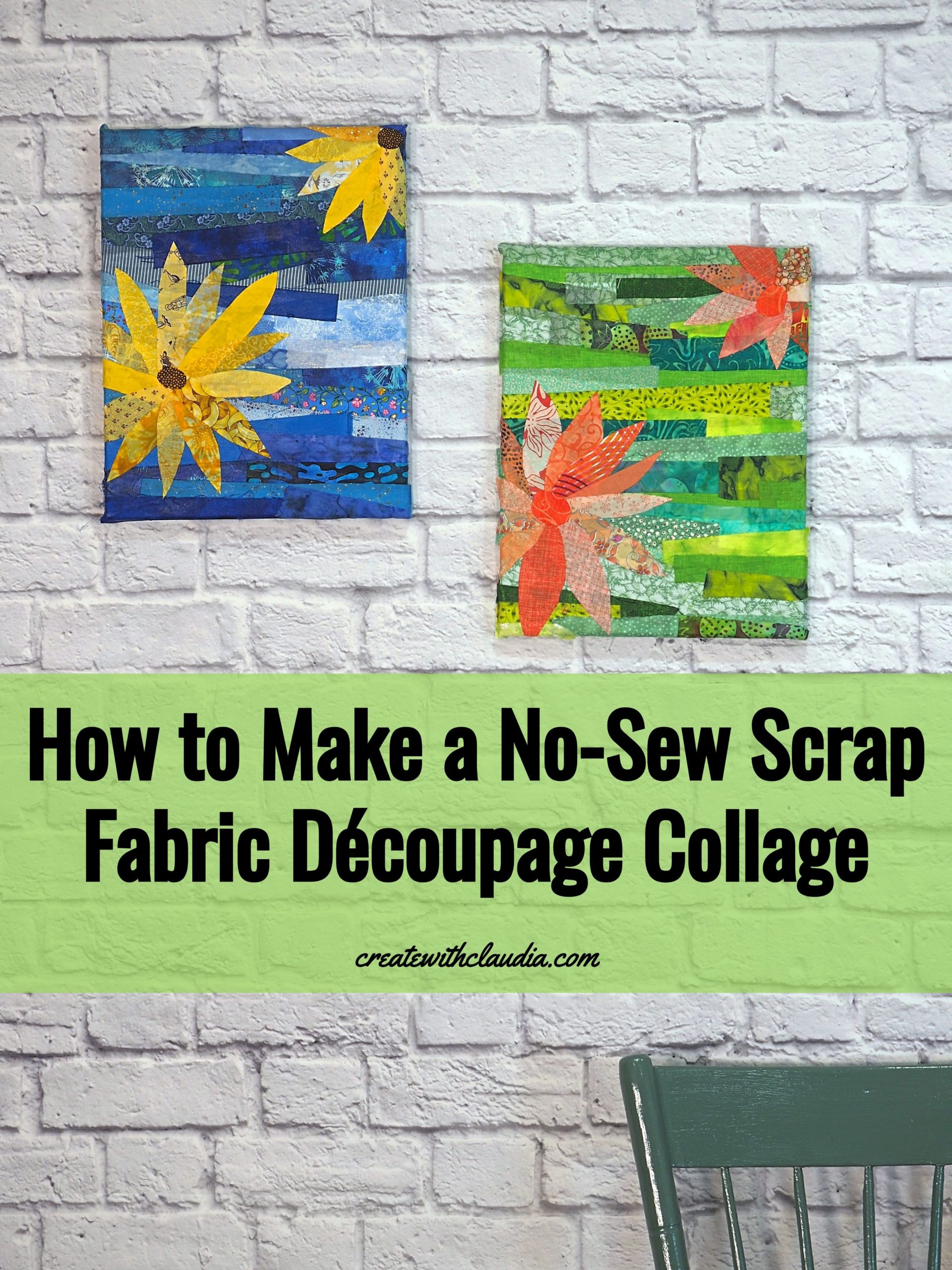 How to Make a Scrap Fabric Découpage Collage
Sometimes we all need a quick craft project that takes us away from our sewing machine, even if it's only for a little while. Maybe your machine is out for service, or maybe you just need to take a break. Making this no-sew scrap fabric découpage collage is one project that you can do.
These beautiful pieces of art combine the best of everything for quilters like me. We get to use up some of our stash (admit it, we all have bins filled with fabric just begging to be used). Not only that, but we can finish a project in about an hour or two. We all know quilt projects take longer than that.
Best of all though, is the result. You create a gorgeous piece of original art. What more can a quilter ask for.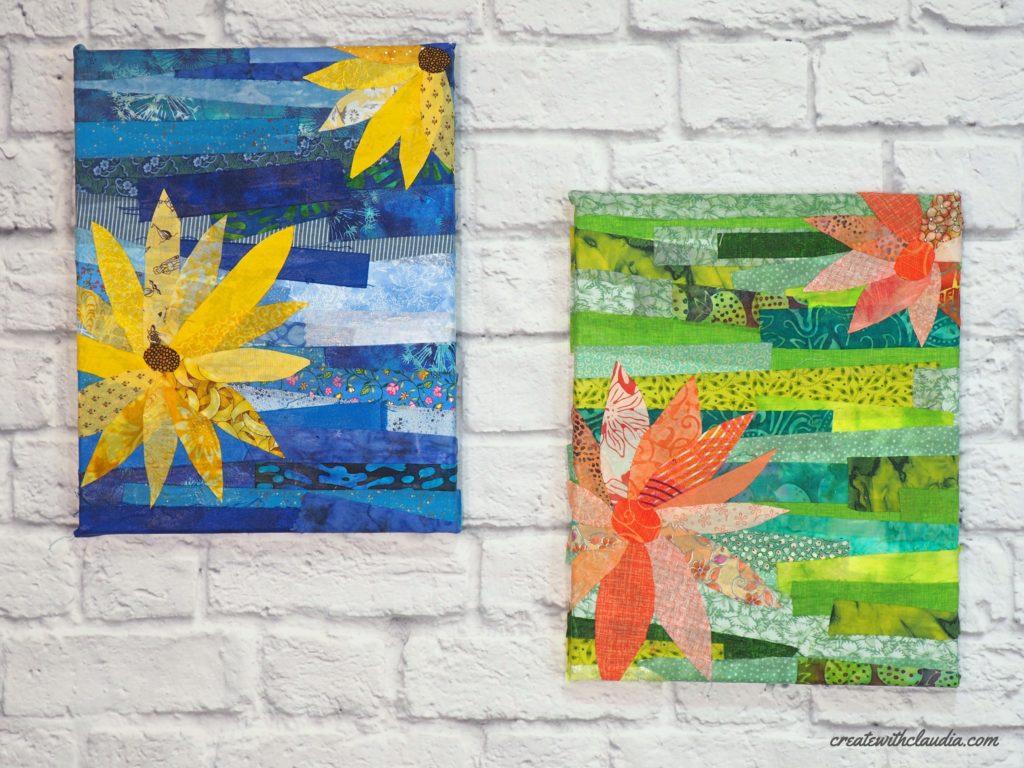 The inspiration for this project came from my garden. Right now (July) many of my flowers are in full bloom and putting on a real show. When I made these, I had just finished sewing for about five days straight and needed a break. Needing to create something, but not wanting to sit behind my sewing machine, I came up with this idea.
I chose to make blossoms for my collages, but let your artistic side shine and make whatever you want. The easy method I am demonstrating is perfect for any scrap fabric découpage collage. You just need to gather a few supplies together.
My Video Tutorial
The video above is perfect for people who like to learn by watching. If you like step by step photos, then keep reading.
Let's get started!
What You Will Need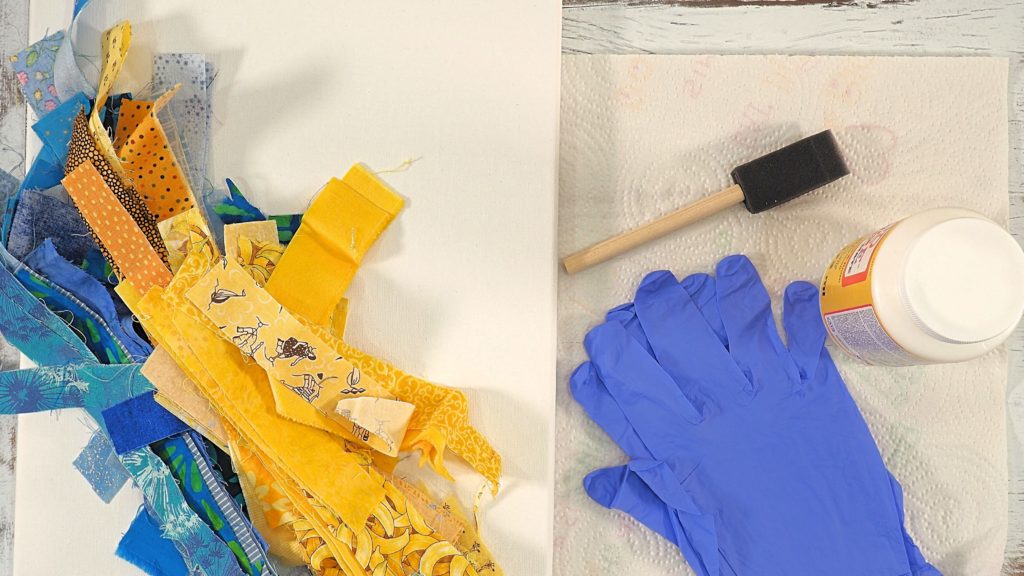 Scrap Fabric Pieces – I used strips for this, but depending on your design, you may need different shapes.
Découpage Glue
Sponge Brush
Prepared Canvas – Mine was 11″ x 14″, but any size can be used
Gloves
Paper Towels
Items That Can Help You Make This Project
As an Amazon Associate I earn from qualifying purchases.
Getting Ready To Work
This project gets pretty messy and you use a lot of glue, so here are a few tips for your work area.
Protect your work surface with something you can clean or throw away. Glue gets everywhere.
Follow the manufacturer's instructions on the glue you use and work in a well ventilated area.
Wear gloves.
Making Your Scrap Fabric Découpage Collage
After you have chosen you fabric scraps and prepared your work area, it is time for the fun to begin.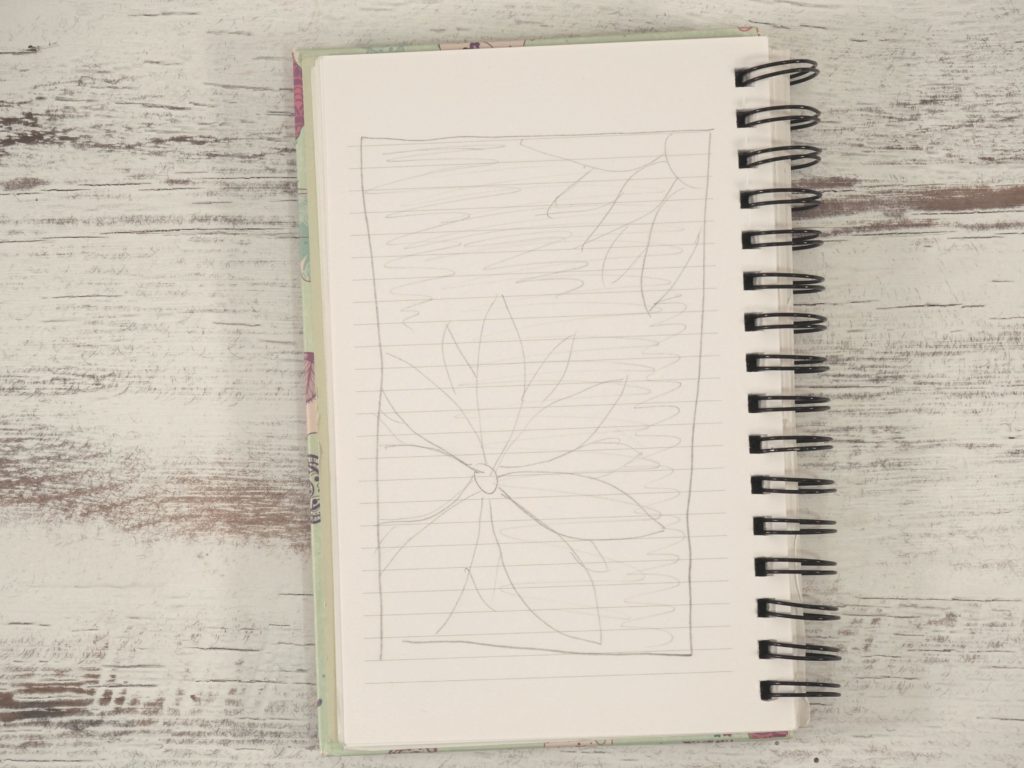 You may want to draw a quick sketch of your idea so you have a bit of a guideline.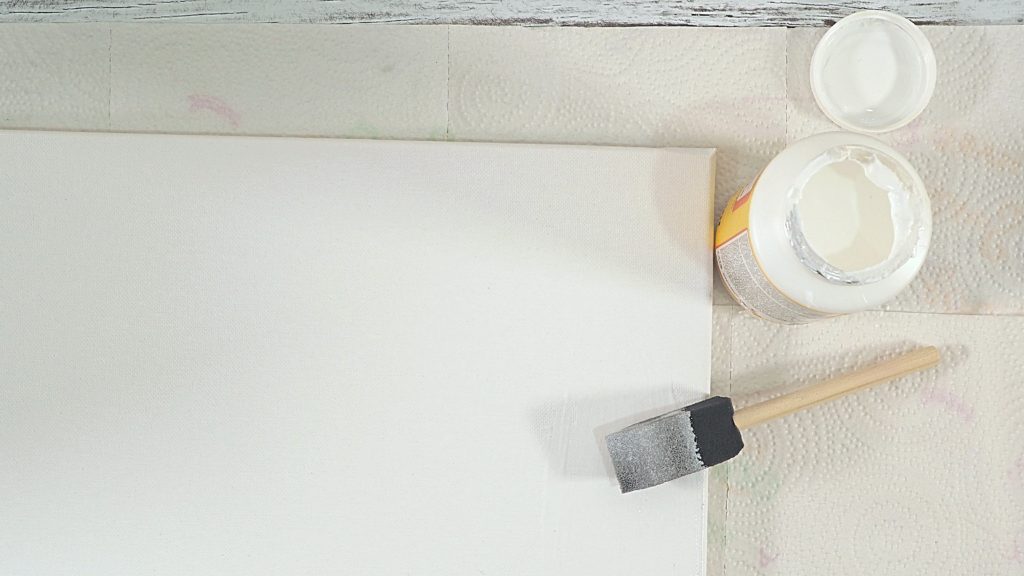 First, apply a generous amount of glue to the canvas where you want to place your first piece of fabric. Don't put it on too large of an area because you don't want it to dry before you add fabric.
If you are using canvas that is stretched on a wooden frame, you may want to cover the sides as well.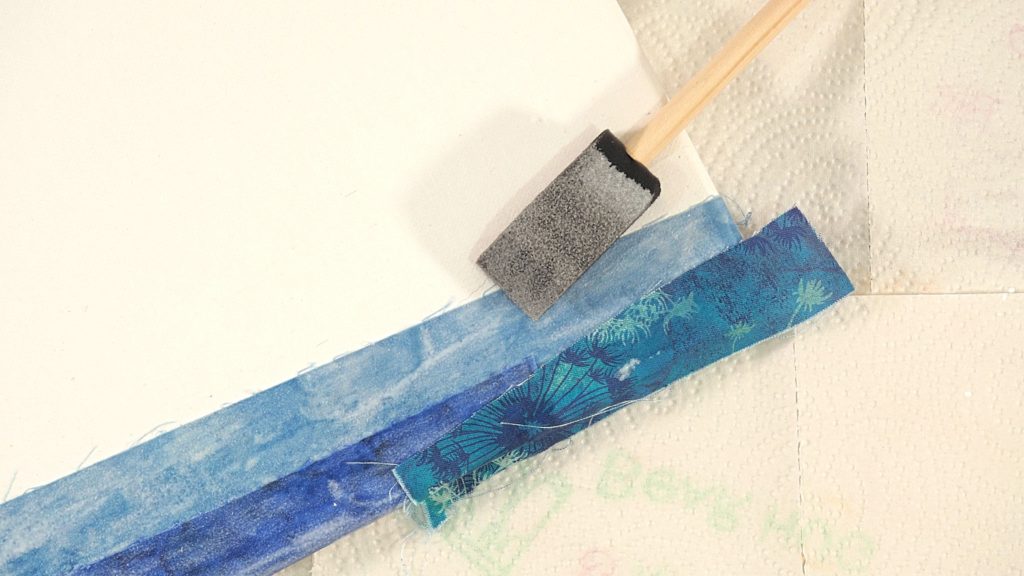 Place your fabric scrap where you want it to go, and gently smooth it down with your fingers. Then apply some glue on top of the fabric.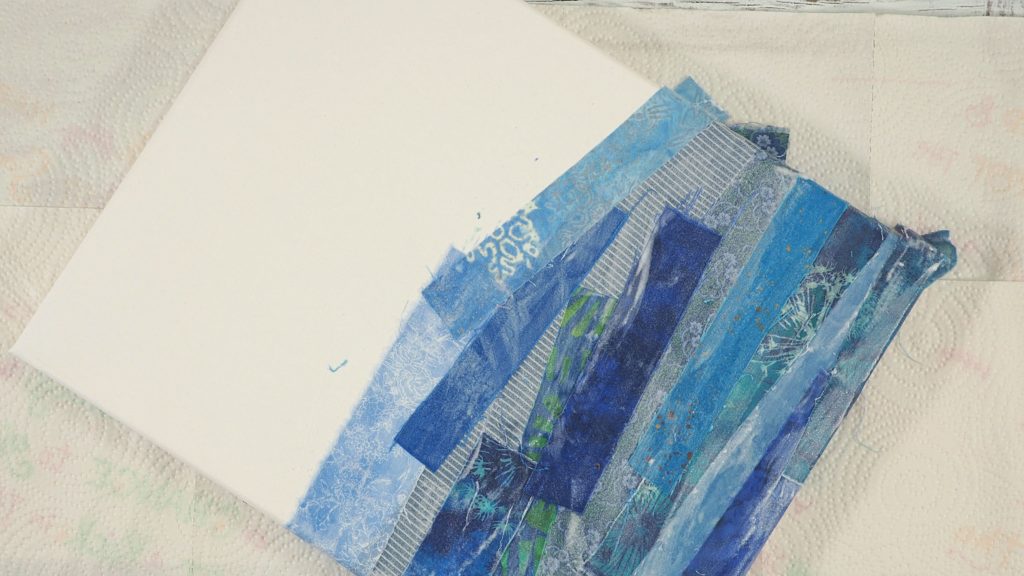 Continue adding glue and fabric to the canvas, layering as you go.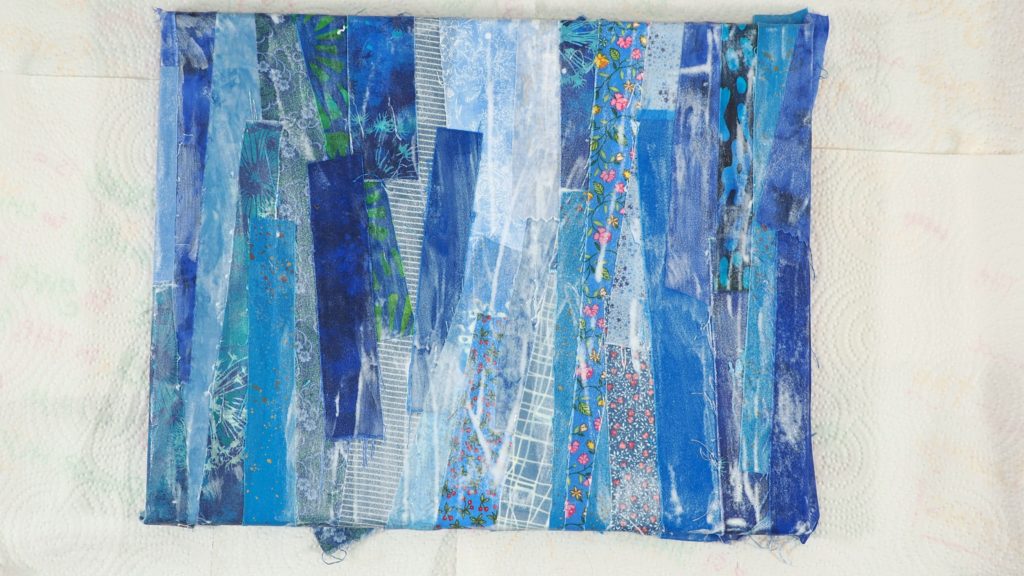 Keep going until the canvas is covered. Don't worry, those white glue streaks will go away once dry. Once the project is dry, you may need to cut away any strings and fabric that are hanging off.
Adding the Flowers (Or Other Design)
You want to add the flower petals (or other design of your choice) while the glue is still wet. If it is starting to dry, just add a bit to the area you want to add fabric to.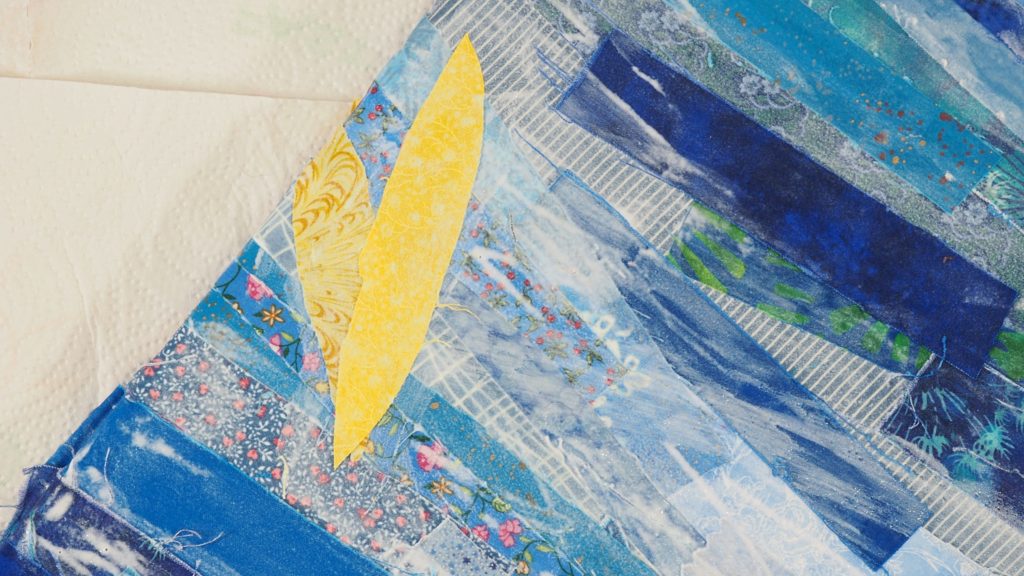 Cut out the desired shape and lay it in place. Cover it with more glue. Continue adding more fabric pieces until you are happy with your creation.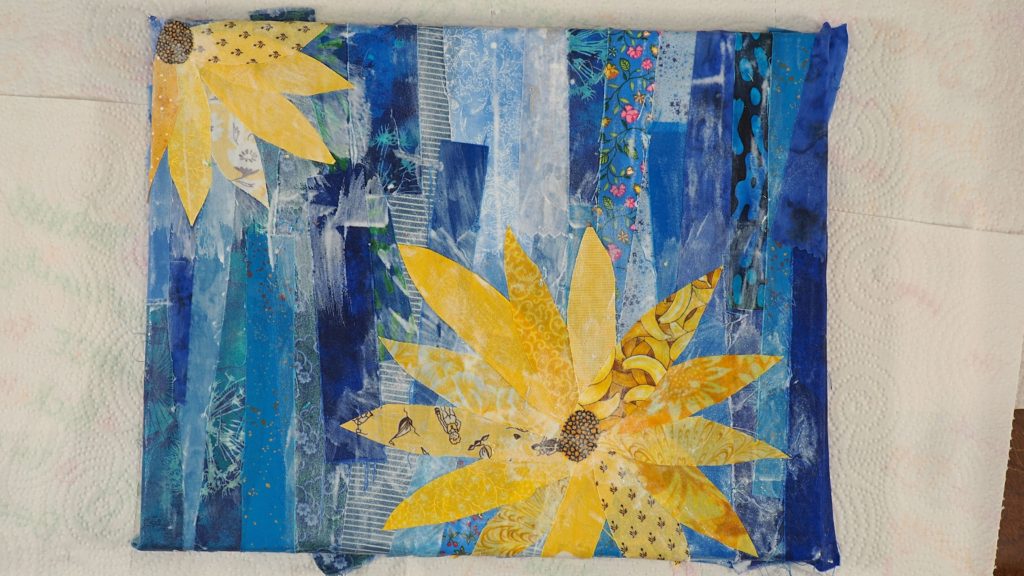 Once you are done, look around the entire piece to make sure everything is glued down nicely. I had to add some glue around the outside edges.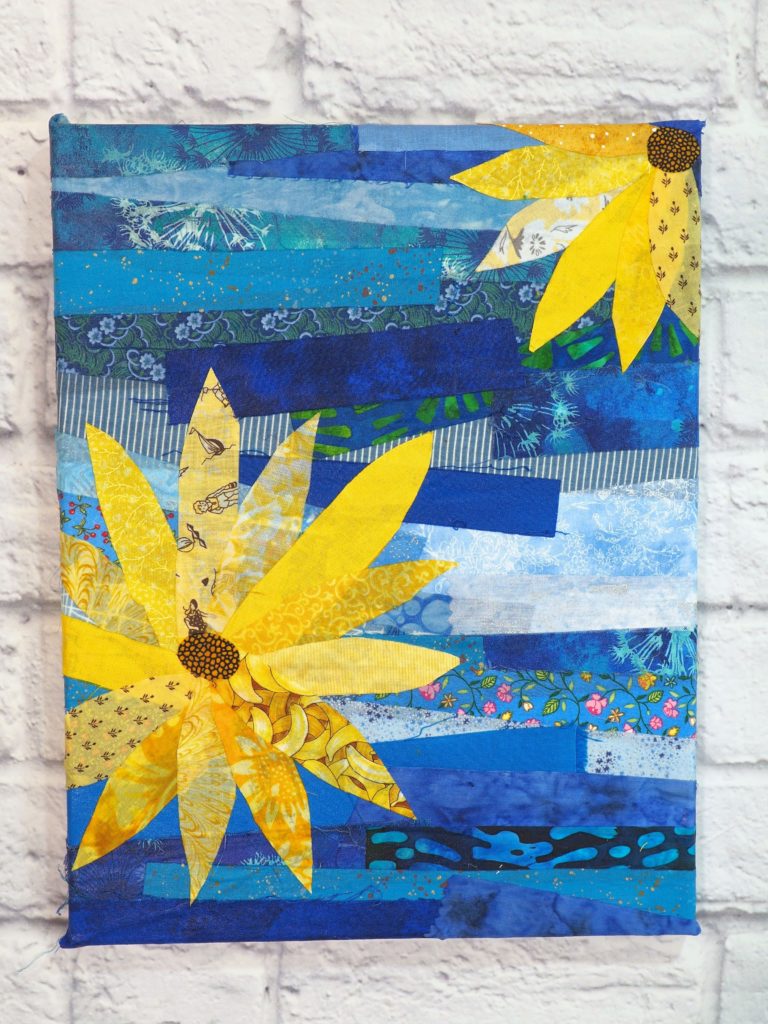 Set it aside to dry, at least overnight. Then it is ready to display.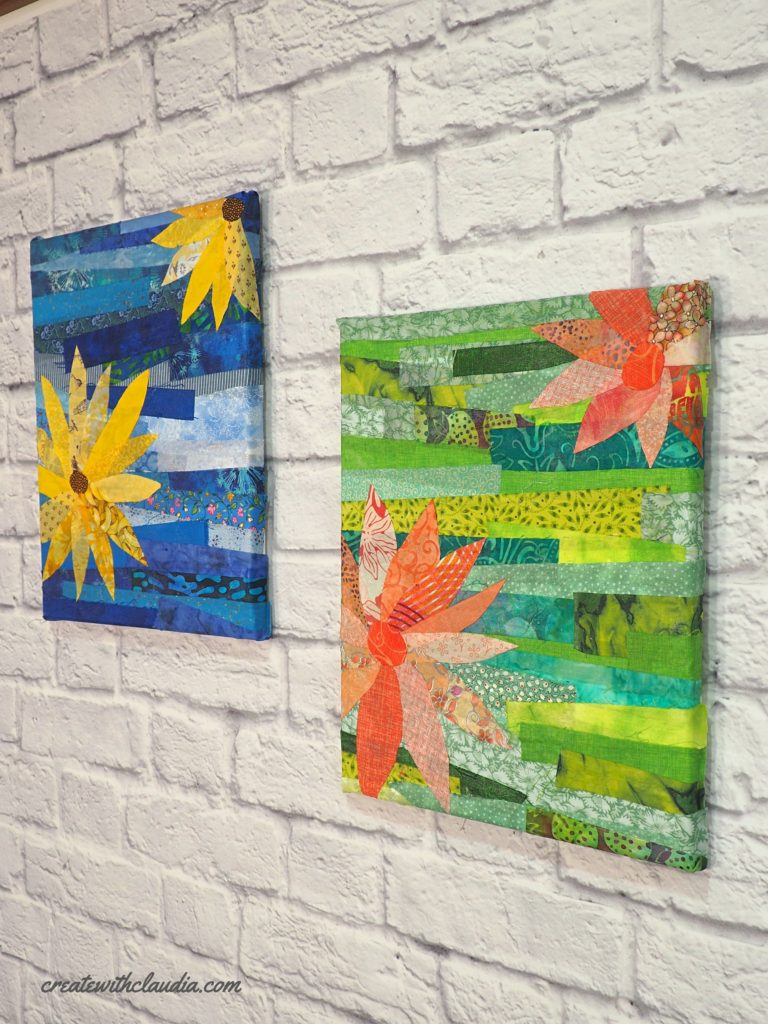 Make a Scrap Fabric Découpage Collage
When you feel like making a fabric art project that yields beautiful results in a short time, but don't feel like sewing, try this.
It's almost like being a kid again. The best part is there are no rules and you can definitely color outside of the lines with this project. Even better, you can use up some of your fabric stash. I know I keep trying, but it never seems to get smaller.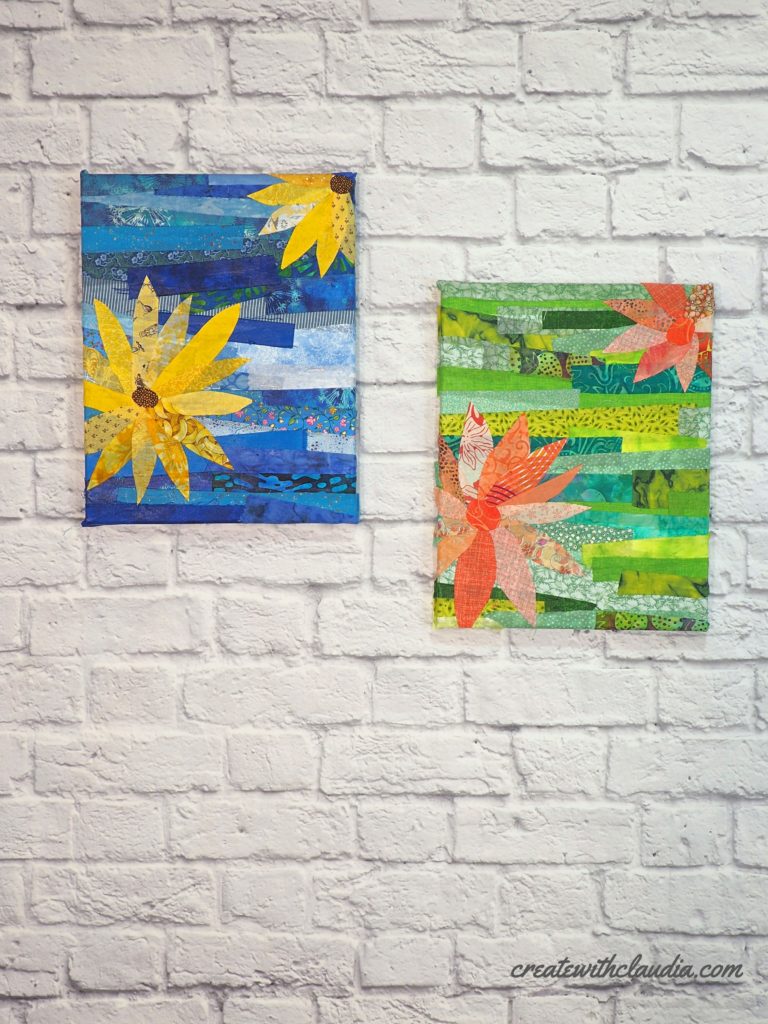 Happy Creating!
If you like découpage, but don't want to use fabric, here's a fun project for you to try. It's using old postage stamps and it's a unique way to cover a wooden box.